Basement Floor Ideas Organized By Specific Rooms
By Lisa Hobbie Created: January, 2022 - Modified: August, 2022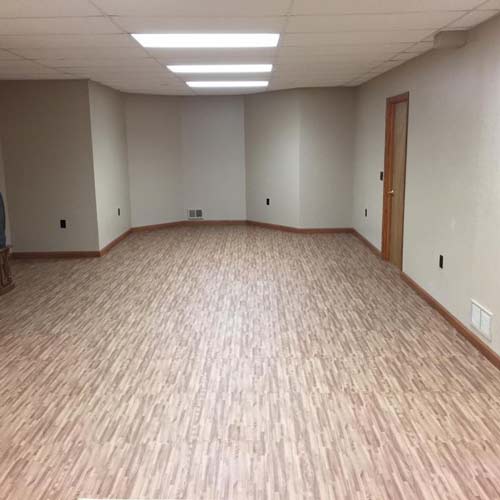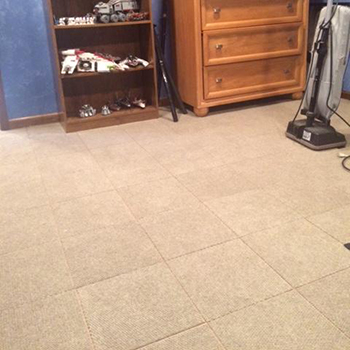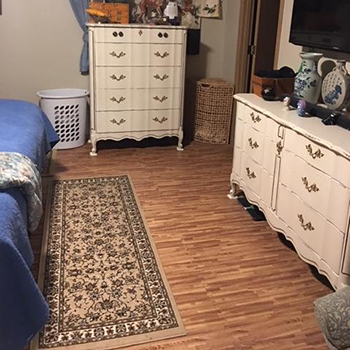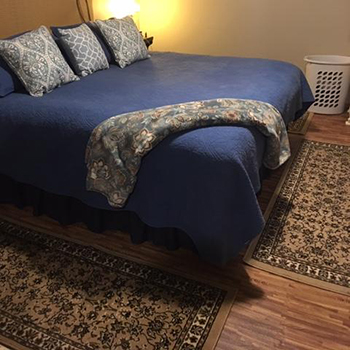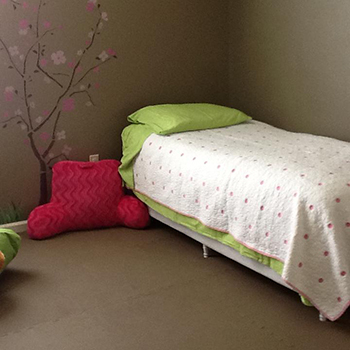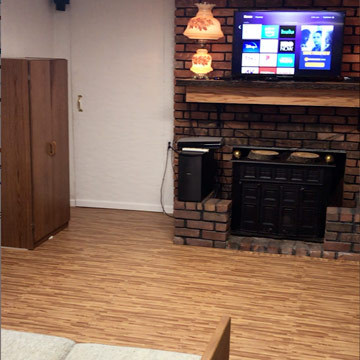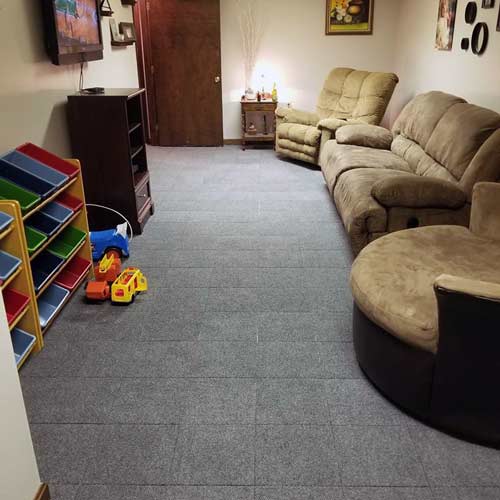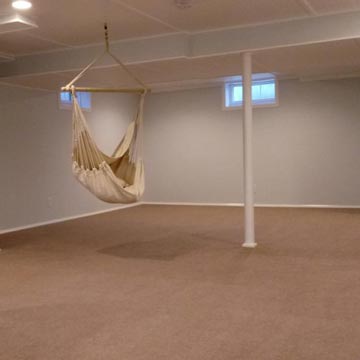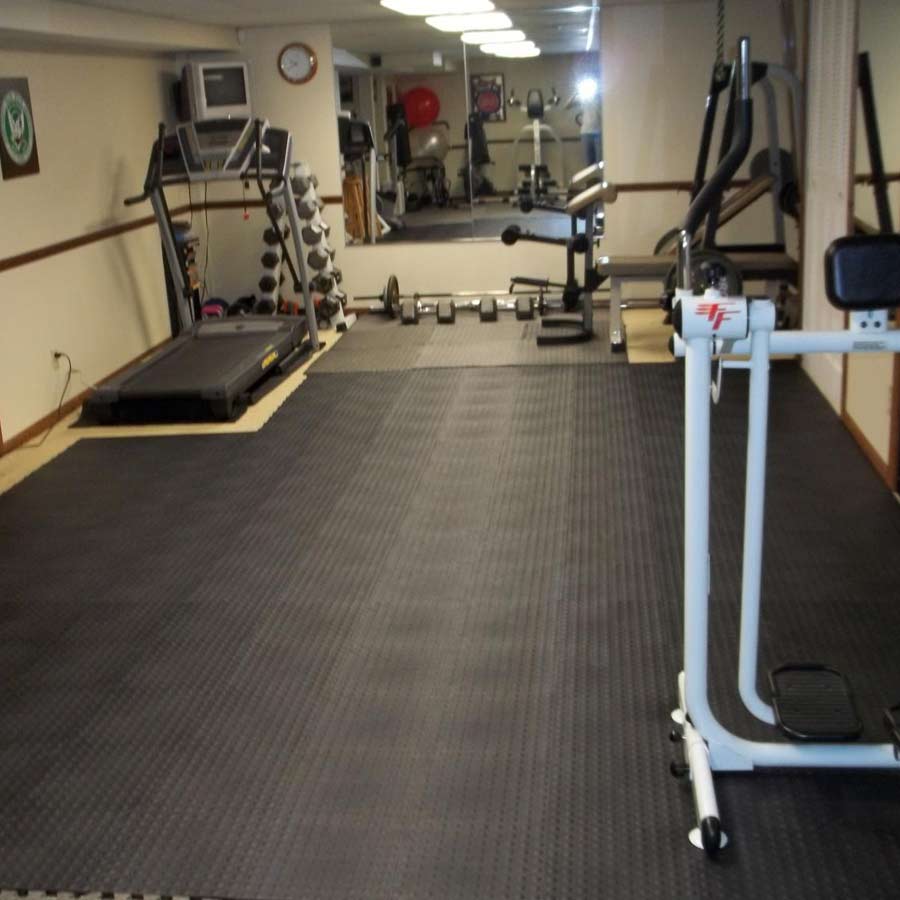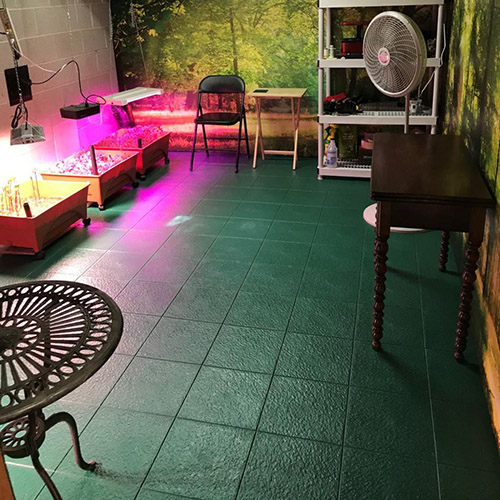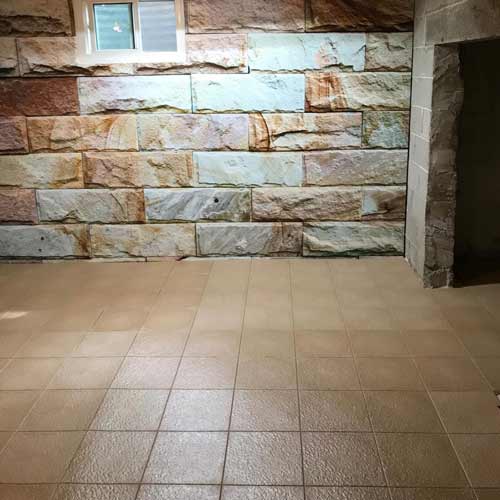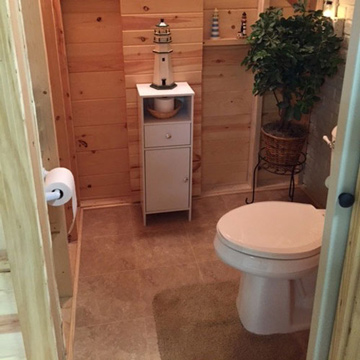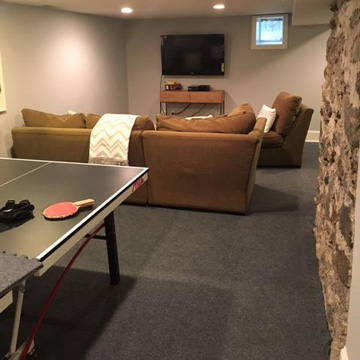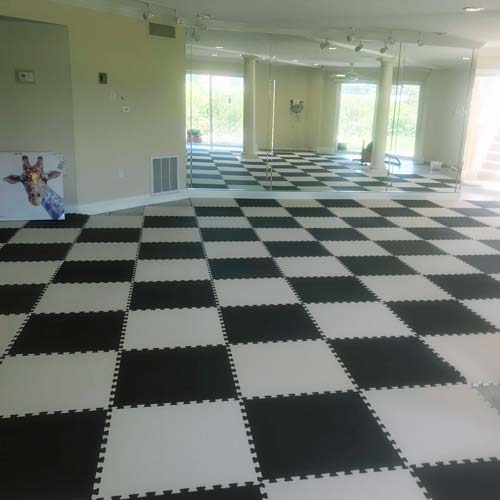 If you're exploring basement floor ideas, Greatmats has the best products suitable for any space or room, from a workout room to a family room.
Basement floor ideas may differ, depending on the particular room or space you're updating. Where one product may be great for a living room or grow room, another may be more suitable for a boiler room or laundry room. No matter if you're working on a rec room, TV media room, theater or game room, safe room, bedroom, or bathroom, Greatmats offers the
best basement flooring products
to accommodate it all.
Basement Bedroom or Family Room
Basement floor ideas that should be considered for a
bedroom
or
family room
will offer comfort, durability, and attractiveness. They should also be resistant to moisture and easy to clean and maintain.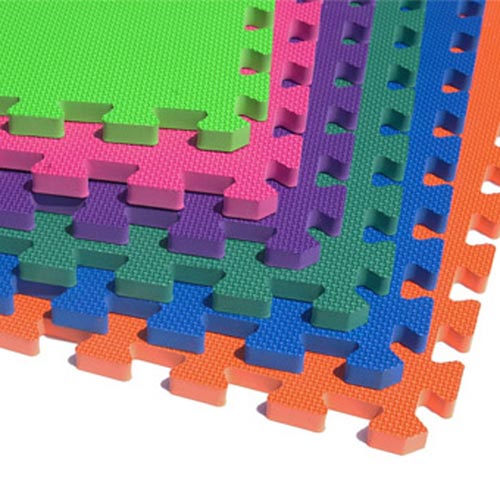 Premium Foam Kids & Gym Mats may not have crossed your mind as bedroom flooring options, but they should. Not only are they brightly colored to add some vibrancy to a basement, they are also waterproof, stain resistant, noise suppressing, and insulative. They are ⅝ inch thick, offering some great comfort in a bedroom or family room, and they can be installed over any flat surface.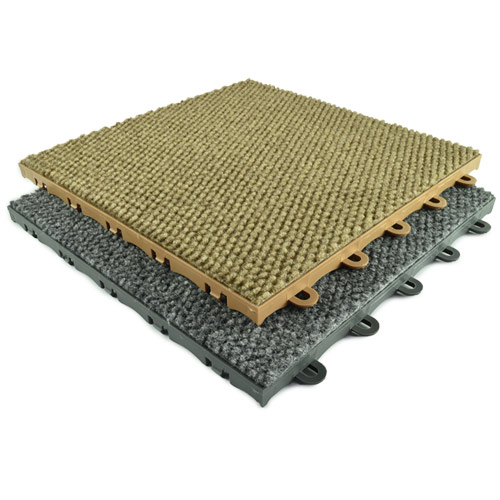 Modular Square Carpet Tiles offer the cozy comfort of traditional carpet in a product that is basement friendly. These floating floor tiles are made from recycled materials, and they feature a berber like carpet top. They can easily handle the weight of even the heaviest bedroom or family room furniture, and they are great for cold basement floors as they reduce transmission of cold temperatures from the subfloor through the carpet.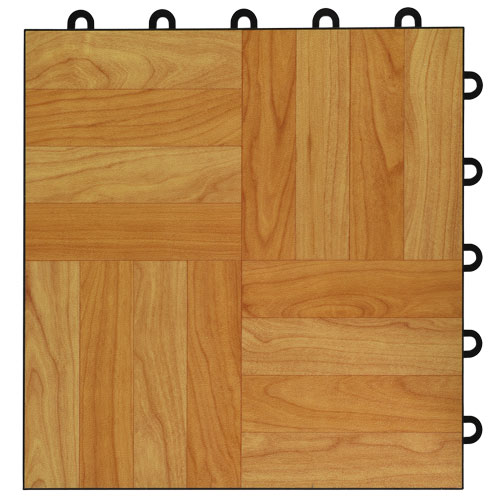 Max Tile could also be considered when looking at family room basement floor ideas. This product has a heavy duty clear wear layer with a polyurethane finish. It's raised design provides underside air and water flow, and it also provides a thermal break. It's modular design and interlocking base make for an easy assembly without adhesive. With a variety of wood grain colors and designs, you can achieve the look of rich wood at a fraction of the cost. This flooring will accommodate heavy furniture.
Basement Rec Room or Gym
When exploring basement floor ideas for a
rec room
or
gym
, you'll want to consider products that are durable, strong, and robust; but also, comfortable.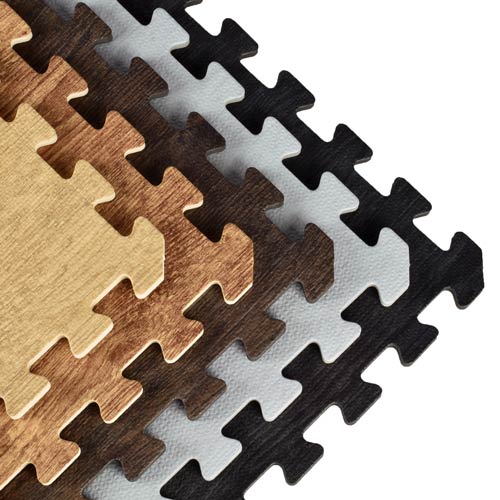 Wood Grain Foam Tiles offer comfort and aesthetic appeal in a waterproof solution that mimics rich hardwood. This closed cell foam solution comes in a variety of wood grain patterns, along with grey and black. These tiles complement any decor or style preference. They are fast and easy to install and offer cushioned support.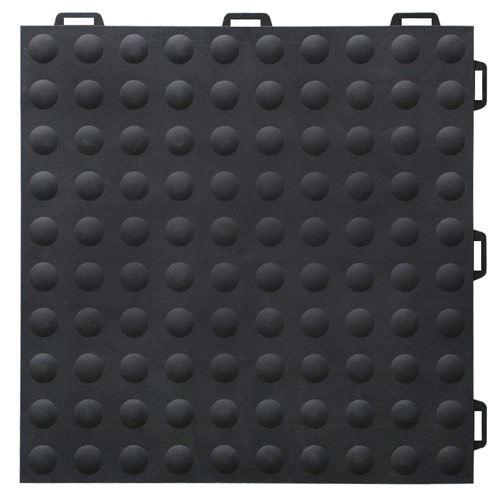 StayLock Tile Bump Top Black is a robust PVC flooring product with a design that will lock together tightly without separating over time - even when placed under pressure. It is waterproof and resistant to most acids and oils, and its raised base and lightweight design prevents water from getting trapped beneath it. It also prevents the flooring from sliding over carpet. It's among the most durable cushioned gym flooring options, with the ability to support even the heavy exercise equipment!
Basement Grow Room
A
grow room floor material
can consist of a few different designs, any of which will protect the original subfloor from problems with moisture or spilled water.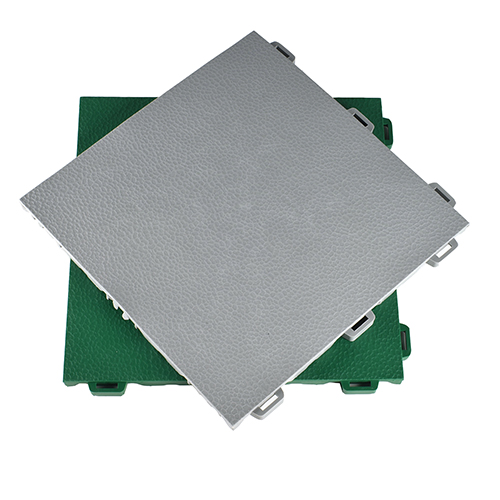 The StayLock Tile Orange Peel Colors product is made of PVC and has a design that locks together tightly to prevent unwanted separation. This product delivers a cushioned feel, fabulous support, ergonomic benefits, and anti-fatigue properties. The waterproof tiles have a raised base and lightweight design, and they are very easy to clean and maintain.
Basement Bathroom
The best
bathroom flooring
ideas are able to withstand heat, moisture, and foot traffic and should resist mold and mildew.
Basement Game Room or Home Theater
Greatmats offers super easy, awesome ways to create a foundation for the perfect
basement game room
or
home theater
.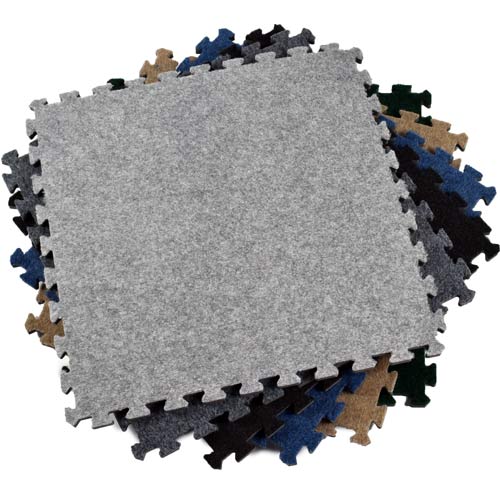 Perhaps you desire basement flooring in a classic style that carpet provides. Royal Interlocking Carpet Tiles provide the perks of foam mats, plus the desirable look and feel of carpet. They are made with a half inch of EVA foam underneath a plush carpeting top that is thicker and softer than any other carpeting tile on the market. You can choose from a variety of 5 different classy colors. They are still more than durable enough for tables, chairs, heavy furniture and high foot traffic. They are also stain-resistant and waterproof.
Basement Laundry Room
Laundry room flooring
must withstand heavy use, the heavy weight of the washer and dryer, and the messes that are guaranteed to happen.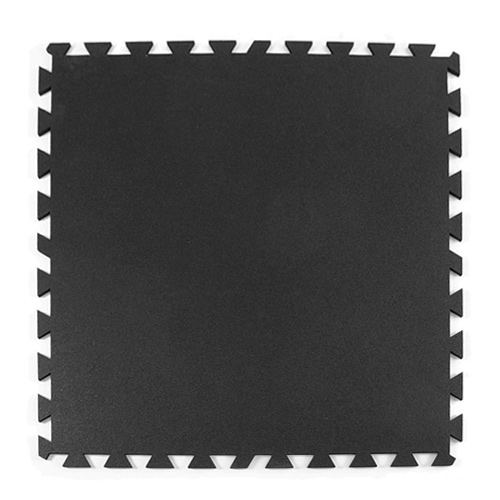 Interlocking rubber utility tiles are extremely resilient and help cut down the vibrations from washing machines and dryers. Should your loads happen to become unbalanced, the non-slip nature of laundry room rubber flooring will keep your appliances from shifting around your room. And should moisture become an issue, you can always pull up the dry-laid tiles, allow everything to dry out, and easily reinstall them.
Basement Padded Room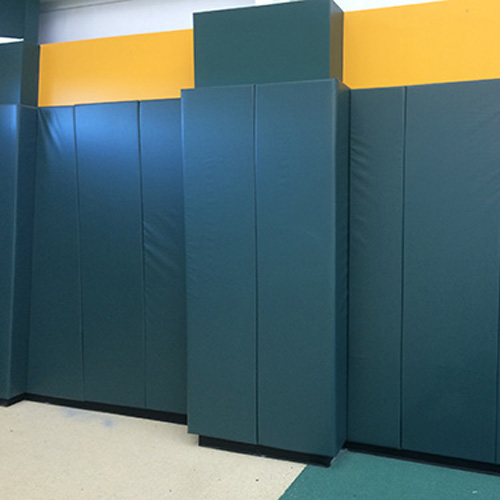 Basements are great areas to add a
padded room
. When you want to create a safety room for a child's timeout area, make use of padded room mats on the walls and floor. These pads are a smart idea when creating a seclusion room that's quiet and calming for children.