Rubber Tile Utility Black Mix 8 mm x 3x3 Ft.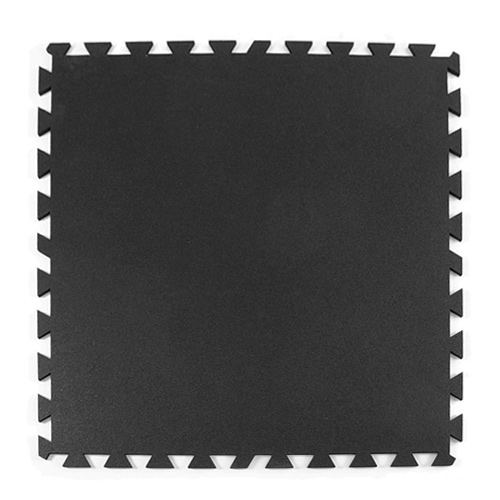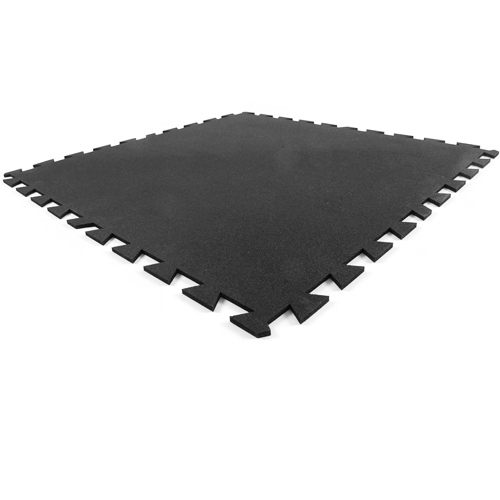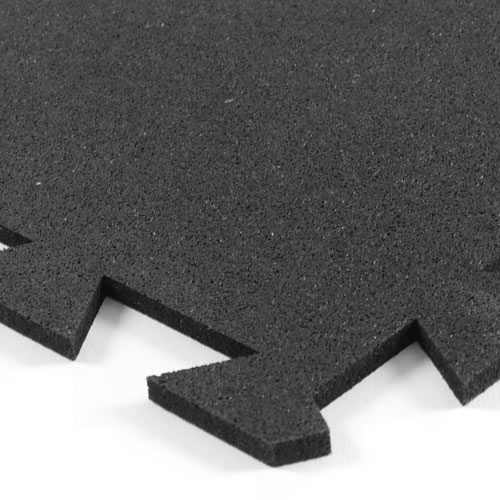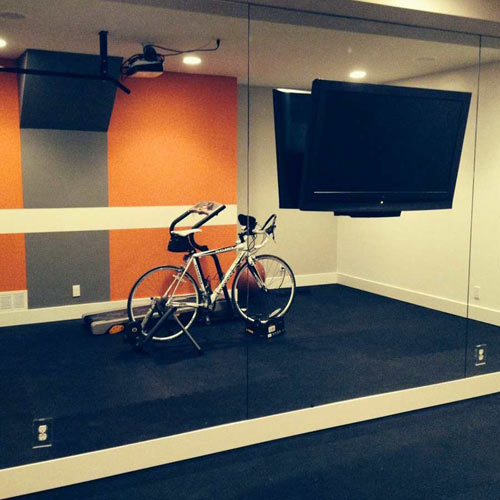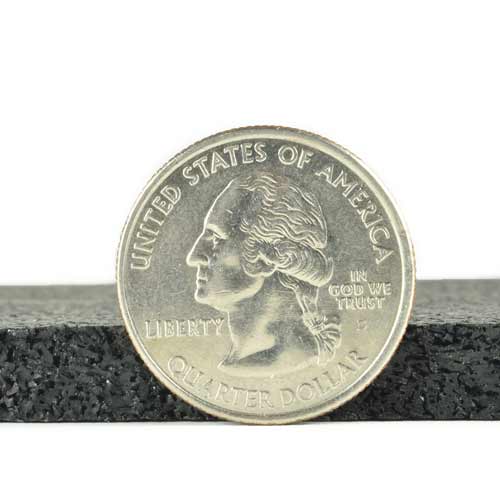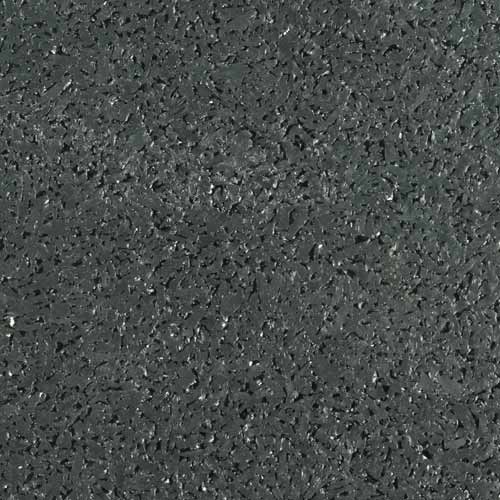 Interlocking, no glue installation
Economical and durable rubber tile
Double sided
$22.29
/tile
(You Save 19%)
(18 Reviews )
Ships Out: Estimate 3-5 Working Days

Black
How Much Flooring Do I Need?
VIDEOS
TOP FEATURES
Interlocking, no glue installation
Economical and durable rubber tile
Double sided
Non slip surface
Precision waterjet cut interlocks
Easy to trim to fit
Value rubber flooring tile with light color flec mix
Environmentally friendly flooring option
Use Types
Weight Rooms, Utility Rooms, Storage Areas, Workout Rooms, Basement Floors, Warehouse Flooring, Indoor Ice Hockey Rinks
NOTE: This item is a custom order and is not returnable.
Interlocking rubber utility flooring, Easy tile utility floor
When you want one of the most economical options for interlocking rubber utility flooring, Rubber Tile Utility Black Mix 8 mm x 3x3 Ft. works well. Each unit measures 3 by 3 feet, making these utility tiles a tremendous option for quick installations in storage areas, workout rooms, and basement floors, as you'll be able to cover a lot of area in a short amount of time. The tiles are made from clean outs runs and will have a light mix of various colors in the black base.
The utility tile is easy to install, thanks to its interlocking edge design, almost like a puzzle. The rubber utility flooring pieces are reversible too, which gives them a longer lifespan, further strengthening the good value they provide. You'll love these economy rubber floor tiles, no matter where you choose to install them.

Multiple Use Options
Because of the many different areas in the home where rubber utility flooring will provide outstanding performance, people tend to love this easy tile utility floor option. The tiles are made from clean outs runs and will have a light mix of various colors in the black base.

Basements: Basement flooring often consists of cement, which will be cold to the touch. Perhaps you want an economical type of flooring to place in the basement, but you also need it to be extremely durable. Rubber utility flooring will feel better to walk on than cement, while also providing a measure of insulation from the cold sub-floor.
Home Gyms: Because utility tiles made from rubber offer such a durable type of flooring, our customers love installing them in home gym areas. These tiles are resistant to water absorption, meaning they won't soak up sweat and retain odors. And if your workout at home involves using heavy equipment, installing rubber tiles will protect the sub-floor from wear and damage.
Toughness: Feel free to install this rubber flooring product anywhere that you need an extremely tough floor. These tiles provide a material density rating of Shore A 60, which guarantees they will be a tougher than average type of flooring. With a 5-year limited manufacturer's warranty on this Made in the USA product, you can count on its strength for years to come. In fact, the typical lifespan of this tile is between 10 and 20 years under normal usage patterns.
Utility Rooms: If you're worried about excess moisture in a utility room, either from wet laundry or from messy shoes that are tracking in mud, our Rubber Tile Utility 8 mm Black product will be easy to clean, as it won't soak up the excess water.
Weight Rooms: Whether you're using free weights in your basement or in your garage, placing rubber utility flooring in the area is a smart idea. Dropped weights could damage the original flooring, but durable rubber materials ensure the sub-floor remains protected. Additionally, working out with weights can be loud as the weights crash to the floor. Rubber dampens this noise, allowing others in the home to enjoy peace and quiet while you're lifting.
As these utility tiles are made from re-ground rubber material, they are eligible for LEED points, and they do provide an environmental benefit. The rubber utility flooring is not UV treated, so we do not recommend installing it in an area that will receive direct sunlight on a regular basis.
It has a flat surface on the top, which makes it easy to clean. You can sweep or vacuum the rubber tile as needed to remove debris. You also can mop the rubber surface, using a neutral pH cleaning solution, for a more thorough cleaning.
Coverage Area Options
You will love this easy tile utility floor product because of the simplicity of installation. The interlocking edges on each tile fit together with minimal effort on your part, allowing you to install the tiles in a short amount of time.
Each rubber utility flooring tile measures 3 by 3 feet, which allows you to cover a lot of space in a hurry. We also sell 1 by 1 and 2 by 2 feet rubber tiles, which may be easier to carry and install when you need less coverage space.
These Rubber Tile Utility 8 mm Black 3 by 3 foot tiles each weigh 19 pounds. When you consider the weight and the large size of the individual easy tile utility floor pieces, you may have a difficult time installing these tiles by yourself. Having more than one person available for the installation will make things go more quickly.
When calculating the number of pieces of easy tile utility floor you'll need to complete the job at your home, keep in mind that you will lose a bit of the coverage area measurement per tile because of the interlocking edges. As the tiles measure 3 by 3 feet, you might expect 9 square feet of coverage area per tile. However, because of the interlocking design, you actually will receive 8.25 square feet of coverage for each of the utility tiles.
Another reason why our customers like these tiles for use inside the home is because of the minimal odor. Some rubber flooring products that make use of sulfur adhesives to hold the recycled rubber together will have a strong odor. These tiles use a urethane adhesive, which has far less odor.
If you're unsure how many tiles you'll need, just contact our customer service team for some help with the calculations.
Simple Installation
Because of the tight fit of the interlocking edges of the easy tile utility floor product, you don't have to worry about using adhesive on the edges of this product. You will not see edges pop up inadvertently with these tiles after installation.
Should you want a permanent installation with the rubber flooring, you do have the option of using adhesive beneath the tiles. However, if you ever want to pick up the tiles and return to the original flooring at any point, you will not want to make use of adhesive.
To install the tiles, just line up two tiles next to each other, taking care to ensure the tabs on the edge of one mat perfectly line up with the slots on the edge of the adjacent mat. You then can step on the mats or use your hands to press on the edges and pop the tabs into the slots. Some people choose to use a rubber mallet to connect the interlocking edges and to complete the installation.
When you want to disassemble the tiles and return to the original flooring, just step on one edge of the tile and pull up on the adjacent tile to pull the tabs out of the slots.
Cutting the Tiles
During installation, you may cut the rubber mats to fit as needed near a wall or around a doorway or post. We do not offer border strips with these tiles, so if you want a flat edge on the tiles, you will have to cut off the interlocking edge.
When doing a wall-to-wall installation of these tiles, you likely will need to cut some of the tiles to fit. This process requires precise sizing, so be very careful with your measurements so you don't make a mistake when cutting the tiles.
Each tile measures 8 mm in thickness, equal to 0.31 inches. You will be able to cut through the rubber material with a sharp utility knife. Some people will deeply score the tiles on one side and then lay the tile across the face of a 2x4 piece of wood. This should cause the score line to pull open a little bit, allowing you to finish cutting through it more easily.
Color and Ordering Options
This easy tile utility floor is produced as part of clean-out runs in the manufacturing process, where the manufacturer changes one color mix to another. This means these utility tiles feature a random color fleck pattern in the mix.
Most of the flecks are white in color, but the colors can vary randomly from tile to tile. Some tiles may contain more blue or yellow or purple flecks than white. It's also possible that the color flecks in the rubber utility flooring tiles may vary within the same order. For example, one order may have blue, white, purple, yellow, or even a combination of colors within an individual tile.
The density of color flecks in the mix can vary from tile to tile. It is possible to see as much as 5 percent of color fleck in individual utility tiles, but occasionally you will see an even greater percentage of color flecks per tile. The number of flecks included per tile will be random. In most cases, however, the colors and the mix of colors is small and will not vary significantly from tile to tile within this easy tile utility floor product.
Because of the randomness of the color flecks in the utility tiles, some people will not want to install this product in an area of the home where people will regularly see it. Most of our customers are more concerned with the durability and usefulness of the tile pieces than with having a matching set of color flecks in the utility tiles.
Please note that this product is sold as-is and is not returnable. Should you have any questions regarding our Rubber Tile Utility 8 mm Black product, please contact our customer service team to receive all of the information you need.
Maintenance
Always use Neutral Ph cleaner on rubber flooring. Damp mop with hot water.
Shipping
Ships via freight delivery shrink wrapped on pallets.
This Product Ships Freight Only.
Please review our shipping disclaimer.
ANSWERS
Product Questions:
Q: I installed this product in my workshop. While I like the quality of it and the ease of installation. Whenever I walk on it, I leave footprints from my gym shoes. Can I dry mop it and does it need some kind of sealer?
A: Consider a rug to wipe your feet on for the workshop. The rubber tiles can be cleaned with water and a damp mop; always use a neutral-pH cleaner when cleaning rubber. Sealers can be applied; consider the TaskiProfi line. Sealers are not commonly used.
Q: Do you sell border edges for those tiles?
A: This product option does not offer any border strips.
Q: Can these mats be used indoors for dogs and children?
A: The rubber tiles are not generally recommended for children as they are hard like a car tire. However, the rubber tiles are durable for animals.
Q: Is there an odor with the tiles?
A: This rubber tile has a very low odor; nothing is odor-free. This rubber tile is made from urethane adhesives. Rubber tiles made with sulfur adhesives give off the most odor.
Q: Can these mats be used outdoors?
A: This type of rubber tile is designed for indoor use only and is not designed to hold up long-term to outdoor elements.
Q: Do any of your rubber tiles interchange with your foam tiles? For example, I want to put the wood grain foam tiles in our living room but want to put the rubber tiles under the legs of the couch & entertainment center so I won't damage my foam tiles. Can I snap out a tile of the foam & snap in a tile of the rubber?
A: The foam tiles do not interlock with the rubber tiles in any case. Use the foam, and then put plastic furniture coasters under the furniture legs.