Best Laundry Room Flooring and Utility Room Flooring
By Julia Nass Created: August, 2017 - Modified: April, 2023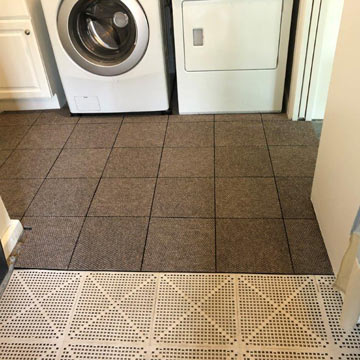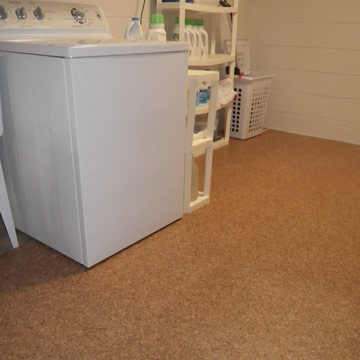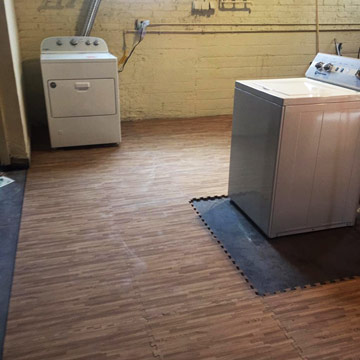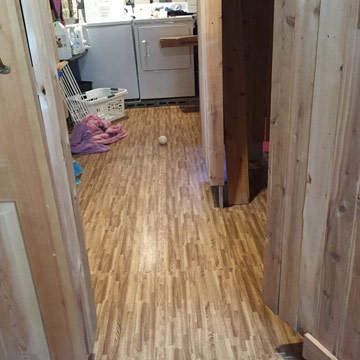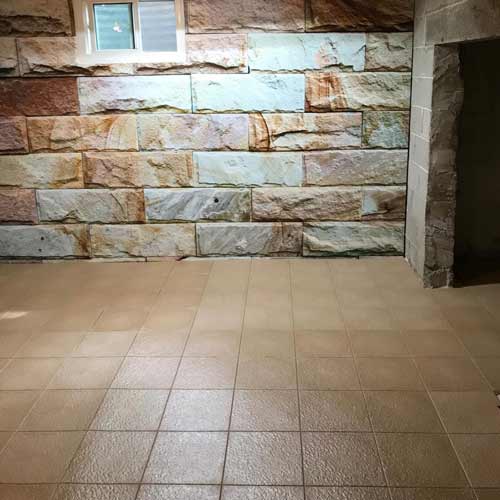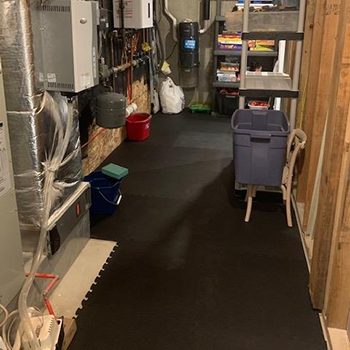 One can expect all kinds of grime on laundry room floors. From muddy pants to dripping towels to spilled detergent, there's simply no way to keep
laundry room
flooring mess free. Over time, these messes can become more than just a slight inconvenience - they can turn into serious wear and tear that eventually leads to damage. Add in the moisture buildup that can happen in the laundry room, and you've got yourself one highly vulnerable floor.
Best Laundry Room Flooring Options
Fear not. There are all kinds of flooring specifically made to hold up against pervasive water, dirt and chemicals. Although there is a variety of flooring that is suitable for laundry rooms, it's important that laundry or utility room flooring all share a few qualities. First, it should be able to withstand heavy use, as laundry rooms can be one of the more frequented rooms in the entire house. Second, utility room flooring needs to be able to withstand not just the heavy weight of the washer and dryer, but the movement and vibrations that can occur when the machines are in use. Further, laundry rooms are often right off main throughways in a home, so naturally you won't want to sacrifice the aesthetics of the house for laundry room floors. Finally, because the messes are guaranteed to happen, they should be easy to clean. That's why we suggest flooring with the entire package: easy maintenance, constant durability and attractive aesthetics.
Given all of these factors, Greatmats suggests plastic and vinyl flooring as the best material options. Tiles made of polyvinyl chloride (PVC) plastic, polypropylene plastic and vinyl are popular waterproof flooring choices. Many plastic floor tiles are durable enough to withstand heavy foot traffic and standing water. Further, it's possible to add a sealer to pvc floor tiles to increase resistance to chemicals and other spills. You can find raised laminate tiles or vinyl sheets in a huge variety of colors and designs. Some of our favorite products quickly becoming laundry room flooring trends include the following:
1. PVC Slate Laundry Room Flooring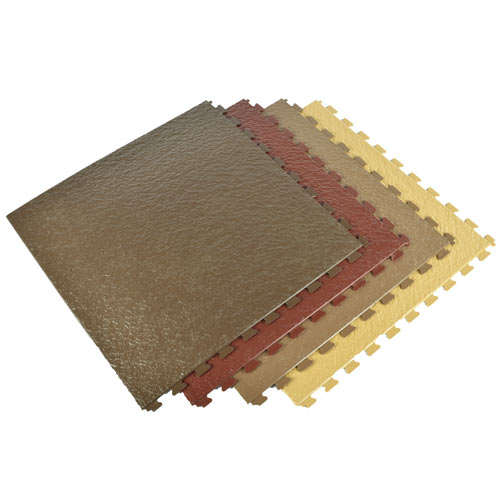 These PVC tiles come in earth tones and yield a classy, slate aesthetic. Unlike slate, however, these tiles are lightweight, economical, and easy to install all by yourself.
Slate Floor Tiles
connect together with a strong connecting system. These laundry room floor tiles are made to withstand heavy use and foot traffic. They can stand up to common laundry room spills like detergent or bleach. It's possible to clean these tiles with just a damp mop, hot water and a general household floor cleaner.
2. Max Tile Laminate Flooring Tiles for Laundry Rooms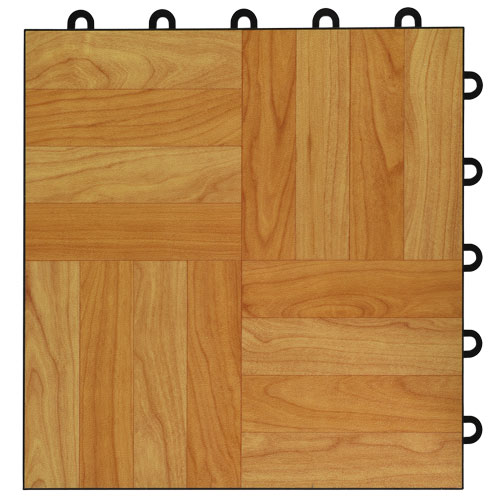 In general, Max Tile Raised Flooring is an extremely popular flooring choice used for a wide range of purposes. These
laminate flooring tiles
are used for everything from dance floors to basketball courts to basement floor tiles. Max Tile Raised Flooring tiles are made with a polypropylene base and a 3 mm wood grain or stone vinyl surface. Max tiles are designed to withstand heavy use, which makes it a great fit for laundry room flooring. At the same time, these tiles have a sleek and lovely look to them.
Max Tile utility room flooring is raised to allow airflow underneath. When high levels of water and moisture are present in a room, a raised floor can make all the difference. You won't need to worry about moisture becoming trapped underneath flooring, which can cause water damage and harmful bacteria to grow. Like many other laminate tiles, Max tiles easily snap together and make for a simple laundry room floor installation.
Greatmats recommends raised laundry room flooring for rooms that are extra susceptible to humidity and moisture, like those in the basement. If this is the case, it may be in your best interest to choose Max Tile Raised Flooring or TileFlex flooring (see below) as your laundry room tile.
3. Vinyl Plank Flooring for Laundry Rooms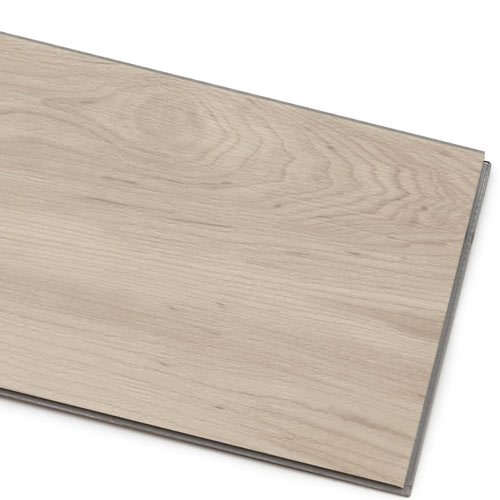 If you like the look of wood floors in a laundry room,
Envee Rigid Core LVP Laminate Planks
are another attractive option, as they provide the look of wood without the exorbitant cost. Envee LVP Planks tiles come in multiple wood grain colors and styles. Like Max tiles, the base of these laundry room floor tiles are made of plastic, while the surface finish of the laminate flooring for laundry rooms is vinyl. LVP plank flooring is raised in order to prevent water from becoming trapped underneath flooring.
Fully waterproof and wear and tear resistant, the laminate flooring surface will never need refinishing. These planks are designed to hold up against water, moisture and unforgiving usage. Planks snap together with a drop lock connecting system. They are easy to put together no matter the person power or size of the room.
This utility room flooring can be cleaned with a damp mop and common household cleaners, although it is recommended to avoid the use of bleach.
4. Laundry Room Rubber Flooring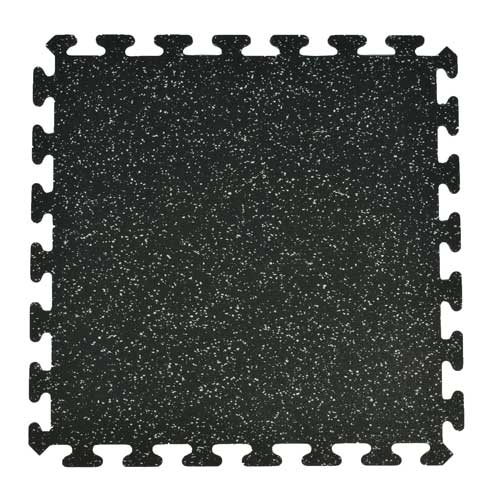 If laundry room rubber flooring is at the top of your wishlist, consider the
interlocking rubber tiles
. This rubber laundry room flooring is extremely resilient and helps cut down the vibrations from washing machines and dryers. Should your loads happen to become unbalanced, the nonslip nature of laundry room rubber flooring will keep your appliances from shifting around your room. And should moisture become an issue, you can always pull up the dry-laid tiles, allow everything to dry out, and easily reinstall them.
Other Laundry Room Flooring Options - Based on Customer Reviews
Greatmats customers are well known for getting creative with the uses for different specialty flooring products. Here are a few other products used for laundry rooms and what they had to say about them in product reviews.
Patio Outdoor Tile
- ''Perfect product for basement laundry room floor over concrete.''
Rubber Flooring Rolls 1/4 inch 4x10 ft
- ''I am loving my mats! Some odor at first has now dissipated. They are perfect for under our home exercise equipment in our renovated garage/utility/laundry room. It was easy to cut with razor blade/exacto type knife. Black with grey flecks looks nice and sets apart the exercise area!''
Foam Floor Mats 5/8 Premium
- ''Your bright orange mats really jazz-up our laundry area in the basement. They went together very well. The fit is snug and they provide firm cushioned support on our concrete floor.''
Royal Interlocking Carpet Tiles
- ''I used them in the laundry room area in the basement, made a path into the room to the washer and dryer and in front of the them too, I don't mind walking down into the basement to do laundry now. These are wonderful tiles, extremely glad I found them and bought them.''
Wood Grain Foam Tiles Reversible
- ''This was a good product for our basement laundry area and the prices are good !! It looked so good we went ahead and ordered another 120 sq. feet. It was easy to install and works really well on our uneven basement floor. The foam really helps cover the imperfections, plus it does provide some sound deadening in the basement laundry area. The company is good deal with; good customer services.''
Foam Tiles Wood Grain
- ''I love the mats. They look awesome and feel wonderful. Finding this product solved my basement flooring problem quick and simple also somewhat cheap. Thanks for the quick honest response to my inquiry before the purchase. Love it.''
Dig a Little Deeper
Ease of installation, lovely look and durability are just a few reasons why customers consistently give the above utility room floors five out of five star reviews. Check out these laundry room flooring options on Greatmats.com to see what other customers have to say. Although these are the top three suggestions, don't feel held back from exploring all the other laundry room flooring options that exist. Greatmats can always assist with finding the perfect style, design, material and cost for all laundry room flooring needs. Greatmats' customer service is available and happy to help you with any questions you may have.