What Kind of Flooring Is Best for Online Yoga Classes and Lessons?
By Kyle Schurman Created: April, 2021 - Modified: December, 2022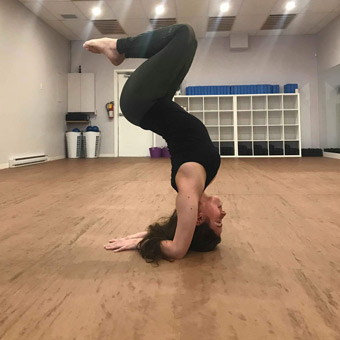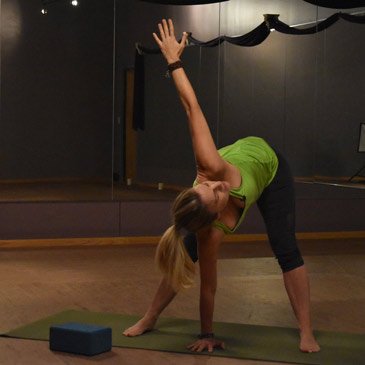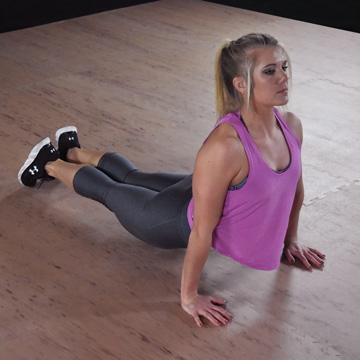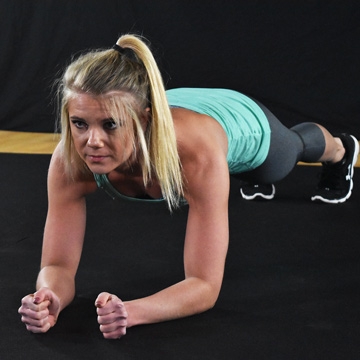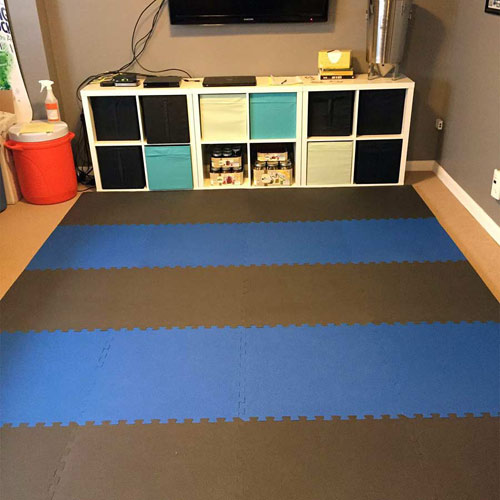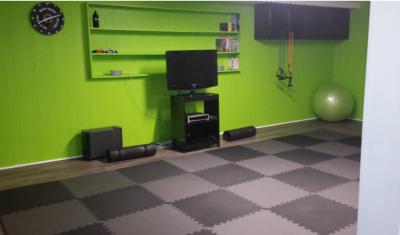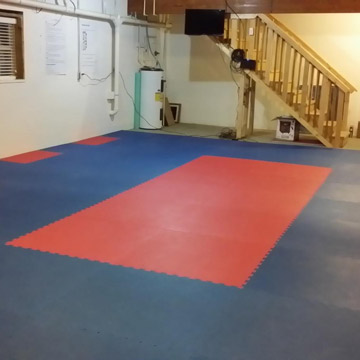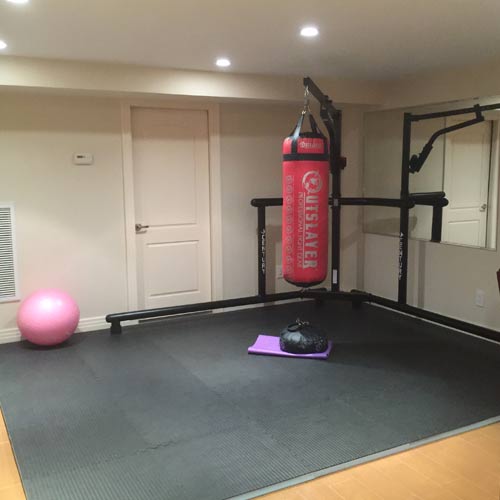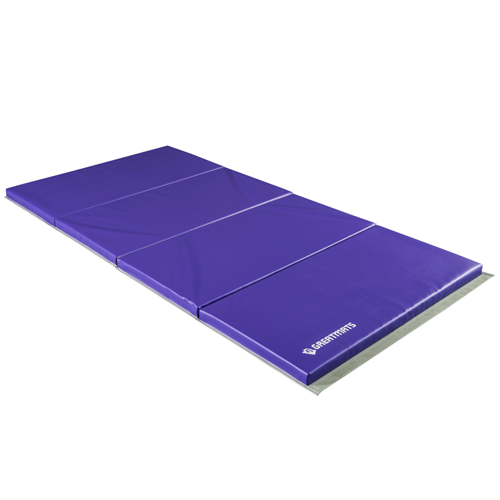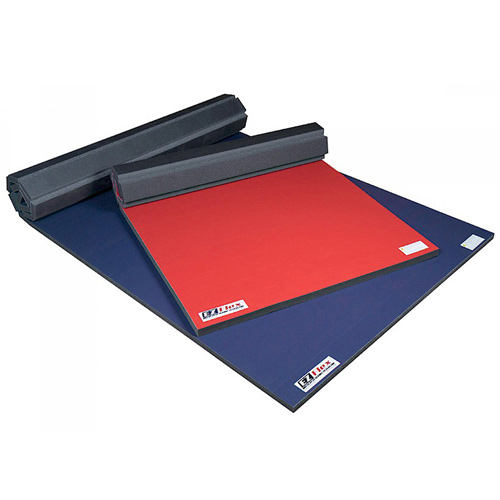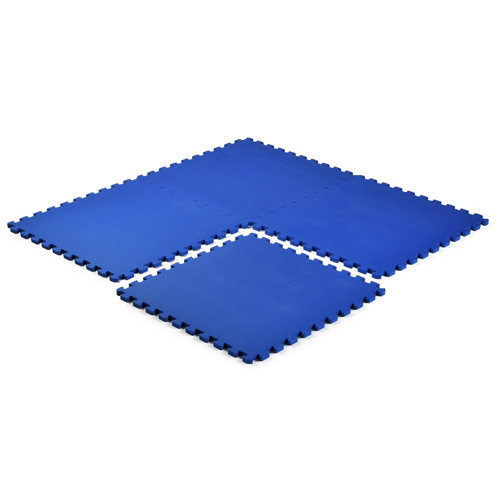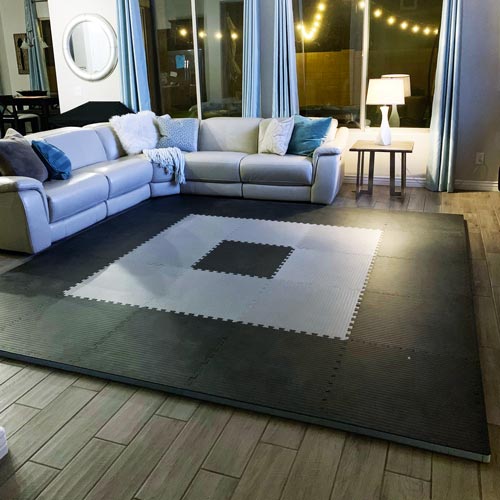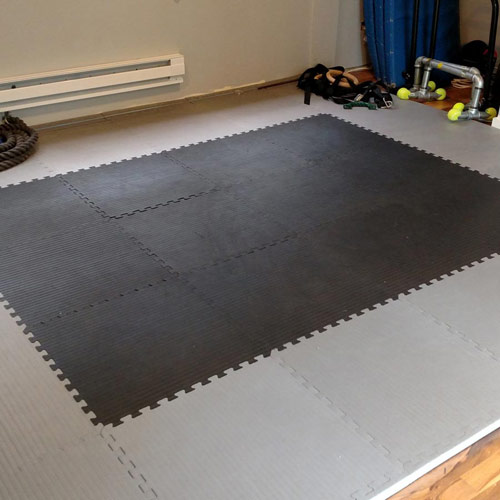 When looking to take a virtual yoga class at home, it's important to have the right floor in place. Whether looking to avoid the hassle of traveling to and from the yoga studio or seeking to take online yoga classes during times and hours when the in-person studio is unavailable, creating a place at the house to take virtual yoga lessons starts with finding and installing just the right flooring.
Some of the best types of floors that work for learning yoga and following a free lesson on YouTube include:
EVA foam puzzle tiles

PVC plastic interlocking tiles

Vinyl flooring tiles on a plastic base

PE foam core inside vinyl

PE foam core attached to carpet top

Rubber rolls
Working out at home and following virtual yoga lessons through a technology subscription service or by watching a video may require setting up a yoga studio in a family room. Installers then may need to return the family room back to its original flooring immediately afterward, so the room can go back to being useful for the entire family for watching a movie or playing a board game.
During the time of the pandemic, many people were left to juggle many different kinds of jobs at home, such as being a teacher to the kids for virtual school, working a regular job, and taking Zoom calls. Even with all of this going on, having the ability to earn a yoga course certificate at home or to stay in shape doesn't have to fall to the back burner because of an inability to go to the studio.
Just buy the right flooring for working out at home, and this simplifies the ability to do yoga and meditation at the house, while also handling other duties.
The best floorings will provide a comfortable space for a virtual yoga class, but they will also be easy to assemble and disassemble, resulting in a versatile flooring option. Both beginners and advanced yoga students can benefit from this type of workout at home.
What Benefits Do EVA Foam Tiles Provide for Online Yoga Classes at Home?
One of the easiest solutions to install at home for virtual yoga lessons involves using interlocking EVA foam tiles. This type of mat offers interlocking edges to allow for a quick install. After disassembling the tiles, just stack them in a closet or other storage area until they're needed for another lesson.
EVA mats pop together without the need for adhesive, yet the puzzle edges hold together tightly, even when placed under the stress of a yoga workout. Athletes in training can watch the online instructor, focusing all of their attention on the program stream, rather than worrying about whether the flooring will stay in place.
EVA also has a cheap price per square foot, giving customers a cost effective option for setting up the workout room in the house. Some of the different thicknesses of EVA foam that work for online yoga classes include the following.
1.5 Inches Thick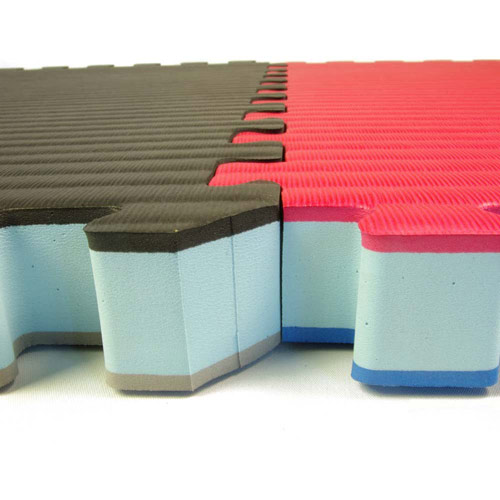 For those who want the maximum level of cushioning in the mats for a virtual yoga class, the 1.5-inch thick Home BJJ Mats represent the ideal selection.
These highly-cushioned mats will be a great choice for performing aerial yoga, where the student receives support for the body from a soft fabric hammock form. However, should the student fall to the ground, the extra cushioning - and 4 foot critical fall height rating - provides the capability to avoid injury.
Each puzzle edge style mat measures 2 by 2 feet for a fast layout.
Customer Tyler of Johnson City, Tenn., uses these mats for both bodyweight workouts and for yoga, as they have the versatility to deliver success with all kinds of at-home workouts.
"These mats are perfect for me," he said. "These are great for multi-purpose usage. The surface is smooth but not slick. Textured. I have had no problems with mat burn. The pieces fit together perfectly."
1 Inch Thick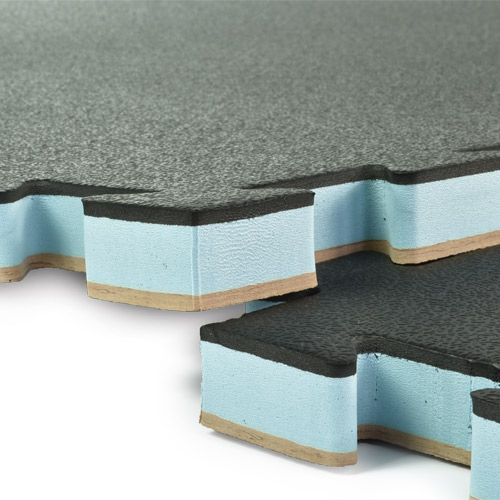 Another type of EVA mat with an excellent level of cushion is the Martial Arts Premium Karate Mat, which measures 1 inch in thickness. The puzzle edges on these mats go together in very little time, and they pop apart just as quickly after the session ends.
Because this EVA foam mat is resistant to moisture, it works well for virtual hot yoga lessons. At
Kismet Yoga + Fitness
in British Columbia, these premium mats give hot yoga students in bare feet the traction they need to remain safe and to avoid slipping.
Another studio review that showcases the high quality of these premium 1-inch thick mats comes from
USA Karate & Platinum Yoga
in Minnesota. Having a cushioned floor in the yoga section of the studio is especially helpful for older students who need the extra cushioning to protect the joints of the lower body.
3/4 Inches Thick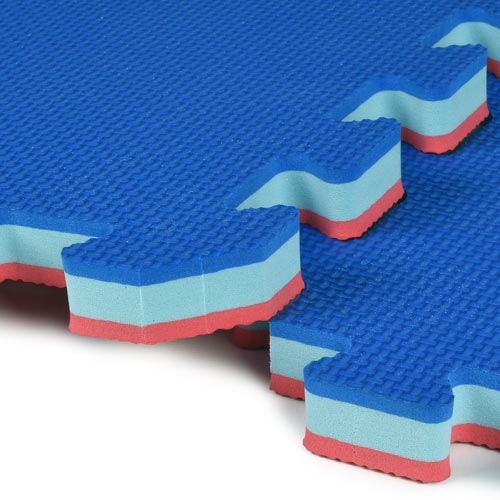 When seeking a type of flooring for online yoga classes, it might be helpful to install something that can double as a playroom flooring for the kids. The Home Sport and Play Mat product has this capability. It's firm enough for all kinds of workouts at home, but it's also thick enough to yield an excellent level of cushioning for kids who are playing.
Customer Robin installed these mats in an area of the basement that was too hard for any kind of exercise, ultimately creating a versatile space for ground-based stretching and yoga workouts. Robin also appreciates the ease of assembling these tiles.
"I am so impressed with the mats," she said. "The blocks,which are very easy to assemble, provide just the right amount of padding to be comfortable, but provide stability, too. And it has absolutely no odor. What a great product."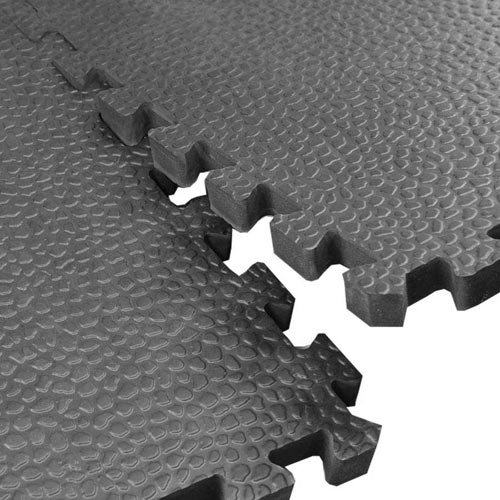 For those who want a great tile for online yoga classes and for multiple other kinds of exercise, including the ability to support workout machines and some weight training equipment, the Gym Floor Pebble Workout Fitness Tile is a popular choice.
Customer Stephanie of San Diego makes use of these 2 by 2 foot tiles for exercising in a home gym, as the tiles protect the subfloor from any kind of activity. She says the textured surface and cushioning level in these pebble top tiles is so good that there's no need to add a yoga mat for virtual yoga lessons.
"Great quality and condition," she said. "Totally worth the price!"
5/8 Inches Thick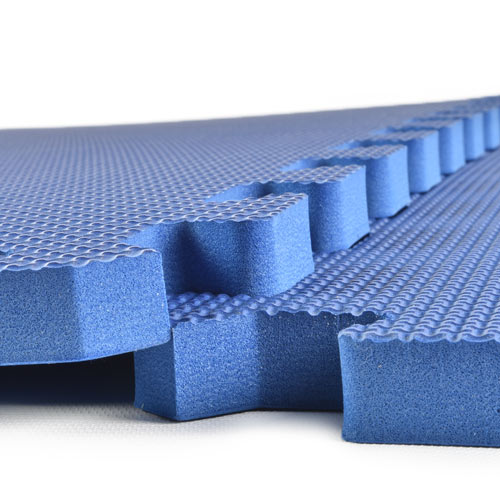 Another product that works exceptionally well for taking a virtual yoga class at home, while also giving kids a safe play area, is the Premium Foam Kids and Gym Mats. These 5/8-inch thick mats use a puzzle style edge for quick installation.
They're waterproof and have a slight texture on the surface layer, which delivers the perfect space for exercising.
Customer Diane installed these mats in her Kirkland, Wash., home gym, primarily for yoga workouts at home. She says these mats were especially helpful in reducing the amount of stress on the knees and wrists during regular yoga sessions, no matter which poses were occurring. The tiles help to reduce noise, enhancing the feeling of relaxation that the space provides.
"We love our mats," she said.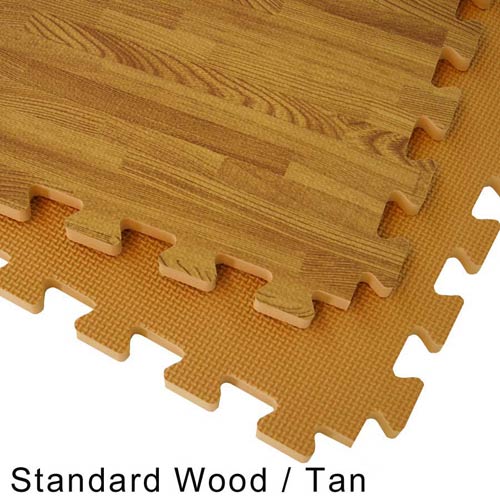 For those who need a stylish type of EVA foam flooring tile,
the Wood Grain Reversible Foam Tiles represent a popular selection. These interlocking tiles have a wood grain stain color on one side and a tan color on the opposite side with a scuff resistant texture.
For customer Kathleen of Fox Lake, Ill., creating a workout space for lifting weights and doing yoga took only a little more than an hour to complete the full room installation. Cutting the tiles to fit tight to the wall was an easy process with a sharp utility knife.
"As long as you measure carefully, it looks professional," she said. "Great to workout on whether you're lifting weights, doing yoga, or just getting in the way if you're my dog."
3/8 Inches Thick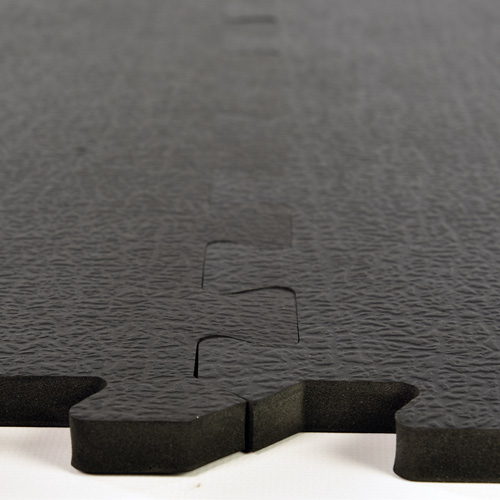 At only 3/8 inches in thickness, the Sport Plus Designer Foam Tile product is extremely lightweight, weighing just 2 pounds for each 2 by 2 foot tile, which makes the installation for creating a yoga workout space extremely easy.
With this tile, customer Julie was able to use the durable and cushioned EVA foam to expand her yoga studio. She says her patrons appreciate having a cushioned subfloor over which to place their yoga mats versus using a hardwood floor.
"Very durable, cushy, and easy to install," she said. "The new floor matches the old floor that has been there for 4 years."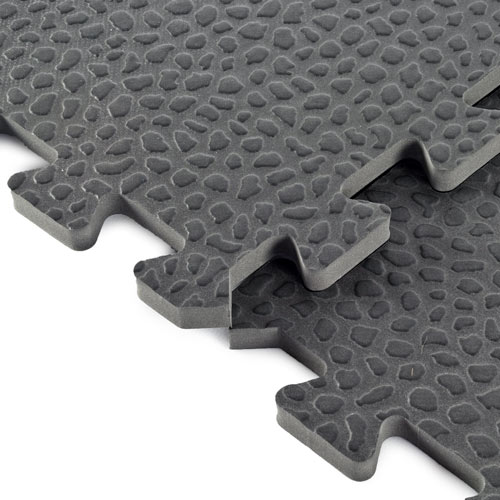 To gain a bit of traction in the 3/8-inch flooring, consider the Home Gym Flooring Pebble Tile. This interlocking tile contains a pebble texture over the top, giving those exercising or doing yoga the ability to maintain a firm footing or to avoid having the yoga mat slip out of place. The pebble texture is highly durable too, ensuring it will continue to look great well down the road.
Even with the thinner design, these mats are durable and will work underneath exercise equipment. They work equally well in a home gym setting or in a professional yoga studio, providing high quality flooring at a low price point.
Customer Andrea used these puzzle edge tiles to create a yoga room in the basement of her Nashua, N.H., home. She appreciated the low cost of the flooring, as well as the ease of installation.
"Customer service was very helpful in deciding which flooring would be best for our project," she added.
Does PVC Plastic Work for Yoga Flooring at Home?
For those seeking a highly durable style of flooring for a yoga studio at the house, PVC plastic is a popular choice. It offers durability similar to rubber flooring and a cushioning that's similar to foam.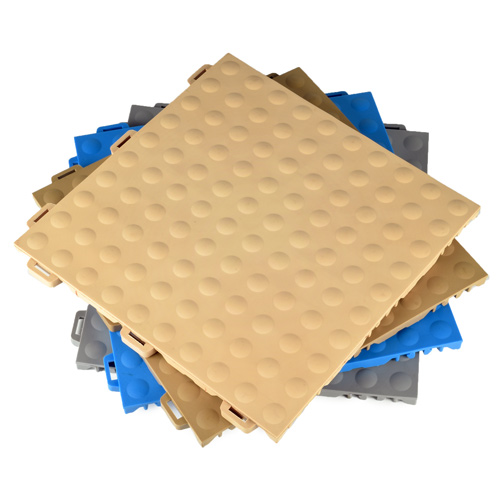 Customer Henry of Phoenix chose to order the StayLock Bump Top Tiles for converting a carpeted spare bedroom into an exercise room for P90X workouts, T25 workouts, and yoga sessions. He appreciates how easy the PVC plastic tiles are to clean.
"They sit level on top of the carpet and never move around as my wife and I are working out," he said. "They are easy to assemble and have held up well."
These tiles use a hidden interlocking system of tabs and loops, which results in an extremely clean looking installation. Some customers will choose to use these tiles for a virtual yoga class and for everyday use in a spare bedroom or basement setting.
Each tile measures 1 by 1 foot in size and 9/16 inches in thickness, which greatly simplifies the DIY installation process. One person will be able to handle the job alone.
What Are Advantages of Using Vinyl Tile for a Virtual Yoga Class?
A vinyl tile will provide a high level of durability, meaning yoga students can use it repeatedly without having it show wear and tear.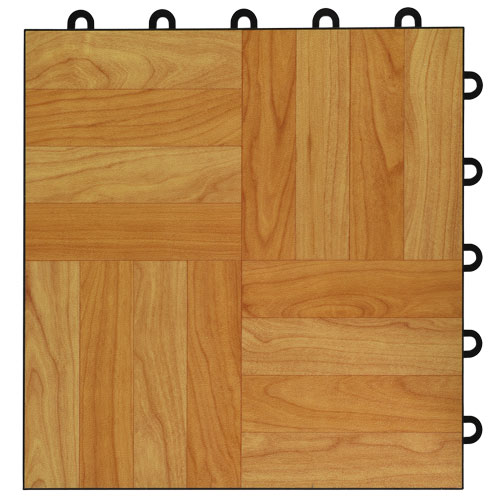 Each 5/8-inch thick Max Tile Raised Floor Tile consists of a thin vinyl layer over the top of a plastic base with a hidden interlocking system of tabs and loops. The vinyl layer contains a printed faux wood grain design, which enhances the style of the tiles, allowing them to blend into the decor of almost any room of the home.
Customer Amy in Yardley, Pa., installed the Max Tile product for activities like weightlifting, yoga, dance, plyometrics, and Zumba. She installed the tiles directly over carpeting, creating a beautiful look for the room. She also appreciates the ease of cleaning these tiles.
"I could not love this floor more," she said."Customer service was first rate too."
Is Rubber an Acceptable Inexpensive Flooring for a Home Yoga Studio?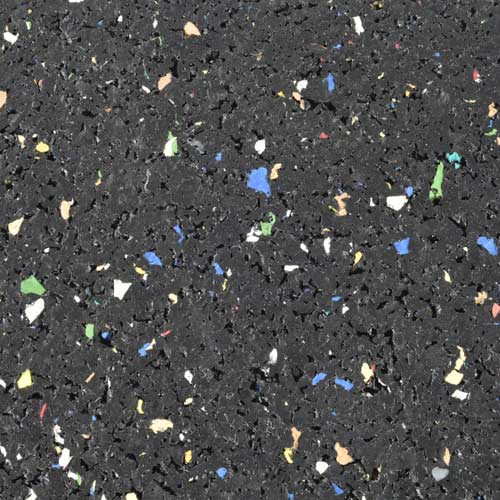 The Regrind Confetti Rubber Flooring Rolls product is one of the most economical options for creating a home exercise studio. These rolls have a coverage cost of less than $1.50 per square foot. They measure only 1/4 inches in thickness, which makes the installation process easy, as the 4-foot wide roll weighs just 1.5 pounds per linear foot.
The confetti in the rubber rolls adds multiple color flecks to the black base color, providing a slightly different look than the typical all-black roll of rubber flooring.
Customer Brandy of Central City, Neb., chose to install the rubber roll in a yoga studio she opened. The flooring will continue to look great over time, providing a high-end atmosphere in the professional studio, all at a great price.
"The flooring is high quality and looks great," she said.
Do Cushioned Foam Mats Provide the Performance Needed for Yoga Workouts?
For those who want the maximum level of comfort when lying on the ground for yoga workouts or when placing pressure on the wrists and ankles for certain yoga poses, using a thick, cushioned foam is a good choice. By attaching a vinyl or carpet layer to the foam, yoga students receive additional traction, while keeping some foams from tearing.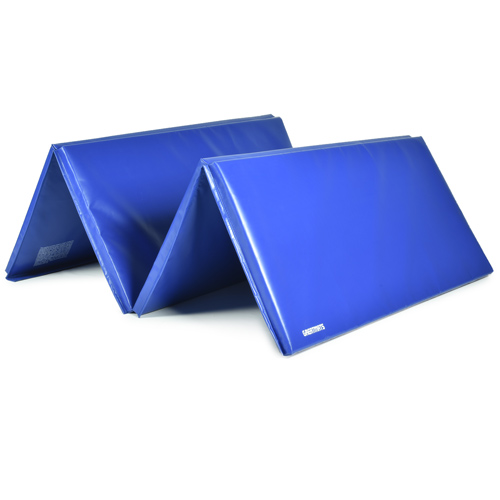 The 1-3/8-inch thick Discount Gym Mats product delivers an excellent surface for yoga. This product consists of a layer of foam on the interior with a 15.5-ounce vinyl cover that surrounds the foam. When laid out fully, this mat measures 4 by 8 feet, which is an ideal size for one person working on yoga. It consists of four connected panels that fold on top of each other for easy storage.
When creating a home gym, customer Frank of Draper, Utah, chose to make use of this mat. He appreciates the way it folds upon itself when it's not in use. The thick foam provides a comfortable feel when performing yoga poses that put extensive pressure on the ankles and feet, and the vinyl layer is extremely durable.
"It is very gentle on my older feet," he said. "It has not torn or creases, yet I am constantly stretching it with widely separated legs."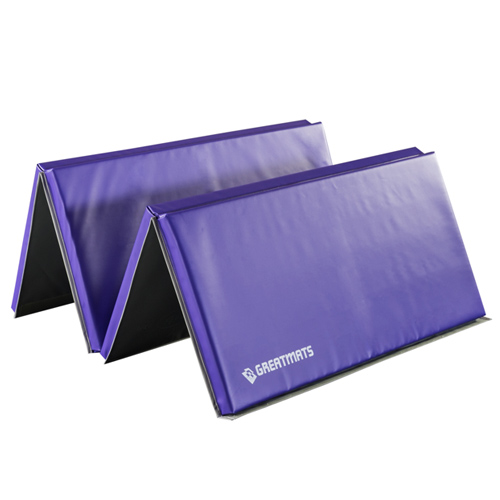 A similar option with a bit more cushioning is the 2-inch thick Gymnastic Mat product. This mat also consists of a foam interior section with a durable vinyl cover, ensuring the mat will have plenty of integrity for supporting the athlete doing the yoga workout. Customer J.S.T. appreciates how this mat provides the perfect mix of firmness for support and softness for cushioning.
"I am so happy with my mat!" she said. "It's well made, sturdy, not too soft or too hard. Awesome!"
When fully extended, this mat covers 4 by 8 feet. It also consists of four connected panels that will fold onto each other accordion style for an easier storage option in a closet or under the bed.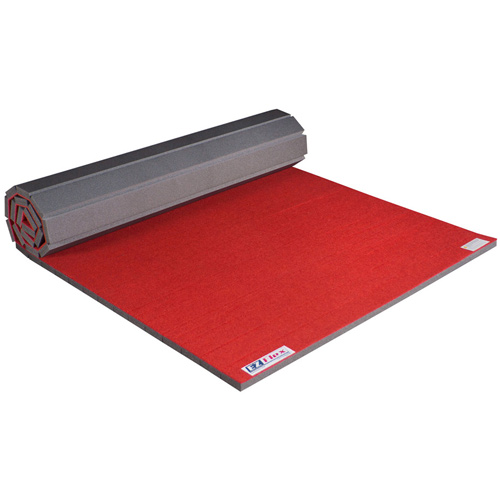 For a bit more coverage space in a subflooring for yoga, the 1-3/8-inch thick Home Cheer Mat is a popular choice. When rolled out, it will cover 5 by 10 feet, giving the athlete a little more freedom of movement when doing yoga poses.
Customer Peter in Commerce Township, Mich., makes use of this mat for yoga, Insanity, T25, and P90X workouts. The thick foam base layer absorbs the shock of these tough workouts, while the attached carpet layer provides a sturdiness and traction that the athlete can use to make the controlled movements required for a successful yoga session.
When the workout is over, just roll this mat up tightly, creating a convenient size for storage or for carrying to a new location. The entire mat weighs only 23 pounds. It stores easily in a closet or in a corner of the room in a vertical position after rolling it up.