Mega Lock Rubber Tile Black 3/4 Inch x 30x30 Inches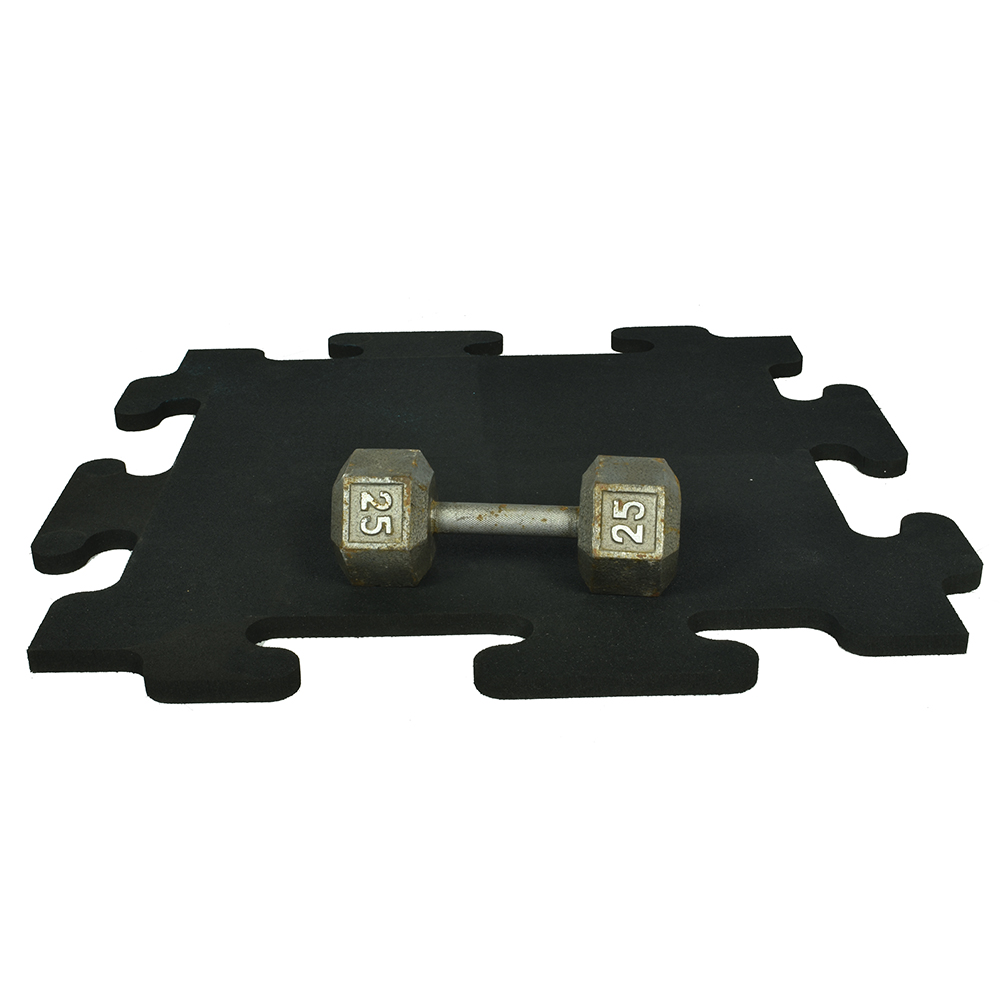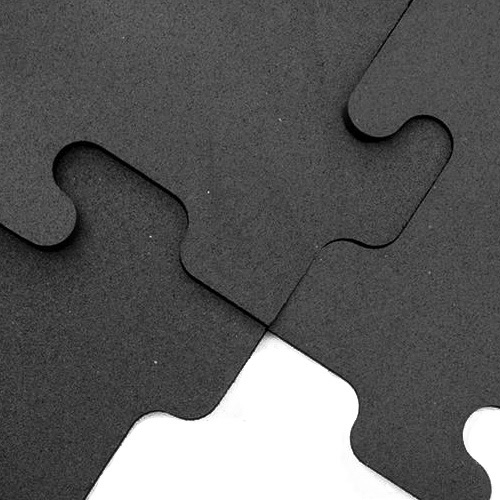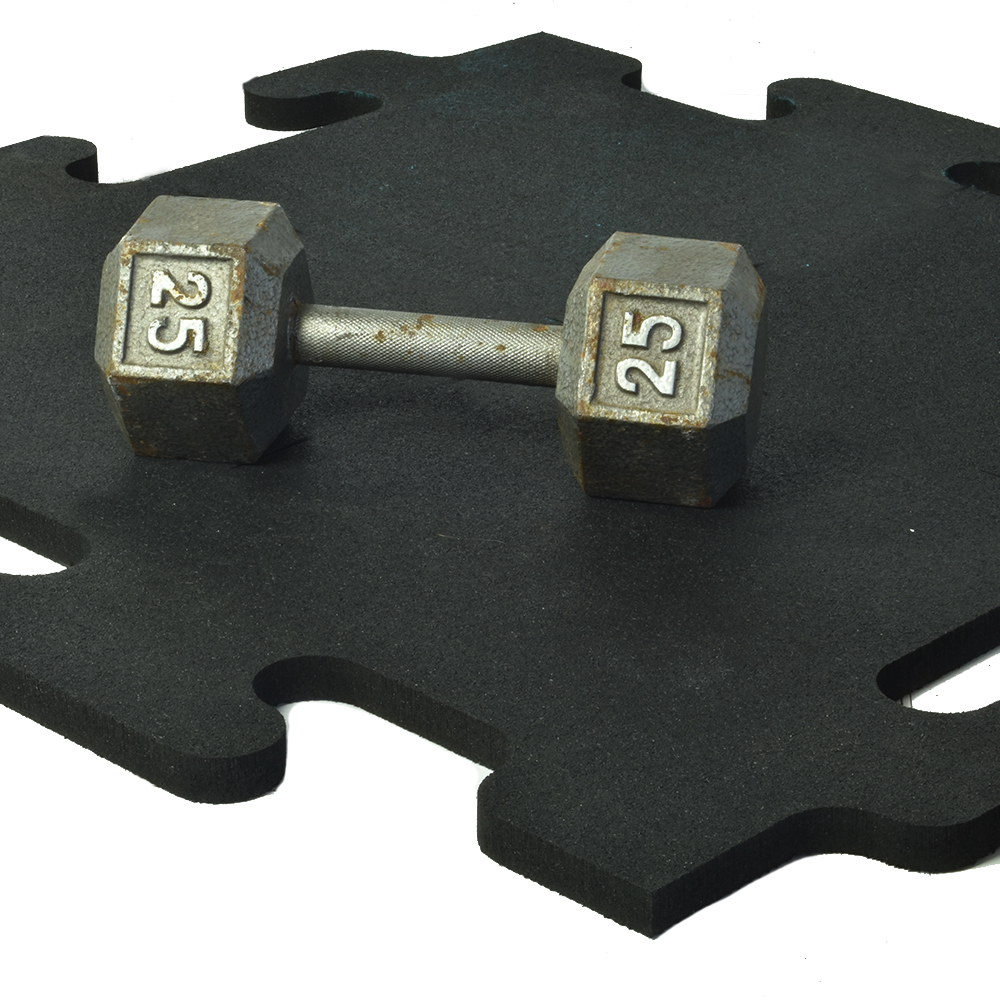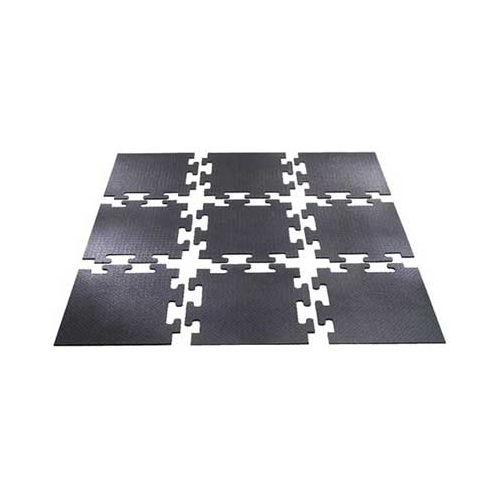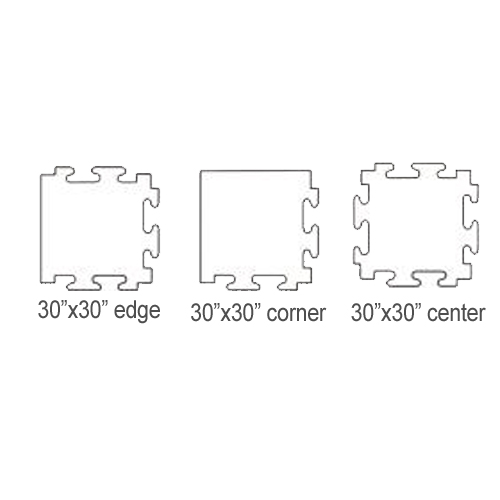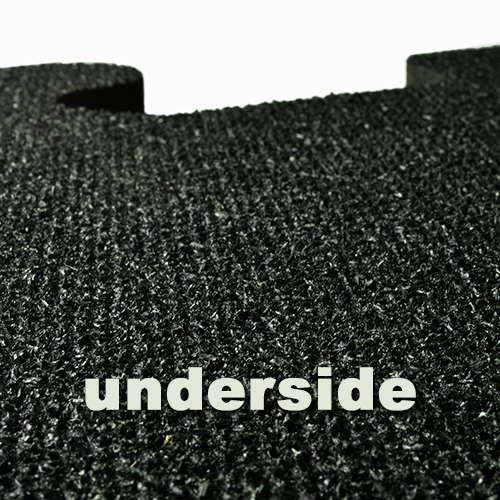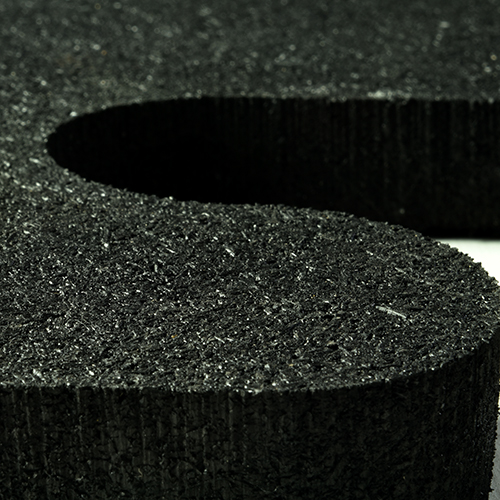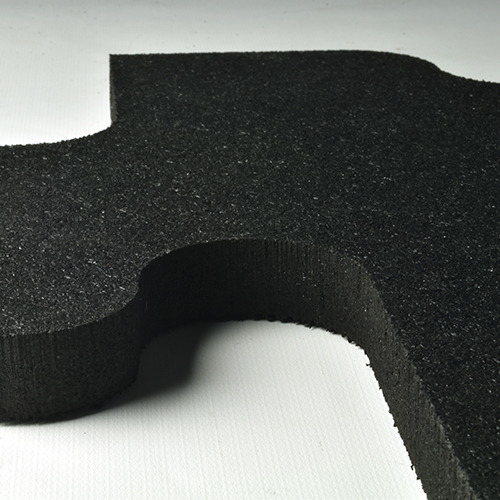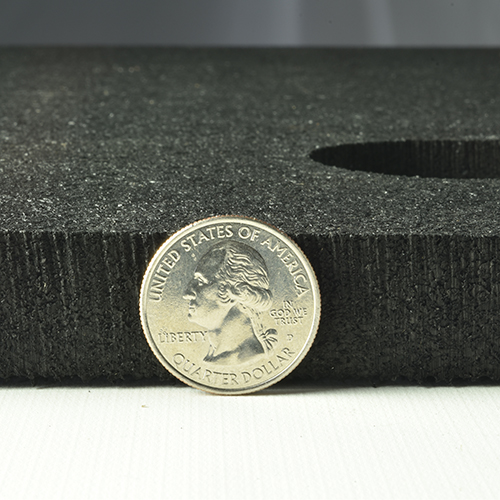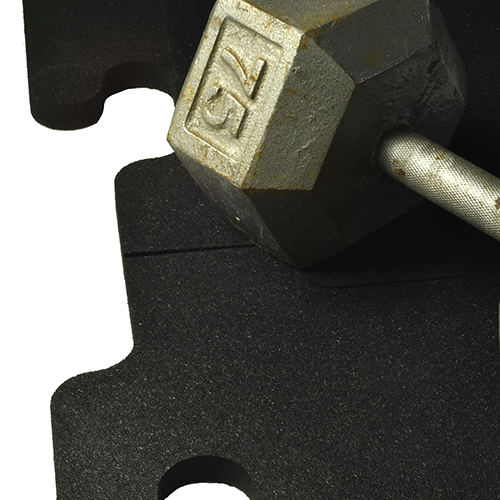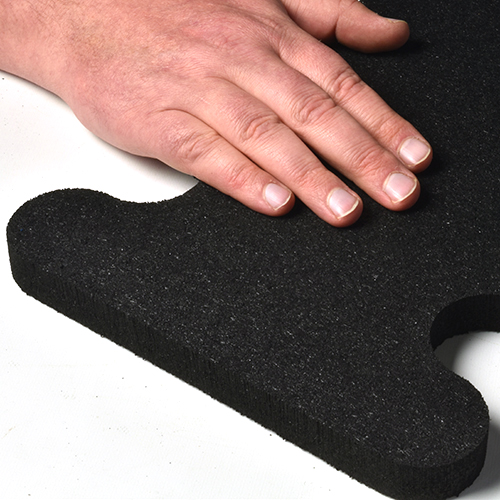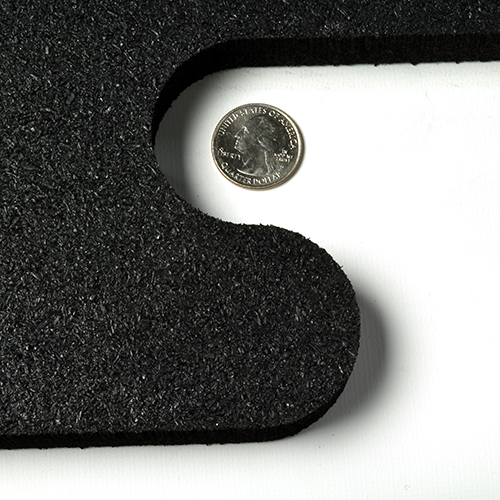 Low Odor, Recycled Rubber
Interlocking Tiles, Easy to Install, No Adhesive Needed
Excellent Traction, Slip Resistant
$31.14
/tile
(You Save 19%)
Call for Better Price on Volume Orders
(1 Reviews )
Ships Out: Estimate 2-4 Weeks on Average
How Much Flooring Do I Need?
TOP FEATURES
Low Odor, Recycled Rubber
Interlocking Tiles, Easy to Install, No Adhesive Needed
Excellent Traction, Slip Resistant
Non-Toxic, Enviromentally Friendly
Sound and Shock Absorbing
Easy to Maintain
Made in the USA
Use Types
Weight Rooms, Commercial Gyms, Home Gyms, Skating Rinks, Spike Protection, Ski Lodges, Locker Rooms, Boat Docks, Cardio Decks, Patios and Decks
Mega Lock Rubber Floor Tiles are made from a dense recycled rubber that provide superior quality flooring that will work well in variety of applications.
For the most durable type of flooring, it's tough to beat rubber floors at home or at the gym. The Mega Lock heavy duty interlocking rubber floor tiles from Greatmats provide maximum durability with a thickness measurement of 3/4 inches.


Yet, these floors also have a flex to them that provides some cushioning for the athletes performing the workouts. They also protect the subfloor from potential damage from large exercise equipment, creating an extremely versatile type of flooring.


Size and Shape Options

At a size of 30 by 30 inches, our heavy duty interlocking rubber floor tiles cover a lot of space in a short amount of time. This greatly simplifies the installation process versus a smaller tile.

Each mat has 6.25 square feet of coverage. However, to account for the interlocking edge on all four sides of the tiles, there is an interlock loss of about 0.33 square feet per tile. This can affect the install process, so you may want to contact the Greatmats customer service team to determine the correct number of tiles to order.

This is a thick tile at 0.75 inches, so it delivers plenty of protection for the subfloor. The manufacturer follows tight measurement tolerances when creating these tiles, guaranteeing a variance of no more than 1/16 of an inch. One tile weighs 25 pounds.

Our heavy duty interlocking rubber floor tiles are ideal for use in an area where free weights are in use. Even if athletes drop the free weights, there should be no damage to the subfloor.
Material Options
These heavy duty interlocking rubber floor tiles consist of 96% recycled rubber, which means they are a great choice for someone concerned with installing an environmentally friendly flooring. By using recycled rubber, our manufacturer keeps old tires out of the landfill.
Because we source these tiles from a manufacturer in the United States, this is a safe material to use as flooring, even when athletes may be laying on the floor to perform certain types of workouts. Our manufacturing process reduces the odor that rubber flooring sometimes creates.
Rubber also works well as a workout flooring because it absorbs noise. When athletes are dropping free weights or are clanging weight machines, installing these heavy duty interlocking rubber floor tiles cuts down on unwanted sound.
Pattern and Texture Options
Our heavy duty interlocking rubber floor tiles ship with a smooth, flat surface. Because rubber flooring naturally offers traction for those using the floor, it does not need a texture pattern molded into the surface of the tile to provide slip resistance.
By making use of a smooth surface in the tiles, it greatly simplifies the cleaning process for gym owners versus using a molded pattern with grooves.
As is common with rubber flooring mats, these tiles only are available in a black color.
Common Use Options
The most common use case for our tiles is to create a gymnasium flooring. At home, the installer may place these tiles in a garage or basement to make a workout space. Commercial gym owners can cover a large space quickly with these tiles as well.
Some people may choose to install them in an outdoor seating area, such as a deck or patio. The rubber tiles look better than worn wood decking or than cracking and stained concrete. They create a slip-resistant surface in outdoor areas that may become wet too.
Installation Options
Because of the interlocking, puzzle-style edge on each of the pieces of tile, the installation process works well as a DIY job.
Just press the tabs on one tile into the slots on the connecting tile and press the edges together. Because of the 3/4 inch thickness of these tiles, the installer will need to apply a bit of force to ensure the proper lock and fit.
There is no need to add glue to the edges of the tiles to ensure a tight fit. They will remain in place, even when the flooring receives significant stress from workouts.
Installers do not have to glue the tiles to the subfloor, which means they can pick up the tiles at a later date. For a permanent layout, though, it is fine to glue down the tiles.
Cleaning and Maintenance Requirements
Busy gymnasium owners appreciate how easy it is to keep rubber flooring clean. Maintaining and cleaning the flooring is not a time consuming process.
Start by removing dust and other dry materials from the surface of the tiles on a regular basis. For a busy gym, we recommend removing these items with a push broom, a regular broom, or a vacuum cleaner at least once a day.
When mopping these floors, make use of a neutral pH cleaning solution. Dilute the cleaner with hot water as recommended on the bottle of cleaning solution. Do not use a floor cleaner that contains bleach or other harsh chemicals.
After mopping, allow the flooring to dry in the air over a few hours.
Maintenance
Clean with a neutral pH solution.
Shipping
Shrink wrapped on pallets.
This Product Ships Freight Only.
Please review our shipping disclaimer.
ACCESSORIES
Accessories for MEGA LOCK RUBBER TILE BLACK 3/4 INCH X 30X30 INCHES
ANSWERS
Product Questions:
Q: Can I park a small car on these tiles? Will the car leave a permanent dent in the tile?
A: The mats would withstand the weight of vehicles without indenting. However, we do not recommend parking vehicles on rubber flooring as automotive fluids can break down the rubber material.
SPECIFICATIONS
| | |
| --- | --- |
| SKU# | 30x3034Blk |
| In Stock | Yes |
| Product Type | Tile |
| Material Type | Rubber |
| Product Edging | Interlocking |
| Thickness | 3/4 inch |
| Width | 2.50 feet |
| Length | 2.50 feet |
| SF per Item | 6.25 |
| Weight | 25.00 lbs |
| Packaging | Shrink Wrapped on Pallets |
| Number of Pieces per Package Type | 50 |
| Non Absorbent | Partial |
| Special Adhesives | No |
| Universal Interlock | Yes |
| Interlock Loss | 0.33 feet |
| Material Hardness | Shore A 60 +/- 5 |
| Interlocking Connections | Yes |
| Made In | USA |
| Surface Finish | Smooth Flat |
| Surface Design | Black |
| Installation Method | Dry-Lay, Interlock Edges |
| UV Treated | No |
| Reversible | Yes |
| Border Strips Included | No |
| Leed Points | Yes |
| Manufacturer Warranty | 15 year limited |
HOW TO'S
RELATED PRODUCTS
RELATED BLOGS
Customer Reviews
3 out of 5
1 star ratings
Customer Rating:
08/15/2016
Over the last four years or so, I have purchased several thousand dollars worth of floor mats from Great Mats. The product is good, but the NOTICE of delivery needs improvement, as I recently learned. In mid-July, I paid over $4000 for additional floor mats at my business - IRON BODIES GYM - with the explicit understanding that Great Mats would give me at least 3-4 days notice prior to delivery. After trading a few emails with Ryan Noll, the salesman, I understood that Great Mats probably would deliver the mats to my business around mid-August. Instead of the expected e scenario, I received an email on Thursday, August 4, that the mats ALREADY were being transported and would be delivered the next day! So, I had about 24 hours to scramble to prepare for delivery! I had to close down my business for two days because I lacked sufficient staff to accommodate the delivery and the gyms floor plan was completely unsafe for public use. If Great Mats had provided the proper 3-4 days notice, I would have been able to plan MUCH better for delivery. I truly hope that Great Mats resolves this NOTICE issue. Sincerely, Don Lyford President & Majority Owner IRON BODIES GYM