Rolled Rubber Sport 1/4 Inch Black Per SF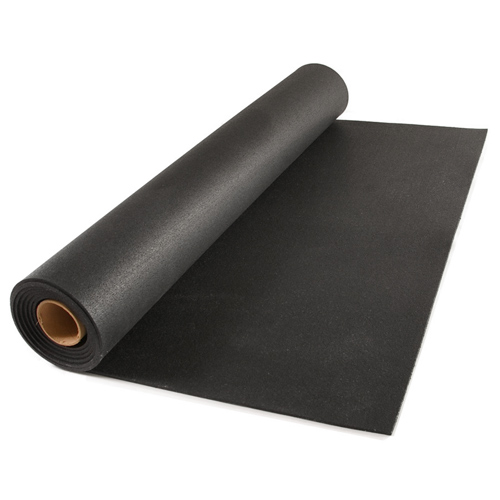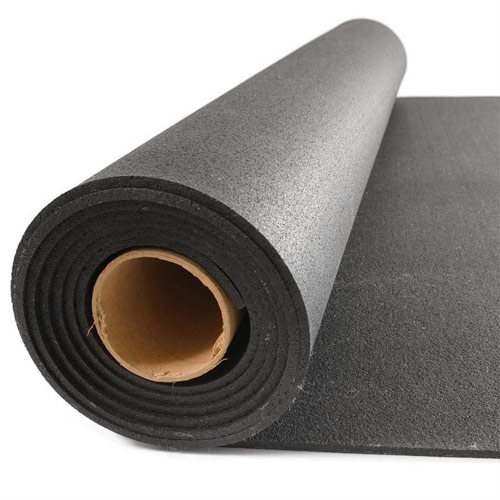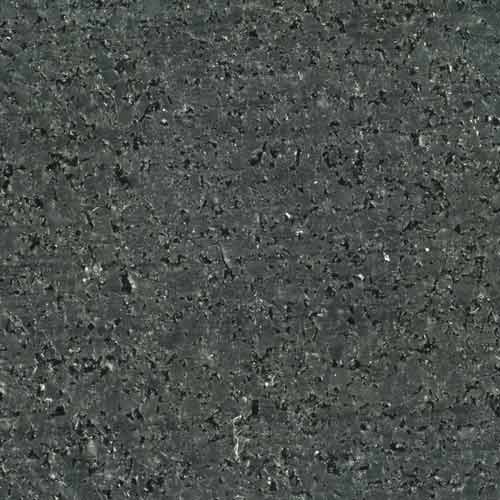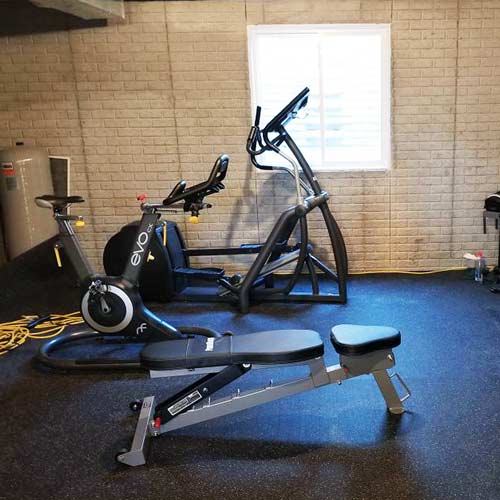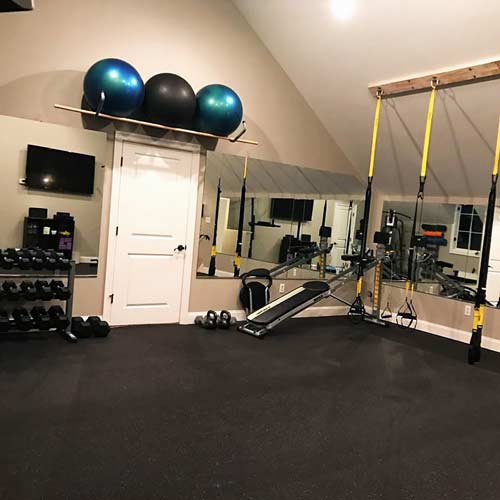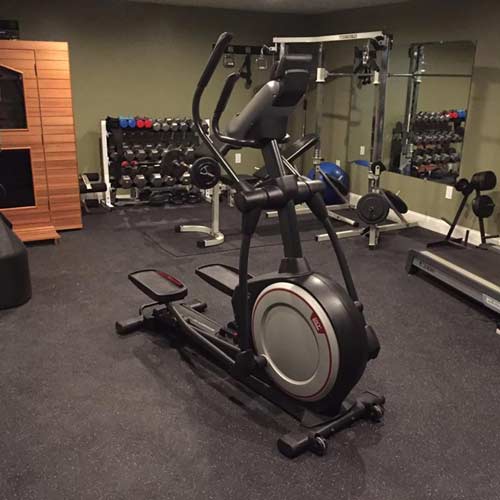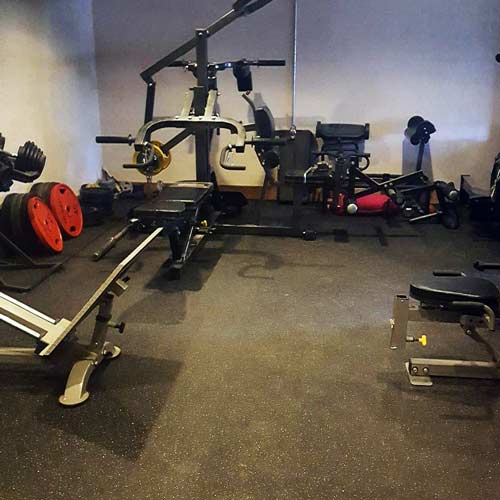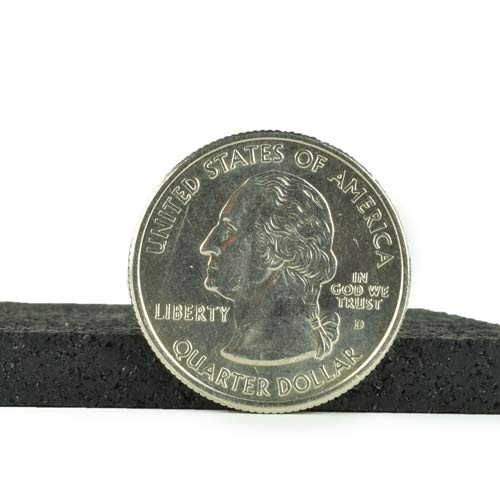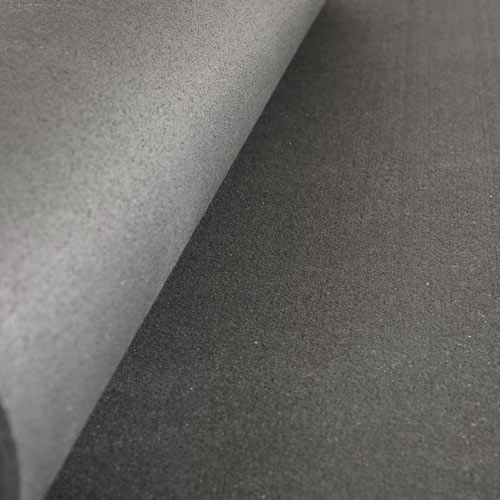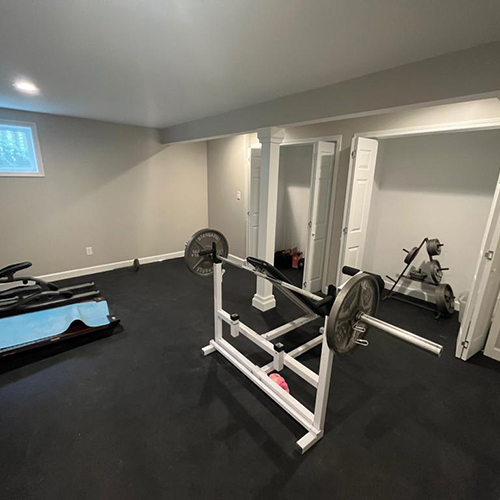 Sound absorbent
Shock absorbent
Slip and wear resistant
Call for Better Price on Volume Orders
(3 Reviews )
Ships Out: Estimate 4-6 Weeks

Black
Roll Calculator
Note: Material Width for this Product is 4' wide
Rolls are cut to 15 ft minimum
Option 1

Option 2

Custom Roll Length
VIDEOS
Rubber Rolls - Installation Video
Rolled Rubber Flooring Features and Benefits
How To Clean Rolled Rubber Flooring
TOP FEATURES
Sound absorbent
Shock absorbent
Slip and wear resistant
Non Reflective surface
Comfortable underfoot
Made in the USA
LEED credit
GreenCircle Certified
Use Types
Fitness Flooring, Health Clubs, Indoor Recreation, Locker Rooms, Functional Training, Weight Rooms, Spinning Rooms, Entryways, Corridors, Warm up Areas, Ice Arenas, Ski Resorts, Bowling Centers, Golf Facilities
NOTE: This item is a custom order and is not returnable.
Rolled Rubber Sport 1/4 Inch Black Per SF - 100 percent recycled rubber
Rolled Rubber Sport 1/4 Inch Black Per SF is compressed, tough rubber that gives the greatest relief underfoot and absorbs the jolt of exercise impact.
Black Rolled Rubber Sports Flooring, Custom Cut Length

For a versatile type of athletic flooring that's available at a discount price, our Black Rolled Rubber Sports Flooring is a popular choice. This fitness flooring delivers a sure grip for athletes during almost any kind of workout, while also carrying a nice level of cushioning, despite a thin configuration.

This rubber sports flooring will deliver comfort for use at a home, at a commercial fitness center, at a school weight room, or at a health club. The 1/4-inch roll works for weight rooms that are not making use of huge barbells and large amounts of weight.

We've even had customers install this style of rolled rubber in areas like spin class rooms, warmup rooms, bowling alleys, and golf pro shops. Rubber works nicely as a flooring in entryways where visitors may track in rain and snow that could create a slip and fall hazard.

Some customers install rolled rubber flooring in locker rooms to help with preventing slips in wet conditions or to protect the subfloor from the blades of ice skates, from football and soccer cleats, or from golf shoe spikes. (The manufacturer recommends using a minimum of 3/8-inch thickness for use around ice skates.)
Easy-to-Install Rubber Sports Flooring
Our roll of rubber is easy to install, as it will go over the top of almost any firm surface. Concrete and plywood are the most common types of subfloors to use with our rubber sports flooring rolls, as long as the subfloor is clean and dry.
Should the subfloor area have any cracks or indentations of more than 3/16 inches, installers should repair these areas before laying out the roll.
Customers can order the precise length of rubber sports flooring they want to use. Each roll is 4 feet wide, so it's easy to cover a large space in very little time.
Installers will need to use glue or tape to secure the roll of rubber to the subfloor. Apply a thin layer of adhesive to the subfloor before attaching the roll. Always lay the rubber on the subfloor within 30 minutes of applying the adhesive, or the permanency of the installation may suffer.
Durable Roll of Athletic Flooring
Even though this roll measures only 1/4 inches in thickness, customers can rest assured that they will receive a long lasting level of performance. Each roll carries a 5-year limited manufacturer's warranty, but most customers receive a far greater lifespan from these floors.
These rolls provide an eco-friendly material, as they consist of recycled rubber made from post-consumer tires and post-industrial EPDM rubber materials. The roll may contribute to LEED points for a building, and it is GreenCircle certified.
These are Made in the USA flooring rolls, so customers can trust the quality of the materials and the precise manufacturing tolerances in use. Should the customer need a thicker roll, both 5/16- and 3/8-inch rolls are available.
It is not common to find such a durable roll of flooring at such a low price. Our roll carries a cost of less than $2 per square foot of coverage.
It will provide slip resistance, ensuring that athletes have the grip they need to make quick moves during workouts. Weightlifters can trust that they will receive a high level of resistance from this floor, giving them the leverage, they need to excuse proper form on lifts.
In a busy athletic facility, noise can be a problem. Rubber flooring naturally absorbs noise, creating a more pleasant area for working out than those facilities that use hard floors where the sound may echo.
Fitness Gym Flooring Roll Specifications
Width: 4 feet

Length: Custom cut by the foot

Thickness: 1/4 inches

Weight per linear foot: 1.3 pounds

Color: Black

Texture: Smooth
Maintenance and Care
Avoid leaving loose debris on the surface of the rubber sports flooring for long periods of time, as people walking across the flooring could grind the dust and dry debris into the rubber, creating stubborn soils that could affect the grip of the material.
To remove dry dirt and debris, customers can sweep the surface with a broom, or they can use a dust mop or vacuum cleaner. High traffic areas may need sweeping a couple of times a day, while low traffic areas could use a sweeping a couple of times a week.
To clean the surface more thoroughly, a wet mop with a neutral pH floor cleaner should do the job adequately. Some people prefer to use an auto scrubber with a nylon brush head. The manufacturer recommends Diversey Profi Floor Cleaner and Grease Remover as the cleaning solution.
After rinsing the floor mat, pick up the excess water with a wet/dry vacuum. Do not leave puddles of water on the top of the surface. Give the area time to air dry before allowing people to walk on it again.
Maintenance
Sweep, dust mop or vacuum. Scrub with neutral pH cleaner.
Shipping
Ships via freight delivery only, shrink wrapped on pallets.
This Product Ships Freight Only.
Please review our shipping disclaimer.
ANSWERS
Product Questions:
Q: What are the dimensions of 1 roll? Specs indicate 1ft by 1ft but that doesn't seem right for a roll.
A: Rolls are 4 feet wide. Lengths are custom.
Q: How long and how wide is a roll?
A: Each roll is 4 feet wide.
Q: Can diluted bleach be used to clean rolled rubber sport flooring?
A: No, please do not use bleach on rolled rubber, only use a neutral PhH cleaner.
Q: Hello. How wide is this, please? I assume I can cut it to any length, yes? https://www.greatmats.com/gym-flooring/rolled-rubber-sport-25-black.php Thanks. Lynda
A: This product is sold by custom lengths.
Q: what is the width of this mat
A: This product measures 4 feet wide.
Q: im confused on how to order. need about 15 x4 feet of 1/4 inch black rubber flooring
A: Feel free to contact us at 877-822-6622 and a sales rep will be happy to assist with this.