What Kind of Flooring Is Used in Commercial Gyms?
By Kyle Schurman Created: October, 2022 - Modified: September, 2023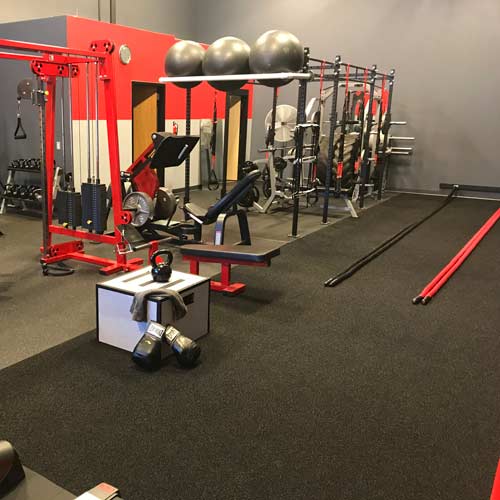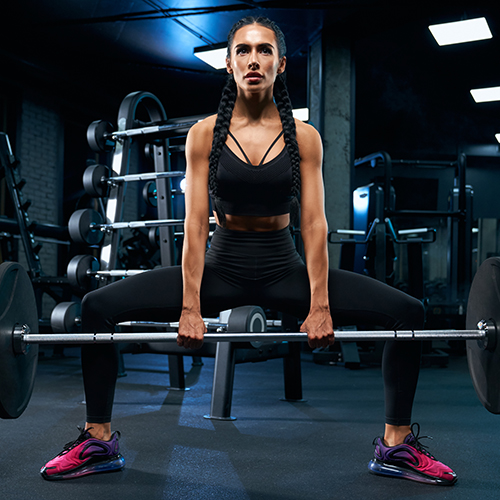 Commercial gym flooring most commonly consists of rubber. Rubber has multiple advantages, including being easy to clean, providing traction for athletes, protecting the subfloor from dropped weights and other impacts, and absorbing noise from workouts.
Finding just the right commercial gym flooring depends in part on the types of workouts that will occur in the space. Some gyms may want thicker rubber floors to provide maximum benefits. Others may be able to save some money with a thinner high grade rubber that delivers a solid level of performance.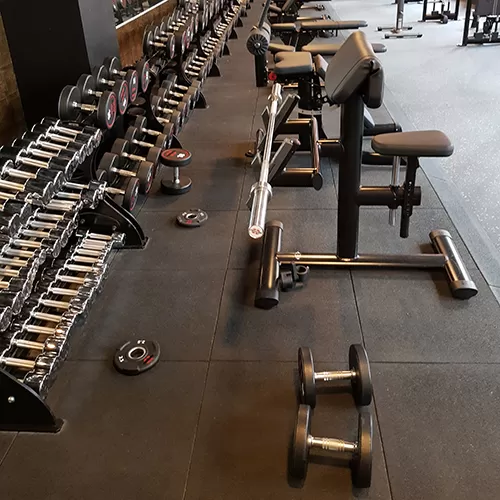 Rubber Commercial Gym Flooring for Weight Training
For customers who want to protect the subfloor from damage when athletes drop free weights, it's important to select the correct thickness of the material to cut down on the possibility of damage to the subfloor from the repeated impact.
Our recommendations for the thickness of rubber flooring to use for weightlifting in the gym include:
1/4 inch or about 6 mm: This thin rubber flooring works for weights up to 50 pounds lifted from the floor.


3/8 inch or about 8 mm: Using a slightly thicker floor yields a significant improvement, allowing for weights up to 120 pounds lifted from the floor.


1/2 inch or about 12 mm: When lifting barbells with more than 120 pounds, this thickness of rubber flooring is ideal.


3/4 inch or about 18 mm: Select extremely thick flooring when weightlifters will be intentionally dropping the barbells, such as with the clean and jerk weightlifting technique.


1 inch or thicker: When you want vibration and noise reduction along with maximum impact protection for areas with free weights, select this extremely thick flooring.
| Flooring Thickness | Weight | Action |
| --- | --- | --- |
| 1/4 inch / 6 mm | 50 lbs | weights lifted from the floor |
| 3/8 inch / 8 mm | 120 lbs | weights lifted from the floor |
| 1/2 inch / 12 mm | over 120 lbs | lifting barbells |
| 3/4 inch / 18 mm | over 120 lbs | intentional barbell drops |
| 1 inch or more | over 120 lbs | vibration & noise reduction |
Rubber Flooring for Noise Reduction in the Gymnasium
When offering an area for free weights in the gymnasium, it often will be an extremely noisy space. The clang of barbells hitting the floor and going into weight racks can disturb others in the gym. However, rubber flooring naturally absorbs noise, making it a solid selection for this use case.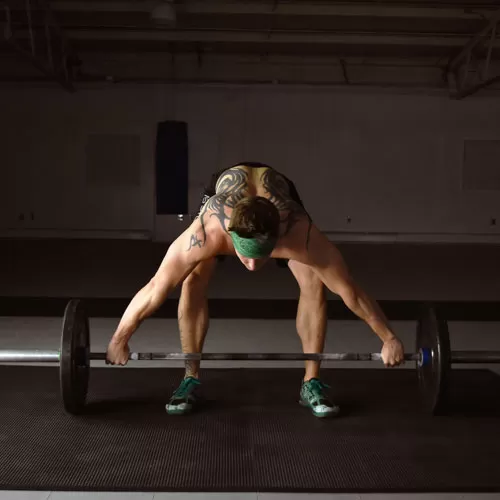 The noise reduction capabilities found in commercial gym flooring made from rubber are ideal for weight machines, treadmills, rowing machines, and stationary bikes, too.
All these machines can be quite noisy and can generate vibration. Making use of a rubber mat, a rubber interlocking tile layout, or a rubber roll underneath these machines in the room holds these machines in place through traction, rather than allowing them to slide around during the stress of using them.
Costs for Rubber Flooring Layouts in a Gymnasium
Commercial gym flooring made from rubber is available in a few different formats. Try to choose the format that best fits your budget and that delivers the range of thickness measurements that you need for the planned use case.
Interlocking Tiles Starting at $1.75 Per Sq. Ft.: An interlocking tile format simplifies installation versus other formats of rubber floors, because the individual tiles weigh less than a roll or large mat. We offer interlocking tiles in thicknesses of 1/4 inches to 3/4 inches with a cost starting at $1.75 per square foot.


Paver Tiles Starting at $6.50 Per Sq. Ft.: A paver tile format offers an extremely thick style of rubber for gymnasiums that need maximum noise reduction and impact resistance. A paver tile will offer between 1 and 2-3/4 inches of thickness with costs starting at $6.50 per square foot of coverage.


Rolls Starting at $1 Per Sq. Ft.: A roll of rubber flooring can measure anywhere from 1/8 inches to 1/2 inches in thickness. Thicker rolls will be extremely heavy and cost more than thinner rolls. The starting cost for rolls of rubber can be as low as $1 per square foot.


Mats Average $2 - $5 Per Sq. Ft.: A thick rubber mat is ideal to place underneath machines like treadmills, rowing machines, or stationary bikes. Such mats typically measure 4x6 feet. Thickness measurements often range from 1/2 inches to 3/4 inches in these mats, with costs typically between $2 and $5 per square foot.
Other Considerations for Rubber Flooring for Gymnasiums
With commercial gym flooring, you may want to pay attention to the color of the floors. Although the majority of rubber floors will have a base black color, some models include color flecks molded into the black that provide a more desirable look.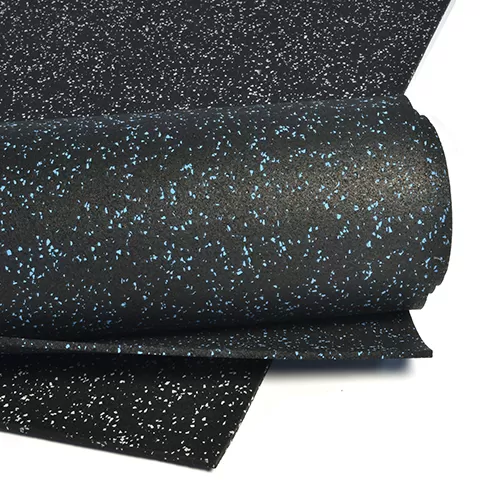 Because of the weight of rubber flooring, installers often do not have to use adhesive on the underside of the rubber. The significant weight in the final layout keeps the pieces in place. Because there's no need to use glue, installation goes fast and generates a limited amount of mess.
As a final consideration, gym owners should think about whether they want a full room layout or a limited layout with rubber tiles and mats only underneath equipment. This design would leave the original floor visible in the remainder of the room.
Limiting the installation of rubber to underneath machines saves money, but it doesn't offer uniformity throughout the room, which may negatively affect the design of the room. Using mats only under machines creates a lip that could result in a tripping hazard, too.