StayLock Tile Perforated Black 9/16 Inch x 1x1 Ft.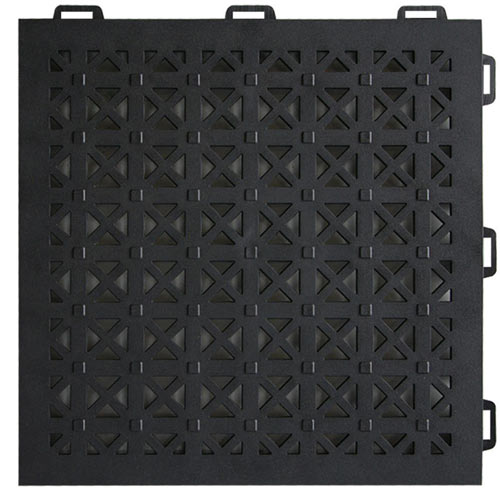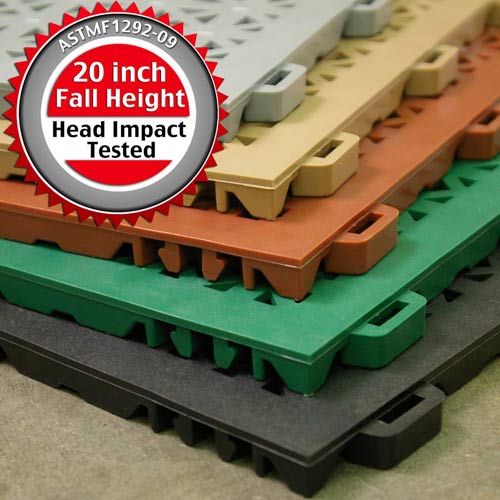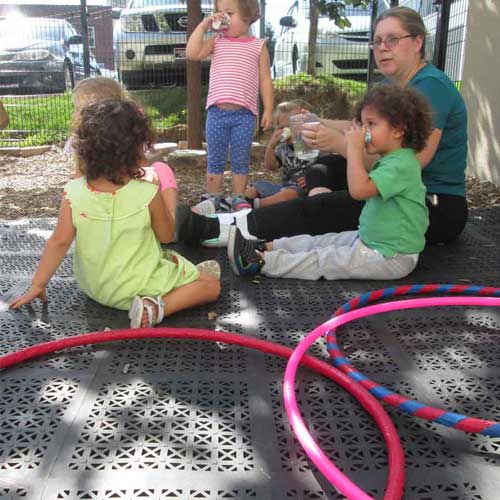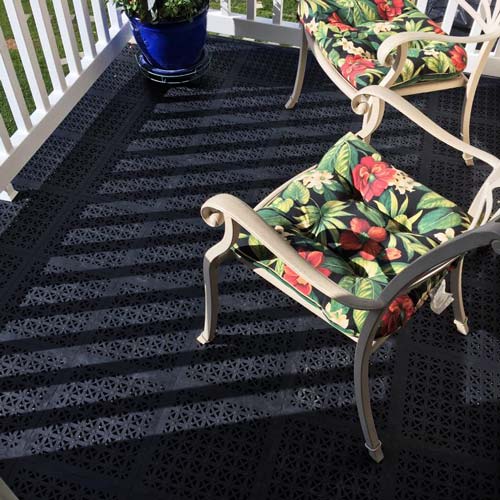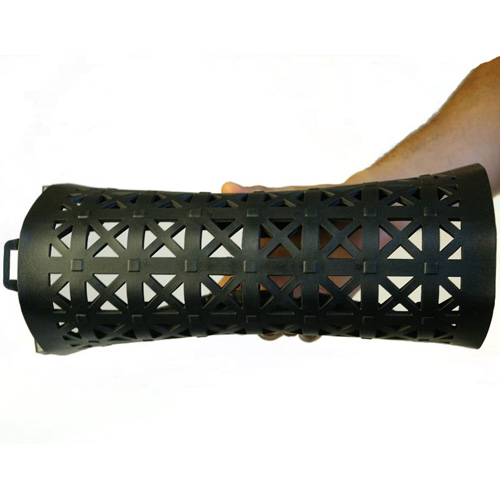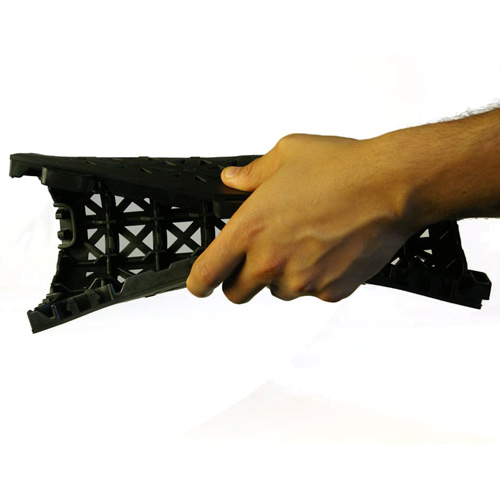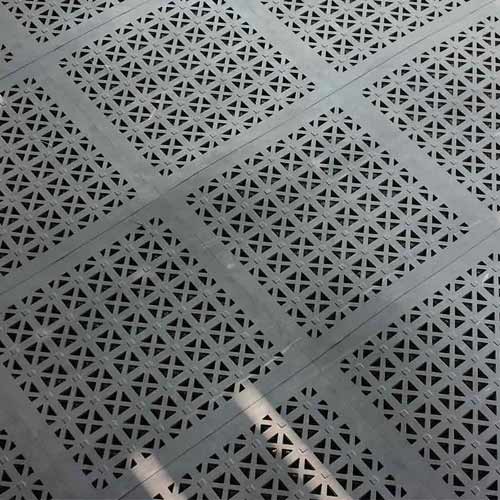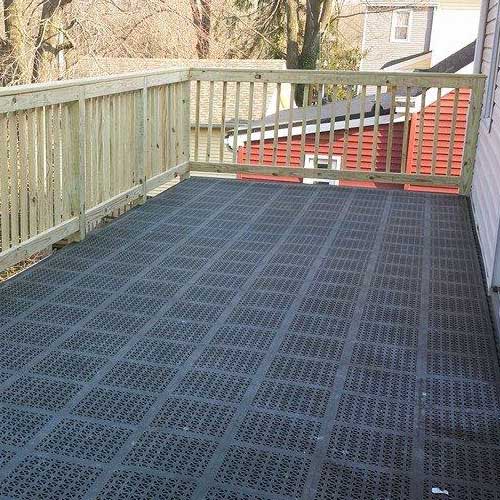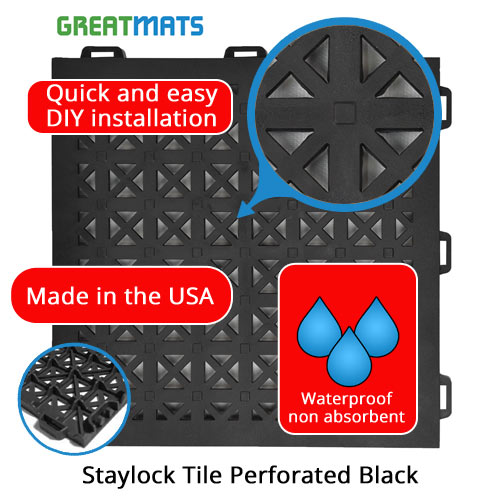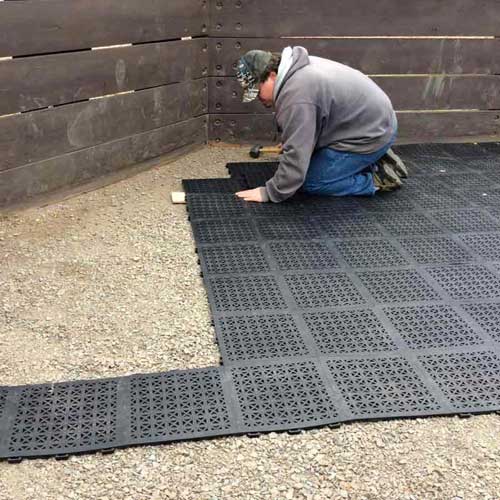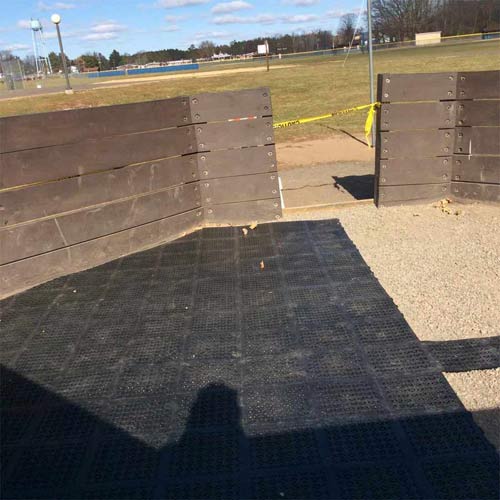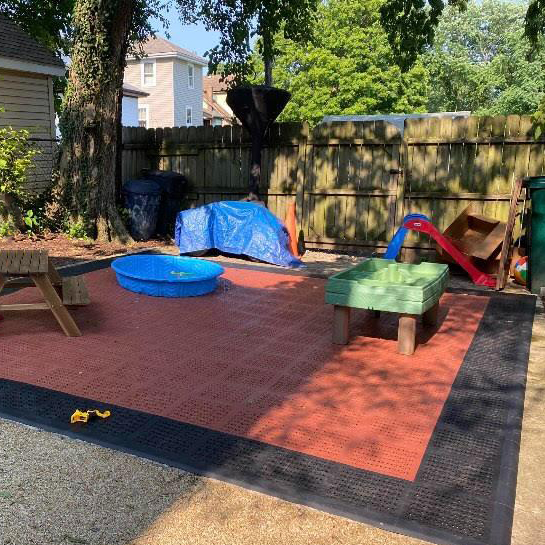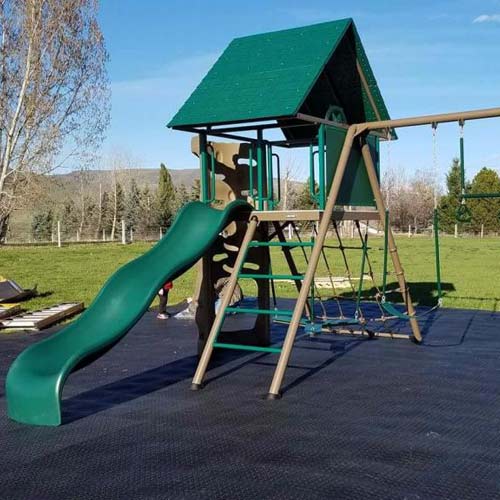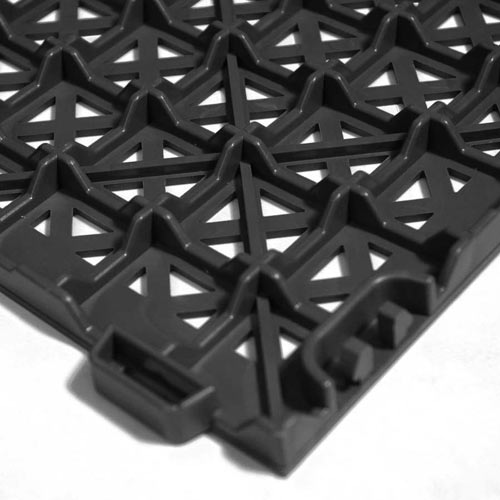 Rubber roof membrane safe for home installations
Playground surface ASTM fall height rated to 20 inches
Affordable fast DIY outdoor deck and patio tile
$4.49
/tile
(You Save 31%)
Call for Better Price on Volume Orders
(92 Reviews )
Ships Out: Estimate 1-3 Working Days

Black
How Much Flooring Do I Need?
VIDEOS
Staylock Tile Perforated Black - Flexible Outdoor Floor Tiles
StayLock Patio and Deck Flooring Tile Installation Tips
Keegan Livengood of GBC Autism Services on StayLock Perforated Tiles
How hot do StayLock Perforated Tiles get in the sun
How to Install StayLock Tiles Over Grass For A Temporary Walkway
Staylock Perforated Tile Impact Test vs. Baseball Bat
Outdoor Patio Tiles Over Concrete - Staylock Perforated Tile
How Strong Are The Connectors on StayLock Tiles
How To Cut PVC Floor Tiles
How to Replace Staylock Tiles - Orange Peel, Perforated and Bump Top
TOP FEATURES
Rubber roof membrane safe for home installations
Playground surface ASTM fall height rated to 20 inches
Affordable fast DIY outdoor deck and patio tile
Safe non slip wet area pool surround surface
Fast draining perforated outdoor flooring
Made from quality recycled PVC plastic
Active locking connecting system holds together over uneven surfaces
1 year limited warranty
Use Types
Outdoor Deck Tiles, Pool Surrounds, Rooftop Flooring, Outdoor Play Areas, Shower Flooring, Spa Areas
Home outdoor playground deck patio tiles, Interlocking wet area drainage tiles
Our StayLock Tile Perforated Black 9/16 Inch x 1x1 Ft. are high quality options for a subfloor covering layout. This is a versatile wet surface perforated modular tile that's a perfect solution for residential and small commercial projects.
StayLock perforated tiles offer exterior patio flooring for homes and light condos that are easily installed, easy to maintain.


Outdoor PVC Flooring

Our perforated tile has a greater level of durability than deck tiles for sale offered by most retail chains. These are made from recycled PVC materials.

They work as indoor floor tiling options for showers, greenhouses, playrooms, and indoor industrial applications. This is rated for residential installs when used as outdoor floor tile.

Ours can be set on hard surfaces, as well as on dirts or grasses in limited use. Set them out on flat rooftops, as these are rubber roofing membrane safe. 

Our flexible tiles have a 20 inch fall rating. It is a popular choice for a daycare area with playground structures. 

These will allow water to flow through and drain away quickly. Customers can then spend more time outside after a rain. 

StayLock perforated tiles measure 12 x 12 inches. These have a soft base, which is specifically designed for rooftops on rubberized membrane. They're suitable for residential and light commercial use.

Additionally, it is highly versatile and suitable for many other uses. It offers both traction and comfort in wetness, such as rooftop decks, patios, spas, pools, a shower, or industrial locales. It is designed for outdoor tile sale design installations, though it can be used indoors, too. 

One of the major benefits is its 20 in. rating for a fall. It yields safety for an area used by kids that can become wet, where slips and falls are common. 

StayLock perforated tiles have 224 triangular shaped holes. This serves to reduce standing waters.

The raised base will allow air and moisture to freely circulate beneath. This promotes faster drying.

Additionally, the edges of the base are rounded. This makes them safe for use directly on top of rubberized membranes for roofing. They won't puncture the membrane like others could.

It is comfortable against bare feet. And it is durable enough to support tables and lawn chairs with feet larger than 1.5 inches in diameter. 

These have a soft structure. This means they are frequently used for living spaces, swimming pools, patios, greenhouses, and decks.

But it also serves another purpose. It helps to create a safe, comfortable environment where workers may be exposed to wetness. These deliver anti-fatigue benefits to workers spending hours standing.

These can be cut to fit with a sharp knife. Optional borders and corners are available. This will allow creation of an island installation with finished edging. 

Understand that shade variations may be present with this product, even within the same dye lot. 

Ours consist of recycled content material. They may even contribute to LEED points for green buildings.

If looking for something a little bit different, count on Greatmats. We are offering models in a designer look with several

popular colors for play areas

on hand.

If desired, custom order in virtually any color imaginable, including terra cotta. Please contact us for details. It can be made to be completely unique, as a customer might decide to create patterns with different colorings for additional distinction. 

Because they have a rating from the ASTM for falls, they're especially workable for playgrounds. These are comfortable and can help to minimize injury from a fall.

They offer maximized traction. Custom colors are available, so customers can achieve the exact playground look that they desire. If expanding the playground space in the future, just order more to increase the dimensions. If seeking a great value, ours have a better price point.
Waterproof Pool Deck
StayLock perforated tiles will not separate over time and are an excellent choice for pool surrounds, hot tubs, and spas, which are areas that commonly are wet. Equipped with many holes, this perforated decking dissipates water quick and easy.
They will be offering increased traction to help prevent falls. While these are tough, they're also nice underfoot. For those sitting poolside frequently, the anti-fatigue capabilities that these offer are a significant benefit. 
StayLock perforated tiles are an ideal option for rooftops. These are lightweight. There's no adhesive needed. Laying out these is a simple DIY project. 
Because these are designed for maximized draining, there are no concerns about water remaining behind. This means people can enjoy the space promptly after it rains.
This is sure to become a favorite gathering place, especially with the anti-fatigue properties. To turn the rooftop into a useable space or to revitalize existing spaces, use these as an affordable, practical option. 
Easy to Install Black Deck Tiles
Flexible StayLock perforated tiles have rounded edges on the underside. This reduces the chance the edging of the perforated flooring will puncture roof membranes.
The perforated outdoor tiles sit on any flat surface as well. If ready to lay them out, no glue or adhesives are required. They have an active locking connector design for a long lasting, durable floor. 
If installing these tiles against a wall or another large object, we recommend leaving a 1/2-inch gap. This allows for expansion in the heat. Expansion and contraction is normal and to be expected when the tiles are installed outdoors and exposed to widely varying temperatures and humidity and / or high altitudes over 2500 Ft.
Heavy tables and chairs are not recommended to be permanently placed on top of these. They need to be able to shift as they expand and contract in changing temperatures. Consider carpeting for decks to hold heavy furniture.
To go around poles, doorways, or other obstacles, cut them with a utility knife and a straight edge. The design allows them to be easily separated, removed, or relocated if needed. They act like rubbery mats. With no adhesives used for assembly, disassembling them doesn't take a lot of effort. 
Place them directly over the wood decking with no barrier layer between. As long as the wood is not rotted and can support the weight of people walking on it, they can be safely installed. 
When trying to install them atop slightly uneven surfaces, our customers have success. The plastic decking will conform to match the contours. Rubberized mats also have this ability.
They will have success with slight differences in the grade. Dry lay them on almost any locale, including carpeting and even turf and dirt. 
Start in one corner of the area. Leave the loops facing out into the room. Save room for the slight gap for expansion. Then work across.
Line up the next and press the nubs on the edge down onto the loops of the first one until they snap together. Repeat the process, building it outward into the room, keeping the loops outward. 
To finish the edging, use the optional border ramps. As the installation moves along, just resize them to fit against walls and other objects.
Use a sturdy edge and a knife with a fresh blade to size them properly. To cut it, make repeated, shallow scores until penetrating through the entire thickness.
Ramped border edges are available in both black and yellow. They are ideal for island installations. They make for a safer, smoother transition onto and off of it. These are sold separately. 
These are quickly cleanable, allowing people to spend additional time enjoying it. Damp mop using common household floorings cleaners. Avoid using bleach on these. 
How Many Borders do I Need?
For Island installations: Where the layout will have all four sides exposed to the room. In this case, the number of borders needed will be the length + width of the layout for each border type, and 4 corner pieces. Use half male and half female borders in this instance. Example 10x12 ft layout, 10+12 = 22 male borders, and 22 female borders, and 4 corners.
For Corner Installations: Where the layout will be pushed into one corner and will have 2 sides exposed to the room. In this case, the number of borders needed will be the length + width of the layout and one corner piece. Use all male borders in this instance. Example 10x12 ft layout, 10+12 = 22 borders, all male, and one corner.
For Inside corners, two border ramps will have to be manually cut at diagonal to fit. Use a sharp utility knife to cut this product or a table saw.
FAQ StayLock Perforated Tiles Q&A
Can you put interlocking patio tiles on grass?
Yes, as they set out on uneven grounds nicely. Our Greatmats flexible patio tiles have the ability to mold to slight undulations on the grounds, delivering the perfect fit. However, if left in place too long, our perforated tile could kill grasses.
Can you put deck flooring over concrete?
Yes, as these are fast draining and maximize cushioned feelings atop the rough cement. This makes them a very popular option for home daycare and playgrounds. Easily install them at home, around the poolside, or to cover up worn out concrete.
Can you lay interlocking deck tiles on dirt?
Yes, but try sticking with our perforated tile drainage models. Our Stay Lock deck tiles have a bit of flex to them, which creates safer spaces atop dirt. This perforated tile provides great drainage too, preventing rainwater from pooling.
What is the easiest DIY outdoor patio tile?
Our StayLock perforated tiles feature an active tab locking system, so installation is a piece of cake. They connect together tightly. There's no adhesive required for installations. Pick up and relocate them in the future if needed.
What is the best Greatmats outdoor flooring?
Our StayLock perforated tiles provide comfort for bare foot use on exterior surfaces, such as spas, patios, pools, and rooftop gatherings. The perforated tile allows drainage on any flat ground. These are 1 x 1 feet and made in the USA using durable plastic PVC material.
Maintenance
Recommended cleaning: Use vinegar and baking soda and hot water to clean the family of Staylock floor tiles. Do not use any cleaning solutions that contain bleach.
Shipping
Ships in cartons via ground service to your door, for larger orders product may ship freight delivery.
This Product Ships UPS Ground, FedEx Ground and/or Freight.
Please review our shipping disclaimer.
WARNING: This product can expose you to chemicals including Lead and/or Phthalates, which are known to the State of California to cause cancer and birth defects or other reproductive harm. For more information go to www.P65Warnings.ca.gov.
ACCESSORIES
Accessories for STAYLOCK TILE PERFORATED BLACK 9/16 INCH X 1X1 FT.
ANSWERS
Product Questions:
Q: What is the best tool for cutting tiles?
Q: how thick is this product
A: This perforated floor tile is 9/16 of an inch thick. For this and other products please check the Spec tab on our product page for tile sizes.
Q: what is the fall height for this product, I understand that it meets the ASTM 1292 rating, but is there an actual number like 5' or something?
A: This outdoor tile features a 20 inch fall height rating.
Q: Can this product be used on a TPO roof?
A: Yes this flooring tile is safe for installation on a rubber TPO roofing membrane.
Q: Would this product be appropriate for a basement laundry area?
A: Sure this would be a great option for indoor basement floors, perhaps consider the solid surface version.
Q: Can the tiles be taken apart if a mistake is made during installation?
A: Depending on the size of the installation. For rooftops, portions of the tiles may need to be glued down, depending the available perimeter constraints for the installation. We recommend a collar be a part of the installation to hold the tiles in place over time. The installation instructions are recommended for review. For smaller jobs under 400 SF, the tiles can be free dry laid.