Perforated Garage Tile 5/8 Inch x 1x1 Ft.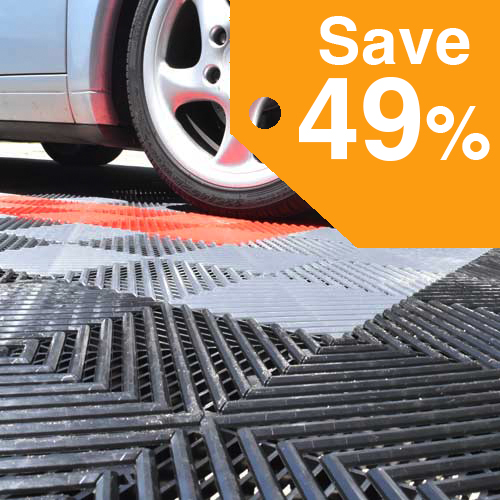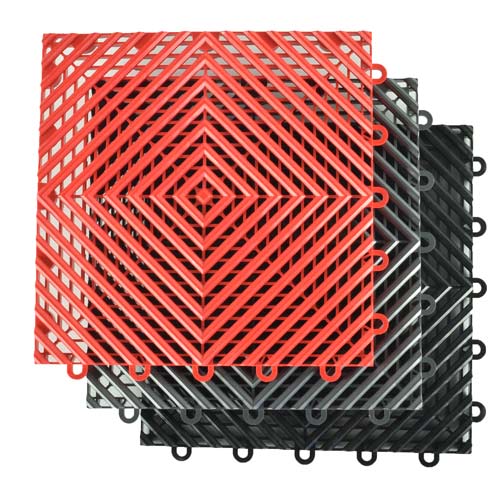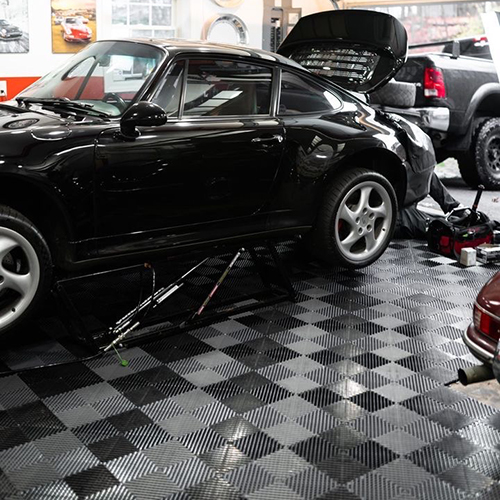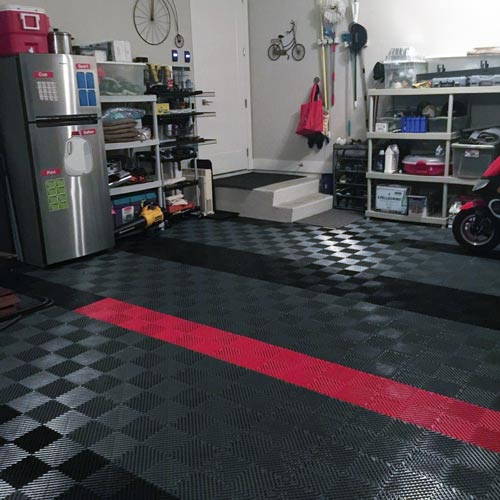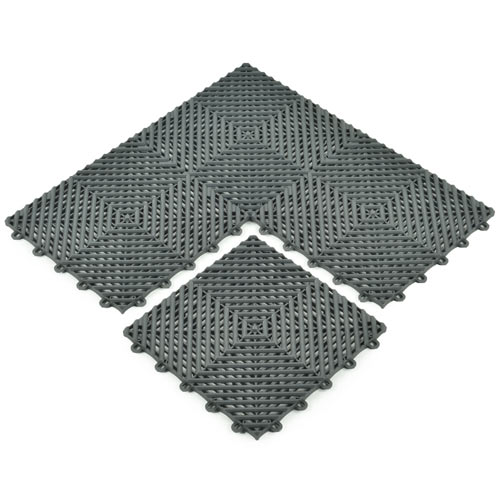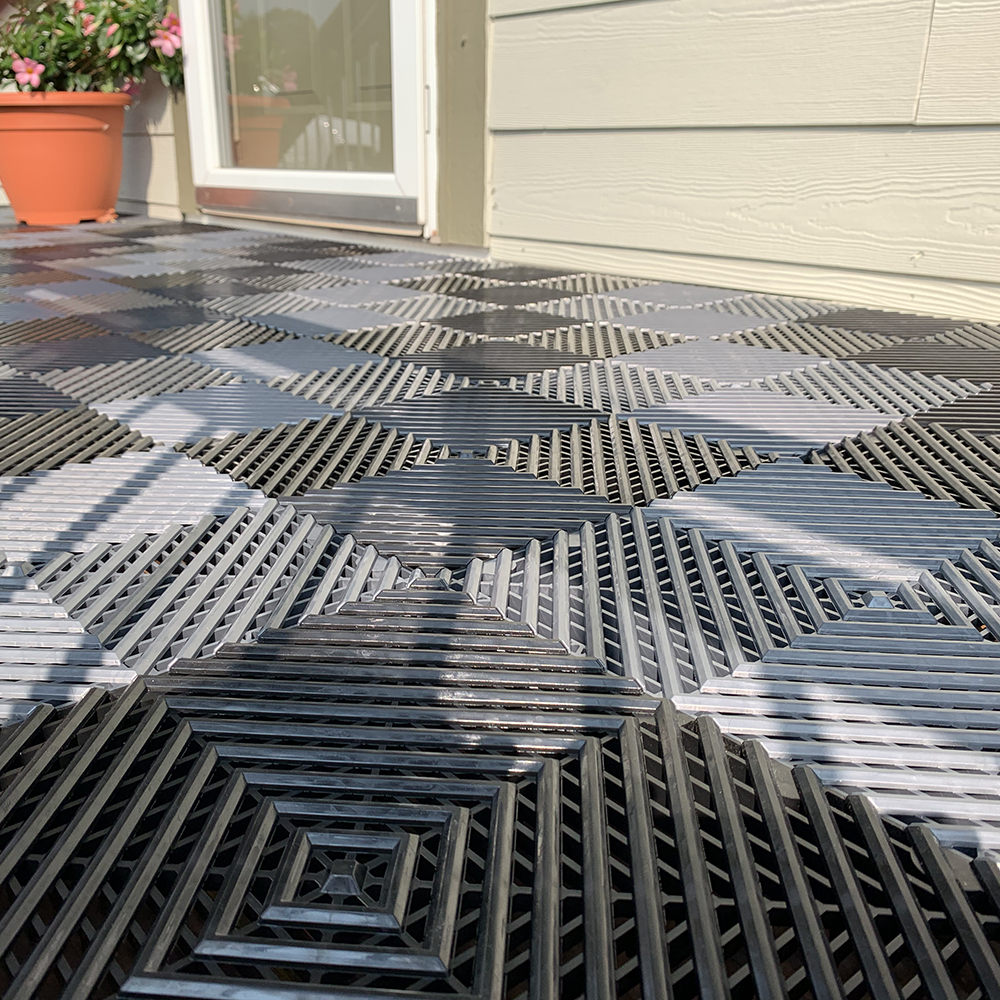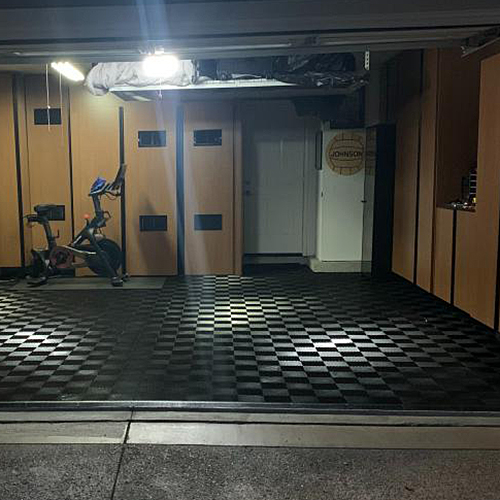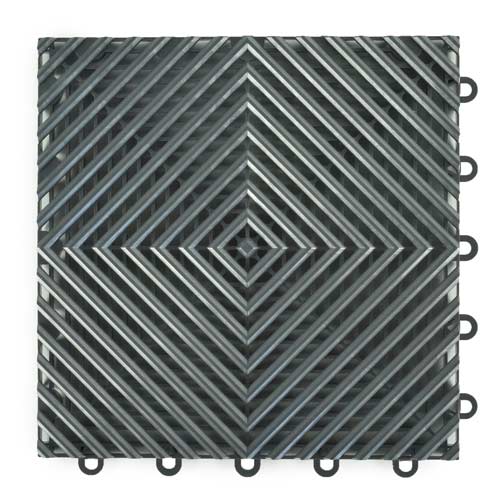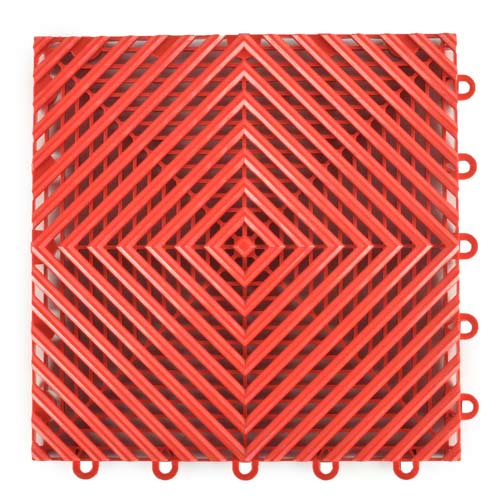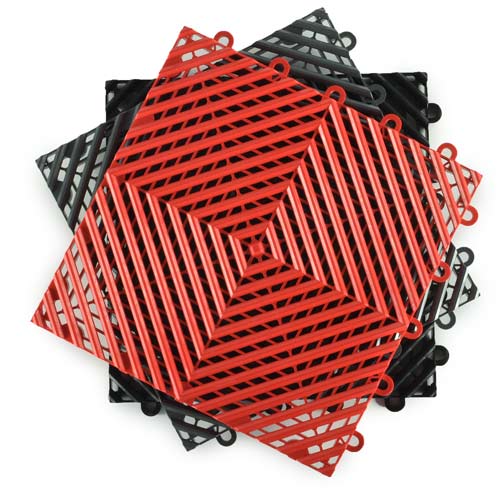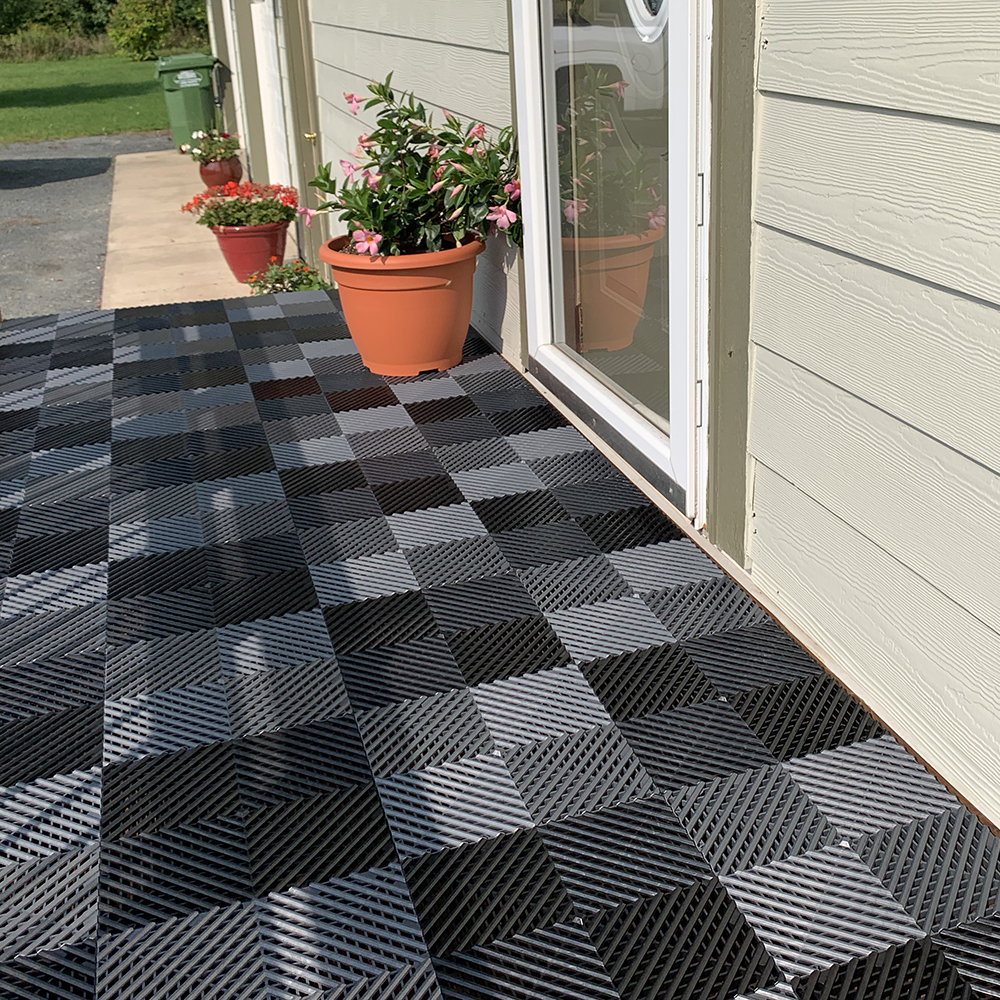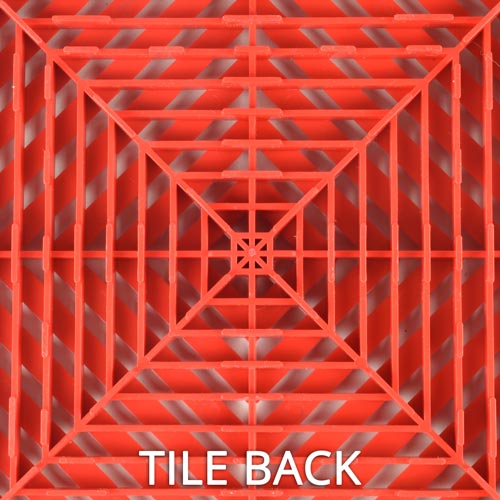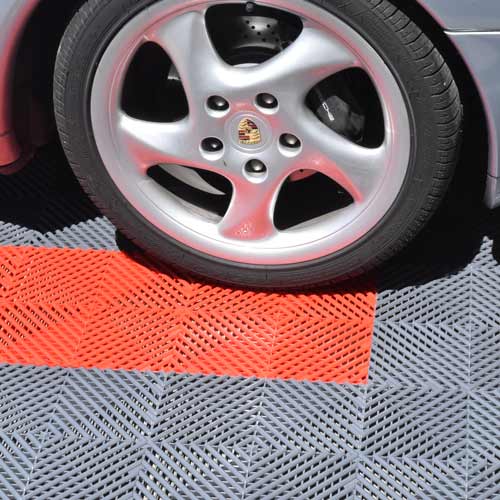 Durable interlocking snap together design with 5 tabs per side
Slip resistant top surface design
Mix and match up to 3 colors
$2.58
/tile
(You Save 49%)
(5 Reviews )
Ships Out: Estimate 1-3 Working Days
How Much Flooring Do I Need?
VIDEOS
Perforated Click Garage Tile - Garage Flooring by Greatmats
Perforated Garage Floor Tile 10x10 Install
Peter Kaczynskis Garage Transformation Using Greatmats Perforated Garage Tiles
Spark And Flame Tests Perforated Garage Tiles
How To Cut Perforated Garage Tiles
Garage Floor Tiles Sink or Float Tests
Do Perforated Garage Tiles Get Hot Outdoors Carport Flooring
How do Perforated Garage Tiles look over a wood deck
How do high heels work on garage floor tiles
Ramped Border Strips for Perforated Garage Tiles
TOP FEATURES
Durable interlocking snap together design with 5 tabs per side
Slip resistant top surface design
Mix and match up to 3 colors
Fast easy DIY installation, no glue needed
Border ramps available in black
Multi-use wet area modular floor tile
Fast draining with perforated surface and raised base
10,000 pound static load rated
Use Types
Garage Floor Tiles, Interlocking Garage Flooring, Patio and Deck Floor Tiles, Trade Show Flooring
Wet flow garage floor tiles, Snap together perforated garage flooring
Take advantage of the best interlock edged engineering with our Perforated Garage Tile 5/8 Inch. We have some of the most outstanding garage flooring tiles on the market. Ours are manufactured from durable polypropylene and are rated for 10,000 pounds per square foot. The flow through garage floor tiles are not only great or indoor installations, but also outdoor events and deck and patio areas.
Our snap together units are designed to outdo the competition. Our unique snap design is computer engineered for repeated installations without degradation to the tabs and loops on them.


Interlocking Garage Tiles

This features an octagon angled rib that is unique to the industry and provides additional grip if it is wet. Liquids will drain away very quickly, and the top surface will not hold any moisture, making this hard plastic very desirable for damp areas for automotive and foot traffic. Ours are supported by our manufacturer's limited warranty, yielding good value for our customers. It quickly ships from our Wisconsin warehouse in a few days. Call our USA based customer service center for assistance or for a free sample. We are always ready to assist with any questions about products or about how to prep the concrete. Our price match guarantee for similar products is unmatched in the industry, and we are proud to offer outstanding courteous service.


Perforated Garage Floor Tiles

With the perforations in our product, these are durable tiles designed to remove water from the top layer, which will ensure a safer area to work and walk around.

Another option we offer for those looking to develop a safer space for walking in garages that can be wet frequently will be diamond plate or coin pattern textured surfaces. The slightly raised patterns on these diamond tiles will yield a surer footing, even if the upper layer is wet or if someone coming in from outdoors has shoes with wetness or snow on them.

The patterns look nice, giving a bit of a style that customers appreciate. The raised areas are minimal and subtle, which means there is no worry about tripping over them.

However, for an area where excessive moisture is common, having perforations is the safest solution, thanks to its ability to drain the wetness away, ensuring it does not affect those working in the space. Without perforations, liquid pooling on it would create a dangerous slipping hazard that could be present if using porcelain garage floor tiles.
Garage Floor Drainage Tiles
We offer these in three different color patterns. Because all of them have the same interlocked edging, it's possible to connect pieces that consist of different colors, giving installers the ability to show off their design skills or to create clearly defined and visible spaces in the garages for performing certain tasks.
Sometimes, the building may have metal grates built into the concrete that lead to the draining system, carrying wash water into the sewer. If this is the case, using this style of tiling atop the metal grating will yield a bit more cushioning, while still allowing all of the liquid to fall through into the sewers as designed.
As an additional advantage, polypropylene plastic is similar to a slightly flexible PVC, which simplifies the installation process. It's also easy to clean, as it can simply be hosed off whenever needed and the cleaning waters will just go through the surface.
These consist of an interlocked system that allows for a DIY job, which saves money over having to hire a professional, as may need to occur with laying down epoxy atop the cement. With our product, just line up the loops on the edges of a single tile with the hidden tabs underneath the edges on an adjacent piece. Then use a hand or foot to pop them together.
Occasionally, to fit them tightly to a wall, installers will almost certainly be needing to use a utility knife to cut them. But this is only required for the last few pieces, meaning everything goes quickly up to that point.
How Many Borders do I Need?
For Island installations: Where the layout will have all four sides exposed to the room. In this case, the number of borders needed will be the length + width of the layout for each border type, and 4 corner pieces. Use half male and half female borders in this instance. Example 10x12 ft layout, 10+12 = 22 male borders, and 22 female borders, and 4 corners.
For Corner Installations: Where the layout will be pushed into one corner and will have 2 sides exposed to the room. In this case, the number of borders needed will be the length + width of the layout and one corner piece. Use all male borders in this instance. Example 10x12 ft layout, 10+12 = 22 borders, all male, and one corner.
Can I use these tiles outdoors?
Yes, these tiles are suitable for outdoor use. Just keep in mind that for areas longer than 40 feet in length, a screw down installation may be recommended.
For Inside corners, two border ramps will have to be manually cut at diagonal to fit. Use a sharp utility knife to cut this product or a table saw.
How long does it take to install 100 sq. ft?
You can expect a novice to be able to install 100 tiles in less than 40 minutes, assuming custom cutting is not needed and border strips do not need to be added. Should you need to add border strips, plan on an extra 5 minutes or so per 10 ramped border strips. Disassembly of the a 10x10 foot floor, fully equipped with ramped borders can easily be done in less than 20 minutes.

How long does it take to disassemble 100 sq. ft?
Disassembly goes even faster the installation. If you are taking apart a 10x10 island installation with borders on all four sides, you can easily accomplish this in less than 17 minutes.

FAQ Garage Floor Tiles
What are the best garage floor tiles?
A few items are key in making a selection that will match the conditions inside certain garages. Start by considering the rigidity of the plastic tile system. Commercial grade selections will support the weight of vehicles and other power equipment that are often stored here. When they are extremely rigid, they do not need to be excessively thick to deliver the sought after performance. Ours measure just 5/8 inch in thickness.

What should I put on my garage flooring installation?
Some people will select something like garage flooring black puzzle tiling, which creates an excellent durability along with the ability to cover up cracks and other imperfections in the cement. When the subsurface is pure and perfectly smooth, people could choose an epoxy or floor paint, which certainly delivers a low initial price point. However, this solution likely will need to be redone regularly, necessitating extra costs over time. For a durable option that will deliver excellent value well into the future, the advantage to hold vehicles without breaking down under the weight will make this tile the smartest pick.

What are some do it yourself garage floor tiles?
Peel and stick garage floor tiles vs epoxy have a simplicity to them that makes them an appealing thought for certain installations. They're also significantly cheaper to lay out than paying someone to apply the epoxys. To make these work, though, the concrete subflooring must be perfectly level and cleaned thoroughly, or the simple adhesive will not stick. Instead, we would recommend paying attention to interlocking garage floor tiles reviews, which show how these are easy to install, thanks to the click together edges.

Are garage floor tiles any good?
Yes, but it's important to pay attention to the materials that are in use. Cheap ingredients will potentially lead to a failure of the garage floor decking prematurely. Count on Greatmats for delivering only trustworthy PVC garage floor tiles that come from the most reliable manufacturers and suppliers. A poor manufacturing process that doesn't follow tight tolerances may create weaknesses in the garage tiles interlocking design, leading to failures when placed under the stress of having hefty equipment and cars parked on them.

How can I make my garage floor look better?

Multiple colors and materials are available for a garage floor covering. Floor mats are an option for those who only want coverings in particular small areas to simplify working or standing in a location with wetness. Epoxy, staining, and painting atop the cemented subflooring could deliver the look that's desired. However, the best garage tiles fit so many different usage cases that they will be the ideal choice for the majority of customers. Top PVC tiles will last for a long time, which ensures the customer will receive the greatest possible value. Should drainage be required, perforated floor tiles have the capability to allow moisture to drain through. A coin garage tile floor yields a high level of texture for walking across in damp conditions as well, but it will not be perforated.

Maintenance
Wash and mop as needed
Shipping
Ships via ground to your door or for larger orders via freight to your location.
This Product Ships UPS Ground, FedEx Ground and/or Freight.
Please review our shipping disclaimer.
ACCESSORIES
Accessories for PERFORATED GARAGE TILE 5/8 INCH X 1X1 FT.
ANSWERS
Product Questions:
Q: Any brown/tans available in the polypropylene raised tiles?
A: This garage flooring tile is available in black, gray and red.
Q: How does it hold up to snow and ice in an unheated Minnesota garage during the winter? Will the tile crack in single digit temperatures and ice in the cracks?
A: The perforated tiles will hold up in all climates, extreme heat or frigid cold.
Q: Can you take it apart and remove to wash garage floor and put it back together after floor is washed and swept?
A: These tiles can be dis-assembled and moved as needed.
Q: Does this tile provide adequate space or channeling for the flow of liquids to a drainage point once installed? I want to use this tile in a portion of my basement that has some leaks, and want to ensure that the water will flow to the drain.
Q: Does this also interlock with the garage floor tile diamond or coin type?
A: Yes - if they are all the Greatmats family of these types of garage floor tiles only.
Q: can i lay this on dirt in my yard (i want to place garbage cans on top of it) if not directly on soil could i place on top of landscape fabric?
A: Yes, these tiles can be used outdoors on level surfaces.