Ergo Matta Perforated Outdoor Tile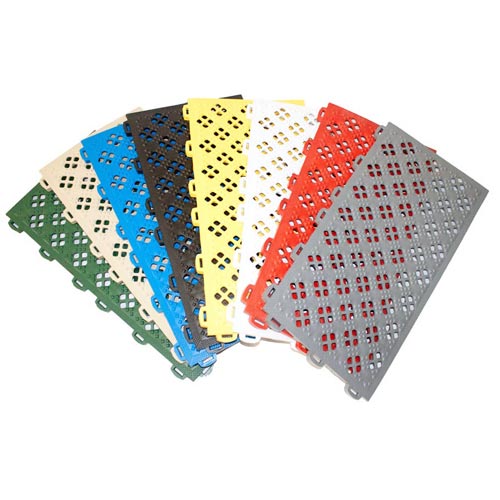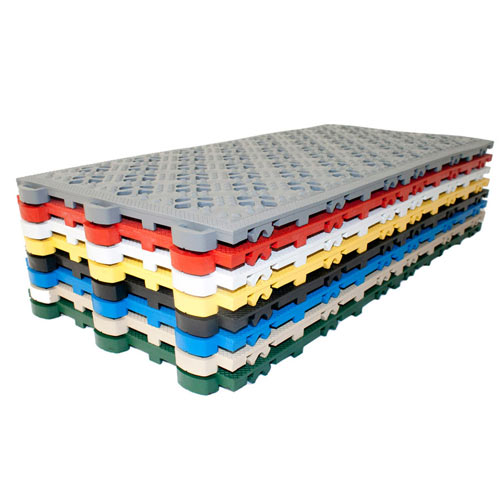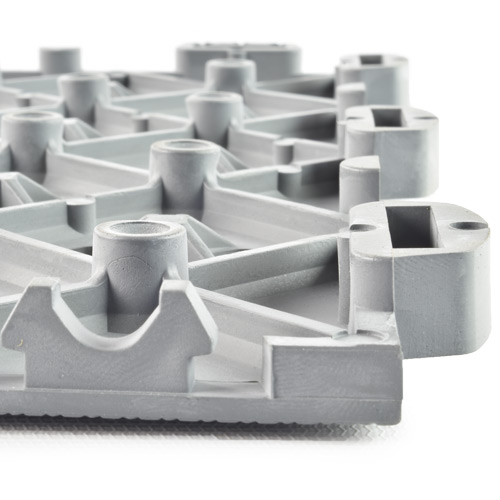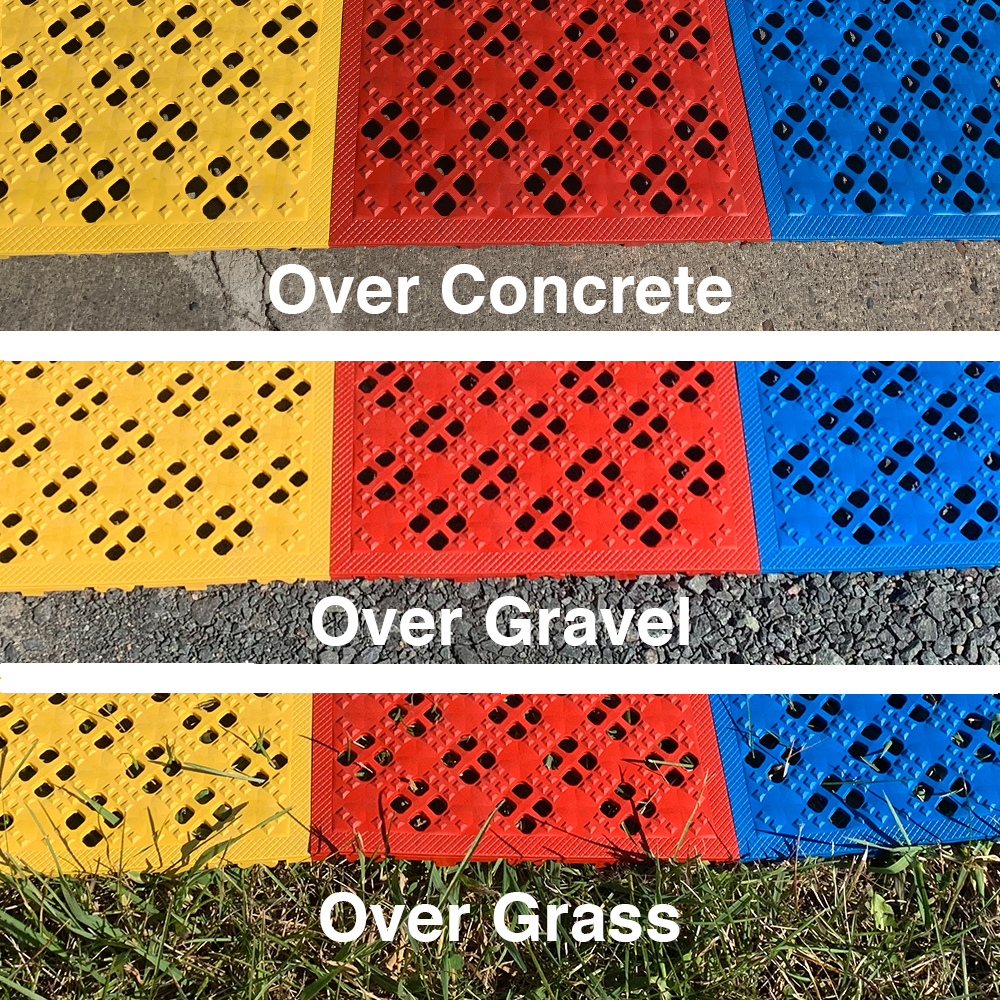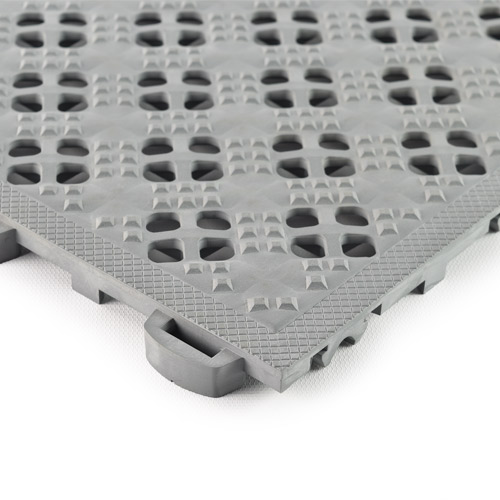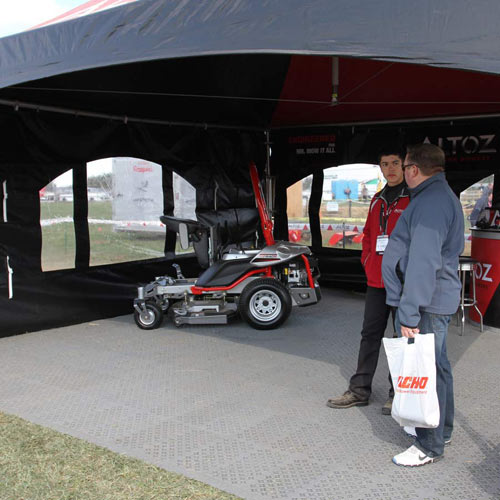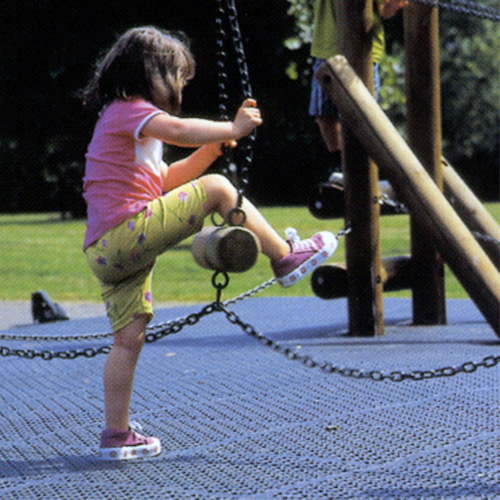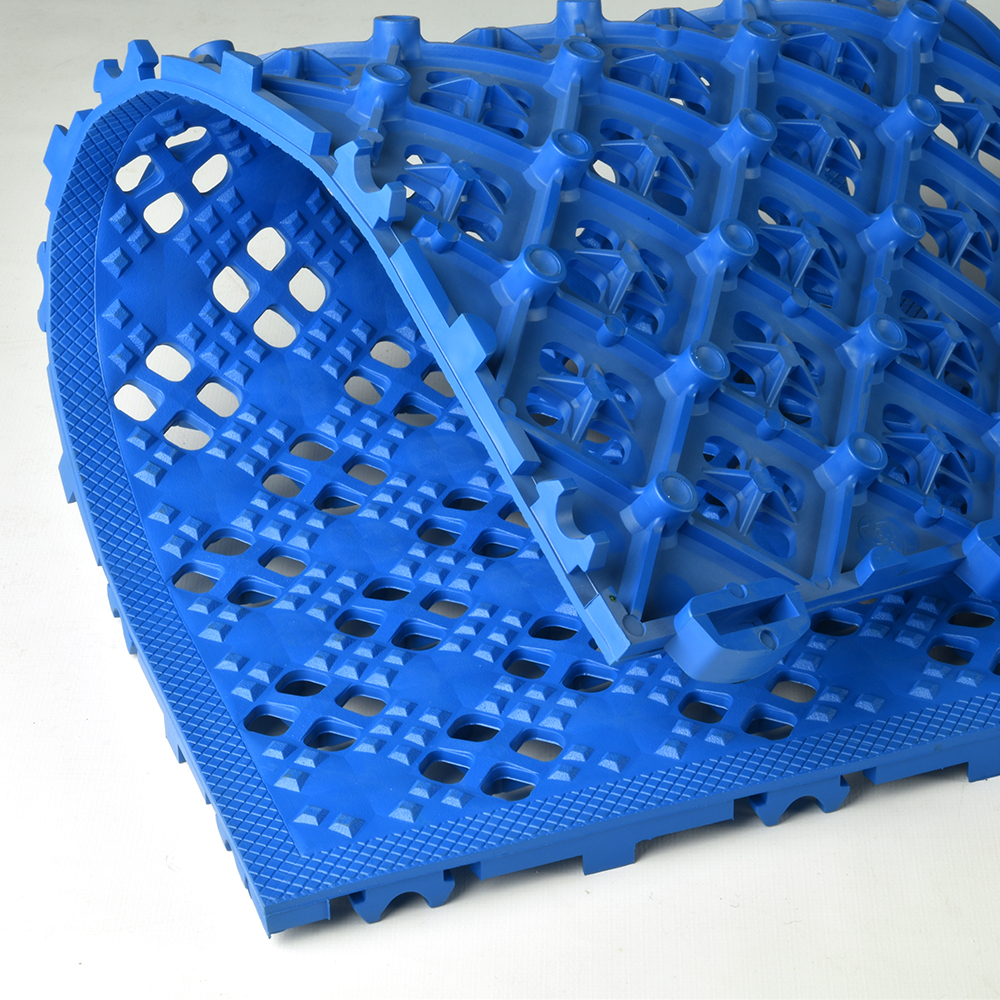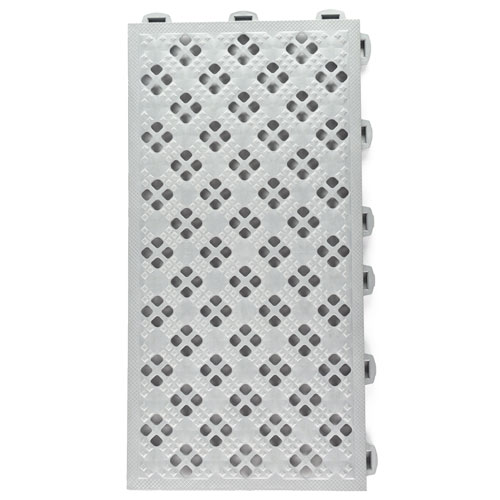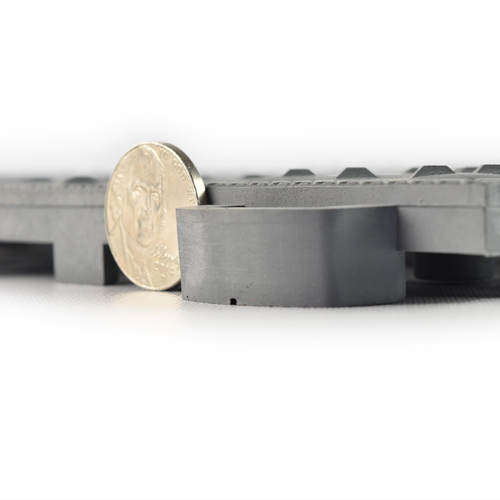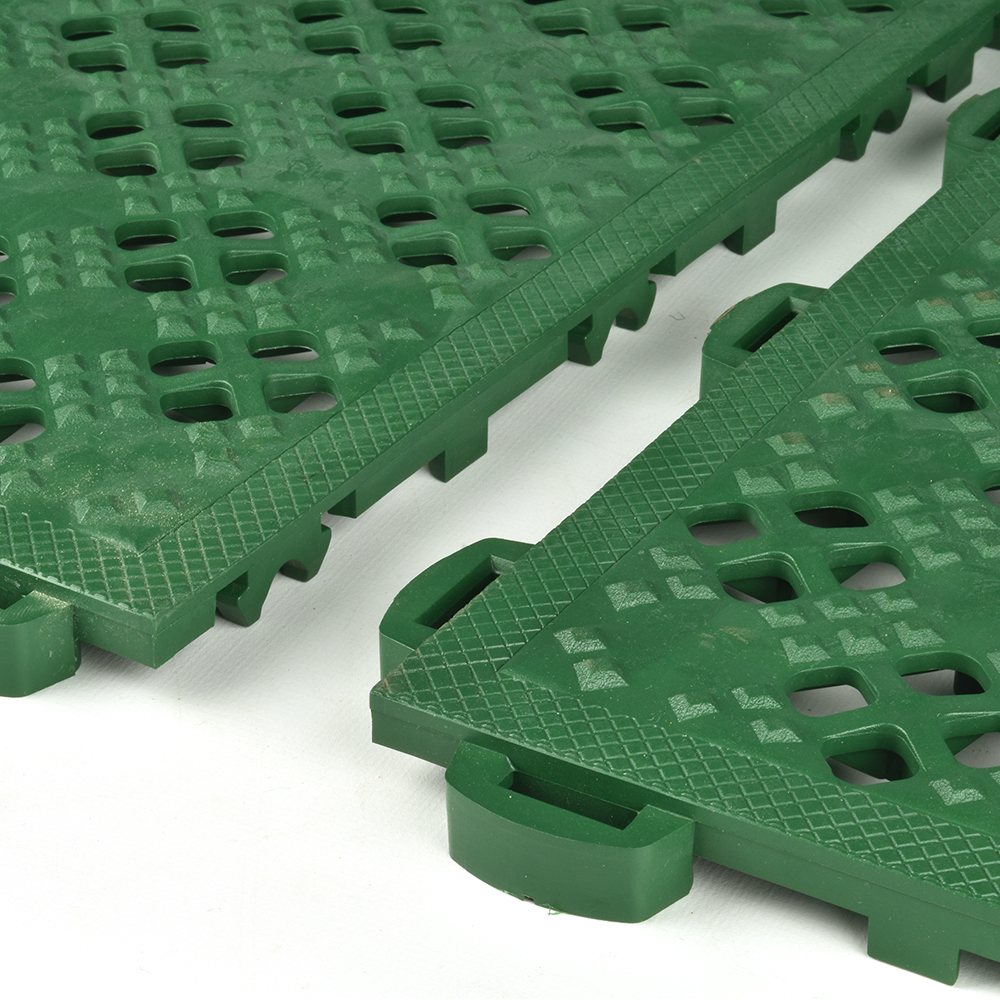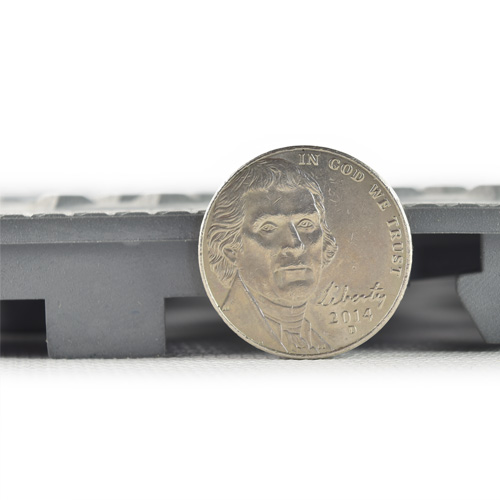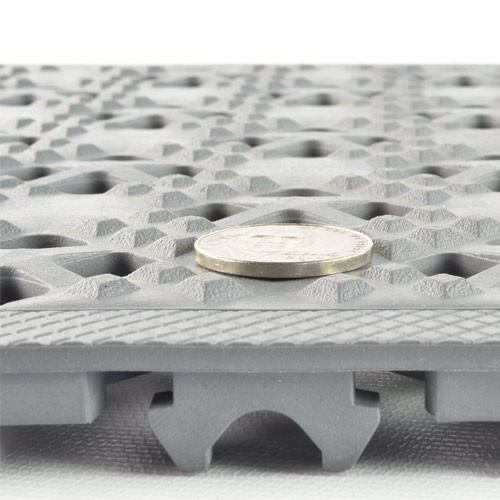 Install on any hard flat surface for outdoor use
20 inch ASTM fall height rated
Bright brilliant colors to choose from
$12.92
/tile
(You Save 19%)
(17 Reviews )
Ships Out: Estimate 1-3 Working Days

Blue

Yellow

Green

Red

Gray

White

Black

Beige
VIDEOS
Introducing Ergo Matta Perforated Outdoor Tile
How to Cut PVC Floor Tiles
TOP FEATURES
Install on any hard flat surface for outdoor use
20 inch ASTM fall height rated
Bright brilliant colors to choose from
Made from recycled materials
Excellent for playground and rubber membrane roofs use
Optional border ramps available
Excellent drainage surface modular floor tile design
Interlocking tile makes for easy and fast assembly
Use Types
Preschool Outdoor Surfaces, Playground Flooring, Daycare Center Playgrounds, Outdoor Play Surfaces
Kids outdoor floor tile, pool decking tiles, daycare playground tiles
This Ergo Matta Perforated Outdoor Tile is the perfect type of kids outdoor floor tile, as it has sun damage resistance, multiple installation area options, a 20-inch fall rating, and various color options.
These patio decking tiles are an excellent portable playground tile system, where traffic volume is relatively high and stability under foot is required. These daycare playground tiles are easy to install as well, making them a great option when you must do the installation on your own. They're even safe for use over some rubber roof membranes!


Brightly Colored Tiles
Many of our customers love using this product for areas where kids will be playing, as well as for pool decking tiles, because of the bright colors used in the installation. You can pick from multiple color options in this preschool outdoor tile set, including the following options.

- Beige
- Black
- Blue
- Gray
- Green
- Red
- White
- Yellow
Because these pool decking tiles come in brilliant colors, they can give a unique look to the area around your outdoor pool or patio. Additionally, our daycare playground tiles help to stimulate the children's minds during recess and play time.
Our kids outdoor floor tile product contains the same type of interlocking edge on every tile, which means you can connect any of these patio decking tiles to each other, no matter what color you're using. This means you can mix and match colors of the daycare playground tiles to create a fun pattern that your kids will love.
To finish the installation of these pool decking tiles, we do offer optional border ramps for the perimeter. As each portable playground tile measures 9/16 inches in thickness, it will have a bit of a lip to it that presents a potential tripping hazard. Ramps provide a safe transition on and off this preschool outdoor tile where needed. If you have any questions regarding these finishing pieces, please ask customer service team.
Safe Materials
You'll like having these pool decking tiles available in areas where children will be running, as it helps to protect against falls, thanks to the 20-inch fall height rating (based on ASTM 1292 industry standard fall height testing).
It's also safe to use these daycare playground tiles in all kinds of weather conditions. The perforated surface of the kids outdoor floor tile allows rainwater to pass through safely, while the PVC plastic material works well in all kinds of temperatures. This plastic playground tile is suitable for use in temperatures ranging from -22 degrees F (-30 C) to +194 degrees F (90 C). The Ergo Matta Perforated Tile size increases up to 1/16 inch (2mm) in length in temperatures up to 194 degrees F (90 C).
Easy Installation
Each of these daycare playground tiles measures 1.67 by 0.83 feet, giving them a rectangular shape and 1.39 square feet of coverage area per tile. As long as you have a level outdoor surface, including compacted dirt, grass, or pavement, you can perform the installation yourself without hiring a professional. Install over a commercial grade geo mesh landscape fabric.
Two edges of these tiles contain loops, while the other two edges have pegs hidden underneath the kids outdoor floor tile. Just line up the pegs and loops, and step down on the edges of the tiles to cause them to tightly interlock with no adhesive required.
Should you have any questions regarding the Ergo Matta Perforated Outdoor Tile product, please contact our customer service team, who can answer any questions about installation and use cases.
Maintenance
Clean using a pressure washer or garden hose and non-metal scrub brush.
Shipping
Ships in cartons via ground service to your door, for larger orders product may ship freight delivery.
This Product Ships UPS Ground, FedEx Ground and/or Freight.
Please review our shipping disclaimer.
ACCESSORIES
Accessories for ERGO MATTA PERFORATED OUTDOOR TILE
ANSWERS
Product Questions:
Q: Can Ergo Matta Perforated Outdoor Tile be put over flat and packed masons sand about 8'' deep? Second question can it be put over an elevated wood deck with winter snow? Or is there a better product? Thanks
A: This product can be installed outdoors on any hard flat surface, including compacted stone. Yes the tiles are winter ready and can be installed over a wooden deck surface and let outdoors all year round in all climates.
Q: What is the ASTM F1292 rating for fall height for this product? Can you supply a copy of the data sheet?
A: These tiles are fall height rated at 20 inches, please contact customer service for a copy of the report.
Q: I'm looking for a product that drains well and can be placed outside. Ground is sloping in some areas. To be used in backyard so dogs will not bring in dirt rubbish.
A: This is a good option and also consider the Staylock Perforated Tile product. Consider laying down a weed barrier geo mesh under the tiles.
Q: Do these tiles get hot in 100+ degree temps on a wood deck that is in full sun?
A: PVC material, like this product, would be the most cool option, vs rubber tiles that would tend to feel much hotter. Because these PVC tiles are perforated they will not hold the heat. PVC will also want to expand somewhat when it heats up over 90 degrees. So you can allow for this expansion in your installation.
Q: Can a power or regular wheelchair roll over these tiles?
A: Great question, I think yes, but we dont have direct experience to document. It would also depend on the overall weight of the chair with the person, for a child it would be better.
Q: could these be used in a alley of a livestock barn? Horses and pigs walking on them?
A: These tiles are designed for human traffic and I think that the weight of the animals over time may damage these tiles, so I would say no. We have a rubber ring mat that is designed for animals.