Ergo Matta Perforated Outdoor Tile
20 inch ASTM fall height rated
Bright and bold color options
Non-slip diamond shield tread design
Handling Time Estimate: 1-3 Working Days

Blue

Yellow

Green

Red

Gray

White

Black

Beige
How Much Flooring Do I Need?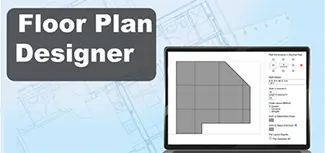 20 inch ASTM fall height rated
Bright and bold color options
Non-slip diamond shield tread design
Constructed from PVC materials
Excellent sound dampening qualities
Unique rectangular-shaped tiles
Excellent drainage surface modular floor tile design
Locking lug connection system
Daycare Playgrounds
Preschool Playgrounds
Residential Playgrounds
Decks and Patios
Outdoor Event
When looking for PVC cushion tiles that will give you excellent quality in high-traffic areas, while also providing a good footing, the Ergo Matta Perforated Outdoor product is a smart choice.

The Ergo Matta Perforated Outdoor Tile consists of materials that result in an excellent outdoor playground flooring system. These PVC anti-fatigue tiles have excellent sound-dampening qualities with a texture to maximize safety while kids are running around. These tiles are available in eight bold and bright colors that can be mixed and matched to create a fun pattern.

While most tiles are squares, the Ergo Matta tiles are rectangular-shaped, providing a unique look. Each tile measures 10-by-20 inches with a 9/16-inch thickness measurement.
Multiple Use Cases
Because of the nonslip texture on the top of these tiles and the anti-fatigue properties they carry, our comfort tiles are perfect for a host of different use cases.
Outdoor Playground and Daycare Flooring: Because of the cushioning in these ergonomic mats and their 20-inch fall height rating, kids who may stumble and fall while playing should be safer than with other types of flooring. They also work nicely as outdoor playground mats, as the texture on the surface of the tile will help prevent slips.
Ergonomic Flooring: If you have a room in your business where people must stand to perform their jobs, these PVC cushion tiles can provide ergonomic benefits. Choose a color that matches your brand or aesthetic.
Color Options
You can pick from eight colors when ordering these comfort tiles. The interlocking design used on each color of the tile is the same, meaning you can connect tiles of multiple colors to create any kind of design you'd like. The color options for these outdoor playground mats are as follows.
- Beige
- Black
- Blue
- Gray
- Green
- Red
- White
- Yellow
Easy Installation
Installation is an easy process with these ergonomic mats. You'll just line up the tabs on one side of the ergomat with the slots on the underside of the adjacent mat, and then press the two together. You may want to use a rubber mallet which can make the process quicker and easier.
Because no adhesive is needed to connect these floor tiles, you'll be able to take them apart and place them in storage if you ever need to return to the subfloor.
If you are not installing the tiles wall-to-wall, you may want to consider the
ramped border edges
to reduce tripping hazards and provide a finished look to your flooring.
Maintenance
Clean using a pressure washer or garden hose and non-metal scrub brush.
Shipping
Ships in cartons via ground service to your door, for larger orders product may ship freight delivery.
This Product Ships UPS Ground, FedEx Ground and/or Freight.
Please review our shipping disclaimer.
| | |
| --- | --- |
| SKU# | EMPOT10x20 |
| In Stock | Yes |
| Product Type | Tile |
| Material Type | PVC Plastic |
| Product Edging | Interlocking |
| Thickness | 9/16 inch |
| Width | 0.83 feet |
| Length | 1.67 feet |
| SF per Item | 1.39 |
| Weight | 1.60 lbs |
| Packaging | Cartons |
| Number of Pieces per Package Type | 20 |
| Non Absorbent | Yes |
| Special Adhesives | No |
| Universal Interlock | No |
| Interlock Loss | 0.00 feet |
| Kid Safe | Yes |
| Material Hardness | Shore A 67-80 |
| Interlocking Connections | Yes |
| Made In | New Zealand |
| Surface Finish | Perforated diamond top |
| Surface Design | Solid color |
| Installation Method | Interlocking, dry lay |
| UV Treated | Yes |
| Reversible | No |
| Border Strips Included | No |
| Manufacturer Warranty | 5 year limited |
Product Questions:
Q: Can Ergo Matta Perforated Outdoor Tile be put over flat and packed masons sand about 8'' deep? Second question can it be put over an elevated wood deck with winter snow? Or is there a better product? Thanks
A: This product can be installed outdoors on any hard flat surface, including compacted stone. Yes the tiles are winter ready and can be installed over a wooden deck surface and let outdoors all year round in all climates.
Q: What is the ASTM F1292 rating for fall height for this product? Can you supply a copy of the data sheet?
A: These tiles are fall height rated at 20 inches, please contact customer service for a copy of the report.
Q: I'm looking for a product that drains well and can be placed outside. Ground is sloping in some areas. To be used in backyard so dogs will not bring in dirt rubbish.
A: This is a good option and also consider the Staylock Perforated Tile product. Consider laying down a weed barrier geo mesh under the tiles.
Q: Do these tiles get hot in 100+ degree temps on a wood deck that is in full sun?
A: PVC material, like this product, would be the most cool option, vs rubber tiles that would tend to feel much hotter. Because these PVC tiles are perforated they will not hold the heat. PVC will also want to expand somewhat when it heats up over 90 degrees. So you can allow for this expansion in your installation.
Q: Can a power or regular wheelchair roll over these tiles?
A: Great question, I think yes, but we dont have direct experience to document. It would also depend on the overall weight of the chair with the person, for a child it would be better.
Q: could these be used in a alley of a livestock barn? Horses and pigs walking on them?
A: These tiles are designed for human traffic and I think that the weight of the animals over time may damage these tiles, so I would say no. We have a rubber ring mat that is designed for animals.
Q: What is the maximum weight that these tiles can support? Can they go under a wooden playground set?
A: The tiles are designed for humane use and may not support the weight of a heavy wooden playground set, those are best installed directly onto the grade then use the tile around the posts.
Q: What tile is best for outdoor patio?
A: Patio applications will differ. Contact our sales team to discuss the best tile for your outdoor patio.
Q: Can this be installed on level dirt? Looking for under a swing.
A: These tiles work best installed over concrete, compacted stone or asphalt.
Q: How do you secure the tiles to the deck surface?
A: This is a floating floor system. Therefore the tiles are not secured down.