Patio Outdoor Tile 1/2 Inch x 1x1 Ft.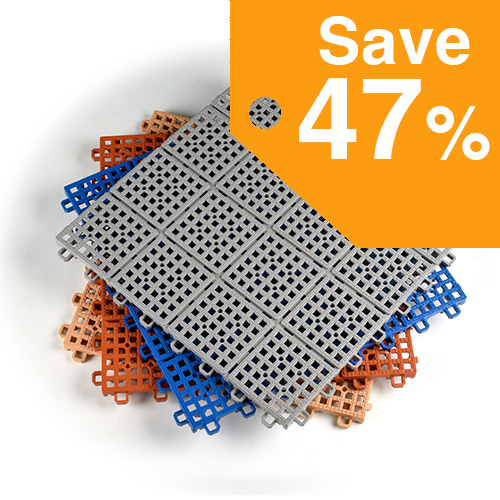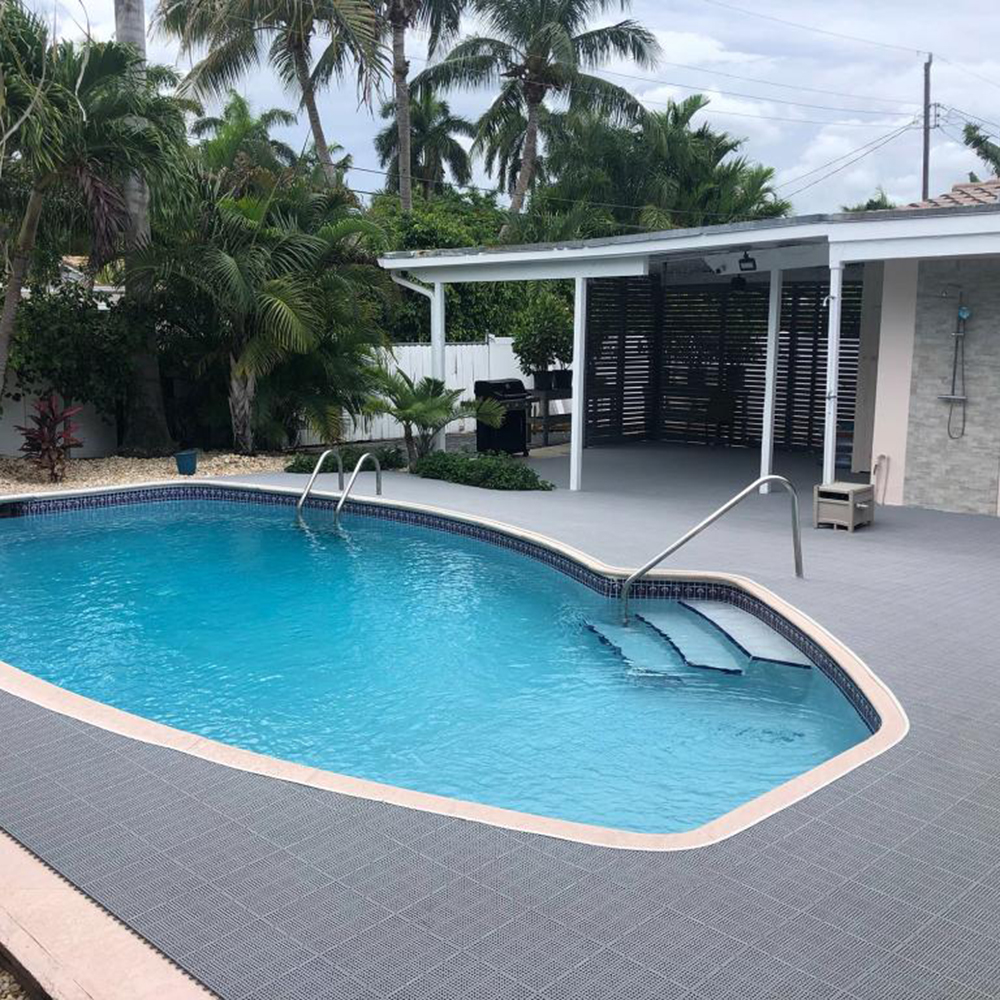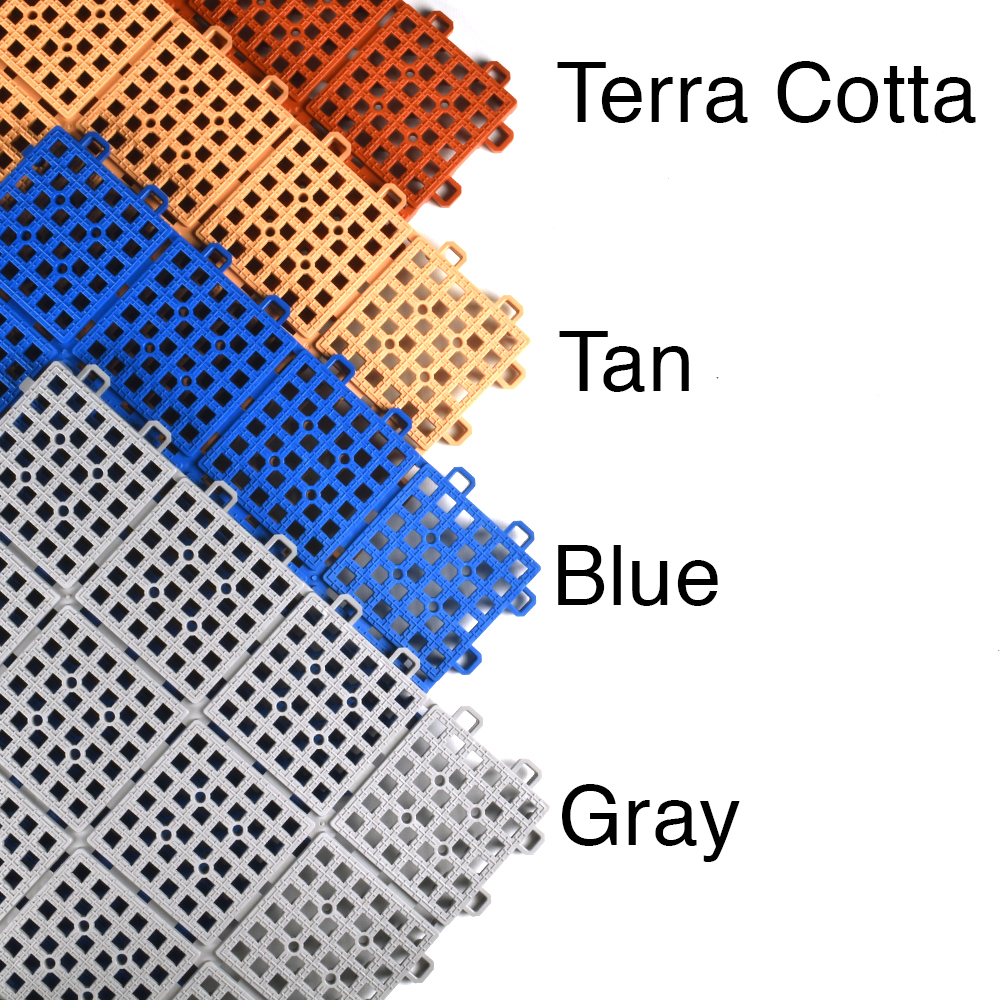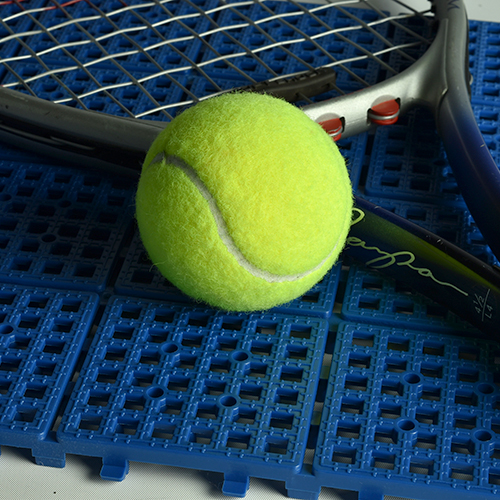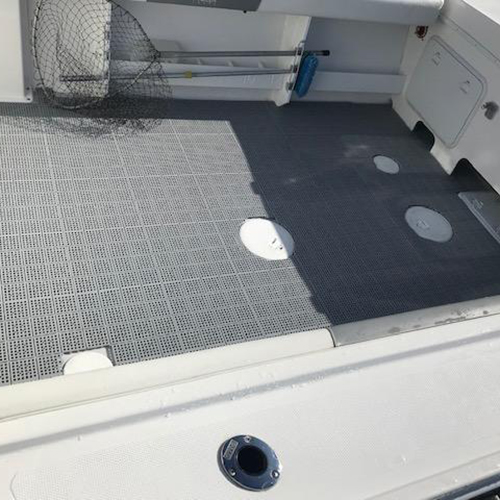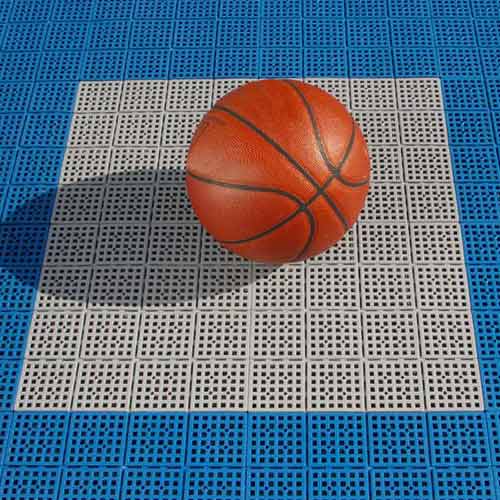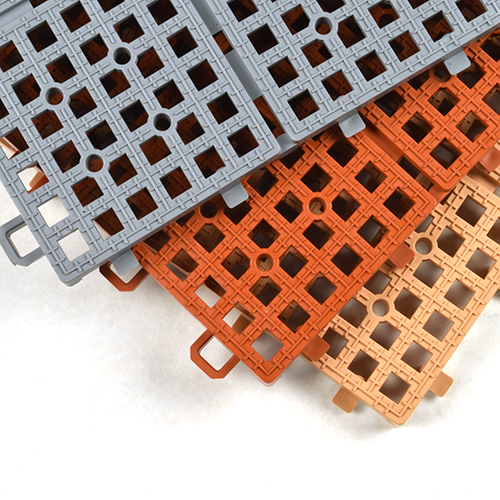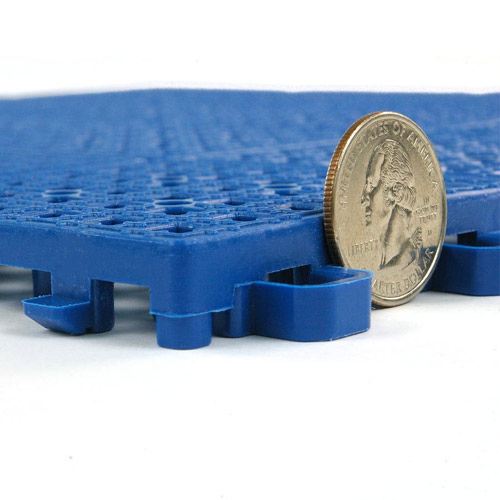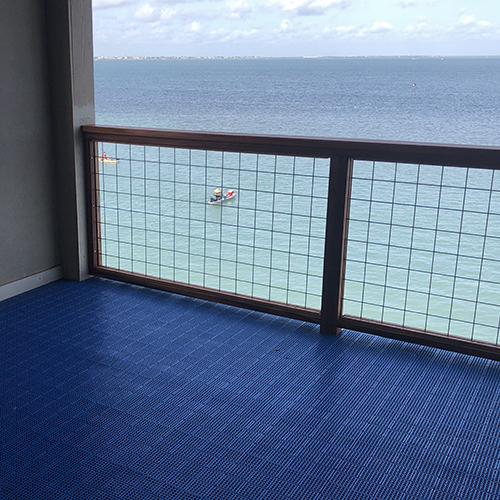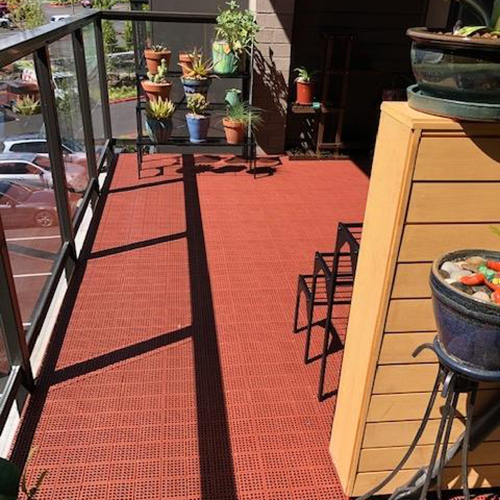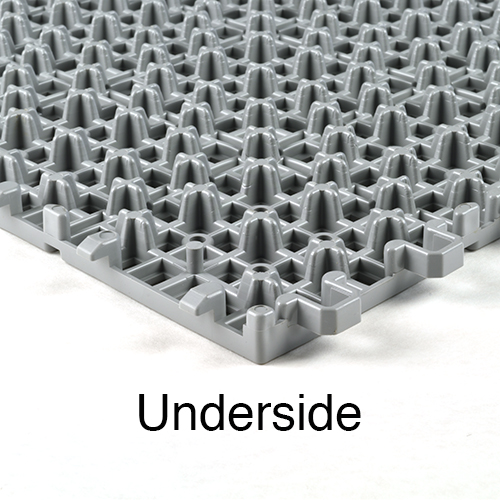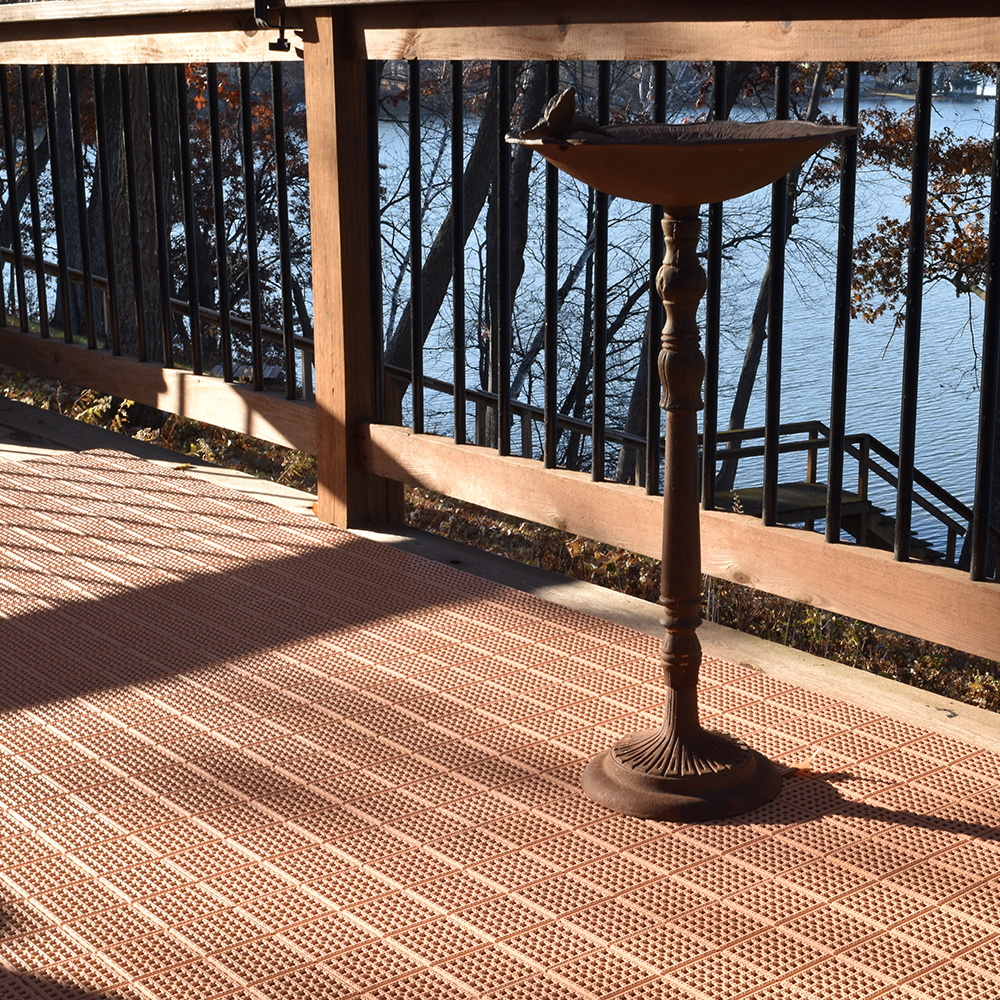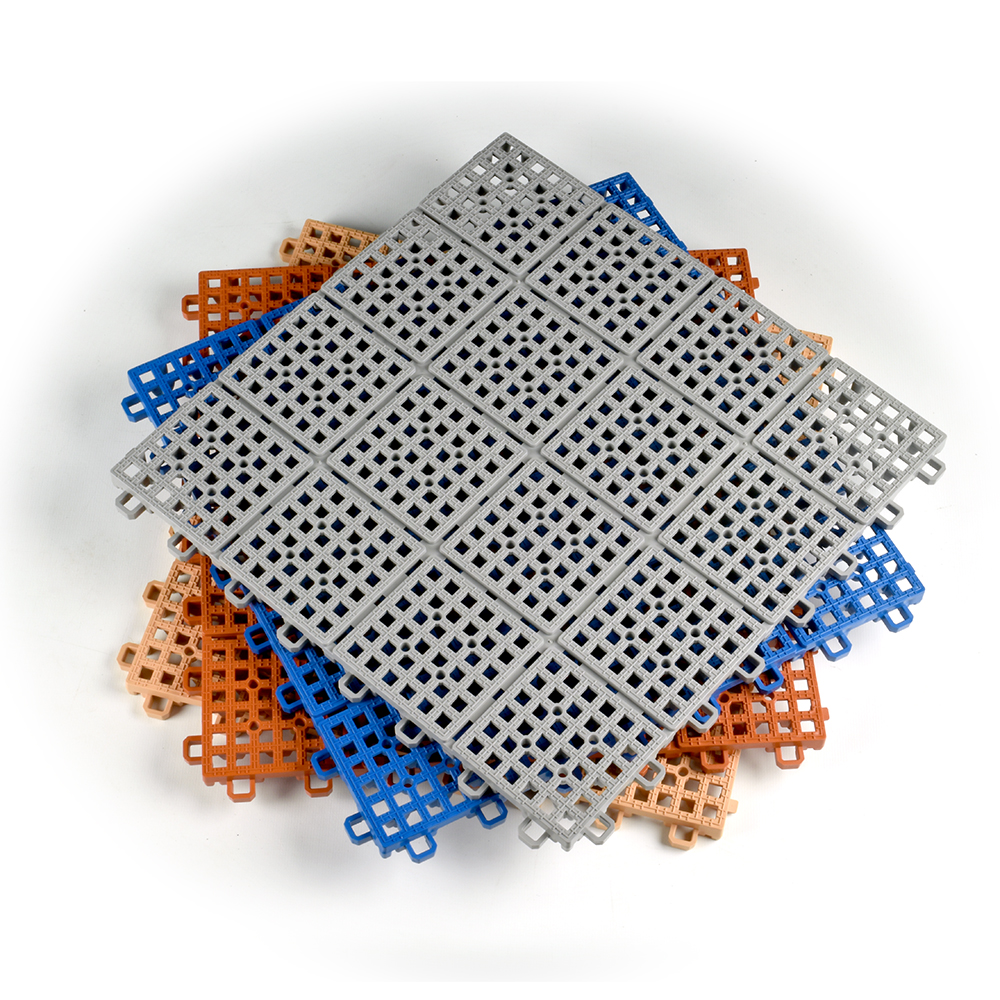 Non Slip Surface Texture
Safe Wet Area Drainage Tile
Flexible PVC Material
$3.98
/tile
(You Save 47%)
Call for Better Price on Volume Orders
(237 Reviews )
Free Shipping
- lower 48 with $85 Purchase
Ships Out: Estimate 1-3 Working Days

Gray

Terra Cotta

Blue

Tan
How Much Flooring Do I Need?
VIDEOS
Outdoor Flooring with PVC Patio Outdoor Tiles
Installing Patio Outdoor Tiles Over A Wood Deck
Neuman K9 Academys innovative Dog Training flooring system from Greatmats
Patio Outdoor Perforated Tile Forklift Weight Test - Outdoor Floors
How To Cut PVC Floor Tiles
How to Remove and Replace Greatmats Patio Outdoor Tiles
Outdoor Basketball Court Flooring - Patio Outdoor Tiles
Can you wear high heels on deck and patio flooring Unofficial Test
Patio Flooring That Doesn Get Hot Patio Outdoor Tiles
TOP FEATURES
Non Slip Surface Texture
Safe Wet Area Drainage Tile
Flexible PVC Material
Fast DIY Installation with tab 'n loop connectors
11.55 inch x 11.55 inch Interlocking Outdoor Tile
Surface is Comfortable on the Feet
Install over concrete, wood, brick and compacted surfaces
Use Outdoors and Indoors
Use Types
Wet Area Tile, Outdoor Flooring, Pool Surrounds, Deck Top Floors, Flat Roofs
Pool patio and deck tiles for outdoor that interlock, Plastic drainage interlocking decking tiles
These interlocking patio tiles are ideal for nearly all hard, flat spaces outdoors. With their perforated design and drain through technology, these make an excellent pairing with wet areas. Quick and easy to install, these represent versatile products.
These are made of a flexible polyvinyl chloride (PVC) material, and they do not absorb water. Each is equipped with 265 pegs on the underside to secure the elevated subsurface, and the top is comfortable on the feet. Interlocking deck tiles have an impressive number of usage cases.


Interlocking Patio Flooring

Liquid drains right through them, eliminating the issue of deep puddles during inclement weather.

The perforated interlocking deck tiles prevent the growth of mold and mildew. The tops remain consistently dry, and these are equipped to handle conditions anywhere moisture is present.
Installing Interlocking Deck Tiles
Our 12x12 interlocking patio tiles have a snap together construction that allows for a DIY job with no extra tools needed. Disassembly is also effortless. This interlocking floor tiles outdoor design allows for dry lay installation on any flat surfaces without the need for special adhesives, and the pegs underneath hold it in place.
Border strips are not available for these particular interlocking deck tiles.
They weigh 1 pound apiece and measure 11.55 x 11.55 inches x 1/2 inch thick, with .04 ft interlock loss for a coverage of .997 square feet per tile. These dimensions make for simple planning and installation in spaces of any size and shape. They are also easily transportable, and a single person can perform the job.
Although these do not have an official UV rating, they have been UV treated and come with a 1 year limited warranty. These are suitable for rubber membrane rooftop surfaces.
Interlocking Patio Floor Tiles
Our patio interlocking tiles can be installed for potentially countless uses, including an installed deck. Consider using these interlocking outdoor tiles for the following:
Patios

Lounges

Showers, pools, and hot tubs

Boats and docks

Tennis courts

Basketball Courts

Underlayment in moisture prone areas

Gaga pits

Locker rooms and showers

Decks

Utility rooms

Mud rooms

Greenhouses

Taverns
Read our product reviews to see how our customers have already used Greatmats outdoor tiles for patio.
These outdoor deck tiles are versatile and durable for many projects, such as the following.
Patios and Lounge Spaces
These are a great choice for an outdoors entertainment space. Flexible and comfortable, these create a great space for guests to congregate. Though they are flexible, they are strong enough to withstand the weight of patio furniture without being damaged.
If seeking a low maintenance product, these are perfect. They'll continue to look great if they're in direct sunlight regularly. Plus, they are easy to clean. Just mop them with a common cleaner.
Pool Deck Mats
These interlocking patio tiles are an excellent choice for swimming pool surround flooring. Their texture provides an important safety measure versus running the risk of people slipping in naturally slick areas.
Additionally, the pegs adorning the bottom ensure that the footing stays in place, even if the ground is saturated. Place these around pools or saunas, including around specific slip prone locales like diving boards or slides.
These are designed with a unique perforated structure that allows rainwater to freely flow through them. The generously sized perforations are capable of quickly draining away large amounts of water, such as what would result from splashing in a pool or if someone gets out of a hot tub. It means never having to deal with dangerous liquids pooling.
Additionally, these are elevated, so moisture can flow out of them for improved drainage. This keeps the tops dried and helps to avoid the growth of mildew and mold.
They are non-absorbent, meaning that they provide durable surfaces around swim pools.
Basketball and Tennis Court Floorings
These are smart picks for tennis and basketball courts too. They feature a unique interlock connecting system. Once connected, they are securely locked together, so they won't shift or separate, no matter whether the games become super intense.
Available in several impressive colors, these yield a professional looking court. The PVC provides just enough cushioning to be comfortable to stand on, but it is not so soft that it would impede the movement of athletes.
With the draining, even the weather won't put a permanent halt to the fun. They dry out quickly, allowing for a return to the game instead of having to wait for puddles to disappear or having to squeegee the rainwaters away.
Boating Floorings
Many of our customers have used interlocking decking as floors for their boat decks. It makes perfect sense, since these allow water to drain, resulting in a waterproof, slip resistant layer.
These can be cut to fit tight to the wall, which is nice in unusually shaped boats. They'll add an eye catching yet professional finish to any boats and add extra traction while preserving the original floors.
Because this model of interlocking patio tile is UV stable, there's no concern about exposing it to the intense rays of the sun while out on the ocean, lake, or river. If the trip is finished, use a household cleaner and a mop to keep them looking good.
FAQ Interlocking Patio Tiles
Can you put interlocking patio tiles over grass?
Yes, certain models will work on natural grasses, dirt, and gravel. If the natural area is uneven, the tiling will take on the undulations, thanks to the flexibility it has. As long as the uneven surface is not so severe that it could create a tripping hazard, outdoor interlocking tiles can be installed almost anywhere.
How do you install interlocking patio tiles?
Installing these is a piece of cake, thanks to their unique hook and loop connection system. Simply line them up so that the hooks on one are aligned over the loops on the other. Then push down. When installing them in an enclosed area, start in one corner and work outward. Cut those in the final row with a utility knife for a tight fit to the wall. However, these interlocking patio tiles should not be laid out on top of a membrane roof, as the underside could damage the membrane.
What are the best outdoor patio floor ideas?
Slip resistance and safety are important factors outdoors, and these are an excellent way to prioritize safety. With a textured surface that resists the formation of puddles, our outdoor floor tiles offer a safe surface in all sorts of weather.
What is the cheapest interlocking outdoor flooring?
Our cheap interlocking patio tiles product has a desirable cost per square foot, making it a good value and a reasonable investment. For some other inexpensive outdoor patio tile units, consider artificial grass, which ships in large rolls to cut down on the overall cost, although interlocking deck tiles made of turf are available too. Rubber roof pavers and roof deck tiles have a relatively low price too, especially considering they could last for decades, even if placed outside and exposed to sunlight. When comparing prices, always remember to calculate the cost of install. Our interlocking patio tiles work well as a DIY project, which saves a huge amount versus hiring a professional. Interlocking stone deck tiles are not inexpensive, but some of these units have a PVC design and a faux stone upper layer, which saves money by using composite deck tiles instead of actual stone. Wood decking is not cheap either, but faux wood cheap deck tiles can be found at a reasonable price, closely resembling the real thing.
How can I make my concrete deck and patio look better?
Multiple options exist to improve the way deck and balcony cement looks. If it has multiple cracks or stains, a type of covering is the smarter choice. Interlocking patio tiles over concrete will conform to the slight undulations from cracking, while hiding the imperfections, such as is achieved when using plastic decking tiles. (If some of the cracking has caused a significant upheaval of the cement, it may need patching or repair first.) If the concrete is in good shape, it can be stained or painted to yield a new life. Simply adding rugs as deck flooring options can improve the way it looks too. Tiling will generate the longest lasting result, though, and the greatest level of stylish designs.
Maintenance
Product can be damp mopped with common household floor cleaners, avoid bleach
Shipping
Ships in cartons via ground service to your door, for larger orders product may ship freight delivery.
This Product Ships UPS Ground, FedEx Ground and/or Freight.
Please review our shipping disclaimer.
WARNING: This product can expose you to chemicals including Lead and/or Phthalates, which are known to the State of California to cause cancer and birth defects or other reproductive harm. For more information go to www.P65Warnings.ca.gov.
ANSWERS
Product Questions:
Q: Can I use this under children's play area with swing set? Thanks Christie
A: Yes this product can be used outdoors under a swing set, however our Staylock tile will hold together better as the interlocking tabs are a bit for active locking.
Q: How do you cut this material for rounded edges, etc? Is a regular scissors sufficient?
A: I would think a sheer tool could work for the rounded corners, not sure if common scissors would be larger enough, otherwise a sharp utility knife would work also.
Q: I'm trying to find an outdoor rubber title to surround a pool we are installing because wood decking is too costly. Two questions, can I lay this material directly over sand/dirt? How many will I need if I'm trying to go around a pool that measures 16x24 (oval shape)? Do you recommend a specific tile for this?
A: Our outdoor rubber patio and paver tile can be installed outdoors over a crushed stone that is compacted and level. The tile count required will depend on the size to cover and in this case the width from the pool. Each 2x2 ft tile covers 4 SF. Our Sterling Outdoor 2 inch tile would be a great option.
Q: Is there any edge tile to purchase? Or border tile, the 1/2 inch drop off is considerable when my children are running around playing tennis on it.
A: This product does not have a ramped edge option. Our Staylock Perforated tiles do have a ramped edge option.
Q: What is the grid opening size?
A: The size of the openings in this tile is .25 x .25 inch square.
Q: I am considering this flooring to put over my wood deck by the pool and I live in MN. Is there any issues leaving this in place through the cold winter months?
A: The tiles are designed for outdoor use in all climates, so your application is fine. The tiles will shrink a little in the winter and expand a little in the summer.