How To Install Outdoor Flooring Over Grass Or Dirt
By Julia Nass Created: September, 2017 - Modified: April, 2023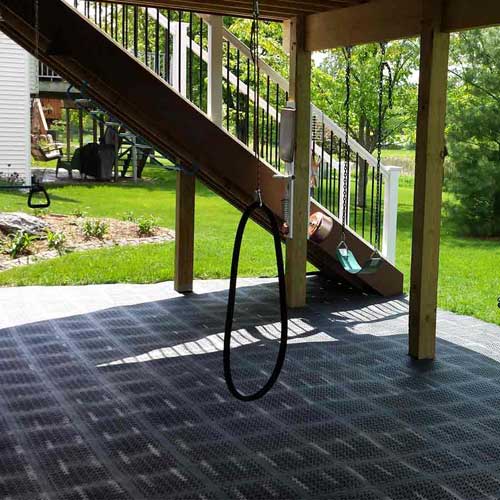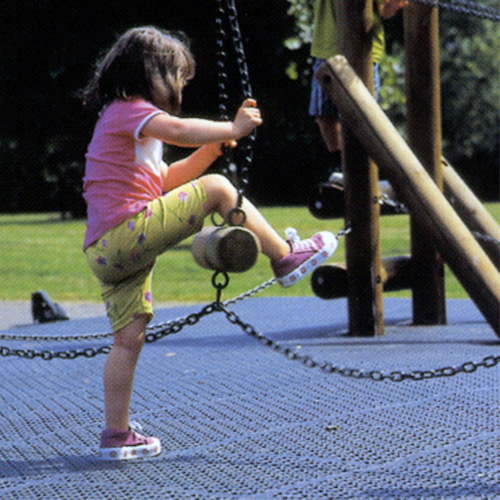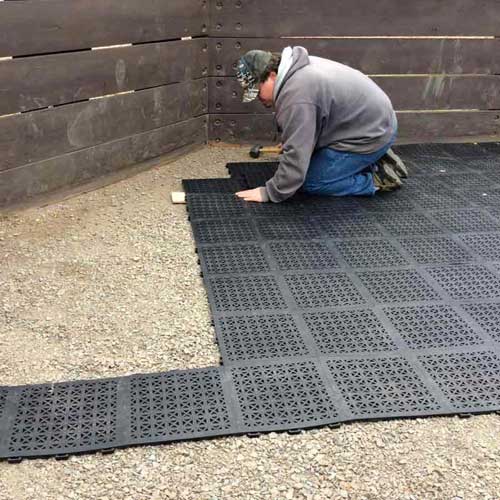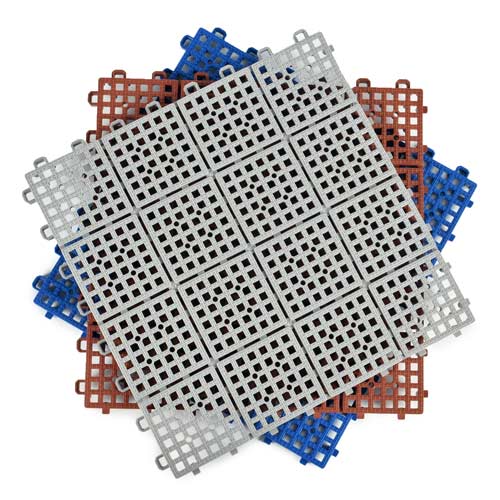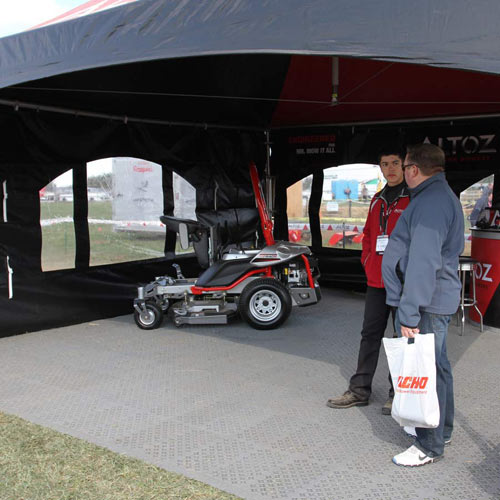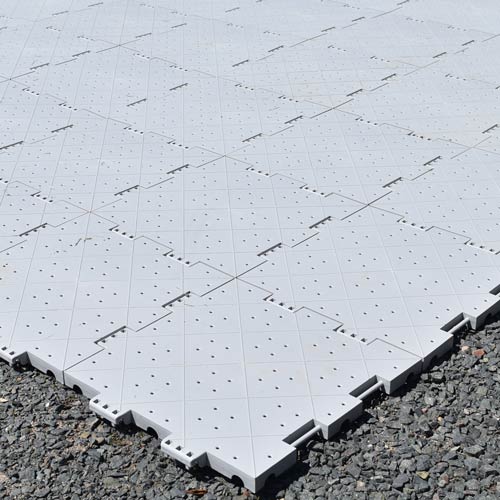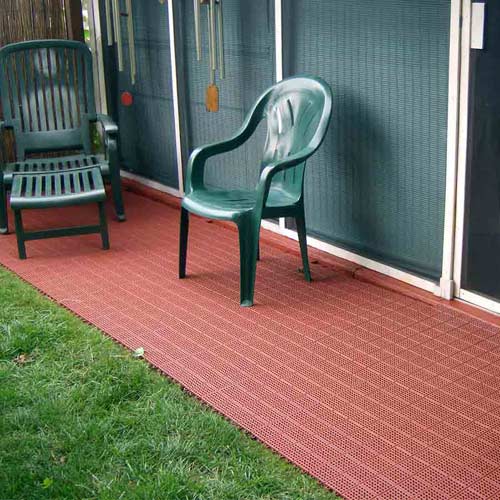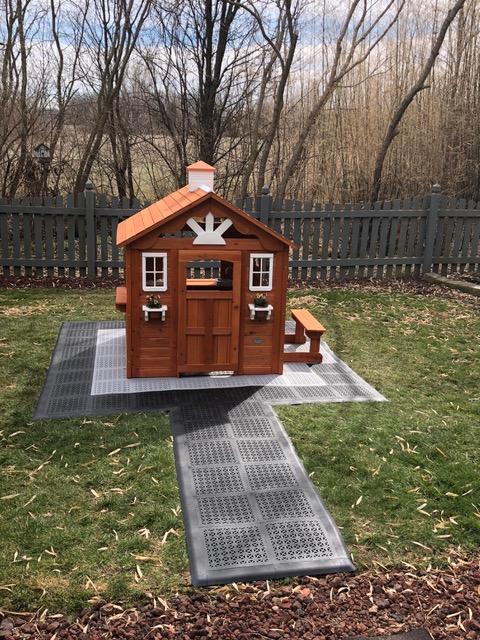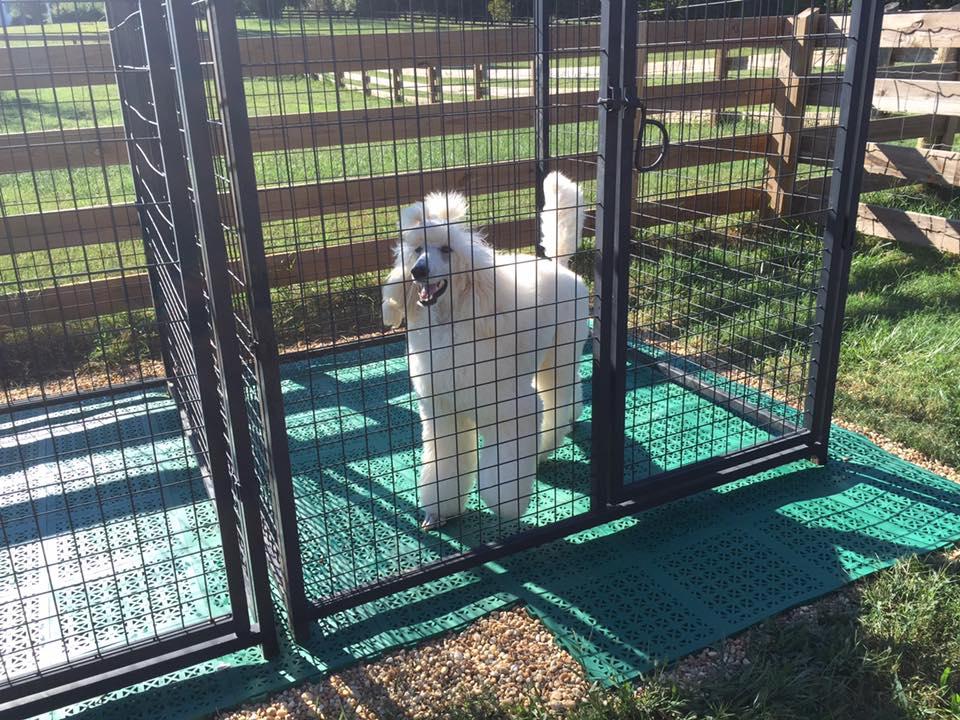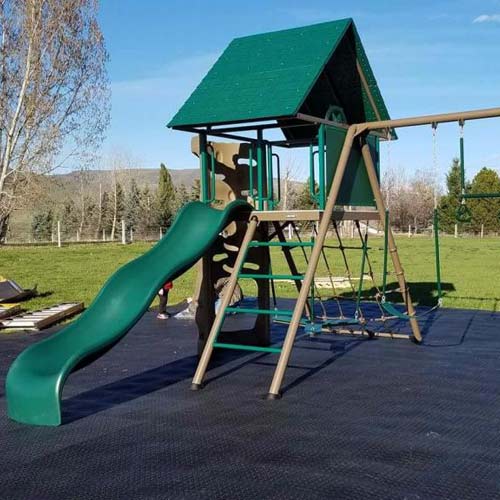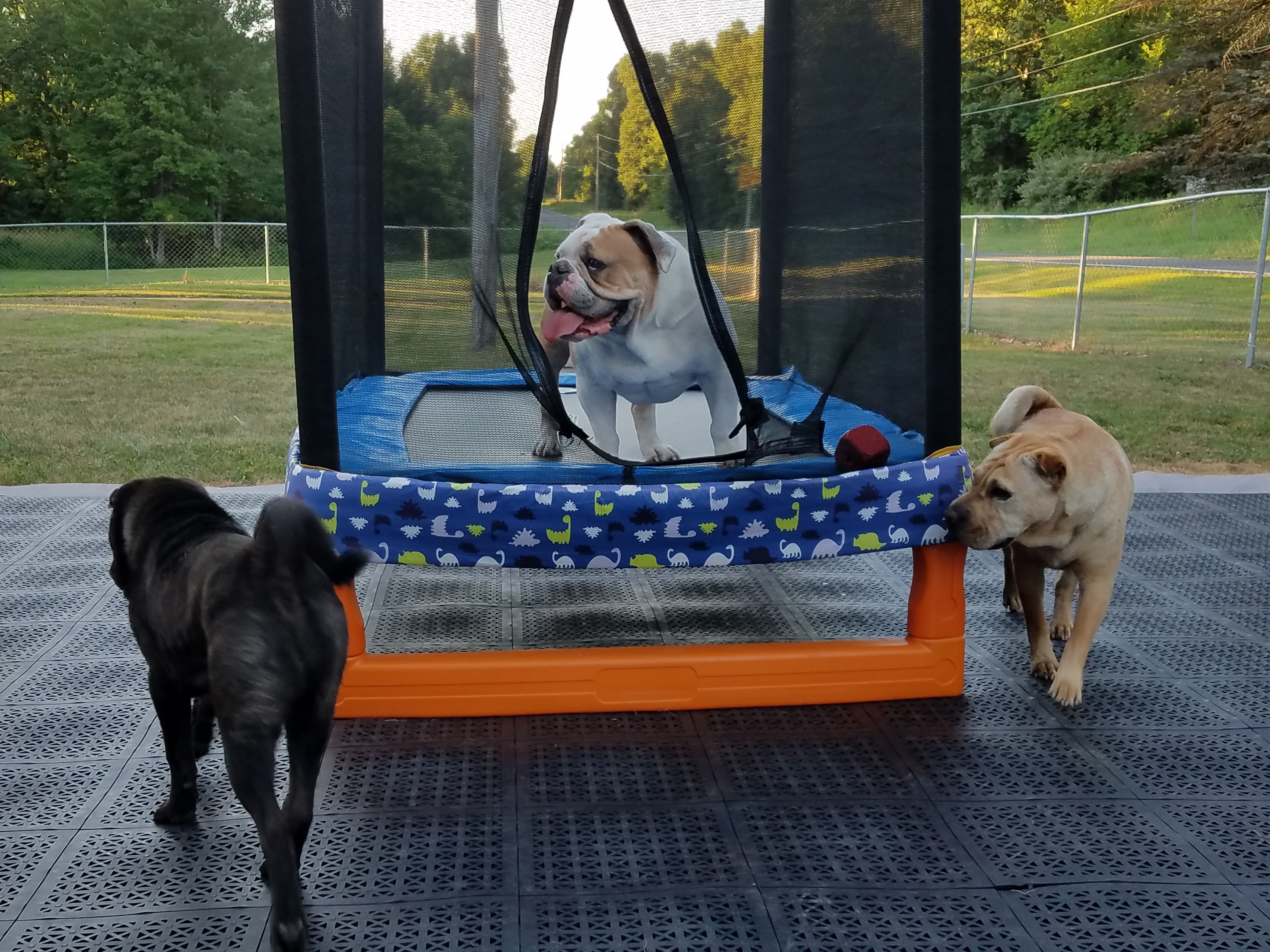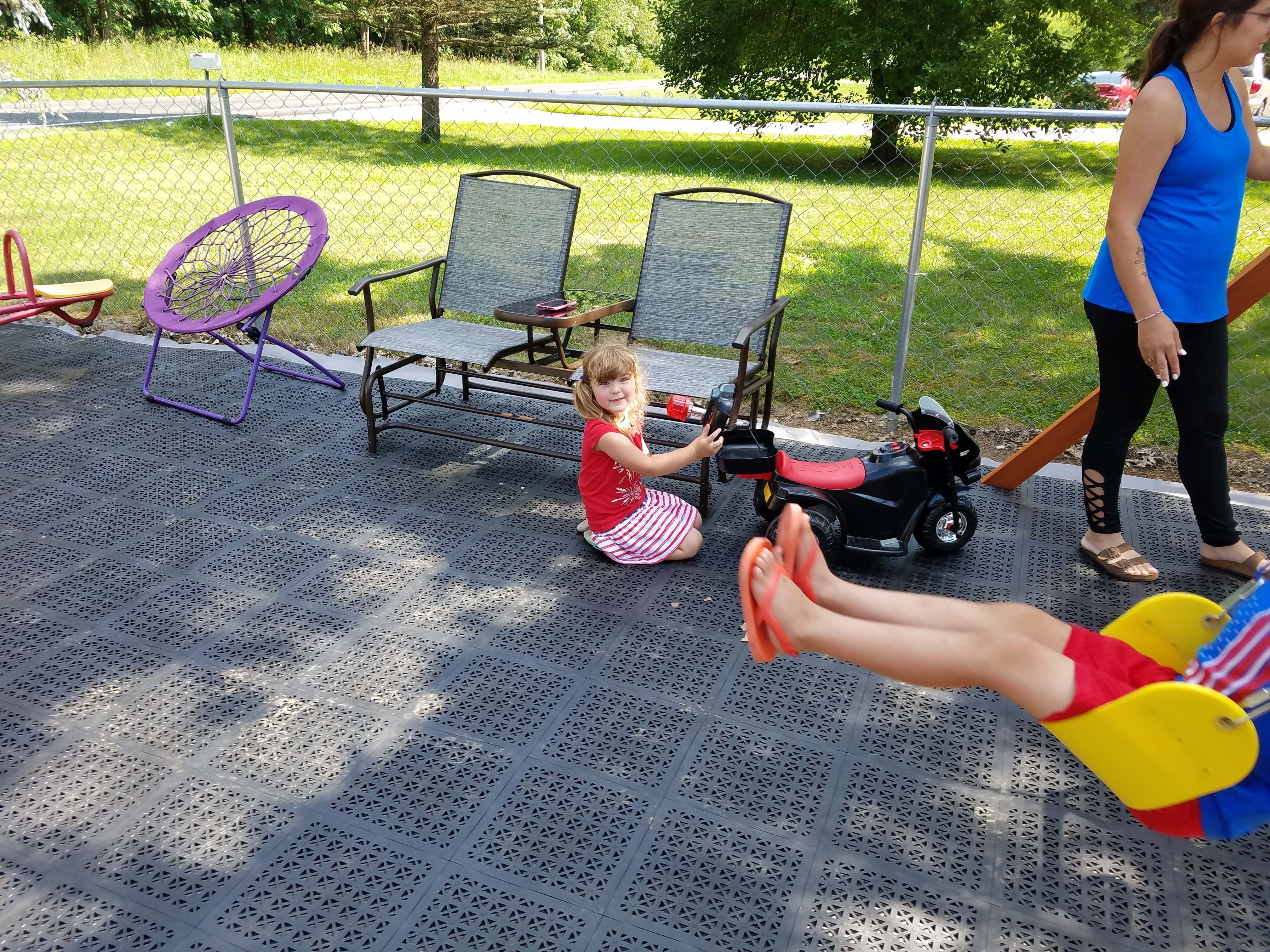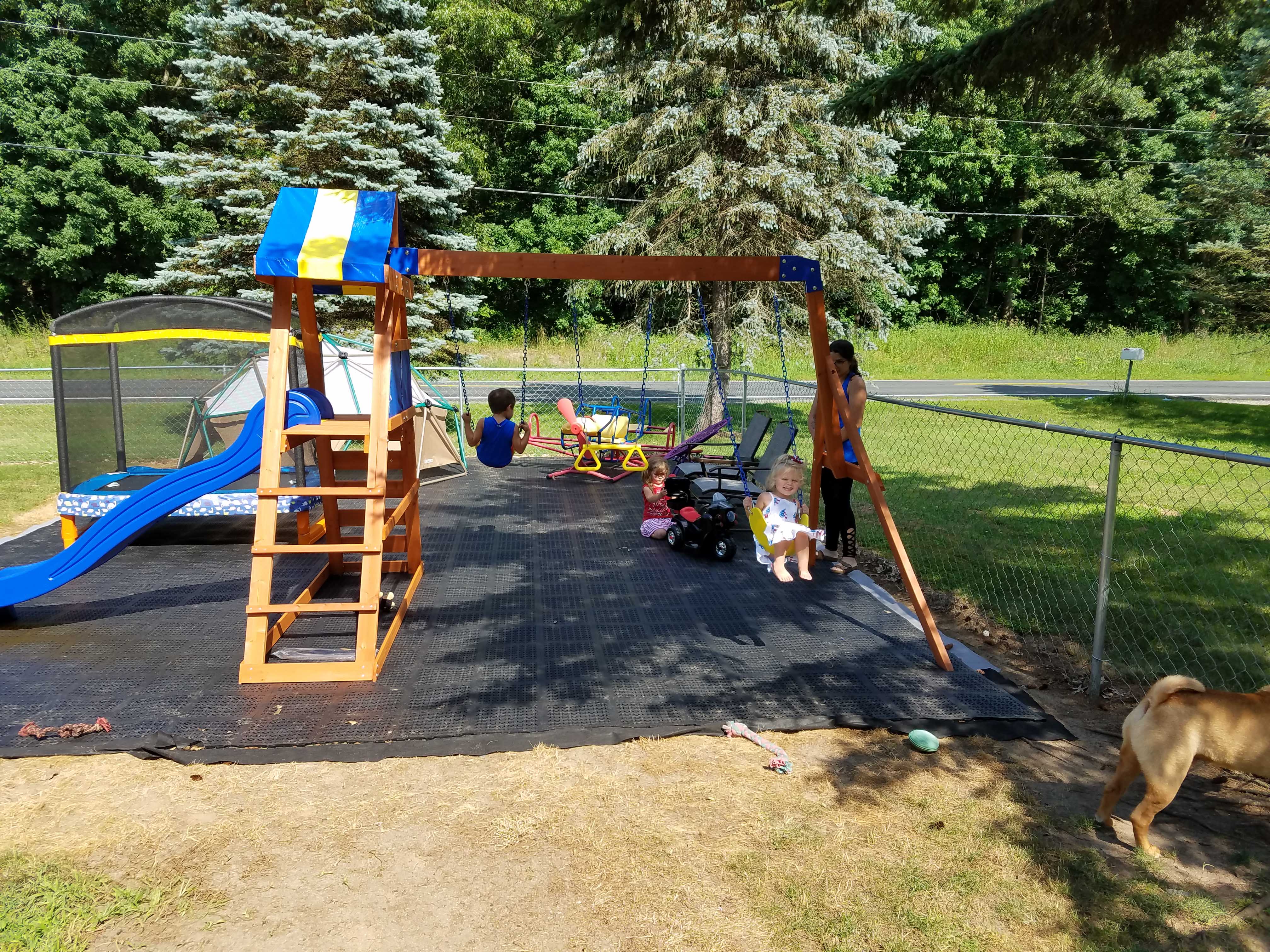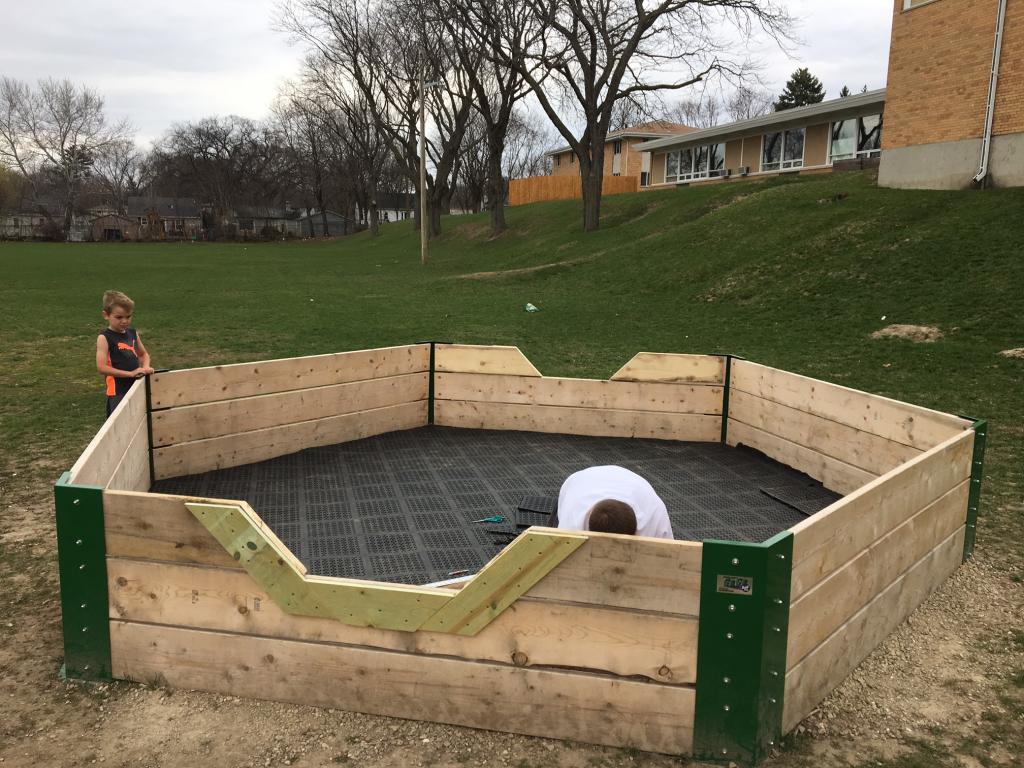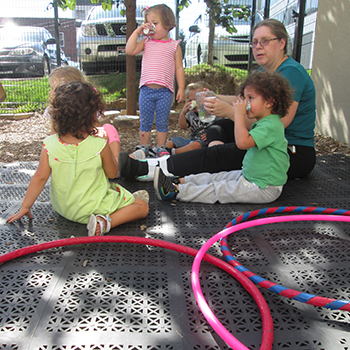 Installing Outdoor Patio or Deck Tiles over Grass, Dirt and Uneven Surfaces
Common questions that people have asked about laying interlocking outdoor flooring:
Can you install deck or patio tiles on dirt or soil?
Can you lay patio or decking tiles over grass?
How do you install decking patio tiles on uneven ground?
How can you make temporary outdoor flooring over grass?
Can you make a portable outdoor patio on grass?
You will be pleased to learn that, YES, outdoor deck and patio tiles can be easily installed on uneven ground, grass and dirt. They can be used as a permanent, temporary or even portable outdoor floor.
Many companies only sell interlocking patio tiles that work when installed over even, flat and hard ground. Although that kind of ground is ideal for patio tiles, it's unrealistic to think all outdoor spaces have such prime patio conditions. Whether they're made of soft grass, bumpy dirt or uneven ground, outdoor grounds come in many challenging varieties.
Because so many interlocking patio tiles are made to be installed over hard, flat ground only, many people think the only way to work with ground problems is by renting large, expensive equipment to deal with them. Of course, this can get pricey. Hiring people and equipment for landscaping work is a serious investment. Although equipment and manpower is sometimes necessary to create the foundation of a patio, there are other options to consider, like using flexible outdoor floor tiles over grass or dirt.
Choose Interlocking Tiles That Are Flexible For Uneven Ground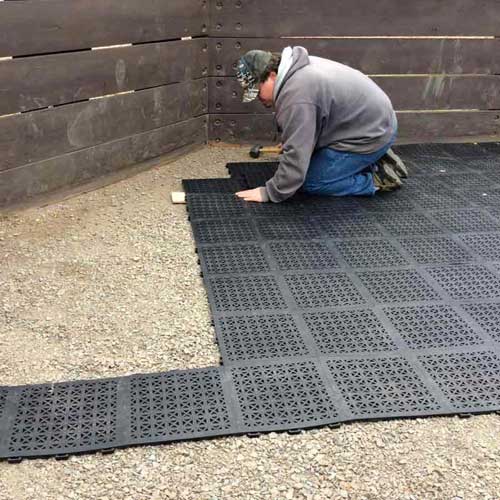 By any account, the easiest solution is to choose a tile that will work with whatever ground you've got in order to create an instant patio. It's important to remember that not all interlocking patio tiles are made the same. Every patio tile has different features that lend themselves to specific environments. The following will walk you through a few different products available at Greatmats.com that work well over irregular surfaces.
Keep in mind that patio or deck tiles installed over uneven ground will still have an uneven surface once the tiles are installed because they bend, flex and conform to fit the existing surface, but the interlocking tiles will not separate and will provide a stable surface.
5 Steps - How to Lay Outdoor PVC Interlocking Patio Tiles on Grass or Dirt
Installation is as easy as snapping the tiles together. A few things to remember about Greatmats PVC outdoor tiles, two of the edges contain loops, while the other two edges have pegs hidden underneath. If installing these tiles against a wall or another large object, we recommend leaving a 1/2-inch gap between the PVC deck tiles and the object to allow for expansion of the tiles in the heat. Also, no adhesive is required.
Prepare the Ground - lay down landscape fabric geo mesh in the area you'd like to cover


Start in one corner, with the loop sides facing out, and work your way out in a triangular fashion


Line up the pegs and loops, and step or push down on the edges of the tiles to cause them to tightly interlock


Press the nubs or pegs of each new tile down onto the loops of the existing tiles until they snap into place


You may custom fit the PVC deck tiles around any obstacles by cutting them with a utility knife and a straight edge
Due to the method of interlocking these PVC decking tiles, you can easily separate, remove, or relocate them, if needed. By not using adhesives when assembling these tiles, disassembling them doesn't take a lot of effort.
Watch the Staylock Installation Video here.
What is the Best Perforated PVC Interlocking Outdoor Tile?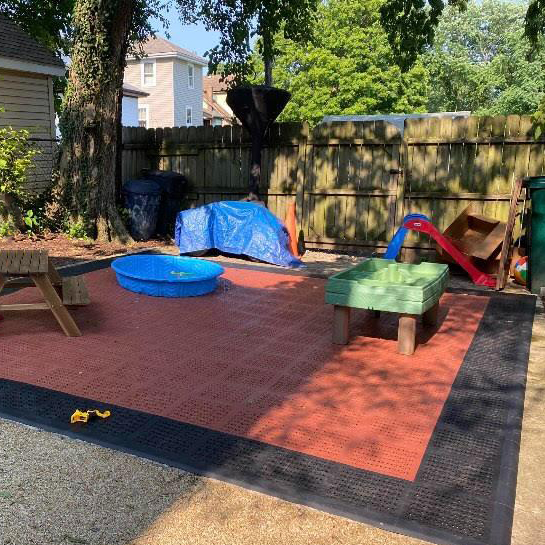 Greatmats' PVC StayLock perforated tiles can be installed over many surfaces, as a permanent solution or as a temporary outdoor flooring over grass or dirt which could be portable. These perforated patio tiles are flexible, so they can bend and adhere to surface irregularities. You can also easily cut tiles to fit any space. No other adhesives or tools are needed for tiles to stay connected in order to create an instant patio on grass.
Where your bare feet didn't want to walk before, they will be happy to with Staylock tiles. These patio tiles are comfortable for bare feet and have a ASTM fall height rating of 20 inches. You can shovel snow off them in the winter and keep them clean by simply sweeping or hosing them off in the summer.
StayLock 1x1 ft Interlocking Patio Tiles - Best Designed for the Outdoors
Flexible PVC
Waterproof
Non Slip Surface
Perforated for Fast Drainage
Active Locking Connector System
Chemical-tested for Lasting Quality and Safety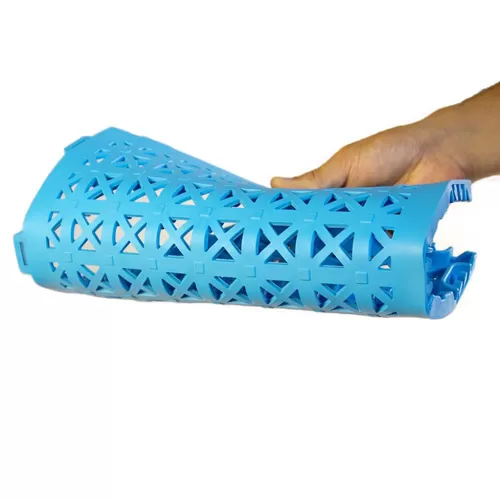 Because of their drain-through feature, these patio tiles work particularly well around wet areas. Water won't pool up on them, so they are slip-resistant and mold-resistant. Further, they are great for kiddos and play areas.These interlocking patio tiles come in several different colors including black and grey.
2 Other Outdoor Flexible PVC Interlocking Tiles
1. Ergo Matta Outdoor Tile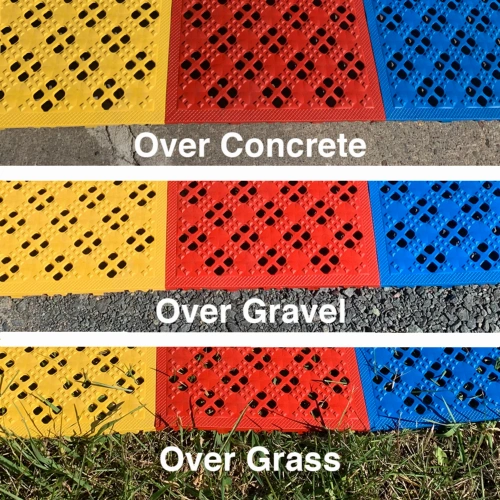 2. Patio Outdoor Tile 12x12 Inch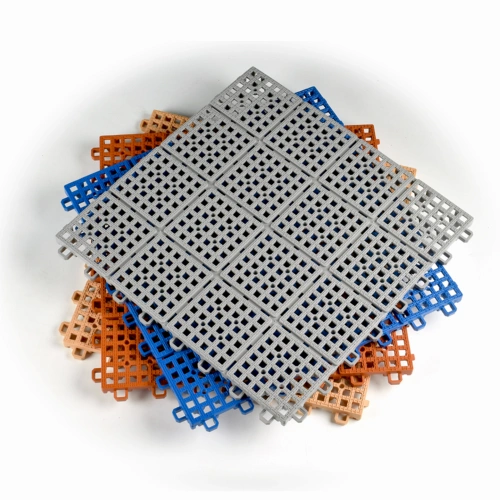 Having trouble deciding which tile is best for you?
View this comparison video: StayLock Perforated Tiles vs. Patio Outdoor Tiles
What Other Outdoor Flooring Options Can Be Installed Over Non Level Surfaces?
Portable Outdoor Tile 12x12 Inch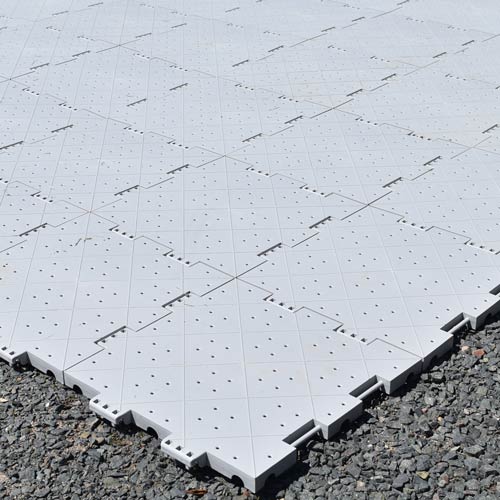 Grass or gravel surfaces are a non-issue with these
Portable Outdoor Deck Tiles
. These high quality tiles are made with a durable rigid, no break plastic. The tiles are prefect for portable or temporary outdoor flooring over grass, dirt, or gravel for tents, dance floors or for other outdoor events as they are designed to contour to the landscape.
These rigid plastic tiles have an easy snap together design, drainage holes for wet areas and an anti-slip surface texture. They come in a black or gray.
There's no need to be discouraged by your ground woes. An expensive landscaping project isn't your only solution. There are ways to work around and with the ground you have to create the perfect patio. Greatmats offers a variety of products for outdoor flooring that can work with the condition of your ground without a costly renovation. If you have more specific questions about these products or others, contact Greatmats for answers you can trust.
Artificial Deck Turf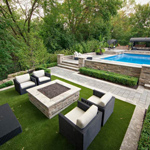 Artificial deck turf
is another option for outdoor flooring over dirt or grass that can be installed over irregular ground when an under tile is used. Turf is made with durable and flexible plastic material, which allows the turf to adjust to uneven surfaces.
Installation:
Whether you're resurfacing or putting artificial deck turf in at ground level, installation is a cakewalk. Deck turf is a dry lay; no extra adhesives are required. Although the rolls themselves will conform to uneven ground, it's important to keep in mind that the under tiles are free floating.
Artificial turf brings a natural, comfortable look and feel to any patio. Using artificial turf is an excellent way to turn cold, uninviting surfaces into a place you'll be happy to lounge on. Greatmats' artificial turf patio flooring is drain through, so it does well in wet conditions and areas. These rolls are designed for the outdoors. Patio furniture, weather and play will not damage these rolls.