StayLock Tile Perforated Colors 9/16 Inch x 1x1 Ft.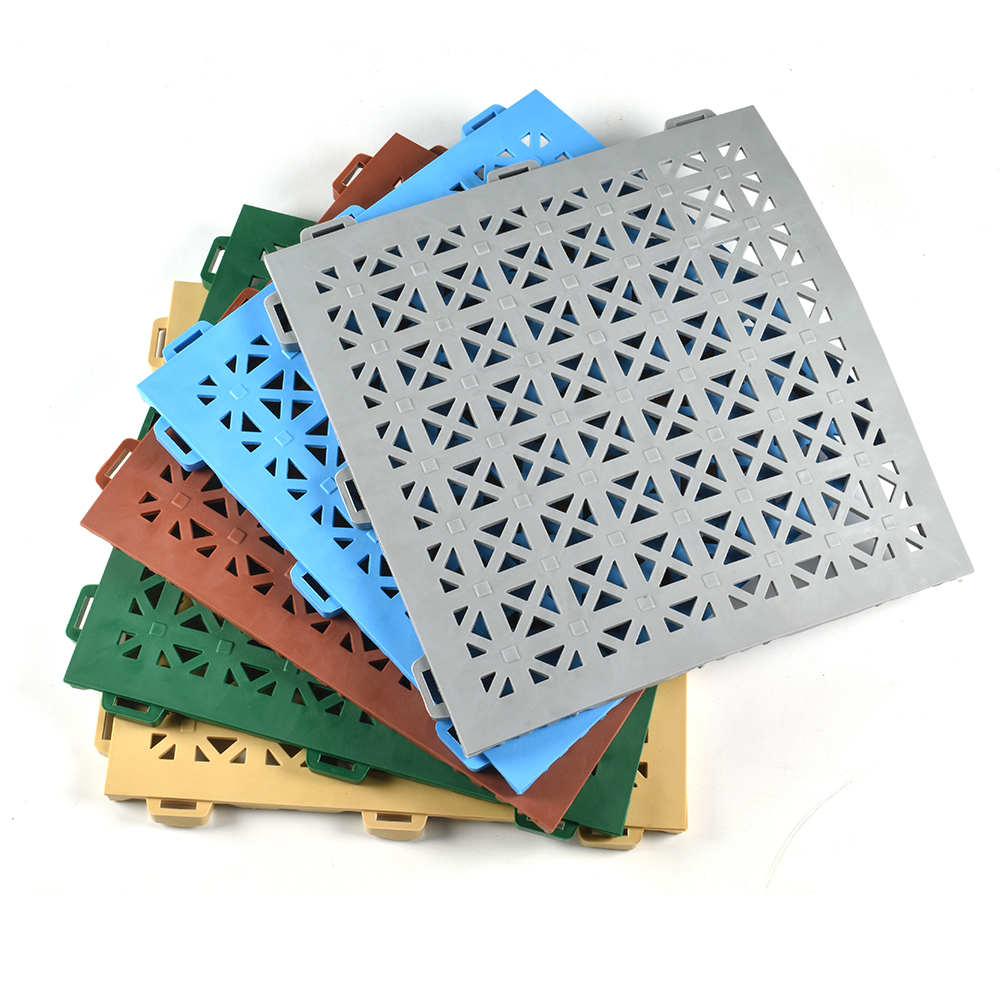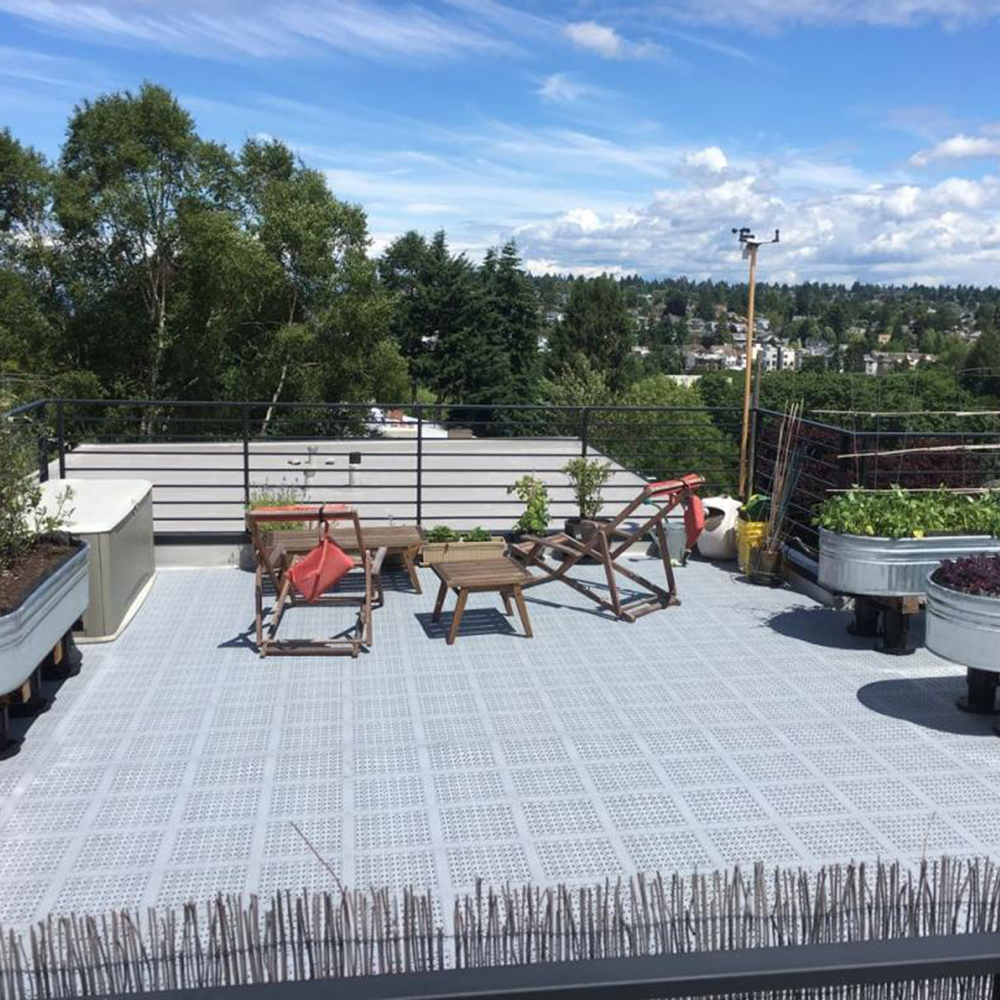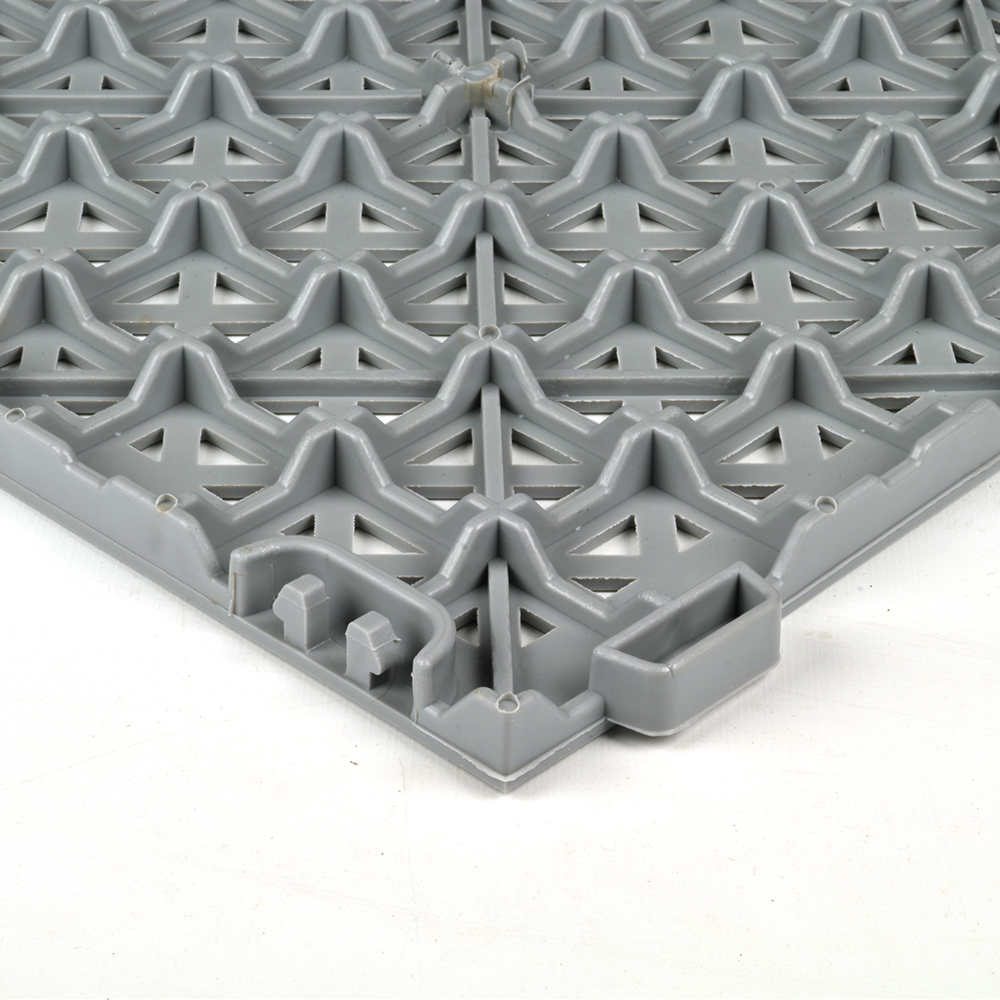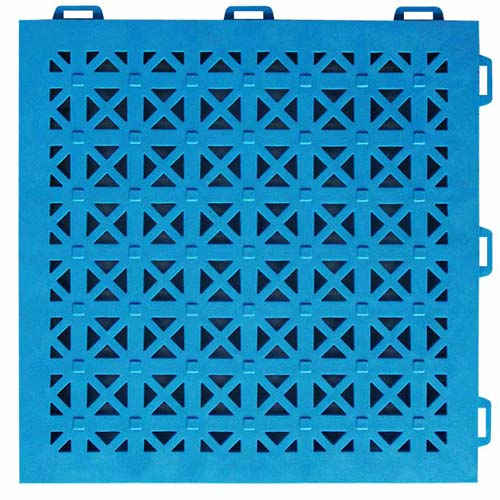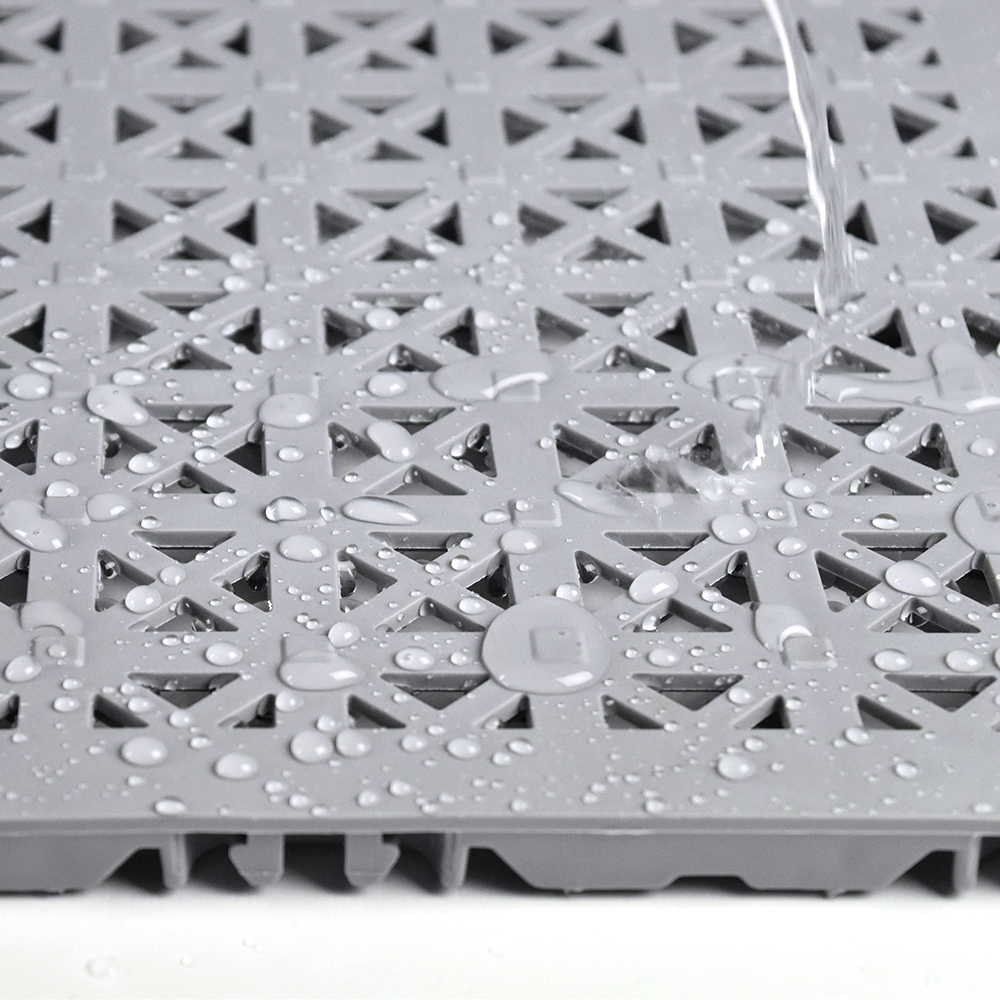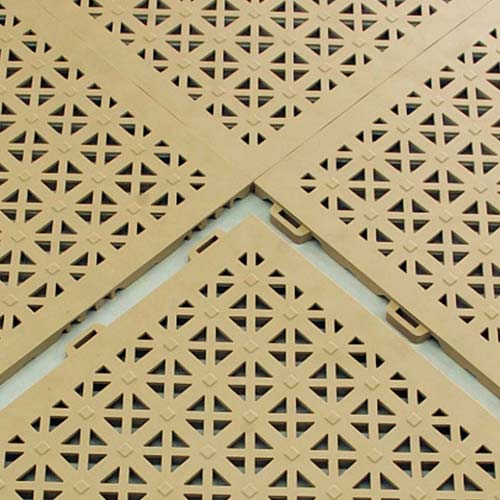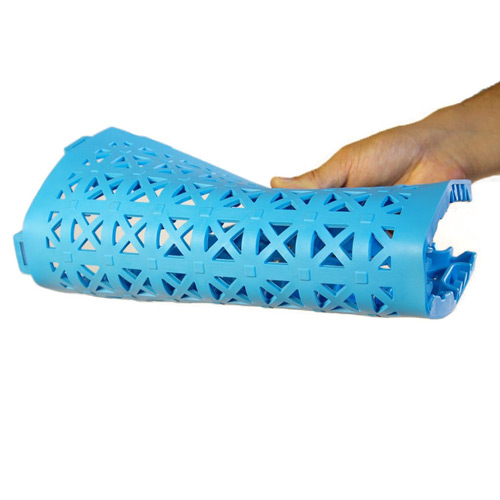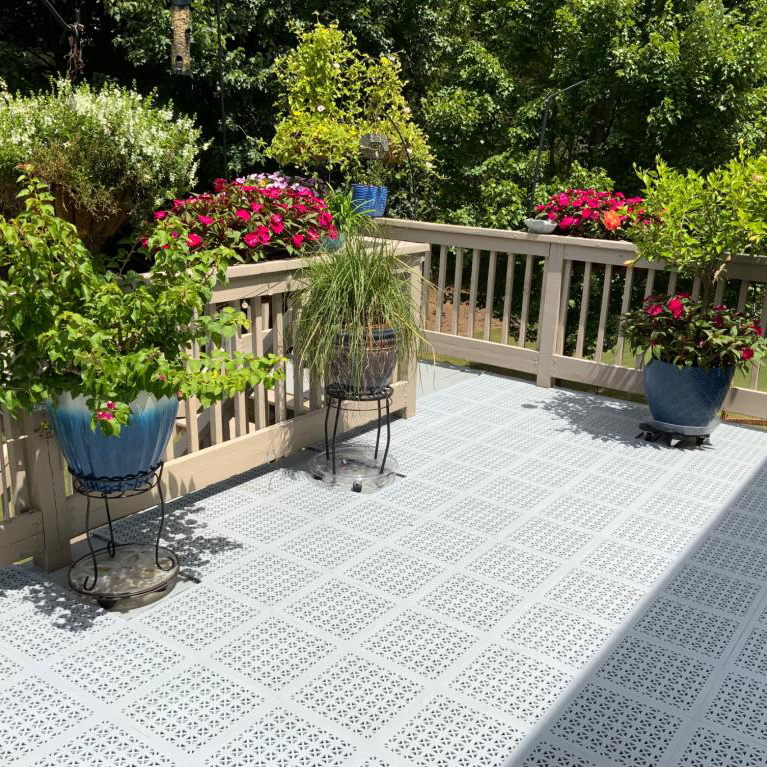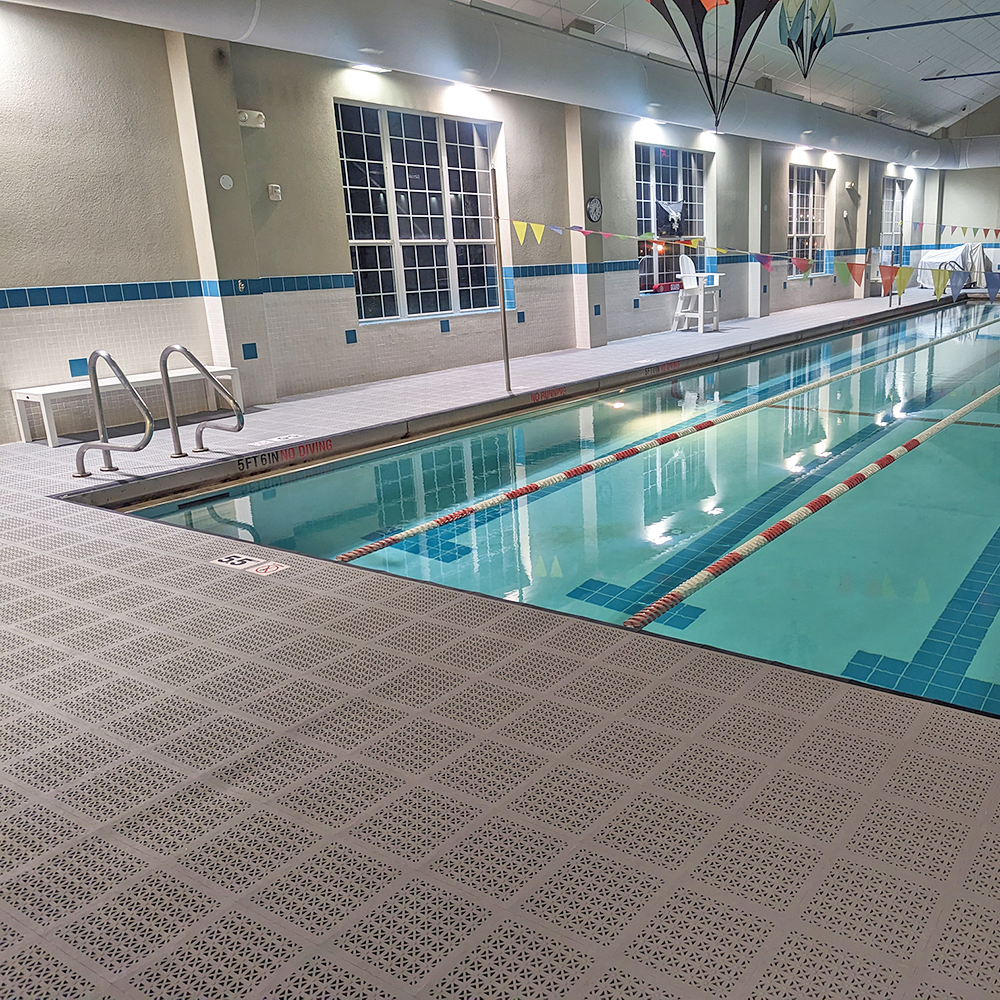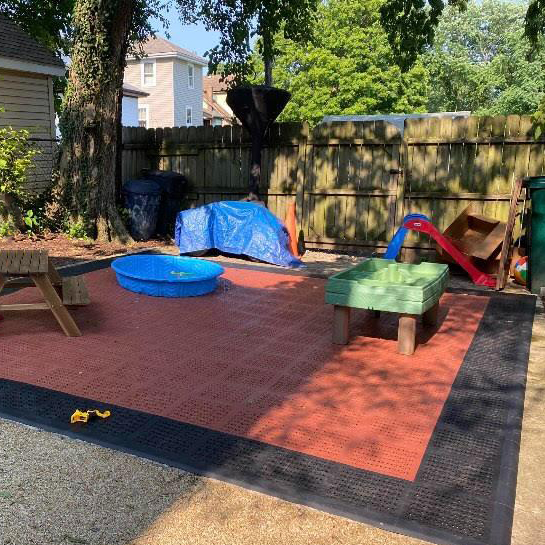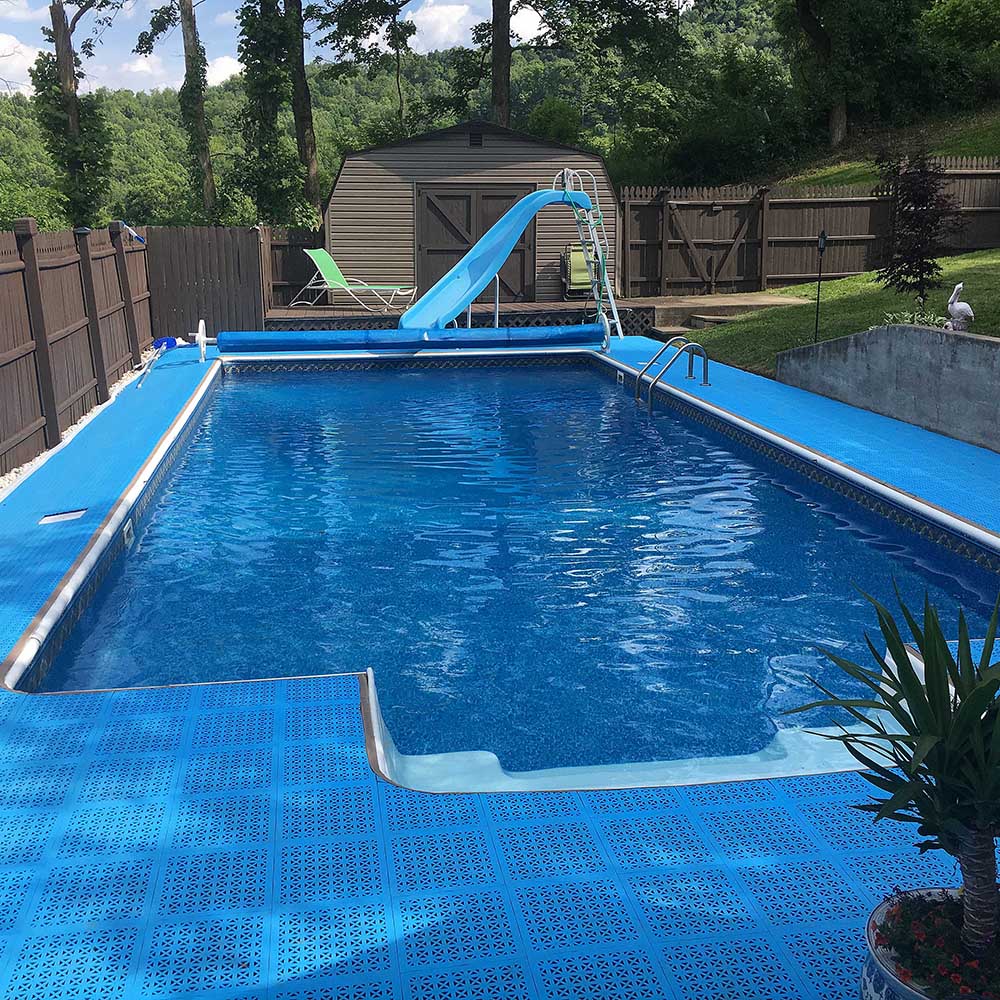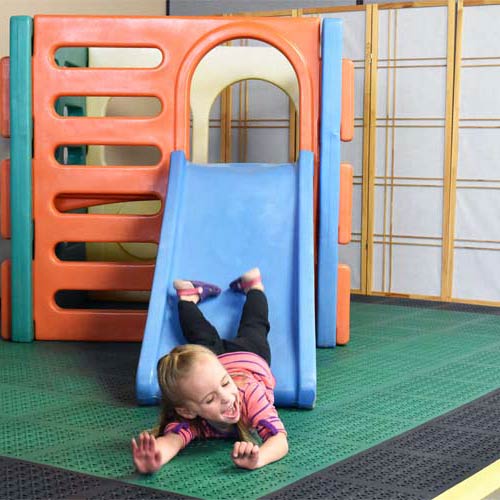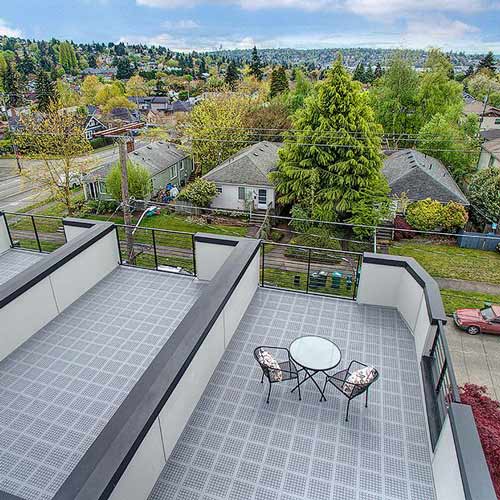 Rooftop installation over rubber membrane for residential
ASTM 1292 fall height rated at 20 inches
Quick and easy DIY installation with an active locking connector system
$5.39
/tile
(You Save 39%)
Call for Better Price on Volume Orders
(138 Reviews )
Ships Out: Estimate 1-3 Working Days

Light Blue

Dark Green

Light Gray

Terra Cotta

Tan
How Much Flooring Do I Need?
VIDEOS
StayLock Patio and Deck Flooring Tile Installation Tips
Staylock Tile Perforated Black - Flexible Outdoor Floor Tiles
Keegan Livengood of GBC Autism Services on StayLock Perforated Tiles
How hot do StayLock Perforated Tiles get in the sun
How to Install StayLock Tiles Over Grass For A Temporary Walkway
Staylock Perforated Tile Impact Test vs. Baseball Bat
Outdoor Patio Tiles Over Concrete - Staylock Perforated Tile
How Strong Are The Connectors on StayLock Tiles
How To Cut PVC Floor Tiles
How to Replace Staylock Tiles - Orange Peel, Perforated and Bump Top
TOP FEATURES
Rooftop installation over rubber membrane for residential
ASTM 1292 fall height rated at 20 inches
Quick and easy DIY installation with an active locking connector system
Made in the USA
Color consistent from batch to batch
Decking tiles will not separate over time
Waterproof
Non-slip and durable and fast draining indoor/outdoor flooring
Use Types
Deck Tiles, Rooftop Flooring, Pool Surrounds, Wet Areas, Outdoor Play Areas
Outdoor PVC Decking Tiles, Raised PVC Flooring Tiles for Wet Areas
StayLock Tile Perforated Colors 9/16 Inch x 1x1 Ft. can be installed over a concrete patio or over a wooden deck for homes and condos it is easily installed and is exterior rated. StayLock has a slip resistant perforated top surface, and it is offered in many popular colors.
These decking tiles measure 1x1 with 1 square feet of coverage and are made in the USA of durable plastic material. Ours provides foot traction and comfort to bare feet, such as at patios, spas, pool surrounds, and rooftop decks.


Pool and Spa Applications

It works as an indoor floor tiling option for showers, greenhouses, kids play areas and indoor industrial applications. This is rated for residential installations when used outdoors, for example, on flat rooftops.

If looking for a good value, this Greatmats outdoor deck flooring offers the durability required. They have a 1-year manufacturer warranty.

These are safe at residential swimming pools, patios, rooftops, and decks. These interlocking patio tiles are durable enough to hold tables, lawn furniture, and lawn chairs with leg pads larger than about 1.5 inches in diameter.

Installations around pools are among the most popular reasons to use these. They will allow rainwater and splashes to drain through them without absorption, preventing moisture buildup. And even if wet, they remain resistant to slips, unlike cement. They yield a safer spot for children to walk or run.

With French drains or spots where the cement surfaces slope slightly to allow for drainage, put them directly over these areas, and their shape will slowly conform to the slopes. This product also works great around hot tubs and spas, because it is non-absorbent.

StayLock is quick and easy to install with our tab locking system, which ensures it won't separate in the future.

If installing these tiles against a wall or another large object, we recommend leaving a 1/2-inch gap. This allows for expansion in the heat. Expansion and contraction is normal and to be expected when the tiles are installed outdoors and exposed to widely varying temperatures and humidity and / or high altitudes over 2500 Ft.

If decks look worn out from splinters on old wooden planks, these can give them a fresh and new look that's safe to use. These will provide a fast means of fixing the problem of worn out wood with far less effort and cost versus sanding and staining.

Put the PVC deck tiles in outdoor spaces where traction is a must. Some customers have reported success installing these outdoor tiles near a children's swing set or another area where children play. They yield a softer landing if a child falls.

Don't worry about leaving these out during the winter, as shoveling snow off of them is as simple as with any other hard surfaces.
Portable Decking Tiles Applications
Another potential application use is for a camping area. Take a few dozen of these to a campsite and lay out clean flooring right outside the camper door. Using these in this manner means people will track less dirt and grass into the camper, as it provides places to clean feet and keep mud out of the camper, as well as yielding a dry place to stand or sit. The perforated design of these allows rainwater to drain, keeping the top free from mud.
Because these are lightweight and easy to disassemble and reassemble, they represent a great option for taking on a camping trip. Create a sidewalk or sitting area in a short amount of time. With the durability in the construction design, they'll survive any rocks or sharp objects that might be in the campsite too.
In fact, this model works to create a portable narrow walkway anywhere. If camping at the lake, to give people an ability to walk to the lake barefoot without having to walk on hot sand or across sharp gravel, these work perfectly. If the ground is uneven, they will conform to it.
They are especially useful in those locations where workers may be exposed to wetness. The PVC deck tiles provide a great grip for workers who need steady surfaces to be able to perform their jobs safely without the worry of slipping.
They provide an anti-fatigue benefit too. In jobs where employees must stand for long periods of time, these yield a cushioned surface on concrete, reducing leg fatigue.
DIY Installation Tips
They have rounded edges on the underside, which makes them a smart solution atop rubber roofing membranes. This reduces the chance the edges will puncture the roofing membrane, while allowing for drainage.
If installing them against a wall or another large object, we recommend leaving a 1/2-inch gap between the PVC deck tiles and the object to allow for expansion in the heat. Whether they're rubber or plastic, this is normal if using them outdoors in temperature variations.
Heavy furniture, like a table and chairs, are not recommended to be permanently placed on top of these. They must be able to shift, as they expand and contract in changing temperatures.
To fit the PVC deck tiles around poles, doorways, or other obstacles, cut them with a sharp utility knife and a straight edge to size them properly.
To place the decking squares, just set them directly atop the wood with no barrier layer between. As long as the deck's wooden supports are not rotted and can support the weight of people walking on them, lay out the PVC deck tiles and maintain normal use of the space.
If doing a tight to the wall installation of these, start in one corner, allowing for the slight gap for expansion, and work across. To finish the edges, use the border pieces.
They measure 9/16-inch in thickness and are 12-by-12 inches in size. Each exterior flooring tile weighs 1.25 pounds, giving these faux wood decking tiles a size and weight that's extremely easy to handle.
End up with a custom look for the PVC deck tiles with a selection from our of popular designer colors. Standard order a color like light blue, light gray, terra cotta, and tan.
Additionally, they can be custom ordered in virtually any color desired simply by contacting our customer service team. Optional border and corner pieces are also available. Feel free to order them in multiple colors to create patterns with the installation.
If ordering these in black, the product is made from recycled content material and may contribute to LEED points in green buildings.
How Many Borders do I Need?
For Island installations: Where the layout will have all four sides exposed to the room. In this case, the number of borders needed will be the length + width of the layout for each border type, and 4 corner pieces. Use half male and half female borders in this instance. Example 10x12 ft layout, 10+12 = 22 male borders, and 22 female borders, and 4 corners.
For Corner Installations: Where the layout will be pushed into one corner and will have 2 sides exposed to the room. In this case, the number of borders needed will be the length + width of the layout and one corner piece. Use all male borders in this instance. Example 10x12 ft layout, 10+12 = 22 borders, all male, and one corner.
For Inside corners, two border ramps will have to be manually cut at diagonal to fit. Use a sharp utility knife to cut this product or a table saw.
FAQ PVC Deck Tiles Q&A
Can pool decking tiles be laid on dirt?
Because foam rubber deck tiles can be installed on dirt, they can prevent running children from slipping in mud. If installing them over sand or other soils, we recommend placing a landscape fabric mesh material on the ground before laying the decking tile pieces out.
Can you put outdoor decking tiles straight onto grass?
Yes, but if planning to lay these out on grasses, it's not recommended leaving them in place permanently if planning to save the grass. The PVC outdoor flooring will not let enough sunlight to reach the grasses and keeping them healthy over the long term.
How do you install waterproof deck tiles?
There's no need for glue or adhesives. Each easily connects to the others with a universal interlocked design for an assembly that will last. Due to the method of interlocking these, they also will easily separate when needing to relocate them. By not using adhesives when assembling these, disassembling them doesn't take a lot of effort.
Is a composite deck tile good for kids areas?
Yes, as these PVC flooring tiles feature an ASTM fall height rating of 20 inches. These interlocking deck tiles are durable, standing up to regular use and all kinds of conditions. They are very good for shower floors.
How do you prepare the ground for an outdoor patio tile install?
There's little prep effort needed. If laying them out in a slightly uneven locale, the flexible PVC deck tiles will conform eventually to match the contours. A hard, flat surface is recommended, but they will deliver success with slight differences in grading.
Maintenance
Recommended cleaning: Use vinegar and baking soda and hot water to clean the family of Staylock floor tiles. Do not use any cleaning solutions that contain bleach.
Shipping
Ships in cartons via ground service to your door, for larger orders product may ship freight delivery.
This Product Ships UPS Ground, FedEx Ground and/or Freight.
Please review our shipping disclaimer.
ACCESSORIES
Accessories for STAYLOCK TILE PERFORATED COLORS 9/16 INCH X 1X1 FT.
ANSWERS
Product Questions:
Q: Hi! Would this product be good for under an area with our pool and kids swing set? Thanks, Christie
A: Yes this product can be installed outdoors on any surface including dirt or grass, and is good for wet areas. The tile will provide some traction when wet and will provide drainage.
Q: Can this product be installed over rubber roofing?
A: Yes this product is an excellent choice for installation directly over rubber roofing membranes. The underside of this tile features rounded feet that will not damage rubber roofing membranes.
Q: can this product be installed outdoors over sand
A: Yes this tile can be installed over any outdoor surface, for sand or dirt, we recommend a landscape fabric geo mesh material be laid down first before the tiles go down.
Q: How do you cut this product for fitting around obstructions?
A: This PVC outdoor rated deck and rooftop floor tile can be cut using a sharp utility knife, leave one inch for expansion in the summer.
Q: Can you use a snow shovel on this material?
A: Yes this tile can be shoveled in the winter.
Q: How many tiles per carton?
A: We can put 26 per carton, they are sold by the piece, with a minimum order quantity.