SoftFlex Floor Tile 3/8 Inch x 1x1 Ft.
Unique texture for safety and comfort
Full-time antimicrobial material
Made in USA with soft PVC formulation
Handling Time Estimate: 1-3 Working Days

Teal Green

Charcoal

Tan

Ocean Blue

Warm Gray

Light Gray
How Much Flooring Do I Need?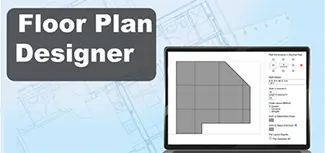 Unique texture for safety and comfort
Full-time antimicrobial material
Made in USA with soft PVC formulation
Waterproof and non slip
Easy installation, no adhesive required
Indoor use only
Offers anti-fatigue benefits
Available in a variety of color options

Shower Areas, Locker Rooms, Spas and Hot Tubs, Pool Surrounds, Wet Areas Indoors
Soft Shower Floor, Plastic Locker Room Floor Tiles for Showers
SoftFlex floor tile is a flow-through perforated wet area drain tile that is great for spas, hot tubs, shower areas, locker rooms and wet areas indoors. Additionally, SoftFlex has a unique texture that provides both safety and comfort, thanks to its anti-fatigue matting qualities. Installation is quick and easy without the use of special tools or adhesives.
We've compiled a list of the six best reasons to select our soft shower floor option for your home, athletic club, school or church.


1. Unique Texture and Design

These plastic shower tiles are manufactured with a subtle texture on their surface of them. This texture provides a safety measure, as it prevents slippage when the soft shower floor becomes wet. Most people really like the look of the texture on this shower flooring as well.

Additionally, the perforation in the surface of these non-slip locker room floor tiles gives these tiles a bit of a texture versus a type of tile that has a smooth surface. The perforation in the tiles includes the ability to drain water away from the surface of the tile properly, as well as preventing slippage from people walking on the flooring.

The underside of these tiles offer a unique design feature too, using dozens of small pegs that slightly lift the tiles off the subfloor. This enhances the drainage feature of the tiles, providing a channel for the water to drain away along the subfloor. Beyond the water drainage capability of the raised flooring, lifting the tiles slightly off the subfloor also allows for air flow beneath the soft tiles, which dries the area more thoroughly.

The flow of air in this design is especially important in an area of high humidity, such as an indoor pool or spa. If these tiles were laid directly over the subfloor, adhering tightly to it, the moisture could build up under the tiles, leading to the formation of mold or mildew. These substances create a bad odor and may place particles in the air that are dangerous for humans to breathe. But with the ability to move air beneath the slightly raised tiles, the area will dry more quickly and more thoroughly, well before any mold or mildew can form.

When considering a slightly raised floor that uses these types of pegs, it's important to stick with a high quality design, such as is found with our products. The pegs must be designed and constructed properly so they can support the weight of people walking on them without causing the tiles to collapse under the weight.
2. Soft PVC Construction
This material often is mistaken for rubber, but it's made from a flexible PVC material, short for Polyvinyl Chloride. PVC types of flooring are able to be flexible or rigid, giving it a lot of flexibility for using as a floor. These SoftFlex locker room floor tiles offer flexibility, while also remaining extremely durable. The soft shower floor tiles offer a limited 10-year warranty, which highlights the durability this material provides.
And don't let this material fool you into thinking that this soft shower floor will end up with dents or wear after using it. The flooring is soft, but it will hold its shape properly, ensuring there are no areas where water can build up on the surface. The vented portions of the tiles ensure a quick drying of the surface too.
The anti-fatigue nature of this soft plastic flooring ensures that you can spend a lot of time working or playing on this flooring without suffering tired legs.
If you have members of your family who sometimes slip and fall in a bathroom or pool area, this type of flooring is a great option. Not only is it a non-slip surface that will reduce the number of accidents, but the soft feel of the flooring provides a bit of cushioning should someone fall.
3. Waterproof and Non-Slip
With the texture and perforation included in the shower floor tiles non slip surface, you can use this flooring safely. The anti-slip nature of this flooring makes it work great as indoor pool, spa, shower, laundry room, bathroom and locker room floor tiles.
Each of these tiles has a perforated surface. Water simply doesn't build up on the surface of the tiles, which is a great feature for avoiding puddles that could create slipping hazards. We understand that the most common use pattern for these types of tiles will be people walking on them with bare feet, so having an anti-slip surface is an extremely important safety feature.
4. Easy Installation
When installing the soft shower floor, the base construction makes use of pegs that raise the locker room floor tiles slightly, which creates a method for draining water.
Before installing these wet tiles, make sure to clean the subfloor thoroughly. You don't want to install these, or any, tiles over the top of a soiled floor, as it could cause an uneven installation or problems with longevity. It's also recommended that you leave a gap of about 3/8-inch between the tiles and the walls or other obstacles to allow for a slight expansion of the tiles in heated conditions.
Assembling the tiles involves making use of snap-in loops that simplify the installation process. You just line up the floor tiles properly and then snap them into place. Start in a corner of the room for a wall-to-wall installation or at one corner of the area you plan to use for an island installation. It's easier to put together these snap together tiles when you start at a corner and move outward. Always place the sides of the tiles with the loops in the directions you want to install the next tile.
Each tile measures 12-by-12 inches, meaning it covers 1 square foot. The 3/8-inch thickness measurement in each tile is thin enough that the individual locker room floor tiles each weigh less than 1 pound. This makes it easy for one person to move the tiles around and install them without needing help.
For a finishing edge to the soft shower floor, optional ramp edges are available that provide a safe means of entering the floor without worrying about tripping over an edge.
When performing a wall-to-wall installation of these tiles, you'll appreciate the 3/8-inch thickness measurement of them. Because they don't have a lot of thickness, you can cut them with a utility knife or even with a heavy-duty pair of scissors.
5. Indoor Use Only
Our locker room floor tiles are only rated for use indoors, both for commercial and residential installations. Outdoor installations are not recommended with these PVC tiles.
For daily dry cleaning, you can run a vacuum over the tiles, picking up dust. For more extensive cleaning, just use a standard household cleaner and a mop to keep the tiles clean.
Cleaning with general household cleaners means the tiles will not suffer color fade or damage. Avoid using bleach on these tiles though.
6. Many Color Options
When you're ready to order our soft shower floor tiles, you'll want to contact our customer service team to answer any questions you may have. The tiles are available in a variety of colors. Standard color options include teal green, charcoal, tan, ocean blue, warm gray and light gray. You can choose to make use of different colors to create patterns within the flooring for a unique look. Or you can use varying colors to spell the name of your athletic club or school using large sections of the tile.
Because these tiles are made to be exposed to water consistently, they're made tough enough to hold their color well. And with the recommended indoor use for this material, you don't have to worry about sun fade damaging the color of the tiles.
Borders are ordered separately.
Maintenance
Product can be damp mopped with common household floor cleaners, avoid bleach.
Shipping
Ships in cartons via ground service to your door, for larger orders product may ship freight delivery.
This Product Ships UPS Ground, FedEx Ground and/or Freight.
Please review our shipping disclaimer.
| | |
| --- | --- |
| SKU# | SoftFlex |
| In Stock | Yes |
| Product Type | Tile |
| Material Type | PVC Plastic |
| Product Edging | Interlocking |
| Thickness | 3/8 inch |
| Width | 1.00 feet |
| Length | 1.00 feet |
| SF per Item | 1.00 |
| Weight | 0.82 lbs |
| Packaging | Cartons |
| Number of Pieces per Package Type | 16 |
| Non Absorbent | Yes |
| Special Adhesives | No |
| Universal Interlock | No |
| Interlock Loss | 0.00 feet |
| Material Hardness | Shore A 90 |
| Interlocking Connections | Yes |
| Made In | USA |
| Surface Finish | Perforated |
| Surface Design | Solid color |
| Installation Method | Snap together |
| UV Treated | Yes |
| Reversible | No |
| Border Strips Included | No |
| Floor Score | No |
| Green Label | No |
| Manufacturer Warranty | 10 year limited |
Product Questions:
Q: We just installed an in ground pool and are transforming our shed with a concrete floor into a pool/changing house. I don't want to have the concrete floor and was wondering if this would work in there. It will get damp probably when people go in to change out of swimming suites to street clothes but it won't get soaking wet. If this won't work do you have another product you would recommend. Thank you.
A: Yes will work for your application, and most of our other PVC perforated tiles as well.
Q: would this product cushion a fall in the shower..trying to make my moms situation safer. thanks
A: Not really sure about this one.
Q: I wish to install in my shower. One corner of which is a 2' diagonal rather than square. What is the best way to cut the diagonal? Thanks, John
A: These can be cut with either a sharp utility knife - with a straight edge guide - or a power saw, such as a jigsaw.
Q: What size are these?
A: These tiles measure 12'' by 12''
Q: Do you have to leave a gap around the perimeter for expansion and contraction if they are installed in a climate controlled room?
A: Expansion and contraction occurs due to variations in temperature, humidity and sunlight exposure. If those factors are all consistent, you should not need an expansion gap. Just be sure to let the tile acclimate to the the climate that will be maintained for a couple of days before installing.
Q: Is it a non-slip floor
A: Yes, this flooring is both waterproof and non-slip and designed to be used in shower areas, locker rooms, spas and hot tubs, pool surrounds, and other indoor wet areas.