VIP Red Cloud Anti-Fatigue Mat 3 x 5 Feet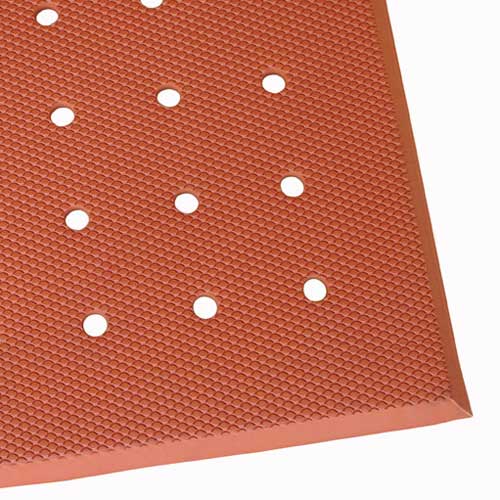 Lightweight 3x5 3/4 inch thick, easy to clean
Note: Not for use in wet areas
Anti slip textured surface
Handling Time Estimate: 4-6 Working Days
Lightweight 3x5 3/4 inch thick, easy to clean
Note: Not for use in wet areas
Anti slip textured surface
Tapered edge for safety
Drainage holes
Grease proof
Non-Absorbent Closed-Cell Nitrile Rubber
5 year guarantee against breakdown from grease
Use in Kitchens, Cooklines, Bars, Prep areas, Waitress stations, Assembly lines, and behind counters.
NOTE: This item is a custom order and is not returnable.
VIP Red Cloud Anti-Fatigue Mat 3 x 5 feet. The ultimate anti-fatigue solution. Revolutionary light weight, grease proof rubber mat made of a unique nitrile closed-cell compound for the ultimate in comfort and performance.
VIP Red Cloud 3x5 Anti Fatigue Mat, 3/4 Inch Thick

When restaurant employees or at-home cooks are standing and preparing food, spills are bound to occur. If grease or oil is part of the spill, it can create a dangerous, slippery floor. Use our VIP Red Cloud 3x5 Anti Fatigue Mat to deliver slip resistant capabilities for a food prep station.

This mat has cushioning properties as well, making it more comfortable for employees to stand and work. It consists of lightweight nitrile rubber and weighs only 14 pounds, which gives employees the ability to move the mat from food service areas to foot preparation areas with ease. It's far lighter than a typical rubber mat.

With a 3x5 anti fatigue mat in place, those doing the food preparation work at home or in the restaurant will have plenty of space to move around and grab utensils or ingredients without stepping off the surface of the material.
How Does Nitrile Rubber Work in a Kitchen?
Nitrile rubber is a versatile material that delivers longevity and a good value. It resists tears and damage from day-to-day use, giving customers a good value because of its longevity. It has a lower cost per square foot than a typical rubber mat that measures 3/4 inches in thickness with a perforated design.
It will resist absorbing the majority of liquids, thanks to the closed cell design in the material. However, nitrile rubber's greatest strength involves its oil and grease resistance. These properties make it ideal for use in a commercial kitchen, a home kitchen, a bakery, or a scullery, as it can stand up to any potential spills.
Nitrile rubber delivers rebounding properties that make it a useful material in areas where people will need to stand on it for long periods of time. When using a cushioned mat, the employees will feel fresher toward the end of a long shift, allowing them to continue working at optimum efficiency.
Versus the hard vinyl or concrete flooring often found in a commercial kitchen setting, a nitrile rubber 3x5 anti fatigue mat will deliver a much higher level of comfort. Employees will have fewer complaints of sore knees or hips that can originate from regularly standing on a hard flooring.
Creating a Safer Environment for Food Prep
Our 3x5 anti fatigue mat delivers a number of safety features. The surface of the mat consists of a slight texture that's specifically made to create a sure footing for those standing on it. No matter what kinds of liquids may end up spilled on the mat, the customer will be able to move around safely.
Although customers should not install this mat in an area where it will receive excessive water exposure, it does have perforations through the thickness of the material. Should someone spill water or another liquid on the mat, it should drain through to the subfloor, eventually moving toward a floor drain.
As another safety measure, the mat has beveled edges, which reduce the prominence of the lip on the 3/4-inch thick mat. When others will be walking in the area with the 3-by-5-foot mat in place, the beveled edge reduces the chance of someone tripping over the exposed edge.
Beyond use in food prep stations, our cushioned Red Cloud mat produces desirable results in many other areas, such as behind the bar, at a waitress station, behind a retail counter, at a cash register station, or along an assembly line. A teacher may want to use the mat when standing at the front of the class during a long lecture.
Nitrile Rubber Anti Slip Kitchen Mat Specifications
Width: 3 feet

Length: 5 feet

Thickness: 3/4 inch

Coverage: 15 square feet

Weight: 14 pounds

Color: Terra cotta

Texture: Anti slip texture with perforations
Maintenance and Care
Our 3x5 anti fatigue mat is a commercial mat that will continue to perform at a high level, as long as the customer cleans it properly.
When placing this mat in a busy restaurant kitchen or a home kitchen, be sure not to place it in an area that will have standing water. It is not for use in wet areas.
It will hold up against grease and oil spills, though, maintaining a safe area for food preparers and chefs to stand without worrying about slipping. To maintain the anti slip capabilities, the customer must clean the mat regularly after an exposure to grease or oil.
Use warm water and a deck brush (or a similar type of scrubbing brush) to remove grease and oil. If necessary for a stubborn soil, make use of a mild detergent that does not contain chlorine, bleach, or butyl to scrub the area with the soil. Be certain to clean both sides of the mat for the best results.
Our textured terra cotta mat has a 5-year limited manufacturer warranty against breakdown from exposure to grease.
Maintenance
Grease Proof matting subjected to grease and oil must be cleaned, both sides, on a regular basis (daily for busy commercial use), with warm water, a deck brush, and a mild detergent absent of bleach, chlorine or butyl
Shipping
Ships via ground delivery, larger orders may ship via freight.
Please review our shipping disclaimer.
| | |
| --- | --- |
| SKU# | 5000-R35 |
| In Stock | Yes |
| Product Type | Mat |
| Material Type | Nitrile Rubber |
| Product Edging | Straight |
| Thickness | 3/4 inch |
| Width | 3.00 feet |
| Length | 5.00 feet |
| SF per Item | 15.00 |
| Weight | 14.00 lbs |
| Packaging | Cartons |
| Number of Pieces per Package Type | 1 |
| Non Absorbent | Yes |
| Special Adhesives | No |
| Interlock Loss | 0.00 feet |
| Interlocking Connections | Yes |
| Surface Finish | Anti slip texture |
| Surface Design | Solid color |
| Installation Method | Lay flat |
| UV Treated | No |
| Reversible | No |
| Border Strips Included | No |
| Floor Score | No |
| Green Label | No |
| Manufacturer Warranty | 5 year limited from grease breakdown |
Product Questions:
Q: Why shouldn't this product be used in wet areas?
A: This product is foam and not rubber and would likely absorb moisture.
RELATED PRODUCTS