Safety Matta Perforated Black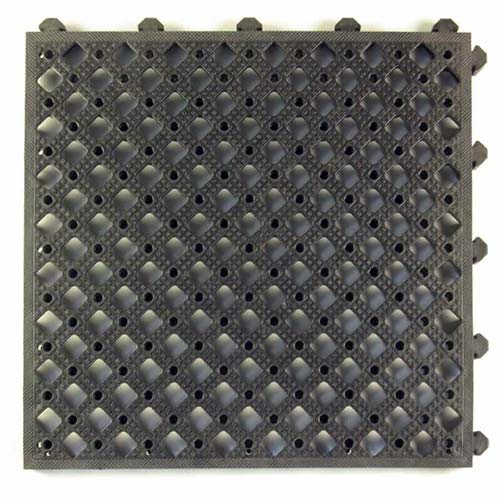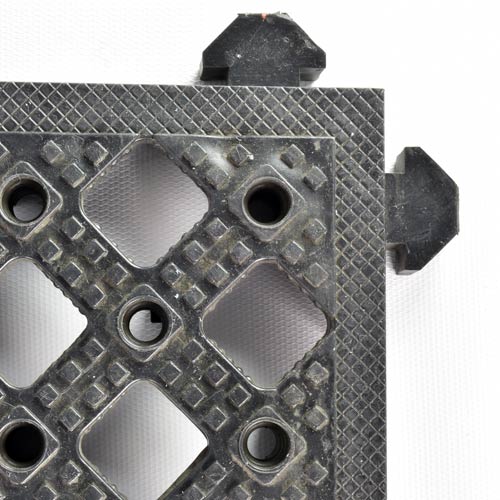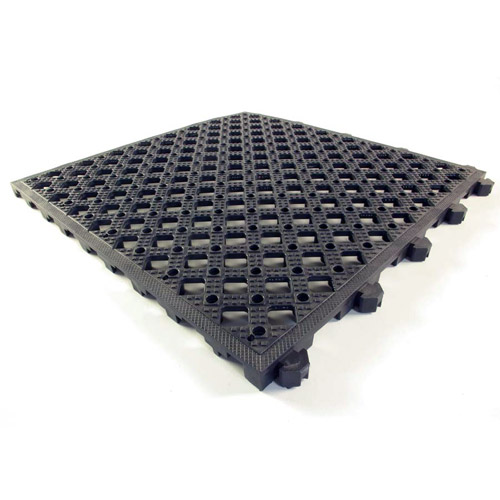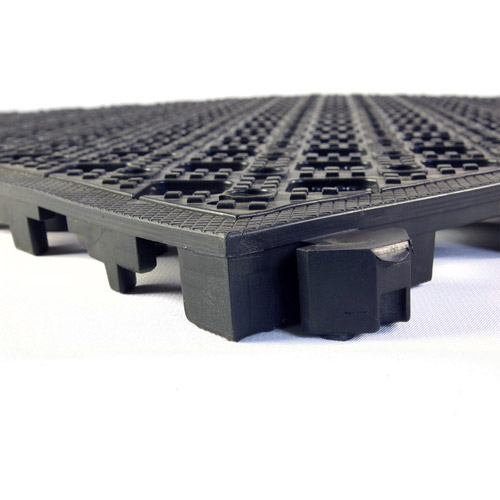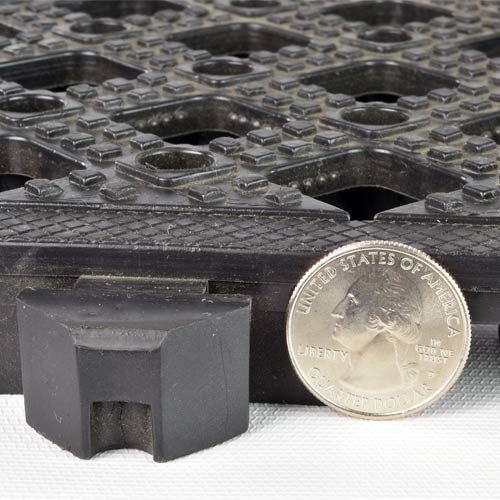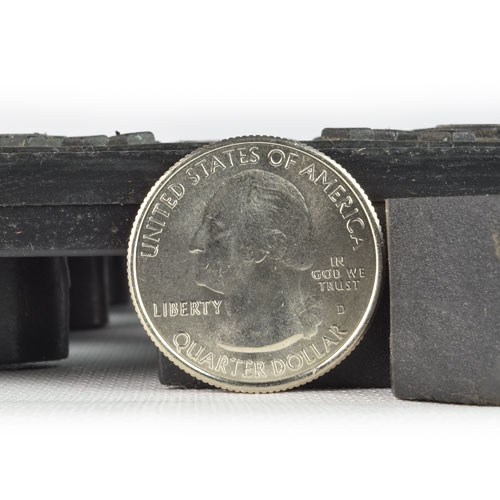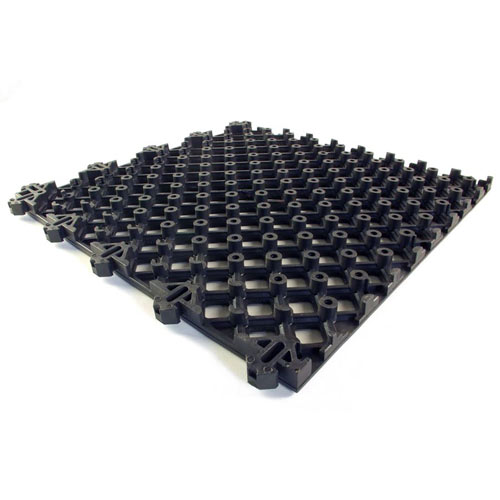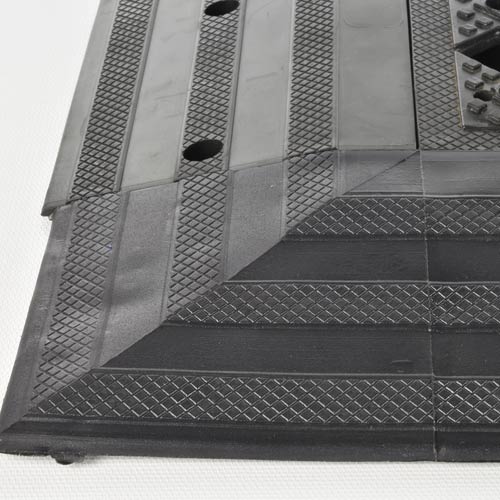 Interlocking lug system is easy to install
Non-slip diamond shield tread design
Constructed from recycled materials
$26.60
/tile
(You Save 19%)
(1 Reviews )
Ships Out: Estimate 1-3 Working Days

Black
How Much Flooring Do I Need?
VIDEOS
How to Cut PVC Floor Tiles
TOP FEATURES
Interlocking lug system is easy to install
Non-slip diamond shield tread design
Constructed from recycled materials
Raised tiles provide drainage
Optional borders available
Excellent ergonomic and antifatigue qualities
Can be trimmed to fit
Adds secure footing to wet areas
Use Types
Anti-fatigue Matting, Work Stations, Shower Areas, Patios, Entrance Ways
The Safety Matta Perforated Black mat will give you plenty of ergonomic benefits in a perforated anti fatigue mat, yet it also has an incredibly high level of durability that will stand up successfully to any kind of work environment you can throw at it.
Our wet area fatigue matting features an innovative interlocking safety system that is designed to provide a resilient and safe cushioning underfoot for those who must stand for long periods of time. These shower flooring tiles provide a comfortable and safe standing area, minimizing the ergonomic and health hazards associated with standing on hard, cold surfaces for an extended time.

Perfect for Wet Areas
Our perforated ergomat is a smart idea to use in areas that will be exposed to a lot of water, such as shower flooring. The interlocking, wet area fatigue matting tiles are free draining, so any water in the area will drain through the perforated anti fatigue mat and move away quickly.

Additionally, the mat consists of materials that have excellent insulating properties. Should the ground underneath the wet area fatigue matting be cold and damp, those standing on the mats will remain protected from those cold temperatures.
Our perforated anti fatigue mat is a perfect option anywhere you need to add resilient and safe cushioned flooring, including dairy sheds, checkout stands, wet industrial settings, commercial kitchens, decks, and pool surrounds. It works as a work station flooring too.
You even can use this shower flooring at pools or other outdoor spaces where you need to clean up with water before entering a building. You can use our wet area fatigue matting either outdoors or indoors.
It works great as an entrance flooring, where the people entering the area may have wet shoes. The moisture they bring into the building can drain away through the perforated ergomat, rather than being tracked throughout your building.
The interlocking tiles work well in areas where automotive repair work is occurring as either an entrance flooring or as a work station flooring to help those employees who must stand all day to perform their jobs feel fresher.
Safety Options
Because the perforated anti fatigue mat measures 1 inch in thickness, we do offer optional border ramps that you can attach to the interlocking edges of the tiles. The border ramps allow you to roll a cart over the edge of the installation easily, and they also will limit the possibility of someone tripping over the lip of the tile.
To maintain and clean the PVC plastic tiles, you can damp mop them with common household floor cleaners, as long as you avoid using bleach on the diamond top surface.
When you're ready to order our Safety Matta Perforated Black interlocking mat product, please contact our customer service team, as they have answers to any questions you may have about this perforated anti fatigue mat.
Our customer service team will help you figure out how many shower flooring tiles you need to order to fit your installation area.
As an added benefit, this wet area fatigue matting is one of the toughest products on the market, as it carries a 10-year limited manufacturer warranty.
Maintenance
Product can be damp mopped with common household floor cleaners, avoid bleach.
Shipping
Ships in cartons via ground service to your door, for larger orders product may ship freight delivery.
This Product Ships UPS Ground, FedEx Ground and/or Freight.
Please review our shipping disclaimer.
ACCESSORIES
Accessories for SAFETY MATTA PERFORATED BLACK
ANSWERS
Product Questions:
Q: Is this flooring safe for use under vehicles?
A: Yes this tile is rated for automotive use.
Q: can I install over a simple framing or does it require a full sub flooring. I plan to use as a cover to a step dock and want the make the step dock as light as possible for easy removal at end of season.
A: The tiles should be installed over a flat surface.
Q: How easily can the material be cut? Like with a saber saw -- it does NOT have to look pretty. :-)
A: These tiles can be cut with a sharp utility knife or power saw with a fine tooth blade.
Q: Another question: The ''Specs'' state the tiles are 16.7x16.7. The video claims they are 20x20. Which is it?
A: The Safety Matta Perforated Tiles measure 20.04 inches x 20.04 inches or 1.67 ft x 1.67 ft.
Q: How big are these tiles?
A: Each tile measures 1.67' by 1.67' and is 1'' thick