Top 5 Basement Floor Choices for Fatigue Relief
By Julia Nass Created: June, 2017 - Modified: December, 2020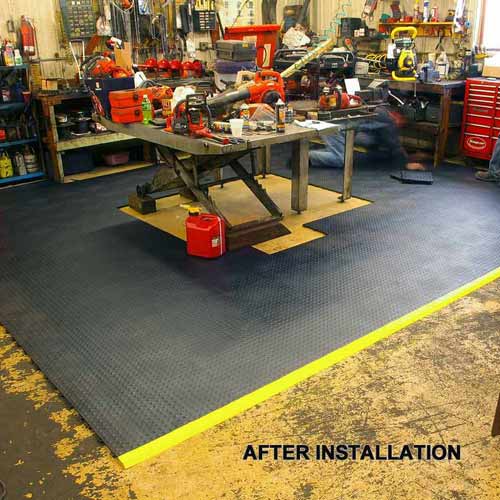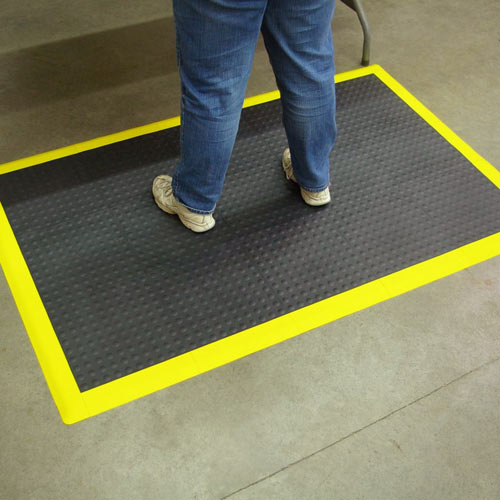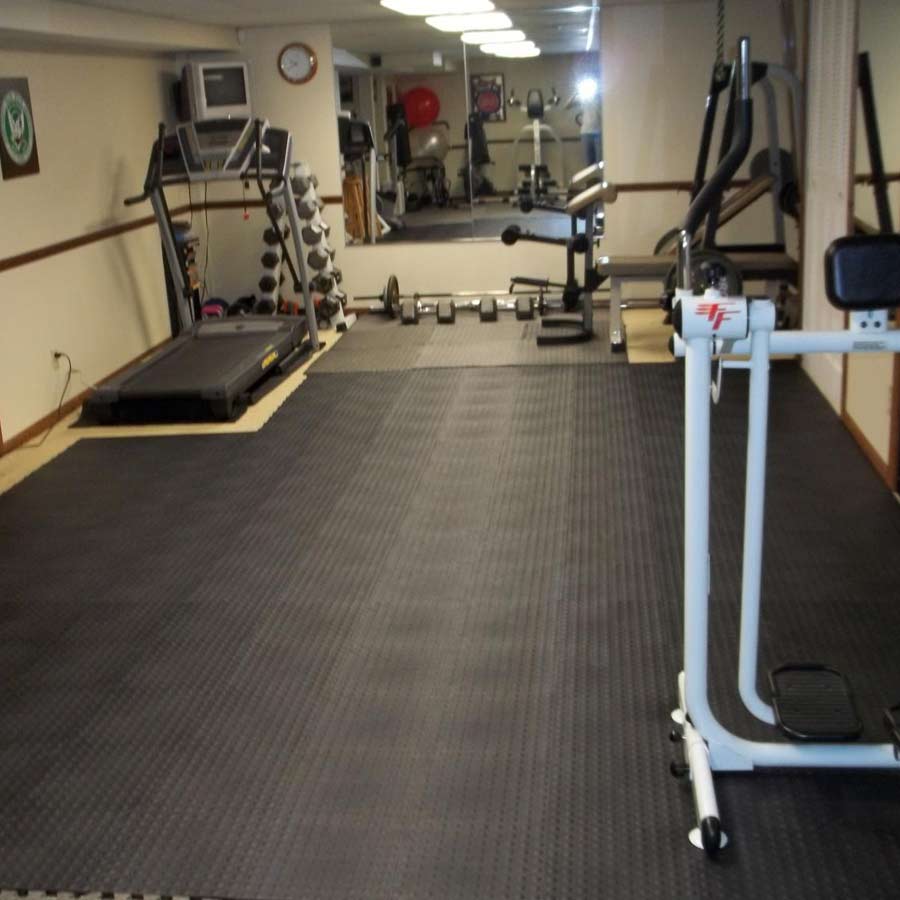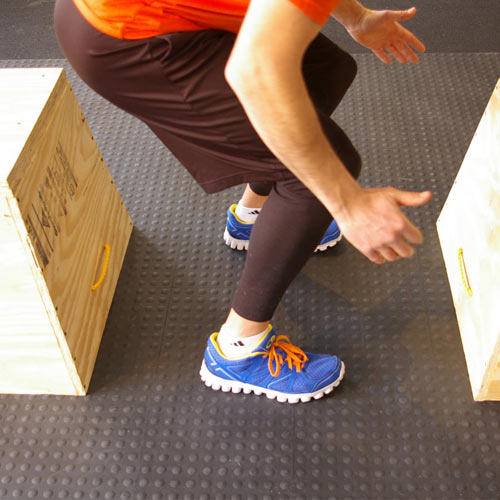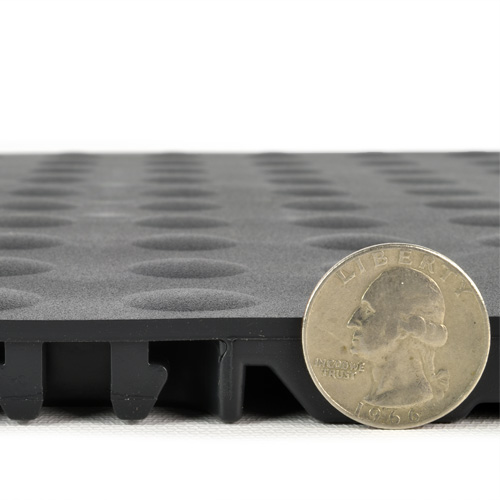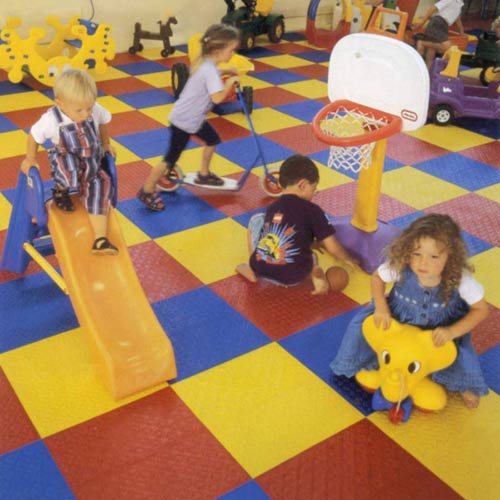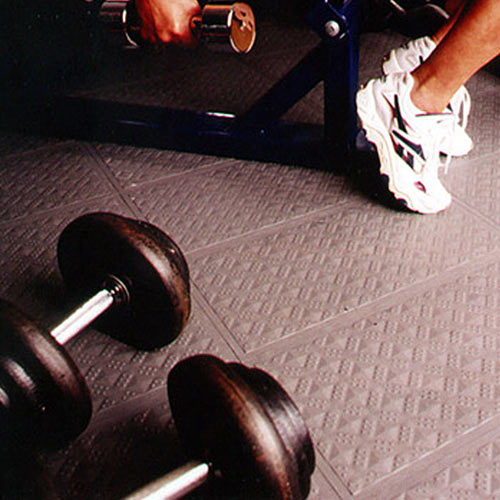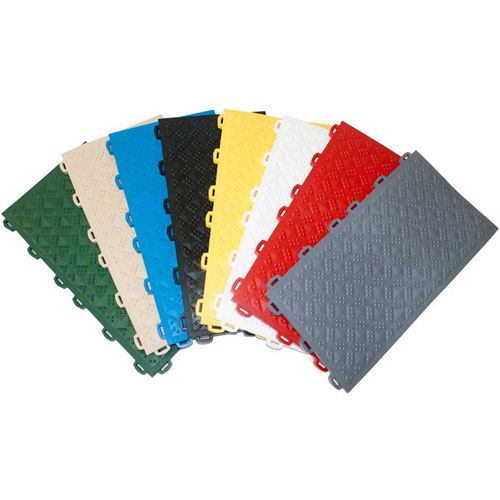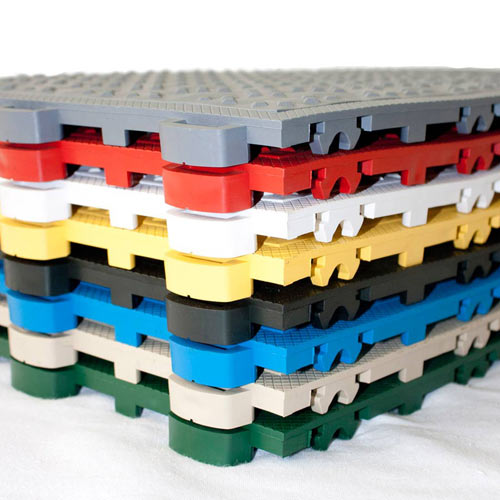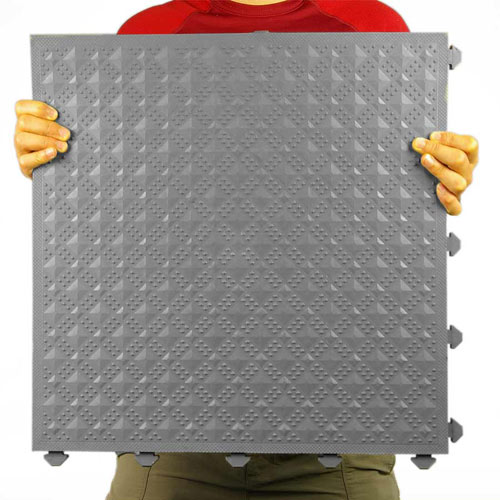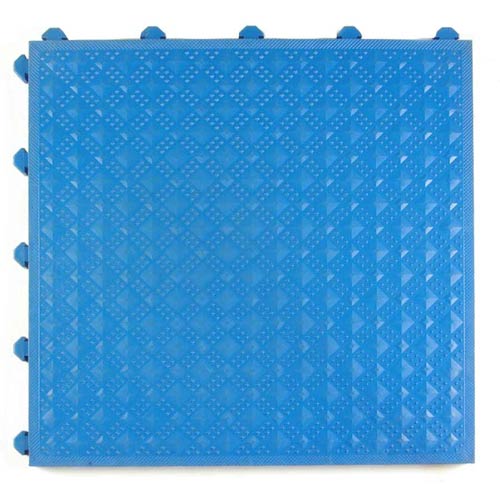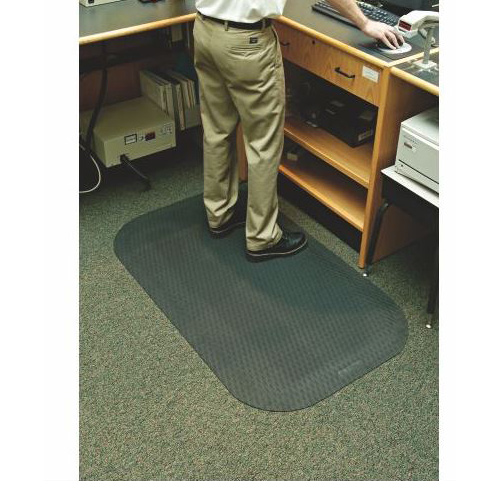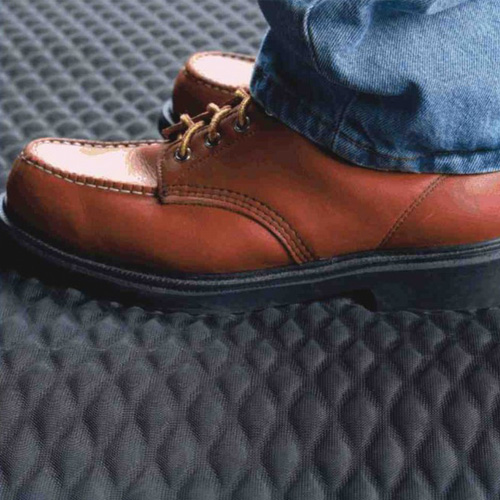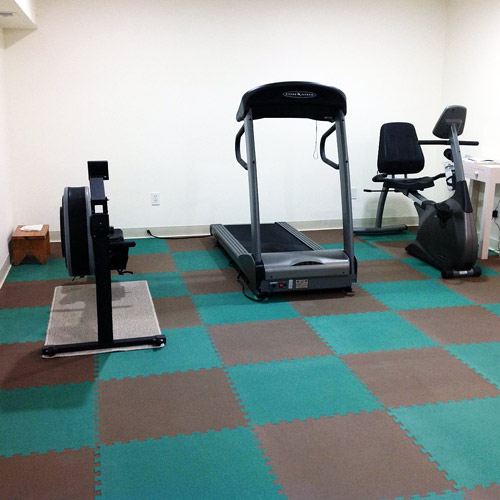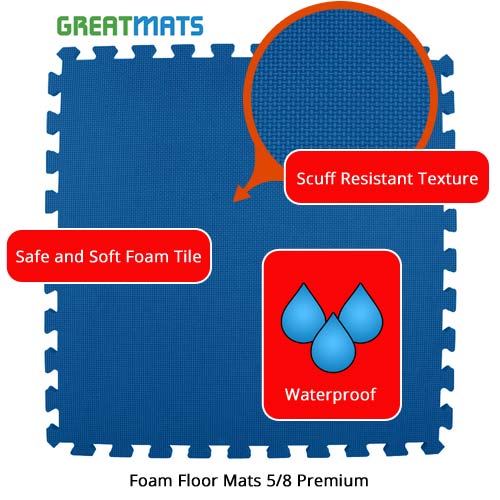 What is Ergonomic / Anti-Fatigue Basement Flooring?
Jan. 30, 2017 -- Ergonomic refers to efficiency and comfort in a working environment. Thus, ergonomic flooring means a floor that stimulates productivity by supporting the health of the body, particularly in joints and limbs. Ergonomic flooring is often mentioned along with anti-fatigue flooring, as anti-fatigue is also designed to support people standing and working for long periods of time without discomfort.
Fatigue relief flooring is no longer just for commercial buildings or the formal workplace. As knowledge of the health benefits of anti-fatigue flooring spreads, such flooring is more readily available for home settings, including the basement. The basement is often a space used for exercise rooms, workshops, and other areas that require fatigue relief. That is exactly why Greatmats compiled the top five basement floors for fatigue relief. Fatigue relief options can be found in
basement floor
mats, interlocking basement floor tiles and even temporary basement flooring. In addition to anti-fatigue features, each of the following flooring options also has features to make it conducive to moisture-levels in basements; each holds up against the issues posed by moisture.
Best Anti-Fatigue Flooring for a Basement Cement Floor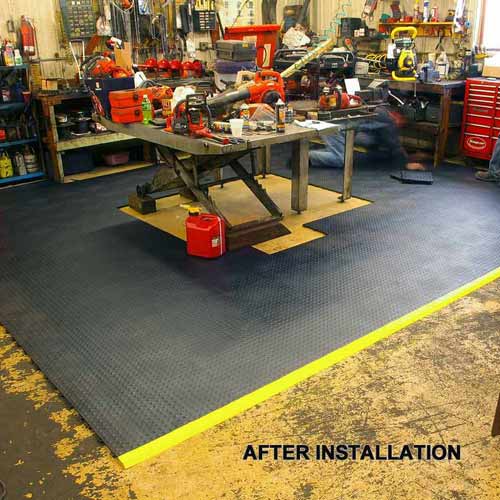 StayLock Bump Top interlocking basement floor tiles
are a supreme choice for basement exercise rooms and workshops alike. The tiles are resilient enough to withstand the weight of heavy equipment. Don't be fooled by their toughness, however. These basement floor tiles provide top-notch cushion and bounce support. No underlayment is needed for excellent ergonomic benefits.
In addition to being effortless to clean, StayLock Bump Top tiles are also resistant to most acids and oils without the need for wax or surface finish. Tiles are waterproof and non-absorbent, so water will not penetrate from the top. Meanwhile, the raised design of the tile allows the subfloor to breathe so moisture does not become trapped underneath. Connect the tiles together with a mallet or by hand. Once installed, tiles will not slip or separate. Expect a 20-year lifespan from StayLock interlocking basement floor tiles.
Colorful DIY Anti-Fatigue Interlocking Flooring Tiles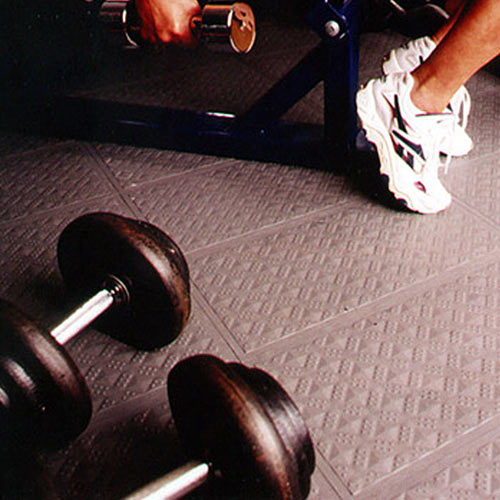 ErgoMatta CushionTred tiles
are a fabulous way to bring fun and colorful fatigue relief to a basement room. Basement floor tiles are made from 100 percent recycled rubber and flexible PVC plastic. These high-quality materials give ErgoMatta floors the durability and toughness to back up a 5-year warranty. In addition to being durable, tiles are also cushioned, supportive and ergonomic. Use ErgoMatta floors for indoor playgrounds, family rooms, or exercise rooms.
ErgoMatta tiles feature a diamond-tread surface, which minimizes the risk of slips and falls. Further, these sound-dampening tiles help prevent sound from traveling out of the basement. Tiles are raised to prevent moisture build-up from happening. These interlocking basement floor tiles make installation hassle-free. Simply lock tiles into place by hand in whatever solid or multi-color pattern you desire. If you are in the market for temporary basement flooring, ErgoMatta CusionTred tiles can easily be uninstalled and transported.
Heavy Duty Anti Fatigue Flooring to put on Concrete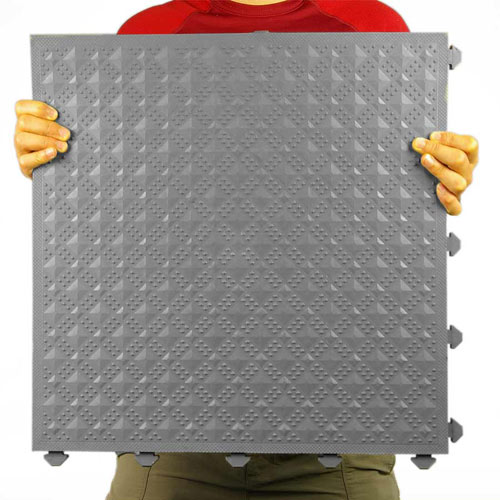 ComfortMatta tiles
are another ideal choice for rooms that require one to stand for long periods of time. These interlocking basement floor tiles create a comfortable underfoot support system that eases muscle strain, joint discomfort, and general fatigue. These PVC plastic tiles are similar to ErgoMatta tiles in many aspects, but they are square rather than rectangular and don't come in quite as many different colors as ErgoMatta.
The tiles also provide both heat and sound insulation. They are free-draining and non-slip even in wet conditions. Slip-resistance is maintained by the diamond-tread surface. Meanwhile, air is able to flow underneath the raised surface of tiles in order to prevent moisture issues. Upkeep is easy. To clean ComfortMatta tiles, mop with warm water and common household cleaners (avoid bleach).
Anti Fatigue Basement Floor Mat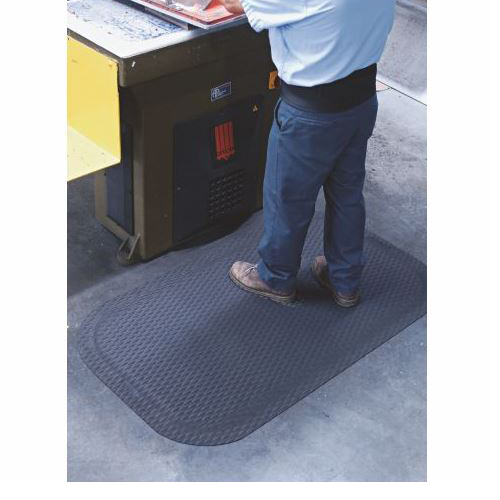 If you are looking for temporary basement flooring or simply a basement floor mat to provide anti-fatigue benefits,
Hog Heaven Indoor Mat
is a top choice. These industrial-strength mats are awesome for basement workshops, mud rooms, and offices, because they are designed for longevity throughout heavy usage. These basement floor mats are made from 20 percent rubber and closed-cell foam for a durable yet cushioned product.
Mats are chemical resistant and grease/oil proof to protect from stains and damage. Hog Heaven mats are also designed to withstand welding sparks and slag up to 1,800 degrees. For maintenance, scrub these basement flooring mats with a pH-neutral detergent, rinse with a hose or pressure washer, then hang to dry.
Economy Basement Anti Fatigue Floor Covering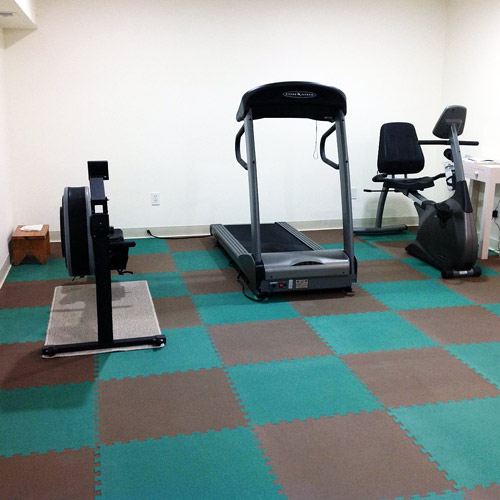 For kid-friendly anti-fatigue basement flooring mats, choose one of Greatmats' most popular products:
Foam Mats 5/8 Premium
. These interlocking basement floor tiles instantaneously turn any hard, cold floor into a comfortable, cushioned welcoming area. Foam mats are shock absorbent and safe, which makes them awesome for both basement playrooms and exercise rooms. Their anti-fatigue structure allows the body to maintain maximum comfort.
These stain-resistant mats are waterproof and constructed of closed-cell EVA foam, which prevents mold or bacteria from a damp floor from penetrating the mats. They also act as a vapor barrier to any moisture that comes up through a concrete floor, which insulates against cold concrete and creates a warmer environment. Choose one of 15 brilliant colors, or choose multiple colors to create a vibrant, fun pattern. Install interlocking basement tiles just by placing one next to another. Because foam mats are so lightweight and portable, they make an awesome temporary basement flooring option as well.