Safety Soft Foot 2x3 feet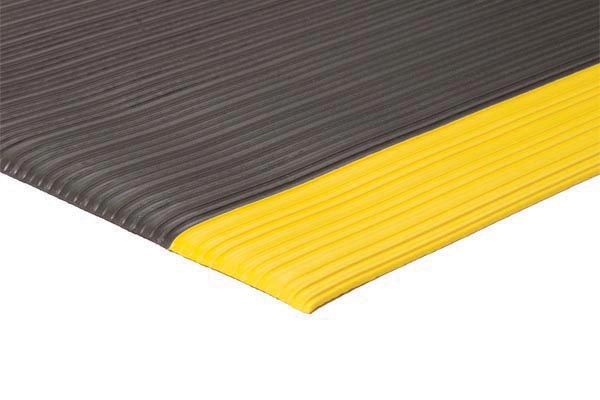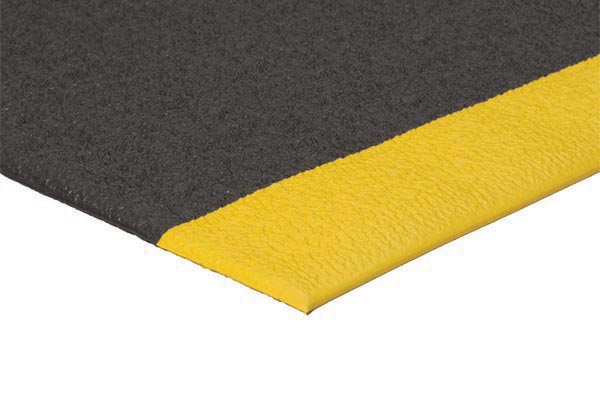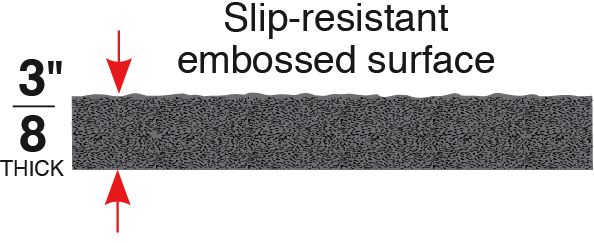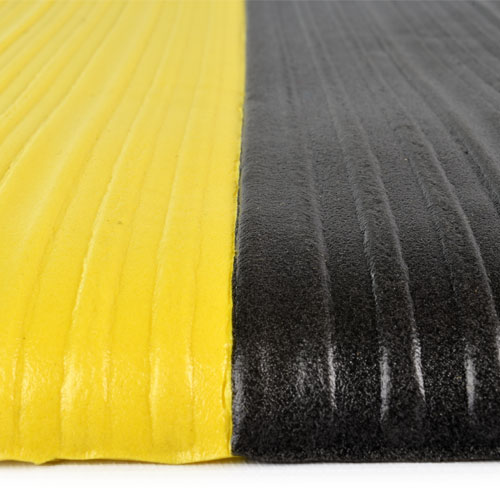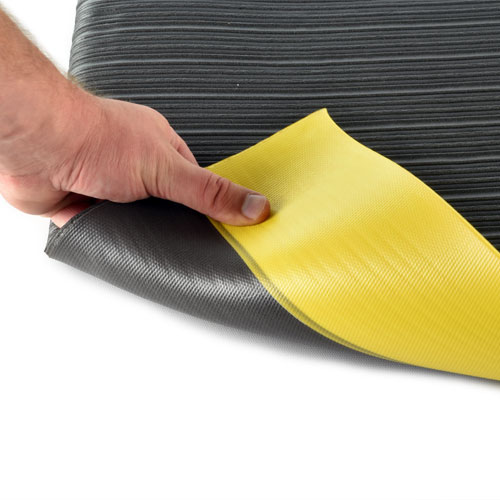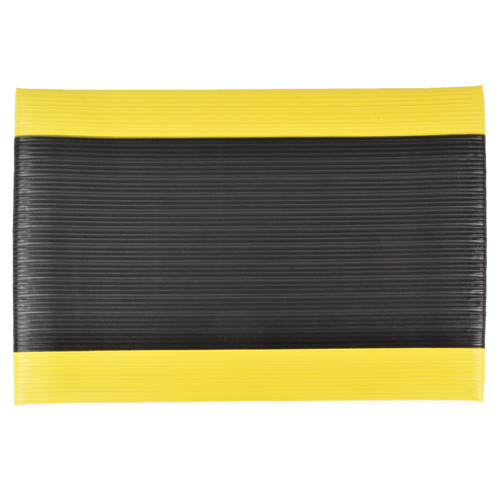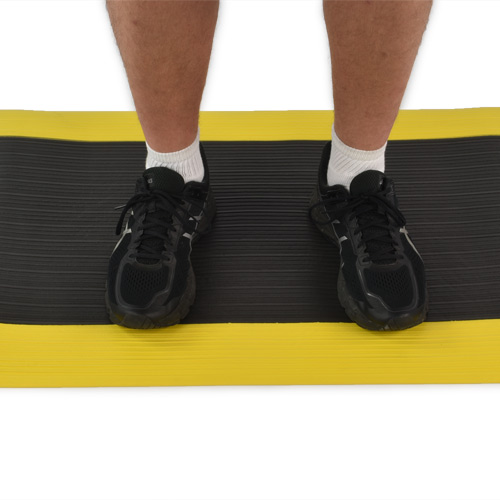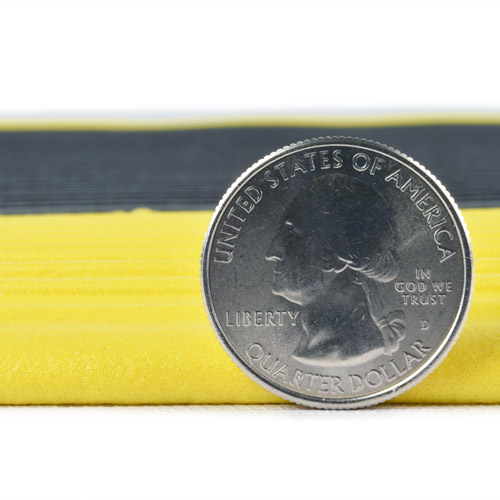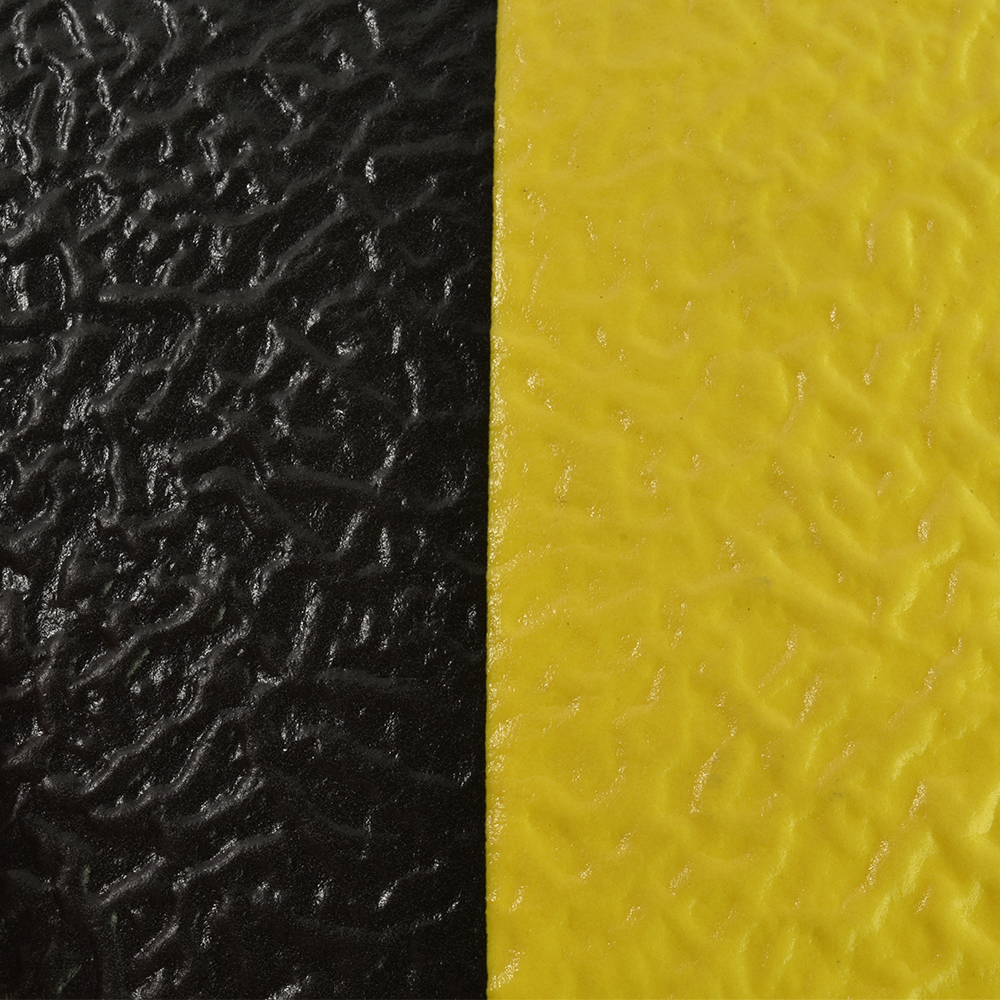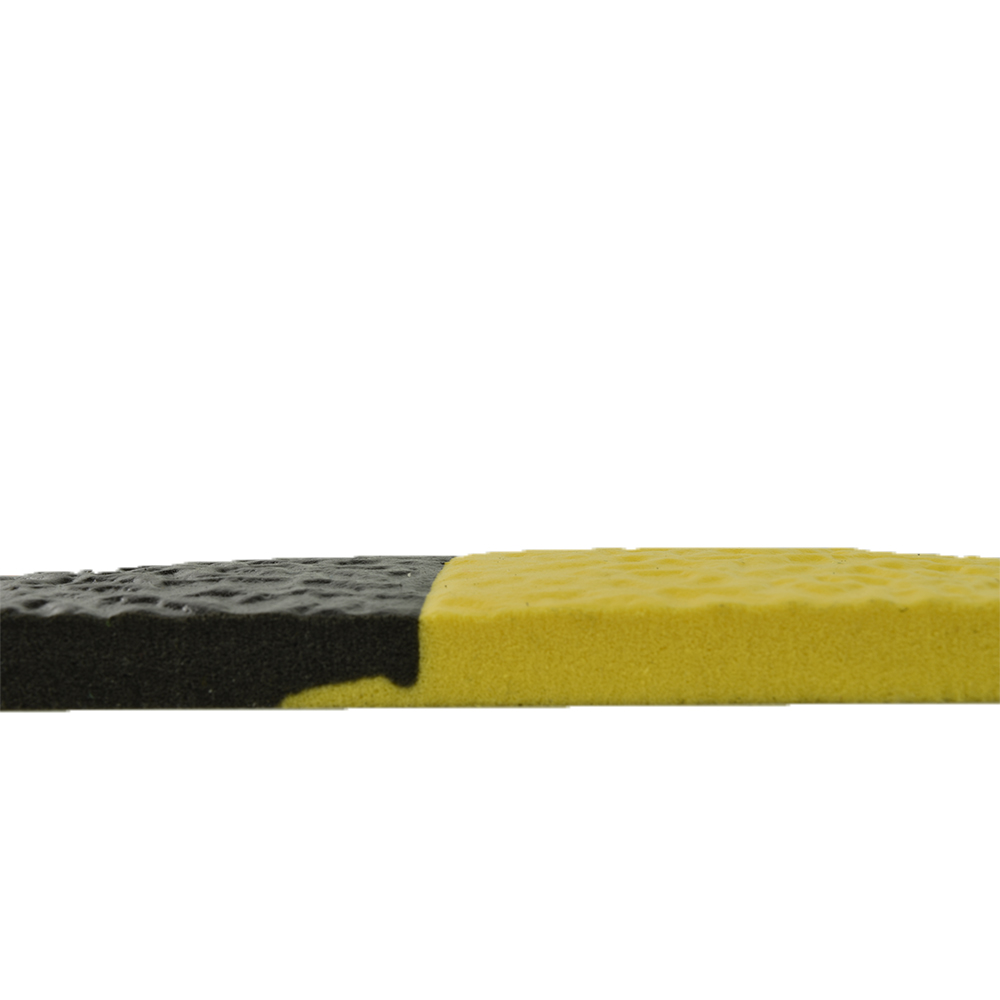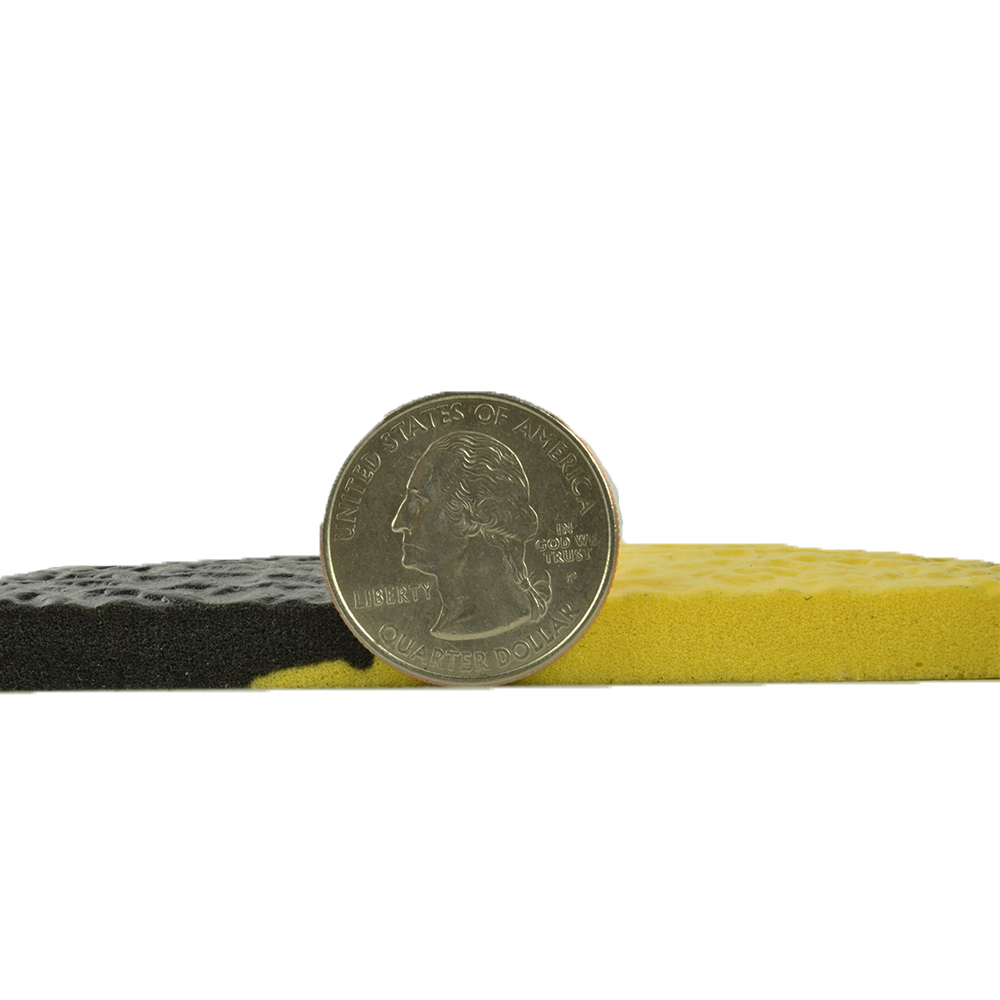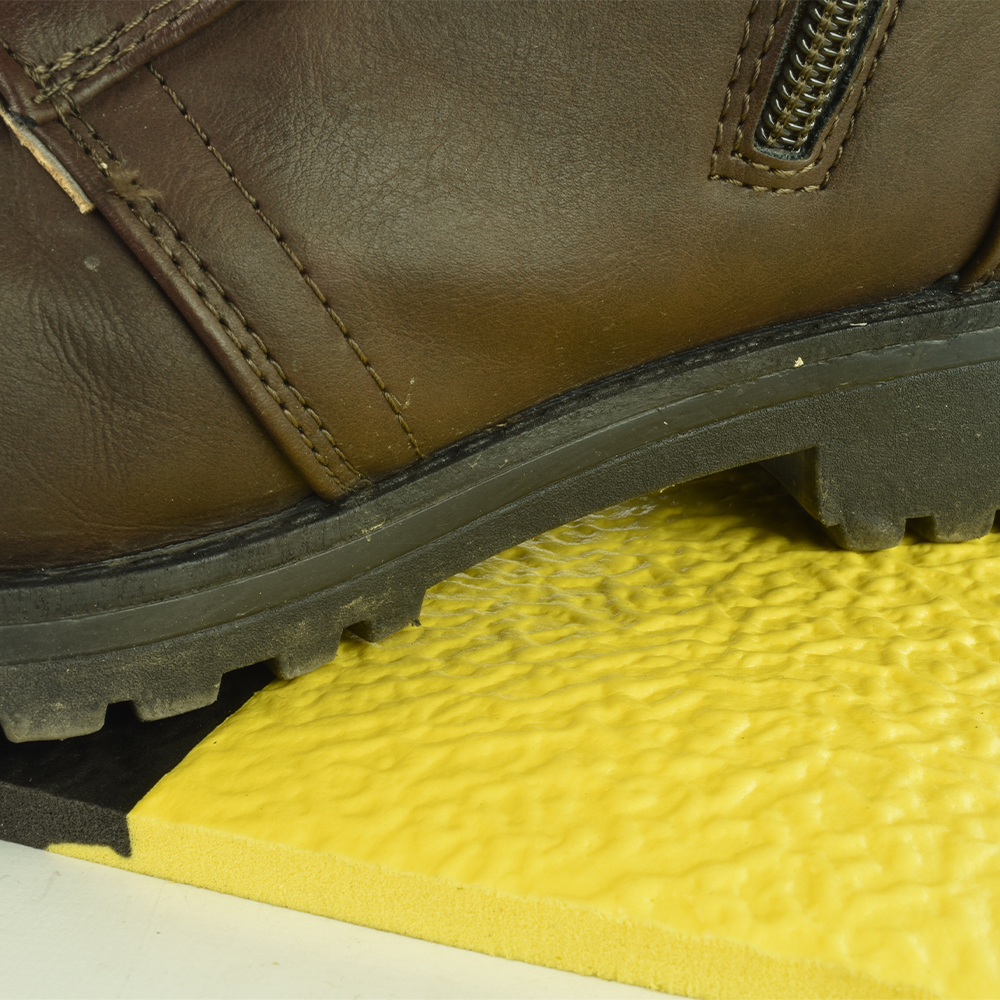 Provides underfoot cushioning
Insulates feet from cold, concrete floors
Bright yellow borders increase safety awareness
Handling Time Estimate: 4-6 Working Days

Black/Yellow Pebble

Black/Yellow Ribbed
Provides underfoot cushioning
Insulates feet from cold, concrete floors
Bright yellow borders increase safety awareness
Anti slip
Anti fatigue
Made in the USA
Call for volume discounts
Various sizes to choose
Standing Work Stations, Anti Fatigue Mat, Factory Settings, Industrial Fatigue Mats
NOTE: This item is a custom order and is not returnable.
Workplace Cushion Mat, High Visibility Fatigue Relief Mats
Safety mats are available in many configurations, but if you need one that also has high visibility markings and an anti fatigue capability, the Safety Soft Foot 2x3 Feet mats are a smart purchase.
These mats will provide a solid footing, thanks to either ribbed or pebbled surfaces. They also have two high visibility stripes that provide a clear marking. And they provide a slight give to ensure that those standing on the industrial fatigue safety matting for long periods of time will be able to do so comfortably.

We've collected the eight best reasons to make use of our workplace cushion mat product for all types of commercial, residential, or factory settings.

1. High Visibility
When you're looking for high visibility anti fatigue mats, you'll appreciate our Safety Soft Foot 2x3 Feet mats. These mats include OSHA compatible yellow borders on both of the long edges of the mat that ensure safety, because they're easy to see in all kinds of working conditions.
The high visibility border is recommended for industrial, laboratory, and shipping work stations, or anywhere else employees will be moving around and need to avoid the potential of tripping over the edge of the mat. The industrial fatigue safety matting has a thickness measurement of 3/8 of an inch, so there will be a slight lip in the location where you lay out the mat. No border ramps are available to reduce the potential tripping impact of the lip, which makes the high visibility border an important factor.
2. Multiple Use Cases
Any area where employees will be standing at least part of the time will be a good area to place safety anti fatigue mats.
Factory Settings: Employees who must stand to perform their work in a factory setting, such as when inspecting products, will appreciate the cushioned surface found in the industrial fatigue safety matting. An employee who feels more comfortable with less joint and muscle pain while standing will be able to concentrate better on the task at hand.
Food Preparation: In many restaurant kitchens, an employee must be able to stand to perform the preparation of the meals. Or the employee must move from workstation to workstation quickly to complete the food preparation. By installing safety anti fatigue mats at every workstation, the employees will be able to stand comfortably throughout the food preparation process. And when they're carrying multiple bowls or plates, they'll clearly be able to spot the edges of the mat out of the corner of their eye because of the yellow stripes, avoiding tripping.
Home Workbench: For those who like to participate in woodworking activities at home, having a workplace cushion mat in front of the workbench will allow you to work for longer periods of time more comfortably. You easily can switch between woodworking tools while standing at the workbench in comfort the entire time.
Low Light Settings: If you have an industrial setting where the lighting must be limited, the high visibility yellow stripe on our industrial fatigue safety matting will allow employees to clearly see the defined work areas and avoid tripping over the edge of a mat.
Retail Settings: For retail areas where employees must stand to work, such as when cutting fabric for customers or when entering data at a workstation, the comfortable mat works great, while the yellow stripe prevents tripping.
Standing Work Stations: Standing desk furniture has become popular in office settings. These desks allow the employees to stand up and work at a computer by raising the level of the keyboard and the display screen so they are at the most comfortable and ergonomic position. Using a workplace cushion mat when standing at this type of desk adds to the ergonomic benefit of working in this position. And fellow employees won't trip over the edges of these mats because of the bright yellow stripe.
3. You'll Feel Great
Our safety anti fatigue mats will help you feel great, even when you're standing up and working for long periods of time. Anti fatigue mats are designed to reduce feelings of tired joints or muscles that occur when employees must stand on a hard surface like a cement or hard tile floor for long periods of time.
The rubber foam blend in our industrial fatigue safety matting is a common type of material made for anti fatigue mats. The rubber-based material is able to provide some elasticity, which gives some relief to the joints of the person standing on the mat.
Certainly, using an anti fatigue workplace cushion mat isn't the only method you should employ to keep your workers feeling refreshed while standing to perform their jobs. Workers should frequently shift their position, for example. Workers also should wear a comfortable type of footwear that has adequate support for the feet, especially in the areas of the heel and arch.
4. Perfect Density
One problem some people have with anti fatigue products is picking a product that is too soft in its consistency. Our rubber foam blend will give you just the right density in industrial fatigue safety matting. It uses a firm material, meaning it'll support the weight of the person standing on it appropriately.
If the material in the safety anti fatigue mats is too soft, which often occurs with cheap workplace cushion mat options, the person standing on the mat will sink into the material too far. This leaves the mat unable to give the person using it the support necessary to keep his or her joints and muscles feeling strong.
Mat materials that are too soft also could cause the worker to lose his or her balance, which leaves the mat unable to provide the safety benefits required. The mat needs to have just the right density, so that it encourages the user to move around and shift weight slightly. A mat that's too soft could cause someone to stumble while shifting positions.
5. Easy Installation Options
When installing these mats, you do not need any special adhesives. Using a dry lay installation will allow you to move the fatigue relief mat to another location if you ever need to.
The standard size of this work station safety mat is 2 by 3 feet. However, the rubber foam blend mat material can easily be cut to fit into any work area.
One person can move and lay out these mats, as the individual mats weigh only 4 pounds each. One mat will cover 6 square feet, so it's relatively easy to handle.
These safety anti fatigue mats are designed for indoor use only, as they are not UV treated. Additionally, if the surface of the mats become damaged in any way, understand that these mats are not reversible.
6. Tough Materials
The rubber foam blend in our workplace cushion mat will last nicely through constant use. These mats are Made in the USA products, meaning you can count on them looking great and providing the benefits you need from safety anti fatigue mats.
A rubber foam blend in a mat will be able to stand up to repeated use, giving you a good performance over time. Because of the toughness of these mats, you'll be receiving a good value when purchasing them.
A good quality of safety anti fatigue mats will have a surface that will compress and then bounce back to its original shape immediately after the user steps away. If the mat remains compressed after you move your feet, this type of industrial fatigue safety matting is too soft to provide the benefits you're seeking. The high quality Safety Soft Foot 2x3 Feet mat will give you the perfect density.
7. Easy Cleaning and Maintenance
These industrial fatigue safety matting products are easy to care for and maintain.
General Cleaning: You can vacuum the workplace cushion mat as needed to remove dry particles and dirt. Occasionally, a vacuum with a high power setting will cause damage to the surface of the mats, so avoid using a setting like this.
Mopping: If the mats have additional soil embedded on them, you can mop the mats to provide a more thorough cleaning. Just use basic household soap and hot water to mop the surface of the mats.
Spot Cleaning: If you want to remove soil or a specific spot on the safety anti fatigue mats, you can spot clean it with a soft-bristled scrub brush or with a sponge. As with mopping, just use basic household soap and hot water with the
brush or sponge.
8. Multiple Ordering Options
When you're ready to order the Safety Soft Foot 2x3 Feet product, just contact our customer service team to understand all of your different options. This mat is only available in a black color with the yellow high visibility borders. However, you do have the option of ordering it in either ribbed and pebbled surface textures.
Should you need a different size than the standard 2-by-3-foot anti fatigue mat, just explain to the customer service personnel how you plan to use the mat and what sizes will work best in your facility. We do have custom cut lengths available that you can use in almost any kind of setting.
Shipping
This Product Ships UPS Ground, FedEx Ground and/or Freight.
Please review our shipping disclaimer.
| | |
| --- | --- |
| SKU# | A110-20-2x3 |
| In Stock | Yes |
| Product Type | Mat |
| Material Type | Rubber Foam Blend |
| Product Edging | Straight |
| Thickness | 3/8 inch |
| Width | 2.00 feet |
| Length | 3.00 feet |
| SF per Item | 6.00 |
| Weight | 4.00 lbs |
| Packaging | Cartons |
| Number of Pieces per Package Type | 1 |
| Non Absorbent | Yes |
| Special Adhesives | No |
| Interlock Loss | 0.00 feet |
| Interlocking Connections | No |
| Made In | USA |
| Surface Finish | Ribbed or pebble |
| Surface Design | Solid color |
| Installation Method | Lay flat |
| UV Treated | No |
| Reversible | No |
| Border Strips Included | No |
| Floor Score | No |
| Green Label | No |
RELATED PRODUCTS