Wearwell 24/Seven GR Perforated 3x3 Ft Mat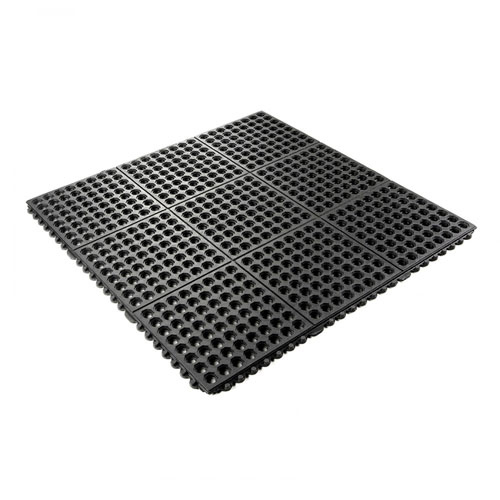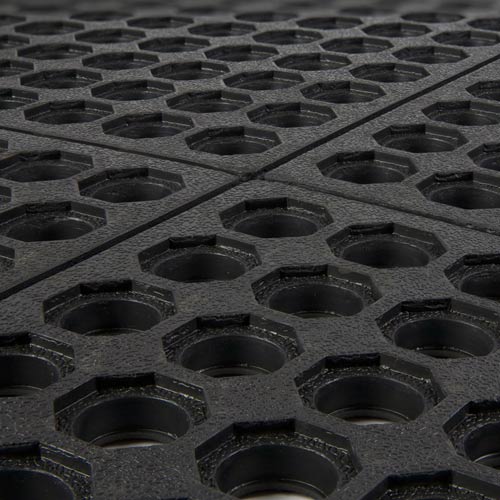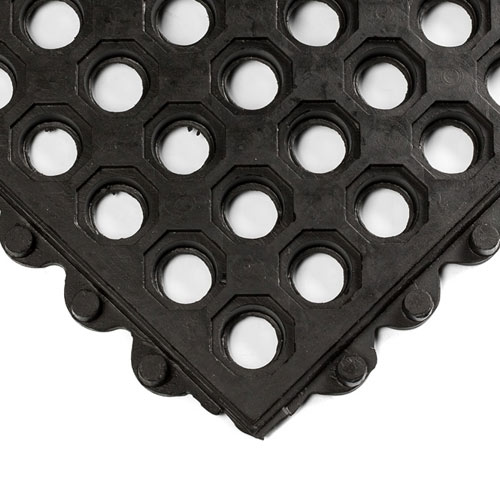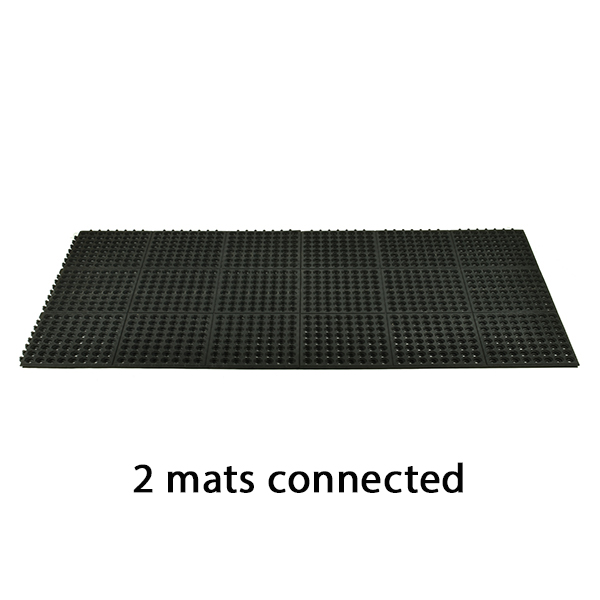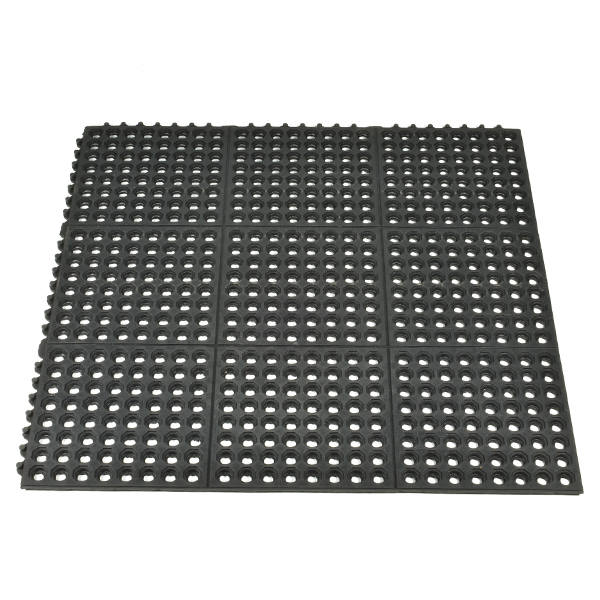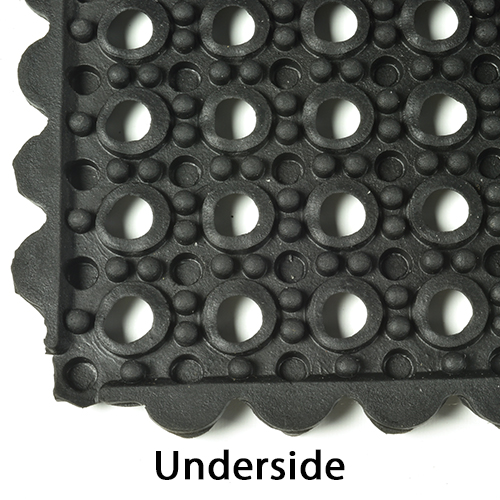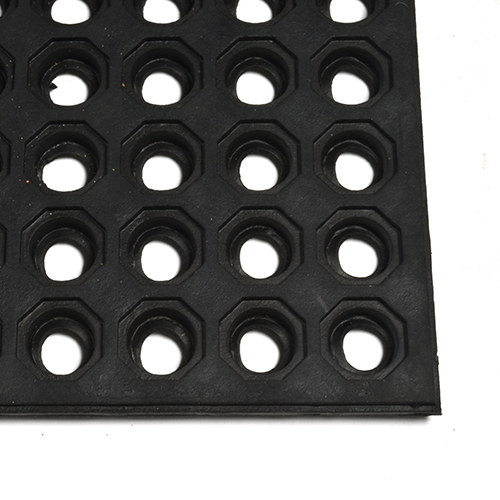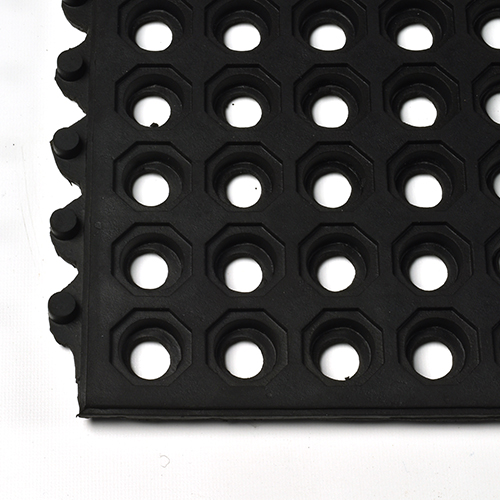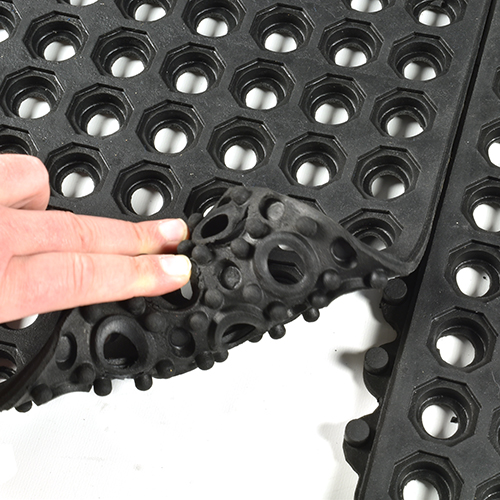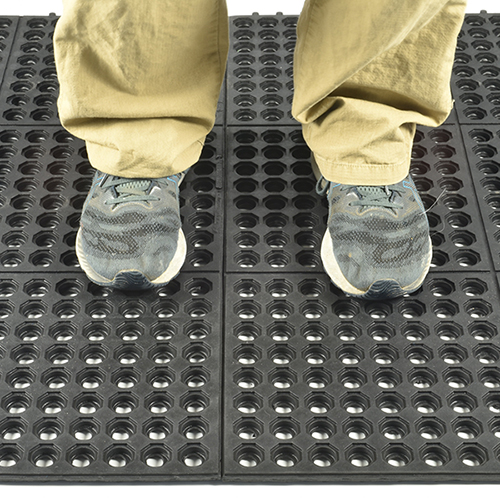 This perforated mat is designed for areas with water or dry debris
GR mats are grease resistant
Offers fatigue relief
Ships Out: Estimate 4-6 Working Days
How Much Flooring Do I Need?
VIDEOS
Wearwell 24/Seven Grease Resistant Perforated 3x3 Rubber Anti Fatigue Mats
TOP FEATURES
This perforated mat is designed for areas with water or dry debris
GR mats are grease resistant
Offers fatigue relief
Durable >50% recycled rubber material
Hidden interlocks
Overall thickness 5/8 inch
Available in 3 different rubber compounds based on environmental exposures
Use Types
Areas for fatigue relief, workstation, assembly lines.
NOTE: This item is a custom order and is not returnable.
Perforated Anti Fatigue Mats, Perforated Workstation Mats
The Wearwell 24/Seven GR Perforated 3x3 Ft Mat is a high performance, interconnecting rubber anti-fatigue mat. This black modular mat has hidden interlocks, allowing the mat to be positioned to cover large flooring areas or single workstations.
This ergonomic matting will improve the performance of workers who must stand to do their jobs, while helping reduce muscle fatigue. Our perforated anti fatigue mats will work in areas with a lot of water or in dry areas, giving them incredible versatility.

Resistance to Liquids

This interlocking anti fatigue flooring contains a perforated surface that will drain away water and grease with its open design. Throughout the surface of the mat, you'll see holes in the surface of the mat that extend through the entire thickness of the mat.
These rubber anti-fatigue tiles will not absorb any liquids, further making them a great choice for use in a factory or warehouse setting where you may have standing water or constant liquids in the area.
The GR in the name of the Wearwell 24/Seven GR Perforated 3x3 Ft Mat is short for grease resistant. These mats also are resistant to boric acid and ethylene glycol.
Should you not need perforated workstation mats, because you never will have water in the area, we do offer a solid 3x3 anti fatigue mat that will work great in your location. Just contact our customer service team to learn about all of your options for this type of mat.
High Performance Mats
When you need assembly line safety flooring, our perforated anti fatigue mats are the perfect option. These high performance interconnecting mats are extremely resilient, ensuring that you'll receive the kind of performance you need for a tough working atmosphere.
Each of the perforated workstation mats will measure 5/8 inch (or 16 mm) thick. They're tough enough to handle 24/7 shift operations, but they're supple enough to provide cushioned support where it is needed.
Each 3x3 anti fatigue mat is made from a tough rubber material that will deliver excellent longevity. Additionally, this Made in the USA product carries a 1-year limited manufacturer's warranty, which means you can count on the construction quality and the materials included with this product.
We do not recommend using these perforated workstation mats outdoors, as they are not UV treated. These mats also are not reversible.
Interconnecting System
With the hidden interconnecting system, the Wearwell 24/Seven GR Perforated 3x3 Ft Mat can be positioned to cover large flooring areas, single workstations, and assembly lines. These types of perforated anti fatigue mats are extremely versatile, allowing you to use them in whatever type of configuration that you need.
As each mat measures 3 by 3 feet, you'll receive 9 feet of coverage area with each mat. This allows you to cover a large area with these perforated workstation mats in very little time.
The mats have a hidden interconnection system which means you will not lose any coverage area when connecting one 3x3 anti-fatigue mat to another.
If you're concerned about people possibly tripping over the edge of the mat, you may want to add optional border ramp strips.
Installation Tips
When installing these mats, you may find the process easier if you have more than one person involved. Each of the perforated anti-fatigue mats is large and weighs 21.6 pounds, which makes moving and carrying these mats awkward for one person alone.
Two sides of the square 3x3 anti fatigue mat have tabs that extend beyond the edges of the mat. The other two sides of the mat will have slots on the bottom of the mat that are not visible unless you flip the mat over. To connect two perforated anti fatigue mats, just line up the tabs on one side of the mat with the hidden slots on the other side of the mat. Then step on the edges of the two mats to pop the tabs into the slots.
When connected correctly, you should see a narrow seam between the two mats, and there should be no difference between the height of the two adjacent mats that could cause someone to trip. The two mats should be tightly connected.
A nice feature of this 3x3 anti fatigue mat product is that you can connect them in almost any configuration. If you need a long mat that's also narrow, you can connect nine mats side by side to create a coverage area of 3 by 27 feet. Or you can connect those same nine mats in a large square to create a coverage area of 9 by 9 feet. Both configurations would cover 81 square feet, but they'll give you significantly different levels of performance, depending on the needs you have.
Removal Tips
Because no adhesive will be used to connect one 3x3 anti fatigue mat to another, you can take apart these mats as needed. Perhaps you'll need to move all of the connected mats to another location in the workplace, but they're too heavy to move while connected, or maybe you want to take apart a series of connected mats and move the individual mats to other locations.
To pull apart these perforated workstation mats, just stand on the side of the mat that has the tabs and pull up on the adjacent mat that has the hidden slots. With a little bit of force, the two mats should pull apart.
Reducing Physical Strain
This anti-fatigue mat will reduce the physical strain and long-term health effects on the feet, legs, and back. Employees who must stand for long periods on an extremely hard floor, such as cement or hard tiles, will begin to feel fatigue in their joints and muscles. This can cause workers to lose focus, causing errors. Tired workers tend to become less effective at their jobs, resulting in lost productivity.
It even can be dangerous, as some employees may suffer from blood pooling in the lower legs and feet when they're asked to stand on hard surfaces for long periods of time. Over time, workers may suffer long-term physical problems in their legs and feet that lead to missed work days.
Our perforated anti fatigue mats will encourage the worker to move around slightly as he or she is working, which creates subtle muscle movement. This relieves the pressure on the joints and means that different muscles are supporting the body's weight at various times, creating less muscle fatigue during long working sessions.
Mat Density
One mistake many people make when selecting this type of flooring is picking a mat that is too soft. Although you may think a softer mat will provide a more cushioned surface for the worker, resulting in less fatigue in the joints, the soft mats actually can create more problems for the worker than they solve.
A soft mat actually could cause the worker to sink into the material too much, which leads to an inability to make the subtle movements that are important to improving circulation and reducing muscle fatigue. Additionally, if the worker sinks too far into the mat, he or she could stumble when moving, creating a falling hazard.
Perforated workstation mats used as anti-fatigue mats should have only a slight amount of give. These mats should slightly depress when the person stands on them, but they should bounce right back to their original shape when the worker steps off the mat or shifts to a new position. Cheap mats that compress and don't bounce back won't provide the support or cushioning that workers need to have over time, so stick with a high quality mat like we offers in its 3x3 anti fatigue mat.
Cleaning and Maintenance
We do recommend that you clean the Wearwell 24/Seven GR Perforated 3x3 Ft Mat product on a regular basis. Keeping the mats clean will allow them to last longer and function more effectively.
To clean the perforated anti fatigue mats, start by sweeping any dirt and dry debris. Should you need to wet mop the mats, just use a mild soap or detergent mixed with water. For the best results on the perforated workstation mats, use a detergent with a pH measurement of between 4 and 9.
If the mats have oil or other stubborn substances on them, you can use a high pressure hose at a setting of 500 psi or lower on the mats. You also can use heated water up to 160 degrees Fahrenheit when power washing the mats, along with the mild soap or detergent.
Should you need a type of 3x3 anti fatigue mat that will be exposed to mineral oil-based fluids or petroleum-based fluids, rather than being primarily exposed to water, we also have these types of perforated anti fatigue mats available. Just contact our customer service team to learn about all of the different options we have for this style of ergonomic mat.
Maintenance
Sweep, damp mop with mild detergent and warm water.
Shipping
Ships in cartons via ground service to your door, for larger orders product may ship freight delivery
This Product Ships UPS Ground, FedEx Ground and/or Freight.
Please review our shipping disclaimer.
WARNING: This product can expose you to chemicals including Lead and/or Phthalates, which are known to the State of California to cause cancer and birth defects or other reproductive harm. For more information go to www.P65Warnings.ca.gov.
SPECIFICATIONS
| | |
| --- | --- |
| SKU# | 572.58x3x3GRBK |
| In Stock | Yes |
| Product Type | Mat |
| Material Type | Rubber |
| Product Edging | Interlocking |
| Thickness | 5/8 inch |
| Width | 3.00 feet |
| Length | 3.00 feet |
| SF per Item | 9.00 |
| Weight | 21.60 lbs |
| Packaging | Cartons |
| Number of Pieces per Package Type | 1 |
| Non Absorbent | Yes |
| Special Adhesives | No |
| Universal Interlock | No |
| Interlock Loss | 0.00 feet |
| Interlocking Connections | Yes |
| Made In | USA |
| Surface Finish | Smooth flat |
| Surface Design | Solid color |
| Installation Method | Interlocking, dry lay |
| UV Treated | No |
| Reversible | No |
| Border Strips Included | No |
| Manufacturer Warranty | 1 year limited |
HOW TO'S
RELATED PRODUCTS
RELATED BLOGS