Best Restaurant Anti-Fatigue Mats
By Paige Cerulli Created: June, 2018 - Modified: September, 2023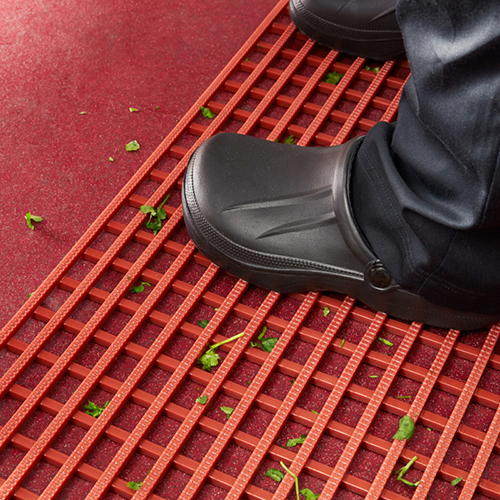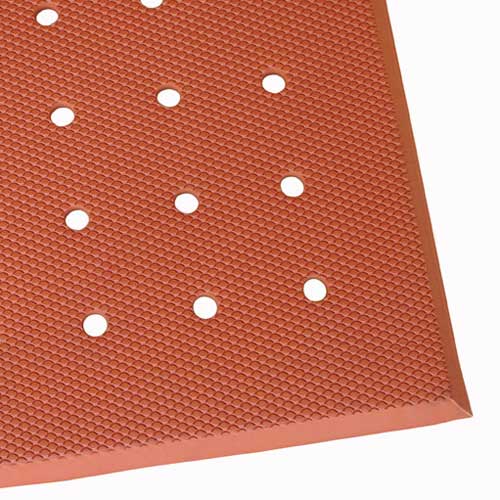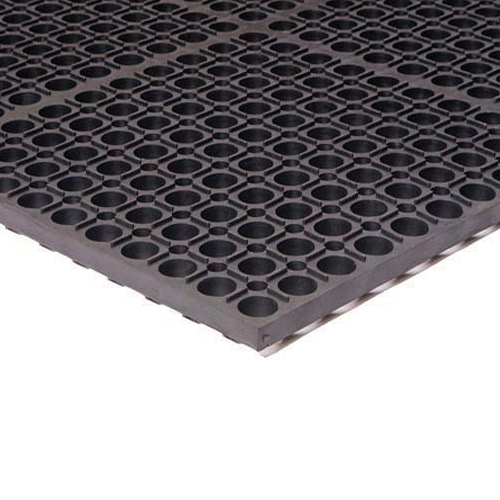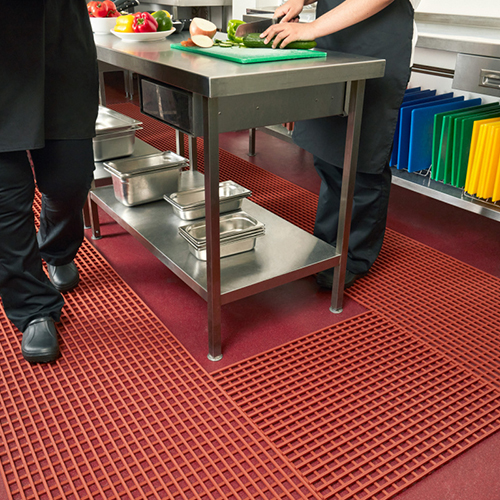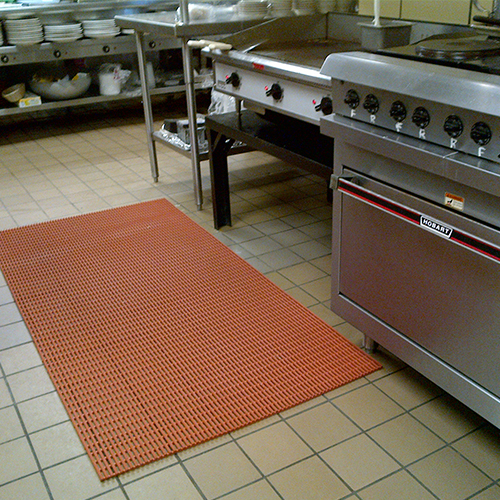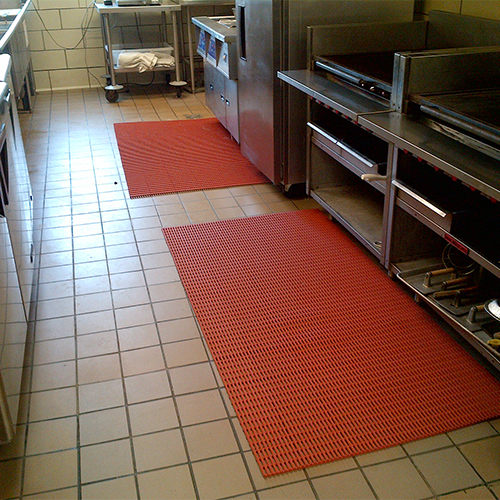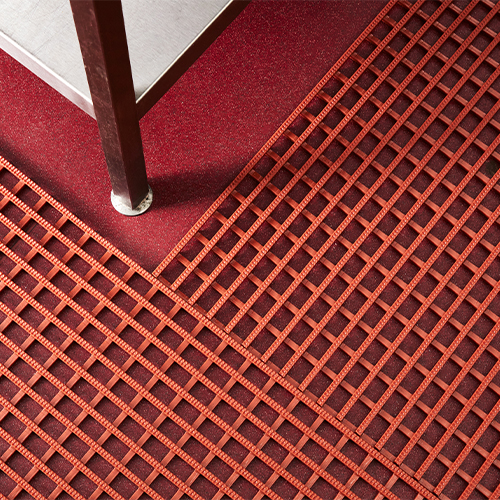 Working in a restaurant is highly physically demanding, whether you're a chef, a line cook, a waitperson, or another staff member. Long hours on your feet can cause knee and back pain, excess fatigue, and overall discomfort that leaves you tired and emotionally drained. That's why restaurant anti fatigue mats are such a great addition.
Restaurant mats specifically designed to minimize fatigue and pain can make your restaurant a safer and more comfortable place for your staff - but it's so important that you choose the right mats. Kitchens are full of wet areas and grease, both of which can leave your ordinary anti fatigue mat slick and dangerous. Commercial kitchen mats are designed to withstand these conditions, and are durable enough to hold up under the significant amount of traffic that they'll see.
Looking for new restaurant mats to make your facility safer and more comfortable for your employees? Below are the top restaurant anti-fatigue mats that we would recommend you invest in.
Herongripa Matting Roll
If you want the best of the best, then choose the
Herongripa Matting Roll
. This anti-fatigue mat features an open grid design that provides the best drainage in bars and restaurants. This matting is available in 3 sizes: 2x33 ft, 3x33 ft, and 4x33 ft. These mats can be cut to fit with a sharp utility knife.
These mats are resistant to animal fat, chemicals, oils, and acid for an ultra-tough mat. Save time cleaning by rolling these mats up and sweeping and mopping the floor underneath.
Choose this Herongripa Mat for:
- Kitchens
- Cooklines
- Food Prep areas
- Assembly lines
VIP Red Cloud Anti-Fatigue Mat
Looking for an anti-fatigue mat that can be used in areas where grease is common? The
VIP Red Cloud Anti-Fatigue Mat
fits the bill. This mat is grease proof and is equipped with drainage holes for easy, thorough cleaning. (Please note, this restaurant matting is not intended for use in wet areas.)
Plenty of thought has gone into the safety of this mat's design. Measuring 3x5 feet and 3/4 inch thick, this mat is lightweight and easy to clean. The surface features an anti slip texture to help keep staff safe, and tapered edges make for a smooth transition on and off of the mat, minimizing the chances of someone slipping. The mat is made of a unique nitrile closed-cell compound that is very comfortable underfoot, but is also durable enough to withstand use in a commercial kitchen.
Choose this mat for:
- Kitchens
- Cooklines
- Bars
- Prep areas
- Waitress stations
- Assembly lines
- Behind counters
VIP Black Cloud Light Weight Rubber Mat
If you're looking for excellent durability and comfort, then our
VIP Black Cloud Light Weight Rubber Mat
may be right for you. This mat, which measures 3x5 feet by 3/4 inch thick, weighs just 10 pounds, so it's easy to move around, relocate, and clean. It's made of a unique closed cell nitrile foam compound which makes it comfortable underfoot, yet it is also grease resistant so it can be used in kitchens. (Please note, this mat is also not intended for use in wet areas.) In fact, this mat is backed by a 5 year guarantee against breakdown from grease.
This restaurant matting has been designed to help maximize employee safety. Its surface is designed to be anti slip, and the tapered edges help to minimize the risk of anyone tripping while stepping onto or off of the mat. It gives just enough cushion without being so soft that you sink into the mat too far.
Use this mat for:
- Production lines
- Kitchens
- Standing service areas
- Bakeries
- Bus stations
VIP Topdek Senior Black Mat
For wet areas where you need superior drainage, the
VIP Topdek Senior Black Mat
can help to keep employees both safe and comfortable. This restaurant matting offers excellent drainage, keeping employees' feet up and out of the water. Additionally, it offers great anti slip traction as well as anti fatigue properties for maximized comfort.
These restaurant mats measure 1/2 inch thick and are available in a variety of lengths up to 20 feet long. There are no connections required, and the mats are seamed for a clean, long-lasting finish. The edges are molded and beveled to make for smooth transitions onto and off of the mats.
Use these mats for:
- Bar anti fatigue mats
- Service areas
- Non-grease kitchen areas
VIP Tuffdek Black Mat
For bars, service areas, and tavern anti-fatigue mats, consider the VIP Tuffdek Black Mat. These restaurant mats offer the same features and benefits that you see in many of the higher cost upper-level mats, but with a lighter weight design. No quality is compromised - these mats weigh just 36 pounds, yet are still highly durable and suitable for commercial use.
Because the
VIP Tuffdek Black Mats
are lighter weight, they're ideal restaurant mats. Cleaning the mats is easy, and a single person can move the mats for simplified end-of-night cleanup.
These mats still offer the benefits that you want in any anti fatigue flooring. They're designed for excellent drainage and offer anti slip traction for maximized safety. They're comfortable underfoot and can help to relieve employee pain, improving staff productivity in turn.
Use these mats for:
- Bars
- Service areas
- Non-grease kitchen areas
TruTread Black Mat
Looking for restaurant mats that can withstand dry, wet, or greasy environments? The
TruTread Black Mat
offers the versatility that you're seeking. This mat is designed with drainage holes that let water and waste to pass right through the mat, keeping employees' feet dry and up out of the water. The mat itself is water repellant, and is equipped with anti slip traction for employee safety.
Choose from a greaseproof red or a grease resistant black color, depending on the specific needs for your restaurant. This mat is also available with a gritted surface to provide even more traction for slick areas.
Measuring 10x3 feet, this mat offers quite a bit of coverage. However, if you're looking for something larger, you can use the TruTread X-Connector to connect multiple mats together.
Use this mat for:
- Kitchens
- Cafeterias
- Service counters
- Bakeries
- Restaurants
Choosing the Right Restaurant Anti Fatigue Mats
With our wide assortment of anti fatigue mats, we're confident that you'll find the mat that's perfect for your restaurant. If you have questions, please call our customer service team. We're always happy to help you find the product that's just right for your needs.