Honeycomb Medium Duty Brown Mat 3x6 Feet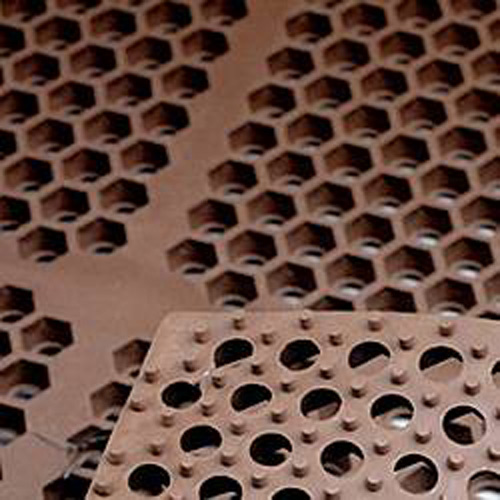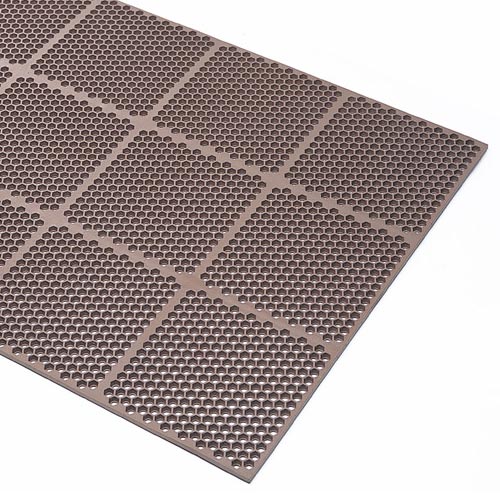 Honeycomb design adds product strength
For light to medium applications
General purpose mats for use in non-grease applications
Handling Time Estimate: 4-6 Working Days
Honeycomb design adds product strength
For light to medium applications
General purpose mats for use in non-grease applications
Anti slip traction
Excellent drainage
Light Duty Kitchens, Bars, Prep Areas, Waitress Pick-up, Assembly Lines, Behind Counters
NOTE: This item is a custom order and is not returnable.
Honeycomb Medium Duty Brown Mat 3x6 Feet features a durable hexagonal surface, which makes these 3x6 honeycomb ergonomic mats a safe and long lasting flooring option. In order to maximize safety and comfort, this brown anti fatigue mat was designed to feature hundreds of raised bottom knobs. This ergonomic element improves the comfort and cushion of the mat, thereby making it a more effective anti fatigue kitchen mat. Honeycomb bar mats provide comfort and cushion to users for hours of work, ranging from light to medium work.
Medium Duty Brown Honeycomb Perforated Kitchen Mats, 3x6 Feet

Give employees a more comfortable area to stand and work in a potentially messy kitchen environment when selecting the Medium Duty Brown Honeycomb Perforated Kitchen Mats. These 9/16-inch thick mats have anti slip and anti fatigue properties that protect the lower body joints of those standing on them.

In an area where liquid spills are common, employees will not have to work in standing water when using these mats. They have perforations that extend through the entire thickness of the rubber material, ensuring that liquid will drain through to the subfloor.

To allow the liquid to flow away more efficiently after it drains through the perforations, the bottom of the mat has pegs that raise the bottom layer off the subfloor, creating natural channels for liquids to move toward the floor drain. These nubs also enhance the mat's anti fatigue properties.

The perforations have a honeycomb shape that's visible across the top of the mat. Using this shape for the perforations allows the mat to maintain a high level of strength and integrity, even though the perforations create holes in a large percentage of the surface of the material.

The hexagonal holes in the surface of the mat provide a unique look that is great for areas where a business may be using it in a customer facing area. It has a practical design, but it also looks better than a standard black rubber mat.
Drainage Mats for Food Preparation Areas
With our kitchen mats' ability to remove spills through the draining holes, it works for a wide range of locations, including:
Waitress stations

Food prep areas

Kitchens

Assembly lines

Dish washing stations

Behind counter service areas in bars
Customers can use these rubber mats anywhere they may encounter spills. With 18 square feet of coverage, those standing on the mats will be able to move around and reach items they need without having to step off the surface.
Should a waitress or dish washer drop a glass or plate while working, the rubber material may prevent the dish from breaking. If the glass hits a vinyl, hardwood, or cement floor that's common in a restaurant or kitchen, it almost certainly will break. The rubber material that protects the lower body joints of the employee can also protect the dropped dishes.
Non Slip Surface Material for Wet Environments
Rubber provides a high level of safety in a location where moisture is often present. Those standing on the mat will have a sure footing in all conditions, thanks to the grippy rubber material.
The manufacturer did not include any extra texture on the surface of these mats to enhance the anti slip properties. The rubber material alone will deliver the level of traction that workers need to remain safe without slipping.
Another advantage of rubber matting is its significant weight. At 33 pounds of weight for a 3-by-6-foot mat, there is almost no chance of the mat sliding out of place as people walk across it while working. It's also highly durable, meaning customers should receive many years of performance from the mat.
Even in areas where liquids will not be present, our kitchen mats will provide a desirable level of performance. They give employees who must stand for a long portion of the day the ability to work without having to worry about having sore lower body joints like they may have if standing on a hard floor alone.
Commercial Honeycomb Anti Slip Mat Specifications
Width: 3 feet

Length: 6 feet

Thickness: 9/16 inch

Coverage: 18 square feet

Weight: 33 pounds

Color: Brown

Texture: Honeycomb shaped perforations
Maintenance and Care
Customers can care for our kitchen mats in the same way they would clean and maintain other types of rubber mats. If customers will expose this 3x6 mat to regular spills and soils, they should clean the mat on a daily basis
Start by cleaning the brown mat with warm water. Scrub the rubber material with a deck brush or a similar type of scrub brush to remove soils. Be certain to clean both sides of the mat and then allow it to air dry.
If needed, customers can add a mild detergent or dish soap to the warm water. Do not use cleaning solutions that contain bleach or chlorine.
These are light- or medium-duty kitchen mats, so the customer should not expose them to significant amounts of greases or oils. If a little bit of grease ends up on the mat, do not use a degreasing cleaning solution on the mat. Stick with warm water and the mild detergent.
If choosing to use a power washer on the mat, avoid using it more than once a week. Clean the mat with a brush and warm water the majority of the time. Do not place the rubber mat in a dish washing machine or in a steam cleaner.
The manufacturer guarantees this mat with a one-year limited warranty against defects.
Maintenance
Clean both sides, on a regular basis, with warm water, a deck brush, and a mild detergent absent of bleach, chlorine or butyl.
Shipping
Ships via ground delivery, larger orders may ship via freight.
Please review our shipping disclaimer.
| | |
| --- | --- |
| SKU# | 2535-B36 |
| In Stock | Yes |
| Product Type | Mat |
| Material Type | Rubber |
| Product Edging | Straight |
| Thickness | 9/16 inch |
| Width | 3.00 feet |
| Length | 6.00 feet |
| SF per Item | 18.00 |
| Weight | 33.00 lbs |
| Packaging | Cartons |
| Number of Pieces per Package Type | 1 |
| Non Absorbent | Yes |
| Special Adhesives | No |
| Universal Interlock | No |
| Interlock Loss | 0.00 feet |
| Interlocking Connections | No |
| Surface Finish | Drainage holes |
| Surface Design | Solid color |
| Installation Method | Lay flat |
| UV Treated | No |
| Reversible | No |
| Border Strips Included | No |
| Floor Score | No |
| Green Label | No |
| Manufacturer Warranty | One year limited against manufacturing defects |
RELATED PRODUCTS