Waterproof vs. Watertight and Water Resistant Flooring
By Lisa Hobbie Created: March, 2021 - Modified: December, 2023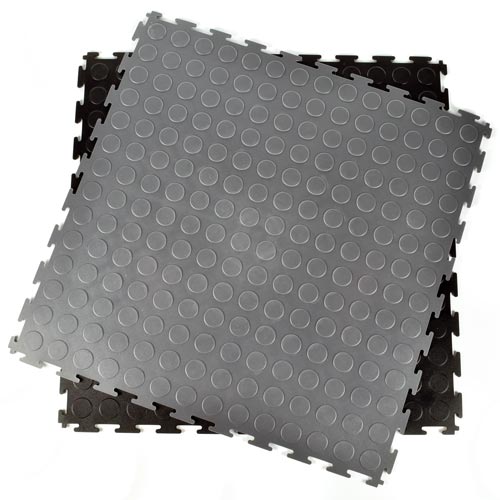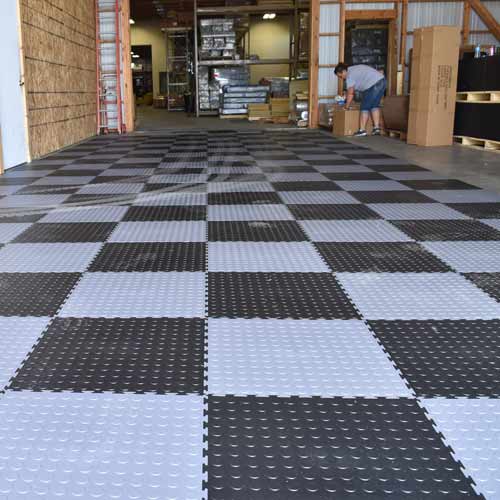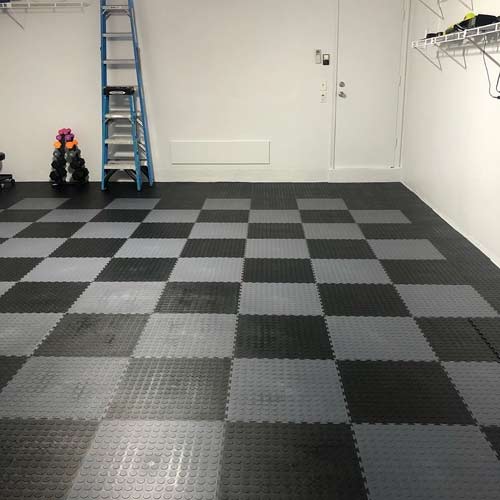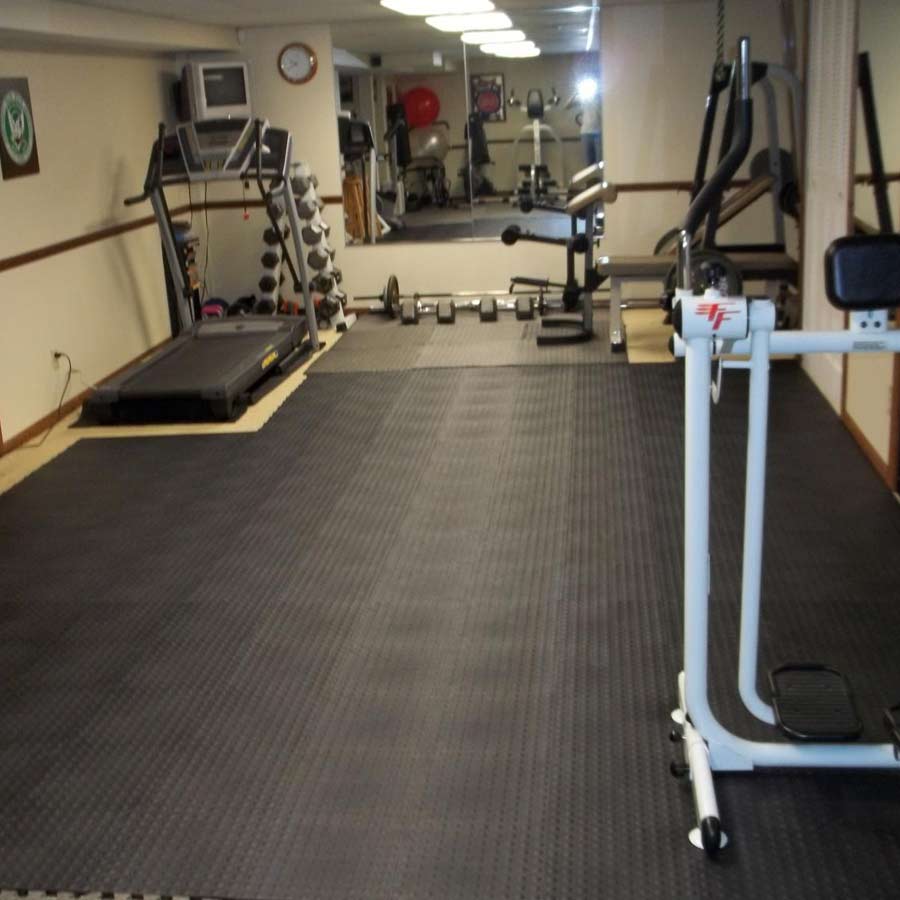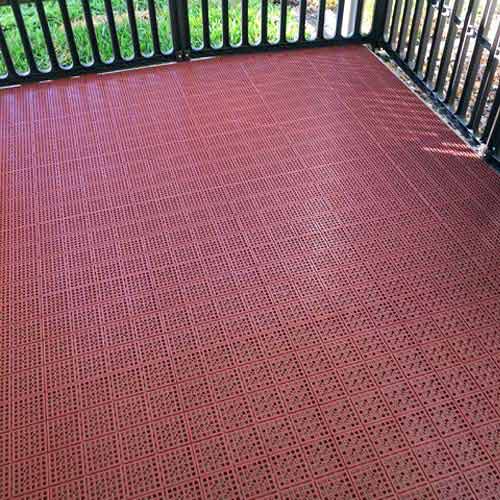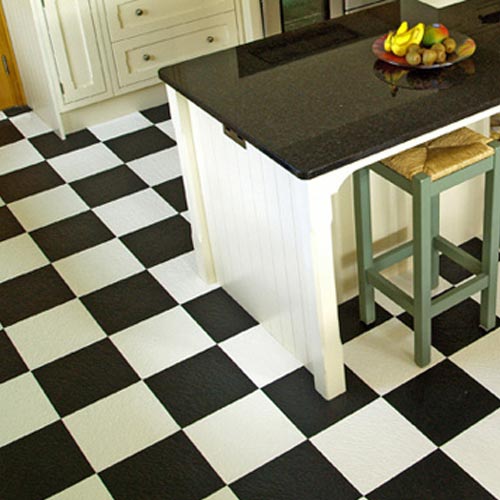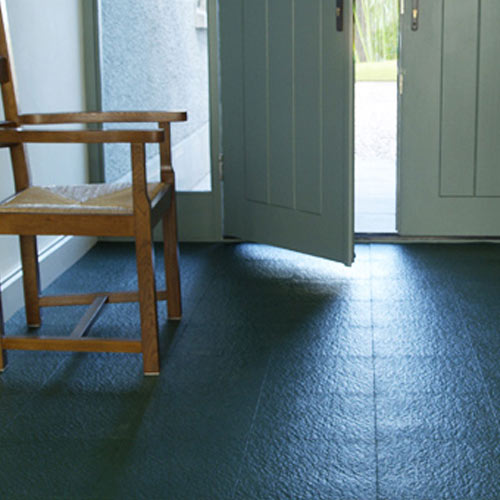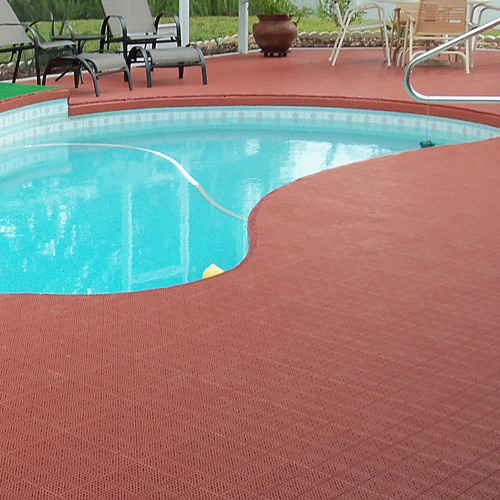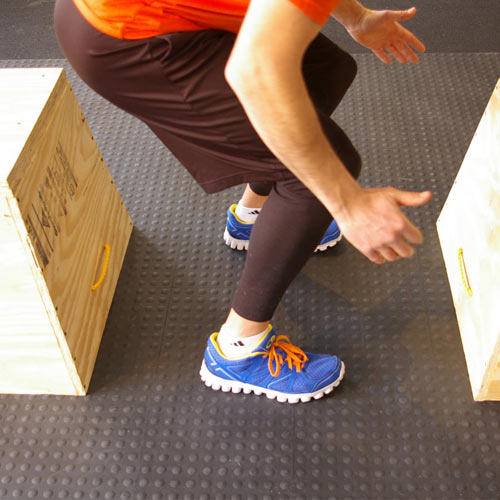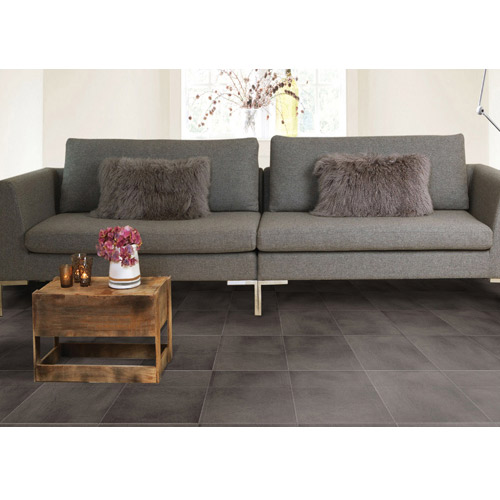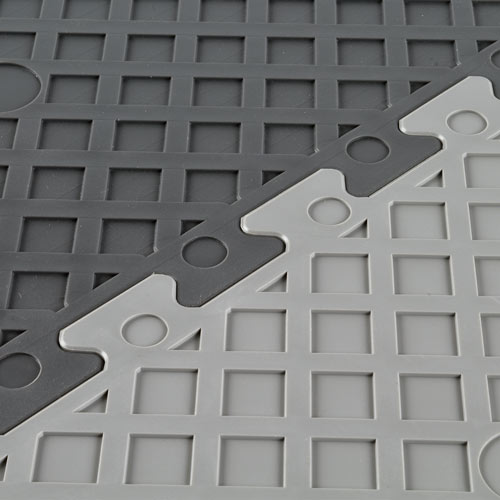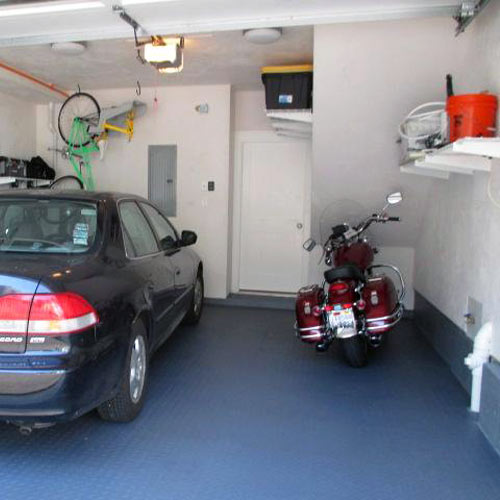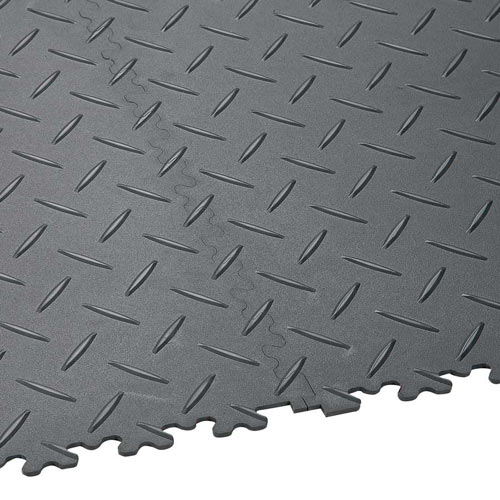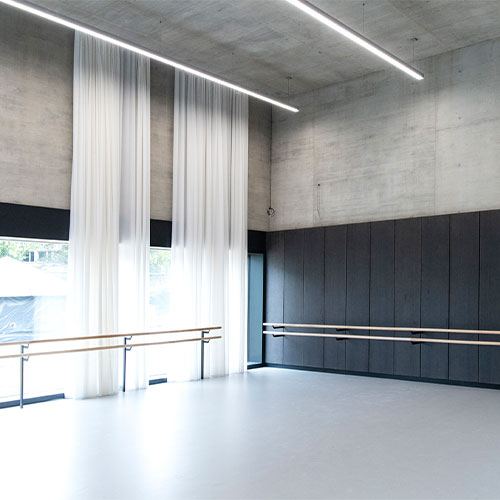 Water can cause a lot of damage to floors. When looking to install flooring in areas prone to getting wet, like basements, bathrooms, mudrooms, and entryways, it's a good idea to consider solutions that can endure water. Water damage happens when water pools on top of the floor or when water seeps from underneath - like it often can in a basement or garage. It also causes flooring to warp and crack, and it can encourage insects and promote the growth of mold, mildew, rot, and odor.
When thinking about and considering flooring options, you may find different terms confusing, specifically, waterproof, watertight, and water resistant. You may think they are just three different words offering 3 ways of saying the same thing, but they are actually quite different from one another.
Waterproof
refers to flooring or
material
that will not absorb or become damaged by water or liquid. It means that moisture, water, and liquids will be unable to penetrate the flooring material and reach its core. Even if standing water sits on your flooring's surface for an extended period of time, it will not penetrate and damage the floor.
There are different types of waterproof flooring, from foam tiles and rubber mats to plastic, vinyl plank, ceramic, porcelain, and certain types of carpet.
Watertight
refers to flooring or material that will not allow water to pass through it - even through the seams. It is so tightly made that water simply cannot enter or escape the material.
Water resistance
refers to flooring or materials that can temporarily repel or withstand water, but eventually, it can allow the water to reach its core or pass or even become damaged by water. Even when water resistant floors have a sealant to prevent water from entering the floor, seams still offer a way for water to get in, and over time, can cause flooring to warp, bow, or split. Some may never become damaged by water but may become heavier as water works its way into the pores of the material. Many hardwood floors, rubber solutions, and cork flooring are examples of water resistant products.
Selecting plastic waterproof flooring, waterproof rubber or waterproof laminate flooring for areas of a home or business that are prone to moisture is a must. If you are shopping for solutions for a bathroom, basement, kitchen, or similar space, it makes sense to choose a product that is impervious.
Waterproof PVC Flooring
When you think of waterproof flooring, you may not realize that there are numerous attractive and aesthetically pleasing options available. Greatmats offers a wide variety of impermeable, waterproof PVC flooring products that are completely non-absorbent. They are durable, easy to install, versatile, and high performing, and there are solutions for virtually any place or space. Of the many waterproof PVC flooring products available, the following seven are among the most popular:
Among these products are solutions that are suitable for indoors and outdoors, commercial and residential. They offer many features and benefits that truly make them among the best available, anywhere.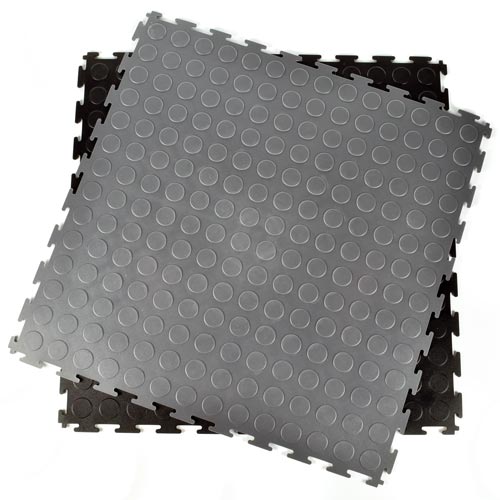 Warehouse Floor Coin PVC Tile is a product manufactured from top quality recycled material. They are very simple to install without adhesive using their interlocking sides. They feature a raised coin top surface for added traction, and they create a very clean and fresh appearance while being resistant to the effects of heat, cold, or humidity. They are also resistant to oil, gas, and chemicals, and they are very easy to clean and maintain.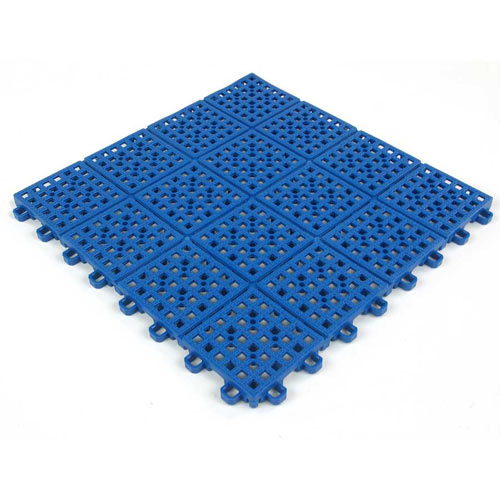 Patio Outdoor Tile is a fast drying, non-slip, textured PVC tile that is lightweight, high performing, and easy to install over concrete or compacted surfaces using a quick snap together process. The resulting surface is comfortable, safe, and clean. When the tiles get wet, they drain and dry quickly, and they have also been UV treated.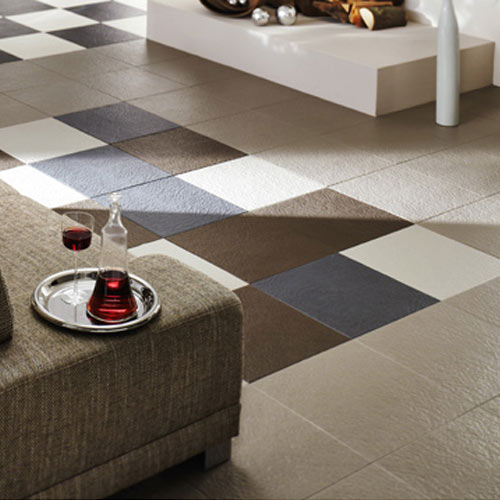 Colored Slate Floor Tile is a great waterproof PVC product that presents the look of luxury slate floor. This loose lay tile is slip resistant, easy to install without adhesive, hygienic with antibacterial properties, stain resistant, and is able to withstand even the heaviest of loads. It is very easy to clean and maintain, and it offers an upscale appearance for a low installed cost. With many color options from which to choose, this waterproof PVC flooring will look attractive in virtually any home or commercial space.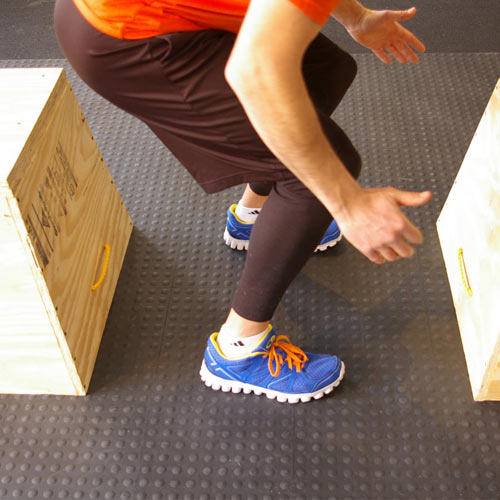 StayLock Tile Bump Top flooring is a super comfortable, plastic waterproof product that offers durability similar to rubber with a cushioning similar to foam. With its ergonomic and anti-fatigue benefits, It's suitable for gyms, garage and basement workshops, and so much more, and it boasts a design that tightly locks together without separating over time - even when weights or heavy equipment are placed on it. Not only is it waterproof and resistant to most acids and oils, but with its raised, floating floor design, water will not get trapped beneath this plastic waterproof flooring.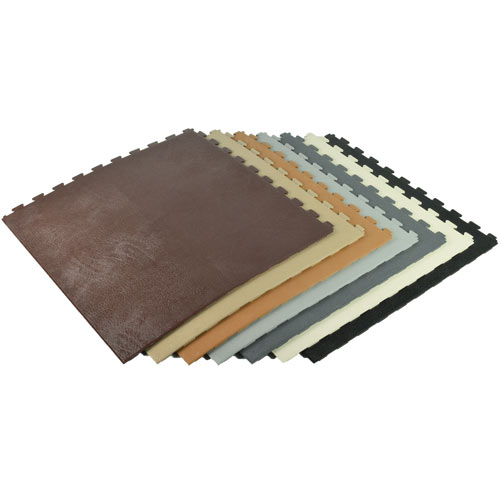 Leather PVC Floor Tile offers a plastic waterproof flooring option with a hidden interlocking connection system that can be installed over most flat surfaces without adhesives. This product is great for any room or space needing a flooring solution that is stain resistant, durable, slip resistant, and robust enough to endure heavy weight loads and foot traffic. The plastic waterproof flooring boasts hygienic and antibacterial properties and can be easily cleaned with a damp mop and common household cleaners.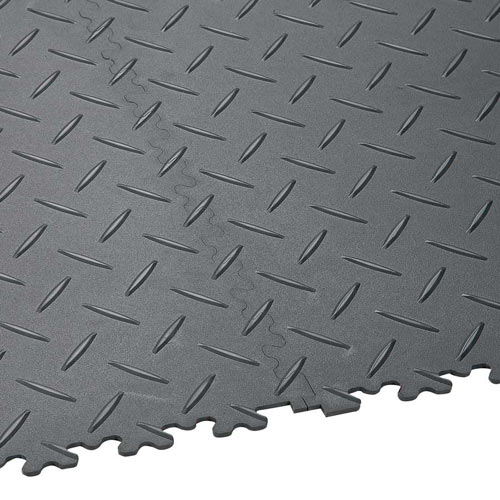 Diamond Pattern SupraTile are dove jointed, interlocking, and waterproof PVC flooring tiles for garage floors. They offer many premium features at an affordable price, like sound absorption, comfort, versatility, warmth, and resistance to oil, chemicals, mold, mildew, impact, moisture, and abrasion. This product is priced lower than a solid epoxy floor, but it is approximately 7 times thicker than one.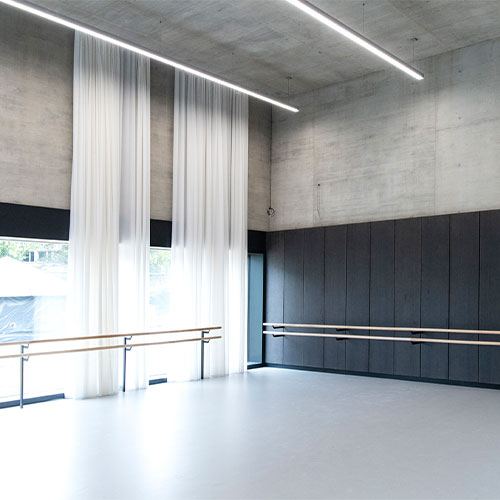 Vario Uni Dance Flooring product is among the most durable and heavy duty, portable dance floors on the market. It is affordable and versatile, and it is among the best that money can buy. It's non-absorbent and made of PVC plastic and has a matte surface, making it ideal for any type of dance. As a large roll, it is best suited for touring studios, but it is also great for a permanent installation when taped down.
Waterproof Polypropylene & Vinyl Flooring
Greatmats offers a wide variety of waterproof laminate flooring products. They are a breeze to install, attractive, durable, and versatile. Of the many polypropylene and vinyl flooring products available, the following are among the best:
Garage Floor Tile Diamond - Suitable for garage floors, event spaces, trade shows, man caves, workshops, and portable flooring.
Max Tile Raised Floor Tile - Suitable for basements, dance floors, court floors, garages, aerobic and fitness studios, trade shows, show rooms, commercial spaces, and so much more.
Flat Top Court Floor Tile - Suitable for volleyball floors, dance floors, indoor sport courts, and sport arenas, as well as fitness centers and workout rooms.
Each of these waterproof floors are high performing and attractive, and they are designed to endure heavy use while being low maintenance, easy to install, and a breeze to keep clean.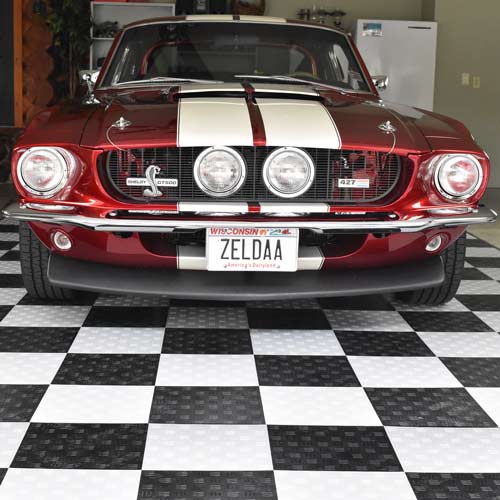 Garage Floor Tile Diamond offers so many benefits far beyond its waterproof design. It is a polypropylene plastic product that offers a surface which is durable enough to endure weight loads of up to 10,000 pounds. It is a made in the USA product that boasts a tight fitting, click together connector system that offers a simple installation. The flooring will not absorb water, liquid, or chemicals, and it will endure heavy garage use and abuse.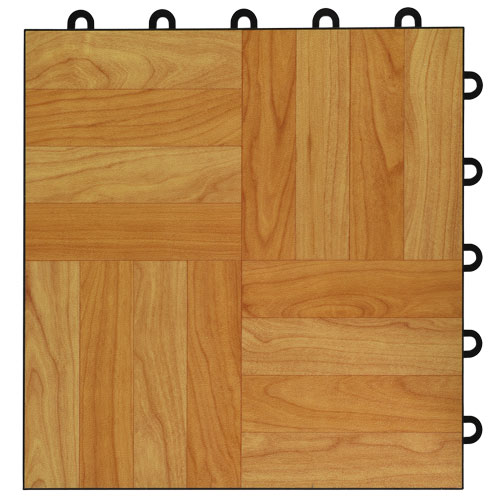 Max Tile Raised Floor Tile provides the look of real wood or tile in a raised flooring product that floats over an existing floor. It is notably one of the most versatile flooring options at Greatmats, because it has so many fabulous benefits. It is a great solution for an area prone to moisture, as its design allows for air and water flow beneath it, which reduces the risk for unwanted mold, mildew, and bacteria. It has a stunning, commercial grade vinyl surface that offers the look of a shiny wood floor without the need to ever be refinished. It combines performance and versatility and provides a thermal insulative benefit due the raised polypropylene base leaving an air pocket beneath the vinyl surface.
Waterproof Vs. Water Resistant
Now that you understand the difference between waterproof, water resistant, and watertight, you may find yourself wondering what will work best in the area that you're working on.
Waterproof laminate flooring and other waterproof flooring solutions may be more expensive than cheaper flooring products, water resistant flooring, and peel and stick floors, but they offer so many benefits that the others cannot. If water absorbs into many types of floors, like water resistant hardwood, it could eventually swell and crack - eventually ruining the floor. If waterproof flooring had been installed, it would not need to be replaced.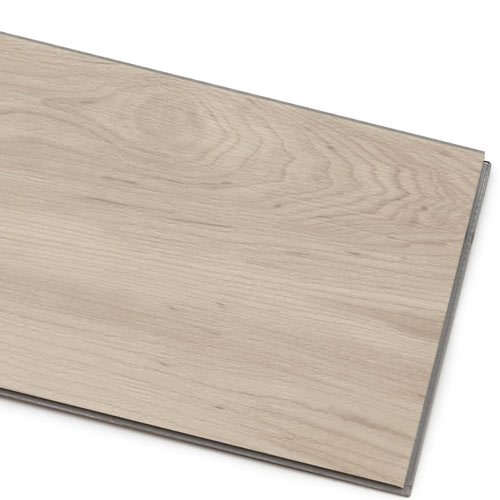 Rigid core vinyl flooring is a type of super durable waterproof flooring that offers the look of hardwood, but will not allow water to penetrate it. Water will not cause this type of flooring to curl at the edges or break down, as it is designed to withstand it.
If you live in an area prone to humidity,
flooding
, or excessive moisture, a waterproof floor can actually prevent excessive moisture from lurking in the air, as it will not infiltrate the flooring material. It can be installed in any area of the home, from bedrooms, kitchens, laundry rooms, and basements, to entryways, dining rooms, and more. Just be certain you choose a product that advertises as being 100 percent waterproof so that you don't count on it to perform in a way it isn't designed to.
Although water resistant flooring also offers numerous benefits, it isn't quite as forgiving as waterproof is. Water resistant laminate, rubber, or other flooring will typically cost less than waterproof flooring, and they can be very easy to install. As long as water is cleaned up quickly, the water resistant flooring will not absorb it, and it will therefore not suffer damage. Liquids will not go through a water resistant floor as quickly as they will other types of flooring, so a resistant floor will last longer than a standard porous flooring that isn't sealed or treated as it can tolerate spills.
It is imperative that you do your due diligence when it comes to shopping for waterproof vs. water resistant flooring. Consider where the flooring will be installed and what the conditions of the space are. If the chance exists for water to pool on the floor, waterproof is definitely the best option. If you are installing flooring in a kitchen and are confident that you can clean up spills quickly, water resistant is likely sufficient.
Varieties of Waterproof Flooring
Vinyl & Laminate
If you like the look of authentic hardwood, but want or need a waterproof flooring option,
vinyl plank and waterproof laminate
flooring are both viable options. Both will do an adequate job covering a solid subfloor, but almost all vinyl products are waterproof, while many non-vinyl laminates are water resistant.
When it comes to waterproof vinyl flooring products, Greatmats offers the best selection. There are numerous luxury vinyl plank, vinyl laminate, and vinyl tile options to explore, from glue down products to those that snap together, to others that can be taped down. There are low cost and high quality options to suit any need or preference.
Cork Flooring
Cork flooring
, although offering water-resistant features, is not waterproof. It is very durable and low maintenance, unfortunately, liquid can eventually find its way through cracks and crevices.
Rubber Flooring
It is often mistakenly assumed that all rubber flooring is waterproof, but not all rubber flooring solutions are created the same, and therefore, not all are waterproof.
Vulcanized rubber flooring
products are waterproof. You'll typically find this time of impermeable rubber material in thick 4x6 mats intended for horse stalls and gym.
Rubber flooring rolls and rubber pavers tend to be made of non-vulcanized rubber material, which means there are some pores between the crumb rubber material used. While the rubber itself does not absorb the water, the water's ability to work its way into the pores over time can leave some water trapped within the pores.
Foam Flooring
Foam tiles
are another waterproof flooring option. They are more economical than most flooring solutions, and they are also more suitable for moisture. They are available in numerous colors, designs, and thicknesses, and they are durable, cushioned, and fast and easy to install. The potential uses for foam tiles are limitless, from basements and bathrooms to offices, home gyms, and laundry rooms.
Greatmats - For Your Waterproof Flooring Needs!
Greatmats has numerous waterproof flooring options available, with many more than the PVC options highlighted. There are friendly and knowledgeable designers and experts at Greatmats who can help you decide which product is the best for your space.
Whether you're looking to update a space or tackle a new construction project, Greatmats is your one-stop-shop for all of your waterproof flooring needs. The Greatmats team provides complimentary design help, and there is an online floor plan designer tool, among many other things. You will not receive better quality, service, or pricing, anywhere. Whether one of the plastic or PVC products suits your needs, or if you want to explore one of the other waterproof options, you can feel confident knowing that the product you choose will be the best if it comes from Greatmats.