Garage Floor Tile Diamond 5/8 Inch x 1x1 Ft.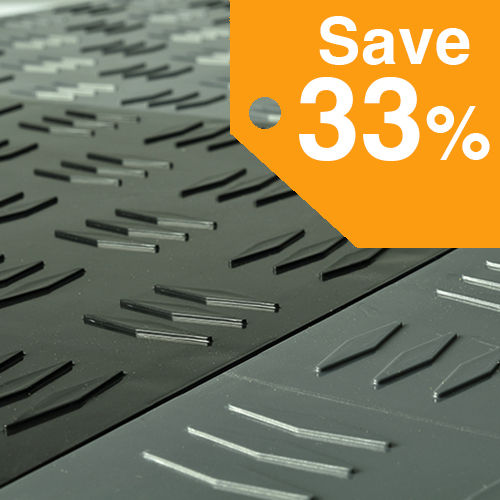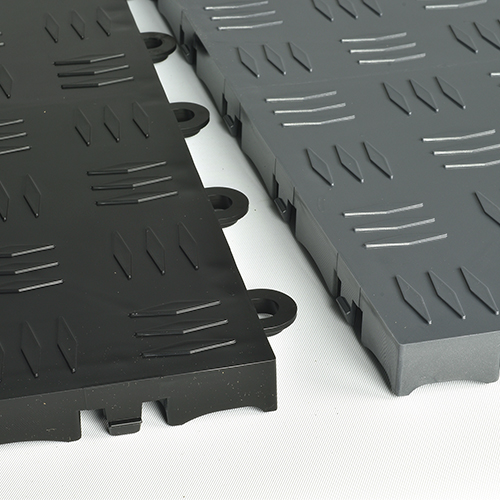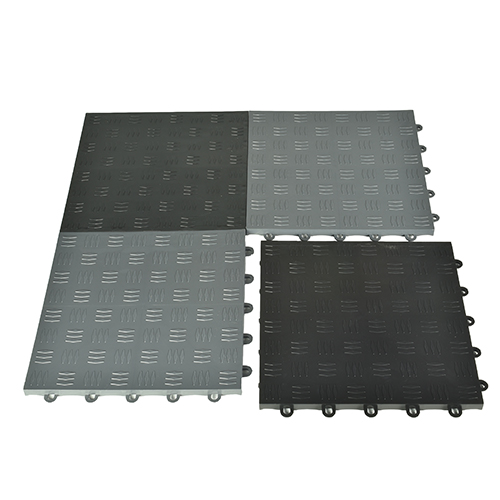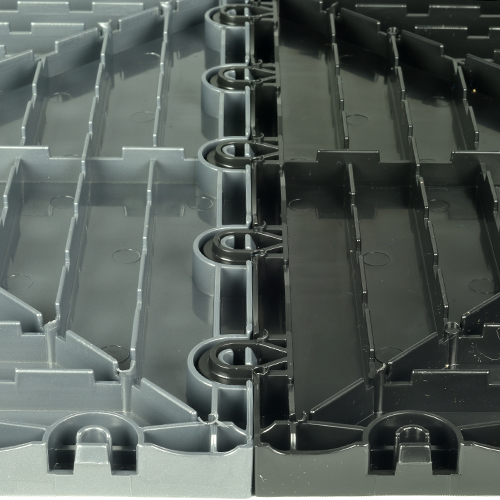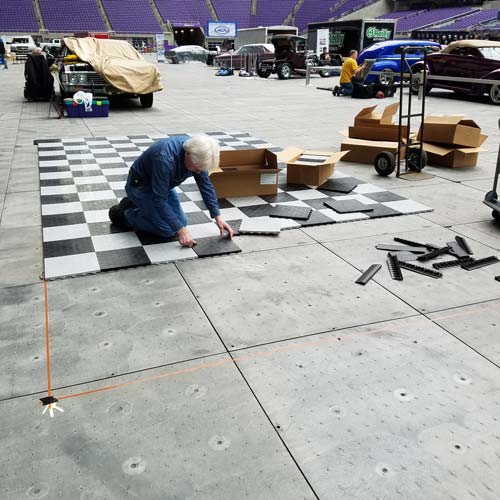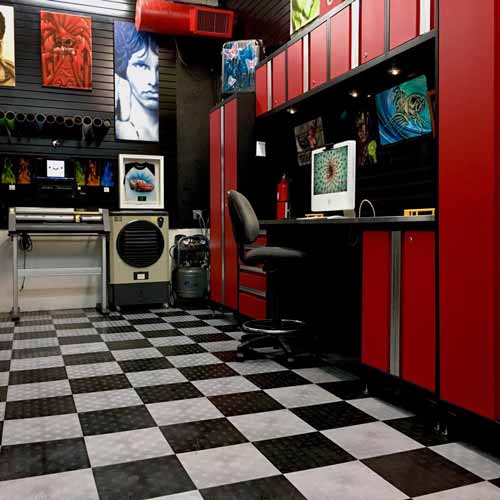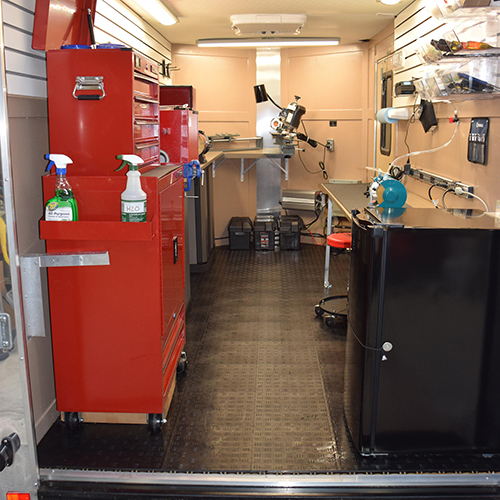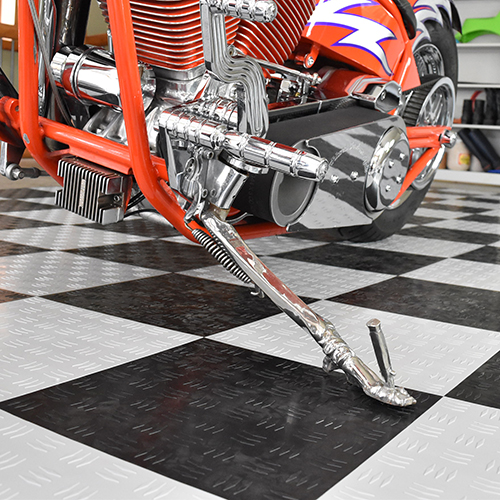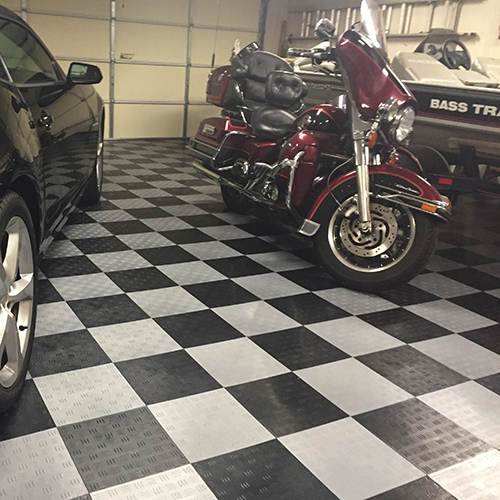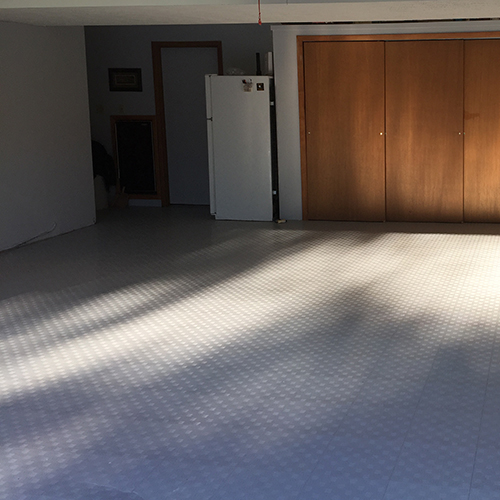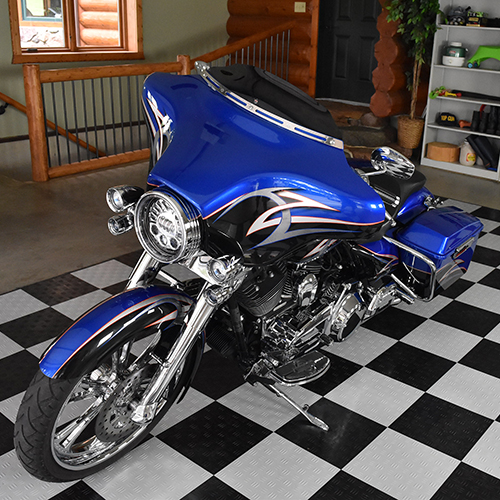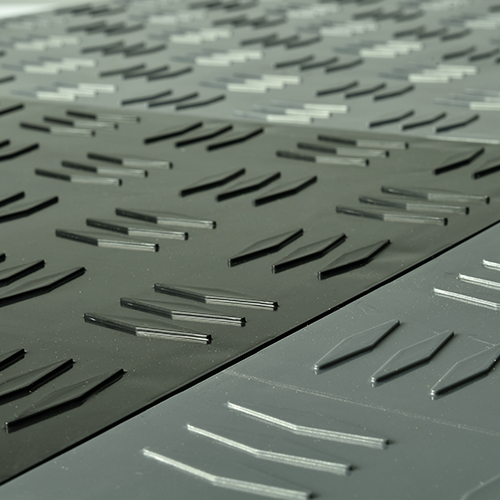 Best quality garage tile on market
Easy To Connect and Disassemble
Durable virgin polypropylene material
$3.98
/tile
(You Save 33%)
(38 Reviews )
Free Shipping
- lower 48 with $85 Purchase
Ships Out: Estimate 1-3 Working Days
How Much Flooring Do I Need?
Please request a quote over 300 SF
VIDEOS
Garage Floor Tiles - Diamond Interlocking
Beveled Border Ramp For Garage Floor Tile Diamond
Greatmats Car Show Floor Tiles with Mark Lund
Are diamond tread garage tiles resistant to sparks and flames
How to Clean Garage Floor Tiles - Snap Together Plastic Tiles - Greatmats
How To Cut Polypropylene Plastic Garage Floor Tiles - Diamond Garage Floor Tile
Garage Floor Tile Considerations
Introducing Garage Floor Tile Diamond - Modular Garage Flooring Tiles
Garage Floor Tiles Sink or Float Tests
Portable Garage Floor Tiles by Greatmats
TOP FEATURES
Best quality garage tile on market
Easy To Connect and Disassemble
Durable virgin polypropylene material
Durable 10,000 lbs load rated
Tight fitting snap together connector system
Border and corner ramped edging available
Garage and shop or automotive show room floor tiles
Use Types
Garage Flooring, Event Floor, Trade Show Floors, Portable Flooring
If looking for the best garage floor tiles on the market for quick layout and removal - while also offering a sharp look and a durable construction quality - our Diamond product delivers. Creating a sharp looking garage tile floor is a simple process, as these snap in place. If searching for the top model on the market for fast disassembly and assembly, it's here with our diamond pattern model. These are going to be offering a classy look with longevity to match.
We've collected the three top reasons to make use of this garage floor mat that interlocks. This floor tile is intended to be installed over a hard flat surface only.


Multiple Use Cases

These handle more than 10,000 pounds of static weight apiece, which represents an amazing level of durability. Ours feature a unique peg and loop connector system, which makes connecting them a piece of cake by simply stepping lightly on the edges.

Our textured tiling is primarily designed for indoor installations, as it can expand and buckle with direct sunlight exposure or extreme temperatures. These are not UV treated. (We do offer many additional tiling options for use in outdoor areas that receive full sun; contact us to learn additional details.)

Although our product works very well in garages, there are many extra purposes and locations ideal for installing this incredibly useful product.

Storage Sheds:

 If using sheds for storing a riding mower, gardening equipment, or an auto collection, this is far better than graveled surfaces.

Show Rooms:

 For auto dealers, repair shops, or similar types of businesses, having a tile garage floor in the customer show room creates a professional style, while giving customers a bit of grip to prevent people walking around from slipping. Additionally, the business can park the vehicles atop it for long periods because of its ability to support a lot of weight.

Trade Shows:

 Use this to yield a unique looking situation in a convention booth that will be memorable to visitors. The classic style will allow the booth to stand out from the crowd, and it will survive rough treatment from a lot of shoe traffic or from placing heavy objects atop it. Because it's no problem to assemble and disassemble, ours is perfect for both permanent and temporary needs, which makes it especially good for use in a trade show, where the owner will have to remove it when tearing down and disassembling the booth materials.
Easy Assembly and Disassembly
If the plan is installing these as a DIY job, customers appreciate the ease of assembling them. Each measures 12-1/8 by 12-1/8 inches, allowing it to cover just over 1 square foot. Use measurements of the space to calculate the square footage needed to cover. For help with measurement calculations, please contact our customer help line.
It weighs 0.94 pounds apiece, which means these pieces are easily carried and moved from the storage room to the area for laying them out. If needed, a single person can handle putting them together and taking them apart, although it can be helpful having a few extra hands to speed up the job.
These have never been easier to install. Ours feature female loops on two sides of the square and male pegs on the other two. Line them up so the loops are pointing in the direction in which the next unit will go. Set the peg of one over the loop of the other. Once the edges are lined up perfectly, use a foot to lightly tap or step on them to pop them into place.
The interlocked system will need virtually no force to connect, even the for the first time connecting them. No matter how many different times assembling and disassembling them, the connecting sections will continue to work great and create a tight fit.
If needing to cut them to fit in wall to wall patterns, it is easy to install them successfully. Use a power saw to cut through the plastics to make every edge straight to slide tightly against walls.
Another option is use a utility knife and a straight edge to score it repeatedly and deeply before snapping it apart. This method will be more difficult, however.
There's also the option of creating an island design with these, where they will sit in the middle of the room, not touching walls. For this type of installation, we are offering border pieces that can be installed on the edges of the island to create a perfect finish.
Because these measure 5/8 inches in thickness, someone could possibly trip over the lip. Adding the ramp borders is a good idea, as the tripping hazard will be removed.
If using it for vehicle shows or specialty events in which these will be removed and transported to a new location often, ours is a perfect solution. Just lift the sides with the pegs and give them a little shake and the configuration will start to pull apart with ease. Occasionally, the installer may need to step on it, holding it down, while lifting up the connected adjacent piece to pop it loose.
If planning to reassemble them relatively soon, consider leaving a few connected during the disassemble process. This method will allow for disassembling it a faster process, and it will speed up the assemble task the next time as well. If there is space to store them in partially connected groups, this is a smart idea to save time. These don't weigh much, so carrying them in chunks of 2 by 2 pieces is easier than it may seem.
How Many Borders do I Need?
For Island installations: Where the layout will have all four sides exposed to the room. In this case, the number of borders needed will be the length + width of the layout for each border type, and 4 corner pieces. Use half male and half female borders in this instance. Example 10x12 ft layout, 10+12 = 22 male borders, and 22 female borders, and 4 corners.
For Corner Installations: Where the layout will be pushed into one corner and will have 2 sides exposed to the room. In this case, the number of borders needed will be the length + width of the layout and one corner piece. Use all male borders in this instance. Example 10x12 ft layout, 10+12 = 22 borders, all male, and one corner.
For Inside corners, two border ramps will have to be manually cut at diagonal to fit. Use a sharp utility knife to cut this product or a table saw.
Safe, and Durable Tiles
This is equipped with a slip resistant triple diamond plate tread surface texture that looks nice and that provides a measure of safety. The tread runs in groups of three both horizontally and vertically in multiple rows, enhancing the grip available when people will walk on this.
This has a tough polypropylene plastics construction material. These plastic tiles are waterproof, meaning they won't absorb water. As an additional protection against water problems, ours is raised off the subfloor, utilizing circular pedestals on the underside. This allows for air to flow beneath. If there is dampness underneath them, the airflow will allow the area to dry.
At just 5/8 inches thick with a Shore A 100 material density rating, it has impressive toughness and durability. As another measure of durability, these are carry a 5-year limited manufacturer's warranty.
A particular thing our customers love about these is the ability to create patterns, using the black and dark gray color scheme. For example, a two tone checkerboard yields a classic configuration that a lot of people enjoy.
For answers to questions about these, just give our helpful customer service team a call. We will provide all of the advice required to deliver the smartest choice for a home or facility, as well as help with figuring out how much will be required.
FAQ Garage Floor Tiles Q&A
What is the best tile for garage floors?
Polypropylene is an excellent material for this use case, as it has the toughness to stand up to harsh conditions. Garages often will have exposure to all kinds of moisture from weather, as well as from solvents and fuels, creating an especially tough environment. But ours can stand up to whatever is thrown at them.
What is best flooring for garage?
There are several garage flooring options NJ, but interlocking garage floor tiles are among the most popular, as they offer traction for walking in wet conditions, as well as long lasting materials that will provide a great value well into the future. Depending on the use case planned for the space, some may choose PVC tiles designed for vehicle storage, rolls of vinyl floor or rubber for a garage flooring cover, as well as rubber tiling or portable garage floor mats that can be placed in busy walking traffic locales over a concrete or vinyl garage subfloor. To compare these PVC garage floor tiles vs. epoxy finishes that must be applied by a pro, our models make the installation go far more smoothly and inexpensively.
What should I put on my garage floors?
Ours consisting of poly plastics are sturdy enough to support the weight of a car or truck, yet they also have a great appearance and can hide blemishes in the cement from cracks, crumbling concrete, staining, or spilled paint. Certainly, garages can be areas where water or other liquids will be introduced, and, versus porcelain garage floor tiles, ours are easy to clean and will not soak up liquids.
What are DIY garage floor tiles?
This model would refer to any type of plastic, rubber, or PVC garage flooring tiles created in a way where homeowners can do the installation themselves without needing to hire a professional. A garage flooring black puzzle edge style or one with a tab and loop configuration would fit as a DIY install. One person with no experience doing this job in the past can handle it easily, thanks to the interlocking tiles.
Are checkerboard garage floor tiles any good?
The quality depends heavily on the manufacturer and distributor from which they are obtained. If selecting garage floor tiles cheap priced, the final products could be thin models that have imperfections in the tolerance measurements, which could result in buckling, cracking, and failing. Garage floor tiles others sell cannot match up to the build quality that Greatmats has with our commercial grade materials.
Maintenance
Clean with damp mop, hot water and common household floor cleaner.
Shipping
Ships in cartons via ground service to your door, for larger orders product may ship freight delivery.
This Product Ships UPS Ground, FedEx Ground and/or Freight.
Please review our shipping disclaimer.
ANSWERS
Product Questions:
Q: Hello. I am interested in purchasing these tiles to lay over an old, vinyl tiled basement floor. Can these garage tiles be used on a basement floor, and do they require any type of underlayment? Thank you! - Jessica Vera
A: Yes the tiles can be installed in a basement floor, or any hard flat surface. To make the floor softer and more quiet, you can use a 2 or 3 mm rubber underlayment under the tiles. The underlayment is a great idea for basement floors.
Q: How does the polypropylene tile stand up to chemicles vs the pic tiles? Especially for garage applications where they may be exposed to petroleum products like gas and oil?
A: Both are very good, the polypropylene will perhaps stain less with car tires. The PVC tiles may need to be sealed.
Q: Can the tiles be put on top of a badly cracked garage floor without any other preparation?
A: Yes these modular tiles can be installed over cracked concrete floors. Of course any uneven surfaces, may translate upward. Filling in major variations in surface height would be best.
Q: How easily is it cut? I know it can be cut with a jigsaw. any recc on blade or tips and how fast does it go through the material?
A: Great question, we have good experience with a basic blade type or a table saw can work well or better also. This
blog
has more information about installing our garage tiles.
Q: Is it designed to allow water to flow under it?
A: Yes any water underneath the tile will flow. Water could get down in between the tiles where they connect to each other, one tile to the next.
Q: do they withstand Canadian winters and are they sold in Canada
A: Yes these garage floor tiles will be fine in all climates, we can ship to Canada, we stock the tiles here in our warehouse in Wisconsin.