Warehouse Floor Coin PVC Tile Black 1/4 Inch x 20x20 Inches
Resistant to oil, gasoline, most solvents & caustics
100% recycled PVC content
Color and tensile strength not affected by heat, cold, humidity
Handling Time Estimate: 4-6 Working Days

Black
How Much Flooring Do I Need?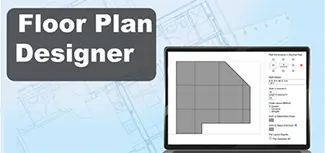 Resistant to oil, gasoline, most solvents & caustics
100% recycled PVC content
Color and tensile strength not affected by heat, cold, humidity
Easy to clean, just damp mop
Interlocking installation
Retards bacterial growth and resistant to mold and mildew
No adhesive needed
Raised coin top surface
Warehouse Flooring, Garage Floors, Industrial Flooring, Show Floors, Entrance Ways, Arena Floors
PVC Warehouse Floor Tiles, Coin Garage Floor, Coin Warehouse Flooring
When you need a highly durable type of floor for installation in a warehouse or garage setting, the Warehouse Floor Coin PVC Tile Black 1/4 Inch x 20x20 Inches product will deliver the performance you need. Our PVC warehouse floor tiles work especially well for areas with extra heavy vehicle traffic, such as forklifts.
These PVC garage tiles serve as an economical industrial floor solution for new surfaces. You can also use it to cover old, worn out surfaces like concrete. This coin garage floor tile offers a great look and provides safety and functionality for every installation. The surface texture of this industrial floor has a traditional coin top anti-slip surface, featuring a slight sandblast texture for wear resistance.

This product is made from 100% recycled content and priced accordingly. The look of the tile is designed for industrial warehouse installations.

Excellent Size
Our square garage puzzle tiles measure 1.64 by 1.64 feet, giving you a large coverage area of 2.67 square feet per tile. This allows you to cover a lot of space in a hurry, especially when compared to a more traditional sized 12-by-12-inch tile that covers 1 square foot per tile. When installing this coin warehouse flooring over a huge area, you'll appreciate these larger sized tiles, as you can complete the job more quickly.
Each individual piece of the PVC garage tiles weighs 4 pounds, so if you need to perform the installation on your own, these tiles are still small enough and light enough to allow for a relatively easy installation for one person. However, the installation should go faster if you have more than one person involved.
Potential Use Cases
The Warehouse Floor Coin PVC Tile Black Ever product can be used to cover old or damaged concrete floors in multiple building environments. But there are so many other potential uses for these tiles that you will appreciate having them on hand.
Aisle Ways:
Create aisle ways or walking paths with our interlocking garage flooring. This is a smart idea to ensure that people walking through an assembly line area or in a warehouse remain in a safe place and can avoid crashing into workers or moving into an area where vehicles like forklifts could be in use.
Automotive Area:
These tiles are tough enough to stand up to indoor areas where you may need to park vehicles. Because of the black color of these tiles, they will not show tracks or other marks in areas where automotive tires will come into contact with this floor.
Garage Flooring:
Because our garage puzzle tiles do not absorb water, they work extremely well in a garage setting where rain and snow may drip off a vehicle after driving. And the coin top surface will give you a bit of traction when this floor does become wet.
Industrial Flooring:
Industrial work can involve a variety of solvents and materials, meaning you need a versatile type of flooring to stand up to whatever kind of situations you encounter. With a Shore A 90 material hardness rating, these PVC garage tiles deliver exactly the kind of toughness you'll need in an industrial setting.
Safety Area Marking:
Some people will choose to use these PVC garage tiles to create safety marking or landing pad marking areas on the floor. You'll appreciate using our tiles to clearly mark these areas on the floor, rather than using paint that could wear down or that may have to be removed from the sub-floor at some time.
Warehouse Flooring:
When using our interlocking garage flooring in a warehouse setting, you'll receive a high level of performance. This flooring is tough enough to withstand all kinds of different uses, including using forklifts or storing extremely heavy pieces of equipment.
Because the sheen consistency can vary from tile to tile on our interlocking garage flooring, we do not recommend this product for finished office environments. Instead, contact our customer service team for some ideas about other types of flooring that we carry to fit this type of installation environment.
These tiles do not have a UV treatment either, so we do not recommend installing them in an area where you will have constant and direct exposure to sunlight.
Durable Materials
Because it is made in the USA, you'll be able to count on the quality of the construction of the Warehouse Floor Coin PVC Tile Black Ever product. We've used only the best quality of materials when manufacturing our tiles, giving you a long lasting product.
We further back up the quality of our interlocking garage flooring by offering a 5-year limited manufacturer warranty. These PVC garage tiles will give you a good value because they last so long.
This product features a 100% reclaimed recycled PVC plastic, which makes it a sustainable green product.
At 7 mm in thickness (about 1/4 of an inch), it's easy to maneuver these garage puzzle tiles into the position you need. They have a slight flex to them to make the installation process a little easier when trying to line up the puzzle edges, yet they remain incredibly tough to ensure they can support all of the weight you need over a long period of time.
Calculating Interlocking Loss
These interlocking garage flooring tiles have a simple set of puzzle style tabs on all four edges of the square tile. The puzzle edges occupy a very small strip of space around the tile's exterior, meaning you only have a minimal loss of coverage area (about 0.03 square feet) to the interlocking edges of each tile versus some other styles of puzzle tiles.
Should you need some help in calculating the coverage area of the tiles when the puzzle edge and interlocking loss is taken into account, just contact our knowledgeable customer service team, which will help you do the math and figure out exactly how many of these PVC garage tiles you need to order to finish your job.
Although it's a subtle difference, you will notice when closely studying the edges of these tiles that the interlocking tabs are slightly offset on two edges of each tile versus the other two edges. When performing the installation of these garage puzzle tiles, you will want to pay close attention to how you've oriented the tiles so that the offset edges on adjacent tiles will match up properly, allowing the tabs to fit into the slots in the correct manner.
Connecting the Tiles
To connect two tiles together, just line up the slots and tabs properly on the adjacent tiles. Then step on the edges, and the tabs should pop into the slots. As long as you've lined up the offset tabs properly on the two adjacent edges of the tiles, the tabs should pop into the slots easily.
One thing you will notice with this style of interlocking garage flooring is that you will not have straight seams between tiles. The interlocking style edges means the seams will fit together like a puzzle. (We offers tiles with hidden connectors that can give you straight edged seams, so just contact our customer service team to learn more about this style of flooring if it would fit your needs better.)
Should you need to cut these tiles to create a wall-to-wall installation, you can use a utility knife and a straightedge. Just score the tile, and you should be able to break it apart.
Maintenance Ideas
Our garage puzzle tiles provide a slightly raised surface that will reduce the possibility of scuffing on the tile surface from vehicles and foot traffic, which ensures your tiles will look great over time.
When it's time to clean the PVC garage tiles, you can sweep them with a broom for general cleaning. If you need a more thorough cleaning, the Warehouse Floor Coin PVC Tile Black Ever product can be damp mopped with common household floor cleaners, as long as you avoid using bleach.
Depending on the type of installation you've performed for these garage puzzle tiles, you may not need to clean them very often. This product is designed to look great no matter how much stress you place on it, and it will continue to look great over time, thanks to its tough construction.
Customers love the quality and value they receive from our interlocking garage flooring tiles, no matter what kind of installation they're using. And with the all-black color of these PVC garage tiles, they will fit into any kind of building's design.
Please note:
Use Tireguard overcoat and as optional application to product your new PVC modular floor tiles from discoloring. Mix together parts A and B prior to application. 1 gallon of mixed Tireguard product will cover about 200 SF of floor space. Coat this product immediately after installation of this floor tile if using this product. As an added precaution, we recommend that customers install black tiles in the areas of the floor where automotive tires will come into contact with this floor.
Maintenance
Product can be damp mopped with common household floor cleaners, avoid bleach.
Shipping
Ships in cartons via ground service or on pallets via freight delivery.
This Product Ships UPS Ground, FedEx Ground and/or Freight.
Please review our shipping disclaimer.
WARNING: This product can expose you to chemicals including Lead and/or Phthalates, which are known to the State of California to cause cancer and birth defects or other reproductive harm. For more information go to www.P65Warnings.ca.gov.
| | |
| --- | --- |
| SKU# | BlkcoinEver |
| In Stock | Yes |
| Product Type | Tile |
| Material Type | PVC Plastic |
| Product Edging | Interlocking |
| Thickness | 7 mm |
| Width | 1.70 feet |
| Length | 1.70 feet |
| SF per Item | 2.67 |
| Weight | 4.00 lbs |
| Packaging | Cartons |
| Number of Pieces per Package Type | 10 |
| Non Absorbent | Yes |
| Special Adhesives | No |
| Universal Interlock | Yes |
| Interlock Loss | 0.03 feet |
| Material Hardness | Shore A 90 |
| Interlocking Connections | Yes |
| Made In | USA |
| Surface Finish | Coin top |
| Surface Design | Solid color |
| Installation Method | Interlocking dry lay |
| UV Treated | No |
| Reversible | No |
| Border Strips Included | No |
| Manufacturer Warranty | 5 year limited |
Product Questions:
Q: Hello..can this floor be used for a trade show booth?
A: Yes this would be fine.
Q: Does it lift or curl up. Also I live in A wet environment, is it okay for a concrete floor that has moisture. Also, I had a different type tile before that expanded when the sun hit it.
A: This tile is a flat tile and lays flat on the ground, its waterproof and will not curl or get wet. In a damp basement we would recommend a raised floor tile, like our MaxTile with a vinyl top.
Q: Can this product be placed onto commercial carpet? Want to lay down over the carpet to be able to move pallet jacks around easier.
A: These tiles need to be installed on a hard flat surface.
Q: How many would I need for a 13x22' area
A: You would need approximately 103 tiles.
RELATED PRODUCTS