Vulcanized vs. Non Vulcanized Recycled Rubber Gym Flooring
By Kif Richmann Created: April, 2017 - Modified: November, 2022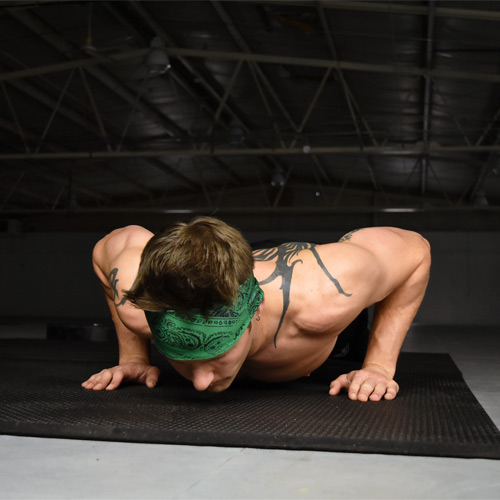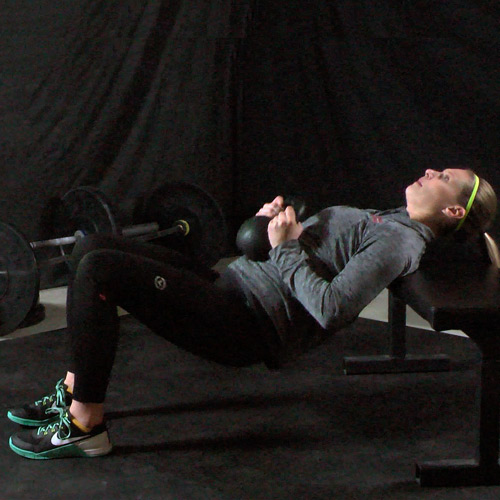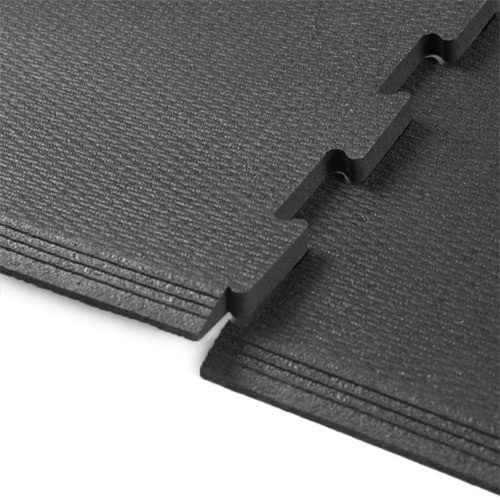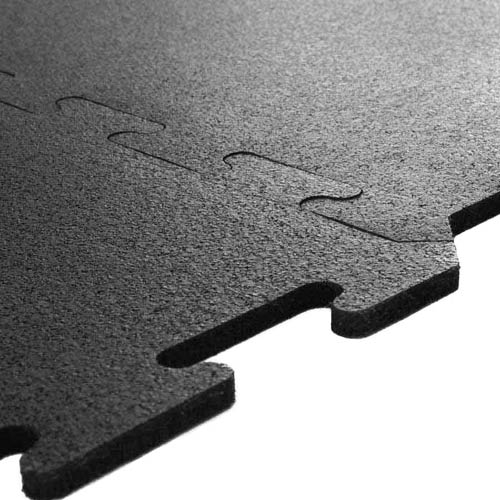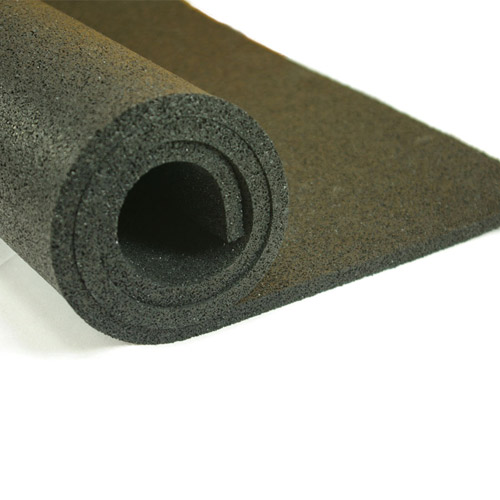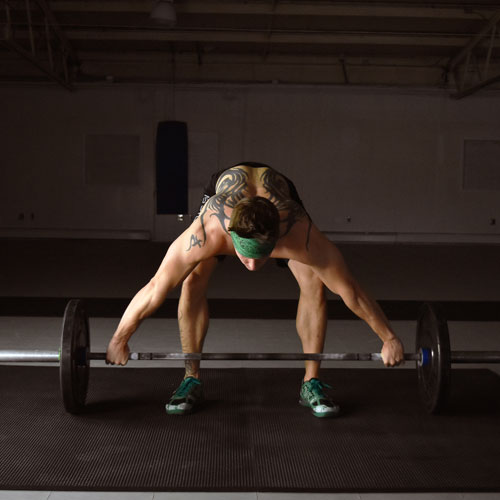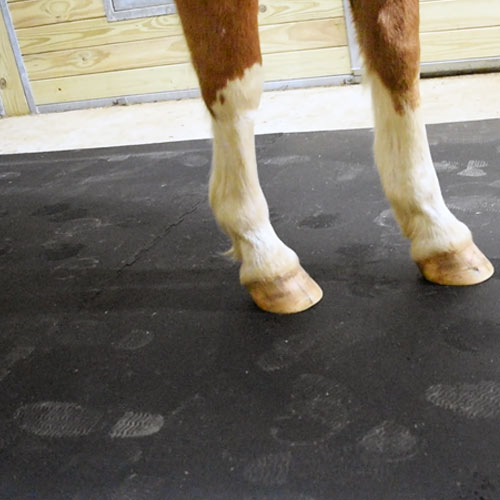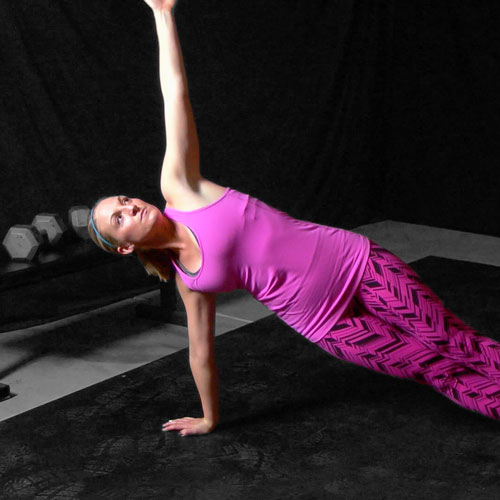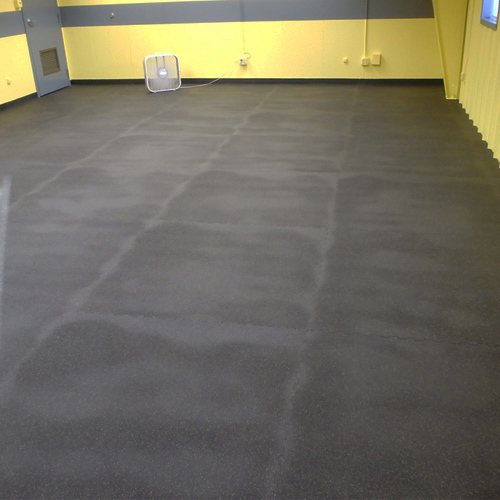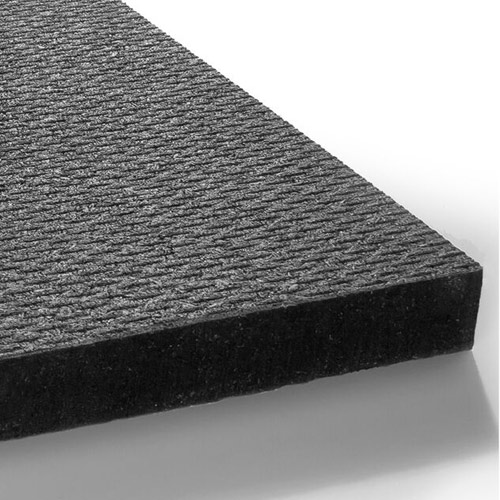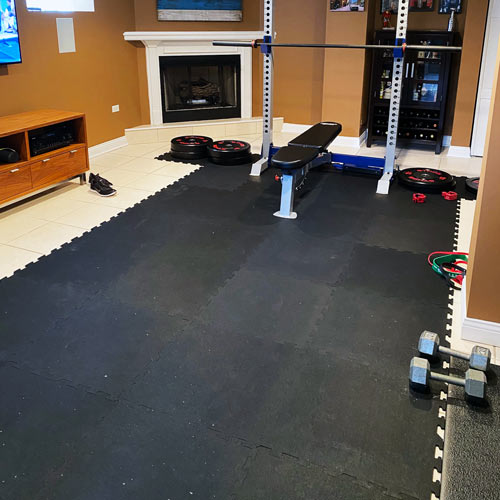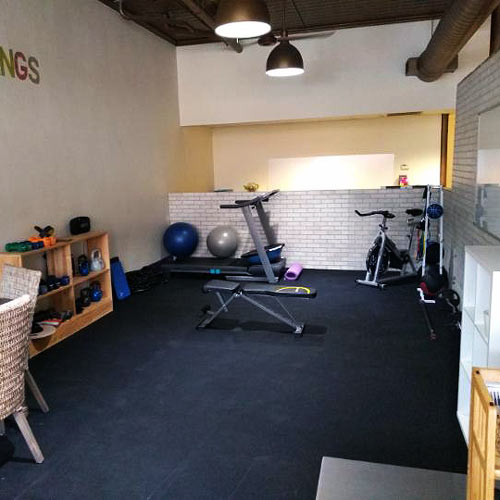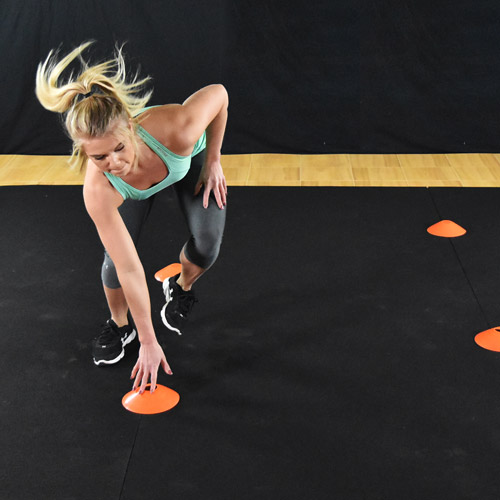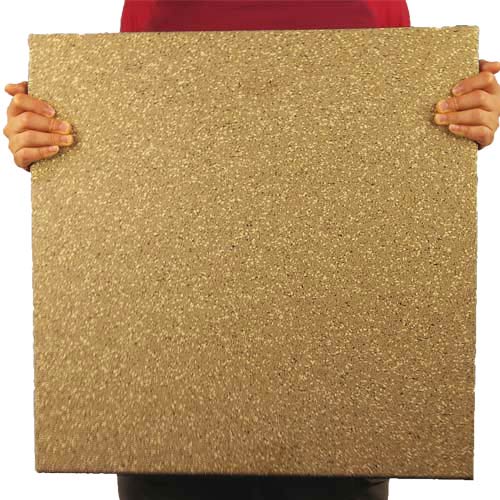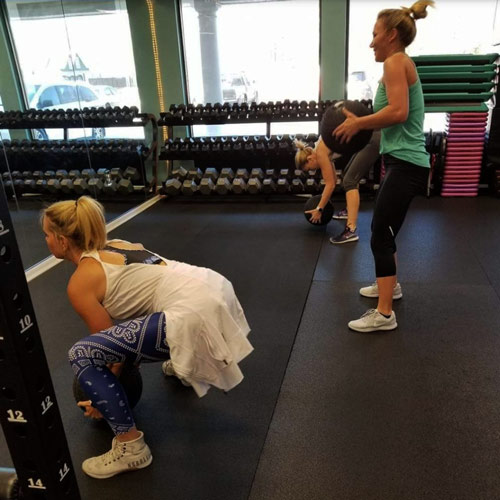 You'd think that choosing a flooring surface would be simple and easy.
Unfortunately, there are many factors to consider. Even recycled rubber comes in many different shapes, sizes and consistencies. You'll find recycled rubber mats that are either ''revulcanized'' and ''non-revulcanized.''
To understand revulcanized rubber, you first need to understand the vulcanization process and how it affects a rubber's quality and durability.
Let's compare revulcanized rubber with recycled rubber products that haven't gone through the process.
Revulcanized Rubber vs. Crumb Rubber for Gyms
What is Vulcanization?
Vulcanization is a process that converts rubber or similar polymers into a more durable and long-lasting product. By using additives, the material is modified and forms a cross-linking structure between the polymer chains. In general, vulcanized materials are less sticky and usually stronger.
Revulcanization was developed in the early 19th century, largely through the efforts of tire magnate Charles Goodyear. Many rubber products you use today are made from vulcanized rubber, including shoe soles, tires, hoses and conveyor belts. The term comes from Vulcan, the Roman god of fire.
Vulcanization uses high-pressure and high temperatures after a curative has been added to the raw rubber material. Using a process of compression molding, the rubber is heated and adopted to the shape of a mold. To cure the rubber, different substances are used. These include sulfur, peroxides and metallic oxides.
Devulcanization
When tires and other rubber material is no longer needed, it is often scrapped or thrown in the trash. For vulcanized rubber that need to be recycled, the process of devulcanization is used, which reverses the vulcanization process. However, devulcanization does not result in a material that can be used for many rubber products. Instead, it may need to be ''revulcanized.''
Revulcanization
Revulcanized rubber is essentially taking recycled rubber crumbs that have been devulcanized and vulcanizing them all over again, forming a brand new product. Revulcanized materials have many of the same qualities as the original vulcanized rubber, but they are usually not used for tires. Instead, they make a great product for flooring and other products.
Revulcanized Rubber Gym Flooring Products
Advantages of Revulcanized Rubber for Your Flooring
Revulcanized rubber is excellent for many different types of flooring and other products. You will find that this material makes high-quality revulcanized rubber gym mats and other items.
Because revulcanized materials have been reheated and molded into a new product, instead of just bonded together with a urethane binder, the material is stronger, denser and more reliable. It is about three to four times stronger than non-revulcanized material, and is completely waterproof.
The waterproof quality of revulcanized rubber gym flooring makes the material ideal for horse stalls and other areas where pets and animals are found. Animal fluids can become trapped in absorbent materials, leading to lingering foul smells and the potential for bacteria to grow in the mats. The same goes for gyms where perspiration and other liquids can drip or spill on the floor. This can be dangerous for both human and animal health.
Because revulcanized rubber gym mats are made under extreme pressure, they are one of the most dense rubber mats you can find, which also makes them incredibly strong. Revulcanized rubber gym flooring is more durable and resilient than polyurethane bonded rubber mats. This makes them a great option for gyms that need a long-lasting, strong floor that is supportive and tough. For exercise areas and weight rooms, revulcanized rubber gym mats are usually the best choice.
Another advantage for revulcanized rubber over non-revulcanized products is that they will not curl or change shape over time. They maintain a consistent size and lay flat over any surface, resulting in less need for adhesives or tape. Here are some examples of re-vulcanized rubber gym floor products.
Sundance Mat 4x6 Ft x 3/4 Inch Straight Edge Standard
This revulcanized rubber gym flooring surface is made from 100 percent recycled rubber and has a non-slip punter top for extra safety and consistency. It delivers comfort and traction while the durable mat, which is 3/4 of an inch thick, will last for a very long time. At 4 feet by 6 feet in size, the mat is manageable to move, although it is heavy, weighing roughly 100 pounds.
This mat is a great choice for many uses, including horse stalls and olympic lifting areas. It's an affordable product yet has the durability you need for heavy horse hooves and dropped weights.
ShokLok 4x6 Ft 3/4 Inch Interlocking Center Tile Black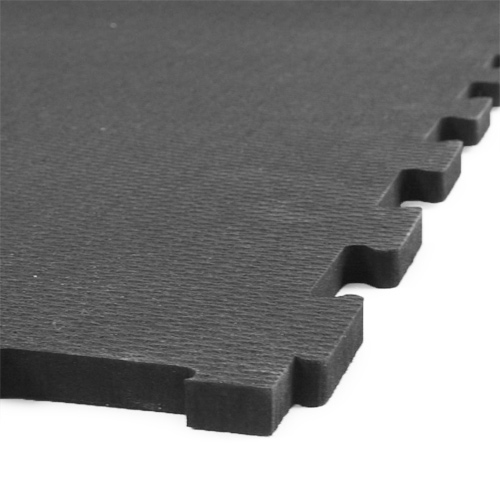 This is one of the most durable and reliable revulcanized rubber gym mats you can find on the market. The heavy-duty rubber is also 3/4 of an inch thick, so you can count on the material to give you excellent strength and long-term quality.
It will not harbor bacteria because it is non-absorbent, and it is very easy to clean, making it great for commercial gyms and home workout areas. It comes in 4-foot by 6-foot mats with interlocking edges, and each weighs roughly 100 pounds. That weight should give you a good indication of the density and strength of these revulcanized rubber gym flooring mats.
Gym 3/4 Inch Rubber Interlocking 3x3 Ft Border Floor Tile - Black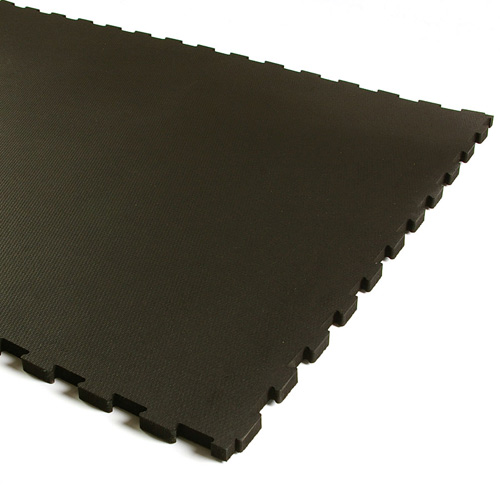 These square revulcanized rubber gym mats use a puzzle-piece border edging to provide a strong connection and firm grip. You can use them to surface an area large or small, and you'll have the right durability and cushioning for a wide variety of exercise activities.
Made in the U.S.A., the tiles use 100 percent recycled rubber. They are cut using a precision water jet process, which results in a seamless connection between the tiles.
Because of the puzzle-edging, the tiles are easy to connect and reassemble, and although they too are 3/4 inch thick, they only weigh about 36 pounds each, which means most people can pick them up and move them. They can also be cut to shape, allowing you to fit the revulcanized rubber gym mats to the exact specifications of your facility or home.
Non-Revulcanized Crumb Rubber Gym Mats
Advantages of Non-Revulcanized Rubber Gym Flooring
We've talked a lot about revulcanized rubber gym flooring, but what about non-revulcanized products? These types of materials certainly have their advantages as well.
One of the main advantages of non-revulcanized rubber is smell. Revulcanized rubber gym flooring can have a strong rubbery smell that can be upsetting in a small area. However, crumb rubber gym flooring that has not been revulcanized does not have a strong smell. If you are choosing a surface for a small indoor gym or weight room, you may prefer non-revulcanized rubber.
Non-revulcanized rubber is permeable. If placed in water, it can float because of the small voids or pores in the rubber material. Although it is not as strong and durable, it is often softer and has more of a cushion-like consistency. (But they are not as cushiony as plastic foam mats.) This makes it better for gyms and exercise areas that want softer cushioning for feet and joints. Here are some examples of non-revulcanized rubber gym flooring products.
Interlocking Rubber Tile 2x2 Ft x 8 mm Black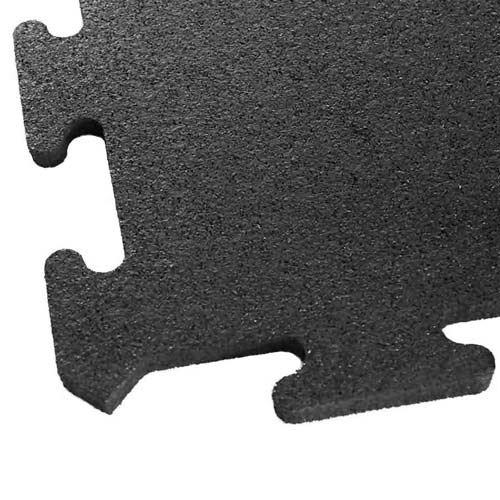 Although these tiles are made from recycled rubber, they have not been revulcanized. This gives them a slightly different quality than other products. Still durable and resilient, these mats have 8 millimeters of strong, reliable rubber that will hold up against even the toughest conditions.
They are excellent mats for home gyms or basement floors, and can even be used for high-traffic exercise areas. The puzzle edges lock together firmly, giving a flat surface with no tripping hazards. They can be used to cover a large area but are also great for creating a workout space in a small corner.
Plyometric Rubber Roll 3/8 Inch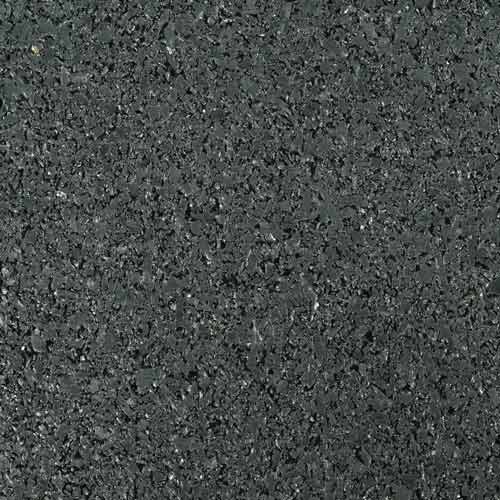 Giving your facility a cushiony athletic surface, this rubber gym flooring can give you the consistency and quality you are looking for. It is easy to roll out and measures only 4 feet wide. Although tape or glue are recommended for installation, the entire process is quick and easy. It can be ordered in lengths of 30 feet or longer, allowing you to get the right size for your facility.
This non-revulcanized rubber roll can be used with athletic shoes. It absorbs impact, reducing the chances of a leg or joint injury, which makes it ideal for exercises that involve running, jumping or even as an underlayment for dancing.
UltraTile Rubber Weight Floor All Colors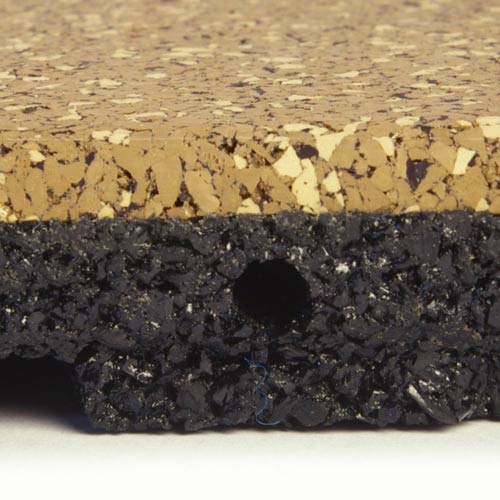 Colorful, impact absorbing and durable, this non-revulcanized gym flooring is perfect when you want to add a little excitement and design to your workout area. It is available in many different styles and has a pin-together system that is easy for anyone to install. At one inch thick, the material is durable yet has a additional flex due to its pedestal style underside design.
These mats can withstand the repeated abuse of workout equipment and free weights. They are also a good choice for plyometric and cardio exercise routines. Best of all, they are easy to install yet hold together tightly. With a pin-together system, the mats stick together firmly and don't bulge upwards.
Quality Flooring Backed by Outstanding Service
Greatmats can help you find the perfect surface flooring for your specific needs. From revulcanized rubber gym mats to virgin rubber tiles, we have everything you need for a high-quality surface.
Indoors or out, Greatmats is your source for industry-leading specialty floors.