What types of flooring are good for high traffic wet areas?
By Paige Cerulli Created: March, 2018 - Modified: August, 2023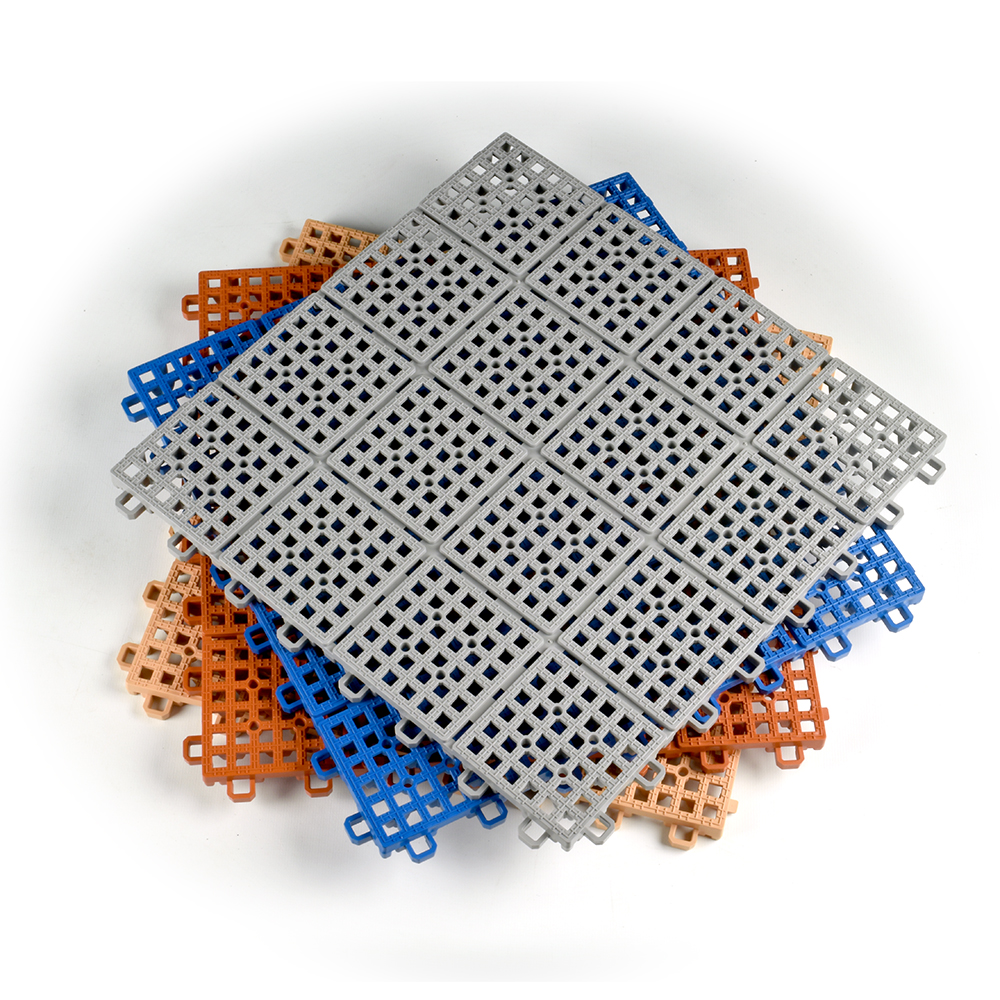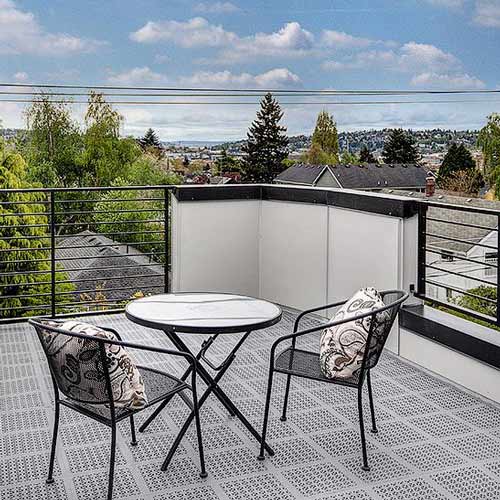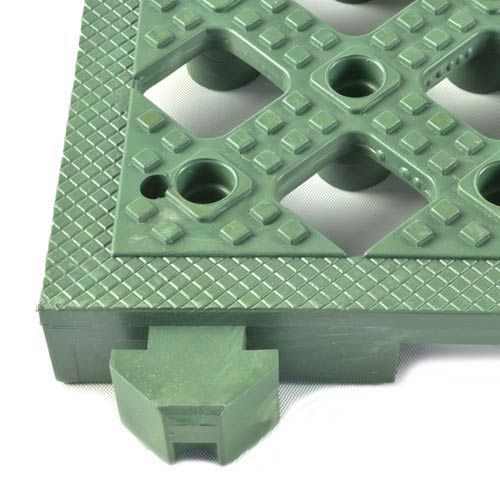 High traffic wet area flooring, such as splash park flooring or water park flooring, needs to be durable, safe, and comfortable. It also needs to be able to withstand frequent saturation, while remaining strong enough to support plenty of traffic. That's a lot to ask of any type of flooring, but at Greatmats, we've selected a wide variety of flooring products up to the task.
Must-Have Qualities in Wet Area Flooring
As you choose your pool decking or locker room flooring, look for a product that offers the following qualities.
- Drainage: Choose a flooring designed to maximize drainage. Standing water on top of flooring is dangerous, so look for a perforated product that will quickly drain water away from its surface. Many products have raised bases, which allows air and moisture to circulate beneath. This promotes faster drying, and helps to prevent mold and mildew growth.
- Traction: When flooring gets wet, it gets slippery. Wet area flooring needs to maximize traction for user safety. Look for products designed to provide plenty of traction, like those with highly textured surfaces.
- Anti-Microbial: When flooring is frequently wet, it creates an ideal environment to breed bacteria. Many of our wet flooring options are designed to be anti-microbial, which can help to keep the area healthier.
- Waterproof: Any flooring designed for use in a wet area should be waterproof. If a product is just water-resistant, then frequent saturation can damage the product. Be sure to purchase flooring intended specifically for use in wet areas.
- Durability: High traffic means a high degree of wear and tear, which some products will handle better than others. Choose a flooring with a high degree of durability if you want to get the most out of your investment.
- Comfort: If the product will be used in an area where people frequently walk barefoot, such as indoor water park flooring, then it's important to choose a flooring that's comfortable and forgiving, even under bare feet. You may want something that helps to absorb shock, or that is fall height rated, since it can help to minimize potential injuries in the case of a fall.
- Manufacturer's Warranty: When you need a durable product, make sure that it's backed by a manufacturer's warranty. We offer many products with warranties of a year or more, indicating that the manufacturers stand behind the products they offer.
If you're looking for a product that will be used outdoors, then you'll want to find a product that is UV-stable or UV-resistant. These products are designed to prevent fading in the sun, maintaining their original appearance for years to come.
At Greatmats, you'll have plenty of choices when it comes to walkway mats, pool decking, and other high traffic wet area flooring. Our top flooring options are made of PVC, rubber, and foam, and are designed with durability and safety in mind. We've highlighted some choice products below to help you get started.
Safety Matta Perforated Tiles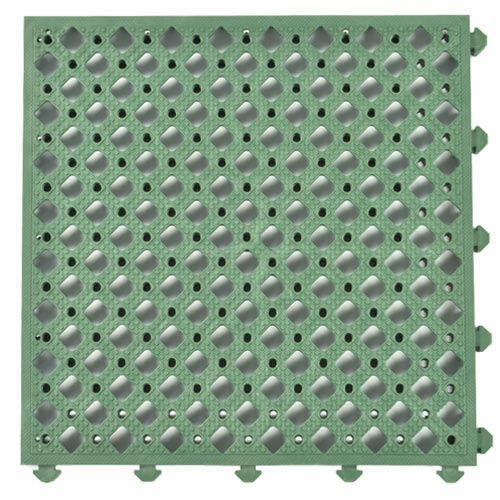 Our
Safety Matta Perforated Tiles
are a popular options for wet areas, since they offer excellent traction and drainage. The non-slip diamond shield tread design helps to prevent falls, and the perforated design allows water to flow right through the tiles, so standing water isn't an issue. Because the tiles have a raised base, air and water can freely circulate and dry, rather than become trapped beneath the tile. This makes for faster drying and helps to prevent mold and mildew growth.
These tiles feature an interlocking lug system for easy installation, and you can even trim them to fit if you're working around obstacles or within specific areas. They offer both ergonomic and anti-fatigue qualities, and make for a comfortable flooring option.
Choose these tiles for: Locker room flooring, entrance ways, showers, patios, and more
StayLock Perforated Tiles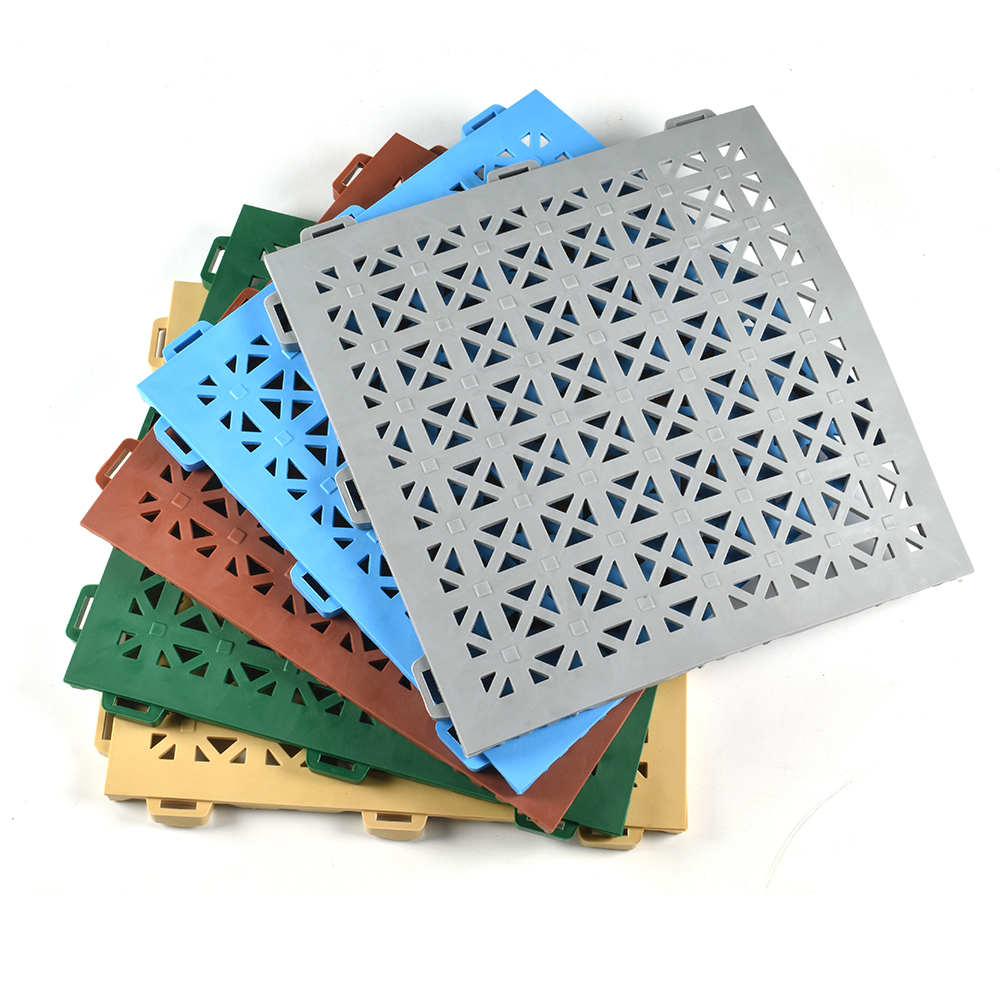 Looking for a flooring option that offers fall height protection? The
StayLock Perforated Tiles
are a great choice. These tiles are ASTM fall height rated to 20 inches, which helps to minimize injuries resulting from a slip or fall. The tiles are designed with a non-slip perforated surface that allows water to promptly drain from the surface. They're fully waterproof so they can be used indoors and out.
These perforated tiles are highly durable, and are made of a flexible PVC, the tiles have a tab locking system which keeps them tightly connected during use.
Choose these tiles for: Pool decking, outdoor play areas, walkway mats, indoor water park flooring, and more.
SoftFlex Floor Tiles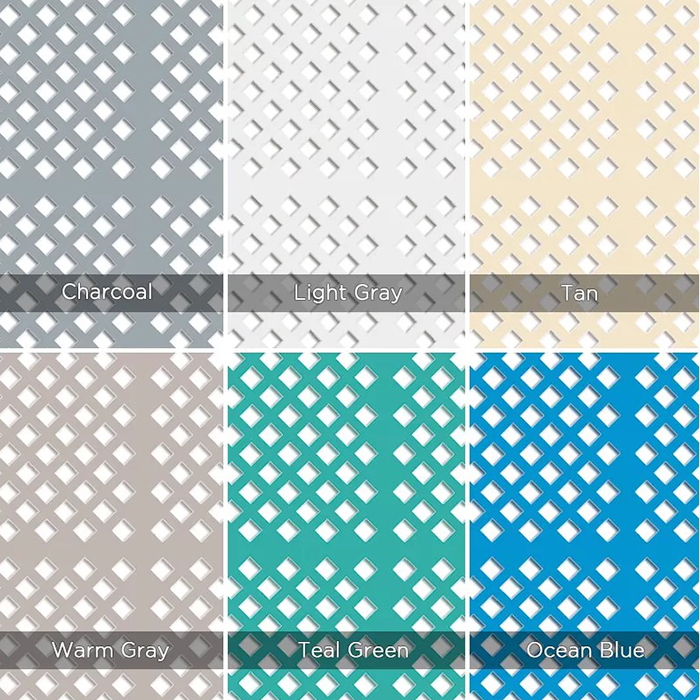 Combining comfort, traction, and safety,
SoftFlex Floor Tiles
are specifically designed for indoor wet areas. These tiles offer anti-fatigue benefits and have a unique texture that offers both safety and comfort. Though the tiles are entirely made of a flexible PVC, their texture almost resembles that of rubber shower flooring, but helps to prevent slipping when the flooring is wet. The tiles are perforated to drain water away from the surface, and this texture also contributes to the tile's non-slip properties.
These tiles feature dozens of small pegs on their undersides, which helps to drain water away along the subfloor. The design allows air to also flow beneath the tiles, speeding the drying process and helping to prevent mold and mildew growth.
There's no adhesive required for installation, so installing the tiles is fast and easy.
Choose these tiles for: Locker rooms, walkway mats, indoor water park flooring, shower areas, and more
Patio Outdoor Tiles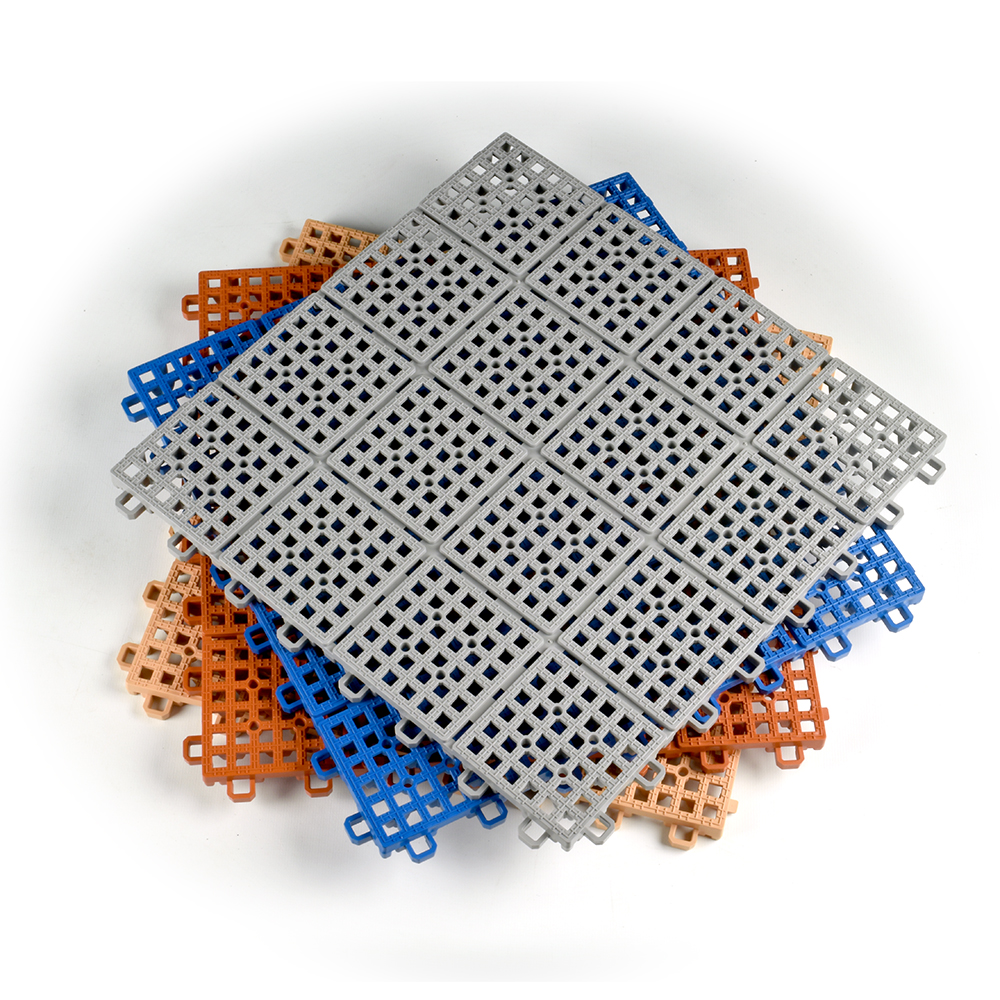 Low-cost and waterproof,
Patio Outdoor Tiles
are a versatile option suitable for outdoor use. These tiles are comfortable on bare feet, and feature a drain-through design to prevent standing water from pooling on the tiles' surface. They are UV stable, and snap together for a fast and easy installation with no adhesive required.
Choose these tiles for: Pool surrounds, pool decking, and more
Ordering Your High Traffic Wet Area Flooring
Ready to order your flooring? Still have some questions? Please give our customer service representatives a call. Our excellent customer service team is friendly, helpful, and highly knowledgeable. We would be happy to provide you with product samples, give you a quote, or answer any questions you might have as you choose the right flooring for your project.
When you shop at Greatmats, you'll be able to choose from a wide variety of quality flooring products. We've carefully selected these products to offer you a great combination of quality and affordability, and we're proud of the selection that we offer. You'll be able to find something for just about any project here, but if you can't find what you're looking for, please get in touch and we'll do our best to get you exactly what you need.