Outdoor Patio Tile Comparison - Perforated Plastic Flooring
By Greatmats Staff Created: June, 2017 - Modified: April, 2023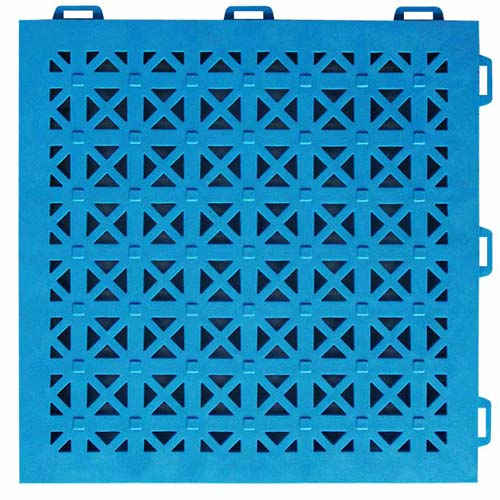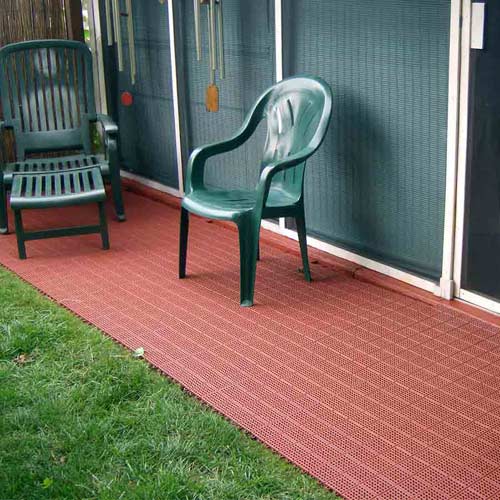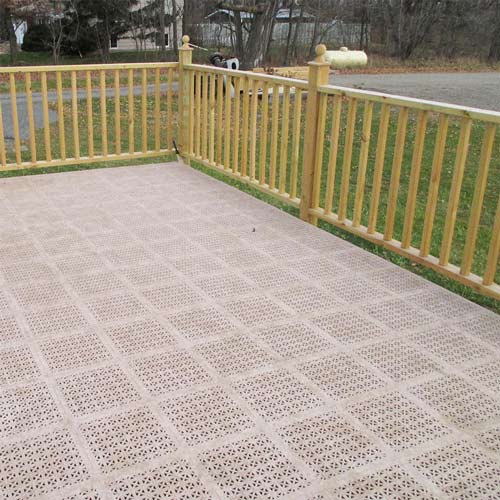 Perforated outdoor tiles are designed to provide a comfortable and stylish outdoor living space. These tiles aren't affected by water, so they're suitable for use on your deck, roof, pool surround, and more.
For the best results, you need to choose the tiles that are right for your project. That's why we've compared two of Greatmats' most popular PVC modular patio tiles – the
StayLock Perforated Tiles
and
Patio Outdoor Tiles
.
Both are 1x1 foot in size, made of soft, flexible and waterproof PVC plastic, are approximately 1/2 inch thick and feature a raised base. They are both suitable for bare feet (although one is more comfortable) and will not allow water to pool on their surface.
While the tiles are similar, they have some key differences when it comes to safety features, perforation and raised base pattern, and color options.
StayLock perforated tiles feature an anti-fatigue additive that helps relieve stress on your body. They have a smoother, softer feel on bare feet than the Patio Outdoor Tiles.
StayLock tiles also carry a critical fall height protection of up to 20 inches as rated by the ASTM, meaning these tiles can help to reduce significant injuries in falls that occur from heights of 20 inches or less.
Patio Outdoor Tiles have not undergone any fall height testing.
The surface of the StayLock Tiles is perforated with 224 triangular shaped holes, with the largest being 11/16 x 5/16 inch in diameter to let water quickly drain through. Each Outdoor Patio Tile is perforated with 692 holes including 576 squares 1/4x1/4 inch in size, 72 rectangular shaped holes 11/16 inch in length by 1/8 inch wide, and 64 circular holes 3/16 inch in diameter.
On the underside, Patio Outdoor Tiles are equipped with 265 peg legs to stabilize the elevated tile. StayLock Perforated tiles feature 49 T-shaped feet in addition to an outer rim, segmented by three heavy duty interlocks on each side. Outdoor Patio Tiles have eight small interlocks on each side.
The under structure of the StayLock tile is soft and safe for rubber roofing membranes.
Both types of tiles are easy to install, and they allow for a DIY installation that will save you time and money over hiring a professional. The tiles can be dry laid over a hard surface, and you can also trim them to fit an area with a sharp utility knife.
These tiles connect together firmly yet easily, creating a cohesive surface that won't pull apart while in use.
Patio Outdoor Tiles are available in three colors. StayLock Tiles are available in five colors as well as black.
Choosing the Outdoor Patio Tiles That Are Right For You
Both of these perforated tiles are suitable for outdoor use in areas that will see rain and other forms of water. They're comfortable to walk on and are designed to maximize traction, even when the tiles are wet.
Because the tiles quickly drain away water, they help to maximize safety. In the case of a fall, the tiles are forgiving, and the StayLock tiles offer fall height protection.
When deciding which tiles are right for your project, you'll need to think about what features matter most to you. With their ASTM fall height rating, the StayLock tiles offer a few advantages over the Patio Outdoor Tiles. That ASTM fall height rating can also be highly valuable to commercial installations.
However, the StayLock Tiles are also more expensive than the Patio Outdoor Tiles, so it's important to consider your budget.
If you need help deciding which tile is right for you, our Greatmats customer service team is here for you. We can provide you with product information, quotes, and additional details that can help you to plan your project and ensure that you choose the right product.
What type of floor is best for outdoor patios?
Both the StayLock Tile Perforated and Patio Outdoor Tile are ideal floors for outdoor patios. These perforated tiles let water quickly drain away, and both are comfortable underfoot.
The StayLock Tile Perforated features a more generous raised tile design that will keep you up and out of any water. This is reflected in the pricing.
Ultimately, the best choice for your patio will depend on the qualities that you're looking for and what your budget is.
What is perforated tile?
Perforated tiles have small holes in their surfaces. Designed for use in wet areas, these tiles let water drain through the surfaces.
Water can also flow under the tiles, so anyone walking on the tiles can keep their feet dry. This design also helps to prevent standing water from pooling on the tiles, making the flooring safer and helping to prevent slips.
Can you put interlocking deck tiles on dirt?
Certain perforated outdoor tiles can be installed on surfaces like dirt, gravel, and even grass. Flexible tiles will conform to undulations in the surface, so it's important to choose your location carefully.