Interlocking Outdoor Tiles for Patio Floors - Features
By Greatmats Staff Created: June, 2017 - Modified: July, 2021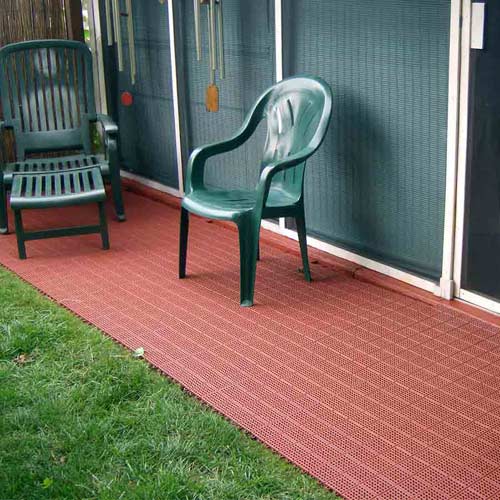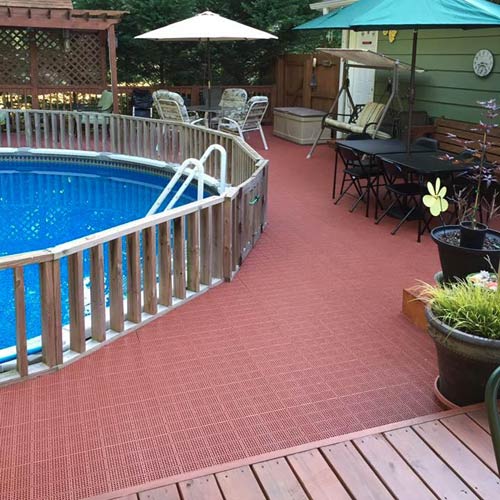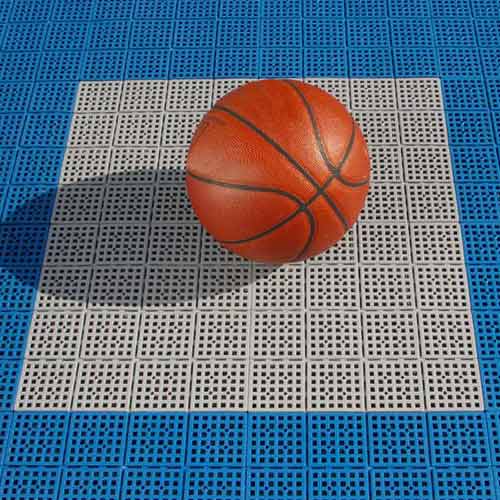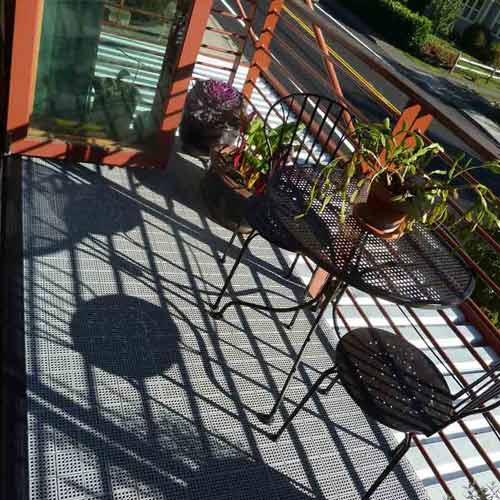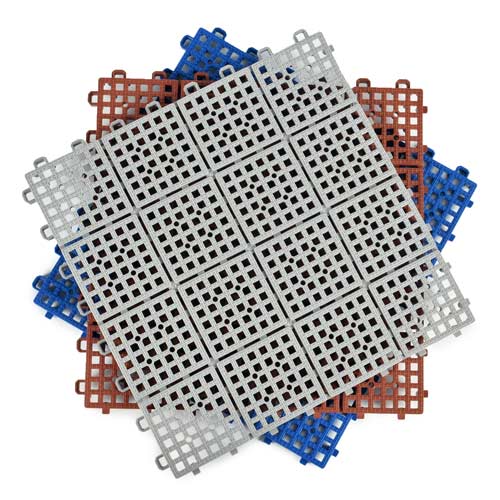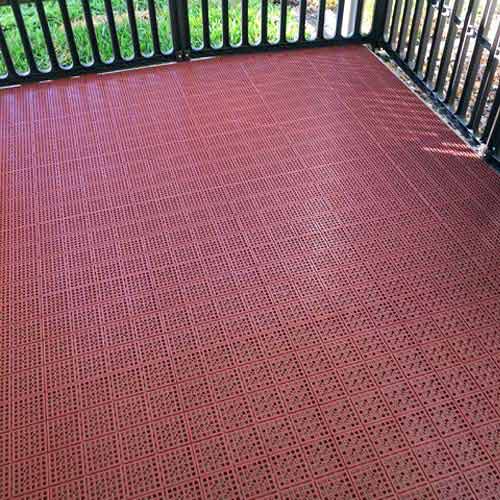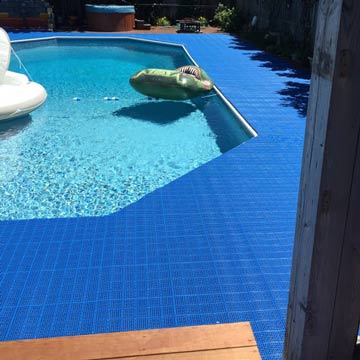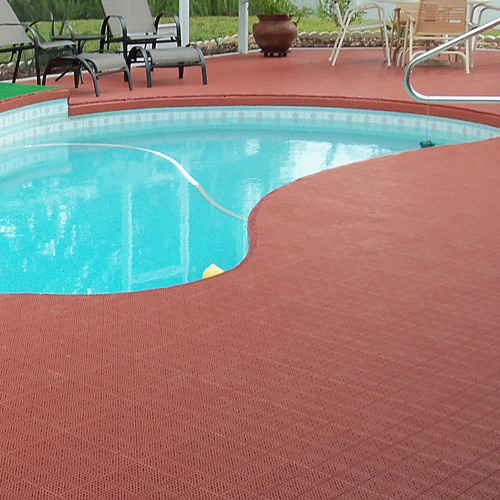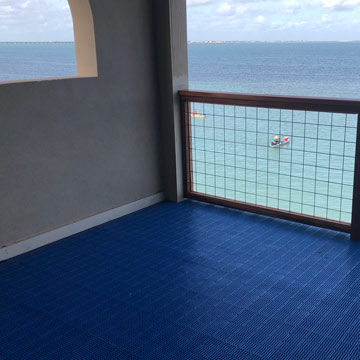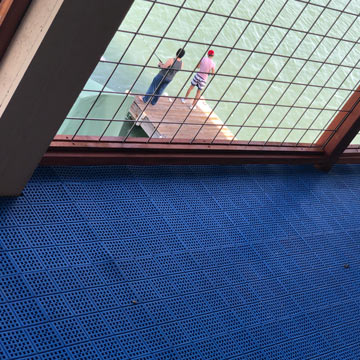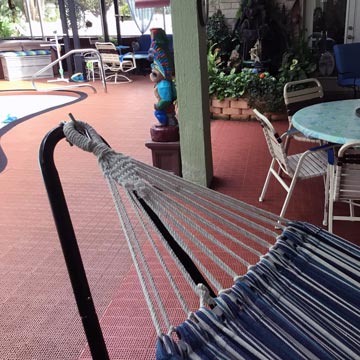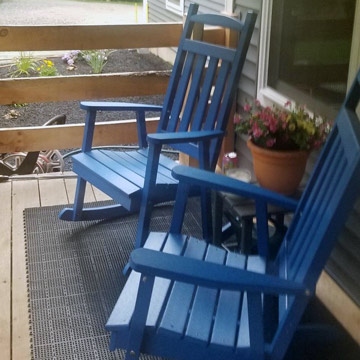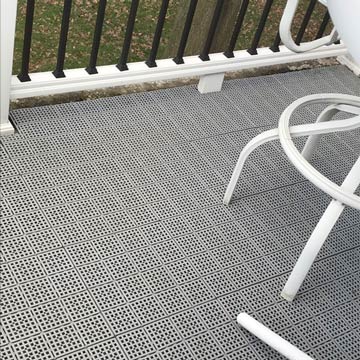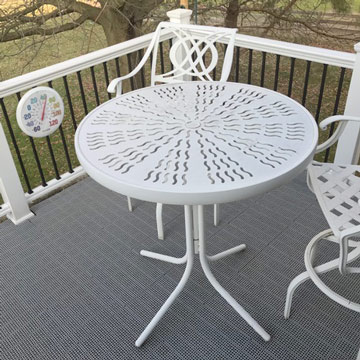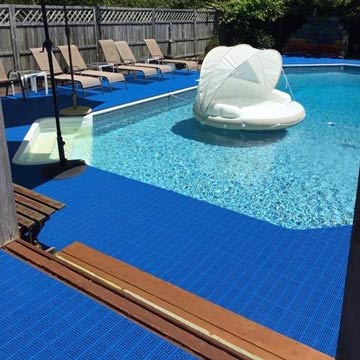 If your patio flooring is worn, slippery, or just looking tired, you can easily improve and revitalize it with interlocking patio tiles. Designed for an easy installation, these tiles can be laid right on top of your existing patio surface. They'll instantly have the patio looking better, but they also provide important safety benefits.
Our Patio Outdoor Tile is made of UV-stable PVC that's gentle against your feet. A no-slip surface texture helps to prevent falls, even when the tiles are wet, and the flexible PVC is forgiving if someone does slip and fall.
These outdoor floor tiles are designed for the challenges of both indoor and outdoor use. Their perforated surface and raised base work together to let water quickly drain through, preventing dangerous water pooling on the tile's surface. These tiles are also waterproof, so you don't have to worry about exposing them to the elements.
The top of the tile is comfortable to walk on, and remains consistently dry. These tiles also help to prevent the growth of mold and mildew, so they're ideal not only during inclement weather, but also in areas that tend to get and stay wet, like pool decks.
You can use interlocking tiles for many outdoor spaces. They're ideal for decks, patios, pool surrounds, mud rooms, showers, hot tubs, sport courts, boats and docks, locker rooms, utility rooms, greenhouses, and more.
They're UV treated for durability and are backed by a 1-year limited warranty.
Installing Interlocking Outdoor Tiles
These interlocking outdoor patio tiles are easy to install, and one person can handle an entire installation, saving you the time and money of hiring a professional. The tiles measure 11.5 by 11.5 inches and are ½-inch thick, and because they weigh just 1 pound each, they're easy to transport.
To install the tiles, start in a corner of the area that you wish to cover. The tiles' snap-together design means it's easy to press them together, gradually working your way out and creating a unified surface.
There's no need for a glue-down installation, and the tiles feature 265 pegs on their undersides. These pegs help to secure the tiles, holding them in place.
You may need to cut the tiles to fit the area you're working within. You can do this using a sharp utility knife and a straight edge.
While you can leave the tiles in place long-term, you can also pull them up and remove them if you decide you want to relocate the flooring, or if you only need the flooring temporarily. If an area of your flooring gets damaged or worn, you can replace just those tiles, rather than dealing with the hassle and expense of having to replace all your flooring.
Can you put interlocking outdoor tiles on grass?
Certain interlocking outdoor tiles are designed to be installed over loose surfaces like grass and sand. Because outdoor tiles are often flexible, they will assume any undulations that the ground surface has. If the grass isn't too severely uneven, chances are that you can install outdoor interlocking tiles over it.
The Patio Outdoor Tile is intended to be installed over compact surfaces, like wood or concrete. Greatmats
Staylock Perforated Tiles
are a great option for over grass, but you'll want to put a landscaping clothe in between the grass and tiles for longterm installation. If you want a tile that can be installed over sand, the
Portable Outdoor Tile 12x12 Inch
is a better option.
How much do patio tiles cost?Patio tiles range in cost depending on their material, size, and other factors. Our Patio Outdoor Tile is affordably priced around $3.50 per tile, and it's one of the most affordable outdoor interlocking tiles that you will come across.
While it's easy to look for the lowest-priced outdoor tile, remember that other factors will determine the overall value of your patio flooring. It's important to consider a tile's lifespan and durability along with its price. Buying a low-priced tile might save you money initially, but if that tile only lasts a few years, you'll be paying more money to replace your patio tiles.
Don't forget that the cost of installation will also affect what you ultimately pay for your flooring. You might find that some tiles are more affordable to purchase, but they require installation by a professional. Once you've paid for the professional installation, you may have paid more money than what installing a slightly more expensive tile allowing for a DIY installation would have cost you.
How do you install interlocking patio tiles?
Installing interlocking patio tiles is easy. Patio interlocking tiles fit together securely, so you just need to line the tiles up and connect the seams using a tab and loop connection system. You can install them right over a hard, flat surface like concrete or wood. The tiles can even be cut using a sharp utility knife, so you can create just the right shape that you need.