CarpetFlex Floor Tile 1/2 Inch x 1x1 Ft.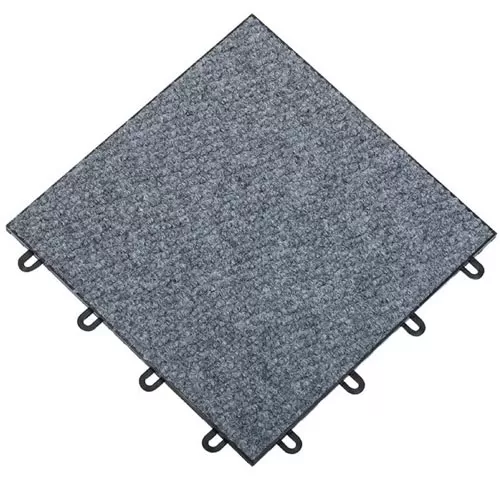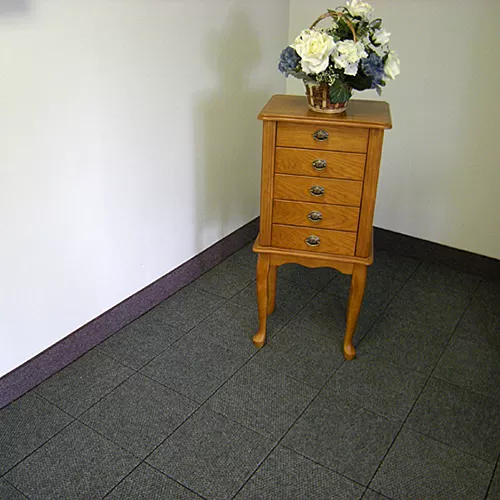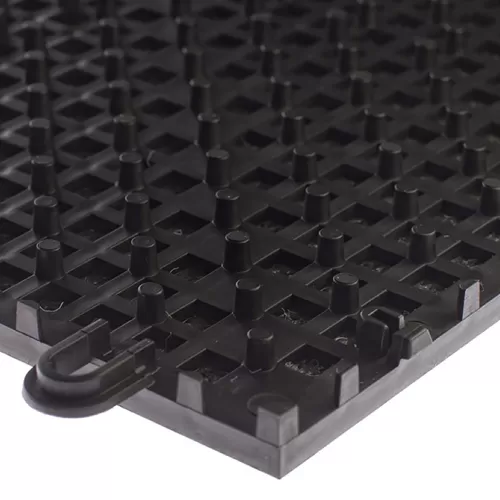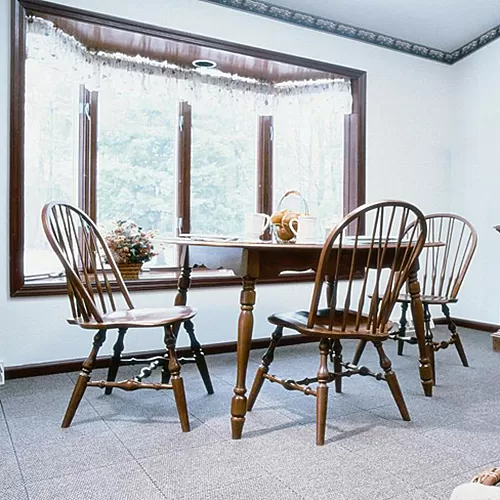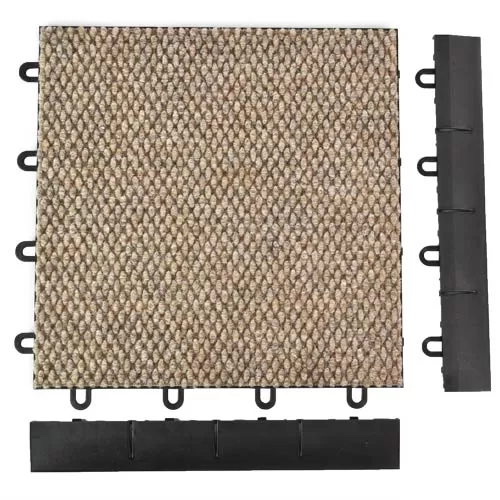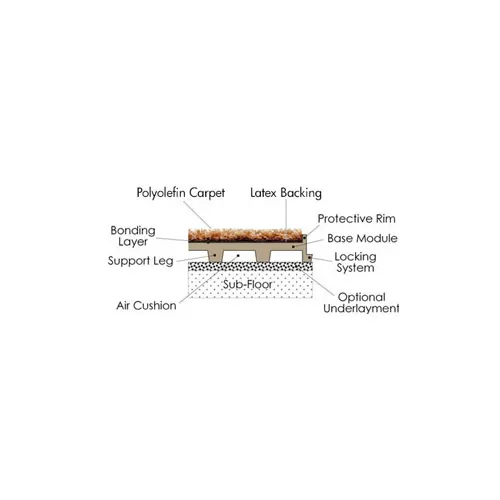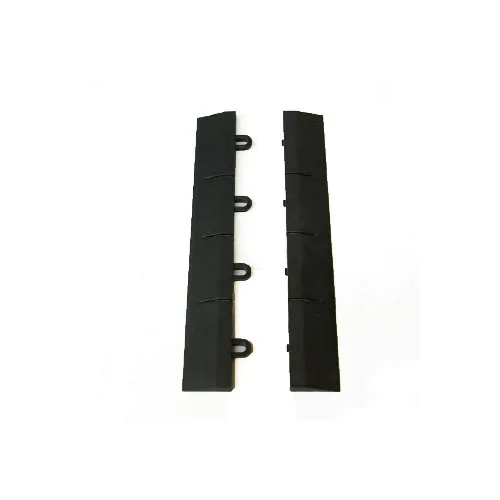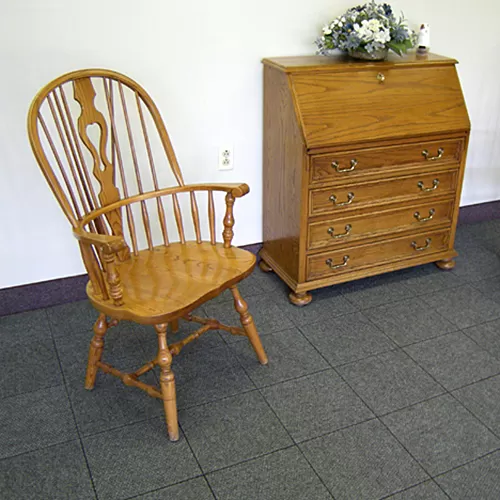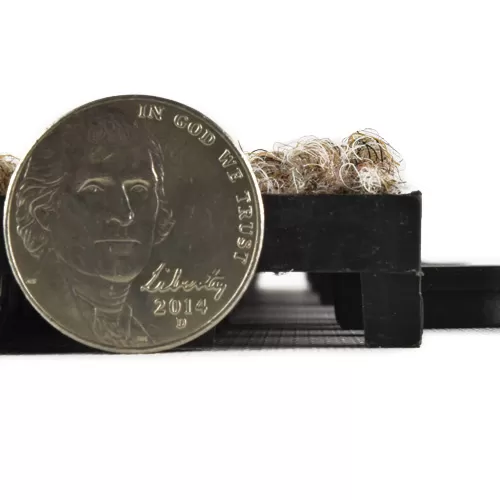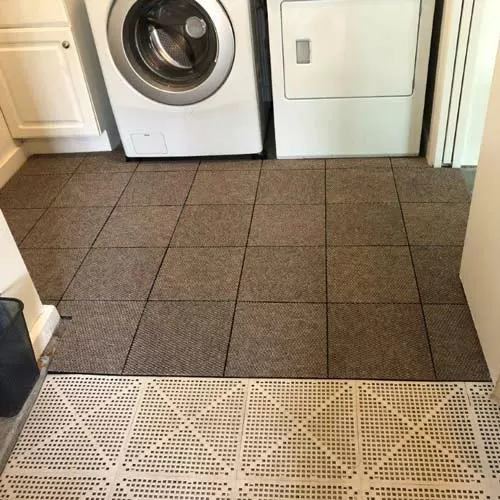 Raised carpet tile support system
Made in the USA
Durable for residential use
$6.91
/tile
(You Save 20%)
(20 Reviews )
Ships Out: Estimate 4-6 Working Days
How Much Flooring Do I Need?
Please request a quote for quantities over 400 square feet.
Please call customer service for product sample options.
VIDEOS
CarpetFlex Floor Tile Features and Benefits Video
Comparing Modular Carpet Tiles Video
TOP FEATURES
Raised carpet tile support system
Made in the USA
Durable for residential use
Install in minutes, snap together installation
Anti-fatigue, non slip, and waterproof
No special tools required
Modular floor tile design
Install right out of the box
Use Types
Basement Floors, Family Room Flooring, Utility Rooms, Entrance Ways
Raised Floor Carpet Tiles, Waterproof Base Modular Carpet Tile
When selecting our CarpetFlex Floor Tile, receive the unique flexibility and durability of modular carpet tiles. These are available in two popular colors, and they represent an easy option for home installations. With these floor carpet tiles, gain warmth and attractiveness in areas where it wasn't possible in the past. Our floor carpet tiles are a very popular choice for covering basement floors, where a traditional carpeted material is not desired because of potential moisture seepage problems.
Raised Floor Carpet Tiles

These are ideal for basements, for family rooms, and for light duty office space. End up with a unique area that features sturdy construction with airflow beneath the waterproof base, which prevents potential dampness from reaching the carpeted fibers. This is an amazing design that can solve a lot of problems in damp basements.

With traditional carpeting, which has a foam base, any dampness on the subfloor will soak into the foam layer. And with no airflow underneath, the dampness will persist. From there, it could result in a mildew smell in the foam, it possibly will encourage the growth of mold, or it could seep into the upper layer, creating a damp spot and visible staining.

However, with our waterproof modular carpet tiles, the seepage never reaches the carpeting. The bottom makes use of plastic pegs that raise the surface a fraction of an inch upward, allowing some airflow for natural drying.

Additionally, these pegs are thick and strong enough to support the weight of people walking on them and of furniture sitting on them. The plastics will not absorb moisture.

As an additional benefit of using this model, the plastics will not transmit any cold temperatures through them. If walking on the floor carpet tiles in bare feet or lying on them, there's insulation from cold subfloors.

Because they have a bit of height to them at 1/2 inch of thickness, many customers will choose to order our

finishing edge pieces that provide a ramp

, which should reduce the possibility of tripping over the edges.

Maintenance is an easy process. Vacuum them as with traditional layouts. Understand that the top surfaces will slightly absorb liquids. However, the bottom layers will not absorb water.
Floor Carpet Tiles Colors and Textures
These are available in either a charcoal or a tan color. Both colors have some texture to them, so other slight shade variations are visible. These are not a solid color throughout.
Additionally, variations in shades sometimes occur. This is common with all carpets, because dye lots vary among different batch production runs. Therefore, we recommend laying them out first without connecting them together. Then look at them from a distance. For obvious variations between side-by-side parts, move them for a better aesthetic fit.
These options will be shipped with both vertical and horizontal textures. Half of the order will have vertical orientations, and half will have horizontal orientations. By alternating the pattern, creating a pleasing appearance is simple.
For a fun checkerboard pattern, order both tan and charcoal, alternating them for a pattern. Or try creating an island with the middle consisting of one color, and then use the other for the island border. For someone operating a daycare or preschool facility, for example, this can be a great way to create separate areas for a reading area and for a general free play area.
Understand that they are not reversible. The products consist of sections of carpets attached to an underside base of firm plastic. The total thickness is 1/2 inch.
If trying to decide where to put them, consider the following tips for help.
Calculating coverages:
 Calculating the coverage space takes very little time. Each measures 12 by 12 inches, covering 1 sq. ft.
Expansion in sunlight:
 Please note that this flex tile will expand and contract slightly with exposure to sun. We do not recommend installing them atop a carpeted surface. These are not made as outdoor carpet tiles or for three season rooms with outdoor carpet squares.
Installation prep:
 Prior to installation, we suggest placing them in the same spot where they'll be installed. This will allow them to acclimate to the temperature and humidity. Give them at least 24 hours to adjust to the environmental conditions, and allow up to 48 hours if they are coming from a cold environment.
Movable:
 To remove CarpetFlex to use the subfloor for another reason, quickly disassemble them, stack them in storage, and then reassemble them back in the room later. Keep in mind that they are designed for permanent or semi-permanent installations and should not be assembled and disassembled repeatedly.
Single person installation:
 When installing them, one person can easily handle the work alone if needed, as they weigh only 1 pound apiece.
Expansion spaces:
 Leave a slight gap between the edges and permanent items, like a wall. The length of the room and the average temperature of the room determine the size of the gap. Consult our customer service team for more information.
Working with stationary objects:
 Don't put heavy objects on top of them, as this could damage them. Instead, cut them to fit with a utility knife and a straight edge to go around the objects. As a basic rule, if the heavy object will remain stationary, such as a washing machine, fit them around it. If it may move, such as a couch, set it on top of the flooring.
CarpetFlex Tile Flooring
Although our flex flooring is not recommended for use in locations with high foot traffic, the peg design is tough and will stand up to moderate weight being placed on it. The plastics are tough enough to stand up to general roughhousing, as potentially happens when children are playing.
Feel comfortable placing furniture atop the modular carpet tiles and don't worry about cracking a peg. The furniture's legs will cause indentations over time, so consider moving them regularly to limit the indentations.
Consider using plastic coasters under the feet of furniture or pool tables to minimize the indentations and to spread out the weight of the object slightly.
We would not recommend placing a bulky object that will stay in place over them, such as a large cabinet. Instead, cutting them for fitting around is the better choice.
Add new sections whenever required. Say the original layout included cutting to match the edges of a large entertainment center. Later, after switching to a smaller TV cabinet, the original subfloors may be visible. Disassemble the nearby cut segments and replace them with new full ones.
For CarpetFlex ordering, contact our customer relations department, where our friendly personnel will help with figuring out the right coloring and number required, along with finishing pieces needed.
FAQ Modular Carpet Tiles Q&A
What are modular carpet tiles?
These consists of small pieces that are combined to be laid out in rooms. Each piece resembles a square, and they just need to be lined up side by side. The modular carpet tiles design may involve self stick carpet tiles, adhesives, or a locking system that holds the square in place. There are endless configurations available to provide specific coverings for any sized space. Modular carpet tiles offer easier transportation options than full rolls too.
Do you need padded carpet tiles?
The type of modular carpet tile product we offer has a pad already attached to the back, which means no additional padding is required. With standard carpets rolls, a separate roll of padded material should be laid down first. Modular carpet squares are made to go on directly with no padding layer.
How to install modular carpet tiles with no mess?
With our interlocking carpet tiles, each one will snap together. The tabs and loops are hidden on the underside, so nobody sees them once the job is finished. This DIY project requires no previous experience. This non-glue style is not suitable for laying as commercial carpet squares in busy traffic areas, however. A peel and stick carpet tile is another option to avoid a messy layout.
Are residential carpet tiles cheaper than carpet rolls?
As a DIY job, these carpet floor tiles are offered at a significantly good price point. Save on costs for labor, delivery, and cushioned pads. Ours will yield a much better value than modular carpet tiles offer. Ours will last much longer than clearance carpet tiles too, providing impressive value. As an added value of our interlocking carpet squares, if a significant stain appears, pop out the damaged sections and replace them. Understand, though, that they are not going to give you the durability of commercial carpet tiles.
Can you lay modular carpet tiles without adhesive?
Yes, depending on the model. Ours have a hidden interlocked edge that allow for assembling and disassembling as needed with no glues. Additionally, peel and stick carpet tiles create a minimal mess. Self adhesive carpet tiles have a protective film backing that will be removed just before laying them in place. Others require a separate type of glue, which can complicate the layout and which can create a big mess.
Maintenance
Vacuum regularly.
Shipping
Ships in cartons via ground service to your door, for larger orders product may ship freight delivery.
This Product Ships UPS Ground, FedEx Ground and/or Freight.
Please review our shipping disclaimer.
ACCESSORIES
Accessories for CARPETFLEX FLOOR TILE 1/2 INCH X 1X1 FT.
ANSWERS
Product Questions:
Q: can this be installed over a traditional screen house deck?? if not, what products would you recommend for installing over an enclosed pressure treated deck 6 inch boards screwed 16 '' on center spaced 3/8 '' apart??
A: The carpetflex is not rated for outdoor use, if the deck surface may get some moisture I would recommend one of our perforated PVC floor tiles, such as the Staylock Perforated Tile.
Q: What material are the carpet fibers made from?
A: The carpet tiles are made from a blend polyester and polypropylene blend.
Q: Is this carpet flex tile waterproof and mold resistant?
A: The tile are waterproof. They do not contain a anti fungal per say, mold will grow where moisture is present.
Q: how are these cut to fit?
A: Cut these tiles using a sharp utility knife.
Q: Will these connect to the Max Tile Raised Floor Tile?
A: No, and our our Max Tile floor tiles will connect to the Gmats Raised Carpet tiles.
Q: can this product be taken up and used somewhere else?
A: Yes this can be taken up and reinstalled in a different location. For this use I can also recommend the Greatmats Carpet Tile that is similar and perhaps easier to reinstall.