What Garage Floor Tile Texture Options Are Available?
By Kyle Schurman Created: March, 2021 - Modified: June, 2023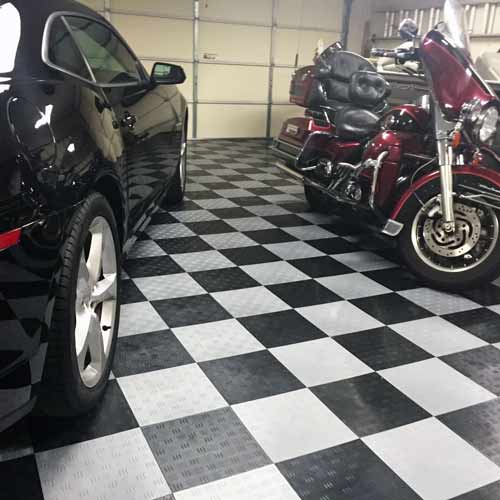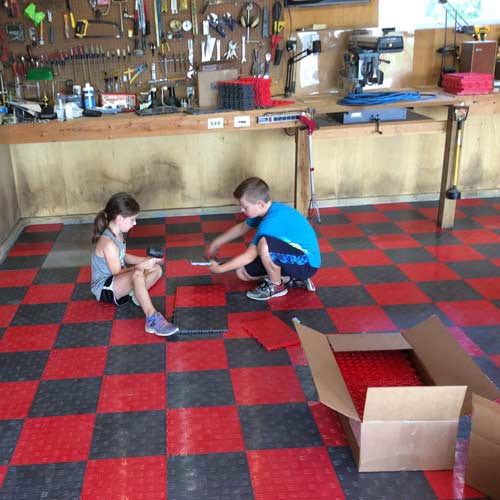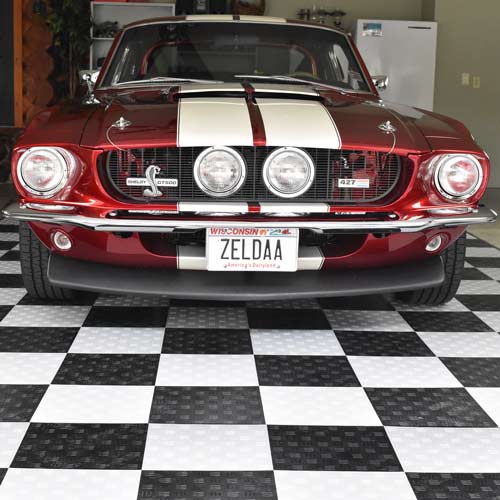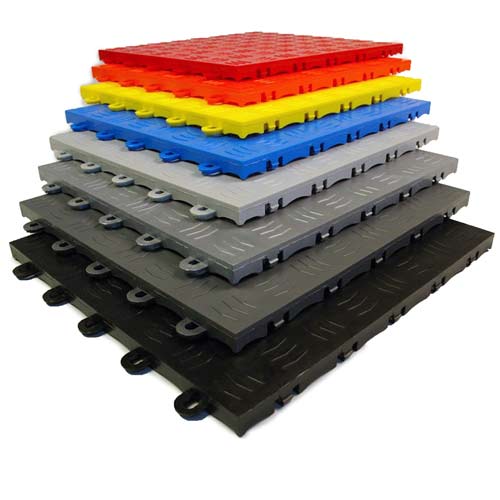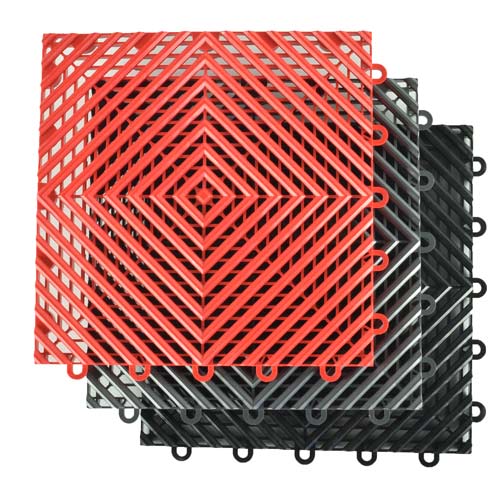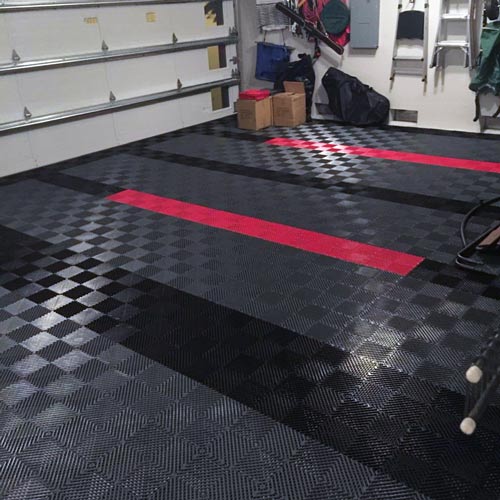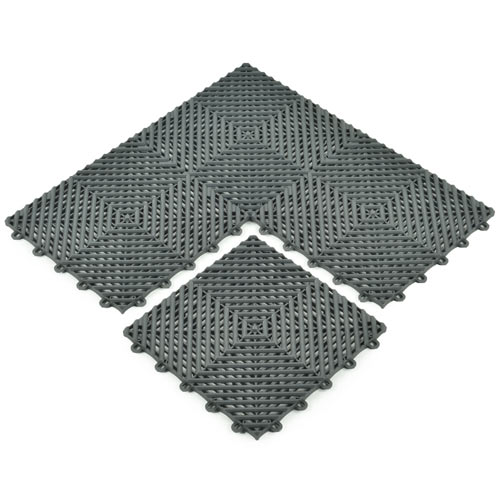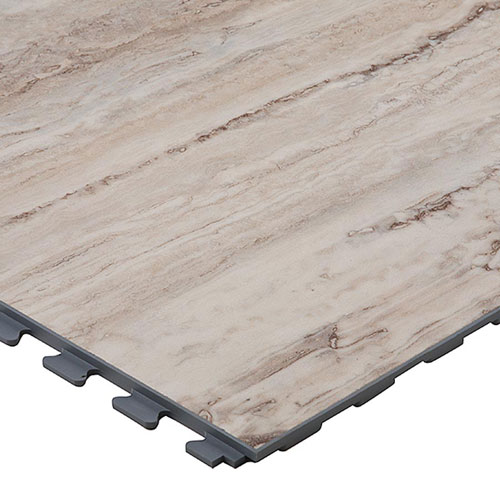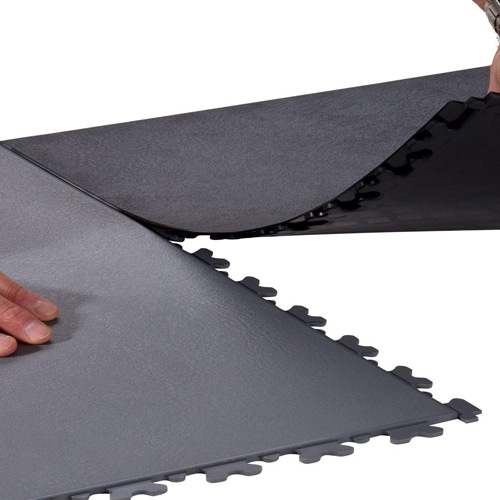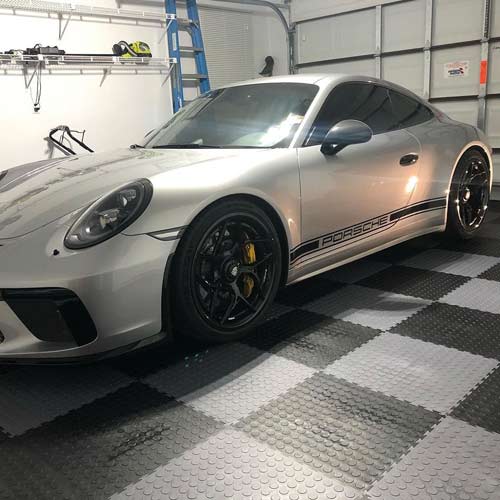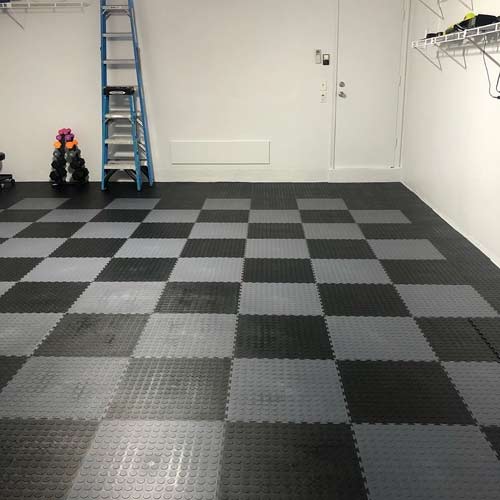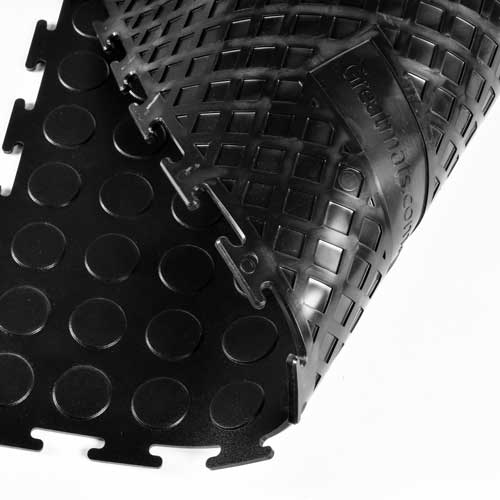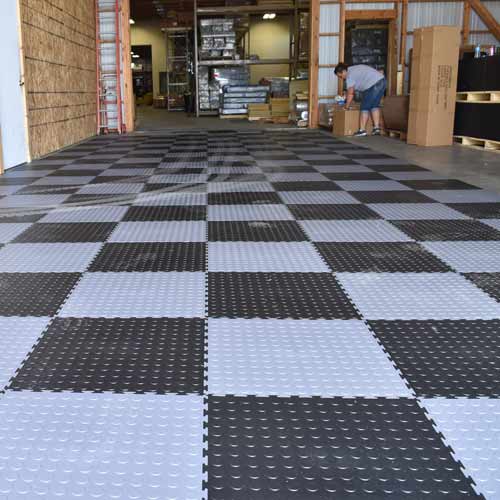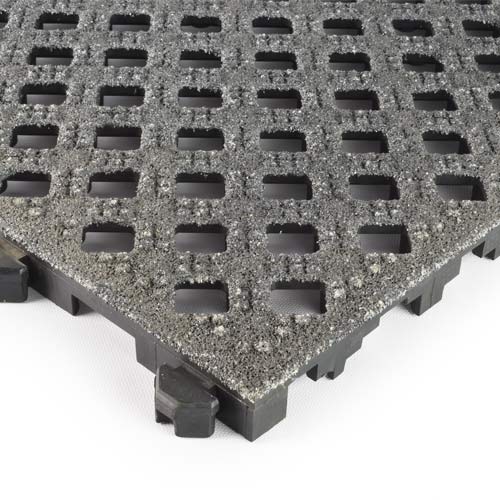 Garage floor tiles texture patterns appear in a number of designs, giving customers the perfect surface for whatever needs they have. Textured flooring can provide a
slip resistant
material for those walking on it, as well as a durable texture for parking cars, for creating a home gym, or for storing lawn and garden machinery.
Some of the garage floor tiles texture choices available include:
Grit texture (with perforations through the tile)

Marquis pattern

Smooth surface

Squares pattern
Many of these patterns appear in garage floor snap tiles that lock together with a simple tab and loop system, a tab and slot system, or a puzzle edge interlocking system. With such an easy installation process, customers can perform a DIY installation with these, rather than having to hire a professional, which keeps the overall project cost at a reasonable level.
What Are Some Garage Floor Tiles Texture Models With Color Options?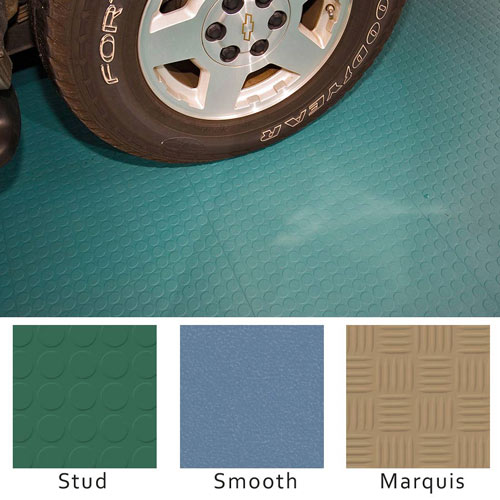 Customers do not have to settle for basic black or gray when installing garage floor tiles texture products. A few different products exist that provide multiple bright colors, giving a garage area a fresh look for a variety of use cases.
With some colorful models, customers have the ability to mix and match colors, creating a great looking checkerboard pattern or clearly defining a particular work area.
The Tuff Seal Colors Floor Tile product is the best product that offers multiple colors and garage floor tiles texture options. In addition to black, gray, and white, it has several colors available, including:
Blue

Butternut

Canvas

Caramel

Chocolate

Green

Meadow

Red

Terra Cotta

Yellow
As another advantage of the Tuff Seal product, customers can select from a coin pattern or a marquis pattern when they want a surface texture in the garage flooring. We also offer a smooth surface with this particular tile model.
These garage floor snap tiles use a hidden interlock system to connect adjacent pieces, which means only straight lines are visible between the connected tiles, resulting in a clean, professional looking flooring.
What Are Some of the Patterns of Textures in Garage Tiles?
The patterns that are available in garage floor tiles texture products give the space a different look and feel, depending on what the customer is seeking. Some patterns emphasize the stylistic aspect of the flooring, while others work to yield excellent traction.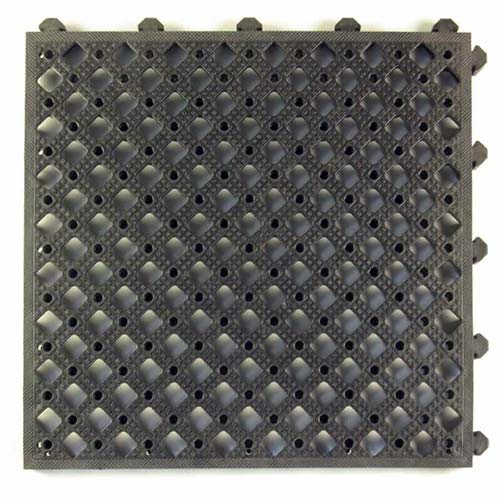 The Safety Matta Perforated Black Tile has a non-slip diamond shield tread design on the top surface, delivering maximum traction for garages that have problems with persistent moisture. This tile has perforations all the way through the 1-inch thickness of the PVC plastic tile, draining away excess moisture.
This is not the most colorful tile, as it's only available in black and
green
, but it is extremely durable and can support a lot of weight.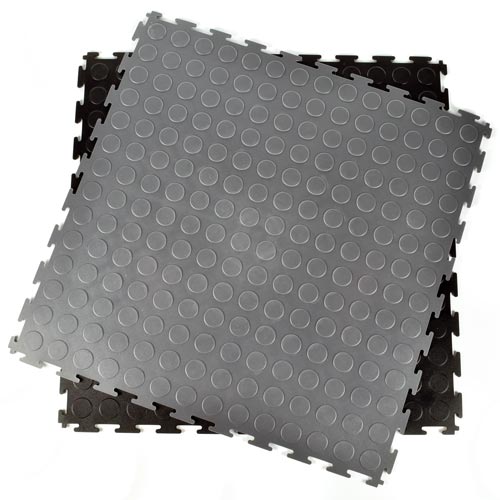 For a garage floor tiles texture that also emphasizes traction in wet conditions, consider the Warehouse Floor Coin PVC Tile Black tile. It has a raised surface consisting of dozens of circles (that resemble coins) per tile.
This PVC plastic textured tile is ideal for garages, as it is resistant to oils, gas, and chemicals. It measures only about 1/4 inch in thickness, making installation with the puzzle style edging extremely easy. It's available in black or gray colors.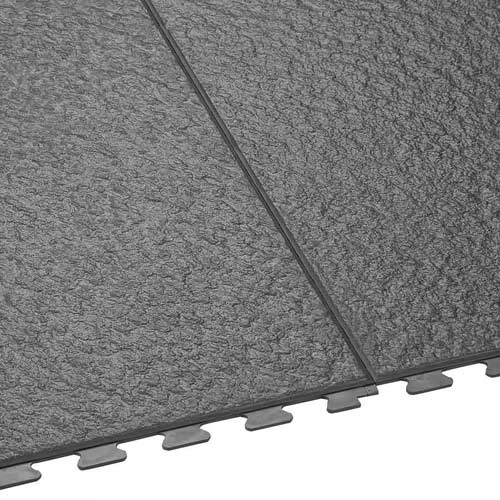 For a tile that delivers a stylish texture pattern, consider the SupraTile Hidden Interlock Slate Tile. The subtle pattern on the tile presents a style that resembles slate flooring, but it uses PVC plastic to cut down on material costs and add comfort versus actual slate.
These tiles have an easy-to-use installation system, using interlocking tabs and slots to pop the tiles together, resulting in a clean installation with straight lines, enhancing the professional appearance.
The SupraTile measures 7/32 inch in thickness, and it is extremely durable, offering a 20-year warranty period. It will resist common issues found in garages, such as oil spills, chemical spills, and the formation of mold and mildew from persistent moisture. Select among black, dark gray, or light gray color options.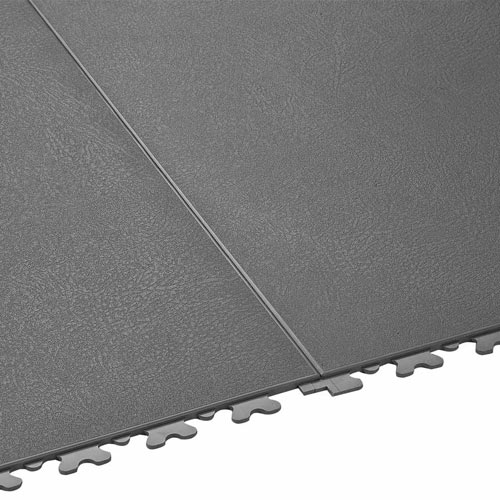 For a subtle pattern in the tile, the SupraTile Hidden Interlock Leather Surface Tile has an impressive stylistic design. The surface resembles the pattern found in actual leather.
This 7/32-inch thick tile uses a hidden interlocking pattern of tabs and slots to simplify installation. Available colors include black, dark gray, and light gray. These PVC plastic tiles are comfortable underfoot, and the leather-style texture delivers warmth for the space.
Do Any Tiles for Garage Floors Have a Smooth Surface Texture?
Smooth garage tile surfaces are an excellent choice in areas where customers are seeking a stylish design. When moisture does not present a problem in the garage, textured tiles are not necessary to deliver traction for people walking in the garage.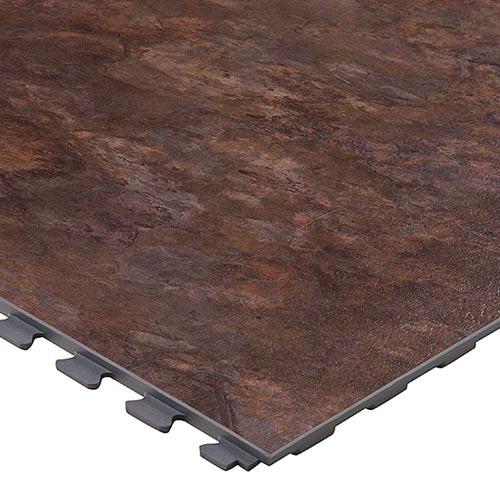 The SupraTile Designer Vinyl Top Tile uses a PVC plastic base bonded to a decorative surface that has multiple design choices available, such as those resembling marble, granite, and sandstone. This design results in a smooth vinyl top flooring surface. It uses a hidden interlocking system of tabs and slots to simplify the installation process.
With the 9/32 inches in the thickness of this tile, it is extremely durable, offering a 20-year warranty. This material is durable enough for use in a garage, as it resists oil and chemical spills, as well as the formation of mold and mildew.
Do Garage Floor Snap Tiles Provide a Textured Surface?
One of the easiest styles of tile flooring to install in a garage with textures are garage floor snap tiles that feature a tab and loop system. Diamond and square texture patterns are commonly found.
These square tiles have loops on two sides and tabs on the other two sides. To install the tiles, slide the loops underneath the tabs on the adjacent tile, and line them up. Press on the edges with a hand or foot, and the tiles will pop together tightly.
Beyond providing an easy-to-install interlocking system, these tiles also will pop apart quickly, should the customer want to return to the original subfloor in the garage at any time. Pop the tiles apart and stack them in storage until it's time to install them once again. The tabs and loops are made for multiple assemblies and disassemblies.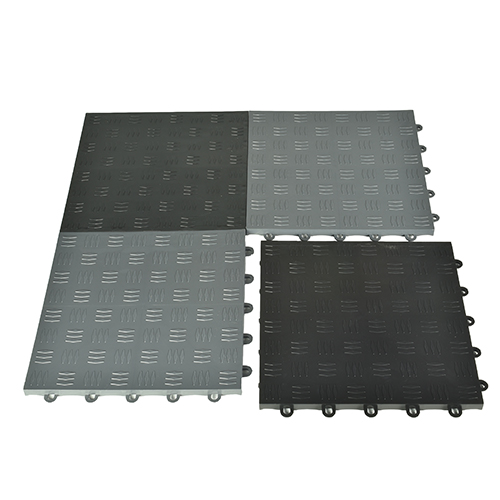 One of the most popular tiling choices for garages with a pop together installation and a textured pattern on the surface is the Garage Floor Diamond Tile product.
This tile uses raised diamond shapes in groups of three on the surface of the polypropylene plastic material. These three-diamond groups alternate between horizontal and vertical orientations across the tile, which provides the highest level of traction for people walking across the surface of the garage floor snap tiles.
Customers can select from black or dark gray with the Garage Floor Diamond Tile product.
No matter what color is in use with these garage floor snap tiles, they use the same tab and loop hidden interlocking system, so installers can combine different colors of tiles to create a pattern in the flooring, if desired.
Each tile measures only 5/8 inch in thickness and weighs less than 1 pound, which simplifies the installation process. A single person can carry several of these tiles and maneuver them into place with very little effort.
Do Any Garage Tiles Have Textured Patterns on Both Sides?
Some installers may want a textured pattern on both sides of the garage floor snap tiles, delivering an extra level of comfort for people walking across the floor. Having texture on both sides ensures that the tiles will not slip out of place in an island installation as well, because they grip the subfloor.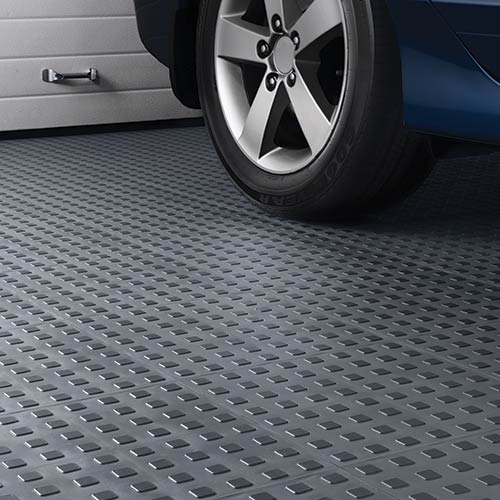 With the TechFloor Premium Tile With Traction Top product, customers receive a raised square style texture on the top of the tile, delivering outstanding traction, even in wet conditions. The grip that these textured squares provide is among the best available in garage flooring.
The underside of these tiles consists of a soft touch texture pattern that delivers outstanding grip across the subfloor of the garage, ensuring the tiles will remain in place with no chance of slipping under the weight of a vehicle.
These TechFloor tiles feature a hidden tab and loop system to simplify installation. Multiple colors are available, including:
Blue/Black

Dark Grey/Black

Grey/Black

Red/Black

White/Black
Another unique feature of these tiles is that the raised square pattern has a contrasting dark color compared to the primary color of the tile, creating a visual feast for the eyes.
This highly durable tile consists of a polypropylene plastic base infused with injection molded thermoplastic elastomer (TPE), creating a tile with a limited lifetime warranty.
Can Snap Together Garage Tiles Drain Away Liquids?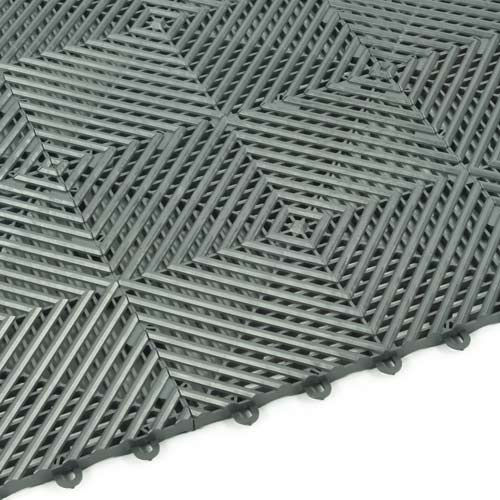 The Perforated Garage Tile product has an octagon angled rib pattern that provides significant toughness and durability, allowing the tiles to support up to 10,000 pounds per square foot, and making them ideal in a garage for supporting the weight of vehicles.
The interlocking tab and loop system on the edges of these tiles ensure they will stay together, even when used under the stress of the weight of vehicles. Installers can pop them together and disassemble them dozens of times without worrying about causing damage to the interlocking system.
These no-break polypropylene tiles have large perforations that allow significant amounts of liquid to drain away to the subfloor as quickly as possible. Even with the large perforations, the pattern used in the construction ensures they have the ability to support large amounts of weight.
Three different solid color options are available with these perforated tiles, including:
Mix and match tiles, if desired, as the interlock system is the same for tiles of any of the three colors.