Tuff Seal Floor Tile Colors
Fast prep and easy installation
Stain and chemical resistant
Made in the USA
Handling Time Estimate: 1-3 Working Days

Black

Blue

Green

Canvas

Dark Gray

Light Gray

White

Yellow

Butternut

Caramel

Chocolate

Meadow

Slate

Brick Red
How Much Flooring Do I Need?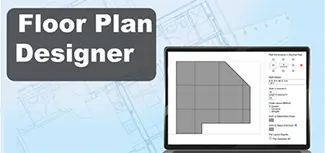 Fast prep and easy installation
Stain and chemical resistant
Made in the USA
No adhesive required
Wide selection of color choices
Hidden interlock design
Durable and long lasting
Anti-fatigue relief
Industrial Flooring, Garage Floors, Aviation Hangers, Basement Floors
The Tuff Seal interlocking tile system has made garage floor tiling fast, easy, and efficient. Using only a few tools, and with minimal subfloor prep, your new floor will be installed and ready in no time. Tuff Seal floor tiles are built to last and can be moved or reinstalled in seconds without disturbing surrounding tiles.
Industrial, commercial and garage flooring does not have to have a boring design to yield the durability you want to see. With the versatile color and texture options found in the Tuff Seal garage tiles from Greatmats, customers can pick the look that perfectly fits their needs.


As another benefit, these Tuff Seal garage tiles allow for a fast and easy installation process. Customers can be using this flooring in very little time, allowing them to begin receiving the value they expect from these tiles.


Size and Shape Options

Each square tile measures 1.47 by 1.47 feet (or 17.68 by 17.68 inches), yielding 2.17 square feet of coverage per tile.

Because our Tuff Seal garage tiles use a hidden interlocking edge to create the connection, customers can calculate the number of tiles they need for the installation easier than with a puzzle style edge that's visible and that affects the coverage area of each tile.

After you tightly connect the tiles, you won't be able to easily see the lines between the tiles, creating an almost seamless, solid look to the flooring.

An individual tile weighs 4 pounds and measures 1/4 inches in thickness. Having a lightweight floor gives customers the ability to perform the layout without the need to hire a professional.
Material Options
Each tile consists of PVC (poly vinyl chloride) plastic, which enhances the versatility of the planned use cases for the flooring.
PVC plastic is highly durable, and these Tuff Seal garage tiles carry a 10-year limited manufacturer's warranty. PVC can stand up to a variety of uses, as it resists abrasions and impact dents from dropped heavy items. PVC is also resistant to moisture, chemicals, and oils.
Additionally, manufacturers can easily add colors and molded textures to PVC, creating a look that fits perfectly with the customers' expectations for the flooring.
PVC has a little bit of flexibility to it, so it will go over the top of a subfloor that's a little uneven or that has some cracks without allowing those imperfections to affect the integrity of the layout.
Pattern and Texture Options
Versus other types of industrial style flooring, our Tuff Seal garage tiles have far more options in terms of color and texture patterns available.
Textures available include a smooth surface finish, a molded coin pattern (called a stud pattern) and a marquis pattern. The textured floors deliver outstanding traction in areas where moisture may be present, creating slip resistance. The texture patterns can enhance the style of these Tuff Seal garage tiles too.
Color choices include more than a dozen options, ranging from neutral colors like white, black, and gray to fun colors like green, blue, yellow, and red. Each color option is available in any of the three texture options.
The colors and textures available will meet precise manufacturing tolerances, as these are Made in the USA tiles. Customers can trust the measurements, color accuracy, and consistent texture patterns in each tile.
Because all colors and textures of these tiles use the same hidden interlocking pattern, customers can mix and match tiles in the final layout.
Common Use Options
Although these tiles frequently appear in commercial and industrial locations, they also will work for residential installations. Any area that requires moisture resistance and durability can make use of these interlocking tiles.
In a commercial location, such as a warehouse, automotive garage, airport hangar, or customer facing area, these tiles are a highly popular selection. They look great, and they offer a long lasting configuration.
For homeowners, these tiles work nicely in rooms and areas of the home that are tough on flooring, such as a workshop, a basement gym, a mudroom, or even a bathroom. Customers will appreciate the look and value they receive with these tiles.
Installation Options
Customers can install these tiles on their own without the need for hiring a professional. Just line up the tabs and slots on the edges and undersides of adjacent tiles. Then pop them together to secure the installation.
These tiles do not require glue to hold them together tightly, as the hidden interlock edge will keep them connected, even when placed under significant stress.
At only 1/4 inches in thickness, each tile is thin enough that installers can cut it to fit tight against a wall in the final layout. The thin tiles will flex and conform to slight imperfections in the subfloor, meaning installers do not need to spend time repairing minor issues in the subfloor.
Cleaning and Maintenance Requirements
PVC flooring is extremely easy to clean, which is another significant benefit when using it in industrial and residential areas that yield tough conditions for floors.
Remove dry debris from the flooring layout with a broom or a vacuum cleaner. You then can wet clean the floor with a mop or a cleaning machine, if desired. Customers can clean the flooring with water alone, or they can use a common household cleaner that does not contain bleach.
After mopping the floor, allow it to air dry.
Maintenance
Product can be damp mopped with common household floor cleaners, avoid bleach.
Shipping
Ships in cartons via ground service to your door, for larger orders product may ship freight delivery.
This Product Ships UPS Ground, FedEx Ground and/or Freight.
Please review our shipping disclaimer.
| | |
| --- | --- |
| SKU# | TSColors |
| In Stock | Yes |
| Product Type | Tile |
| Material Type | PVC Plastic |
| Product Edging | Interlocking |
| Thickness | 1/4 inch |
| Width | 1.47 feet |
| Length | 1.47 feet |
| SF per Item | 2.17 |
| Weight | 3.44 lbs |
| Packaging | Cartons |
| Number of Pieces per Package Type | 12 |
| Non Absorbent | Yes |
| Special Adhesives | No |
| Universal Interlock | No |
| Interlock Loss | 0.00 feet |
| Material Hardness | Shore A 90 |
| Interlocking Connections | Yes |
| Made In | USA |
| Surface Finish | Orange peel, Stud, or Marquis |
| Surface Design | Solid color |
| Installation Method | Interlocking, dry lay |
| UV Treated | No |
| Reversible | No |
| Border Strips Included | No |
| Manufacturer Warranty | 10 year limited |
Product Questions:
Q: Does the product expand/contract very much with temperature? How much when the outdoor temperature is over 100 degrees?
A: PVC can expand with temperatures over 90 plus degrees, expansion is more extreme with direct sunlight. This tile is designed for indoor use. We would recommend a perforated PVC tile for outdoor use.
Q: Is a ramp tile available to enter your garage smoothly
A: These tiles are not available with a border. We recommend using a transition trip that you find locally.
Q: Is this tile system waterproof, meaning no moisture will penetrate even at joints. If not, do you have a product that is 100% waterproof? I have a spancrete floor with garage below and needs to be protected from weeping moisture.
A: We do not have a product that is 100 percent waterproof.
RELATED PRODUCTS