What Are Leather Textured Floor Mats?
By Lisa Hobbie Created: February, 2021 - Modified: August, 2023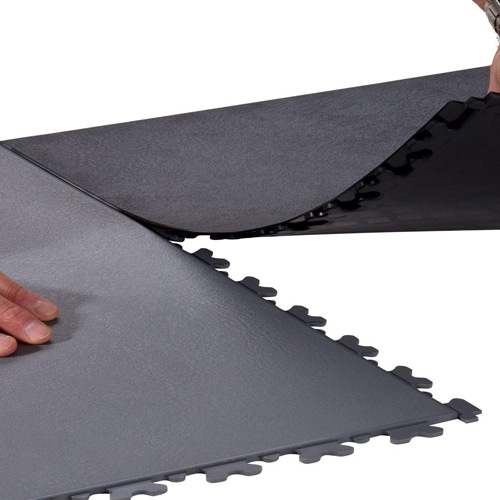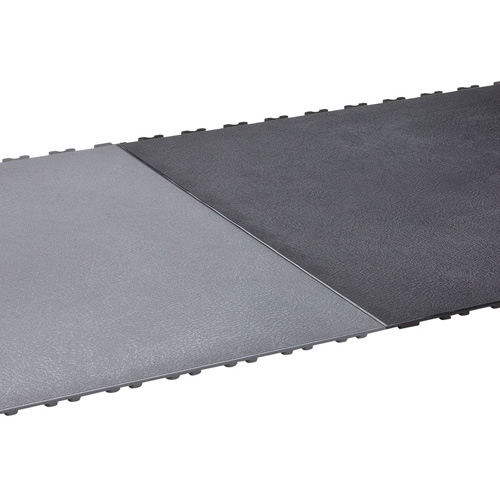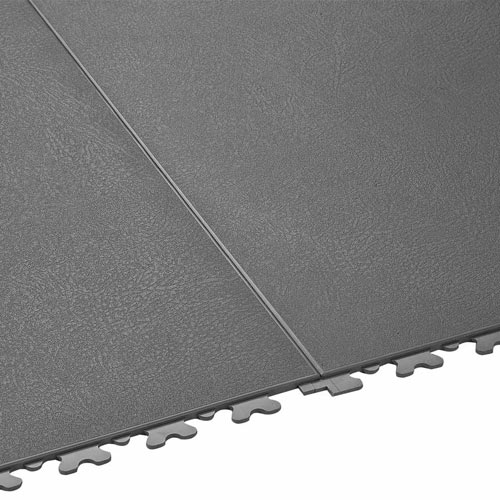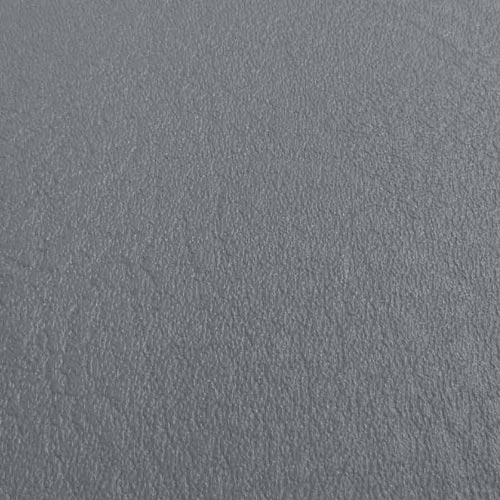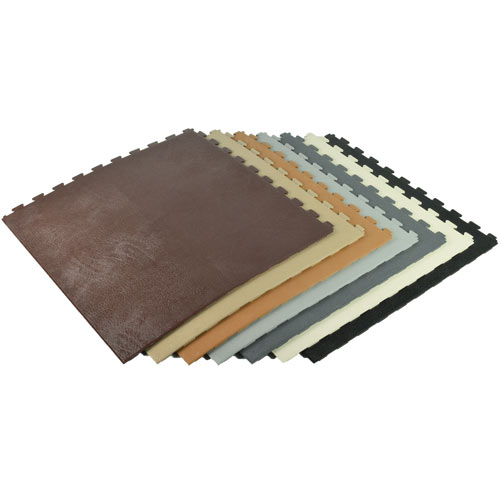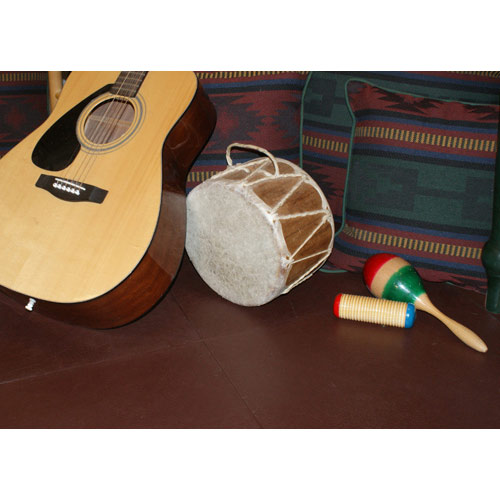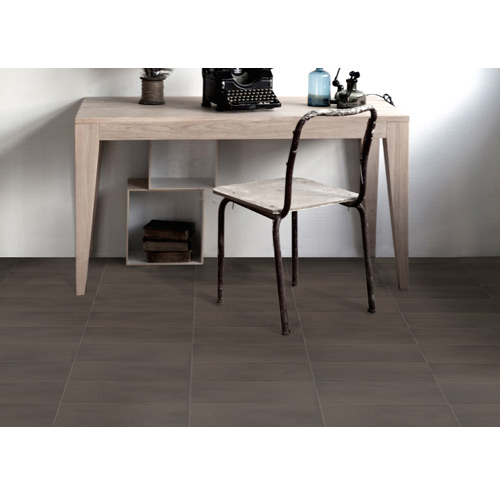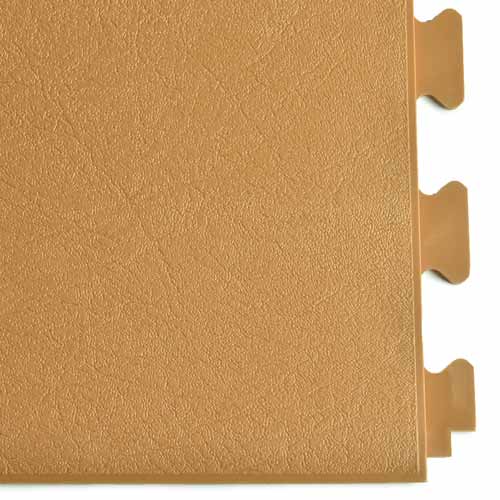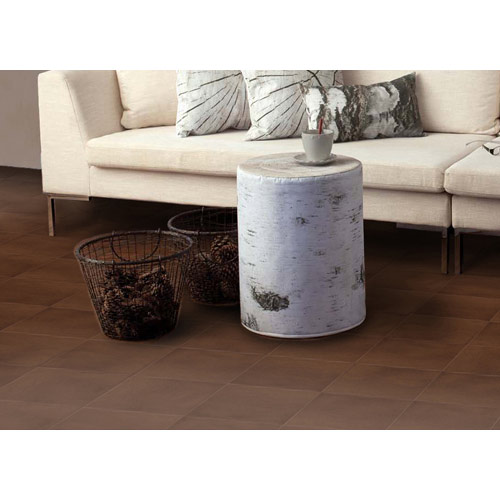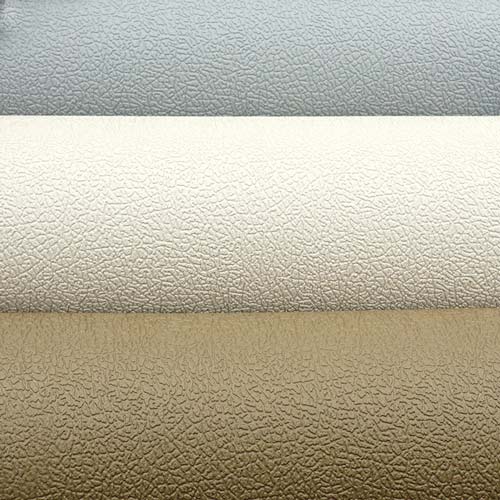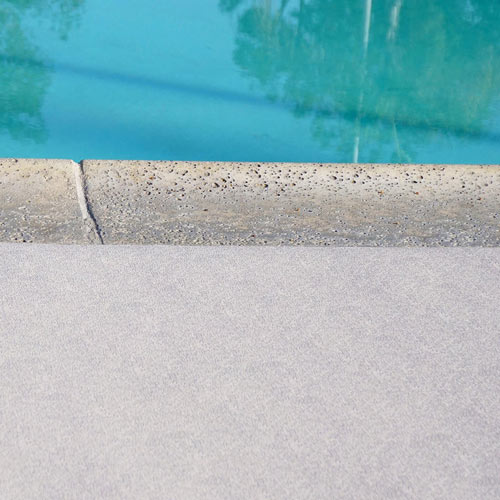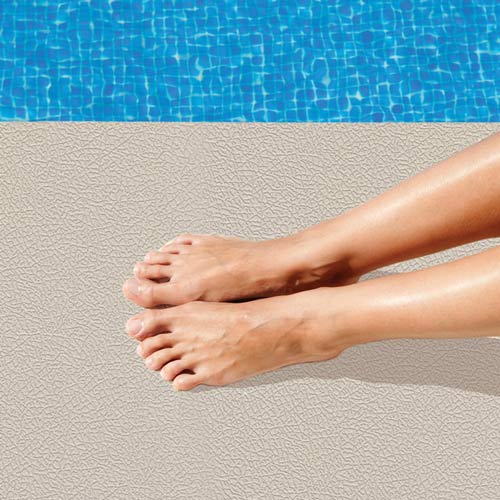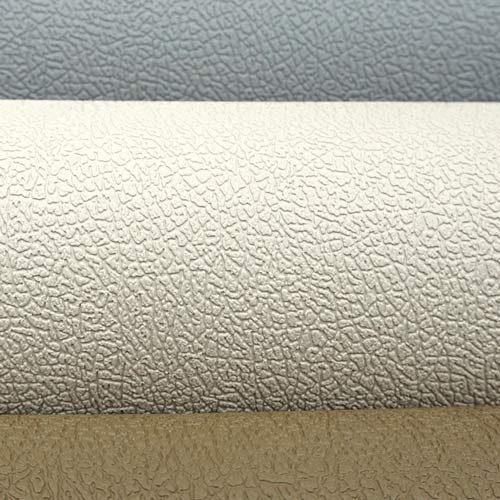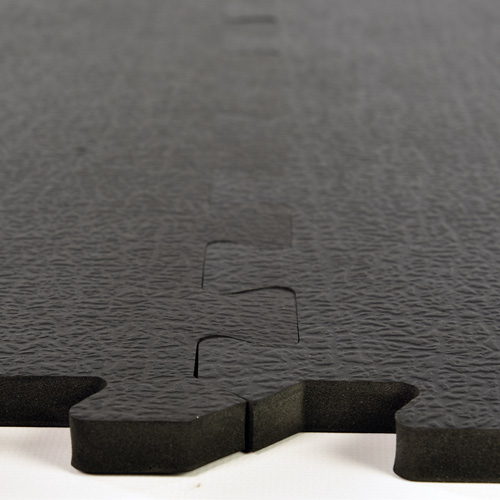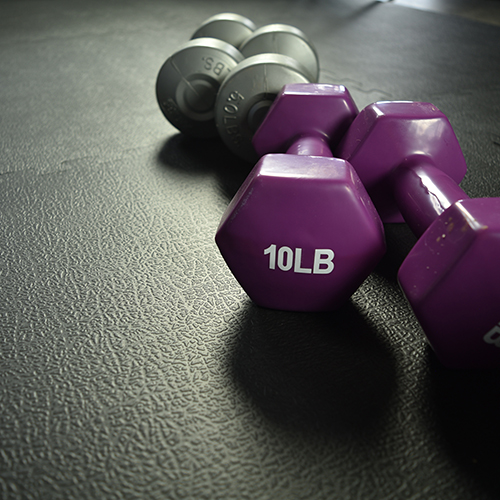 Leather textured floor mats
provide a durable and stain-resistant flooring solution that is suitable for areas of your home, business, garage, or automotive setting. The best leather floor mats offer superior slip resistance and the ability to endure heavy loads. Greatmats has 6 top-notch leather-textured floor mats, which include:
Each of these products is the best in their class, with many features and benefits making them perfect for a multitude of settings.
Leather grain floor mats for a variety of uses and settings: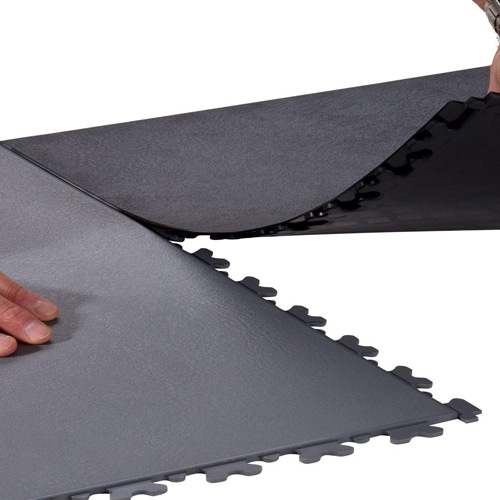 are leather feel floor mats that feature dovetail joint interlocks and the ability to endure weight loads of up to 20,000 pounds without compromising their shape or integrity. They are resistant to oils, chemicals, mold, and mildew, and they boast excellent resistance to impact, moisture, and abrasion. They provide warm comfort underfoot, and they are perfect for commercial kitchens and other areas where a watertight surface is not negotiable.
These mats can be installed over most subfloors, even those that are uneven or contaminated. Installation is fast and easy, and they can be seamed together using a standard, linoleum-type heat welding system.
This product offers many color options. Each mat provides almost 2.75 square feet of coverage and costs about $17.00.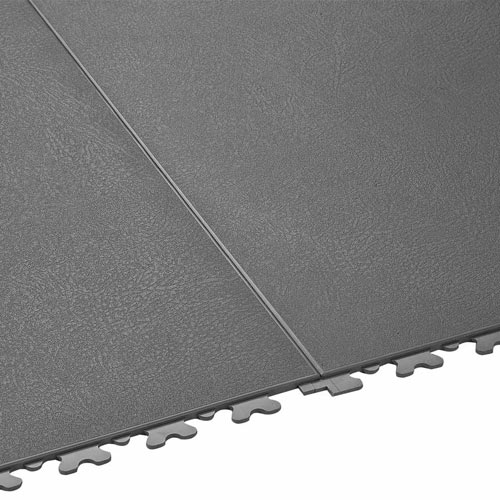 There is another option, the SupraTile 5mm Hidden Leather Black/Gray, with most of the same features and benefits, like quick and easy installation, resistance to oil, chemicals, mold, and mildew, and resistance to impact, moisture, and abrasion. Like the 7mm version, this flooring can be installed over any subfloor, and they provide comfort, sound absorption, and more. This durable PVC product is available in black, dark gray, and light gray, and can be used in kitchens, family rooms, basements, lounge areas, lobbies, gyms, and commercial settings. Each mat provides about 2.75 square feet of coverage and costs about $11.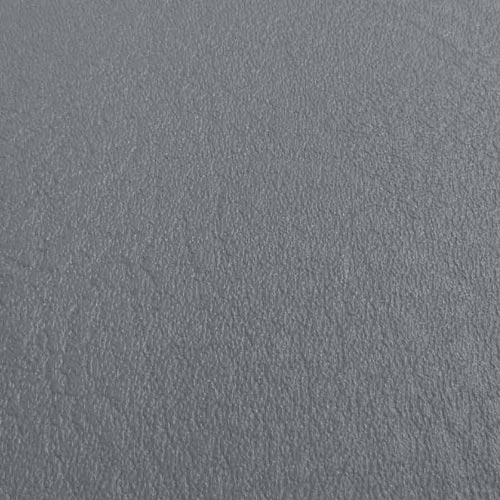 Leather PVC Floor Tiles provide a flooring option with a hidden interlocking connection system that can be installed over any solid surface without adhesives. These faux leather floor mats are perfect for basements, playrooms, craft rooms, and entryways. They are stain-resistant, durable, slip resistant, and robust enough to endure heavy weight loads and foot traffic. They also offer hygienic and antibacterial properties.
Available in a variety of earth-tone colors, they can be easily cleaned with a damp mop and common household cleaners. With an upscale appearance for a low installed cost of roughly $4 per square foot, choose these leather floor mats for projects small and large.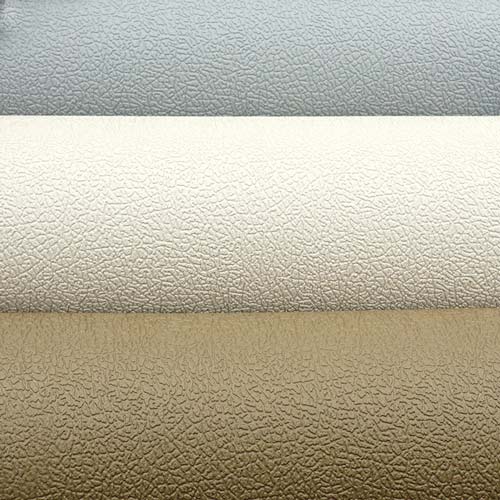 LonDeck Sol Vinyl Rolls provide a solution for pools, hotels, boats, stairways, and specialty vehicles with their cool tough technology that reflects the sun and decreases the surface's temperature. It has a leather grain design texture in a sheet vinyl product.
This option is designed to endure foot traffic and weather wear, and it is versatile enough to use indoors or outdoors. Each roll is 8 feet and 6 inches wide and 60 feet long. They are 2.0 mm thick with a 0.8mm wear layer thickness. Each roll provides 516 square feet and costs about $2,000, or roughly $3.90 per square foot.
Leather floor mats for fitness uses and settings: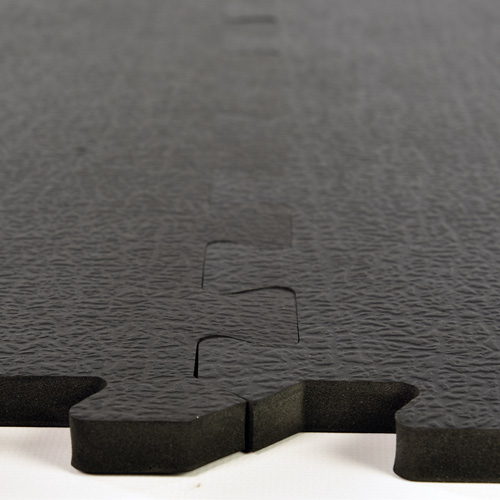 Sport Plus Designer Foam Tile is a foam mat option that feels a bit like leather. Each mat fits together with the next one using a puzzle-like interlocking system. They are each 3/8-inch thick and 2 x 2 feet and weigh just over 2 pounds each with 4 square feet of coverage. This makes them a great option if you want ease of portability and storage.
These EVA foam mats are lead-free and latex free. They offer a cushioned, floating surface over a hard concrete, wood, or tile floor.
With tight-fitting interlocks, the tiles are versatile, durable, and affordable at around $7.24 per tile or roughly $1.81 per square foot.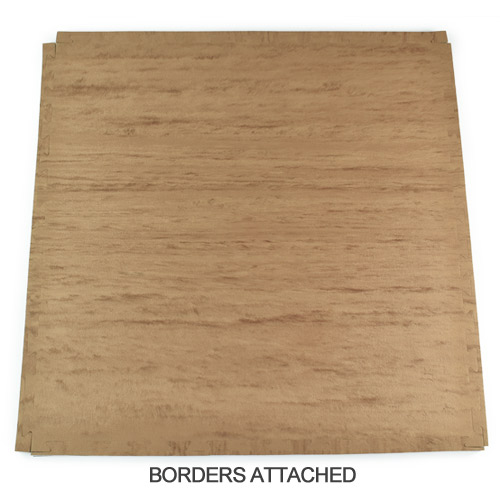 Premium Martial Arts Karate Mats are high density, EVA foam martial art mats offering durability and versatility. They are 1 inch thick, providing ample cushion and padding for a variety of physical activities. They work well with bare feet or soft shoes, and they allow for quick, intense movements practiced in martial arts disciplines and various workouts.
These mats are fast and easy to install with their interlocking design, and the closed-cell foam reduces the risk of mold and mildew growth, as well as moisture absorption and unwanted odor. These mats are double-sided, durable, attractive, and low maintenance. They each cost about $21.40, which equates to less than $2.00 per square foot.
Greatmats - for your leather floor mats and more!
If you have questions about the products highlighted, or if you are curious about other faux leather floor mats available, simply contact the friendly and knowledgeable customer service team at Greatmats. Let them go to work for you to help you determine the perfect product for your space and project. Regardless of which one you choose, you can't go wrong when you shop at Greatmats.