What's the Best Flooring for Online Exercise Classes?
By Kyle Schurman Created: April, 2021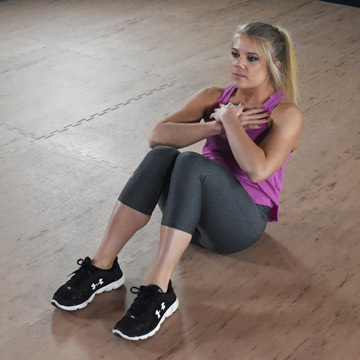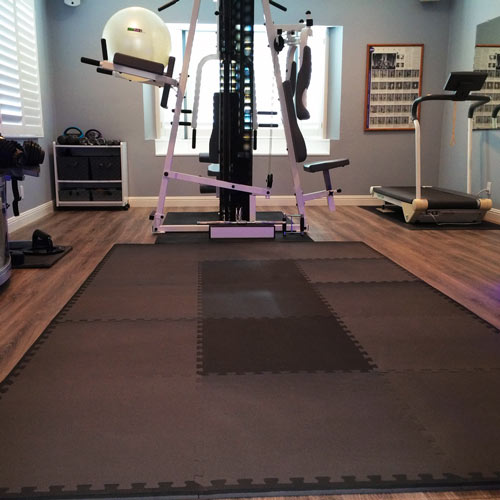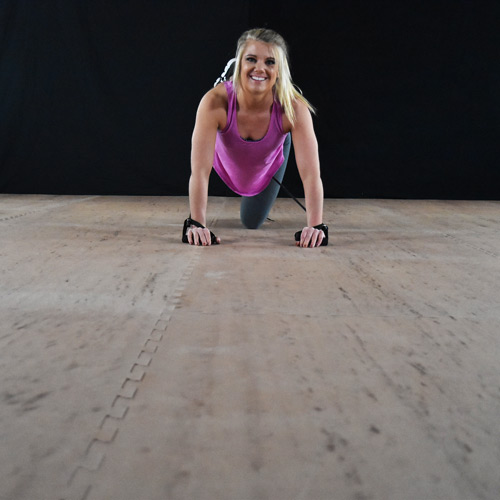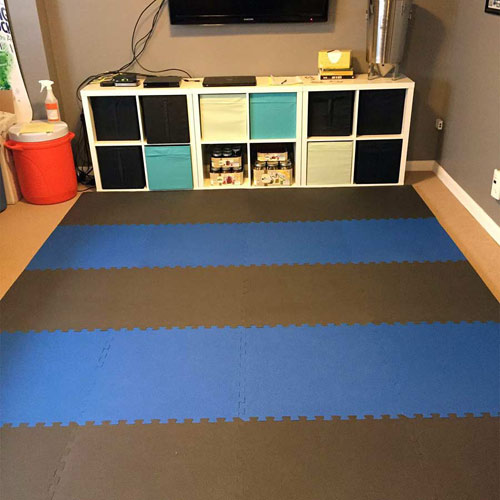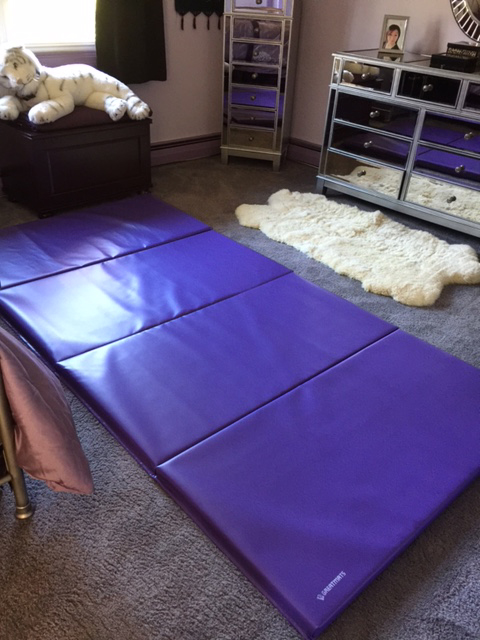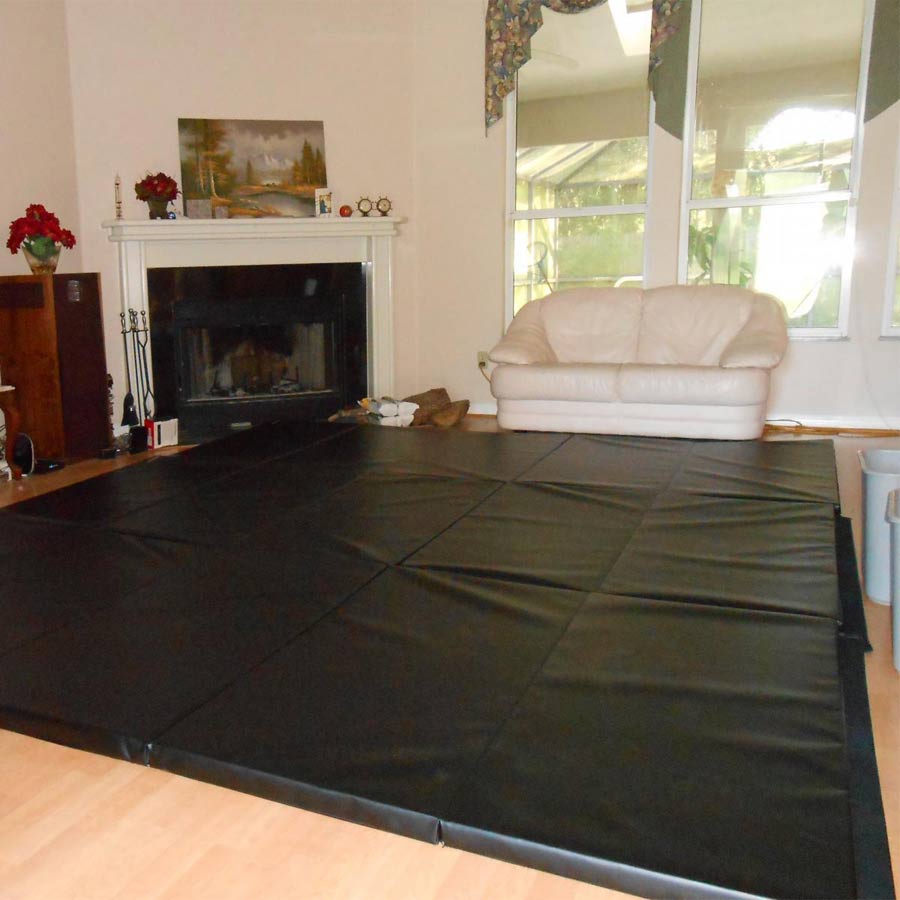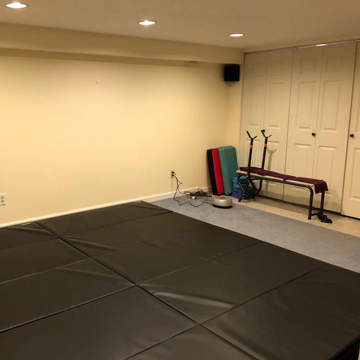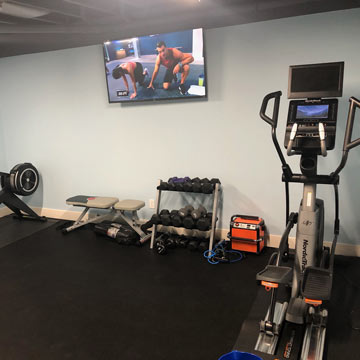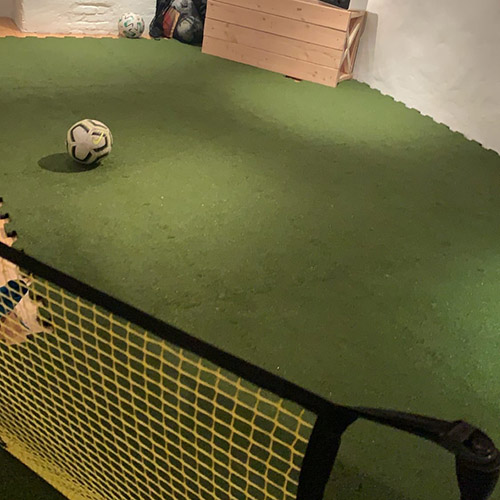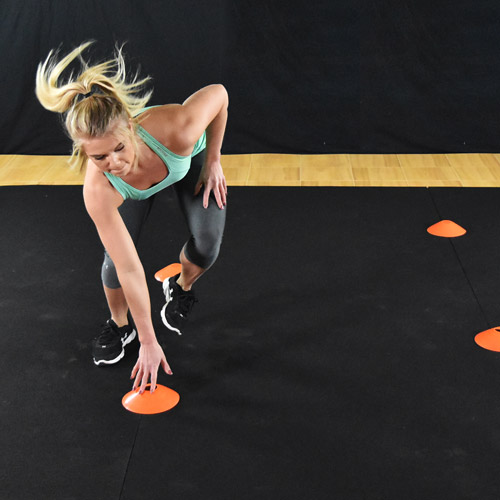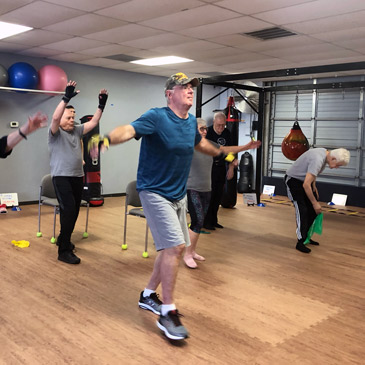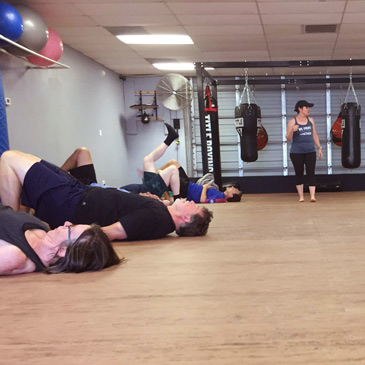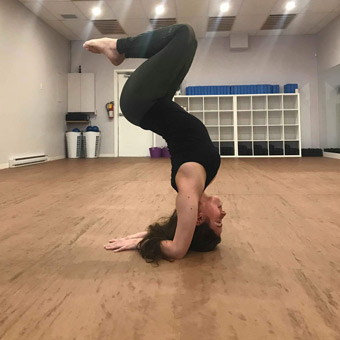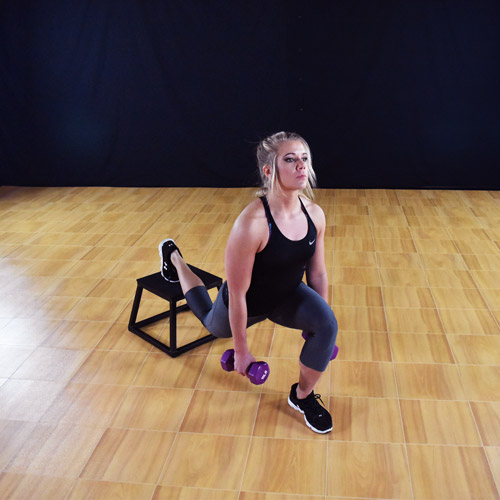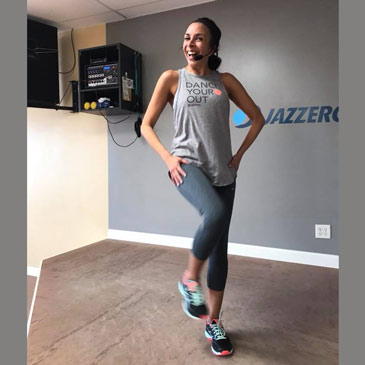 Creating a space in the home, at a senior center, or at a school for online exercise classes is a great way to work on cardio and conditioning during this time of virtual and hybrid learning. A workout routine with a virtual instructor will provide beginners and experienced athletes with a great session, and the right flooring will keep the athletes safe and comfortable.
Some of the best flooring choices for virtual exercise classes include:
Plyometric Rubber Rolls

Premium Martial Arts Karate Mats

Home Sport and Play Mats

Foam Kids and Gym Mats

Roll Out Wrestling MMA Mats

Home Cheer Mats

Discount Gym Mats

Max Tile Raised Floor Tiles

Turf Athletic Padded Interlocking Tiles
When working out at home and taking online exercise classes, matching up the right flooring with the type of fitness program occurring is important, whether the athlete is trying to attain a weight loss goal or is working on fitness levels.
Whether working out with a free video or taking a training course over a live internet stream, flooring will play a key role in the enjoyment of the training session.
As another consideration for flooring for online exercise classes in a residential or temporary commercial setting, the floor should be easy to pick up and move into storage after the group exercise session ends. When watching a workout video that requires access to a TV or computer, lay out the flooring in a media room. Afterward, return the room to its normal use by picking up the flooring.
Some virtual exercise classes may even occur at a commercial gym or at the YMCA, which are areas where a versatile type of workout flooring is a must-have product. The flooring should keep the lower body joints safe, while allowing the athlete to use shoes, sneakers, or bare feet for the exercise program.
Are Rubber Rolls Good for Virtual Exercise Classes?
Rubber is a versatile type of flooring for online exercise classes. It's useful for
Pilates workouts
, weightlifting, and everything in between. It provides a mixture of cushioning and grippiness for the shoes of the athletes, allowing them to make quick movements securely.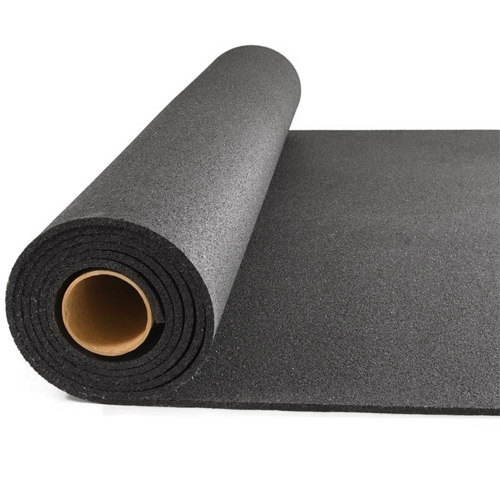 The Plyometric Rubber Rolls measure 4 by 10 feet in size, meaning a couple of them laid side by side will cover a room effectively. At 1/4 inches in thickness, a single roll weighs 47 pounds, which simplifies the process of moving it into and out of storage. Installers do not need to add adhesive to secure the flooring, which further simplifies installation.
Can You Use Foam Mats for Online Exercise Classes?
Interlocking foam tiles are another great flooring for multiple types of workouts in a residential or commercial setting. Foam tiles are lightweight and go together without the need for glue, which means installers can assemble and disassemble the floor as needed in very little time.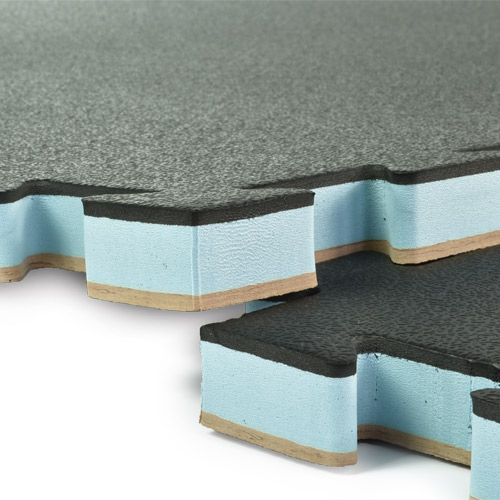 The Premium Martial Arts Karate Mats is a popular flooring for virtual exercise classes. It measures 1 inch in thickness, and the EVA foam and PE foam blended material delivers a high level of cushioning. This foam is extremely durable too, standing up to athletes using shoes or working out in bare feet.
These mats work well for aerobic and yoga workouts. The
Kismet Yoga + Fitness studio
in British Columbia makes use of these Premium mats for multiple types of classes, including for yoga and cardio workouts. These foam mats are easy to clean, which is another significant benefit in an exercise studio.
Boxing workouts at
413 Fitness
in Indianapolis go smoother with these Premium mats in place. This studio focuses on helping those with Parkinson's disease work on their fitness through boxing workouts. The extra cushioning in the foam mats keep the Parkinson's patients protected when they fall.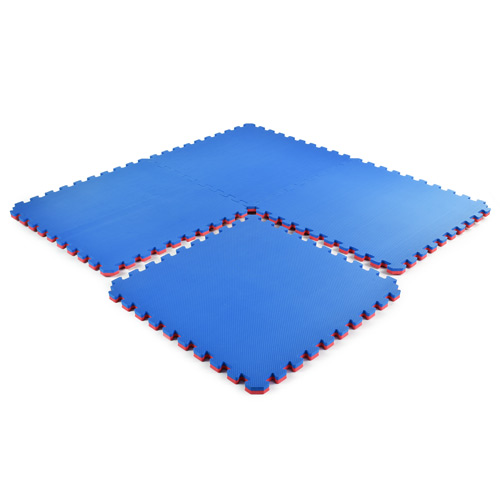 For a little thinner cushioning in EVA foam mats, consider the Home Sport and Play Mats product. Many martial artists install these mats for rugged workouts, but they also work for other types of exercises.
Each of these 2-by-2-foot mats has interlocking edges and weighs only 2 pounds, which simplifies the installation process for a single person performing a DIY job.
At 3/4 inches in thickness, these mats have a nice level of cushioning. Yet they also provide a level of firmness that's required to have success when taking virtual exercise classes.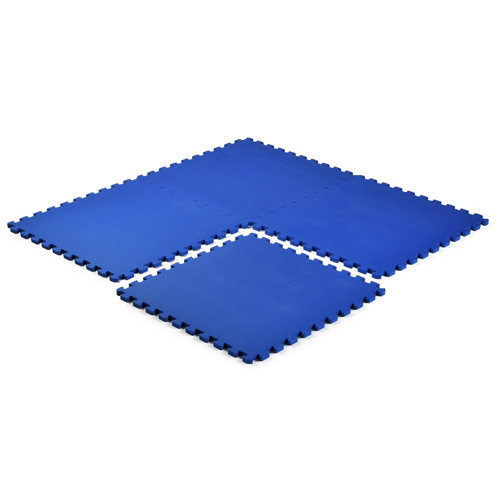 For more colorful options in an EVA foam exercise tile, the Foam Kids and Gym Mats represent a popular choice. Each 2x2-foot tile measures 5/8 inches in thickness. More than a dozen different color options are available.
Regardless of color, each mat has the same design in the interlocking edge, so the installer can mix and match colors in the pattern of the flooring.
With the fun colors available, some families will choose to lay out these tiles in a playroom for the kids, leaving them in place during the virtual exercise classes in the same room.
One side of the tiles contains a thatch pattern that creates a grippy surface for athletes. The underside has a smooth texture that can be used for ground work exercises. These tiles are durable, while also providing a waterproof design that's ideal for exercising sessions. They will not absorb sweat or spilled water.
What Types of Mats Deliver the Maximum Cushioning for Exercise Sessions?
When following exercise programs over video or the Internet, some types of workouts require using the maximum level of cushioning. Cheerleading workouts, gymnastics workouts, and martial arts workouts all can take advantage of highly-padded flooring to protect against falls, while also guarding the athletes' lower body joints.
To ensure these cushioned mats are as easy to use as possible in a residential setting, they should fold up or roll up to a small size for storage once the workout period comes to an end.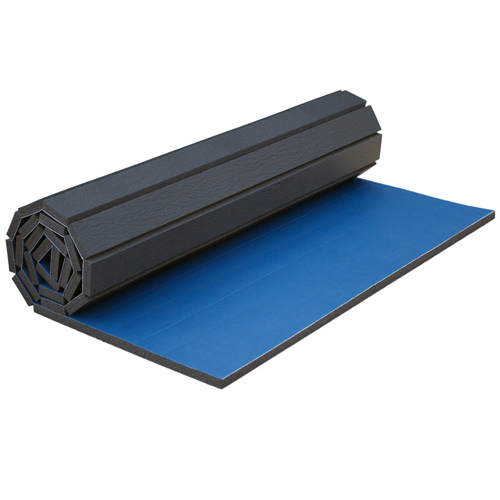 The Roll Out Wrestling MMA Mats deliver plenty of convenience for athletes. When it's time for a workout, just roll out the 5-by-10-foot mat to provide the desired level of cushioning for a tough training session. Because the mats have straight edges on all four sides, installers can lay out two mats side by side and tape them together to provide a large exercise area in a room.
Afterward, roll up the mats into a tight cylindrical shape, so they are ready for storage in a closet or in the corner of a room.
This mixed martial arts mat has a vinyl top surface that's available in any of several solid color options. The vinyl is tough enough to support shoes or boots. Attached to the vinyl is a 1.25-inch PE foam layer that yields the desired level of cushioning.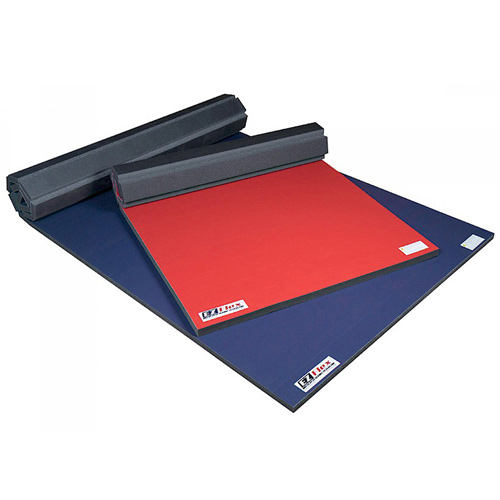 A similar type of rollup product is available in the Home Cheer Mats. This mat also covers a 5-by-10-foot area. With its straight-edge design, just line up two mats side by side to yield 100 square feet of coverage.
Rather than vinyl, the Home Cheer Mats product makes use of a carpet top layer with a 1-3/8-inch PE foam layer attached to the underside of the carpet.
The carpet layer is the same as the types of floors found in competition cheerleading floors, giving cheerleaders a useful practice surface for working on skills they'll use in competitive environments.
The foam layer in both the vinyl- and carpet-top rolls has slits across the width of the foam. The foam pulls apart along these slits as the installer rolls up the material, which allows for the creation of an extremely tight roll for storage. When laying out the foam for the workout, the slits press tightly together, maintaining the integrity of the material.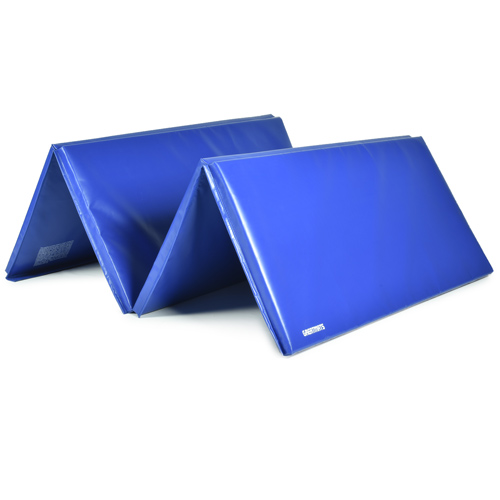 A fold-up option is available in the Discount Gym Mats product. This mat measures 4 by 8 feet, consisting of four 4x2 foot panels that each contain a 1-3/8-inch PE foam core. This delivers a high level of cushioning for many types of workouts.
A vinyl layer completely encompasses each of the panels and connects them, giving this mat outstanding versatility.
Installers can choose to lay the mat flat to receive the full 4x8 foot coverage. They also can fold the mat's panels onto each other to create a smaller coverage area with a greater level of thickness.
What Kind of Workout Floor Has a Wood Grain Look?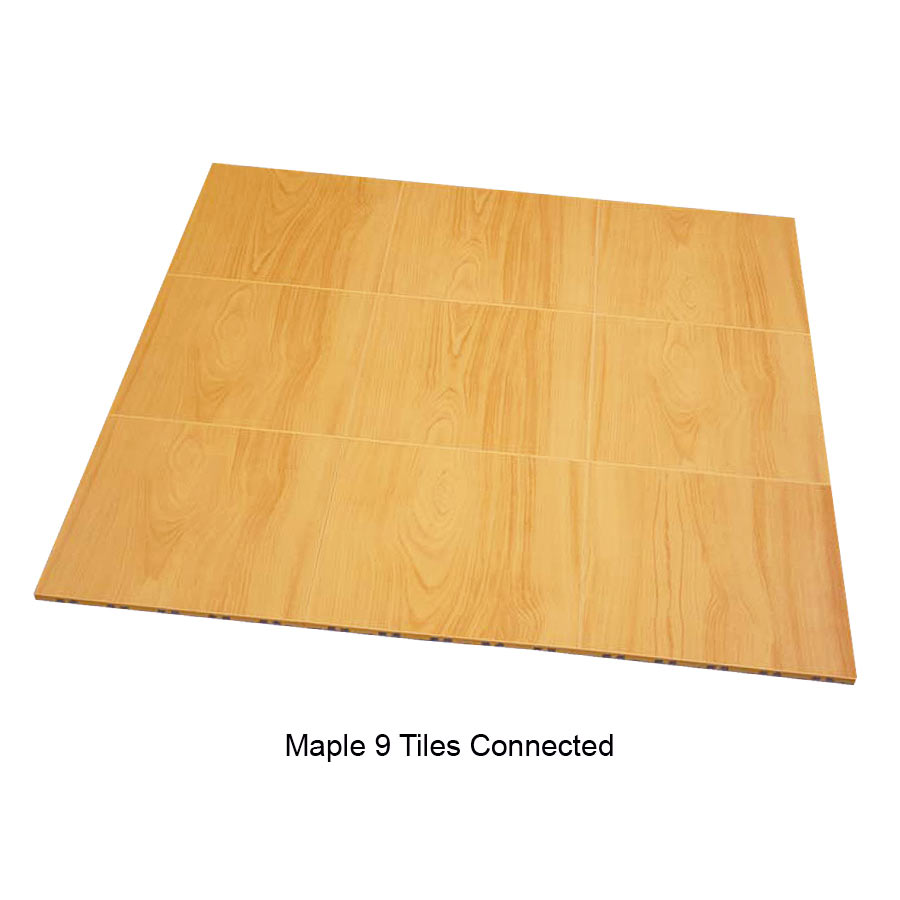 For those who want a type of exercise flooring that they can install and leave in place in any room, the wood grain style in the Max Tile Raised Floor Tiles is the ideal solution.
When selecting a sharp-looking flooring, there's no need to pull up the floors after the exercise session comes to an end. The multiple faux wood grain stain colors in the Max Tile product will give you a flooring that's ideal for exercise, watching movies with the family, or anything in between.
Each 1x1-foot tile pops together with a hidden interlocking tab and hook system in the plastic layer underneath the top layer of vinyl, which simplifies installation.
The
L.E. Phillips Senior Center
in Eau Claire, Wis., installed these tiles for senior fitness classes, as they provide plenty of style and durability for multiple classes per day.
Is Artificial Grass Available in Tiles?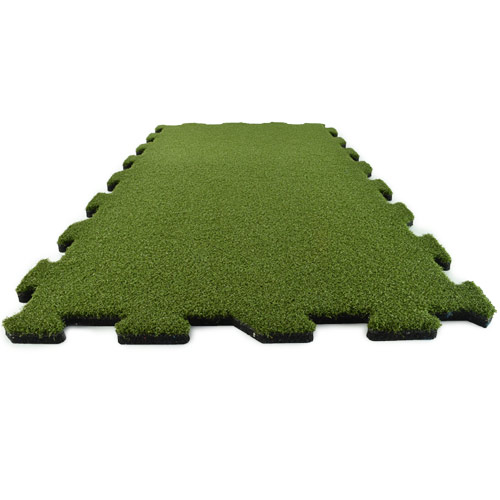 For athletes looking to participate in sprint workout classes, having an artificial turf surface is helpful. The Turf Athletic Padded Interlocking Tiles simplify the layout of an artificial grass product by giving installers interlocking tiles that they can assemble or disassemble in very little time.
This artificial turf tile has a 12 mm base layer consisting of rubber and a 3 mm artificial turf layer bonded to it, resulting in a total thickness of 15 mm (about 19/32 inches). Each mat measures almost 4 by 2 feet in size, so it's easy to cover a large space quickly.
The rubber layer has a durable puzzle style edge, allowing the tiles to pop together without the need for adhesive.