What Kind Of Floor Is Best For Online Fitness Classes?
By Lisa Hobbie Created: April, 2021 - Modified: April, 2021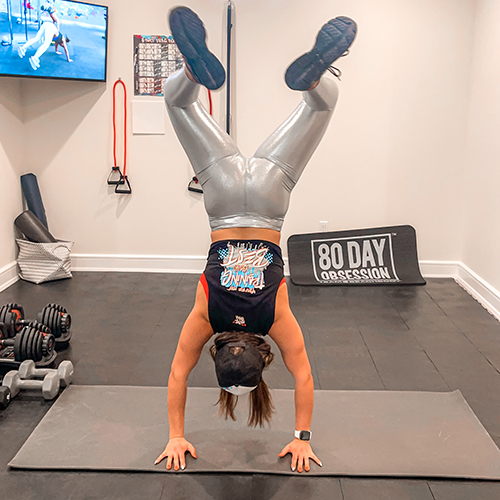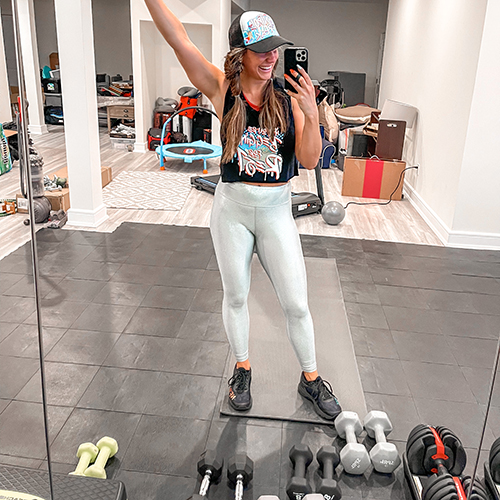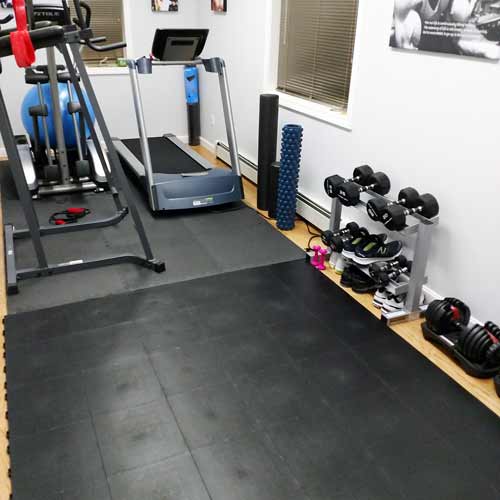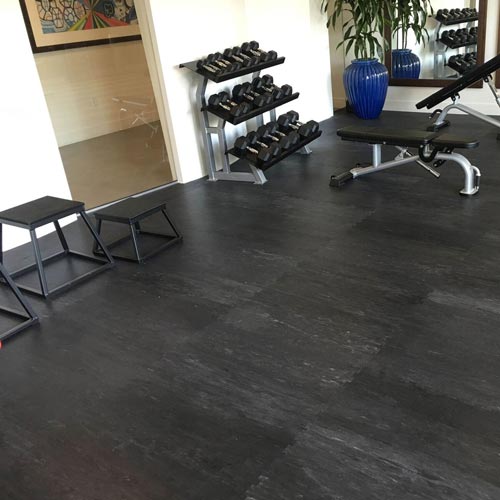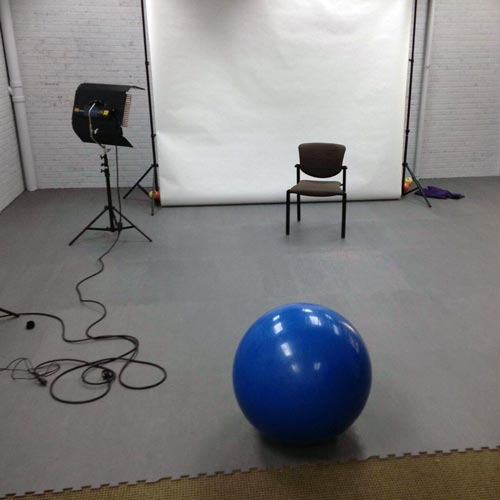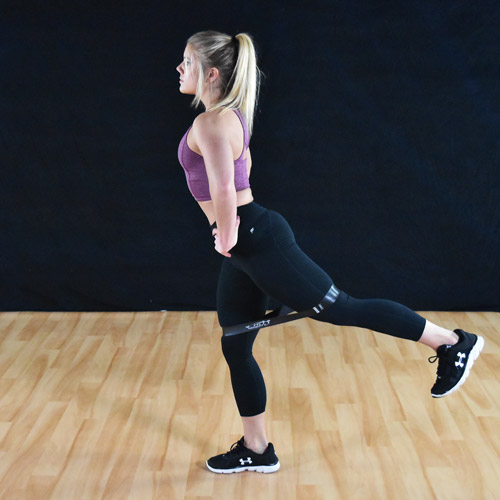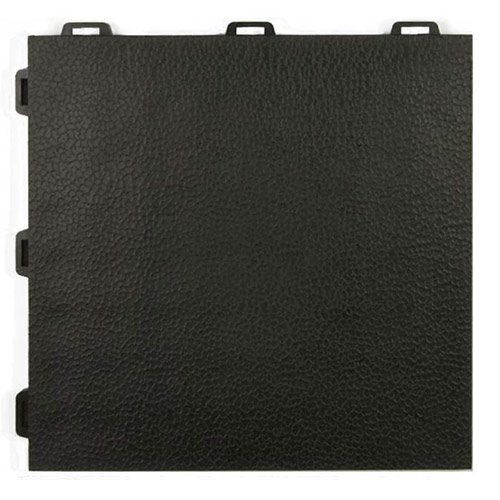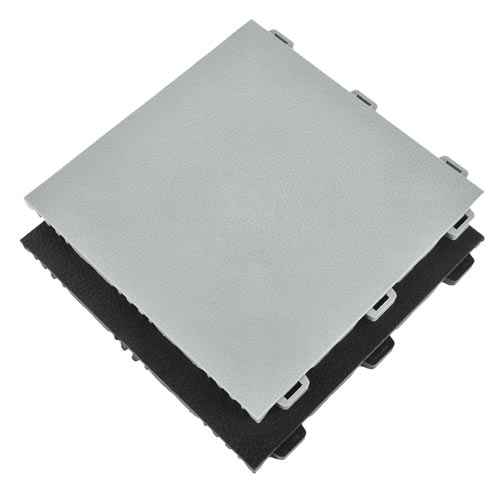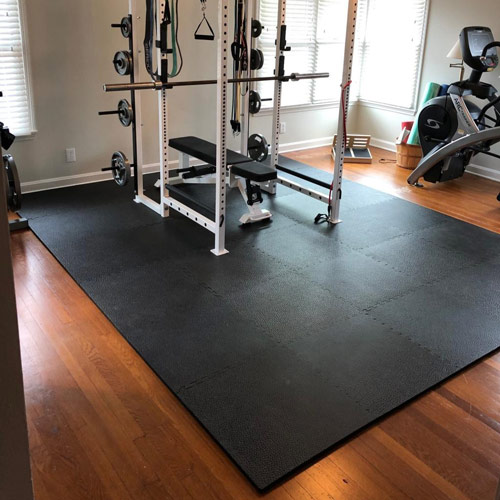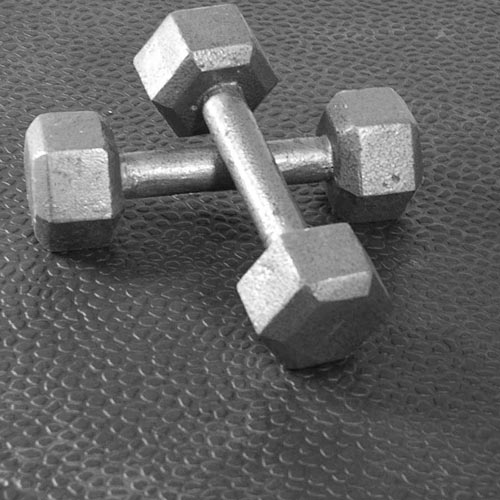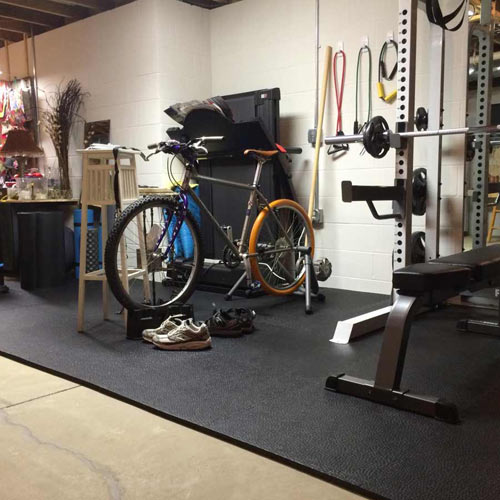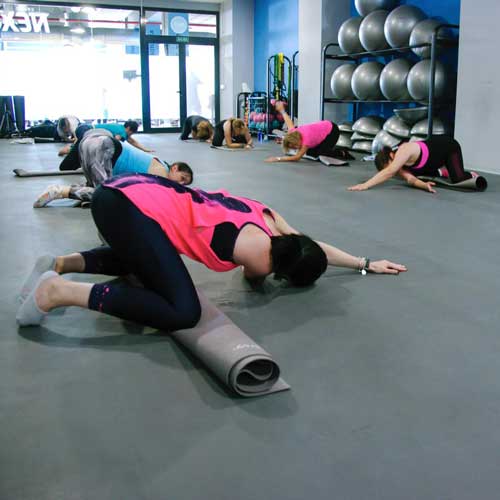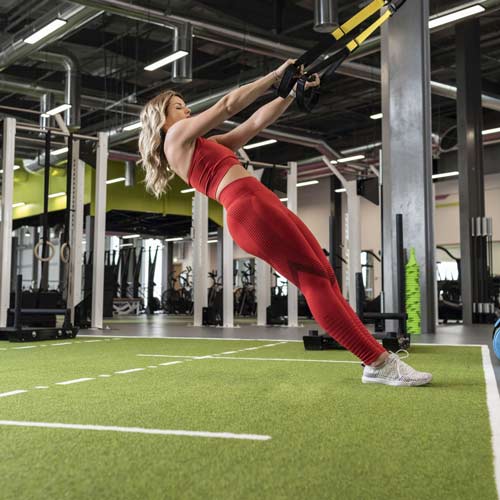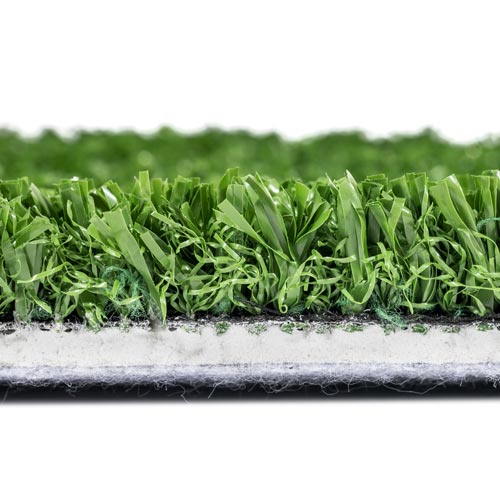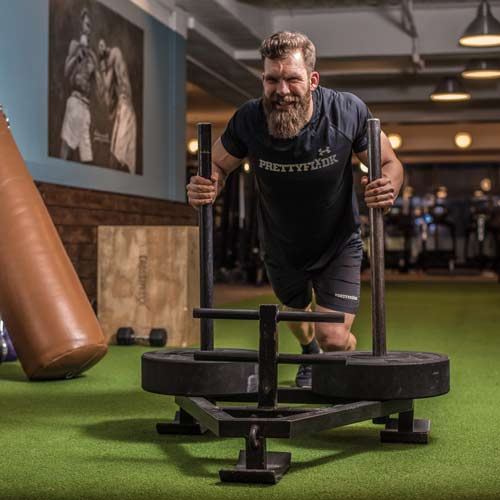 Hybrid learning has become one of the most popular forms of education. Whether traditional school course work or health and fitness classes, combining live and in person learning with online training is known to be one of the best ways to use the most favorable option for different learning objectives. In terms of fitness classes, a live scenario likely takes place in a gym or studio, where a teacher instructs a group in everything from zumba, dance, spin, and other cycle classes to aerobics, HIIT, and more. The training can also continue via a home stream or on demand class, providing the perfect opportunity to develop and perfect skills and gain strength in between live classes.
Online fitness classes
are popular for many, as they can essentially be done 24 hours per day, from the comfort of one's home, without worrying about fitting into a gym's schedule. Having adequate flooring on which to complete virtual fitness classes is one way to make the experience a safer and more enjoyable and successful one. Greatmats provides the best workout flooring options available, with some versatile options suitable for multiple activities, to other options designed with specific practices in mind. Among the products from which to choose, the following eight are among the most preferred by teacher and student:
Although you could participate in virtual fitness classes in a room or space with a hard wood or concrete floor, these traditional flooring solutions do not provide cushion, shock absorption, grip, or other features beneficial to an athlete or workout fanatic. Each of these eight products, however, do offer a number of benefits that would make online fitness classes safer and much more enjoyable, making them a worthy alternative to live and in-person workout classes.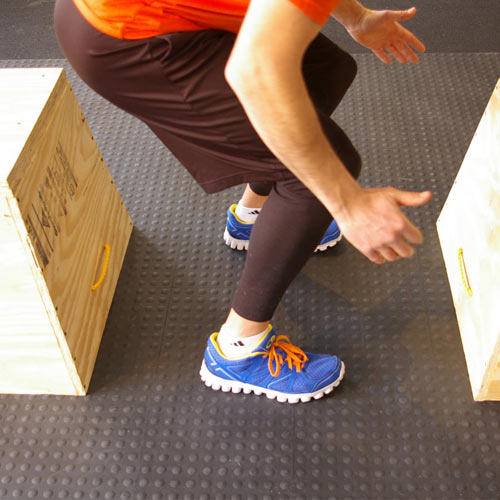 Bump Top StayLock Tile is the perfect product to choose if you desire a flooring solution that is durable like rubber with a cushioning that feels more like foam. Once installed, this durable PVC flooring has a design that will never unintentionally separate, even when placed under pressure.
It offers cushion and support for all intensities of workouts, and its surface texture offers ergonomic benefits, anti-fatigue properties, and aesthetic appeal. This floor will provide a great footing for everything from
Zumba
and
Kickboxing
to online cycling and lifting classes, as it can easily support even the heaviest of exercise equipment.
If you work up a crazy sweat, no worries, as the flooring is waterproof. Its raised design allows it to be installed over most subfloors, even carpet. So, you can take the online portion of your hybrid learning to your bedroom, living room, or basement! This product is available in black as well as multiple colors.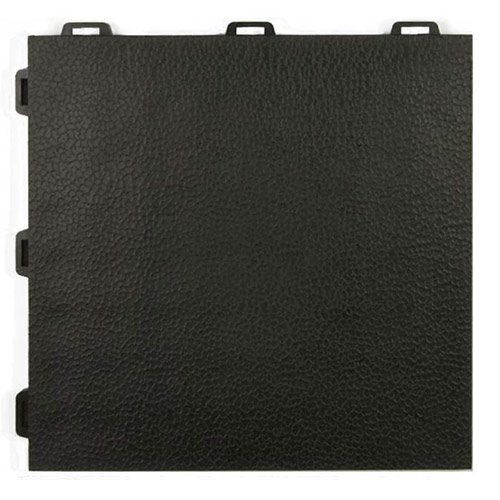 StayLock also comes in an orange peel option. The Orange Peel StayLock Tile is another light weight PVC tile that offers a durable surface which is perfect to support heavy exercise equipment. It also offers a cushioned surface on which to complete aerobic workouts and other online fitness classes. It can be quickly and easily installed directly over your existing floor, and it is waterproof and resistant to most acids and oils. Its smoothed edge support structure will grip your subfloor below, preventing shifting and sliding, but without damaging it. There are several color options in addition to black.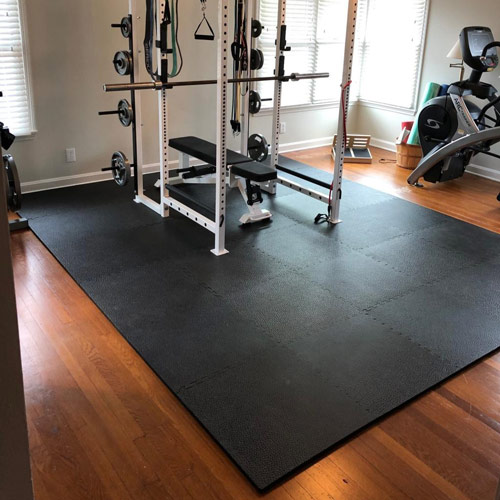 Gym Floor Workout Fitness Tile is a great economical workout flooring system. These tiles are made of high density EVA foam material specifically for use in home gyms and weight rooms. This durable tile is lead and latex free, waterproof, and made to endure the use and abuse of heavy exercise equipment. So, if online
spinning
is your online class of choice, these tiles provide the perfect foundation on which to park your bike. But, it also offers cushioning for every type of exercise from a
yoga
stretch or pose to a
crunch
or
plank
. This really is one of the best versatile flooring solutions for virtual fitness classes.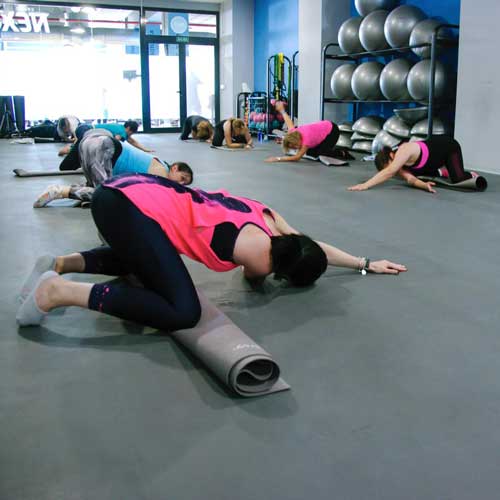 The PaviGym Motion 9 mm Group Fitness Floor is a sturdy and comfortable flooring solution for almost any type of fitness class or activity. It is made from virgin rubber and designed to absorb impact and prevent vibrations from being transferred away from the point of impact. This results in fewer injuries than would occur on cheaper mats or tiles. This flooring also has optimized friction that offers grip to prevent slips and blows. These interlocking floor tiles have vulcanized strength and low rubber odor. With commercial grade durability, this product is often found in yoga and
pilates
studios, as well as
cardio areas
and gyms. So, if you are in search of a floor similar to one you'd find in a group fitness studio that will enhance your online learning, this is a great option.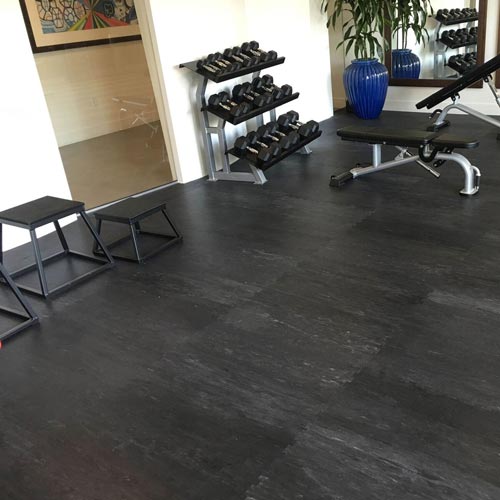 The PaviGym Performance 5.5 mm Fitness Gym Floor Tile is another great product if you want one to go under
weight and exercise machines
, as it is made to prevent slipping and is wear resistant. Made of virgin rubber, this product is super resistant. It absorbs vibrations and sound, and it is super clean and hygienic due to its
impermeability
. This product has a loose lay installation with ultra-tight interlocks and commercial grade durability. There is no rubber odor, and it is super easy to clean.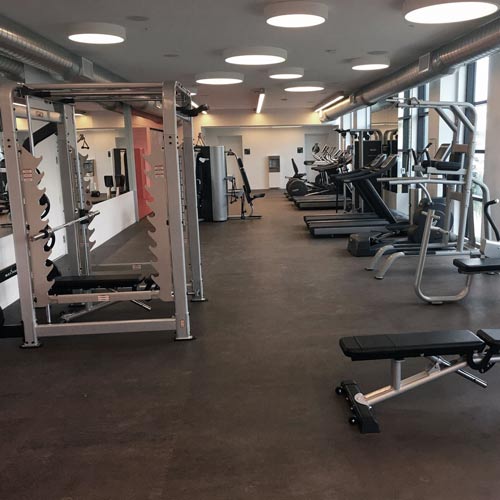 PaviGym Endurance 7 mm Fitness Gym Flooring Tile is yet another suitable option for online fitness classes that utilize heavy fitness equipment. It offers top notch resistance to marks and deterioration that would otherwise be caused by equipment, and it provides noise and vibration absorption. Like the other PaviGym products, this one offers no odor and commercial grade durability.
Many Crossfit gyms utilize
artificial turf
, and if you have adequate space for your at-home workouts, installing the Fit Turf Indoor Artificial Turf 5mm Padded Green per SF product would be a great idea. That way, your virtual fitness classes will mirror those done in person. This product is suitable for home or professional fitness centers, and it has high tear resistance and is
UV resistant
. It's made in the USA and has a 5mm padding and a durable, textured, polyethylene surface layer. It offers top notch stability and more softness than standard nylon or poly carpets. It's perfect for intense exercise programs.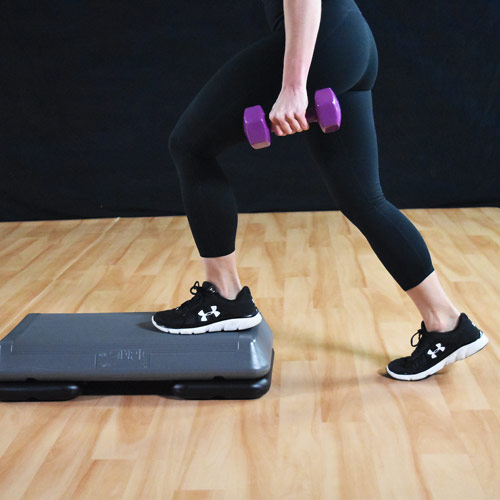 The Fitflex 5 mm Maple Full Roll is a product that is often installed in gyms and fitness centers, sport and recreational facilities, basketball courts, yoga studios, cafeterias, and schools, so it is quite obviously one of the most versatile flooring solutions available. It's made to be a sports flooring product that is an attractive and high performing wood flooring alternative that is perfect for gym settings. This product is waterproof and low maintenance. The vinyl flooring never needs sanding or refinishing, and it is made with recycled pre-consumer material and a closed cell foam backing. This floor would work well for any and all virtual fitness classes available and will perform well for the full life of the product.
Greatmats - For the Best Fitness Program Flooring Options
Whether you're participating in online fitness classes or using fitness training software or DVD programs, having the appropriate flooring in place on which to practice and perform is key to having the optimum experience. Any of the products highlighted would serve you really well, and deciding on which product to select really depends on the types of virtual fitness classes you're taking, the material preference you have, and any other purposes the flooring will serve.
Although many of the products at Greatmats would serve you well in a home workout studio, those highlighted are specially made to endure years of heavy use and abuse, and they will protect your exercise equipment and your existing subfloor. They are all relatively simple to install, and they take very little work to clean and maintain them. They will look great and perform well in your home gym space - regardless of how big or small that space is. Not only will the highlighted products protect you from injuries, they also offer protection for your equipment and subfloor.
If you are looking for the perfect workout floor tiles, Greatmats is your one stop shop!! There are numerous other flooring solutions beyond those highlighted here, all of which could serve you well when your learning model takes your classes to your home. Simply reach out to a Greatmats' customer service team member who can help you determine the perfect product for your space! Regardless of the flooring solution you choose, you simply can't go wrong when you purchase it from Greatmats.