What Is the Best Turf For an XFit Gym?
By Lisa Hobbie Created: April, 2020 - Modified: October, 2023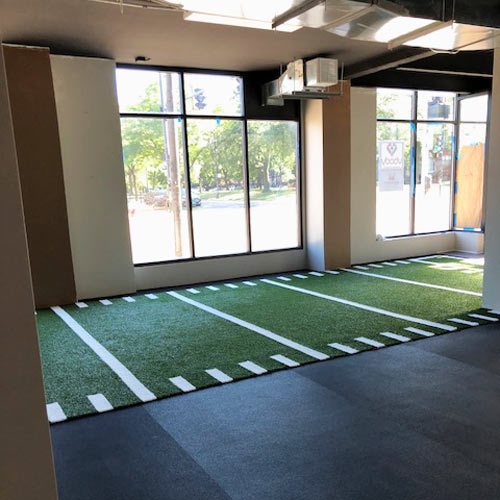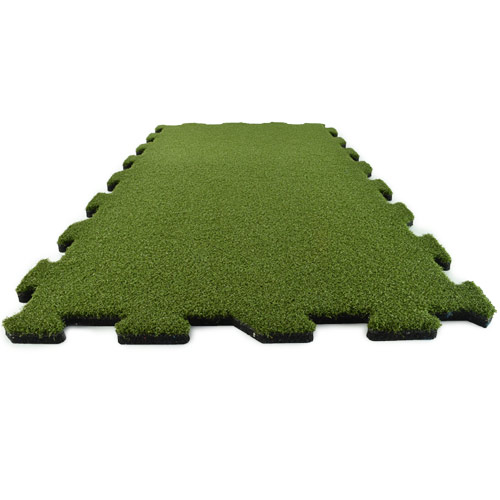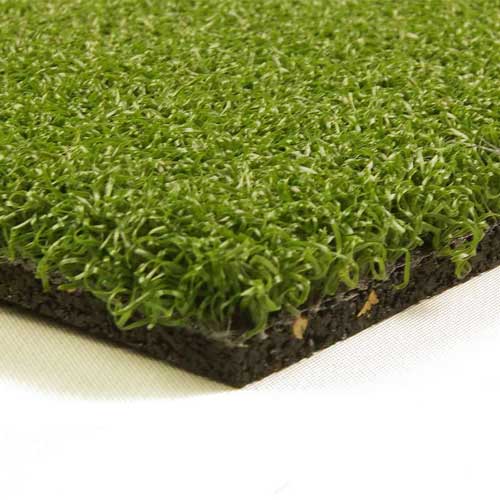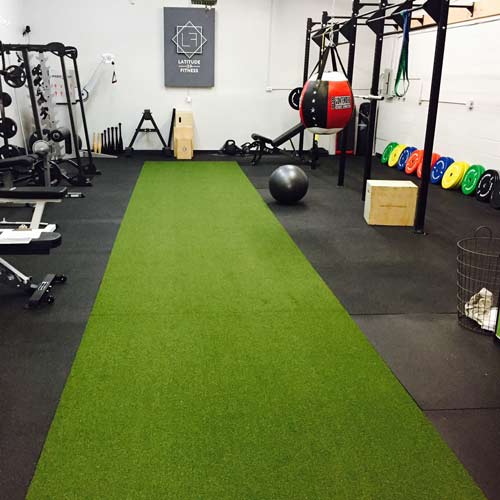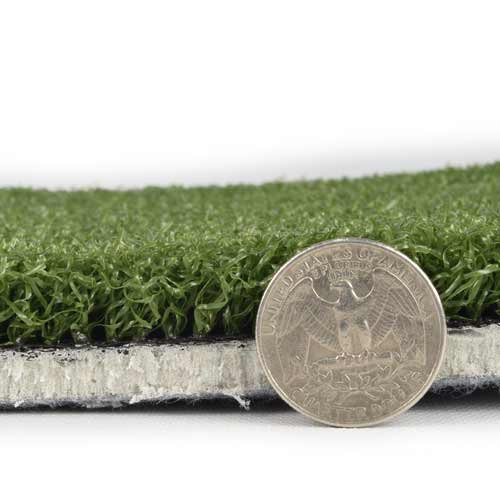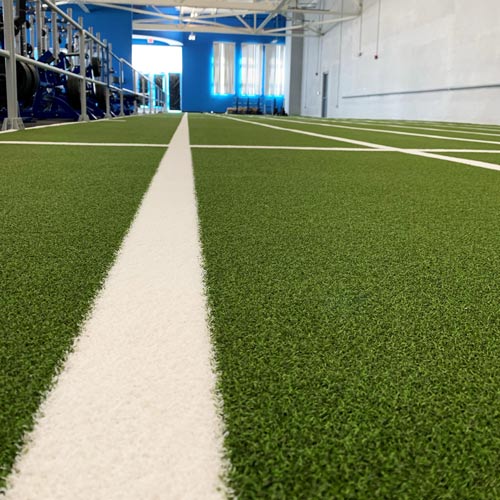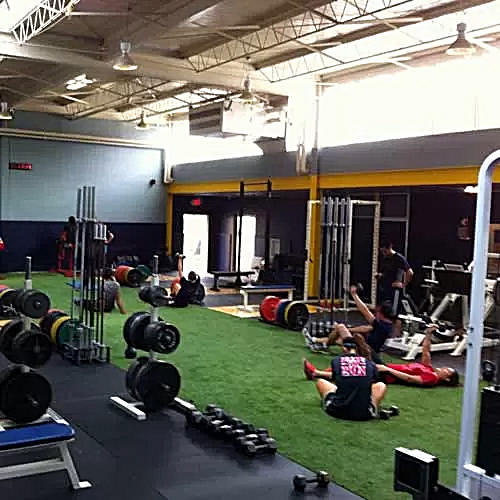 Cross fitness is one of the most popular exercise programs in the health space, today. It is a form of high intensity interval training (HIIT) that combines strength and conditioning with the use of functional movements, such as pull-ups, squats, push-ups, weightlifting, running, rowing, and a host of others. Xfit is effective for losing weight, building strength, agility, flexibility, and cardiovascular health.
Many hybrid fitness facilities will have three or four sections - including an area each for warm up, skills/strength work, WOD or workout of the day, and cool down/stretching. Cross Fitness workouts often take participants outside, or simulate outdoor activities which is where grass becomes an ideal surface for that portion of the workout. Natural grass poses many potential problems, however, such as holes, insects, imperfections, and other hazards. XFit friendly artificial turf, on the other hand, offers a smooth terrain that is safe, attractive, clean, comfortable, suitable for indoors or outdoors, with or without shoes, and designed with physical performance in mind - minimizing injury, floor burn, and fatigue and allowing for higher level repetition and intensity.
Greatmats offers a huge selection of artificial turf options for hybrid fitness. With different textures, thicknesses, sizes, colors, and materials, there is a cross fitness turf option suitable for any home or commercial gym setting or budget.
V-Max Indoor Grass Turf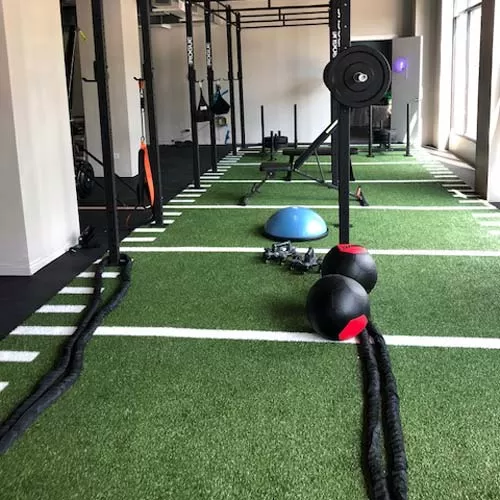 One of the most popular synthetic turf options for cross fitness is the
V-Max Indoor Grass Turf
product. This synthetic grass is among the best indoor/outdoor turf roll options available on the market and works really well to create strips and lanes. The high performance quality, durability, and value are unbeatable compared to other astro turf options. It's virtually maintenance free and reacts naturally - even after heavy use over time! It is designed to provide a realistic feel with a blend of nylon and polyethylene. With a ¾ inch pile height and 5 mm foam backing, you will enjoy the look of a strip of soft, natural feeling grass.
RageTurf Rally Interlocking Tile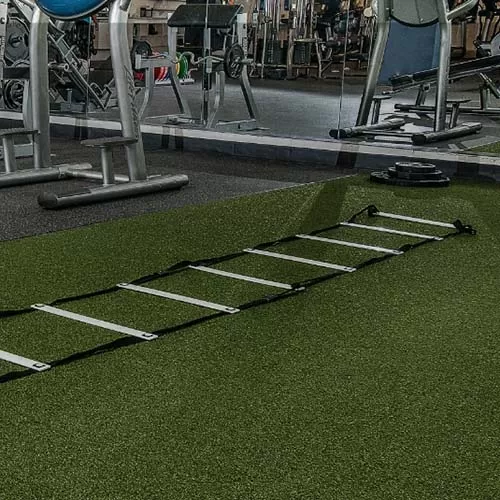 RageTurf Rally Interlocking Tile
is another attractive option that Greatmats offers. These tiles are extremely durable and slip resistant with a textured nylon layer that is very dense. This product is extremely low maintenance, and provides a reliable, portable, and attractive surface that can be used as indoor or outdoor cross fitness turf. It is an economical and ecologically friendly option with a 12mm turf fusion bonded to a 12mm rubber base layer.
Greatmats Gym Turf Value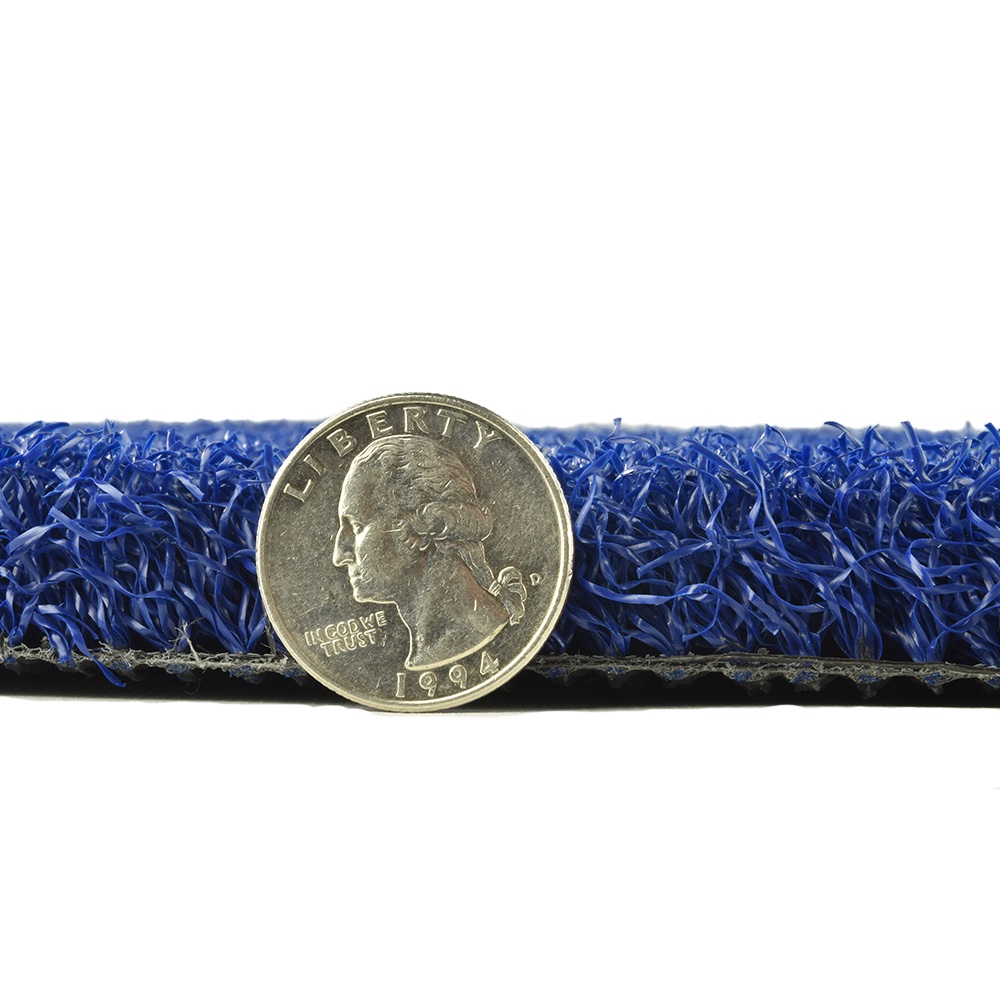 If you are seeking a hybrid fitness turf that is suitable for different types of floor work, exercises, and stretching, choose the
Greatmats Gym Turf Value
. This high performance turf features polyethylene that creates a soft turf that works well for sled training, performance agility, and stability balls. This cross fitness style turf also provides shock resistance and durability that is far superior to what is offered by carpet or bare flooring. It provides a level of safety, as it helps prevent falls and promote balance. Should a fall occur, it also provides padding. It has sound absorption qualities, as well, and it is easy to clean and maintain.
All Sport Artificial Grass Turf Roll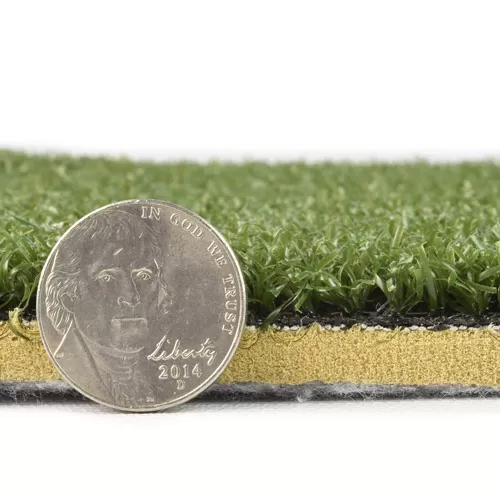 Another cross fitness turf option perfect for workout facilities is an
All Sport Artificial Grass Turf Roll
. This foam-based faux grass offers superior impact absorption. It features a durable, textured, mono-filament nylon material with tight nap much like the interlocking turf tiles. This makes it an excellent option for sled drills, ladders, and sprint workouts. And because it is available in 7.5 foot wide rolls, you can cover a large amount of space in little to no time, allowing any indoor area to instantly become a safe workout area with slip resistant turf.
Bermuda Artificial Grass Turf Roll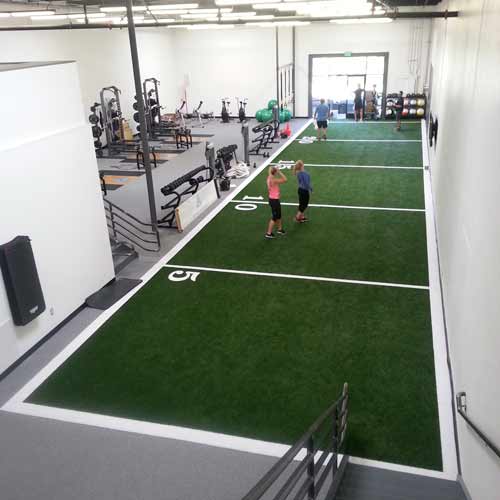 Finally, if you're in the market for a very economical hybrid fitness turf option that works great for sports training and game time, the
Bermuda Artificial Grass Turf Roll
may be the ideal choice. At approximately $4.50 per square foot, this indoor gym turf features high performance quality at an affordable price. It features a soft base foam and tough polypropylene plastic yards which gives athletes a sure footing that provides protection from joint injuries. This turf roll reacts naturally and is easy to clean and maintain. It will provide consistent performance over time.
Cross Fitness Turf at Greatmats
Greatmats is your one-stop-shop for xfit turf. From turf rolls to interlocking turf tiles, regardless of the product you choose, you will enjoy a flooring option that is versatile, durable, safe, economical, attractive, and easy to maintain. Hybrid Fitness turf from Greatmats is made to last, with the ability to stand up to heavy foot traffic, weighted workout equipment, rigorous sled pushes, and more. It is truly designed to be used and abused. The form and shape of the turf will not easily be compromised, as it is tough and resistant to tears, divots, holes, and more.
The turf options mentioned are just a sampling of what Greatmats has to offer. If you would like to discuss these or any other options, just contact the friendly and knowledgeable customer service team. Together, you can figure out what the best options are for your athletes, your budget, and your space.