What Are The Differences Between Modular Garage Floor Tiles?
By Lisa Hobbie Created: March, 2021 - Modified: October, 2021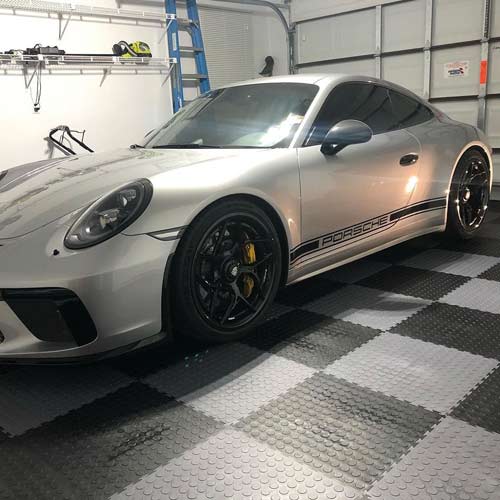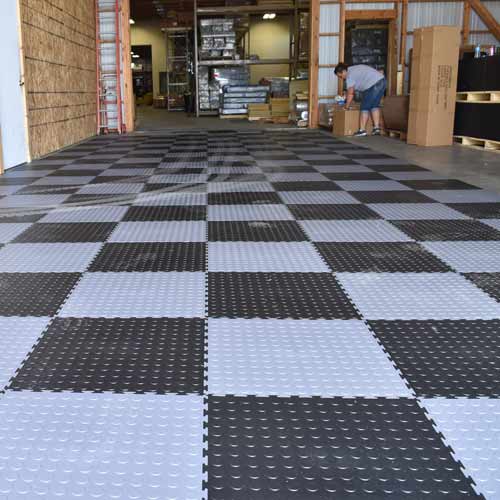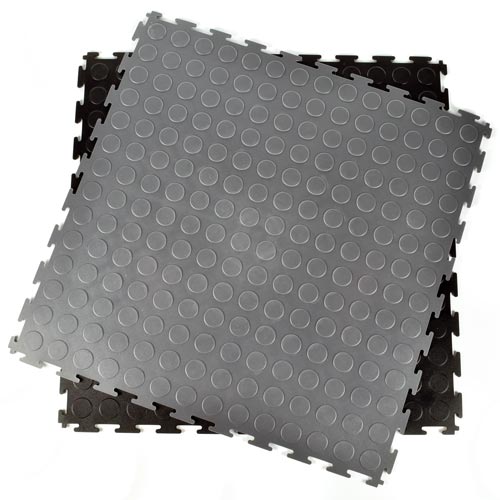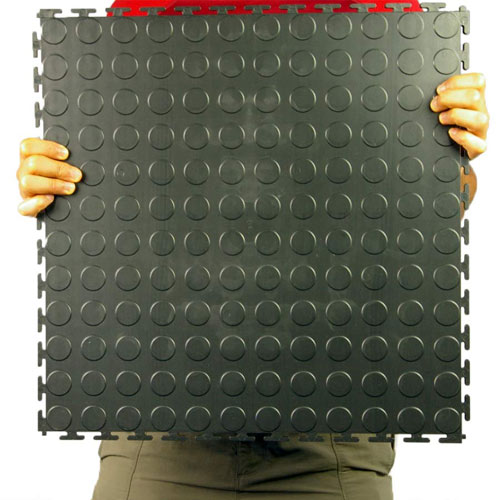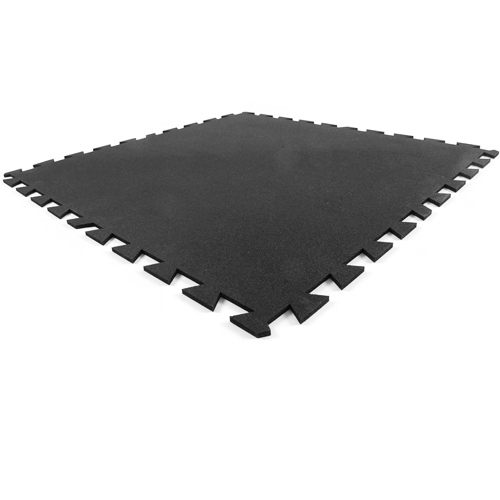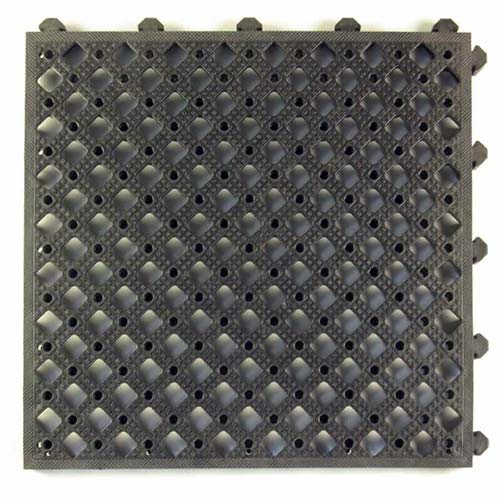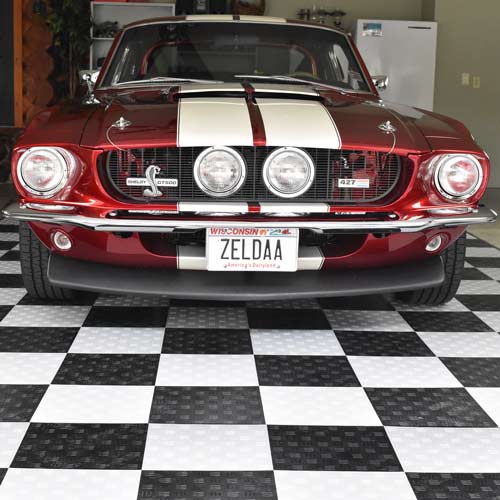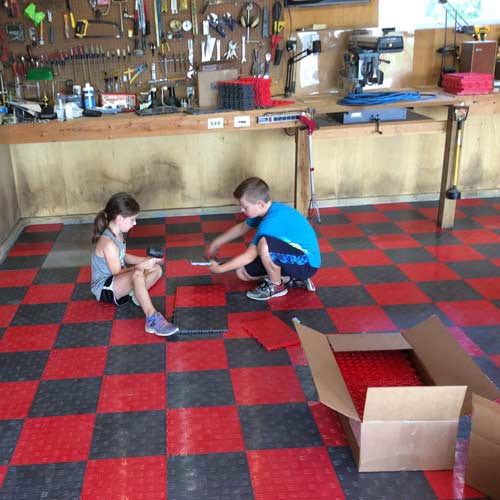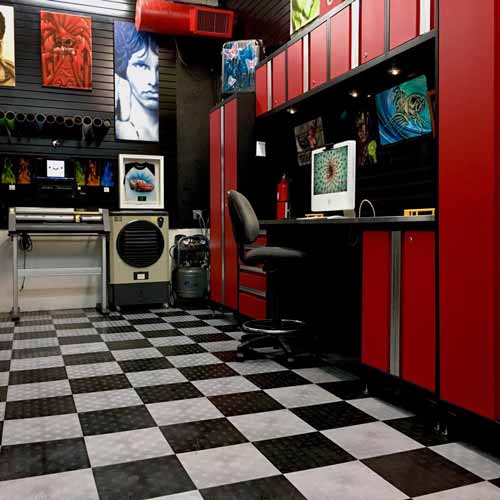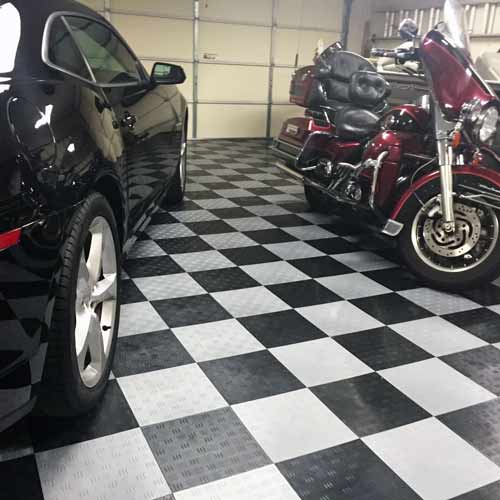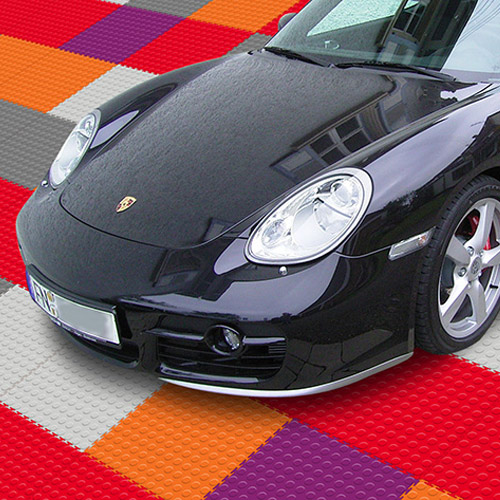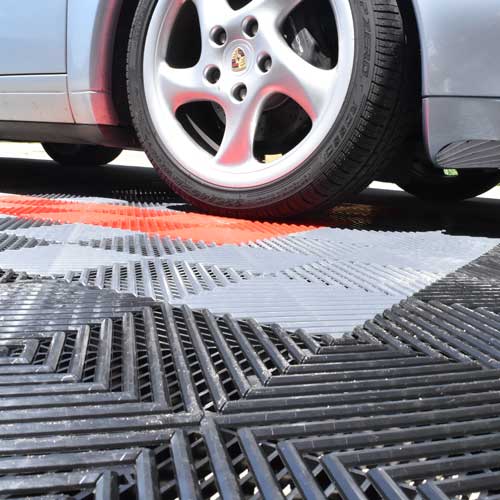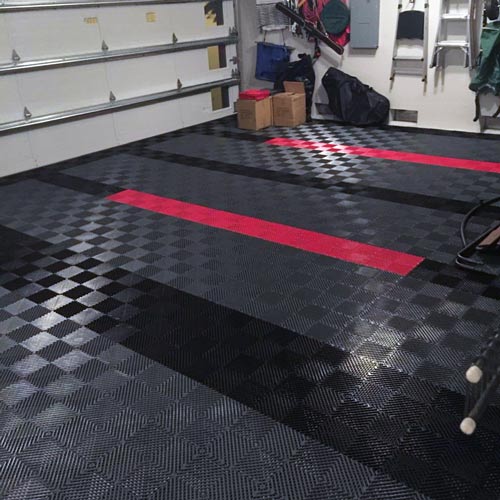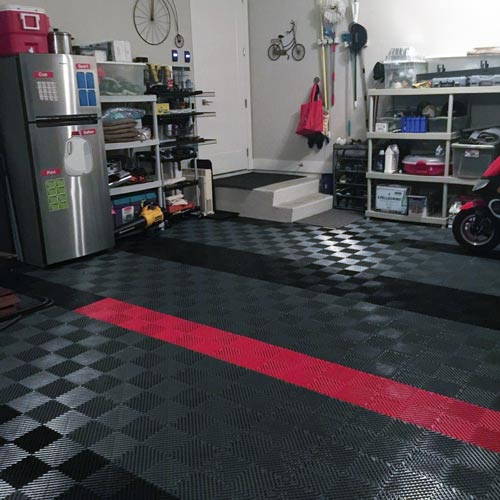 Modular garage floor tiles are a great flooring solution that offer so many benefits in a garage setting. Where basic concrete floors are fine to
park a vehicle
on, modular garage floor tiles offer comfort, slip resistance, chemical resistance, insulation, protection, and so much more. Greatmats has a huge selection of products from which to choose, which may leave you wondering what the differences are between them. Here, we will explore some of the best and most popular products to help you determine which is best for your garage setting.
Part 1: What Are Modular Garage Floor Tiles?
If you spend any amount of time in your garage and want to create a space that is unique and customizable, modular garage floor tiles can get the job done! Modular garage floor tiles are pre-made flooring tiles that are specifically designed to provide for an easy installation, expansion, redesign, or removal. Most products are suitable for a DIY project without the need for special tools or adhesives. Many also allow for air, moisture, and liquids to flow freely underneath - eliminating potential mold, mildew, and moisture problems.
There are a wide variety of options available, and knowing which modular garage floor tiles to choose depends on a number of factors, including your budget, style preference, material preference, and what your garage floor needs to stand up to.
You may also choose to install a few different products in different areas of your garage. For instance, if you want to put a workout space or
gym
in your garage, that area would have one style of tile, an area with workbenches and tools may have a second type, and an area where vehicles and equipment will be parked may have a third type. Or, you may decide to go with one style that can accommodate anything and everything your garage may deliver. Regardless of what ideas you decide to entertain, you are likely curious about the pricing of modular garage floor tiles. Let's explore this further.
Part 2: Which Are The Most Affordable Garage Floor Tiles?
Although all of the modular garage floor tiles at Greatmats deliver an excellent value over their lifetime, the following four products are among the lowest initial cost: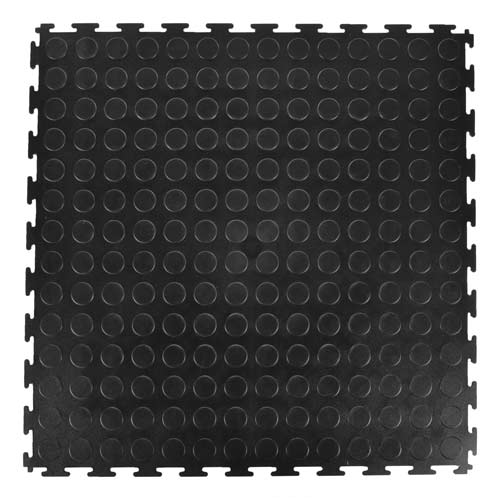 Home Garage Coin Top PVC is a classic black garage floor tile that offers industrial-quality with a fresh look. It provides a surface that is safe and easy to clean, non-slip, durable, and versatile. It can be installed over an existing subfloor without raising the floor height too much, as they are only 3/16 inch thick. They are very simple to install, and the raised coin pattern reduces slipping from foot traffic and vehicles. They are strong enough to endure vehicles, tools, and more, and they are waterproof and resistant to oil, gas, solvents, caustics, mold, mildew, and ozone abrasion aging.
The color and tensile strength of the tiles aren't impacted by environmental factors or extreme weather, and they are eco-friendly. Priced at less than $6 per tile which provides 2.77 square feet of coverage and backed by a 10-year warranty for wear and manufacturing defects, you can buy this product with confidence and without breaking the bank.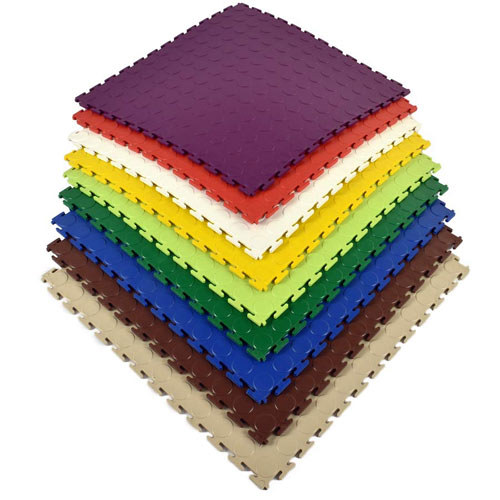 If you like the sound of what the Coin Top PVC black product offers, but prefer more options, it's also available in Home Garage Coin Top PVC Colors. With the same benefits and features as the black option, if you're looking for flooring that's bold and bright or dark and refined, these tiles come in colors that will suit your style preference, like beige, blue, brown, dark green, light green, orange, purple, red, white, and yellow. Mix and match to create a unique design, or, stick to your favorite color of choice. You don't have to pay a whole lot more to get the color options, as these tiles are priced at around $0.70 more than the black option, or around $6.70 per tile.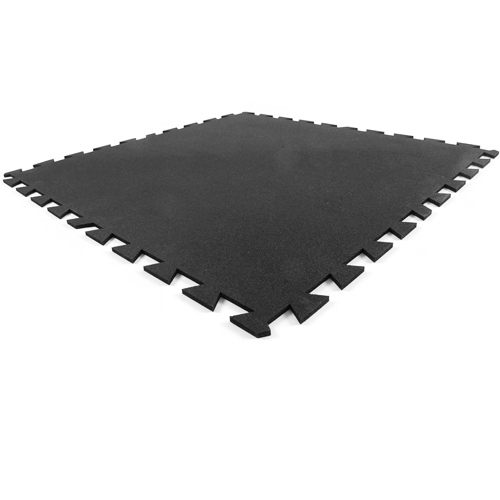 Utility Rubber Tile is another great inexpensive option for your garage. Although not suitable for automotive areas of a garage, it is perfect for a garage weight room or storage area, or even a workshop space. Each economical tile is 3x3 feet, providing a lot of coverage in a short amount of time. It's super easy to install with its interlocking puzzle design, and the tiles are reversible - offering a longer lifespan.
They offer a non slip surface that is durable and eco-friendly. Each tile is 8mm thick and 19 pounds and features a material density rating of Shore A 60. These tiles are tougher than other cheap rubber flooring. They carry a 5-year limited warranty, although the typical lifespan is between 10-20 years under normal usage patterns. Priced at less than $18 per tile for over 8 square feet of coverage, you just can't go wrong with these tiles.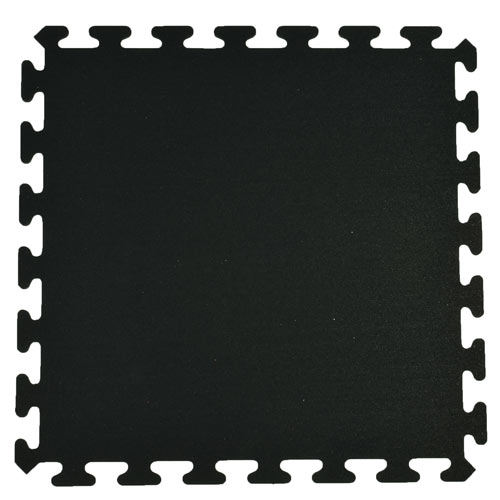 Interlocking Rubber Tile is another option for non automotive areas of a garage. This product is among the most popular at Greatmats, as it offers longevity and high level performance. Made of recycled tires, these tiles fit perfectly with their cut puzzle edge. Each one is 2x2 feet in size and 3/18 inch thick. They are impact absorbing and scuff resistant, and they are designed to endure the weight of exercise equipment - so you know they are rough and tough. Priced at about $10.50 each and providing 4 square feet of coverage, this tile option delivers an excellent value. And because it carries a 5-year warranty, you can be confident in this purchase.
Part 3: What Are The Best Garage Floor Cushion Tiles?
When comparing modular garage floor tiles, you may be wondering what the best cushioned ones are. Although many of the options at Greatmats offer superior cushioned support, the following four products are among the best: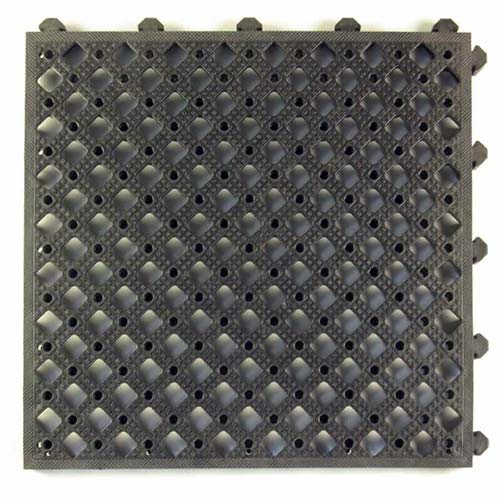 Safety Matta Perforated Black is among the best cushioned modular garage floor tiles. When thinking about cushion, you are likely thinking about a surface to stand and work on. If this is the case, the Safety Matta product is perfect. It has an interlocking lug system that is a breeze to install, and the raised design allows for excellent drainage. The flexible tiles boast a non-slip diamond shield tread design, excellent ergonomic benefits, and anti-fatigue qualities - allowing for hours of garage workshop time. If you do want to park your vehicle on this tile, it is rated for outdoor, indoor and automotive use.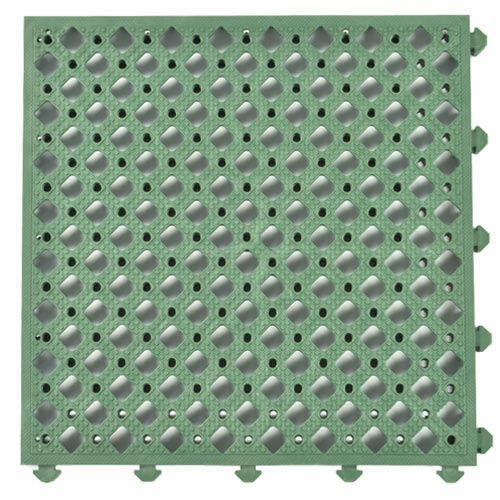 The Safety Matta Perforated Green product offers the same features and benefits as the black option, but it offers a splash of color. Combine it with the black tiles, or, use it alone. The interlocking, anti-fatigue tiles are free draining and are made from materials that have excellent insulating properties.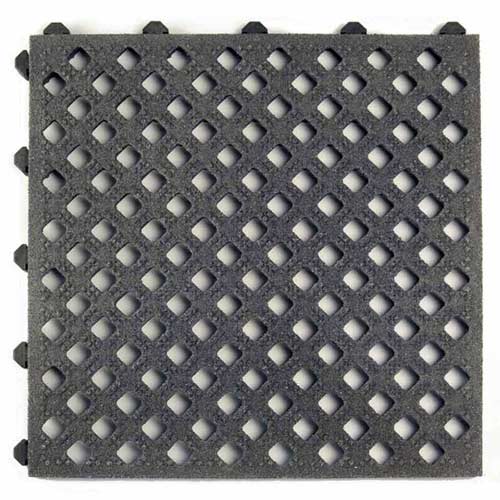 Safety Grit Top Matta Perforated Black is another option made of recycled PVC and rubber that provides a safe and comfortable area for those required to stand and work for long periods of time. If you are looking for a product other than concrete to work on, this one - with its perforated surface and excellent ergonomic benefits - is a great choice.
It's a raised product that allows for superior drainage, and it features a locking lug connection system that's easy to install. It boasts a unique non-slip grit top tread design and has a load capacity of 9282 pounds per square foot. Rated for outdoor, indoor, and automotive use, this cushioned tile is great for any area or space in your garage - or, your entire garage.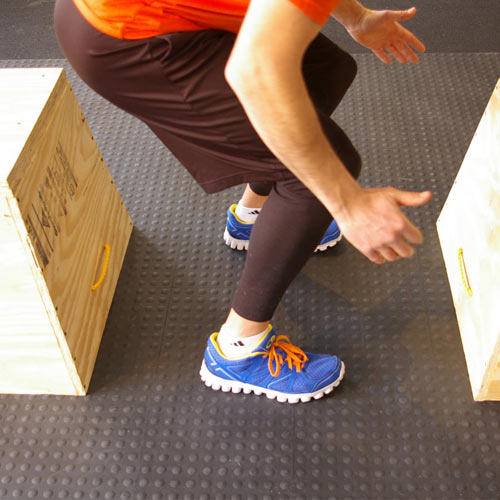 Staylock Tile Bump Top Black is among the most popular cushioned flooring options for a garage gym space. Although not rated for vehicle weight, it serves many other purposes. It is waterproof and resistant to most acids and oils, so it's perfect for garage gyms. And with a lightweight tile design and raised base, water will not get trapped beneath the flooring.
In terms of comfort, this product offers superior cushion and support for any level and intensity, including aerobic workouts, and more! This tile is designed to provide a strong surface that reduces fatigue like mats and padding would.
Part 4: What Are Some Other Modular Garage Floor Tile To Consider?
If you are wondering what some of the other popular modular garage floor tiles are, the list is very long. However, the following five products tend to look and perform well is many different garage applications: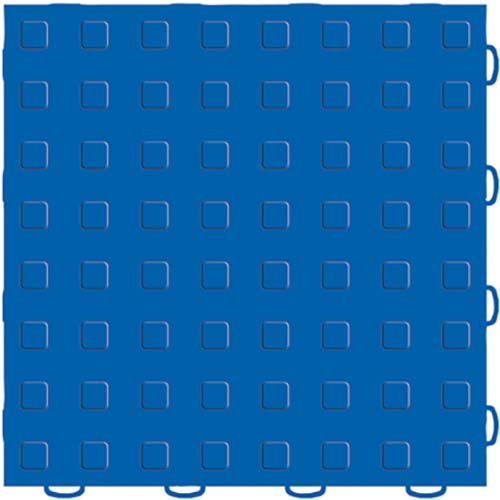 TechFloor Solid Tile with Raised Squares provides a super strong covering for a garage floor. The tiles are made of polypropylene and TPE (thermoplastic elastomers), resulting in a product that offers superior grip for wet or dry non-slip use. These tiles boast top notch strength and resistance to chemicals and water.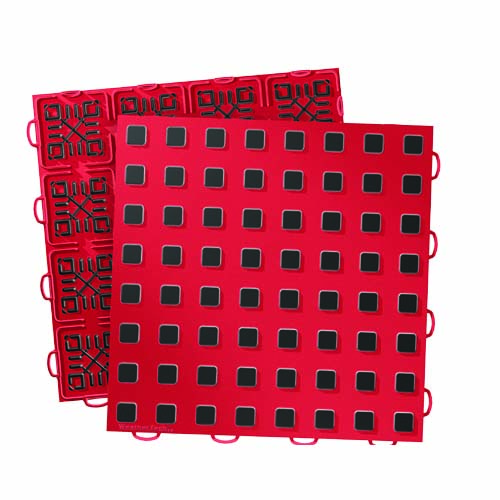 They have a loop and tab attaching system to keep them locked tightly together with a seamless look. They are quick and easy to install and result in a super strong floating floor. This product is available in black, blue, gray, red, and tan - allowing for you to let your creativity go to work in your garage space. It also comes in a TechFloor Premium Tile with Traction Top version, as well.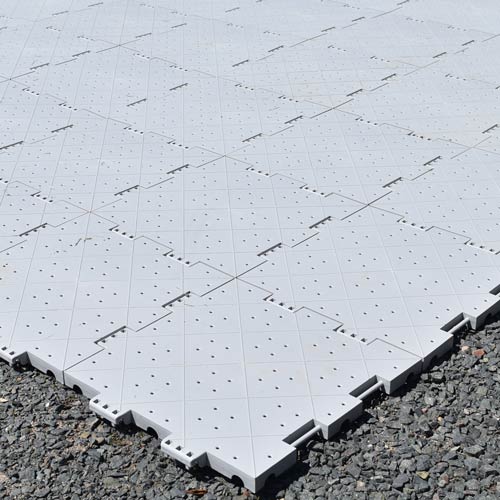 Portable Outdoor Tile is one of the most versatile products sold at Greatmats. These 12x12 inch portable tiles are a great solution to go over dirt, grass, gravel, sand, concrete, or pavement - making them an excellent option for a carport, motorcycle parking pad, or temporary parking area. Made from durable and rigid no-break plastic, they have a DIY clip together design and drainage holes for wet areas. The tile is non absorbent and features an anti-slip surface texture. It comes in 3x3 feet sheets of 9 tiles for a fast and easy DIY installation, and will hold its shape even when placed under extreme weight.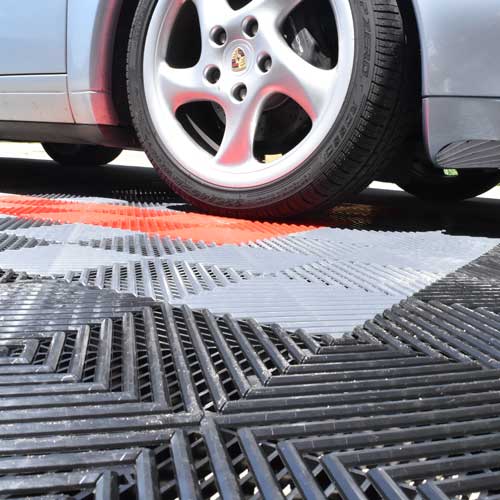 Perforated Garage Tile is a polypropylene garage floor tile option that features a durable, snap together design with 5 tabs per side. The interlock design allows for easy installation without adhesive and is computer engineered for repeated installations without degradation to the interlocking tabs on the tiles. This is an excellent option if frequent assembly and disassembly will be required.
The tiles are rated for 10,000 pounds per square foot and provide additional grip when the tiles are wet. Because water drains through these tiles rapidly, this garage floor tile is very desirable for wet areas of your garage.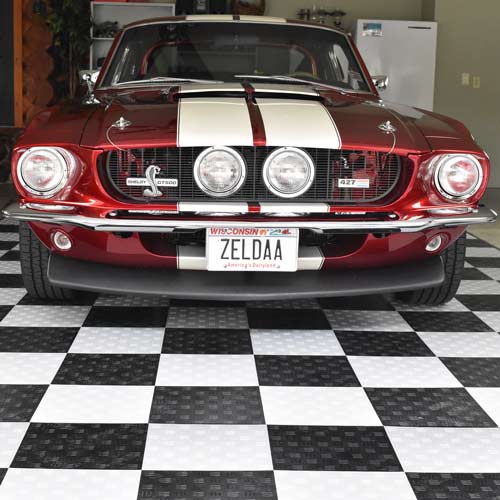 Last but not least is the Garage Floor Tile - Diamond product. This is one of the best garage floor tiles on the market. Made from a robust polypropylene plastic with many colors to choose from, this floor looks and feels superior to walk, drive, or park on and provides a surface that is durable enough to hold weight loads of 10,000 pounds.
This is perfect for parking a car, truck, boat, motorcycle, heavy tools and equipment on without sinking like many other tiles will. It features a tight-fitting snap-together connector system, providing a simple installation process, and the tiles are waterproof meaning they will not absorb liquids. This offers the best in durability with a clean and professional look.
Greatmats - For The Best Modular Garage Floor Tiles
If you are looking for ways to update your current garage, or, if you are considering having a new one built, you are likely exploring modular garage floor tiles. There are so many benefits to installing this type of flooring in your garage, from providing cushioned support and water drainage to colorful designs and high performing surfaces. Where many people stick to a traditional concrete floor for their garage, there are many other options available.
Depending on what you will be using the garage space for, modular garage floor tiles provide surfaces not only suitable for the standard vehicle storage that garages are known for, but also for other purposes like a workshop, gym, or workout space.
Customizing your garage space is easy when you start with the floor. Modular garage floor tiles are simple to install, protect your subfloor, are eco-friendly, cost effective, attractive, and safe. They allow you to put your creativity to work to create a space to work, workout, and tinker with vehicles and equipment. They offer versatility and durability, and they prevent injuries, mold, and mildew. They give your garage space the "wow factor" in terms of aesthetics and performance.
Aside from the products highlighted here, Greatmats offers numerous other garage floor tiles from which to choose - from rubber and PVC to everything in between. From the convenience of a quick snap together floating floor to the insulation provided by tiles, there are many products to consider when shopping for garage flooring.