What Makes Garage Flooring Fit for Use with Cars?
By Kif Richmann Created: July, 2017 - Modified: October, 2023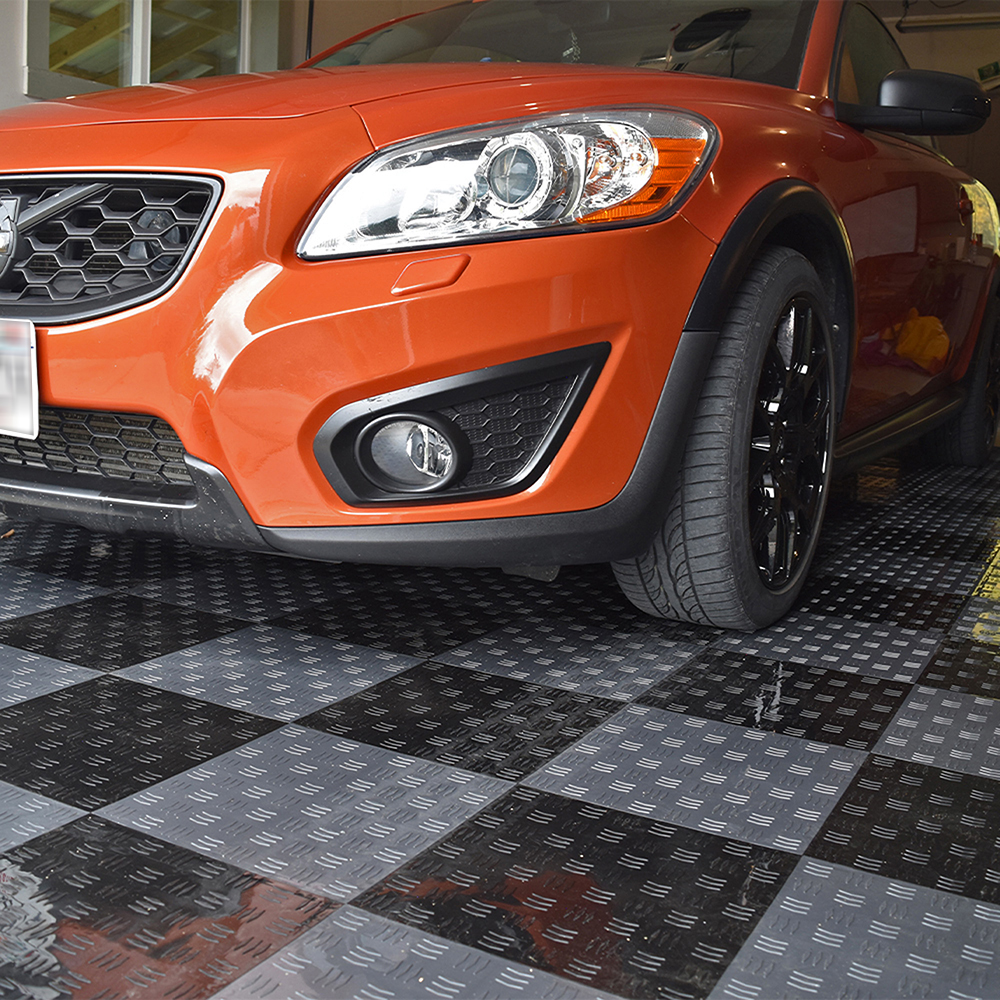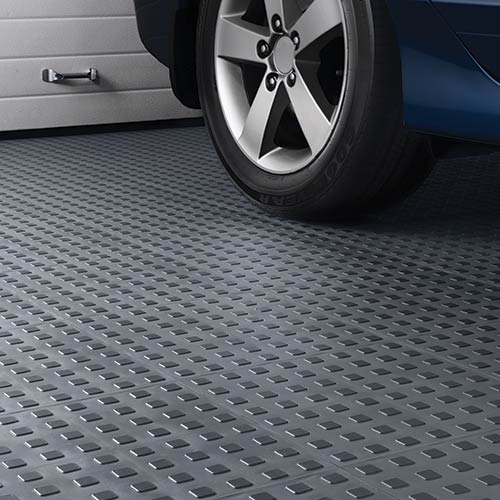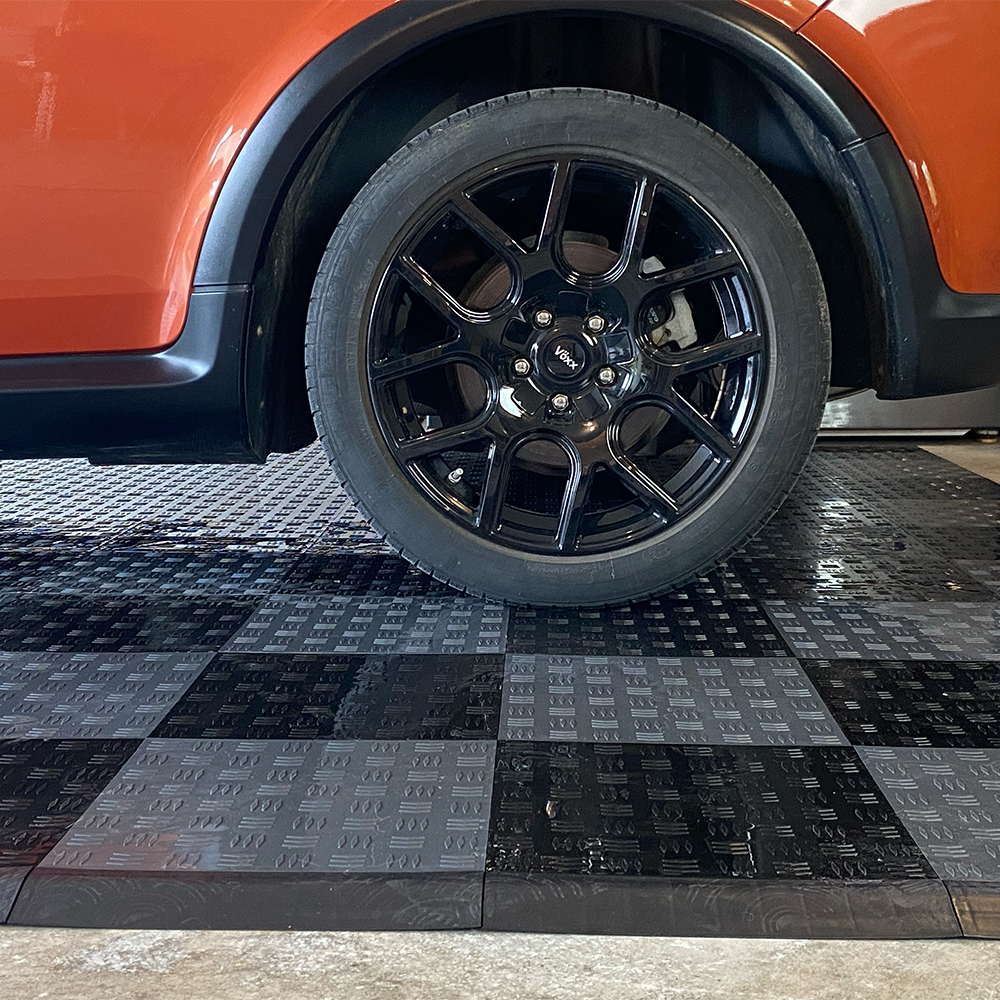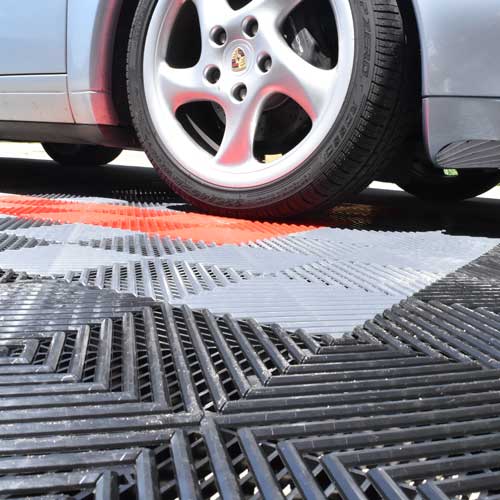 The garage flooring you choose for your home can make a big difference.
You not only need a product that provides a visually-pleasing style, you also need a garage floor tile that is able to withstand years of abuse. From chemicals to salt to tire friction to foot traffic, garage floors need to stand up to nearly every situation.
This can makes selecting the right garage floors a time-consuming challenge, but when you take your time, do your research, and look at all the right factors, you'll find plenty of items that suit your needs perfectly.
So what are the qualities that make garage floors fit for use with cars? There are actually a few!
What Makes Garage Flooring Fit for Use with Cars?
Chemical Resistance
If you are parking a vehicle in your garage, the flooring or surface is going to be exposed to a wide range of chemicals. This can include dirty engine oil, steering fluid, antifreeze, and even gasoline. Because of the wide variety of harsh chemicals, you need a garage flooring that can stand up to nearly anything. This is especially important if you will be working on the car, as you could spill chemicals while you tinker with the vehicle.
You certainly don't want to spend your hard-earned money on a garage flooring material that will become damaged and destroyed by a vehicle's chemicals, so make sure you take your time and thoroughly check the garage flooring you have in mind to make sure it meets your specific needs.
Traction
It seems like an obvious factor, but many times this is ignored when people install a garage flooring or snap-together garage flooring tiles. Make sure you pay particular attention to the amount of traction you will get from the flooring you choose, as you certainly don't want to slip and slide inside the garage.
While the chances of your vehicle sliding when you drive into the garage are minimal, it can happen, and it creates a potentially dangerous and expensive situation. Slipping and falling while walking in the garage, however, is more common, so be sure to install good traction for your garage floor tiles.
Easy to Clean
How many hours do you want to spend cleaning your garage floor tile? If you're like most people, the answer is ''as few as possible.'' As we discussed earlier, there will be a lot of chemicals falling on your garage floor; there will also be water, mud, dirt, road salt, and everything else you can image!
Cleaning the floors should be a high priority, and this means having heavy-duty garage flooring that can stand up to years of abuse while being able to clean quickly. Do yourself a favor and only purchase flooring that can be cleaned with simple steps and won't stain or fade in color.
Simple Installation
You should also have a floor that is easy to install. While you can hire someone to come in and install the flooring for you, finding garage floor tiles that you can install yourself is surprisingly easy. There are many fine products available, and you won't need an engineering degree to piece them together and create a world-class garage floor.
For example, our
Garage Floor Tile Diamond
product is
very easy to install
. If you can put together a puzzle, you can likely handle the installation of these garage floor tiles. In fact, all you'll need for wall-to-wall installation is a tape measure, utility knife, and a pen.
Moisture Resistant
There will be a lot of water collecting in your garage, so the garage flooring you install needs to be moisture resistant. It should not soak up water, which can create significant mold and mildew, and it should never trap puddles of water underneath. Having a water-resistant quality will help when water drips off the vehicle or snow and ice melt off onto the floor. It can also be helpful if there is a significant downpour that allows water to enter your garage.
Any absorbent material will be a bad idea for garage floors, so make sure the product you choose is made from a hard plastic, especially one that can hold up to the weight of a vehicle. Any carpet, wood, or porous tile will be ill-suited for a garage floor that holds a vehicle.
Durable Against the Weight of a Car
We've mentioned it before, but it certainly deserves its own category. After all, what's the point in having a special garage floor installed if you can't count on it to support the weight of a vehicle without breaking down. While some cars are obviously lighter than others, the flooring you select should be able to support thousands of pounds.
By installing a durable garage floor tile, you give your garage space a solid foundation for nearly any vehicle you drive. Most tiles are well-equipped to handle the weight of cars, trucks, and SUVs, but you still need to do your research and look for the supporting weight rating for the product. Take this step and you will save yourself a lot of hassle in the future.
Resists Road Salt Damage
When winter comes around, you'll be glad you installed a garage floor tile that won't break down when exposed to salt, sand, and other materials used to add traction on the road. Salt can be very harmful to many different floor components, including metals and concrete. It can also cause fading if you have added a coat of sealer to the top of your concrete.
Most garage floor materials will tell you if they are salt resistant or at least specify that they won't rust or breakdown, so be sure to look for this information when making a purchase. If you choose a product that can be damaged by salt, you could find yourself purchasing a new floor after only a few winters, costing you more money in the long run.
Won't Chip from Dropped Objects
When you are working in your garage, you will likely have a lot of tools. You may have screwdrivers and ratchet sets for toying with your vehicles. You could have equipment for working in the yard, such as shovels and rakes. There could even be items for taking care of the home, such as hammers and wrenches. If any of these items fall from even a couple of feet, what would happen to your garage floor?
You need a material that won't chip when large or heavy objects fall to the floor. This means finding garage floor tiles that are made from a strong material that can stand up to years of abuse. Check to make sure the garage tiles you purchase are made from a quality material and you'll be much happier with the long-term results.
Visual Appeal
It probably matters more to some people than to others, but let's face it, it can be fairly important. You want to have a garage floor that looks neat and clean and gives your garage a high-quality appearance. You need an item that looks good, and you should be able to choose a fit and finish that matches your preferred style.
Maybe you want bright yellow. Maybe you want faded grey. Maybe you just want simple black. No matter what color or texture, you should have something that looks good now and in the future.
Should You Use Rubber in Your Garage?
One of the
top materials for covering garage floors is rubber
. While many people assume this product will be fine for any garage, you should think very closely before choosing a rubber mat for your garage, especially if you park your car in the garage.
Rubber is very durable and can last for decades in the right setting and under the right conditions. However, if you are going to park your car in the garage, avoid using rubber garage floor tiles or rolls. Car tires create a very strong grip, so strong in fact that it could cause the mats to buckle and rip. Also, many of the chemicals from vehicles can cause damage to rubber, so choose a more reliable product when choosing mats for your car garage.
So when can you use rubber mats in a garage? Basically if you don't park in the garage, it's perfectly acceptable to use rubber mats. For example, if your garage is used as a gym, then by all means choose rubber mats. If it is a game room or a place to relax, then rubber will provide solid traction for shoes and give you the reliable performance you expect. So as long as you're not parking a car over the rubber, rubber mats will meet your needs and provide lasting quality.
Find the Right Garage Floor Tiles with Greatmats
Greatmats has a huge selection of tiles for garage floors. You'll find items with decorative finishes, colorful styles, and durable materials.
Whether you need to decorate a world-class auto shop or simply want a safe surface for foot traffic, we have all the right garage floors for your needs!