What is the Best Flooring for a Garage Gym?
By Lisa Hobbie Created: January, 2020 - Modified: March, 2023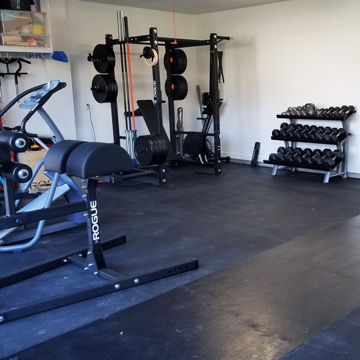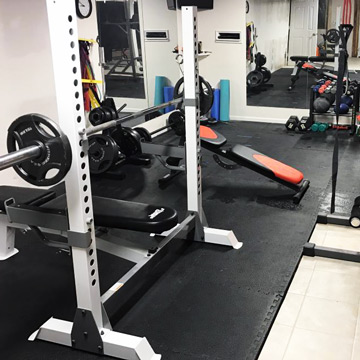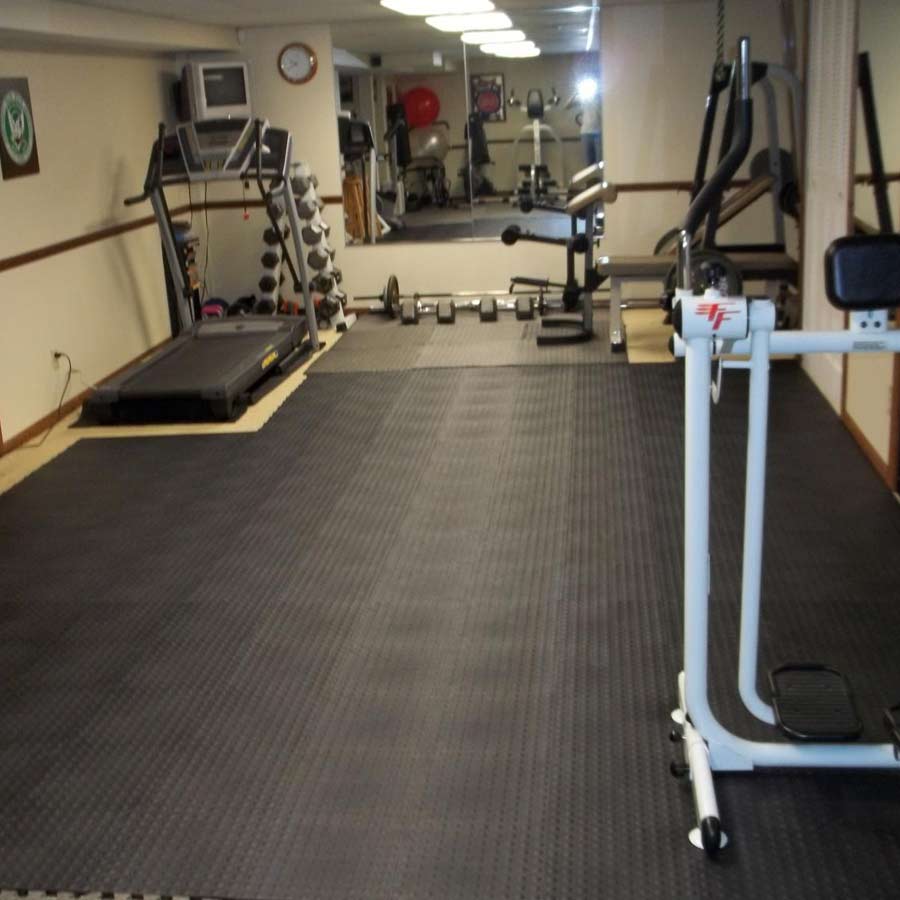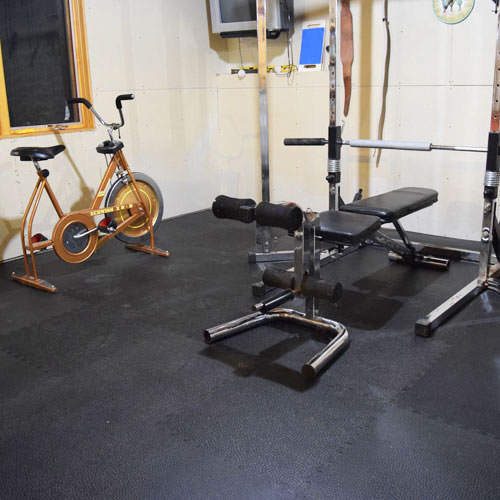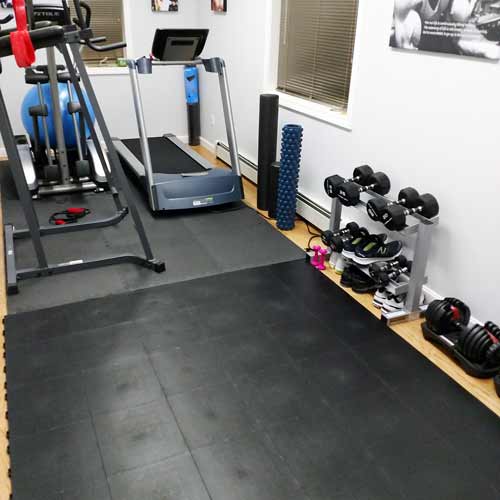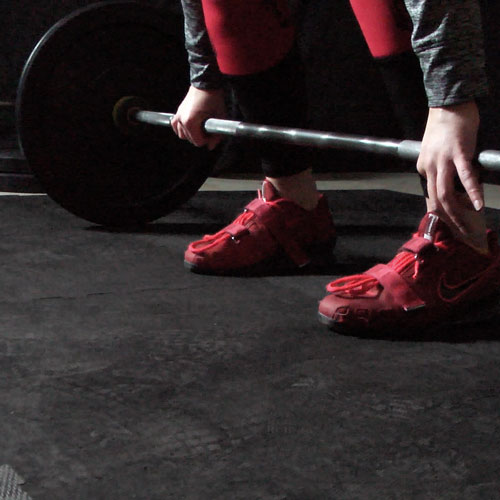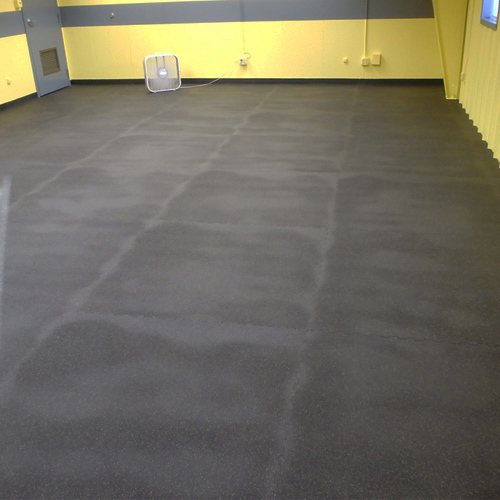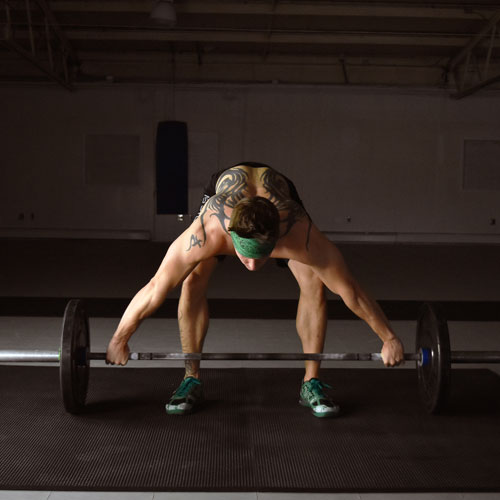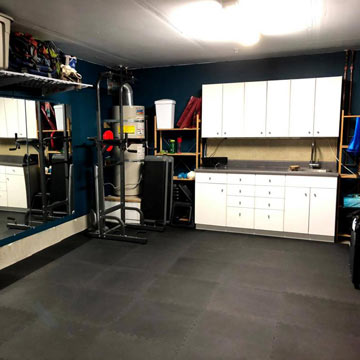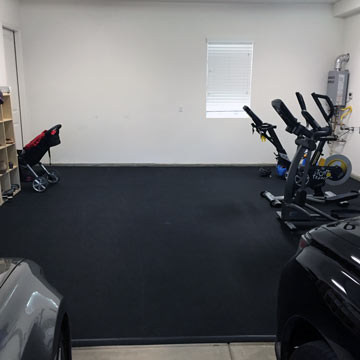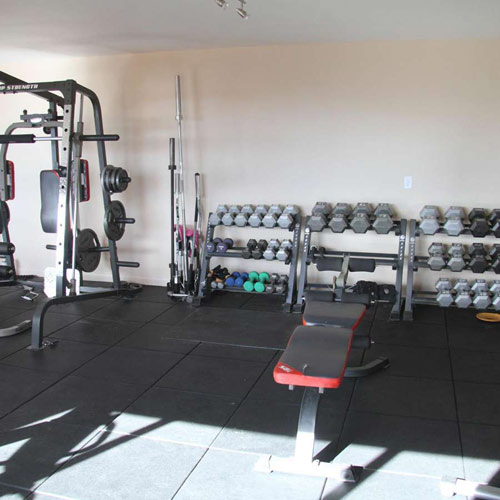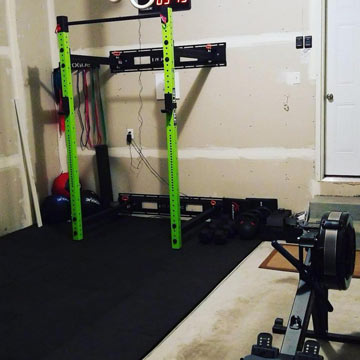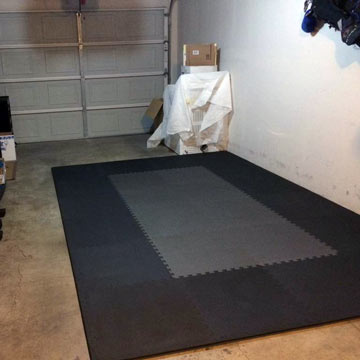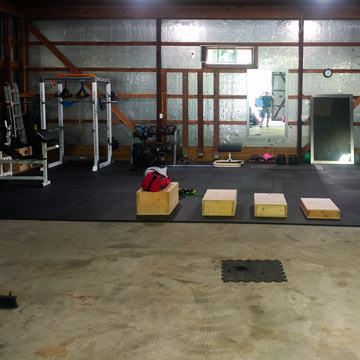 An in-home workout studio or gym is no longer a luxury. In this day and age of health and wellness awareness, most homes have some sort of workout area. Where some may not have extra room in their house, a garage or portion of a garage makes an excellent workout space. If this is something you are considering, you may be wondering what the best garage gym flooring would be. An appropriate floor can quickly convert a standard garage to an amazing fitness space. 
There are many things to consider when shopping for this type of flooring. You will want one that is durable, insulative, water resistant, and low maintenance.
Best Types of Garage Gym Flooring:
Foam Tiles
Cushioned PVC tiles
Heavy Duty Rubber Tiles or Mats
Foam Tiles for Garage Gym Flooring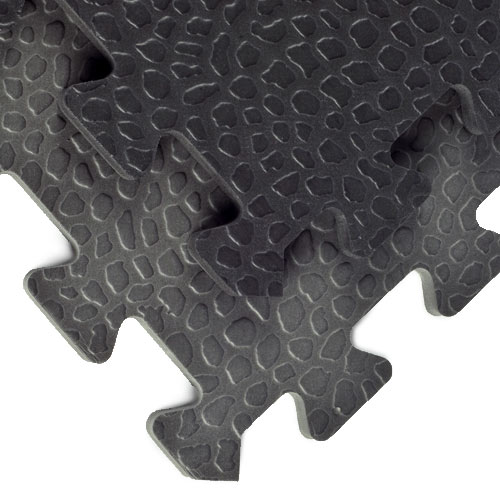 An excellent garage gym flooring option that combines durability and design is the
Home Gym Flooring Foam Tile
with a pebble style surface texture 10 mm thickness. 
With a thickness of roughly ⅜ inch and EVA foam material density rating of Shore C 62, this fitness flooring will maintain its withstand heavy of exercise equipment and provide protection to the subfloor against mid to lightweight free weights! 
It is lightweight and portable with a simple interlocking design. This makes for
easy, diy installation that is perfect for a garage
. Should you need to take it apart to use your garage for something else, it is easy to do in a matter of seconds to minutes, depending on the size of space you'll be pulling up. Then reinstall when you're ready! 
This workout flooring is latex and lead free, and it has a surface top texture that provides secure footing with athletic shoes or bare feet. While these foam tiles do not have a ramp finish with a slope on the edge, they do include border strips that remain at the same thickness as the rest of the low profile exercise surface. 
Cleaning floor tiles doesn't get much easier! You can simply sweep or vacuum off any dirt or dry debris or use a damp mop and cleaner without bleach for a deeper clean. 
Cushioned PVC Staylock Tiles for Garage Gym Floors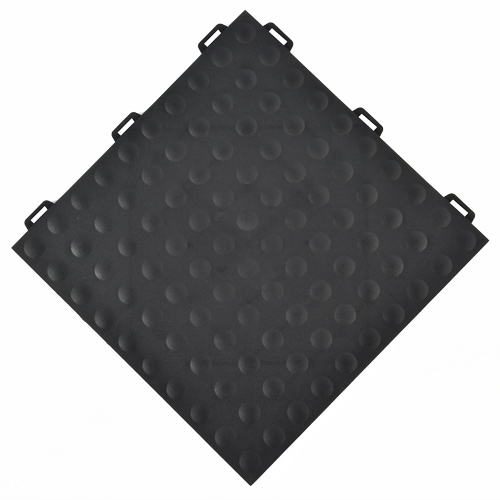 If one of your ideas is to find something that is durable like rubber with a cushion like foam for your garage, the
StayLock Tile with a Bump
or
Orange Peel Top
is a fabulous choice. 
These durable
PVC floor tiles can be installed directly over carpet, tile or cement
- without any underlayment. The tile has an interlock design that fits tightly without separating over time. The pop together flooring system is perfectly suited for garage gyms, as it is waterproof and resistant to most acids and oils. 
In terms of comfort, Staylock quick connecting gym tiles provide superior cushion and bounce support for any level and intensity, including aerobic workouts, crossfit, Zumba, and more! 
They also feature surface top textures that provide excellent ergonomic benefits and aesthetic appeal. 
Staylock tiles are also among the most durable cushioned gym flooring, with the ability to support heavy exercise equipment! Black varieties are made from 100 percent recycled plastic material and also come in many designer colors. They are also non-absorbent, and will not degrade over time.
Rubber Mats for Garage Gym Weight Lifting Areas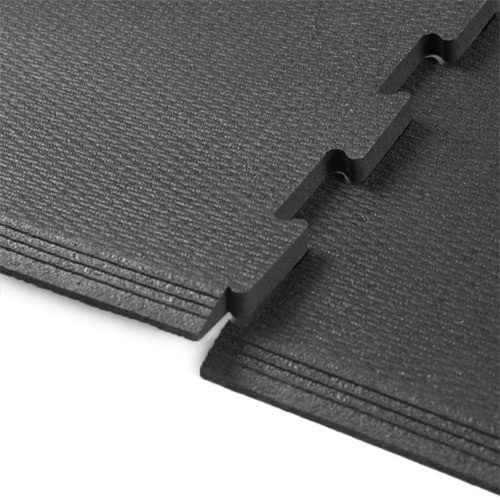 One of the best garage gym flooring options is the
Shok-Lok Rubber Tile
, it is often recommended for areas in which heavy weights will be dropped. This heavy duty, ¾ inch commercial grade recycled rubber is completely non-absorbent, meaning, it will not harbor or promote bacteria growth. 
In garages that could tend to be damp, this feature is a must. It contains an agent that reduces the rubber aroma, and its design provides a reduction in noise and vibration. 
This rubber puzzle tile does not curl, and it comes with optional straight and beveled edges to avoid tripping hazards and provide a finished look.
Many competitive athletes have found this flooring to be top notch.
Karl Streit installed this flooring for his home garage CrossFit space
. He wanted a flooring option that provided impact absorption, a non-abrasive surface, and a material that wasn't too soft. He found the Shok-Lok Rubber Tile to be absolutely perfect. 
Best Heavy Duty Horse Stall Mats for Garage Gym Flooring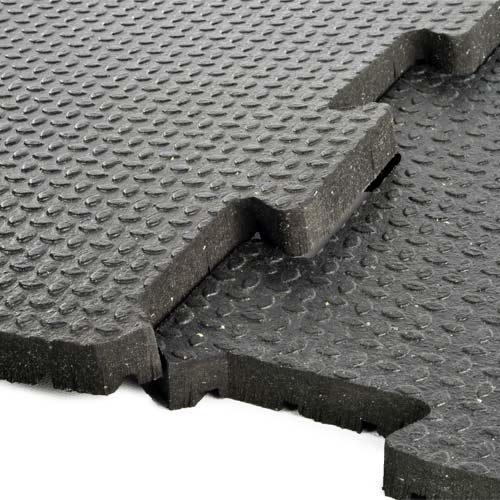 An economical and durable option would also be to use rubber floor mats; specifically, Greatmats'
horse stall mats
. 
Horse stall mats are made from high quality recycled rubber. Vulcanized rubber stall mats are non-porous, which prevents the growth of fungus and bacteria. 
They are extremely low maintenance, easy to clean, and extremely durable. When necessary, these mats can simply be vacuumed and damp mopped with a mild soap and water solution. 
They are available in a variety of sizes – making them an
excellent flooring option for garage gyms
and tight spaces. They are very durable and shock absorbent – making them ideal for exercise involving high levels of impact. 
They also provide a water resistant and slip-resistant surface, so you don't have to worry about sliding around when you're dripping with sweat. Since they are designed to support the weight of a horse, these mats can withstand large, heavy loads. So, the extreme weight associated with lifting and exercise equipment is no problem, and the dropping of weights will not impact the mat's ability to withstand the test of time. 
That downside to horse mats is that they generally carry a stronger rubber odor than the options listed above and are much heavier to move around for
cutting
and installation.
Greatmats has it all!
Whether one of the listed items appeals to you, or, if you want to explore other options, keep in mind that Greatmats has unbeatable quality and service. Friendly and knowledgeable agents are standing by - just waiting to help you determine what gym flooring would work best in your garage. When you're ready to purchase, let Greatmats go to work for you!