TechFloor Solid Tile with Raised Squares Carton of 10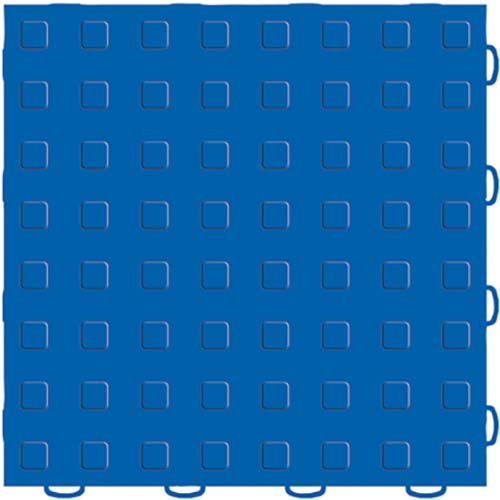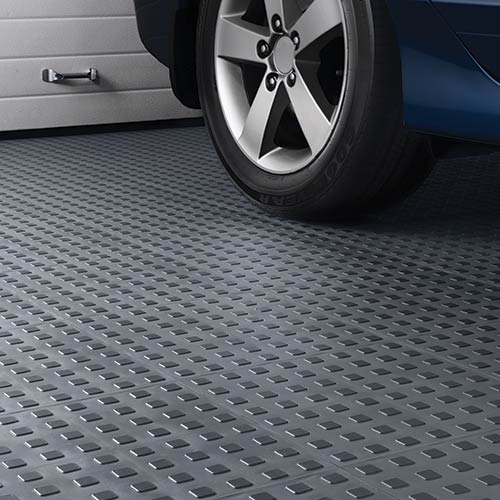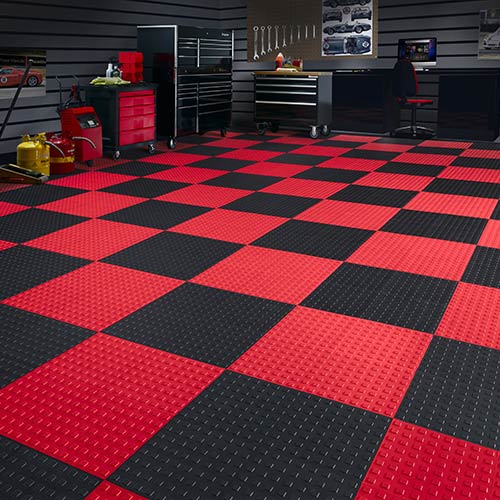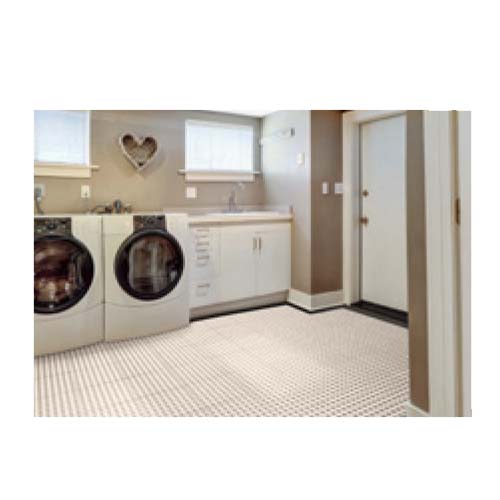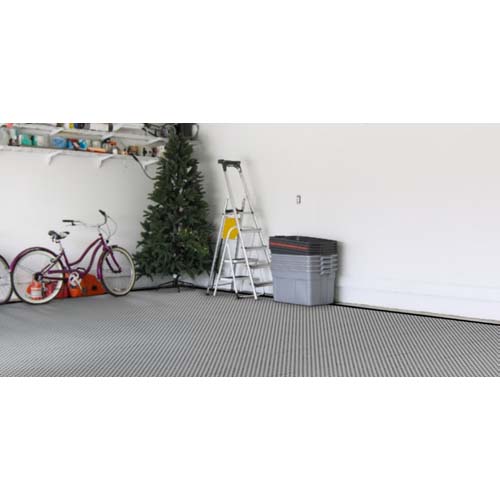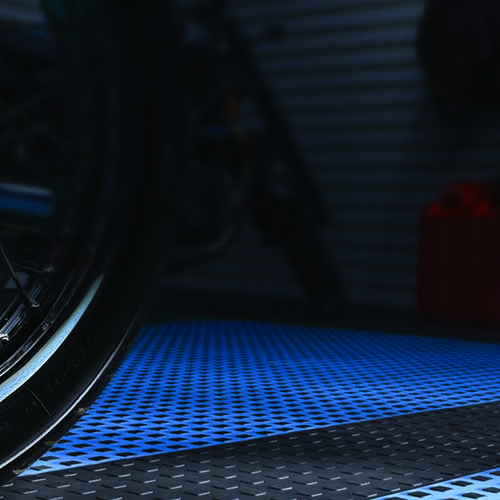 Designed to withstand the daily wear and tear of virtually any indoor floor!
Engineered and manufactured in the USA
Easy to install floor tile
$24.89
/carton
(You Save 27%)
(1 Reviews )
Ships Out: Estimate 4-6 Working Days

Black/Black

Blue/Blue

Dark Grey/Dark Grey

Grey/Grey

Red

Tan/Tan

White/White
TOP FEATURES
Designed to withstand the daily wear and tear of virtually any indoor floor!
Engineered and manufactured in the USA
Easy to install floor tile
Loops and tabs that snap together
Available in a variety of colors for creative floor designs
Free floating floor
Sold in cartons of 10
Use Types
Garage Flooring, Workshop Floor Tiles, Mud Room Areas, Home Gym Floors, Laundry Room, Basement Flooring, Play Area, Doormat, Trade Show Flooring, Motorcycle Parking Mat
NOTE: This item is a custom order and is not returnable.
TechFloor Solid Tile with Raised Squares are made of a Polypropylene base with injection molded TPE (Thermoplastic Elastomer) for wet or dry non-slip use. Soft touch underside offers incredible grip to virtually any floor. An assortment color options for exciting design options. Polypropylene plastic base, selected for its strength and resistance to chemicals and wear.
For a firm type of flooring that's easy to install and that can withstand the weight and stress of vehicular traffic, trust the high quality TechFloor tiles from Greatmats.


These interlocking tiles work especially well for garage flooring, as they can stand up to significant amounts of weight. They do not absorb moisture from rain or snow dripping off cars, and they do not absorb oil and chemicals, either.


Size and Shape Options

An individual tile measures 12 by 12 inches, so moving the TechFloor tiles in and out of place is an easy process. An individual tile weighs slightly less than 1 pound.

Because an individual tile measures only 1/4 inches in thickness, installers can cut it to fit tight to a wall with a utility knife and straight edge.

When installing these tiles in a building where direct sunlight may strike the tiles regularly, consider installing expansion tiles. These expansion tiles allow expansion and contraction from heating and cooling of the floor.

Individual expansion tiles will measure 3 by 12 inches. The manufacturer recommends placing a row of these expansion tiles every 5 to 7 feet across the length of the flooring layout. The expansion tiles allow for 3/8 inches of expansion or contraction.

With the expansion tiles, you can create a custom layout that goes directly over concrete.
Material Options
Our TechFloor tiles consist of polypropylene plastic, which is extremely firm. This allows the tiles to support the weight of a car or another type of vehicle without showing indents.
The polypropylene plastic does not become brittle over time, meaning these tiles will give you a great value well into the future.
The manufacturer adds an injection molded TPE (thermoplastic elastomer) to the polypropylene base for the highest level of performance.
TechFloor offers a limited lifetime manufacturer warranty for these tiles, guaranteeing against defects in materials and workmanship. Exclusions to the warranty include normal wear and tear, damage from abusive conditions, UV exposure, exposure to repeated installations, and exposure to chemical contamination.
Because we at Greatmats source these tiles from a manufacturer in the United States, you can trust the quality of the materials in use. You also can trust that the manufacturer relies on tight manufacturing and measurement tolerances for each tile, so the installation will go smoothly with no weak spots in the tiles.
Pattern and Texture Options
These polypropylene tiles have a molded texture pattern across the top of the tiles. This provides extra traction for those using the tiles, creating a slip resistant layout.
Each one has a grid of eight by eight raised squares across the face of the tile. This spread-out pattern provides maximum traction, no matter where people step on the face of the tile, while also delivering a pleasing pattern visually.
Multiple solid color options are available in these tiles, including:
Black

Blue

Dark gray

Light gray

Red

Tan

White
Because each tile uses the same hidden interlocking system, installers can mix different colors within the layout. Some customers choose to create areas of flooring designated for certain use cases, based on the color of the tile in the area.
Common Use Options
At home, you can install this TechFloor kit in areas where moisture frequently appears and where the flooring may need to support heavy objects. These places may include a residential garage, a mud room, a laundry room, a basement, or in a workshop.
For commercial installations, use these tiles in gymnasiums, commercial laundries, and other areas where you need moisture-resistant flooring.
Because of the 1 by 1 foot size of these tiles, they work well for trade show flooring. They are easy to assemble and disassemble for a trade show installation.
Installation Options
These tiles make use of a hidden interlock system consisting of tabs and loops. Just line up the tabs on one tile with the loops on another tile and press them together. No one will see the interlock system after the installation occurs, as it will exist underneath the tiles.
The expansion tiles use the same design of loops and tabs to further simplify installation.
These tiles will go over the top of a slight crack in the subfloor. But installers may need to repair significant subfloor cracks before installation.
Cleaning and Maintenance Requirements
To clean the TechFloor tiles, remove dry debris with a broom or a vacuum cleaner. Remove dry debris regularly.
In areas with a stain or soil problem, use a sponge and a grease removing solution.
To mop the floor, make use of hot water and a common household floor cleaner. If the floor has significant soils on it, you may need to replace dirty buckets of cleaning solution regularly.
After mopping the tiles, you may want to rinse them with clean water to remove any residue before it dries and potentially creates a cloudy finish.
Avoid applying excessive amounts of water to the floor, unless you have a floor drain available, as excessive water may leak in between the tiles and reach the subfloor.
WARRANTY
TechFloor Tiles and Accessories have a Limited Lifetime guarantee against defects in materials and workmanship.
Exclusions to this warranty are normal wear and tear, damage due to abuse, abrasive conditions, UV exposure, excessive manipulation/repeated installations and exposure to chemical contamination, such as spilled gasoline, oil, etc. This warranty is extended to the original purchaser of this product, and is non-transferable.
Shipping
Ships in cartons via ground service to your door, for larger orders product may ship freight delivery.
Please review our shipping disclaimer.
ACCESSORIES
Accessories for TECHFLOOR SOLID TILE WITH RAISED SQUARES CARTON OF 10
ANSWERS
Product Questions:
Q: Does this product require and edging?
A: Edging is not required but it is available separately.
Q: How many boxes need for a 12'x12' space?
A: You would need a total of 144 tiles. This product is sold 10 per carton, so 15 cartons would be necessary to fill the area. There would be 6 tiles remaining after the install.
Q: Will this work on a concrete floor that moisture accumulates on due to no insulation being installed prior to construction on a porch
A: The raised base on these tiles will allow for airflow underneath the flooring surface. This will help combat moisture problems.
Q: Do I pay shipping? Thank you
A: Yes, you would be responsible to pay for this item to be shipped to your location.
Q: Hi I have a garage 20x20 how many tile I need
A: You would need a total of 400 tiles. This product is sold 10 per carton, so 40 cartons would be necessary to fill the area.