What Are The Pros And Cons Of Interlocking Garage Floor Tiles
By Paige Cerulli Created: February, 2022 - Modified: October, 2022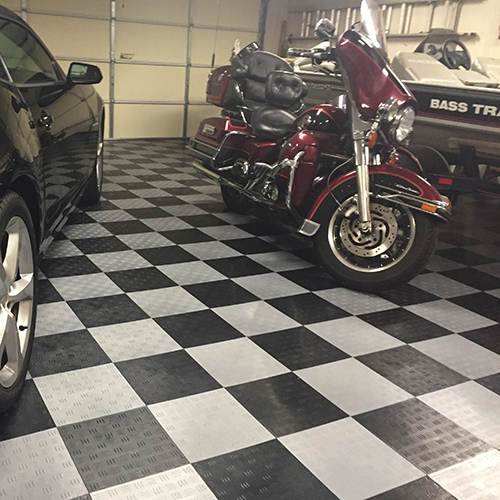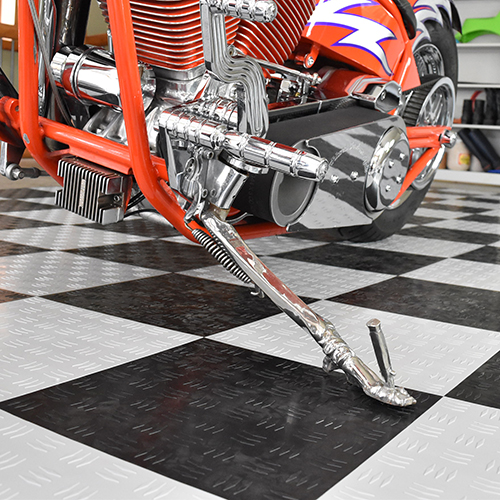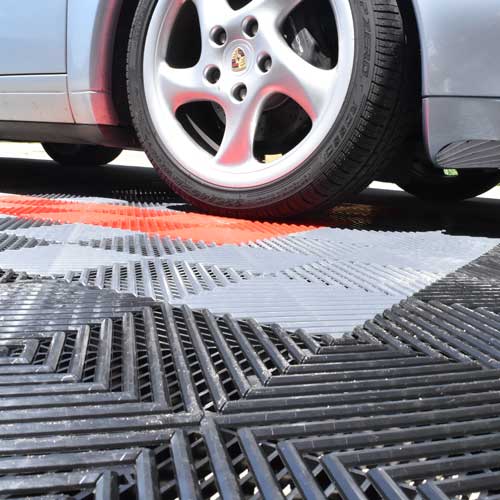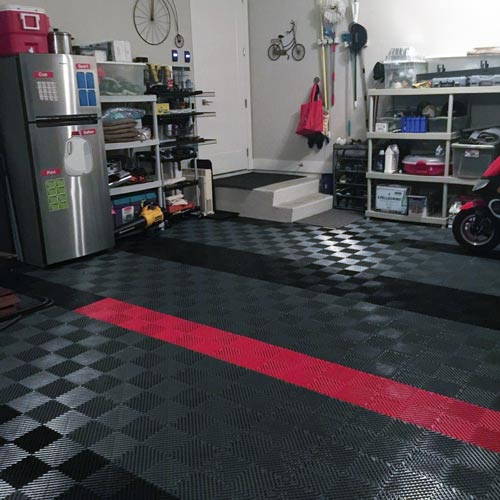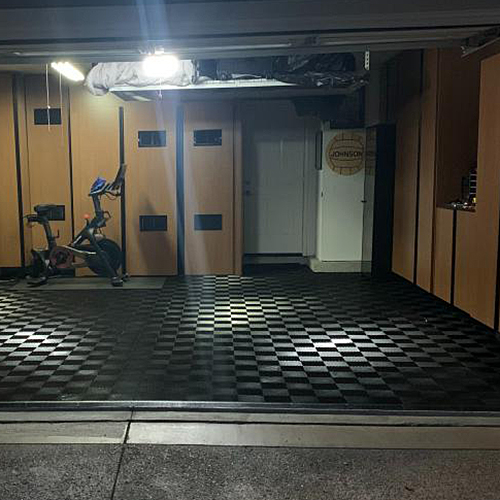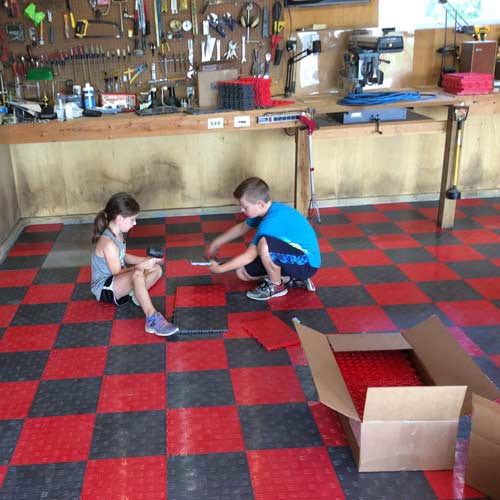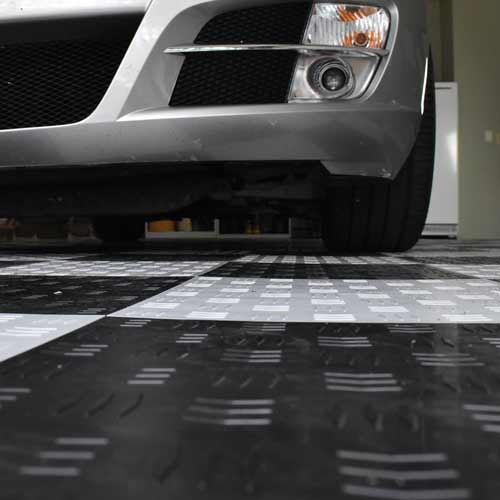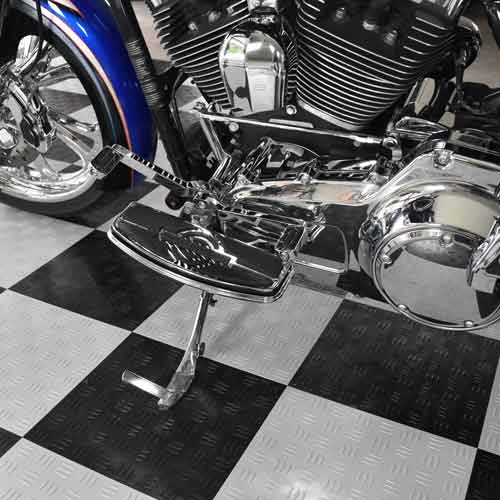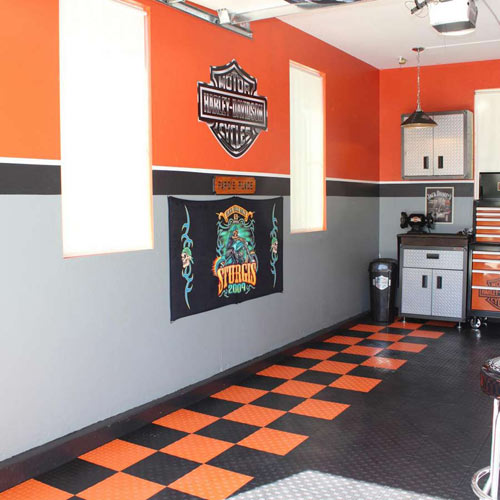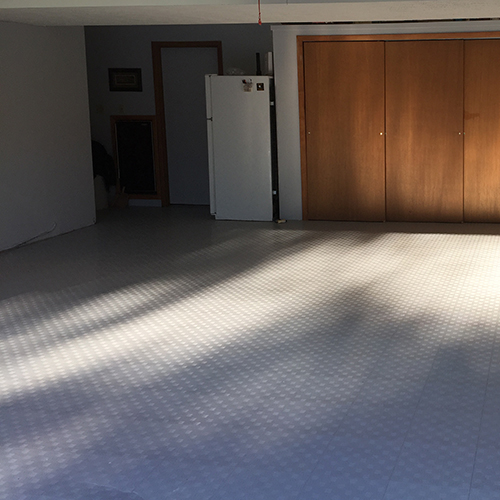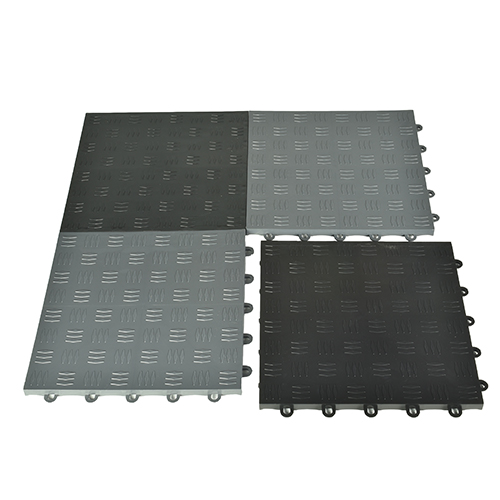 Interlocking garage floor tiles are a
popular choice for many reasons
. Whether you want to revitalize a worn-out garage floor or need to transform the space into something more suitable for your use, understanding the pros and cons of garage floor tiles can help you to decide if they're right for you.
The Pros and Cons of Interlocking Garage Floor Tiles
Interlocking garage floor tiles have many benefits, but there are also some disadvantages to be aware of when
choosing the best product
for your needs. We've outlined the essentials you need to know about these garage flooring products.
Pro: Available in Many Materials
Interlocking floor tiles are available in many different materials, as well as in multiple designs, including puzzle tiles and modular tiles with hidden interlocks.
When you're shopping for tiles, you can choose from materials including rubber, pvc plastic, polypropylene, and vinyl. Each material offers different benefits.
For example, rubber is supremely strong and durable, while tiles with a vinyl surface tend to be durable yet also come in a wide range of aesthetics. You'll want to consider the qualities that you're looking for in your floor when deciding which material is best.
Pro: Easy to Install
One of the greatest benefits of interlocking garage floor tiles is how easily the tiles can be installed. These tiles allow for a
simple DIY installation
, and most tiles can be dry laid on your existing floor with no need for adhesive or an underlayment.
When it comes to connecting the tiles, the connection method will depend on the type of tile that you've chosen. Puzzle tiles can be just aligned and pressed together, while other tiles feature interlocking tabs that you can snap or click together.
This modular design means that you can remove the tiles again in the future if you need to, such as if your garage floods and needs to be cleaned. You can also expand your floor by simply adding on more tiles, making this flooring choice a versatile option.
Pro: Can Be Used Over Old, Imperfect Floors
Many interlocking
garage floor tiles can be used over an imperfect surface
, including your old garage floor. This benefit can save you installation time and money.
We sell these interlocking tiles in a variety of thicknesses, including very thin tiles that won't add much height to your garage floor. These tiles can be ideal if you have doors extending out into your garage and don't want to create a step up onto your flooring.
Pro: Excellent Traction
These tiles are designed to create safe spaces where you can work or workout without worrying about slipping. They're available in many textures that are designed to maximize traction, even when the tiles are wet.
With options like diamond plate and coin top finishes, you can choose a tile that offers just the right amount of traction for your needs.
Pro: Waterproof and Resistant to Oils and Chemicals
If you'll be using your garage to work on vehicles, you'll need a
flooring product that can withstand water
, oils, and chemicals. Many interlocking tiles are designed to resist these substances, and more.
Pro: Strong and Durable
Our interlocking tiles are also highly durable, and you'll find options designed to withstand the weight of heavy vehicles and gym equipment. These tiles will let you keep using your garage in the way that you're accustomed to, so you don't have to modify your habits to keep your flooring in good condition.
Con: Can Get Expensive for Larger Spaces
While interlocking floor tiles are highly convenient, they can become more expensive than other types of flooring when you're installing them over larger spaces. Remember, though, that you'll save on installation costs and underlayments, which can help to keep your overall flooring costs down.
Many of these tiles are backed by manufacturer's warranties, so you'll be investing in a flooring product that's designed to last.
Con: Seams Aren't Watertight
While interlocking tiles connect together securely and won't separate in use, their seams aren't watertight. You'll need to plan for this if you're doing activities where you could get the tiles wet, like changing vehicle fluids.
In these cases, choosing a modular tile with a raised base might be helpful. The base lets air and water circulate beneath the floor's surface, and you can always disconnect and remove the tiles if you need to thoroughly clean the area.
Con: May Fade with Sun Exposure
Some garage tiles may fade when they're exposed to UV rays for long periods of time. You can avoid this by choosing tiles that are UV protected, ensuring their colors will last.
Con: Can Be Affected by Temperature Changes
Depending on the type of tile that you choose, the flooring may expand or contract with significant temperature changes. This can lead to potential buckling in the floor.
To avoid buckling, follow the product installation instructions carefully. Most instructions advise that you leave a half-inch of space between the floor edges and walls to allow for expansion and contraction.
Choosing the Best Floor for Your Garage
Interlocking garage floor tiles have a few disadvantages, but in most cases, the pros well outweigh the cons. If you have any questions as you explore our garage flooring products, please give our Greatmats customer service team a call. We're happy to provide shipping quotes and help you decide which product is best for your needs.