SupraTile T-Joint Textured Black/Grays 4.5 mm x 20x20 Inches Case of 12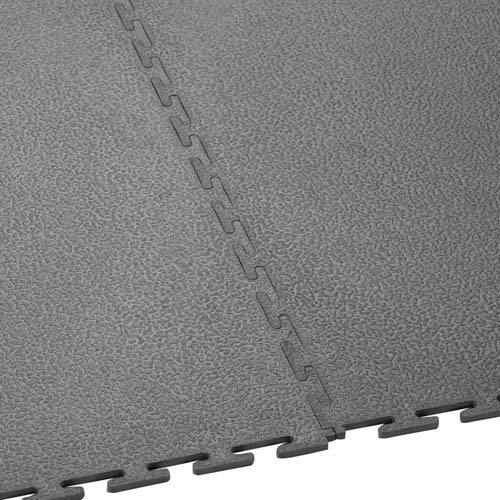 Quick and easy installation
Resistant to oils, chemicals, mold and mildew
Excellent resistance to impact, moisture and abrasion
Handling Time Estimate: 1-3 Working Days

Black

Dark Gray

Light Gray
VIDEOS
SupraTile 4.5 mm T-Joint Textured Tiles Features and Benefits Video
How to Cut PVC Floor Tiles
Quick and easy installation
Resistant to oils, chemicals, mold and mildew
Excellent resistance to impact, moisture and abrasion
Warm and comfortable underfoot
Can be installed over old uneven, or contaminated sub-floors
Superior sound absorption, integrated ramp edging for most styles
Easy to remove and relay, protective topcoats available
Made from 80% recycled content
Garage Floors, Basement Flooring, Industrial Flooring, Warehouse Floors, Automotive Flooring
SupraTile T-Joint Textured Black/Grays 4.5 mm x 20x20 Inches - Case of 12 tiles
SupraTile T-Joint Textured Black/Grays 4.5 mm x 20x20 Inches Case of 12 has a T-Joint interlocking design with a textured finish are an ideal floor tile for basements, garages, workshops, and offices. These modular tiles are constructed of the highest quality, industrial grade base materials.
SupraTile T-Joint Textured Black/Grays 4.5 mm x 20x20 Inches Case of 12 has a T-Joint interlocking design with a textured finish are an ideal floor tile for basements, garages, workshops, and offices. These modular tiles are constructed of the highest quality, industrial grade base materials.

For customers who need a mixture of durability and style in commercial flooring, trust the SupraTile T-Joint Textured Tile from Greatmats.

This gray or black textured tile has a surface that resembles an orange peel or a leather surface. This creates a more interesting design in the flooring, while also providing a little bit of extra traction in areas where moisture is commonly found. This product is made from 80% recycled content.
Size and Shape Options
At 20x20 inches, this grey or black textured tile has a size that's easy to handle during installation. Some people may struggle to move larger tiles into place for the installation process.
Additionally, using 20x20 tiles allows customers to complete the layout faster versus a smaller tile.
Each tile has approximately 2.75 square feet of coverage. However, because the edges of each tile consist of interlocking T-shaped tabs and slots, it can slightly affect the expected square footage customers receive per tile. The estimated interlock loss is 0.02 feet.
For help with determining how many tiles to order to cover a certain space, please reach out to the Greatmats customer service team.
Each tile measures 4.5 mm in thickness, which is equal to about 1/6 inches. Each tile weighs 3.4 pounds, which greatly simplifies the process of installing these black textured tile pieces to create the flooring layout.
Material
Our black textured tile product consists of PVC plastic. It is smart to install this type of flooring in an area where moisture may be present or where harsh chemicals could spill on the floor.
PVC does not absorb water, gasoline, oils, and chemicals. This makes our PVC gray textured tile and black textured tile useful in places like a bathroom, a commercial warehouse, a workshop, or other areas where waterproof flooring is a necessity.
When your flooring could suffer scrapes or gouges because of rough treatment, the PVC material will resist this type of damage. It includes a 20-year manufacturer warranty.
If you want to install these tiles in areas where noise is a problem, the PVC material will absorb some sound. In a large, open space, like a warehouse, using PVC flooring will cut down on echoing sounds, for example.
Pattern and Texture Options
Our black textured tile uses an all-black color that is solid throughout the entire surface of the tile. We also offer this tile in a dark gray and a light gray solid color.
Installers can create a flooring layout that uses only tiles that have the same color. This yields what appears to be a seamless layout, as the interlocking edges between the square tiles seem to disappear from view after the installation occurs.
For those who prefer a checkered layout, they can mix and match the black and gray tiles. All of these tiles use the same interlocking edge, so any combination of the tile colors is possible. We also offer this same style of tile in red or blue solid colors.
As a finishing touch, customers can order these tiles with a custom logo printed on them in a size equal to a space of four by four tiles.
Common Use Options
These textured tiles are perfect to use in any location where vehicles are in use. The tires on forklifts or other vehicles will not affect the look or performance of the tiles.
Some customers will connect several tiles together to create a small mat that can go underneath a heavy object. The PVC will not indent under the weight of the large item, and it will give the subfloor some protection.
Because of the waterproof nature of these tiles, they also work well in a basement or in a garage.
Installation Options
PVC interlocking tiles are easy to install. To connect the tiles, line up the T-shaped tabs on one tile with the T-shaped slots on the adjacent tile and press them together with your hand or foot.
The T-shaped interlocking edge will hold the connection between the two tiles tightly without the need to add glue. By deploying a dry lay installation, customers can disconnect the tiles at any time and place them into storage.
PVC has a little bit of flexibility, which makes it easier to adjust the positioning of each tile and to line up the interlocking edges.
For a finished look, we offer border pieces that match the color of the main tile and that connect securely to the interlocking edge.
Cleaning and Maintenance Requirements
Our PVC tiles are easy to clean and maintain. For regular cleaning, just sweep or vacuum the surface of the tiles to remove dirt and other dry debris that could grind into the tile and create staining.
Mop the tiles using a neutral pH cleaner or another mild cleaner and warm water. Allow them to dry in the air over a couple of hours.
Customers do not have to add wax or other coatings to the surface of these tiles to help them maintain their lifespan. Just clean the tiles on a regular basis to keep them in the best possible condition.
Maintenance
Clean with damp mop, hot water and common household floor cleaner.
Shipping
Ships in cartons via ground service to your door, for larger orders product may ship freight delivery.
Please review our shipping disclaimer.
WARNING: This product can expose you to chemicals including Lead and/or Phthalates, which are known to the State of California to cause cancer and birth defects or other reproductive harm. For more information go to www.P65Warnings.ca.gov.
| | |
| --- | --- |
| SKU# | SUPRA4.5-TJ-20.5x20.5-TX-BG |
| In Stock | Yes |
| Product Type | Tile |
| Material Type | PVC Plastic |
| Product Edging | Interlocking |
| Thickness | 4.5 mm |
| Width | 1.66 feet |
| Length | 1.66 feet |
| SF per Item | 27.50 |
| Weight | 40.80 lbs |
| Packaging | Cartons |
| Number of Pieces per Package Type | 12 |
| Non Absorbent | Yes |
| Special Adhesives | No |
| Universal Interlock | Yes |
| Interlock Loss | 0.02 feet |
| Material Hardness | Shore A 92 |
| Interlocking Connections | Yes |
| Made In | Ireland |
| Surface Finish | Textured |
| Surface Design | Solid color |
| Installation Method | Interlocking, dry lay |
| UV Treated | No |
| Reversible | No |
| Border Strips Included | No |
| Manufacturer Warranty | 20 year |
RELATED PRODUCTS