Is PVC Flooring Good for Gyms?
By Paige Cerulli Created: November, 2022 - Modified: May, 2023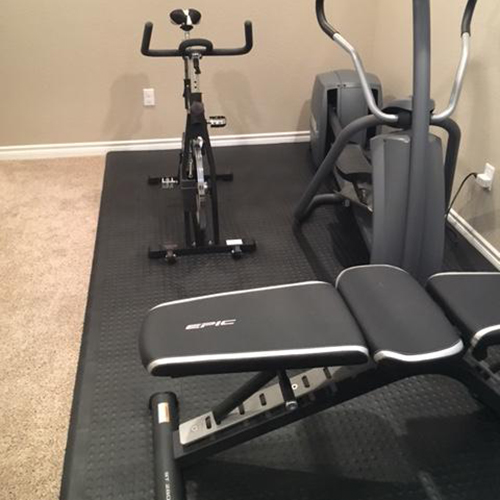 Designing a quality gym starts with choosing the right flooring. If you take a look at home and professional gyms, you'll see that PVC gym flooring is a popular choice. In fact, it might make the right choice for your gym, too.
Benefits of PVC Gym Flooring
PVC gym flooring offers many qualities that make it a top choice for gyms. PVC offers a combination of flexibility and shock absorption, so it's comfortable to walk and work out on.
Many PVC products offer durability that's similar to rubber. At the same time, PVC creates a soft feel and has anti-fatigue properties that can allow athletes to work out for longer periods while minimizing the stress and impact their joints may sustain.
PVC is also strong enough to withstand the weight of gym equipment like weight benches, treadmills, and ellipticals. Many PVC products are designed to maximize traction, which can contribute to athlete safety.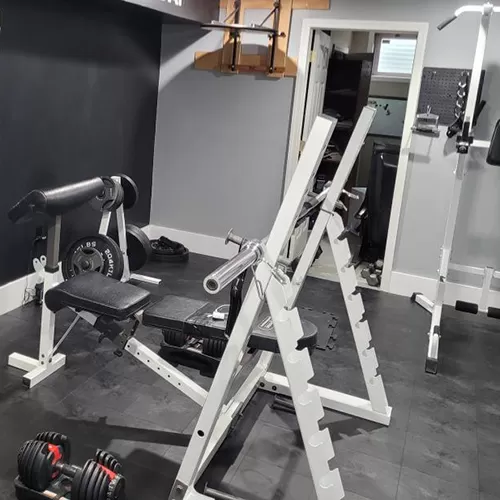 Durability similar to rubber


Anti-fatigue properties
Strong enough for gym equipment or vehicles
Waterproof
Resistant to most automobile fluids


PVC flooring is also waterproof, so spills aren't a concern, and you can easily clean it with a damp mop and disinfectant as needed. These products are available in many designs and colors, so you can choose colors that reflect your business.
If you're converting a garage into a home gym, then interlocking style PVC tiles are a particularly great choice. These tiles are strong enough so that you can continue to park automobiles on the floor when you're not using the space as a gym.
PVC is the only gym flooring material that's recommended for use under cars. It's the material that is the most resistant to automotive fluids, and it creates less friction on automotive tires.
PVC products, particularly raised flooring, are also a good choice for damp areas, like basements. The raised tile design allows air and moisture to circulate beneath the tiles, promoting faster drying and reducing the chance of mold or mildew forming.
4 Top PVC Gym Flooring Products
There are many reasons to choose PVC flooring for your gym. At Greatmats, we offer several products that are ideal for gym use.
1. StayLock Tile Bump Top
The StayLockTile Bump Top combines the durability of rubber with a foam-like cushion. This waterproof PVC is ideal for areas that may be exposed to condensation and moisture, and the raised base maximizes airflow for fast drying.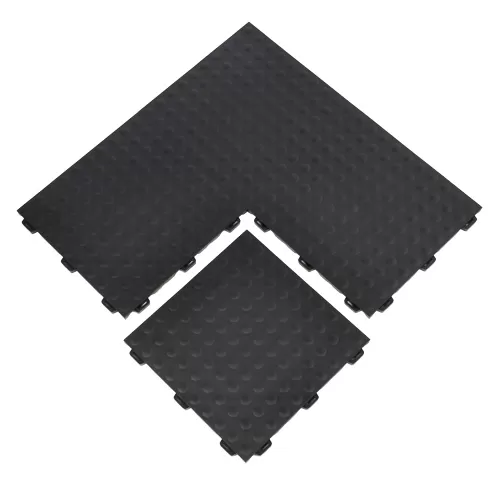 Designed to be installed over concrete, wood, tile, or even carpet, these modular tiles feature an active locking connector system that creates a secure connection without any adhesive. There's no need for an underlayment, and the tile is a top choice for athletic flooring.
These tiles deliver ergonomic cushioning to maximize athlete comfort. They are ideal for cardio and aerobics use, where their shock absorption properties are particularly valuable.
Made entirely of recycled material, the tiles are eco-friendly. They are easy to install and remove as needed, and ramped border edges are also available for a clean, finished look.
2. StayLock Tile Orange Peel
The StayLock Tile Orange Peel is a PVC tile that maximizes traction to help keep athletes safe. The tile offers valuable cushion properties, so it's comfortable to stand and work out on.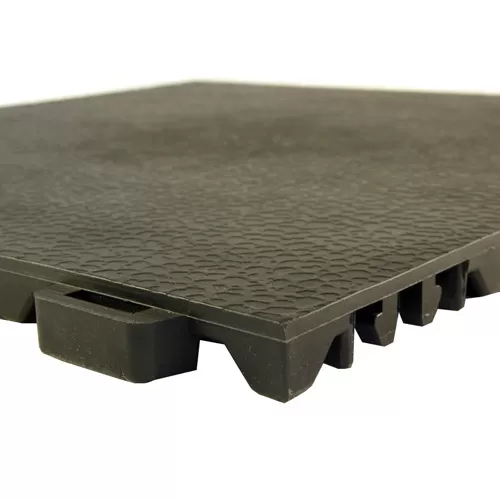 This tile also offers excellent bounce support, so it's an ideal choice for aerobic and cross fitness workouts. When used as a gym tile, this flooring is highly durable and often has a lifespan of 20 or more years.
While it offers a forgiving and comfortable surface, the tile is strong enough to support dropped free weights of up to 50 pounds. The modular tiles are easy to install, and you can also remove them, store them, relocate them, and reinstall them as needed.
Best of all, since the tiles are made completely of recycled plastic, you can recycle them once again at the end of their lifespan.
3. Diamond Plate Floor Tile
The Diamond Plate Floor Tile is a strong and durable tile that is made in the USA. While the tile is durable, it's also lightweight, which makes for easy transportation and installation.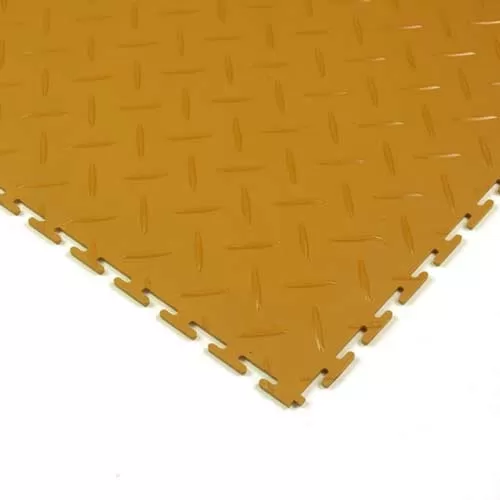 This tile is a modular product that can be installed without any glue or special tools. It features an overlapping interlocking connection pattern that provides a secure hold.
Suitable for installation in professional gyms, the tile is also versatile enough to be installed directly on top of worn, damaged, and uneven garage or basement floors. The diamond tread pattern helps to maximize traction for athlete safety.
These tiles also offer sound absorption and fatigue relief, helping to keep athletes comfortable while making a gym an enjoyable space. The tiles are available in a wide selection of colors, so you can create patterns and designs.
4. Home Coin Top PVC
The Home Coin Top PVC tiles are highly versatile, and you'll find them used in garage gyms, on warehouse floors, and more. The tiles are resistant to oils, gas, and chemicals, so they're an ideal choice if you're installing a gym in part of a garage that you still use to work on your vehicles.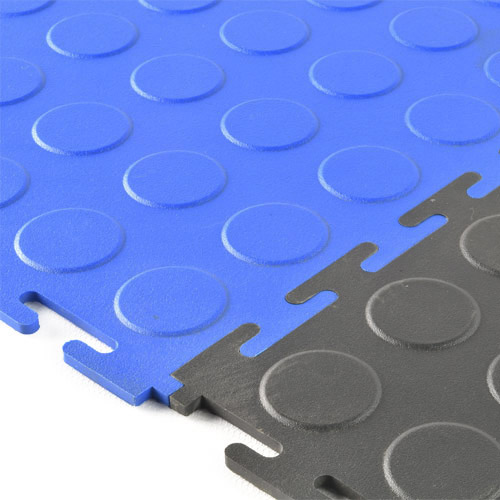 These tiles aren't affected by heat, cold, or humidity, making them an excellent choice for areas that lack climate control. They are non-absorbent, so they're easy to clean, and there's no adhesive required for their installation.
The tiles feature a distinctive coin top texture to maximize traction and help to prevent slips and falls. Made of 100% recycled PVC plastic, they're an environmentally friendly flooring choice.
They feature interlocking designs that create a secure connection, so you don't have to worry about them pulling apart while in use. Choose from 10 different colors to create a solid-color floor, or pick multiple colors to create eye-catching patterns.