What are the Best Waterproof Outdoor Mats?
By Paige Cerulli Created: April, 2023 - Modified: July, 2023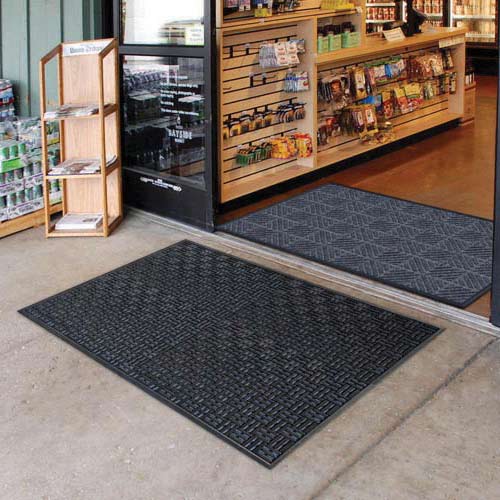 Outdoor flooring has to withstand many challenges, from rain and snow to extreme temperatures to UV rays. At Greatmats, we carry an excellent selection of waterproof outdoor mats specifically designed to handle the challenges of outdoor use.
Qualities to Look for in Waterproof Outdoor Mats
When buying waterproof outdoor mats, it's important to choose products that are suitable for the way you plan to use them. While certain features, like the amount of cushion a mat offers, will vary depending on their intended use, all outdoor mats should share the following qualities.
Waterproof
Any flooring used outdoors for an extended period of time needs to be waterproof. In addition to being waterproof, consider how the product will direct runoff water. Perforated tiles, for example, quickly drain water away to avoid puddles and slipping hazards.
UV Resistance
Flooring used outdoors is exposed to the sun's UV rays, which can degrade flooring materials and shorten the lifespan of that product. UV rays can also fade colors. UV-resistant flooring is better able to withstand that UV exposure, extending the product's lifespan.
Easy Installation
Depending on how you want to use the flooring, you may prefer a certain type of installation. Many outdoor mats can be dry laid and then easily removed again as needed.
Durability
Consider the product's overall durability when used outdoors. In addition to withstanding moisture and UV rays, products used outdoors are exposed to extreme temperatures. Look into whether the product is backed by a warranty, and if that warranty still applies if the product is used outdoors.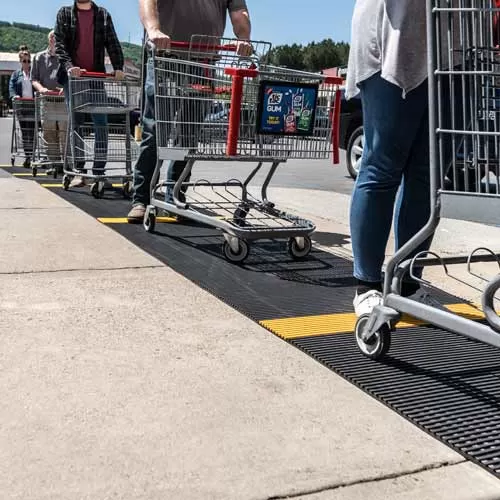 The Best Materials for Outdoor Use
Certain types of flooring materials perform particularly well when used outdoors.
PVC
tends to be an excellent choice, since it is durable and capable of withstanding extreme temperatures.
Vulcanized rubber
is waterproof and long-lasting, and
some turf
is also suitable for outdoor use. Finally,
polypropylene plastic
is also popular for use outdoors, and is both durable and strong.
Types and Uses for Waterproof Outdoor Mats
There are many different uses for waterproof outdoor mats, and there are also many different types of mats to choose from. We've highlighted some top choices available right here at Greatmats.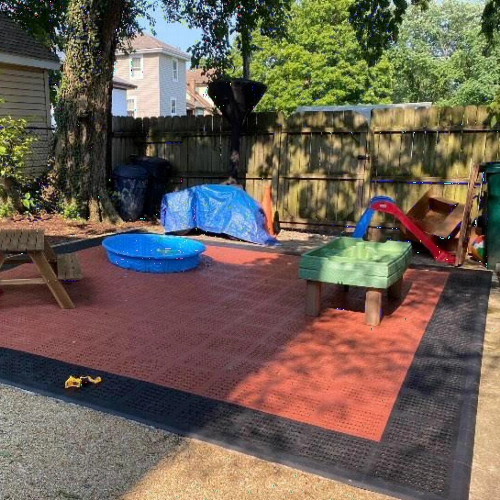 Outdoor Gym Mats
Outdoor gym mats
allow you to take your workout outside. They offer the shock absorption and traction that you need when you exercise, and include options suitable for outdoor playgrounds, too.
Pool Cabana Mats
Pool cabana mats
help to maximize the safety and enjoyment of your pool deck or pool surround. They're waterproof, are often perforated, and help to maximize traction to prevent slips and falls. They can be installed permanently or temporarily.
Camping Mats
Camping patio mats
help to keep dirt and debris out of your camper or RV, and they make the space more enjoyable. The mats can add cushion to the space in front of your camper, creating a spot where you and your family can relax. Since they're intended for temporary use, they're easily portable.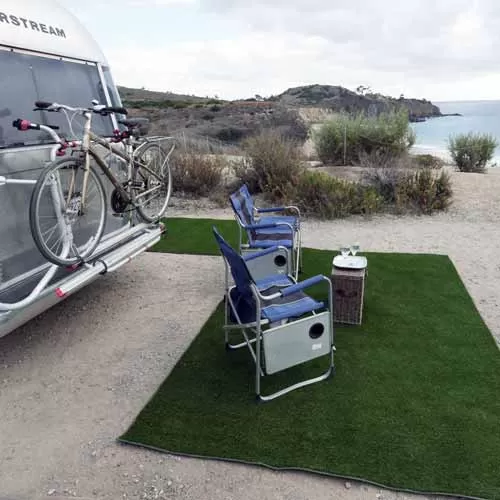 Boat Flooring
Boat flooring
is an excellent way to maximize the safety of your boat. These products are designed to provide plenty of traction, and they also help to keep you up and out of any water that might make its way onto the boat floor. The products also offer valuable shock absorption and cushion, which can help to keep you comfortable during long days on your feet.
Large Outdoor Mats
Large outdoor mats
are a versatile way to transform an outdoor space. You can use them as play mats, as entryway mats in front of a door, and you can even use turf mats as a play mat for kids or as a space for your family to enjoy a picnic. These mats roll up for easy removal, transportation, and storage.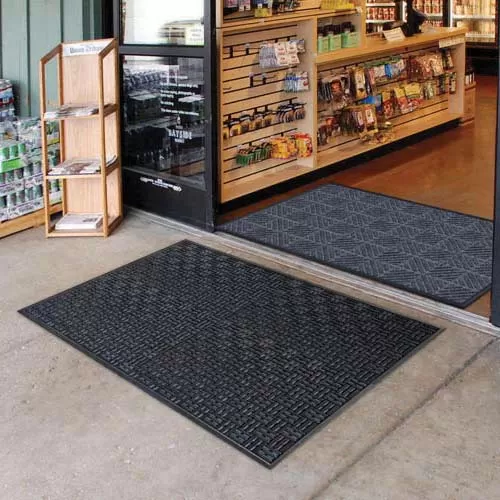 Social Distancing Mats
Social distancing mats
help encourage people to maintain appropriate spacing by using colors and visual cues. The mats are ideal for situations where you will have outdoor gatherings and lines, and they can help to keep cues well-organized.
Indoor/Outdoor Entrance Mats
Indoor/outdoor entrance mats
effectively remove dirt and moisture from shoes, helping to prevent those materials from making their way into your building. Investing in quality entrance rugs for your main doors can help to keep your maintenance work and costs down. These mats can also be a valuable safety feature, since they help to dry shoes before visitors step onto a surface that can be slick when wet, like a tile floor.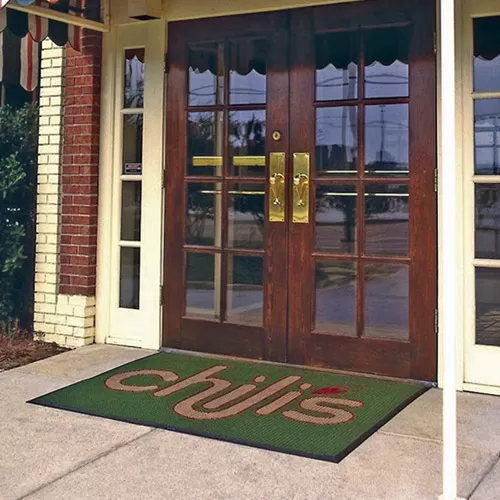 Over Grass
You can use many products to build a floor
over grass
. These flooring products are designed to be installed over the softer, sometimes uneven surface that grass creates, and they can be ideal when creating walkways, dance floors, event floors, and more.
Recycled Tire Rubber Mats
Many
recycled tire rubber mats
can be used outdoors, including as entrance mats. These mats tend to be highly durable and help to maximize traction. Since they are made out of recycled rubber, these mats help to keep tires out of landfills and are an eco-friendly choice.
Turf Mats
Turf mats
give you the feel of natural grass even in areas where it doesn't grow. Some mats have a foam backing, which maximizes the cushion and comfort they provide. Turf mats can be highly realistic, so they're an enjoyable spot to sit and relax. They also roll up for easy transportation.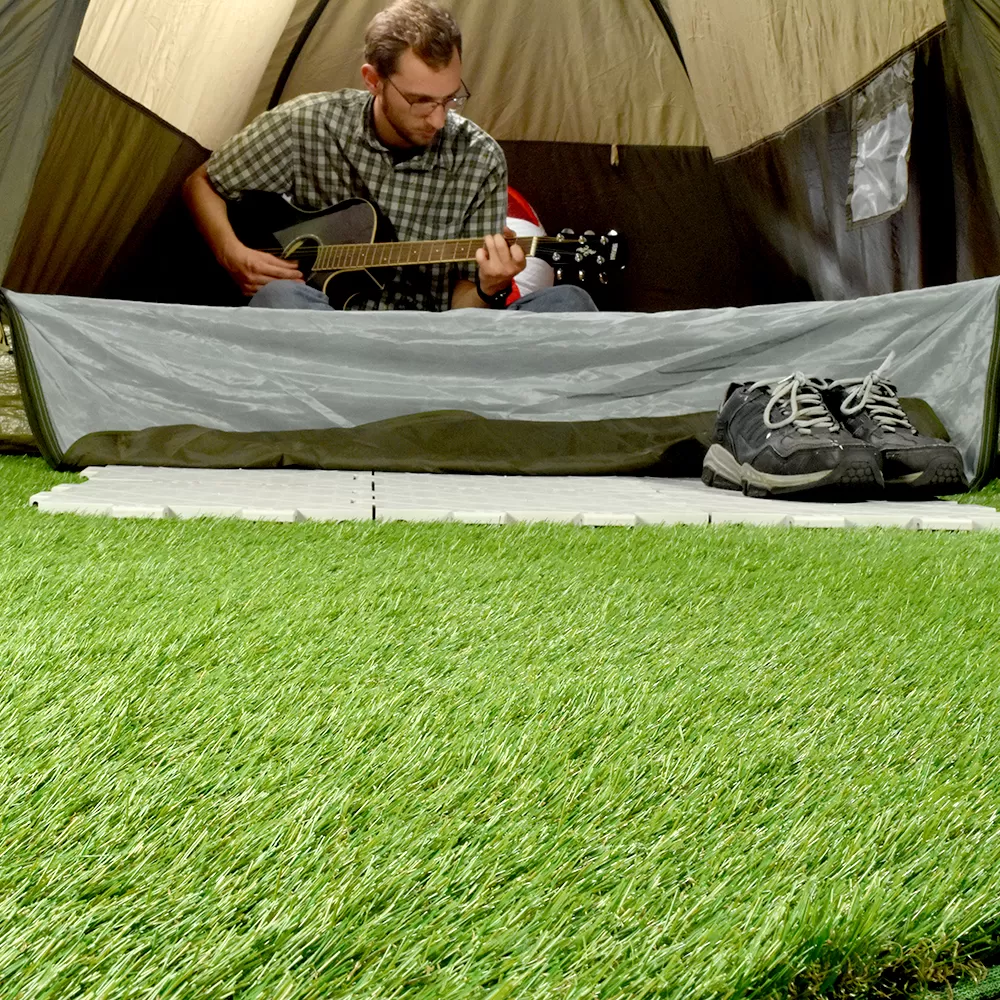 Choosing the Best Product for Your Space
Do you need help in figuring out which product would be the best fit for your space? We have an exceptional customer service team and would love to help with any questions or concerns that you have. Give us a call or contact us via live chat.