Are Recycled Tire Mats Good For Outdoor Use?
By Paige Cerulli Created: March, 2022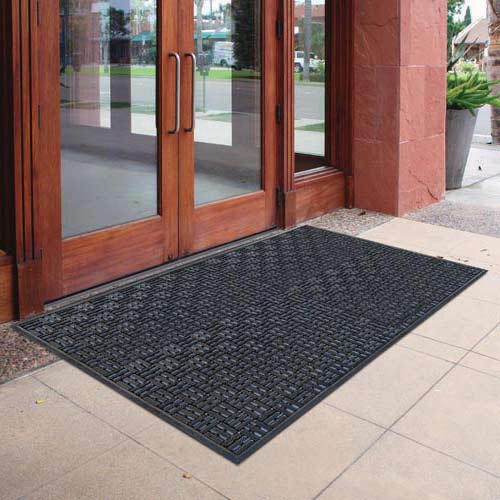 Recycled tire mats are an eco-friendly, highly durable and versatile product. They're an excellent choice for many different applications, but if you're planning to put them outside, it's important to make sure you choose a mat that's right for that use.
Can You Use Recycled Tire Mats Outside?
The short answer is, it depends. Some recycled tire mats are ideal for outdoor use, while others should really only be used indoors.
The material that's gathered from recycled automotive tires is resistant to nearly all weather conditions. There are many recycled tire mats and tiles that are designed for outdoor use as door mats or on playgrounds or rooftops.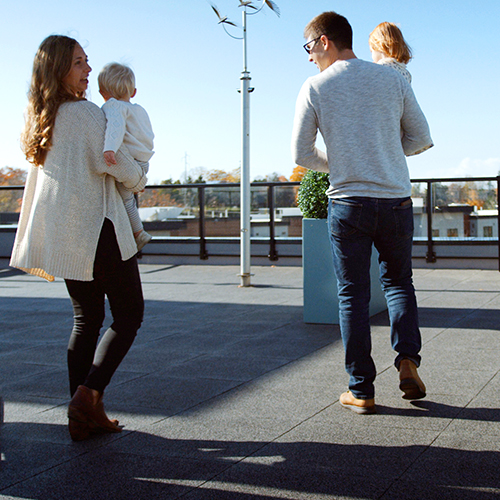 But there are also some recycled tire mats that are designed for indoor use. If you put these mats outdoors, you may find that their color fades and water may permeate into the material. If the water then freezes, you could damage the mat.
As a result, it's best to look for recycled tire mats designed specifically for outdoor use.
Recycled Tire Mat Products for Sale
At Greatmats, we have many recycled tire mats available for you to choose from.
Recycled Tire Rubber Floor Tiles
The Recycled Tire Rubber Floor Tiles are made from 100% recycled tire rubber and are designed for lasting durability. These mats are suitable for both indoor and outdoor use, and they can serve as entrance tiles, doorway flooring, and more.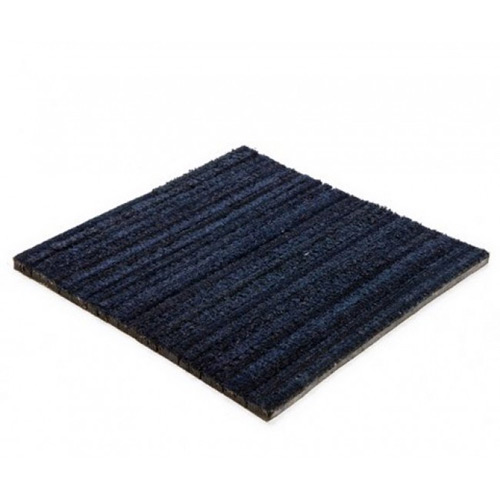 The tiles feature a slip-resistant surface that's also ADA compliant, so they're ideal for home and commercial use. The rubber is comfortable to walk on, and the tiles are a cost-effective choice.
Designed for a glue-down installation, these tiles are heavy-duty and low-maintenance. They provide a comfortable walking surface and are even suitable for use in public areas with cleats and spikes.
AquaFlow Outdoor Entrance Mat
The AquaFlow Outdoor Entrance Mat is made in the USA and features 60% recycled rubber for environmental-friendly benefits. The mat qualifies for LEED points in four categories and is designed specifically for outdoor use.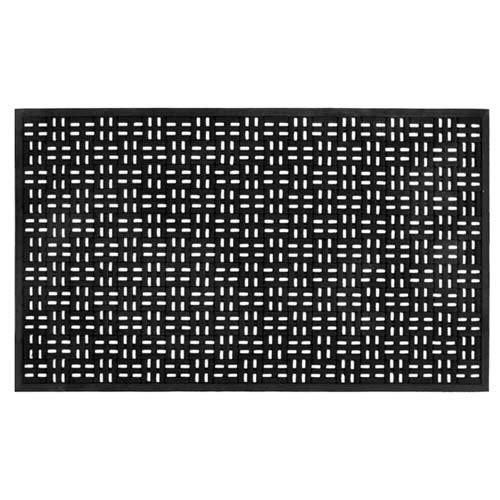 The mat's surface provides anti-slip traction for safety, while its scraping actions helps to remove dirt and debris from shoes to keep your home or business cleaner. The rectangular holes let water drain straight through the mat, keeping your feet up above the water.
The mat is both water- and wear-resistant, and you can clean it by shaking or hosing it off. This stylish mat makes a beautiful addition to your entrance and is suitable for use in any climate.
Wearwell 24/Seven CFR Perforated 3x3 Ft Mat
The Wearwell 24/Seven CFR Perforated 3x3 Ft Mat is designed for use on assembly lines where you need enhanced comfort and fatigue relief. The mat is perforated to keep workers' feet up and above liquids.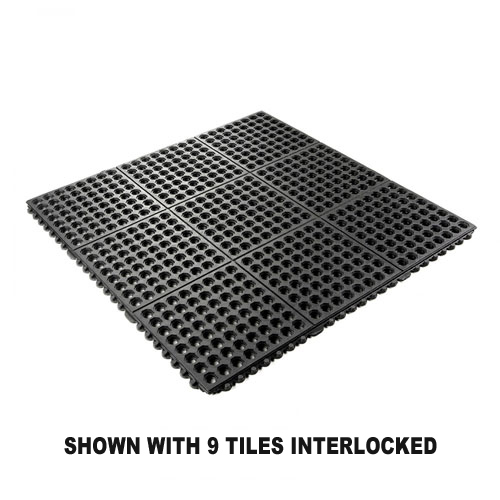 Designed for dry, wet, or oily workstations, the mat is resistant to cutting fluids. It also helps to protect your floor in areas where you're using mineral oil-based fluids.
This ergonomic mat measures ⅝ inch thick and features hidden interlocks, so you can connect multiple mats together for a custom floor dimension. It's made of more than 50% recycled rubber and is highly durable.
Cleaning the mat is easy - just sweep and damp mop it with a mild detergent and warm water. The mat is available in multiple rubber compounds, so you can choose the design that's best for the elements it will be exposed to in your factory or shop.
Playground Swing Set Mat Earth 32x54 x 2 Inch
The Playground Swing Set Mat features 100% recycled rubber, making it an environmentally choice for your playground flooring. It's an ideal size for use underneath swings, and the mats are highly durable and able to withstand heavy use in school settings.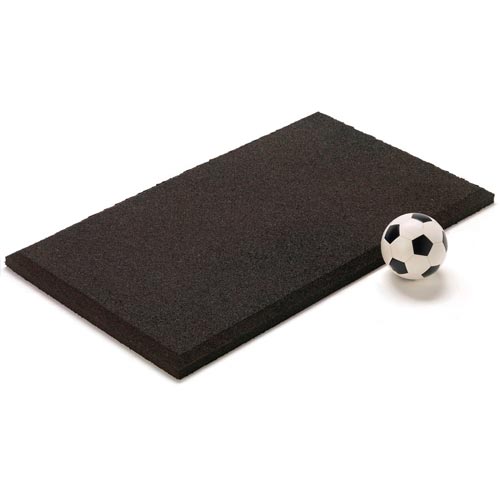 Made in the USA, these mats are outdoor rated. They're designed to inhibit the growth of mold and fungi, helping to keep the playground environment safe and healthy for kids.
The mats also provide valuable cushion underneath swings and equipment. Their four-foot fall height rating means they can help to reduce injuries, keeping kids as safe as possible while they play.
Sterling Roof Top Tile
The Sterling Roof Top Tile is a commercial quality outdoor-rated tile that's ideal for multiple applications. You can install the tile on a deck, rooftop, or patio, and it's suitable for home and commercial applications.
The tile is highly durable and is available in six colors, so you can choose the option that best matches the decor in your space. You can also purchase border and corner ramp pieces for a clean, finished installation.
These tiles feature interlocking edges that allow for an easy installation. Water can drain underneath the tiles, and thanks to that interlocking design, you can install the tiles without using adhesive.
Strong and durable, the tiles can support the weight of outdoor living furniture. They're a popular choice for use on condos and office buildings, and are easy to clean and maintain.