What's the Best Flooring for Hybrid Fitness Workouts?
By Kyle Schurman Created: May, 2021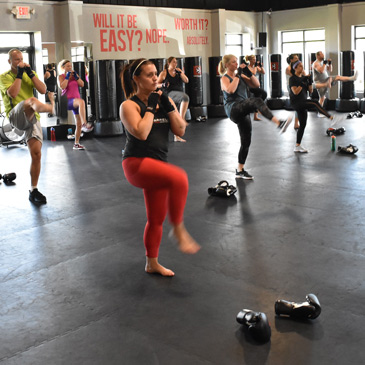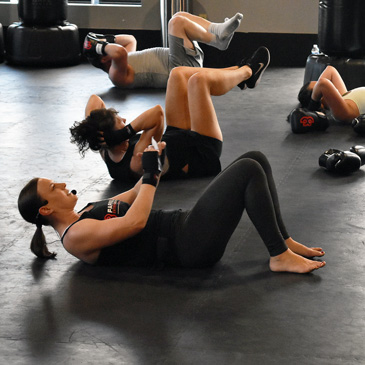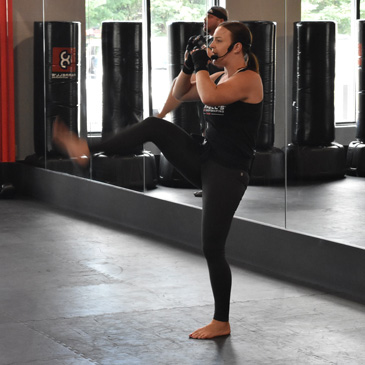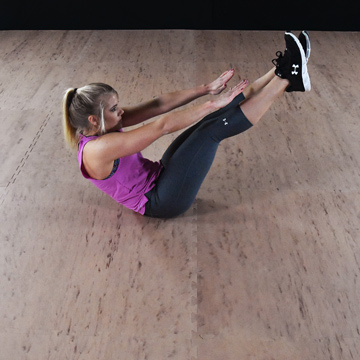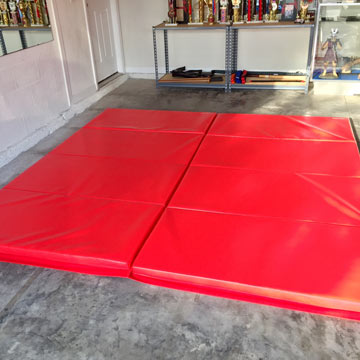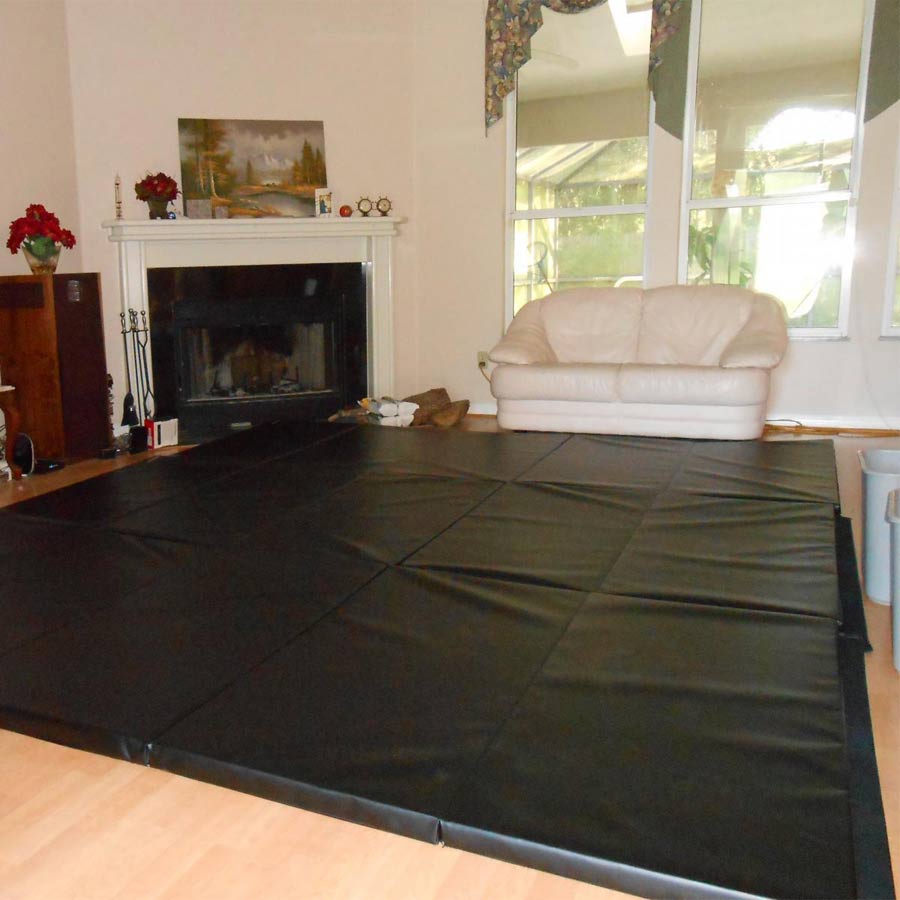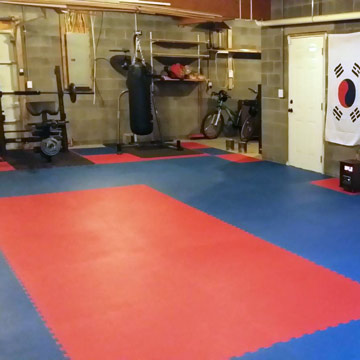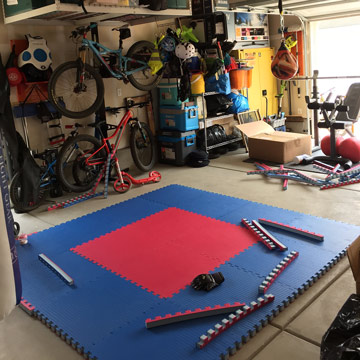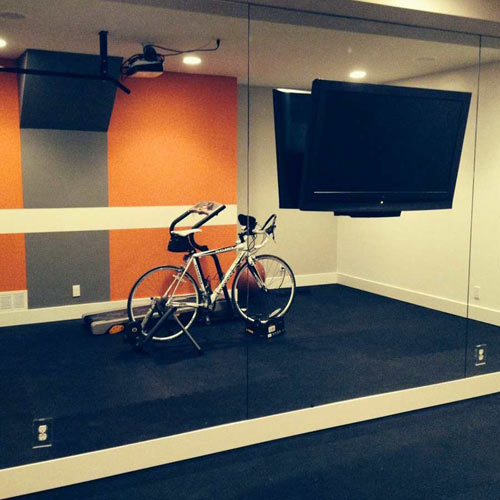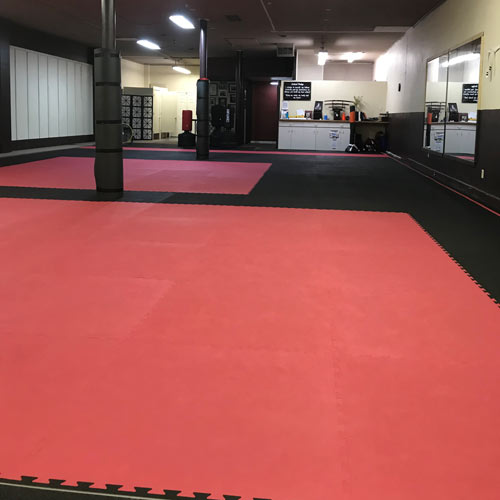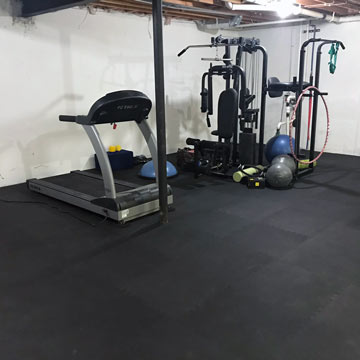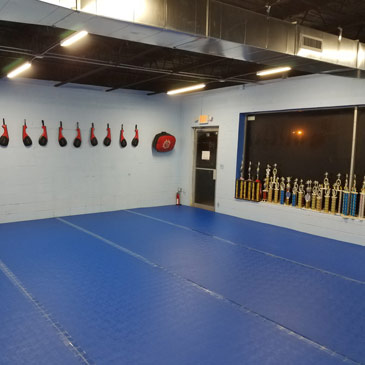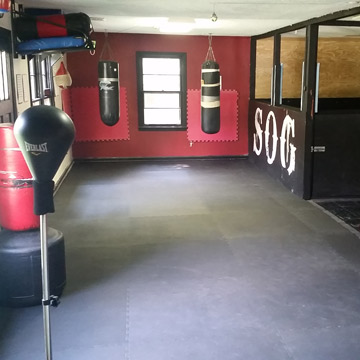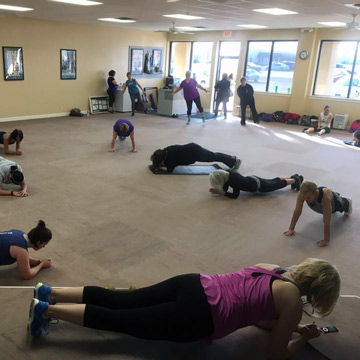 Flooring for hybrid fitness exercises should provide plenty of versatility to match the various types of workout sessions that will be occurring in the space. Hybrid workouts can involve high intensity movement and advanced exercising challenges that demand a floor with a sure footing, cushioning, durability, and
noise reduction capabilities
.
Some of the best floors for a hybrid fitness workout include:
Judo Jiu Jitsu Interlocking Mats

Premium Martial Arts Karate Mats

Pebble Gym Floor Workout Fitness Tiles

Roll Out Wrestling MMA Mats

Fold-Up Gym Mats

Rubber Utility Tiles
What Is a Hybrid Workout Session?
Hybrid workouts involve combining at least two types of exercise together at the same time. This causes the athlete to work a large muscle group hard or to work multiple muscle groups simultaneously.
This format allows for burning more calories in a shorter amount of time. The athlete doesn't have to split time going back and forth between different workout sessions. Instead, with the simultaneous workouts, the entire session takes less time.
Those interested in doing interval training will appreciate this type of workout as well, as it teaches the body to recover faster.
A hybrid fitness session can involve a number of different types of exercises and techniques, including the total body
insanity workouts
, Beachbody workouts,
P90X fitness workouts
,
T25 workout programs
, 21 Day Fix workouts, and asylum workouts.
Are Foam Tiles a Good Flooring for Hybrid Fitness?
When seeking a high quality flooring for tough workouts, foam materials should be near the top of the list. Firm foam combines durability, grippiness, comfort, and ease of installation to create a highly popular flooring for hybrid workout sessions.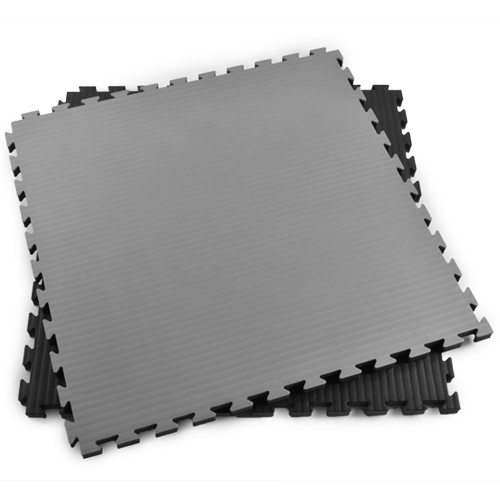 The Judo Jiu Jitsu Interlocking Mats measure 1.25 inches in thickness, giving them a nice level of cushioning for hybrid fitness sessions that will involve going to the ground or that place stress on the joints of the legs and hips.
This interlocking EVA foam tile has a no-skin burn tatami surface that's helpful when performing exercises that could involve skin contact on the flooring.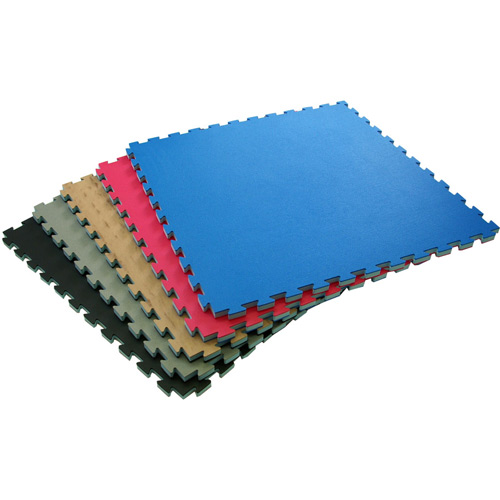 For a little more density in the foam material, consider the Premium Martial Arts Karate Mats model. The foam in these tiles combines EVA and PE foam, carrying a Shore C 50 density rating, which delivers a greater level of firmness versus the Jiu Jitsu mats.
These interlocking tiles measure 1 inch in thickness. They use a puzzle style edge that allows the tiles to connect to each other without the need to add adhesive.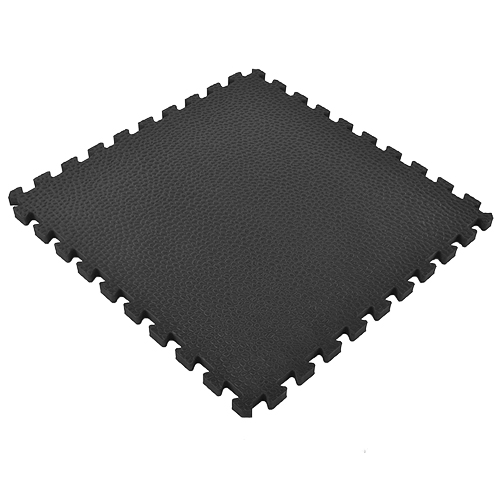 For an EVA foam flooring option that works for hybrid fitness workouts and that supports exercises that will include heavy equipment, try the Pebble Gym Floor Workout Fitness Tiles. These tiles have a higher than average level of density in the foam, while measuring about 3/4 inches in thickness, to support tough workout sessions.
Each mat has a pebble texture on the surface, which provides a sure footing for the athletes as they undergo the difficult and high intensity workouts. Should one tile suffer damage on its surface, just flip the tile over and use the other side to lengthen its life.
What Is the Best Exercise Mat for Cushioning?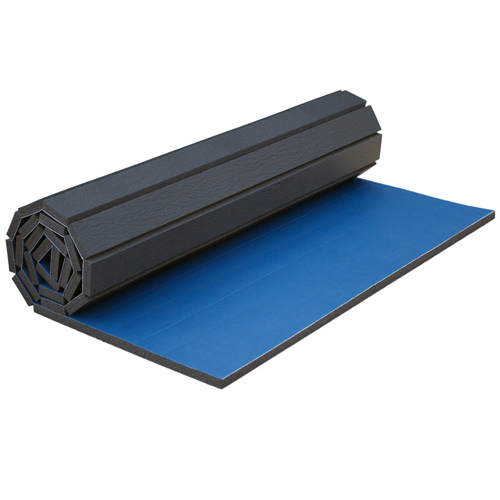 For those who want a thicker foam for maximum cushioning, consider the Roll Out Wrestling MMA Mats. These mats have a 1.25-inch foam layer of PE foam, which has high levels of cushioning. It compresses when placed under stress and bounces back quickly to its original shape.
The surface of the roll-up mats consists of a heavy duty vinyl, and the PE foam layer attaches to the underside of the vinyl. With the firm and durable vinyl, athletes will receive a sure footing to make quick movements, despite the soft foam layer underneath.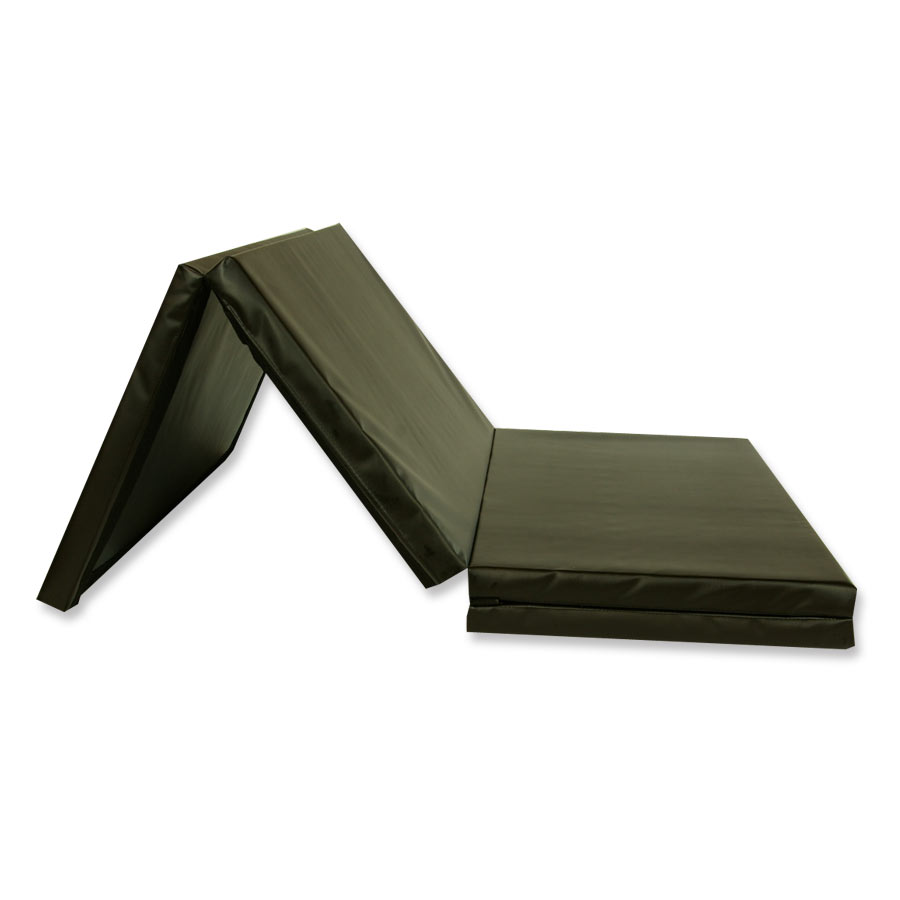 The Fold-Up Gym Mats product provides even more cushioning, as it uses a 2-inch thick PE foam core to protect the lower body joints of the athletes.
The foam core consists of separate panels, each measuring 4-by-2 feet. The manufacturer wraps 18-ounce weighted vinyl around the panels, which also serves as a means of connecting them.
The connected panels can fold upon themselves accordion-style to create a size that's easy to store. Otherwise, the installer can leave all four panels lying flat, giving the athletes the full 4-by-8 foot dimensions of the mat.
What Is the Most Durable Flooring Material for Hybrid Exercising?
For those seeking to protect a subfloor or to create a workout floor that will not show wear and tear, even after an extremely tough workout session, rubber floors are a smart choice.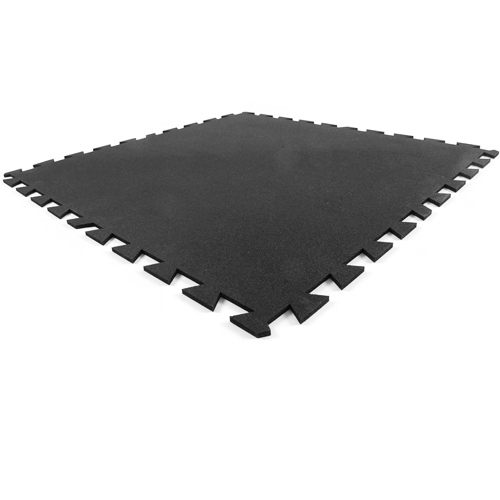 The Rubber Utility Tile is popular for both home gyms and professional fitness studios, as it's easy to install. It measures only 5/16 inches in thickness, and each 3x3 foot tile only weighs 19 pounds, creating the possibility of a DIY install job.
Installers can just pop the puzzle style edges together to create a sturdy flooring option. The edges do not require any glue to stay together, as they have a waterjet cut pattern that fits tightly.