Where Is PVC Flooring Used?
By Lisa Hobbie Created: July, 2021 - Modified: March, 2023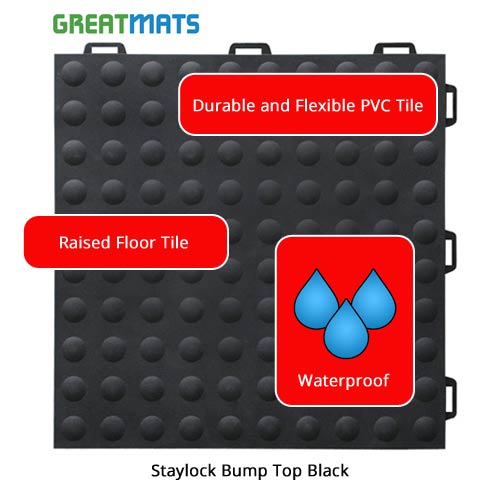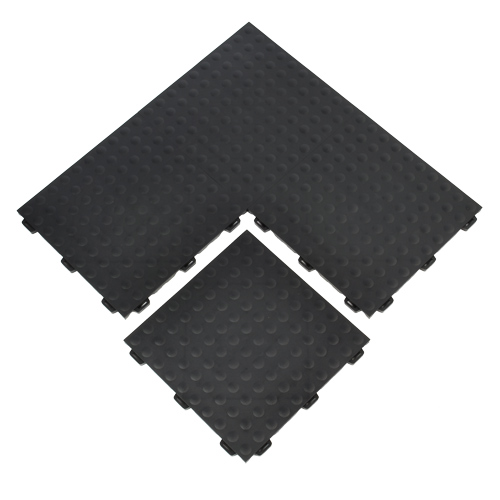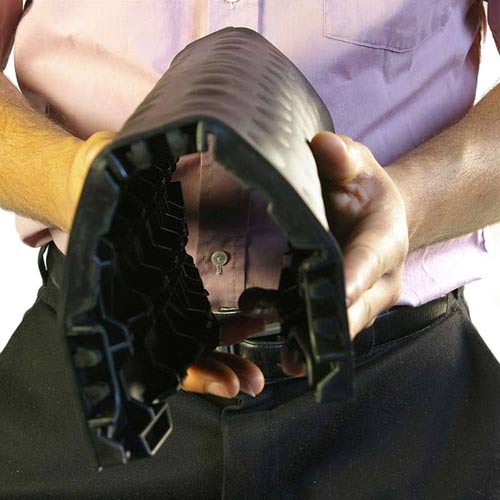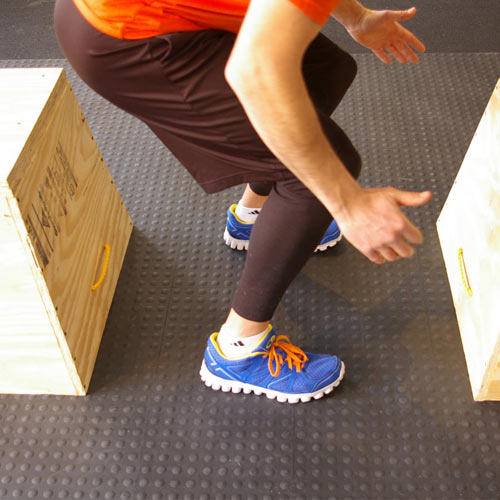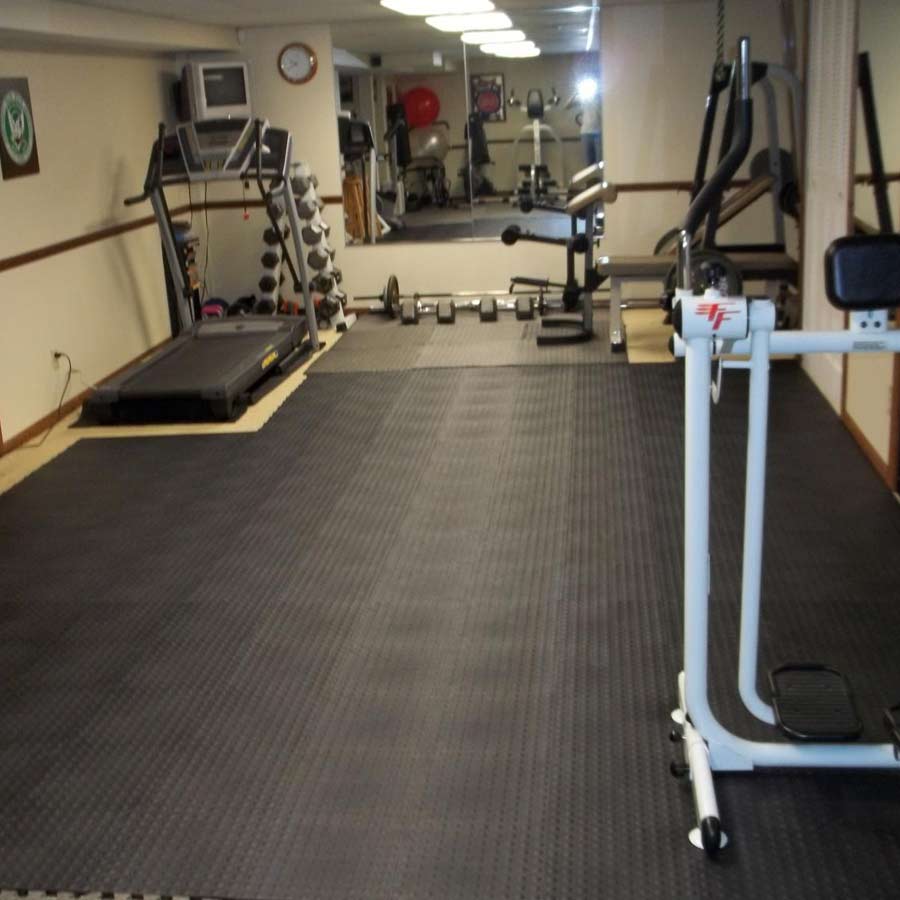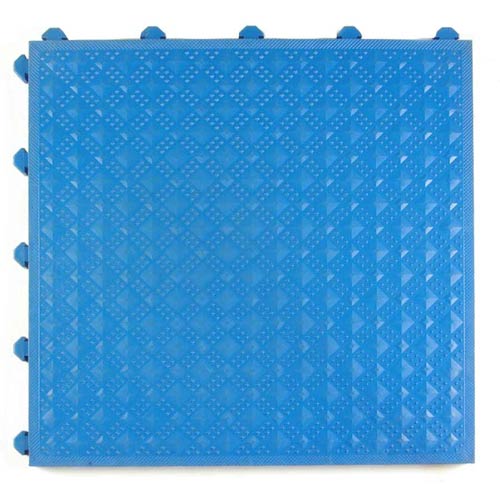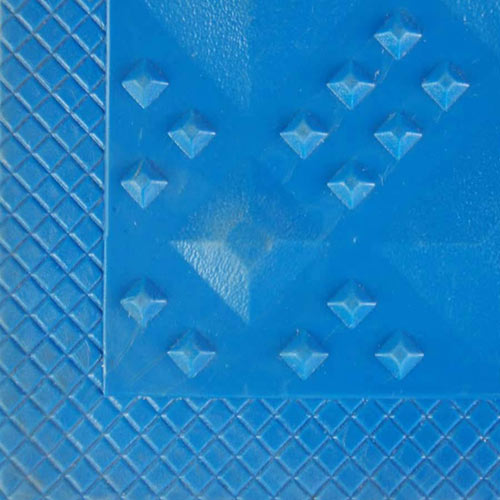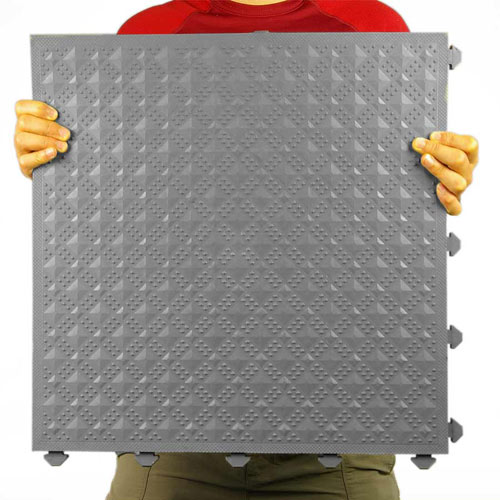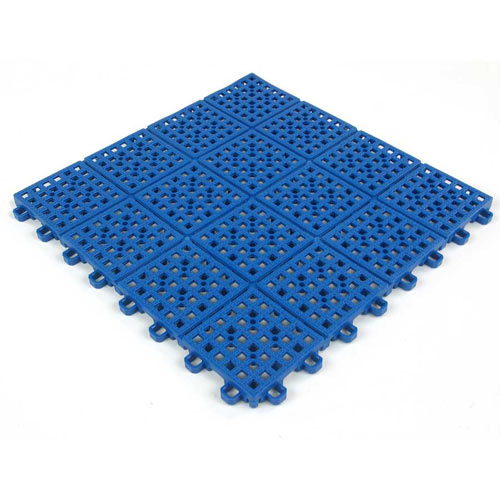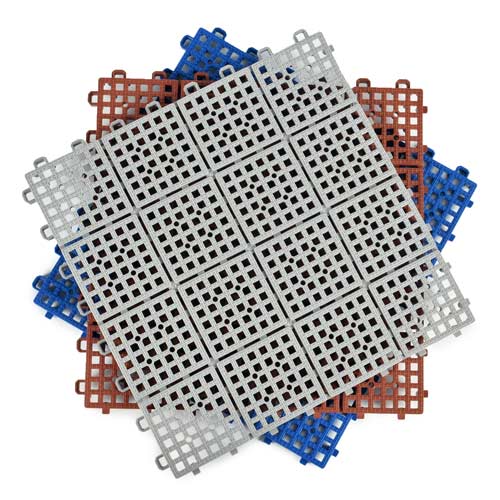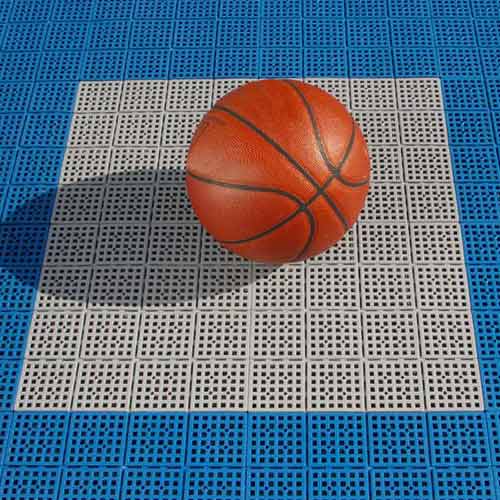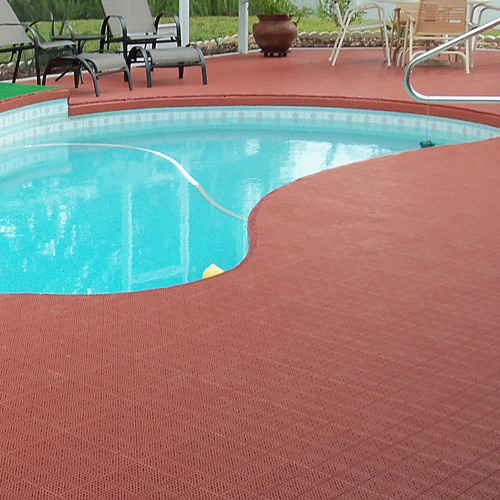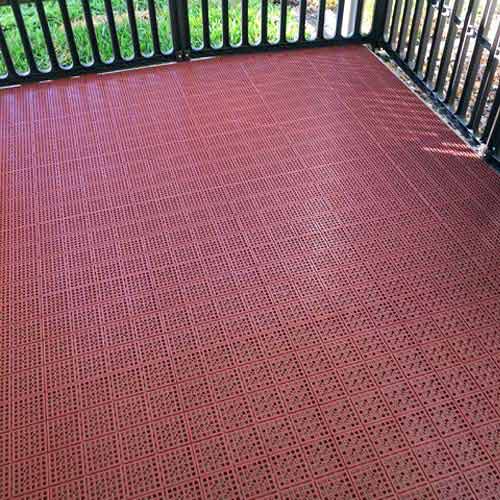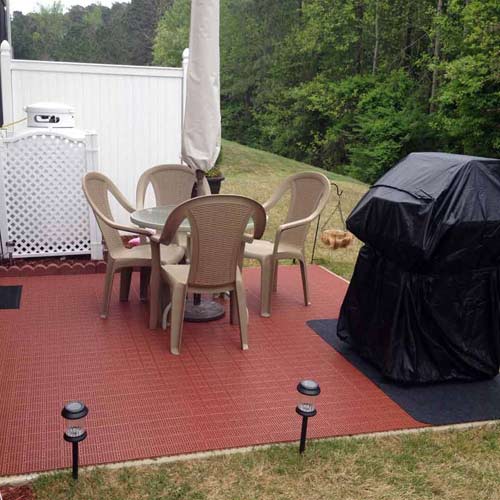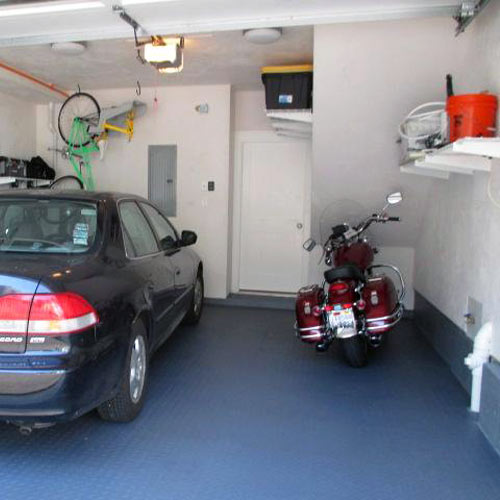 PVC flooring is used in many different settings, from a garage, gym, basement,
pool deck
, and
patio
, to
roof decks
,
balconies
, factories,
warehouses
, and more.
PVC is a synthetic plastic polymer used to make a wide variety of products - including flooring. Many of the tile flooring products are designed to allow water to flow or drain, are heavy duty, and available at an affordable price.
PVC flooring
- whether in tile or mat form - is durable, versatile, and reliable.
Greatmats offers a variety of PVC flooring products, with the following 5 being among the best and most popular:
Among these top 5 products are solutions for a gym space, an outdoor patio space, and in a work environment. They are top notch products that each deliver a number of fabulous features and benefits. They are affordable, easy to install, and super versatile.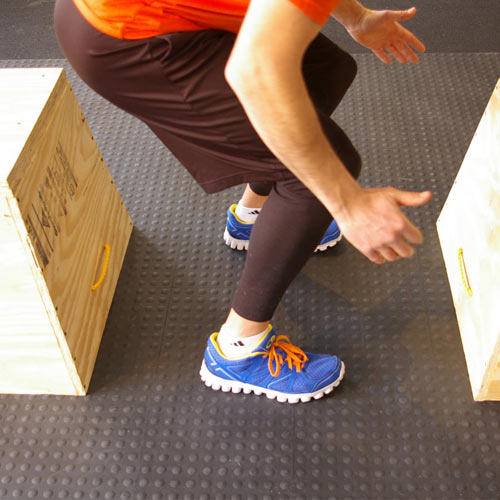 StayLock Tile Bump Top Black is PVC flooring that has a raised design, so it's a great solution to go over carpet, concrete or tile. It's anti-fatigue and delivers a great workout or workspace surface.
These tiles are very durable like rubber is, but offer a cushioning that resembles foam. The tiles have a design that locks together tightly without separating over time - even when placed under pressure - and a raised base that prevents it from sliding around while allowing for airflow.
These PVC tiles offer soft cushioning and superior support for all levels and intensities of workouts or exercise programs. Its bump top surface top texture provides anti-fatigue benefits and excellent ergonomic features.
These 1x1 foot squares have the unmatched ability to support heavy weights and workout equipment! They are also a great anti-fatigue flooring solution for workshops.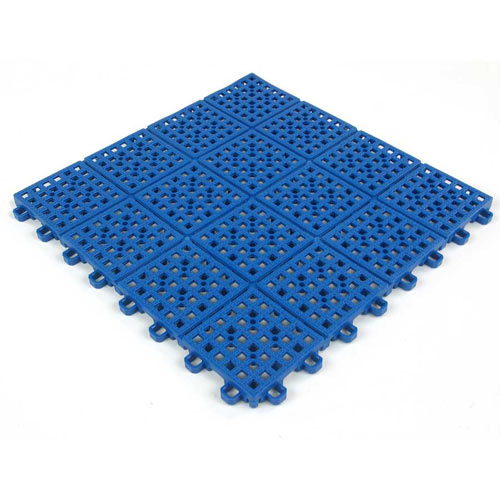 Patio Outdoor Tile is a lightweight PVC decking tile. It is easy to manage, weighing only 1 pound, and it is ½ inch thick. Each tile provides just under 1 square foot of coverage.
This tile has a fast-drying, non-slip surface texture that is comfortable to walk or stand on. The tiles can be installed over wood, concrete, and compacted surfaces using a simple snap together process. Once installed, the resulting surface offers a safe wet area. When the surface does get wet, the tiles are designed to drain effectively, which helps to prevent the growth of mold and mildew.
This tile is ideal for pool surrounds, decks, and other outdoor areas like
boats
,
docks
, and
shower areas
. The tiles have been UV treated and they come with a 1 year limited warranty.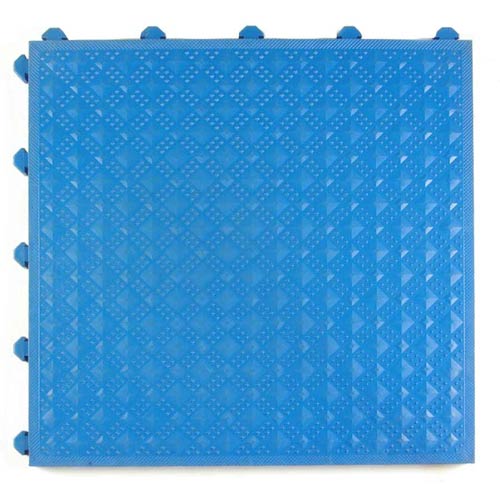 Comfort Matta 20x20 Inch Solid Colors offer surfacing solutions for workstations, retail checkout areas, home gyms, playgrounds, exercise rooms, gymnasiums, and other places and spaces needing ergonomic flooring.
These mats offer excellent sound dampening qualities, ergonomic benefits, and anti fatigue features. They have a locking lug connection system and have a non-slip, diamond shield tread design. They come with a 5-year warranty.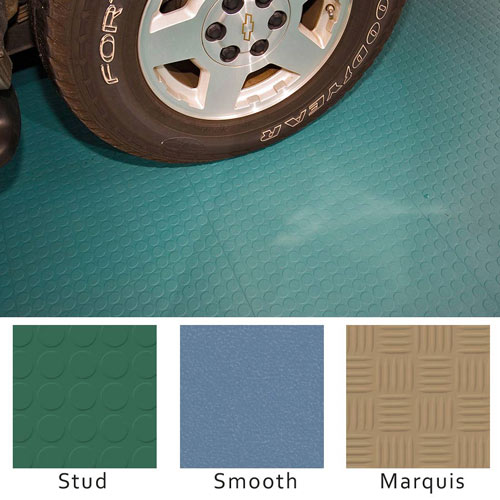 Tuff Seal Floor Tile Colors offer surfacing solutions for industrial settings, garage floors,
aviation hangars
, and basements. They are available in 15 different color options and 3 different surface textures.
When the product has been easily installed, the tiles leave a nearly seamless finish. The hidden connecting and sealing method creates a tight-fitting floor with seams that are virtually invisible. So, you can cover an entire firm, flat surface, transforming old floors without a lot of effort.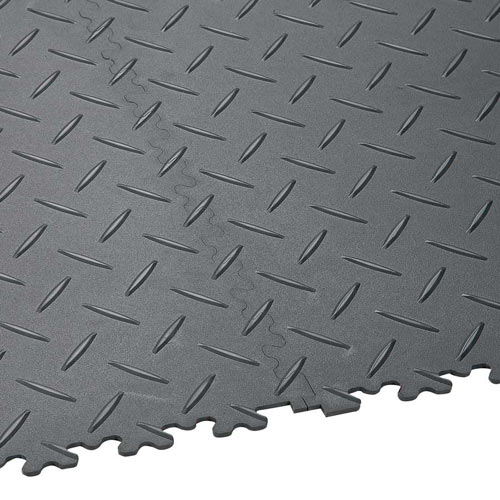 SupraTile 4.5 mm Diamond Pattern Black / Grays offers a flooring solution for garages, industrial settings, basements, and warehouses. It's oil and chemical resistant and mold and mildew resistant.
This product is fast and easy to install, and once in place, it delivers excellent resistance to impact, moisture, and abrasion. It's warm and comfortable underfoot, and it can be installed over old, uneven, or contaminated subfloors.
The tile delivers superior sound absorption, and it features integrated ramp edging for most styles. It comes in many different colors, textures, thicknesses, and interlock styles. It's easy to remove and relay, and there are protective topcoats available.
Greatmats - For The Best PVC Flooring
PVC flooring is designed to be used in many different settings, from outdoor patio areas to industrial settings, gyms, and more. The products highlighted represent a variety of different types of PVC products which are suitable for many different applications.
If you have questions about any of the featured products, or, if you want to learn about some of the many other flooring products available at Greatmats, just reach out to the friendly and helpful customer service team. They can send you samples of products, answer questions, and help you get the perfect product ordered for your space.