Art Studio Flooring - Fatigue Relief, Easy Cleaning, Affordable
By Brett Hart Created: January, 2019 - Modified: December, 2022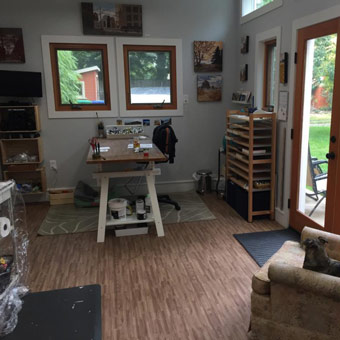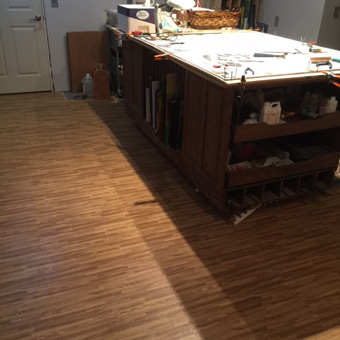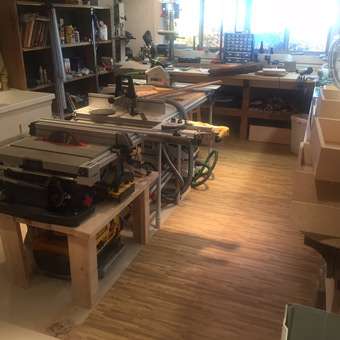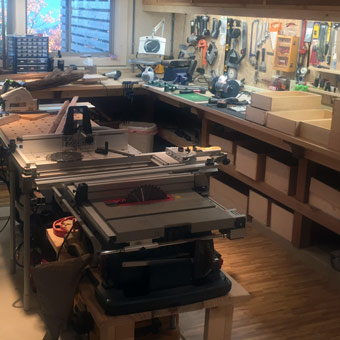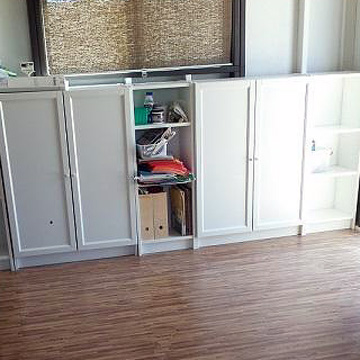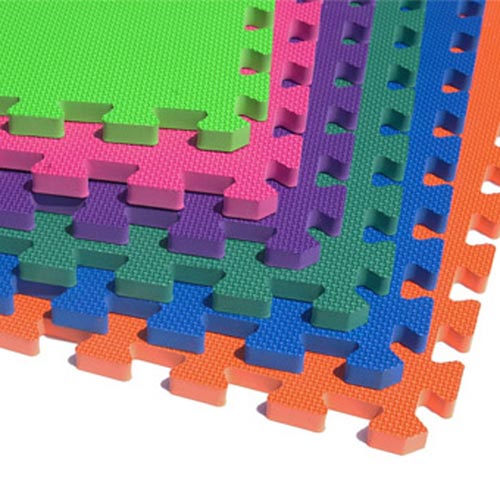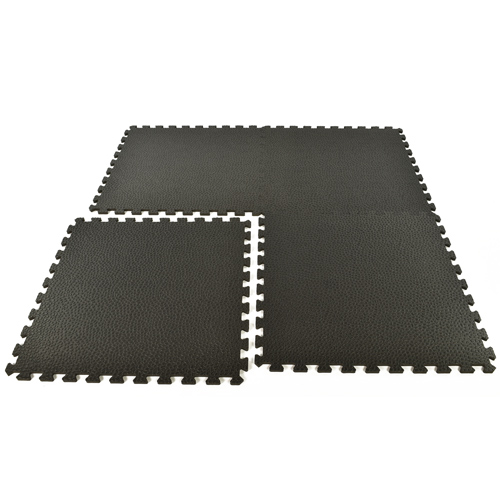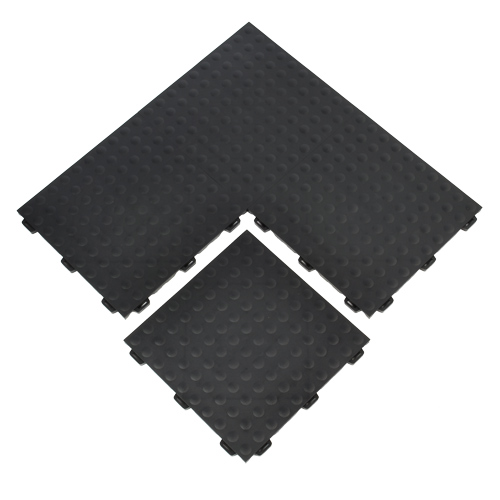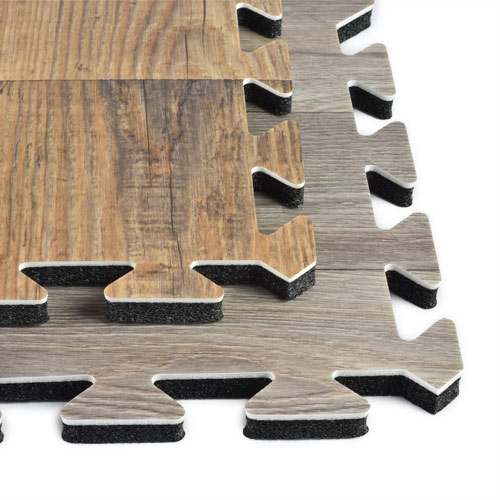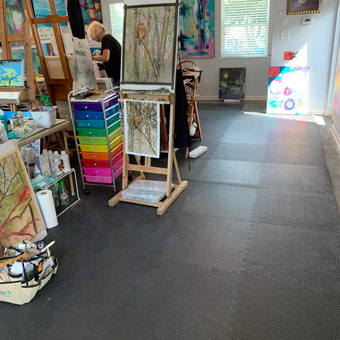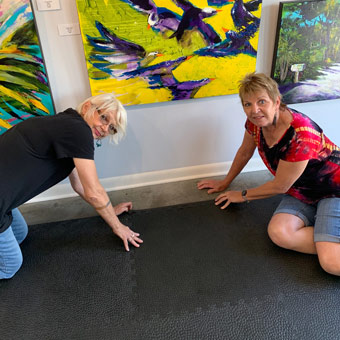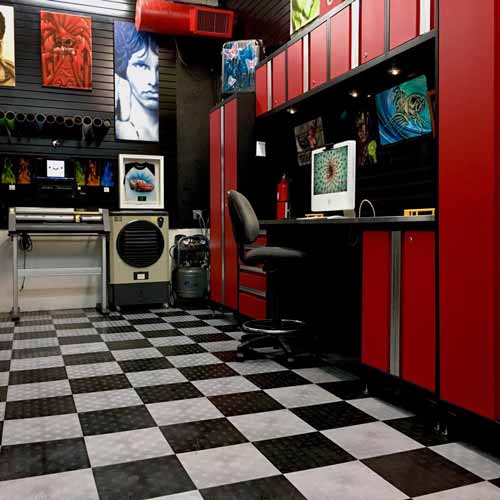 If you're a fine artist, then you know what's like to stand on your feet for long period of time in front of your easel or workbench. Your feet, legs and back get tired and sore, especially if you're standing on a hard concrete or tile floor.
If you're a painter, you've also found that your trade can create quite a mess, depending on how aggressive you are with your paints or cleaning the brushes. Then there's always that occasional spill.
When you mind switches focus from your creative thoughts and plan of action to aches and pains or anxiety of having to clean up your floor, your productivity suffers. That's why picking the proper art studio flooring is important.
The best arts studio flooring will offer you anti-fatigue benefits, easy cleaning and/or easy and inexpensive replacement.
If your existing floor is that concrete or tile we talked about before, fatigue relief is a big factor.
One of the best and most durable Art Studio Flooring options are flexible PVC StayLock Bump Top or Orange Peel Tiles.
These tiles snap together tiles are easy to install yourself. They feature a raised base and flexible PVC material that is completely waterproof. Popular for fatigue relief in industrial area, the non absorbent nature makes cleaning a breeze - assuming your cleanup begins in a reasonable time frame. They're even resistant to most acids and oils.
You can even choose from a few different color options to create a design or pattern to your floor if you wish. Keep in mind color tiles will run a bit more in the cost department than black tiles, so your looking at a range of between $3.50 to $5.50 per square foot. If you want something to go over carpet, this is your best option.
If you're a woodworker or sculptor with sharp tools and are worried about damaging the floors, PVC art studio flooring will hold up much better than the following options.
What's the best cheap or portable art studio flooring?
If you'd like to take a more economical approach, you really should consider EVA foam tiles. These tiles offer excellent cushion to ease your aching bones, muscles and joints and the too are waterproof.
The pricing of EVA foam art studio tiles varies based on thickness and surface material. If you time things right, you can find economy foam art studio flooring for less than $1 per square foot. These tiles are generally going to run about ½ inch thick. You can find foam tiles up to 1.5 inches thick for under $3 per square foot, but generally that's a bit of an overkill.
One thing to keep in mind with this type of flooring is that sharp objects will puncture the foam material. It won't affect the performance of the floor, but you will see the blemishes. Also heavy furniture will indent the foam. This is generally a temporary situation as the foam will bounce back roughly in the same amount of time it took to create the indents. There are also different densities of foams to be aware of that can affect their durability and level of cushion.
Your basic foam art studio floor tiles will be solid colors with a scuff and stain resistant thatch surface texture. If you'd like something a bit firmer and more durable, consider
super high density foam tiles
, such as those used for home gyms. These will have a pebble style surface texture.
If you don't want to give up that classic hardwood look, you've still got options with EVA foam tiles as there are several varieties off wood grain foam tiles in a variety of wood colors. These too have quite a price range - from just over $1 to just over $6 per square foot (if you want that rustic look and a vinyl surface over the foam).
Some artists have even found
modular garage tiles
to be a great fit for their studios. One Greatmats customer who runs an airbrush studio in Los Angeles said ''It's the best that could happen to our art studio.''
No longer do you need to feel like you need to work in a dungeon to keep from destroying your flooring.
Any of these options can work over any hard flat surface. Just keep in mind that foam art studio floor tiles should cover a significant area or be installed wall to wall to keep from shifting as they are quite lightweight. And best of all, if any of these tiles can easily be replaced if damaged - without having to pull up your whole floor.