What Is Exterior Flooring Made of?
By Kyle Schurman Created: April, 2021 - Modified: August, 2023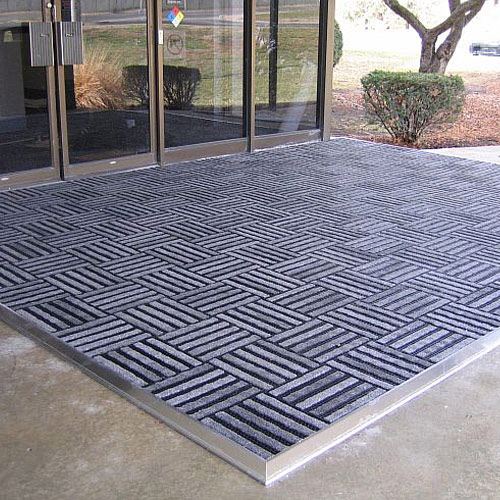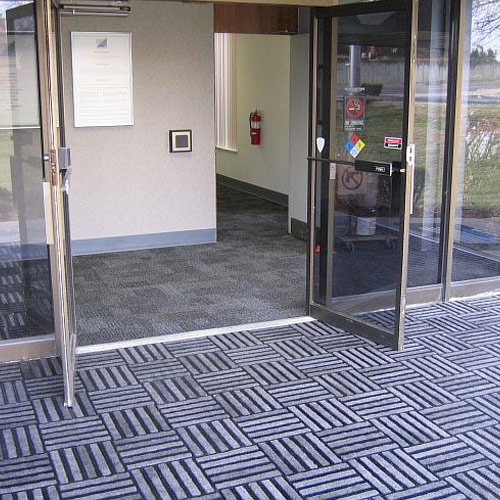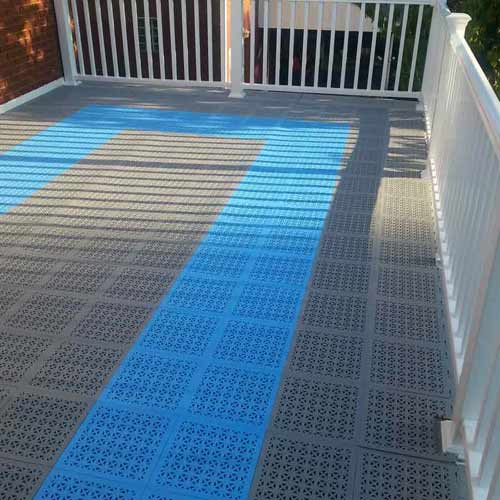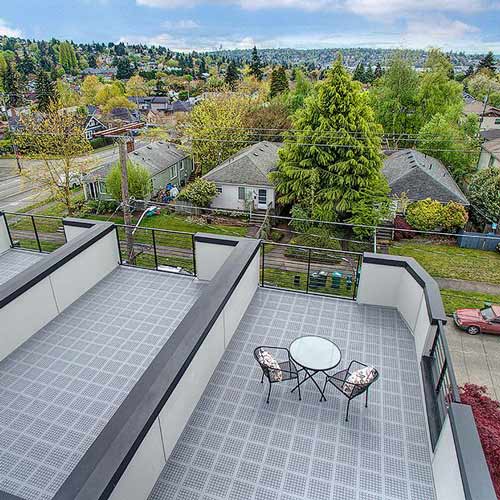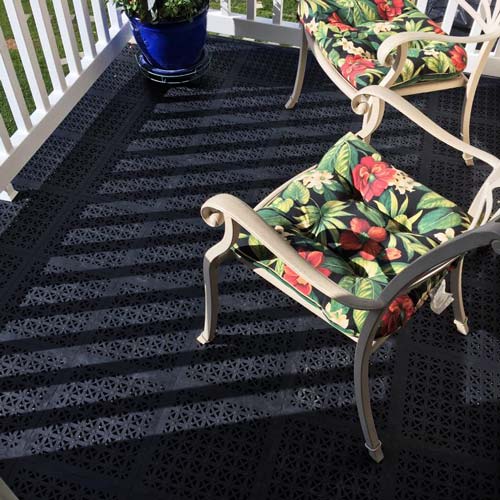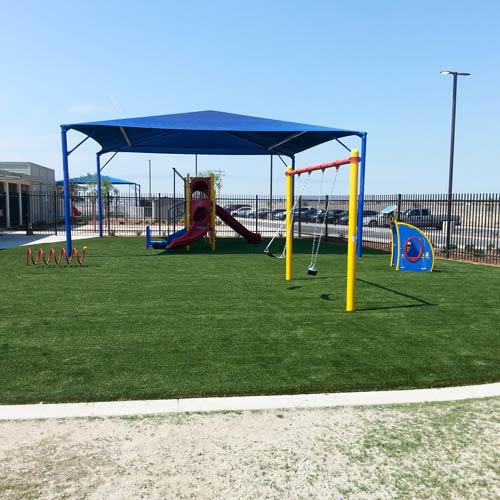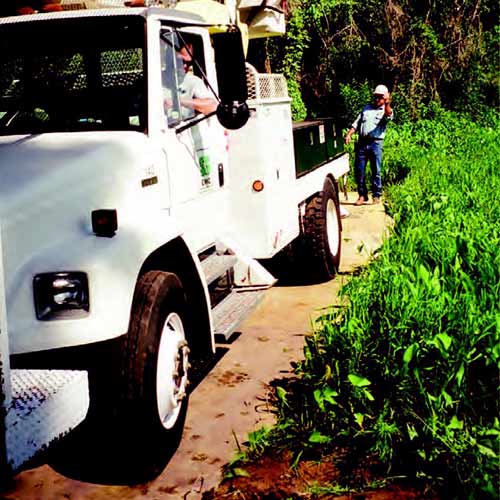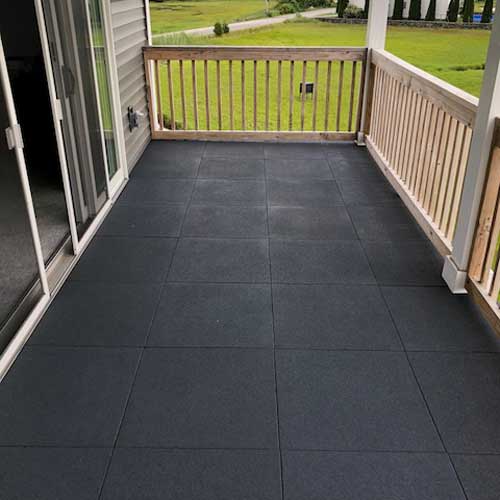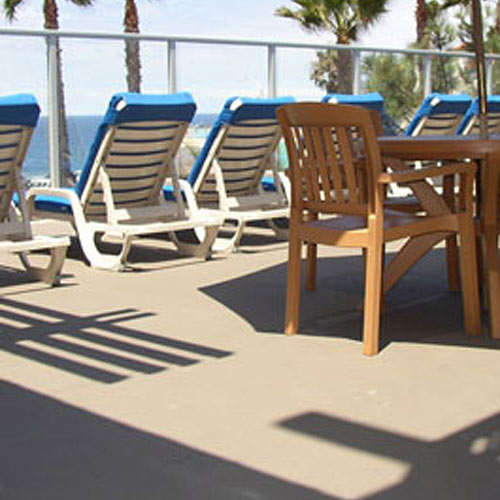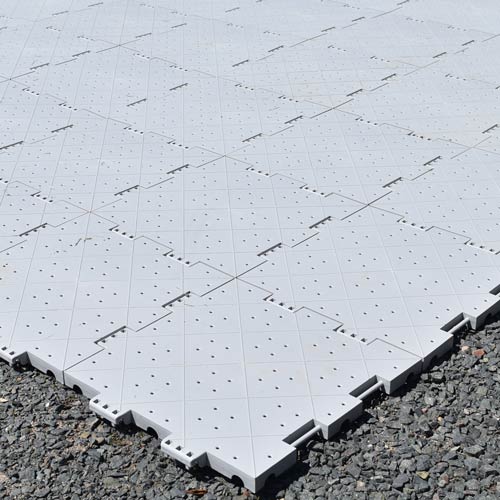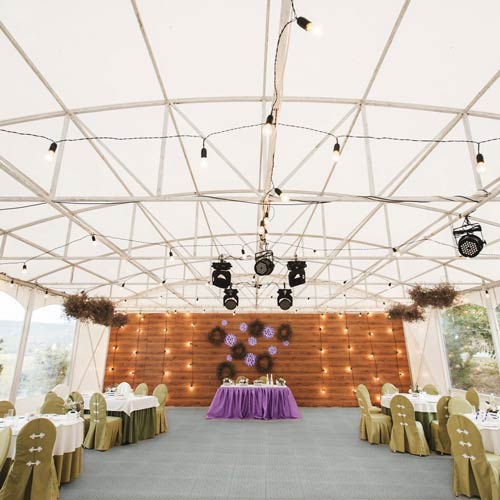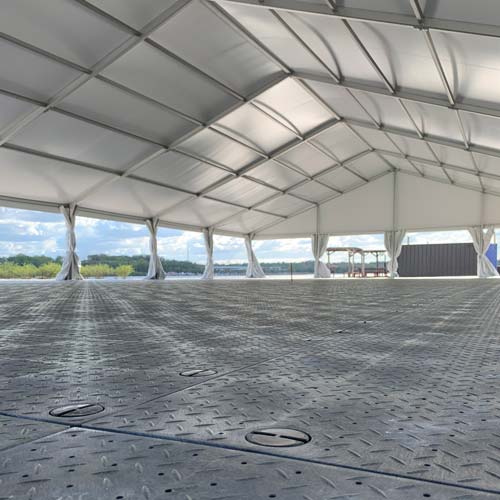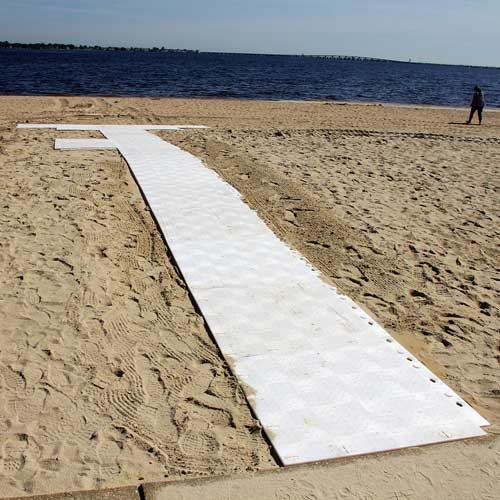 Exterior flooring options fulfill a number of potential use cases, including patio and deck areas, playgrounds, pool areas, entrance areas, temporary walking or driving paths, and temporary event areas.
Some of the most common materials found in exterior floor tiles include:
Artificial turf with foam backing

Carpet with plastic backing

Carpet with rubber backing

Fiberglass

Foam and rubber combination

PE (polyethylene) plastic

PP (polypropylene) plastic

PVC (polyvinyl chloride) plastic

Rubber

Vinyl
Exterior flooring needs to be able to stand up to rough weather, excessive moisture, and other tough conditions to deliver the level of performance that customers need. These materials each have particular conditions in which they will excel.
Matching the material in the exterior floor tiles with the expected use case will provide the best value and longevity for customers.
What Are the Best Outdoor Tiles for Areas With Excessive Water?
When an outdoor area sees extensive amounts of rain or splashed water from a pool or hot tub, having flooring that will stand up to this constant moisture is important. Two materials that offer outstanding performance in highly damp conditions include
PVC plastic
and blended rubber and foam.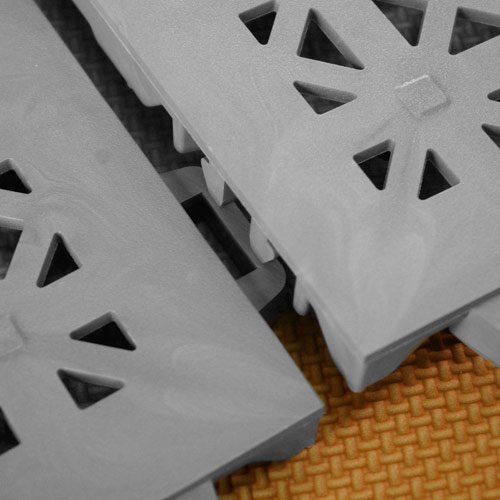 For areas with excessive moisture, the StayLock Perforated Tile is a popular selection among customers. These interlocking
PVC plastic
tiles have perforations that extend through the entire 9/16-inch thickness of the tile, allowing water to quickly drain away to the underlying surface, rather than pooling on top and creating a slip hazard.
Each tile measures just 1 by 1 foot and weighs only 1.25 pounds, which simplifies the installation process. These exterior floor tiles are available in five different solid colors: light blue, dark green, light gray, terracotta, and tan.
What Materials Work Well for an Outdoor Patio Deck Flooring?
When creating an outdoor sitting area at the house, in an apartment building, or in a commercial setting, the exterior flooring should deliver a high level of durability and should look great.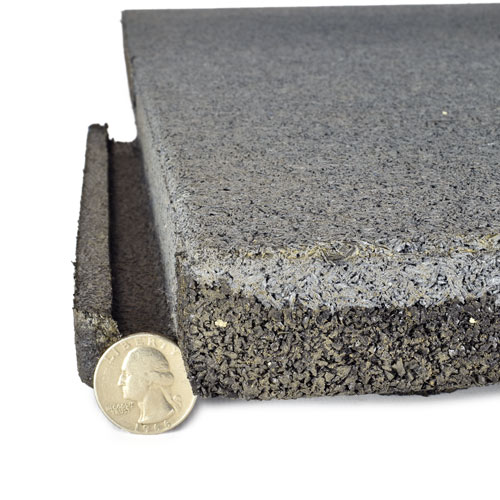 For areas such as a rooftop terrace at a commercial location, a
thick rubber
tile works well, such as the Rubber Sterling Roof Top Tile. It has 2 inches of thickness, so it will provide a desirable level of cushioning, while also standing up to any patio furniture placed on it.
These tiles measure 2 by 2 feet, so they cover a large area quickly. Border pieces are available too, allowing for a finished look to the installation that's important in a commercial location.
To simplify the layout, installers do not have to add adhesive, as the weight of the connected tiles will keep them in place. The tiles slide together tightly, meaning there's no need to add grout. Maintenance is easy, as the installer doesn't have to seal the rubber every few years.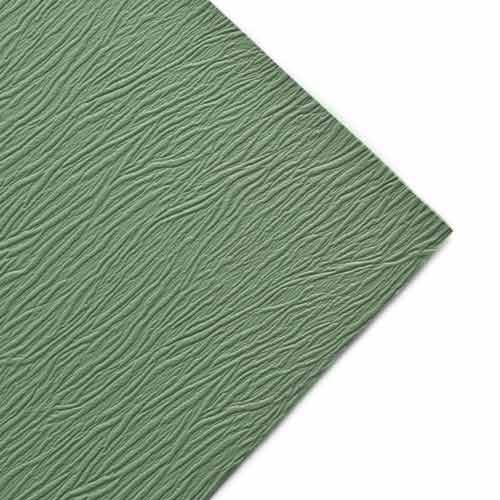 For a more stylish look than black or dark colored rubber in the outdoor floors, consider the LonDeck Commercial Vinyl Rolls. These
vinyl
rolls deliver a slightly embossed surface for a natural texture that resembles ceramic or stone flooring. It carries a modern design that's also slip-resistant.
Although these are commercial-rated rolls of vinyl, they will work in a home installation too. They can stand up to high levels of foot traffic, as well as to having heavy furniture or other equipment placed on them. This vinyl will avoid color fading, as it has the ability to withstand all types of harsh weather and direct sunlight for many years.
What Type of Exterior Floor Tiles Provide a Sturdy Base for Outdoor Events?
When setting up an event in a location outdoors, having a sturdy flooring space is always a challenge. Grass and sand are comfortable, but they may be too soft or uneven after rainy weather. Gravel may deliver the desired stability, but it doesn't hold up well when installing tables and chairs over the top of it.
Interlocking hard plastic tiles can deliver stability for outdoor events, as they will stand up to foot traffic and furniture without causing issues. The tiles disassemble in very little time for placement in storage after the event.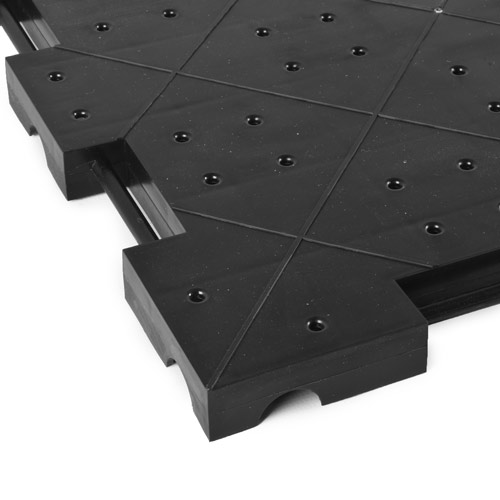 The Portable Outdoor Tile product consists of a
rigid, no-break plastic
that pops together quickly for the event. Place it over the top of any kind of outdoor surface, including grass, sand, or pavement, and it delivers a surface that's perfect for foot traffic, tables, and chairs. Customers can even install a dance floor over the top for a wedding event.
This polypropylene plastic stands up to any kind of weather. Should rainfall on the tiles, drainage holes extend through the entire 3/4-inch thickness of the material, preventing rainwater from pooling on the surface.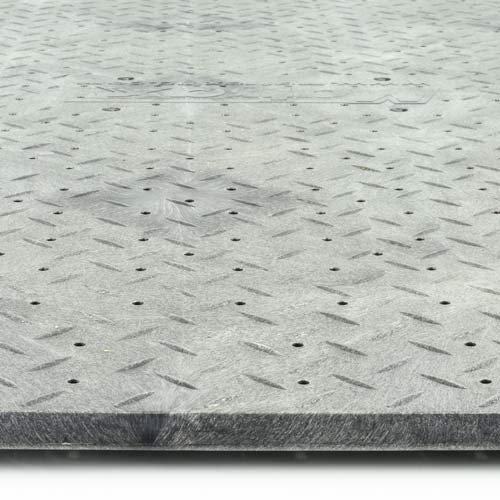 For a temporary event flooring that needs to be left in place for a few days or longer, consider the
polyethylene plastic
material in the Matrax Light Duty Pedestrian Composite Mat.
These 3.89-by-3.89-foot mats lock together tightly for a secure layout. They have aeration holes through the entire 1.5-inch thickness that allow water, light, and oxygen to pass through the material to the natural grass underneath.
Does Carpet Work As a Durable Exterior Flooring Option?
In areas that need a warm type of flooring for use outdoors, carpet is a popular choice. However, it needs to have excellent weather resistance and overall durability to stand up to the conditions it will encounter outside a commercial building, a retail location, or a home.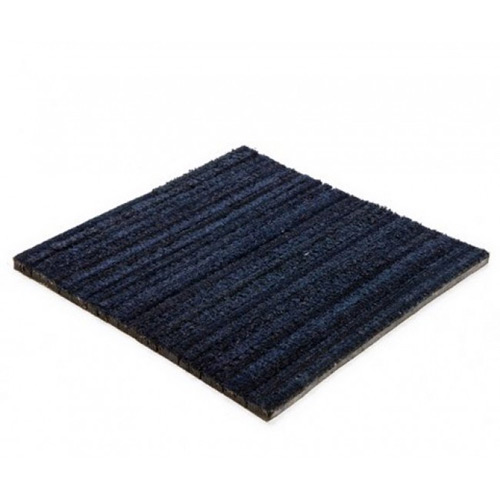 The Recycled Tire Rubber Floor Tiles is well worth considering for this type of use case, as it is highly durable and comfortable underfoot. Many customers choose to use these 1-by-1-foot exterior floor tiles near the entrances to a building, either indoors or outdoors.
These carpet tiles consist of a
recycled truck tire fabric
, which the manufacturer bonded, and
vulcanized
to a reinforced rubber backing. This delivers outstanding durability, allowing the entrance carpet tiles to resist wear. The chenille surface material contains a texture that creates a slip-resistant entrance for heavy traffic areas.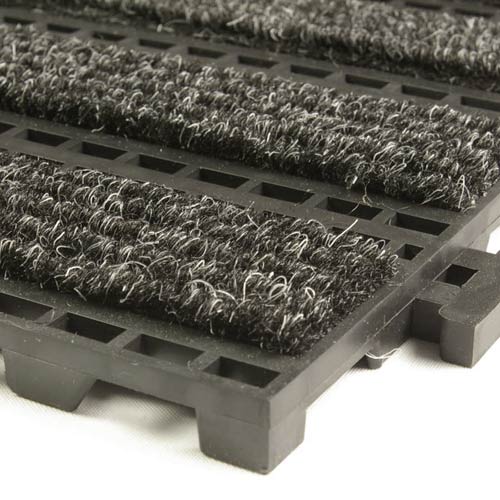 For a firmer type of tile that'll work in an entrance to a building, the Entrance Linear Tile has an interlocking plastic base with a highly durable carpet surface.
The textured
carpet fibers
on the surface of the tiles will catch snow, grime, and dirt from shoes as visitors to the building walk across them. By catching these soils, the interior of the building will remain cleaner, saving money and time on maintenance.
During rainy or snowy weather, these weather-resistant tiles will provide a sure footing for any visitor entering the building. The carpet fibers allow rainwater to pass through, reaching the perforated plastic tile base underneath, where it drains away. If installed in direct sunlight, these tiles offer
UV protection
, resisting color fading.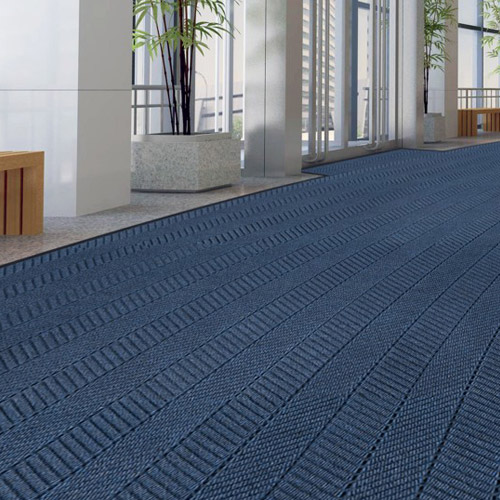 For those who prefer a roll of carpet to use as exterior flooring, rather than interlocking tiles, the Waterhog Eco Elite Roll is a strong choice. Each roll measures 6 by 67 feet, which allows for a much faster installation than the individual interlocking carpet tiles option.
The Waterhog roll uses a ridged construction across the top that catches dirt and moisture as visitors walk across it. The material in the carpet layer consists of
recycled PET fabric
that comes from plastic bottles.
Reinforced rubber nubs placed throughout the material allow it to remain at its normal pile height without crashing down under the pressure of constant foot traffic. It also has a rubber backing to provide stability.
What Material Works Best for Natural Looking Outdoor Playground Surfaces?
If a playground contains climbing equipment, outdoor flooring with a safe fall height rating is important to protect kids who may fall from the equipment from suffering potential head injuries.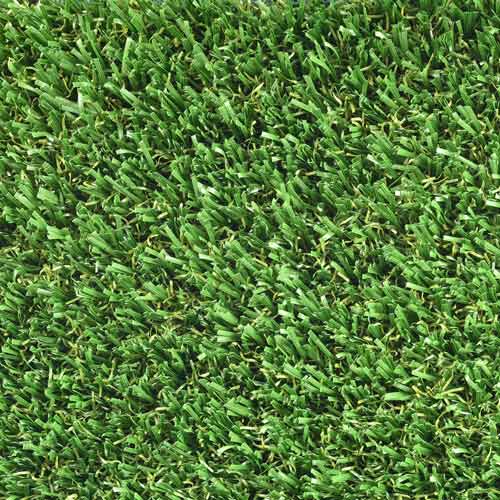 The Play Time Playground Turf has a foam base layer that measures 1 inch in thickness, providing a 5-foot fall height rating for safety. The artificial grass attaches to the foam, creating a bright green color that looks inviting for those visiting the playground all year around.
Manufacturers create this roll of artificial turf in the United States, which means installers can trust that the ingredients used will keep children and pets playing on the turf safe. Playgrounds at schools, city parks, churches, and in the backyard of a home all can make use of this roll of padded artificial turf.
What Durable Outdoor Flooring Creates a Safe Temporary Walkway or Driveway?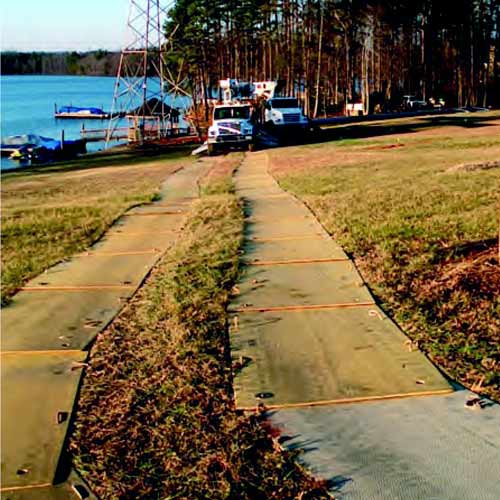 When working in a remote location, moving around the property can be a challenge, especially in muddy conditions. Laying out the Mud-Traks Ground Protection Mats will give vehicles and pedestrians a safe place to walk and drive without becoming stuck.
These
fiberglass
mats measure only 8 mm in thickness (about 5/16 inches), but they can support a significant amount of weight moving across them without cracking or buckling. The mat will support a vehicle weight of 35,000 pounds. This is a significant improvement over the performance of plywood.
Each mat measures about 6 by 2 feet, which means several of them can fit in the bed of a pickup truck for transportation. Use two rows of tiles to handle the tires on a four-wheel vehicle, or use one row for a
pedestrian walkway
.