What Are the Pros and Cons of PVC Flooring?
By Kyle Schurman Created: March, 2021 - Modified: May, 2023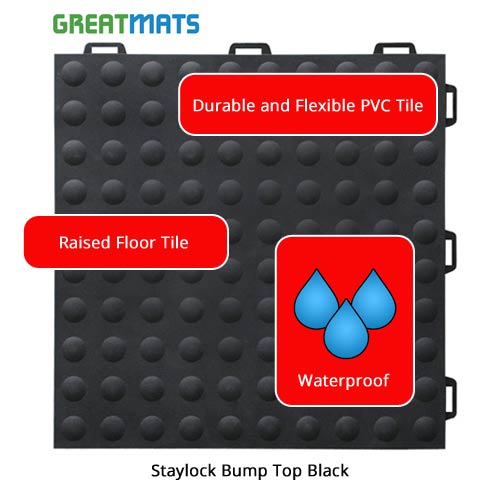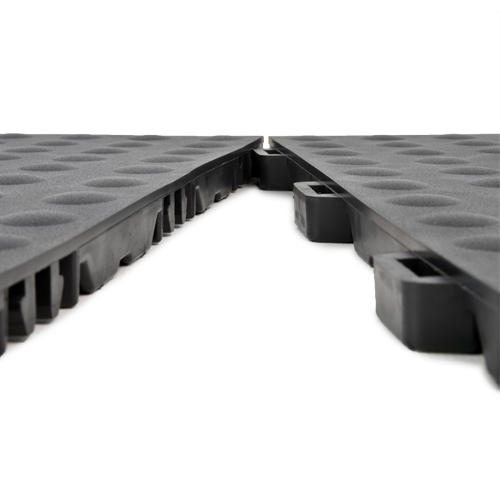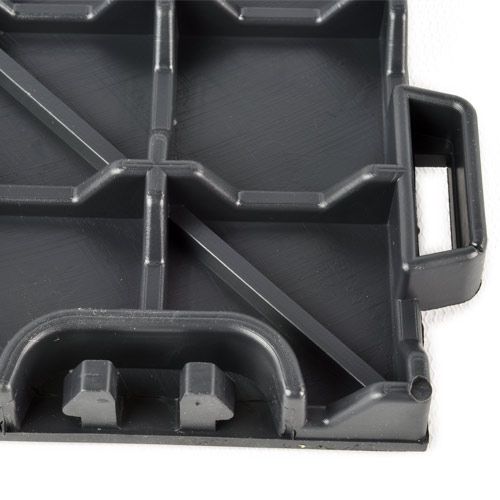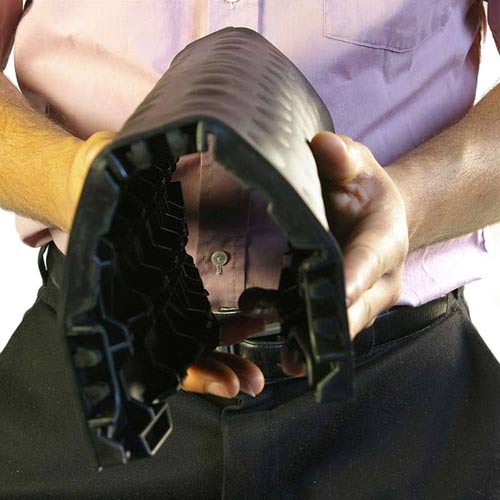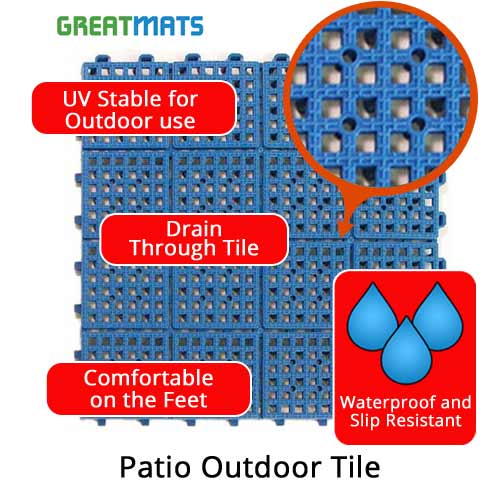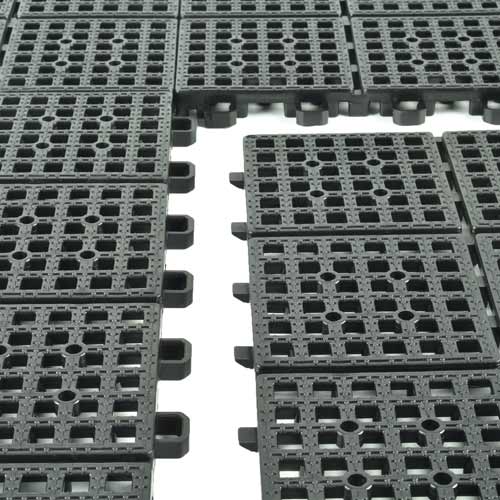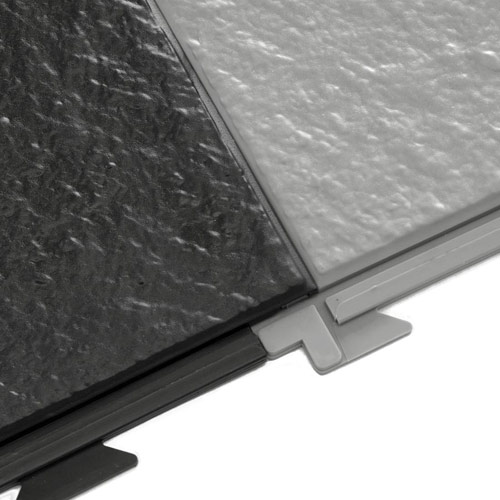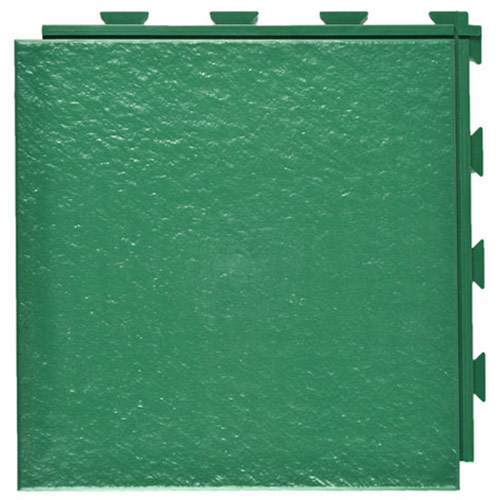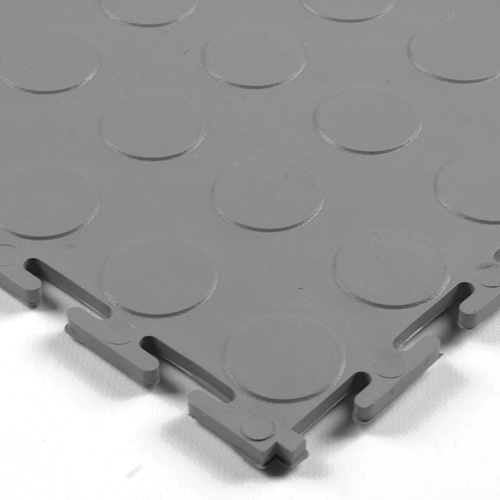 PVC, short for polyvinyl chloride, is a highly versatile type of plastic flooring, meaning installers can use it in a number of different locations for a number of planned use cases. For customers who are seeking to install PVC flooring, consider some of the pros and cons of this material before making the purchase.
Eight of the pros of PVC for floors include:
Highly durable materials, wear resistant even with heavy foot traffic

Waterproof for spills

Some PVC tile includes drainage holes

Easy to maintain and clean the floors

Textures across the surface are available

Highly affordable cost option

Multiple flooring colors available

Provides sound and thermal insulation

Can provide fatigue relief

Recyclable

Often chemical resistant

Installation is simple, often resulting in a DIY project
Three of the cons of this type of flooring include:
Can be damaged by sharp heavy objects

Some flooring doesn't contain UV protection to guard against sun fade

PVC flooring cannot be repaired

Some can emit VOCs
How Does PVC Flooring Compare to Vinyls?
PVC flooring is a plastic flooring that can be rigid or flexible. Most PVC floor tiles have a flex to them, which simplifies installation. Some flexible PVC materials perform like a mix between rubber and foam.
As indicated by its name, polyvinyl chloride is a top of vinyl, which is a plastic type of flooring, commonly grouped with
polyethylene and polypropylene
floors.
Vinyl floorings can include terms like VCT, LVP, and LVT. VCT is short for vinyl composition tile, and it may appear in sheets or tiles. LVT refers to luxury vinyl tile, which often looks like expensive stone or wood floors. LVP, short for luxury vinyl plank, is similar to LVT but shaped in a rectangular format rather than square one. Vinyl floors are often rigid.
What Are the Primary Benefits of PVC Flooring?
Excellent Durability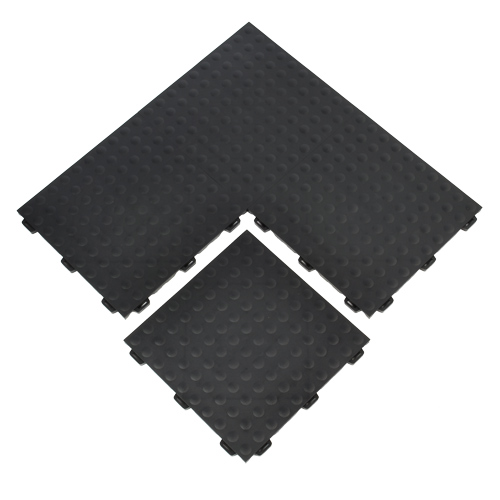 For an installation at a health club or at an athletic facility, the PVC needs to have outstanding durability. The StayLock Bump Top Tile product is an ideal option for this type of use case.
The bump top texture has just the right amount of traction for athletes, creating an ideal exercise flooring.
Resists Liquids From Spills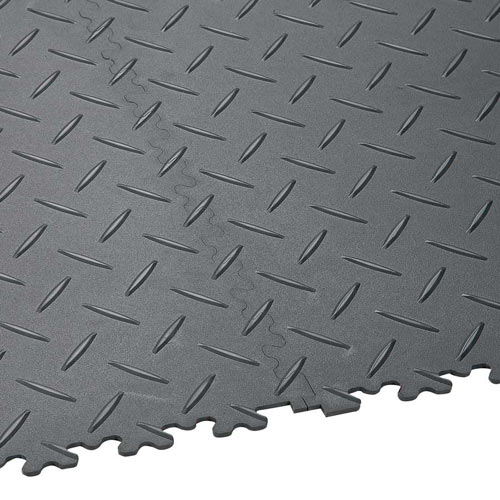 Water and chemical resistance is important in a type of flooring that will appear in a garage or a kitchen, which are areas where spills are common.
For areas that need resistance to more than water, such as oils and chemicals, the SupraTile Diamond Pattern Tile has an outstanding resistance to harsh liquids.
Perforations to Drain Water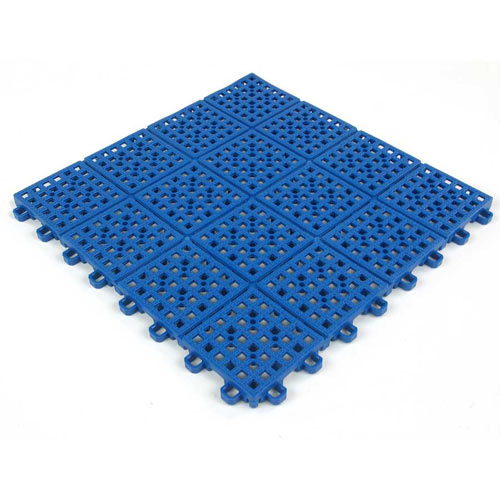 PVC is highly durable and waterproof, which makes it a great choice for perforated flooring that can drain away large amounts of water quickly. The Patio Outdoor Tile product is a strong drainage tile that's also easy to install with tabs and loops on the edges.
Minimal Maintenance Required
With PVC, installers do not typically need to perform regular maintenance on the floors beyond cleaning. There's no need to apply coatings to the floor to maintain its look. Sweep it to remove debris and mop it as needed for tougher soils, and that's it.
Can Include Textured Surfaces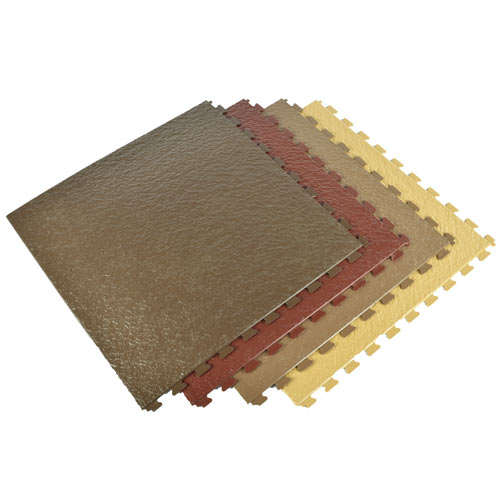 For an upscale appearance in the PVC tiles, look for a model that has a slight
texture on the surface
.
The Slate Floor Tile uses this textured surface to provide a resemblance to an expensive slate flooring. The slight texture delivers a slip resistant footing for visitors as well.
The hidden interlocking design on the edges of these tiles simplifies the installation, while maintaining the desired upscale look.
DIY Installation and Removal Is Possible
Many types of PVC tile and mat products will include an interlocking edge, which simplifies the process of completing the installation.
This can be a DIY project for many people, even those who have no experience with flooring installs. Glue is not necessary for the installation most of the time.
Inexpensive Type of Flooring
PVC has a lower cost per square foot than many types of floorings, as it's often available for $3 to $7 per square foot.
Because installers can lay out these floors without the need to hire a pro, they'll save even more money.
Multiple Colors Available
Installers can select from a variety of colors in these PVC tiles, finding just the right look to match the decor of the room where the install will take place.
Black, gray, and earthy tones are the most common, but bright colors are available too.
3. Recycling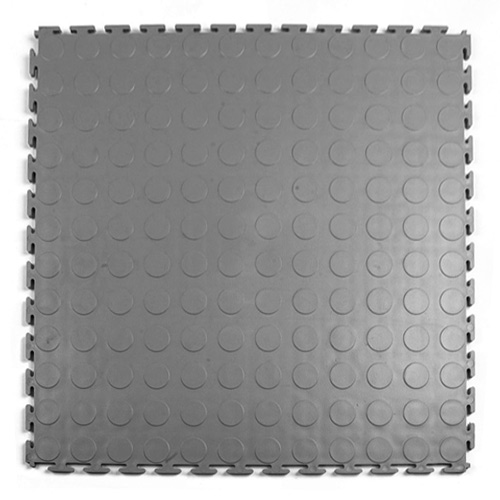 PVC is not biodegradable, which means it does not degrade on its own over time. Once its usable lifespan has expired, it can be recycled. Greatmats does offer several
PVC tiles that contain recycled materials
, including the Warehouse Floor Coin PVC Tile, and those made entirely of recycled materials, such as its black-colored StayLock Tiles.
Finding a local recycling center for this type of material can be challenging, however. If you wish to recycle your PVC flooring it may be best to contact your flooring company for recommendations.
What Are Some Drawbacks to Making Use of PVC Flooring Materials?
1. Scratches
Because PVC has a slightly soft configuration, heavy items with sharp edges can damage the floor. Many PVC flooring systems feature a raised base, leaving the opportunity for a puncture to take place, however, most damage occurs in the form of scratches.
2. May Fade in Sunlight
If you install PVC made for indoor use in an area of the home where it will have constant sunlight, it may fade. UV resistance is not typically part of this flooring when it's manufactured for indoor use.
Outdoor PVC tiles nearly always have UV protection, however, making them ideal for installation near pools or on patios.