Top 5 Home Dance Floors On A Budget: Marley & Interlocking Tiles
By Cara Walters Created: June, 2017 - Modified: September, 2023
Must-Have Qualities of a Home Dance Floor
Home dance floors need to have the ideal combination of a smooth but slip-resistant surface that is also shock absorbent. From warm-up exercises to jumps, leaps, spins and twirls, a home dance studio shouldn't sacrifice quality and safety for your budget. Greatmats has home dance floors for any dancer that suits a wide variety of styles, whether barefoot or with shoes, from ballroom to jazz and Latin to ballet. Outfit an entire room or fit to size according to your needs.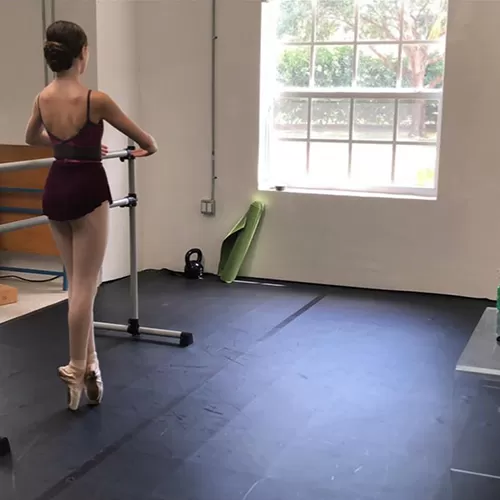 Greatmats offers vinyl flooring, specifically marley dance flooring in Rosco or Adagio brands, to provide a non-slip surface for dance styles such as:
Jazz
Modern
Ballet
Irish
Flamenco
Lyrical
Drill team
Tap
Vinyl flooring is also a great option for all-purpose dance flooring. It can be used in permanent or semi-permanent installations.
Modular home dance flooring may be an option for more multipurpose areas. The raised tiles offer a durable surface that lend well to dance styles where sound is important, such as tap or Riverdance.
Additionally, Greatmats offers subflooring to enhance any home dance flooring to further prevent strains, tears or serious injuries.
5 Best Home Dance Floors on a Budget
While you want to invest in a quality home dance floor that meets your needs and fits the dance styles you perform, you don't need to spend a fortune to create that floor. At Greatmats, we offer a great selection of DIY-friendly dance floor products at different price points. Chances are you can find a product below that's within your budget.
1. Rosco Dance Floor Reversible Custom Per LF
Size:
5.25 Feet Wide
Price per sq ft:
$
This portable marley home dance flooring is ideal for ballet and dance styles that require soft shoes. It is reversible and comes in either black and gray or black and white; design your home dance studio to reflect your individual style! The easy tape-down installation is also great for portability - simply remove, roll and go! Cut to length to fit your home dance studio and start practicing on this excellent choice for slip-resistant home dance flooring.
This lightweight home dance flooring by Rosco weighs 1.9 pounds per linear foot. Its flexibility allows for it to be rolled and unrolled as needed or taken on the road. Please note that Rosco home dance flooring should never be stored in a flat position as this will cause the rolls to flatten and may cause rippling in the material when unrolled. It's best to store this material suspended on a rod.
The semi-matte, non-skid finish provides the controlled slip that ballet and modern dancers require. The Rosco home dance floor is sold by the linear foot or as a complete 131.3-foot full roll as a bolt. Cleaning is simple using the Rosco floor cleaner, also available through Greatmats.
If you're planning a large project, you can take advantage of bulk pricing by purchasing a full roll of the
Rosco Home Dance Floor Full Roll
.
2. Home Dance Floor Package, Adagio Basic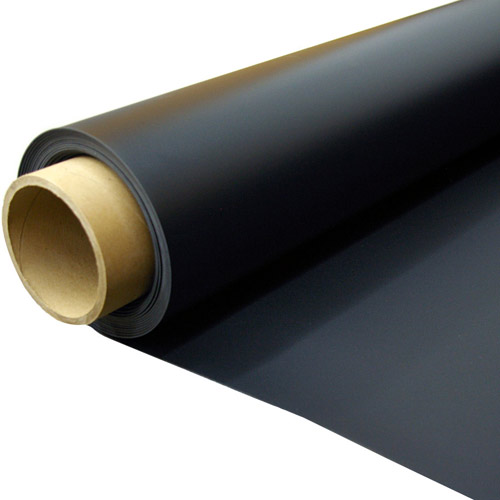 Size:
10.5 ft x 10 ft
Price per sq ft:
$$
This Adagio home dance floor is suitable for all dance types, including ballet, modern, tap and jazz. The basic package comes with 20 linear feet of marley home dance flooring and one roll of tape.
It is designed for quick and easy installation at home on any hard, flat surface. This black home dance floor will make any room look like a professional dance studio, and at a great price.
At such a great price, dancers can upgrade this floor to a home dance floor package that includes a subfloor option for an even better home dance floor surface. The subfloor option is available in various sizes as needed. For custom sizes please contact customer service. Greatmats stocks this product, and can cut any length of material that is needed.
Cleaning is simple; just use hot water. Tap marks can be removed with Rosco's heavy duty floor cleaner, also available through Greatmats.
This home dance floor package is not intended to be installed directly over carpeting. For carpeted areas, choose our Adagio home dance floor package with the two-part sub-flooring system.
For better pricing per square foot, look into a full roll of the same flooring as used in the
Rosco Adagio Marley Full Roll
.
3. EZ Portable Dance Floor Tiles 5/8 Inch Thick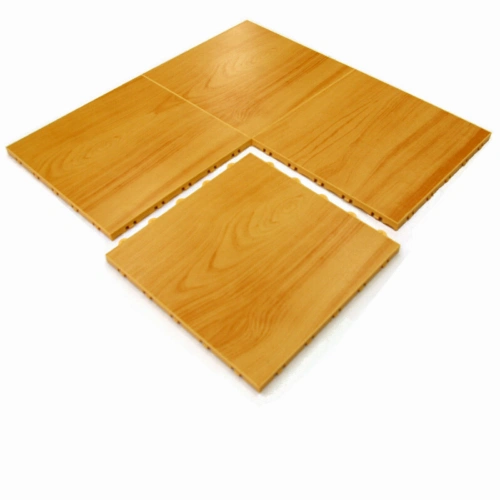 Size:
1x1 Ft.
Price per sq ft:
$$$
For a home dance floor that can be easily installed and easily removed, this commercial-grade vinyl top surface is great for temporary or repeated installations.
The tiles measure 12 inches x 12 inches and come in a variety of sleek, wood grain or stone colors for a professional look.
These colors include:
Maple
Slate
Light oak
Dark oak
Walnut
Cherry
Your home dance studio can look like the professional dance studio you know and love. The breathable bottom allows for water and air flow underneath without sacrificing the tightness of the tile fitting. Installation after installation, these home dance floor tiles will remain just as durable.
Unlike some products that begin to fall apart after repeated uses, the tabs on these portable home dance floor tiles are built to last. Your floor will not separate and wear out after multiple assemblies. It is easy to assemble, easy to tear down, and easily stored or transported. Since the tiles are lightweight, a single person can perform the whole installation.
These home dance floor tiles can be used for multiple purposes as well, such as weddings or outdoor events. A 10 x 20 feet portable dance floor can be assembled by one or two people in minutes and disassembly is even faster.
These portable home dance floor tiles are made in the USA and easy to clean. Simply use a damp mop, hot water and a common household floor cleaner.
4. Home Dance Floor Package Adagio Tour Cushion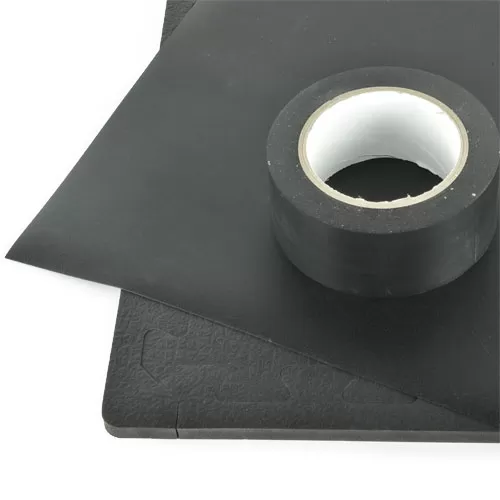 Size:
10.5x10 Ft
Price per sq ft:
$$$$
This marley dance floor package includes everything you need to quickly and easily install a home dance floor. You can install the floor on any hard, flat surface, and it's suitable for use with all dance types.
The kit includes:
20 linear feet of Adagio Tour marley dance floor
25 foam tiles
1 roll of tape
You can convert your living room or any other room in your house into a practice floor. The interlocking foam tiles add cushion to a hard subfloor, while still offering the support that dancers need. It also helps to minimize the impact on dancers' joints.
Once the tiles are installed, you simply need to unroll the marley floor and tape it down over the tiles. The marley surface is suitable for use with hard and soft shoes, as well as with bare feet. You can use this vinyl flooring for ballet, hip hop, modern, jazz, tap, and other dance styles.
The resulting dance floor measures 10.5 x 10 feet. You can easily clean the floor with hot water, or remove tap marks with Rosco Heavy Duty floor cleaner.
5. Tap Dance Floor Kit 5/8 Inch Thick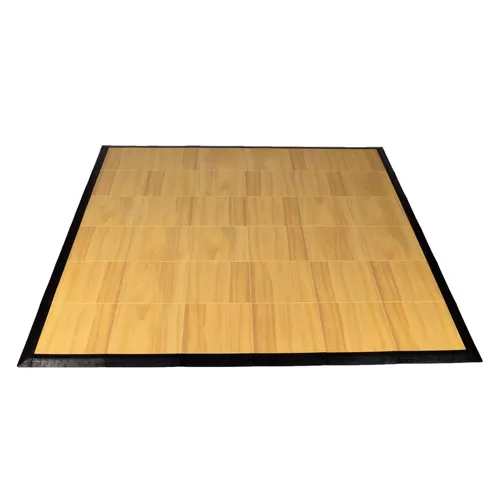 Size:
6x6 Ft.
Price per sq ft:
$$$$$
Specifically designed for tap dancing, this home dance floor kit contains nine tiles that are vinyl and waterproof with a protective coating. These tiles are engineered for indoor and outdoor use. They are easy to set up, easy to take down and create a professional dance floor wherever you go.
Each tile weighs two pounds and is 12 inches x 12 inches in size. The non-slip, modular snap together design requires no adhesives or tools for easy assembly and disassembly. The Greatmats tap dance floor kit can replace traditional tap boards in the home or on the road.
These tiles will not absorb moisture and features a raised plastic base that allows for air circulation beneath the floor to speed drying. Since the tiles are waterproof and allow for a faster drying process, they are an ideal solution for use in basements and garages, where potential moisture exposure could damage other flooring types.
The sleek wood grain adds a luxury feel to any home dance studio.
Color choices include:
Light oak
Dark oak
Maple
Cherry
Walnut
For custom sizing, please call the Greatmats customer service team.
See the
3x3 ft tap dance floor kit in action
. There is an excellent video of a tap dancer, additional installation videos, a question and answer section as well as other product specifications and pictures.
Find Your Home Dance Floor at Greatmats
Practicing dance on flooring not specifically designed for the sport could cause strains, tears or other serious injuries. Greatmats has home dance flooring uniquely built to prevent injuries associated with warming up or dancing on the wrong style of flooring. From the most popular style of flooring, marley, to modular and tap dance tiles, Greatmats has flooring designed for any style dance on any type of budget. You will find plenty of ideas and products to help you get started right here.
Upgrade your home dance studio with optional
subflooring
- built to enhance any home dance studio. Greatmats' offering of subflooring provides the support and cushion needed for serious dancers. As with Greatmats' selection of home dance flooring, many of its forms of subflooring are portable as well - meaning your home dance studio goes with wherever you are. A professional dance studio doesn't have to be far away. Use Greatmats' home dance flooring to create a dance studio in the comfort of your own home.
Visit our
Dance Flooring Buyer's Guide
for blogs, videos, user profiles and more to discover the right home dance studio flooring for you. Our customer service experts can help you decide between tiles or rolls, vinyl, foam or plastic and any other detail that will make your home dance studio the most comfortable and stylish room to practice in.
Call now 866-413-0969 to speak to a home dance flooring expert today!
Which Dance Floor is Right For You?
With so many dance floor products available, it can be difficult to tell which one is best for you. This chart makes it easy to determine the products that are ideal for your dance styles, as well as for the subfloor that you'll be installing them over.